I think its fair to say that Koan has been one of the most anticipated openings of 2023 in Copenhagen. Kristian started Koan shortly after leaving 108 in 2020. It started with a pop up at Empirical Spirits, an extremely popular take away tasting menu (covid restrictions) to a pop up for about 1 year at Relæ to now having found its permanent home in Copenhagen.
The concept is Nordic ingredients and simplicity meeting South Korean flavors. Hereby representing all of Kristian from his Korean roots to his Danish upbringing.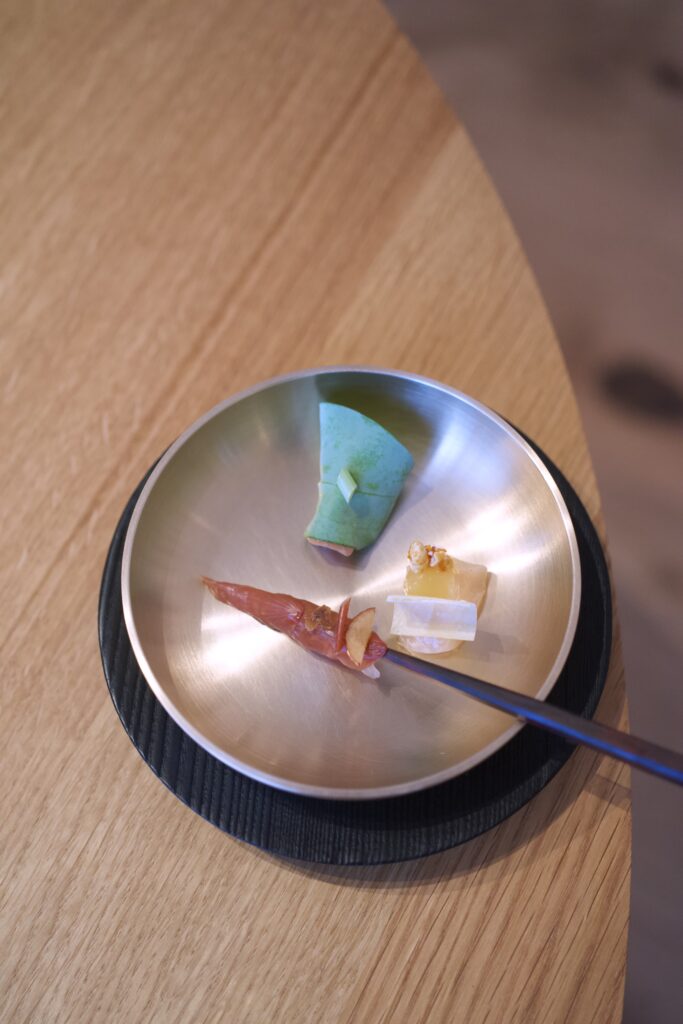 We would start of with 3 small snacks. Each with its own refreshing flavor profile from the salty and crunchy oyster leaf with with cured trout and green chili, to a rose pedal and Norwegian shrimp with lots of acidity and umami from a caramelizada kombu to a scallop with puffed rice and yuzu. All very refined and with complex flavor profile which I absolute love.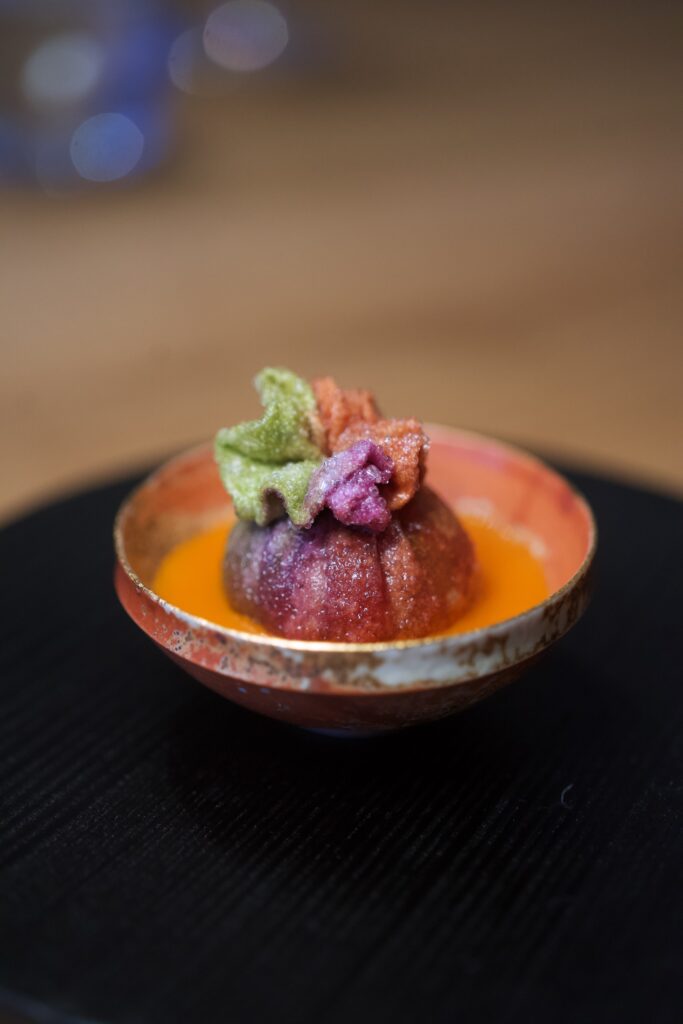 The fjord shrimp mandoo was a favorite at their pop up and it would make a comeback in a highly upgraded version. It's still has the same sauce with lots of chili and muscle flavor but the actual mandoo is now multicolored and has been both steamed and then fried giving it an insane crispy texture. All of that has left the dish so much more refined then the much simpler previous one. Hence it naturally also shrieked in size to be a one bite snack.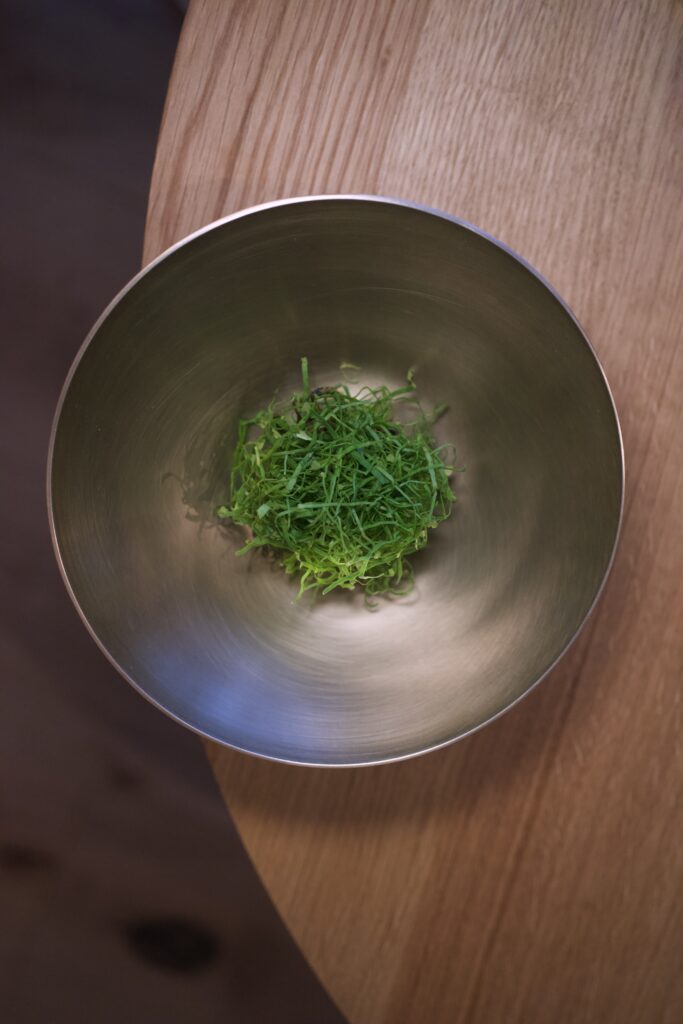 A cold dish of nori noodles with kombu and sorrel was next. When mixing all the elements you were left with both crunchy and soft elements and a balanced flavor profile. A nice dish but not as amazing as the previous.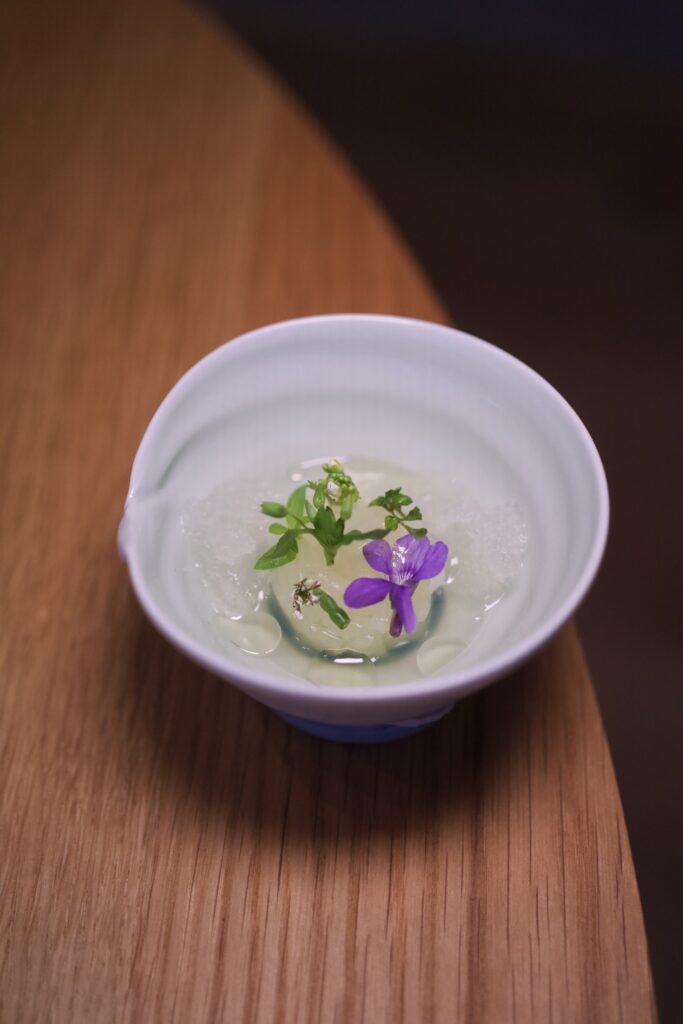 I had seen several pictures of the white kimchi dish on Instagram before coming and it looks amazing. Luckily it also tastes amazing. Again it was by far a one dimensional dish but It had a complex flavor profile. It was both light and refreshing while still being distinctly sour from the kimchi. An amazing touch was also very small pieces of ice cubes in the broth from crunch and temperature. Impressive end to end.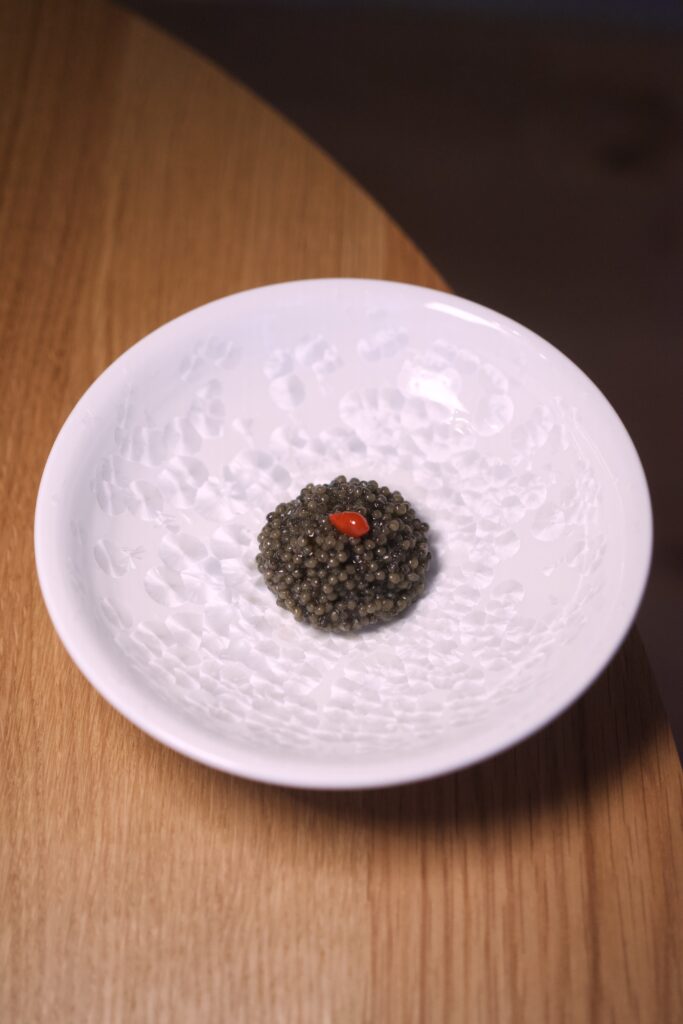 I am fighting my own private battle against caviar as way too many chefs either don't know how to use it or simply uses it to increase the price of a dish. Kristian however is not one of those chefs. Here a GastroUnika Osietra Blonde Selection caviar was served together with tofu, dried strawberries and I think a gel made of ham. Again a dish with lots of flavor elements coming together where if you remove just one element the dish falls apart. It may look simple but it really isn't.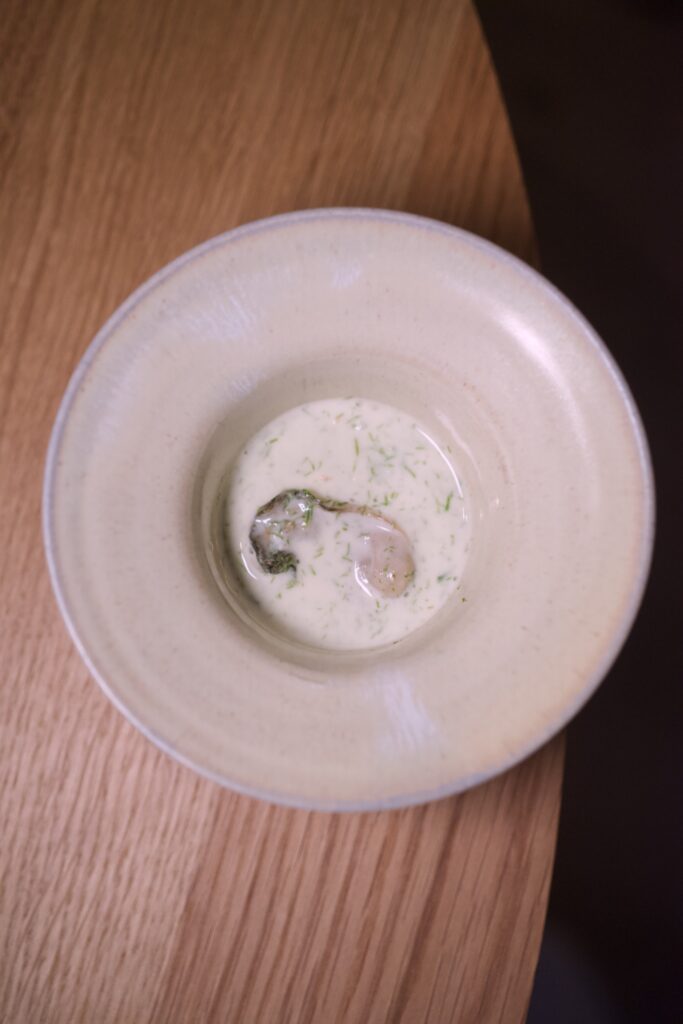 Despite looking extremely simple the next dish was my favorite so far. A oyster was served with a super rich king crab and oyster stew. A dish that in depth of flavor made me think of France with its slight buttery notes but it was by no means a heavy dish which the seaweed and champagne elements in the sauce sought to. A great dish to transition into the heavier main dishes and great contrast to the lighter opening dishes.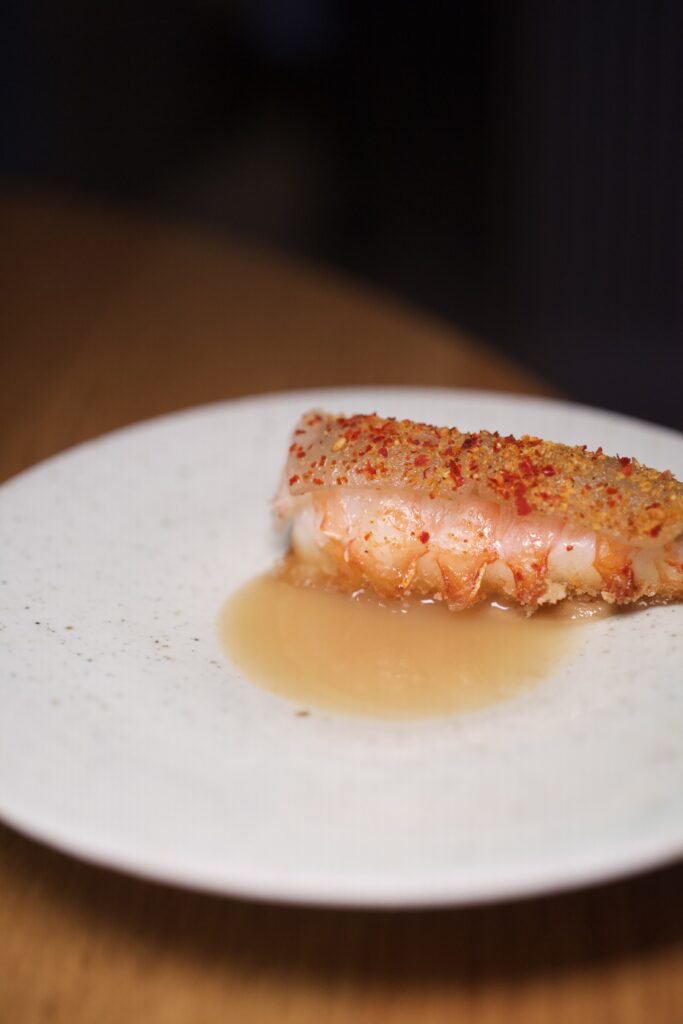 The next dish was easily one of the best I have ever had. A langostino was served with preserved green strawberries, lardo and a super rich and delicious sauce with just a bit of black garlic (I think) and the Korean drink makgeolli. Everything about the dish was amazing. The langostino was juicy and crunchy with jus a bit of tempura and the sauce as so rich and delicious that I licked the plate.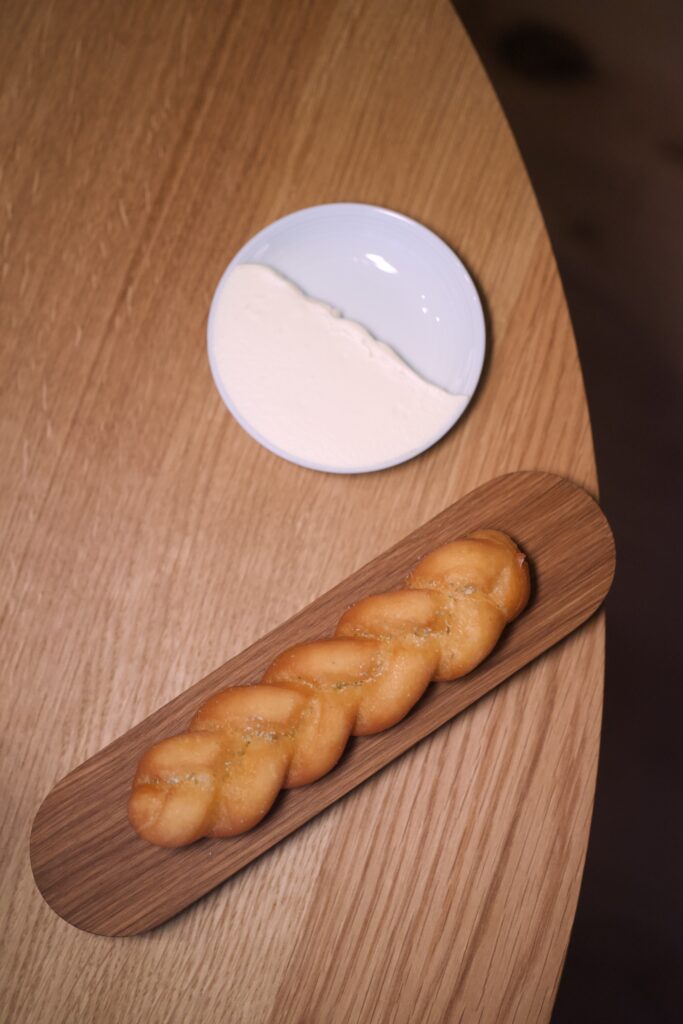 We would now have a small break from the flavor complexity and have a simple dish. Deep fried sweet Kkwabaegi bread with créame. A dish that was also part of the original pop up menu. Still a sweet flavor profile but the texture felt like had an upgrade where you could break off each braide with a clean snap. Simple and delicious.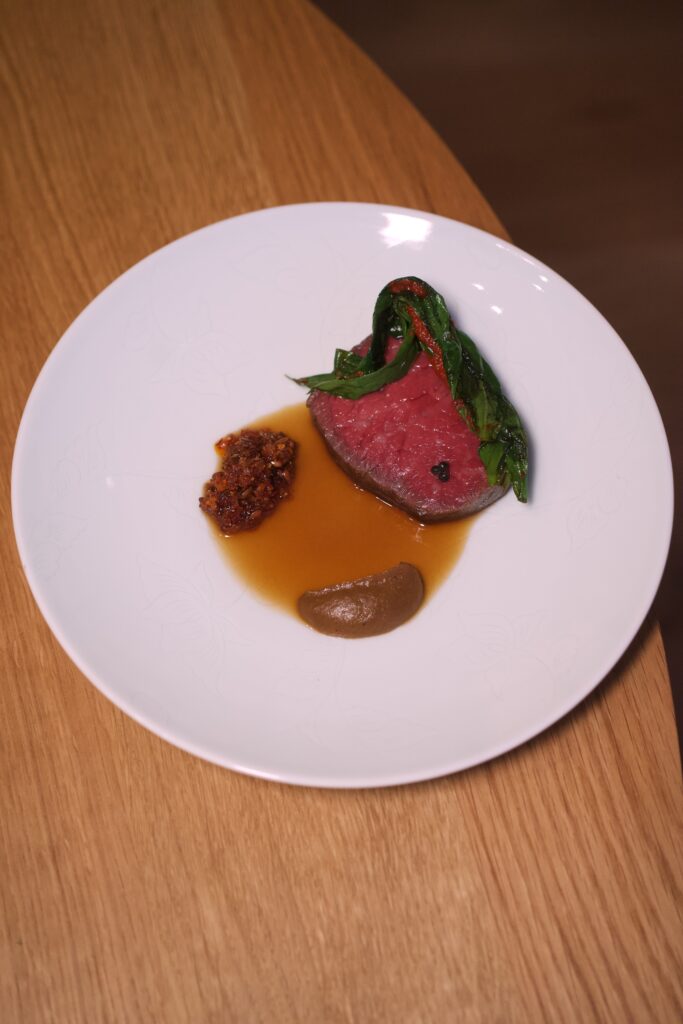 When I first saw the next dish I thought that this was a bit too classic and Danish for what had been the theme of the menu. I turned out to be wrong. A ribey served with onion pure, grilled ramson and jue but what made it stand out was the small pile of crunchy chili. That small bit of chili balanced out the sweet elements and brought the dish back to South Korea once again. As delicious as it was surprising.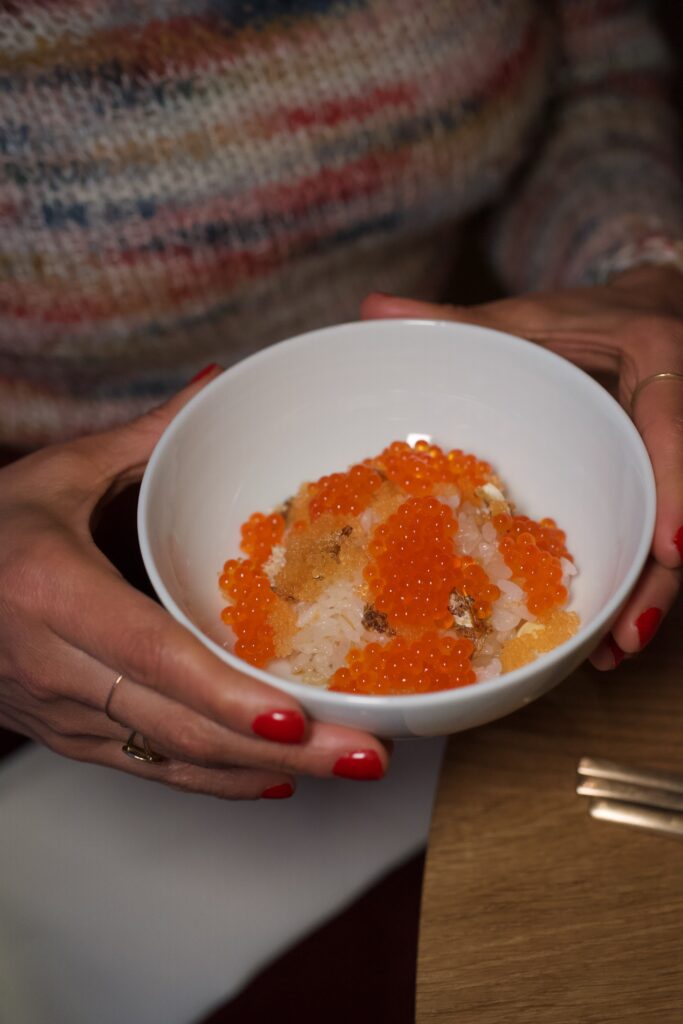 Naturally we would end with rice. Different kind of steamed rice served with trout roe, lumpfish roe, toasted beech nuts and preserved citrus. Now rice was the main part of this dish so un the side was a Yakatori grilled lobster tail. Juicy and super delicious.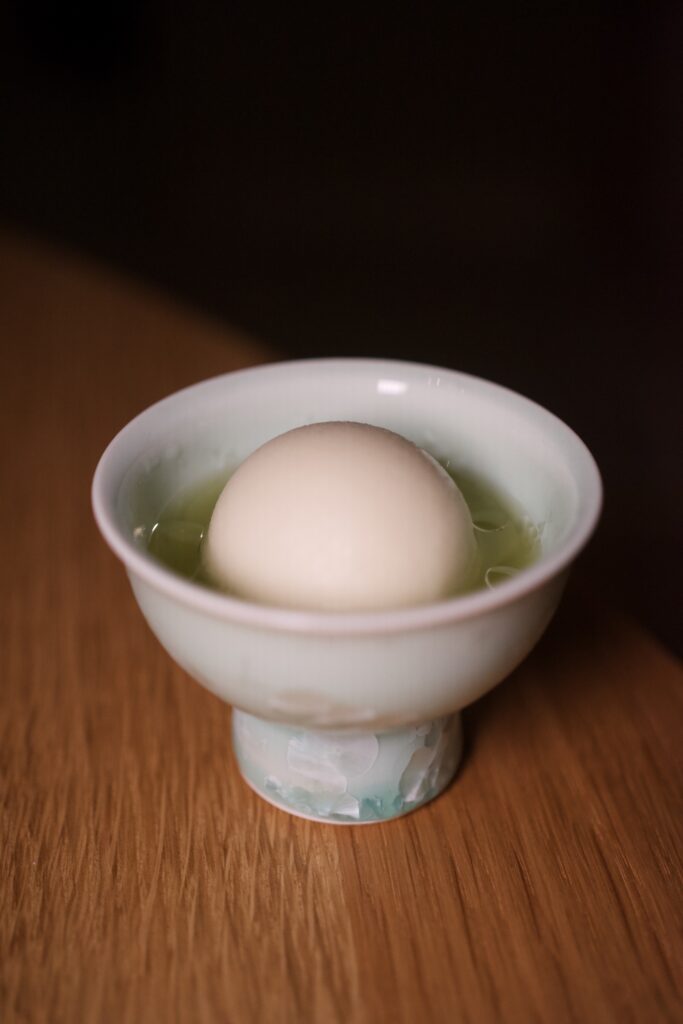 For our desserts we would look back at Kristians time at 108 as well as the original popup at Relæ. The first was a kiwi sorbet with a juice of ginger and I think white currant oil. A super fragrant, refreshing and delicious dessert.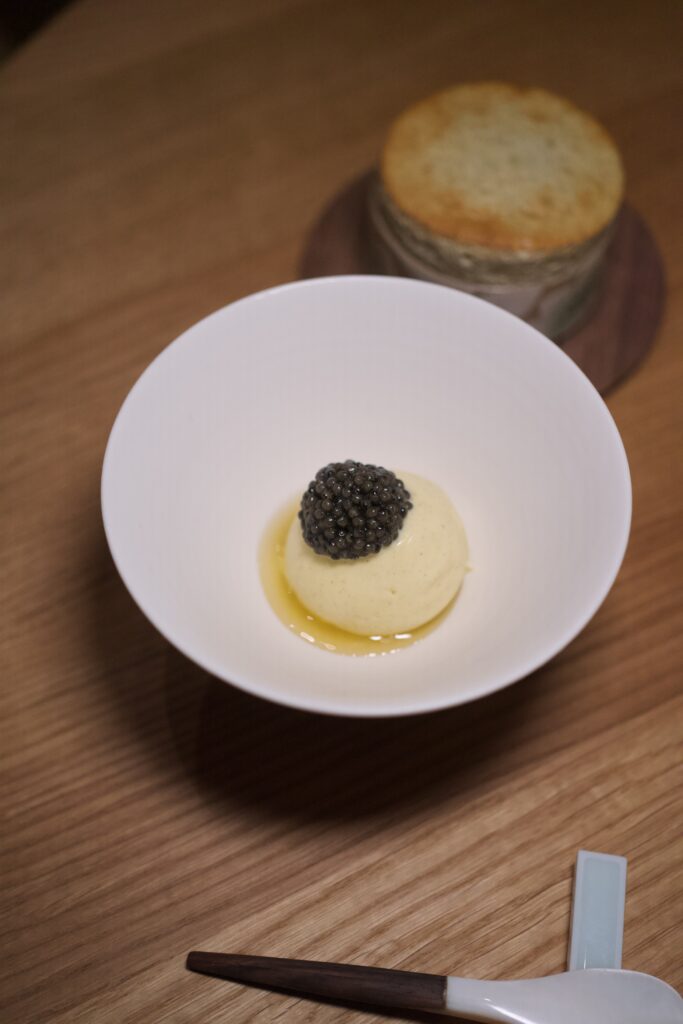 I think Kristian was first in Denmark to introduce caviar into desserts with his roasted seaweed icecrem hazelnut oil and GastroUnika caviar back at 108. The dessert has followed him ever since and here as well. On the side was a oolong tea soufflé which for me stole the show with its mix sweetness and super fluffy texture that went so well with the more umami rich ice cream.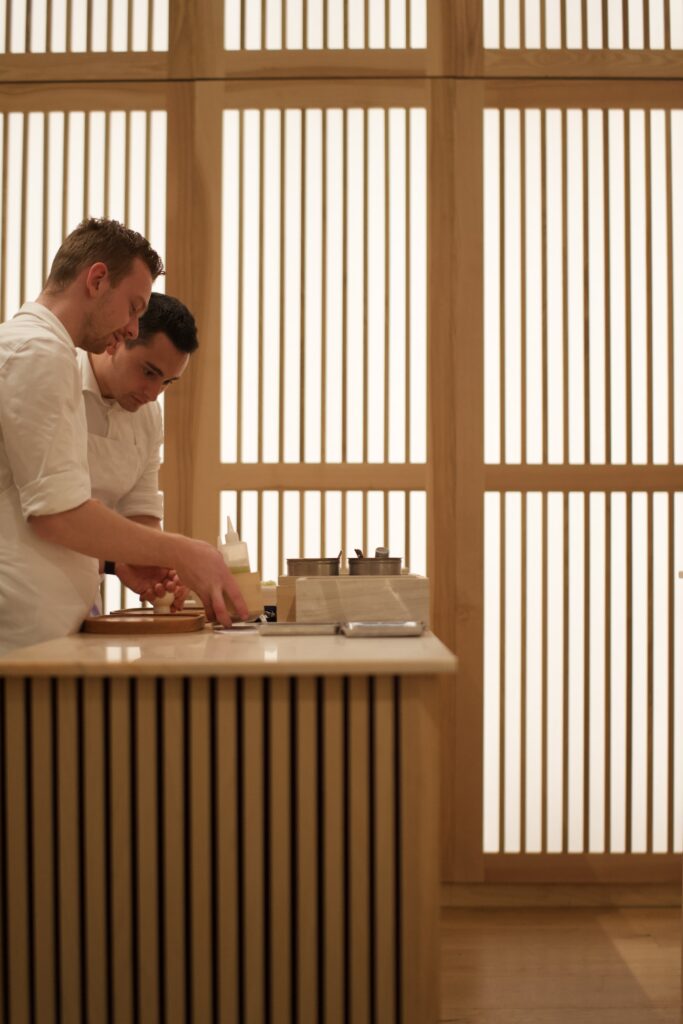 I remember my first meal at Koan when they did the pop up at Relæ. I loved it but at the same time it didn't really feel Korean or at least only to a smaller extent. With the permanent location it's obvious that Kristian is actually finding his roots and his balance. The flavor profile of the dishes feels very Korean, the inspiration for the dishes and even the china on which the food is served. The Danish element is the style and techniques used to actually prepare the food and the manner in which it is presented. The dishes are presented in a simplistic manner but prepared with lots of techniques and complex flavor elements with respect for the produce. In that way Koan incorporates Kristians Korean roots, the Danish ingredients as well as his professional training as a chef at both Noma and Relæ which to me brings the journey full circle.
As I mentioned in the beginning Koan has been one of the most anticipated openings and it really delivered on that. With its unique flavor profile, extremely beautiful restaurant and its just very delicious food it is easily one of the most interesting restaurants in Copenhagen right now. I unfortunately find it that as time passes I am becoming more and more difficult to impress as I eat at more and more top restaurants but Koan really blew me away. The Michelin guide is famously conservative when it comes to new restaurants but in reality Koan deserves two stars in the next guide. It's a must for any foodie living in or visiting Copenhagen.
Practical information
Website: https://www.koancph.dk/info
Menu: 12 course tasting menu (2500kr)
Head chef: Kristian Baumann
Location: Copenhagen