The last couple of years Tivoli has had a series of pop up restaurants for the summer period. This way they have brought different international chefs to Denmark and hereby increasing the culinary profile of Tivoli.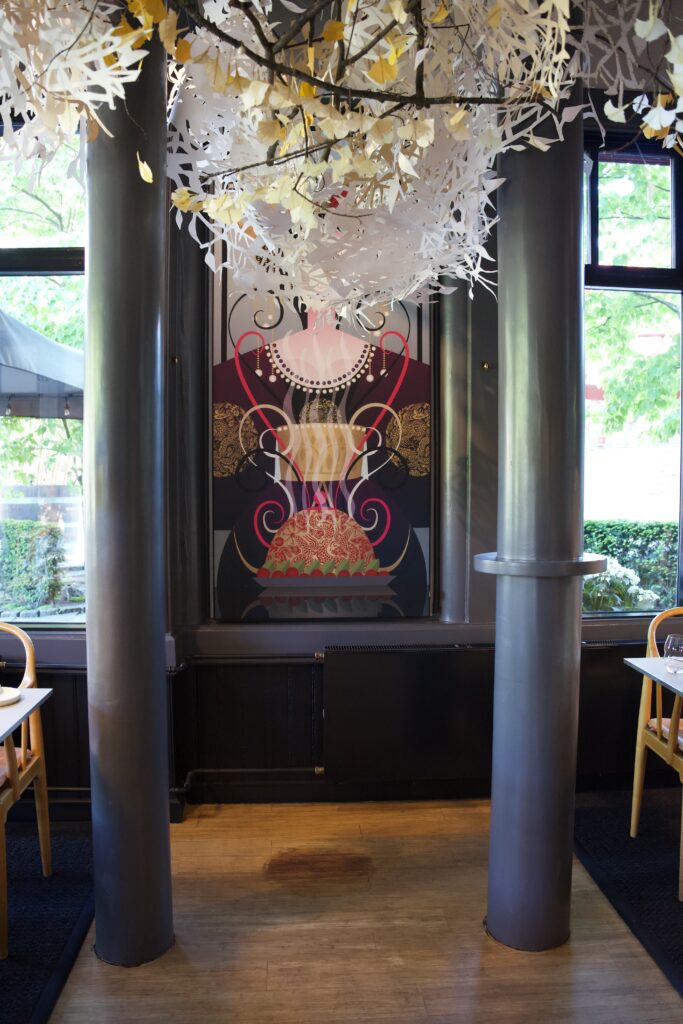 The latest installment is restaurant Lafleur from Frankfurt. A two Michelin star restaurant with a focus on plant based food and sustainability. To be practical it is however also possible to have a menu with a bit of seafood and meat on the menu while still being primarily plant based. They are also recognized for having a very deep and impressive wine cellar. One that they also brought samples of to Denmark.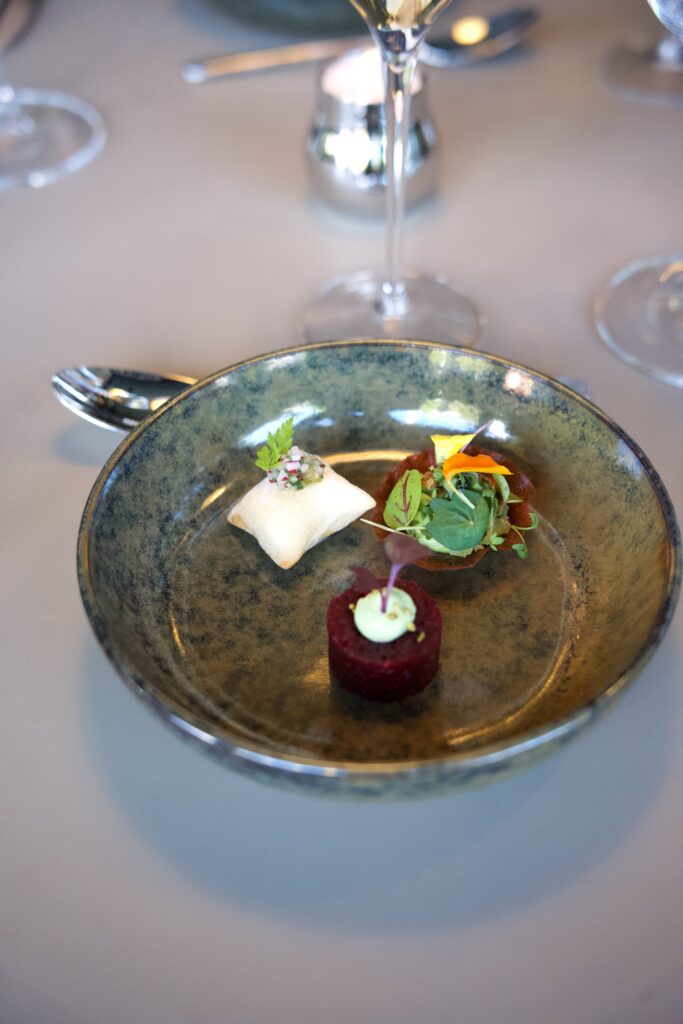 The menu is 12 dishes long including snacks and costs 1380kr (about 200$). We would start with a series of smaller snacks. Chive tart with celery and cress, beetroot tartare with a bit of wasabi, a "pizza pillow" with traditional German cheese and to finish, an small shot of beetroot with apple cider and horseradish. The visual presentation is very traditional and the flavors will surprise you. All very balanced with their own flavor profile and the craftsmanship is spot on. No distractions from techniques but simple deliciousness with a focus on the products.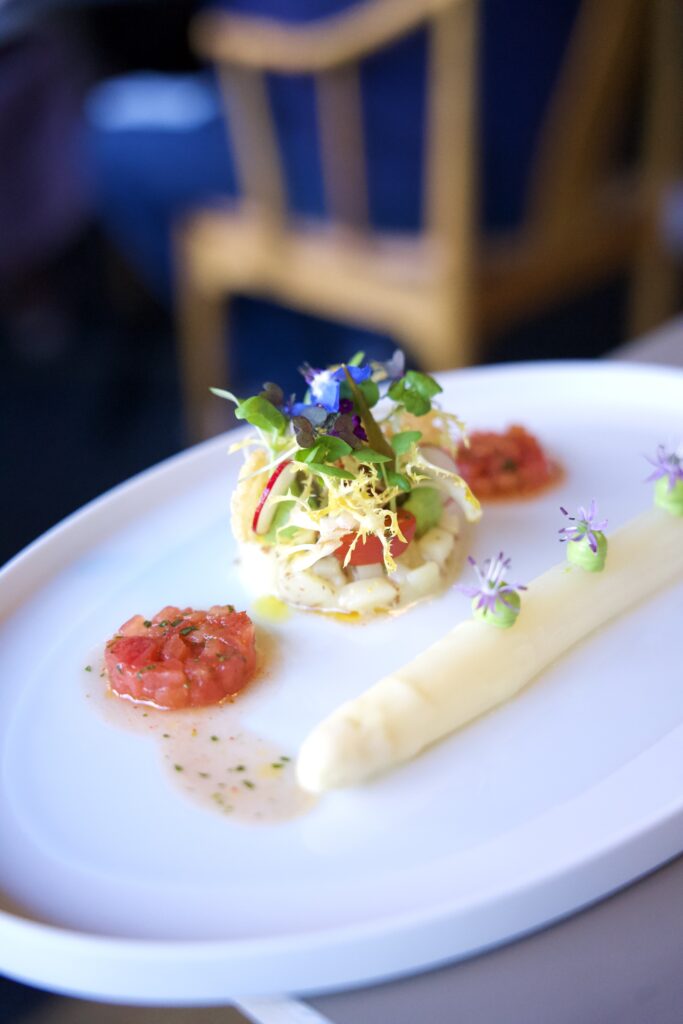 That can also be said for a white asparagus with a tomato "salat" and new Danish potatoes with a bit of radishes and herbs. I loved how all the elements were presented as they are without a lot of techniques or fermentation, but pure and fresh. Especially the tomato salat surprised me with its Mediterranean flavor profile in terms of preparation and spices. Simple but very well executed.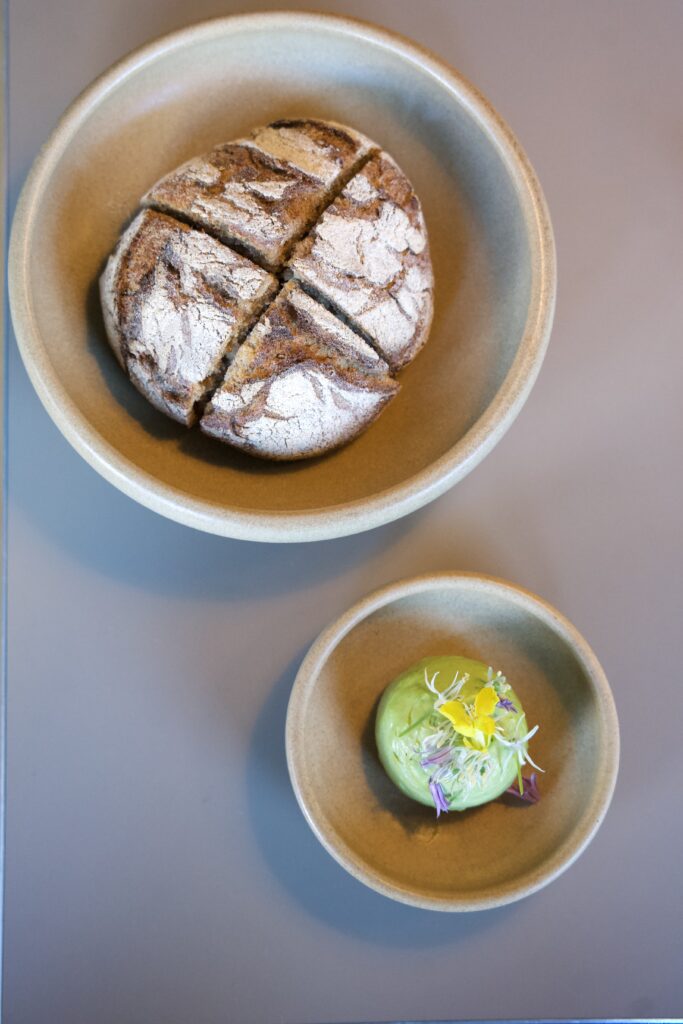 Bread and butter is pretty standard as a separate dish in Copenhagen. It's also safe to say that the general quality of bread is very high. So coming with a German style of bread takes a lot of courage. The bread is made with rye flower and adding a bit of cumin and fennel seeds truly made it stand up. Finished with a nice crunchy crust it really did the trick.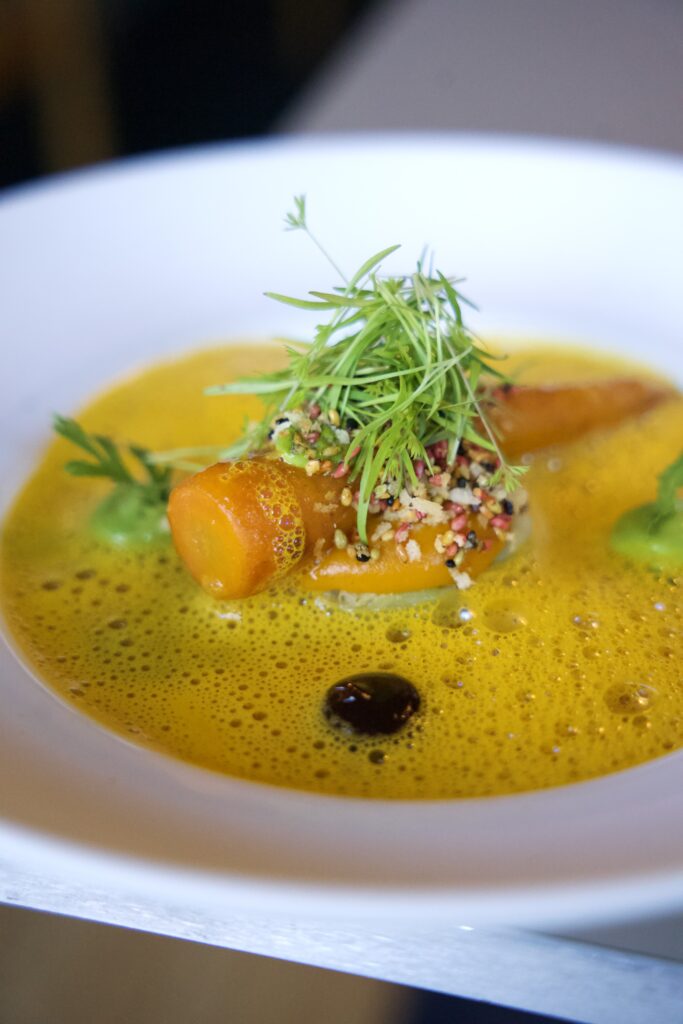 For the next dish they would introduce a bit of Asian flavor elements in the form of kimchi and curry. This was served together with a roasted carrot. These brought both acidity, sweetness and naturally balanced curry flavors to the dish. What really made the dish however were the different seeds including sesame that provided some very nice crunchy textures and rounded of a very delicious dish. Again a dish that was just very well executed. No fuss but great flavor and texture elements.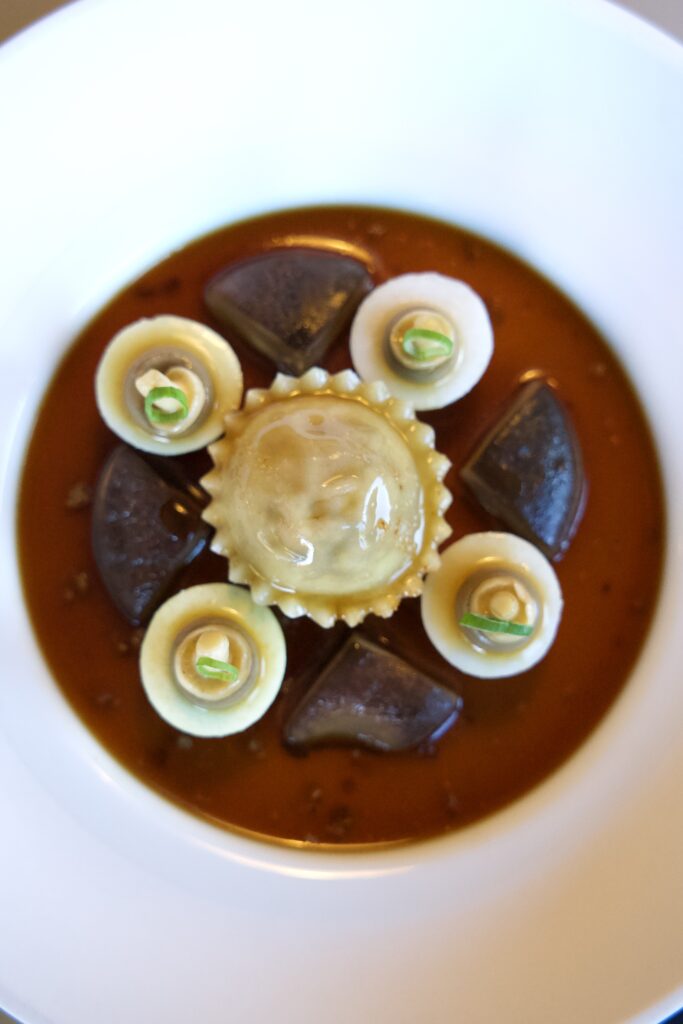 To transition to the main courses we would have a mushroom ravioli served with crunchy kohlrabi and spring leek. A few preserved mushrooms gave nice acidity to balance the umami flavors of the ravioli and the kohlrabi a nice crunchy element to the dish. A dish that I have had in so many variations before but this one was just better than usual.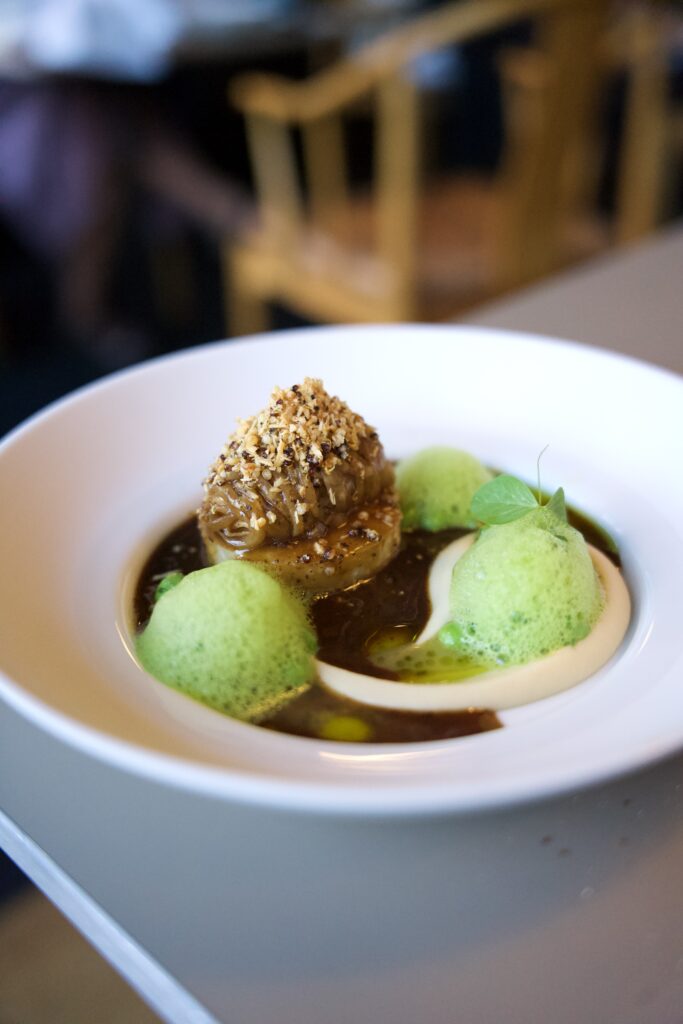 Celery is an ingredient often used in vegetarian restaurants as a main dish. It's rich flavor works very well with some of the classic condiments for a piece of meat. It did here as well. A roasted celery was served with a truffle sauce, fresh peas, a bit of quinoa as a crunchy element and mint foam to finish. Again a dish that sounds classic but in its execution it elevated itself above what you expect and what you normally would get.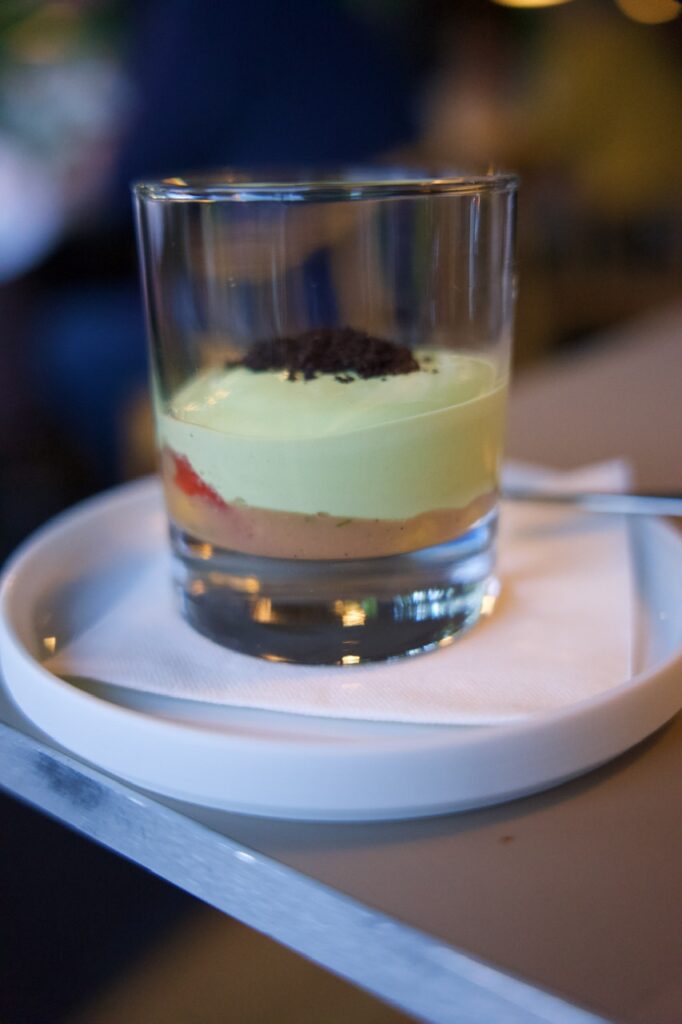 A champagne granite was served together with pickled peaches and spruce shoots. Another presumably simple dish, but it worked quite nicely together.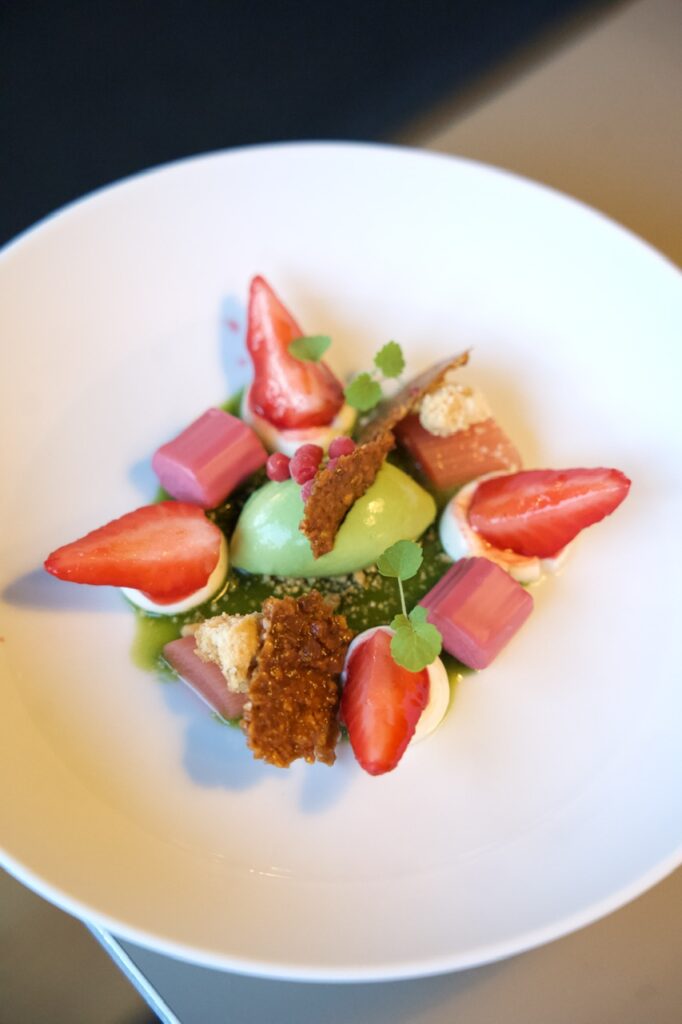 The final dessert looked anything but simple when it presented itself on a dish. 7-10 different elements were presented on the dish including fresh strawberries, rhubarb and sorrel ice cream as the main ones. All of the emotions and classic spring ingredients together in one dish. Again it was all about the execution that elevated this dish. A very clean, fresh and delicious end to our meal.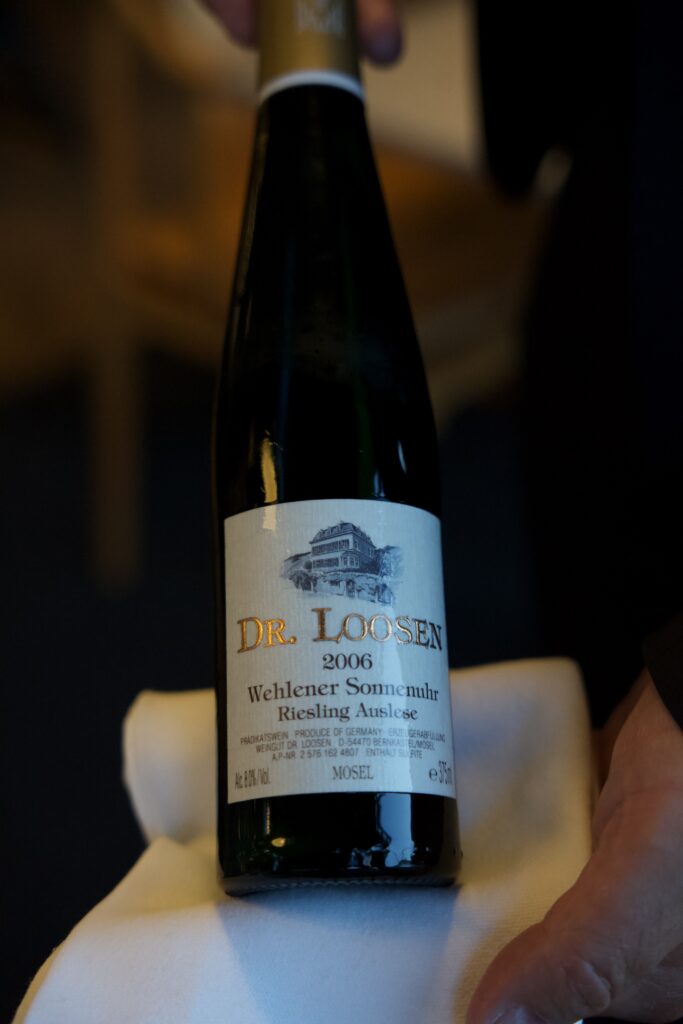 Besides the two different menus where we chose the vegetarian you also have the options to pair it with either a German wine menu or a Coravin pairing of some of those exclusive wines mentioned earlier. I went with the German option with just a small addition of a Leflaive from Puligny-Montrachet. Both great options and you actually don't feel like you are loosing out by choosing the German pairing as they are paired really well with the food.
Vegetarian food is not particularly popular in Denmark and when it is. It is usually done quiete bad or fermentation is used extensively to build a complex and deep flavor profile. When talking to head chef Andreas Krolik about just this he replied that "why would you use preserved vegetables at the peak of their freshness?" This approach really works for Lafleur and it works because of their ability to build flavor and by not following the general consensus they stand out. Luckily they stand out in a very positive way. End to end the meal had surpassed my expectations with seemingly simple preparation but with great flavor and texture.
For the next month Copenhagen and Tivoli is the proud "home" to a true 2 star Michelin vegetarian restaurant which to me also marks the highlight of the popups I have tried in Tivoli so far.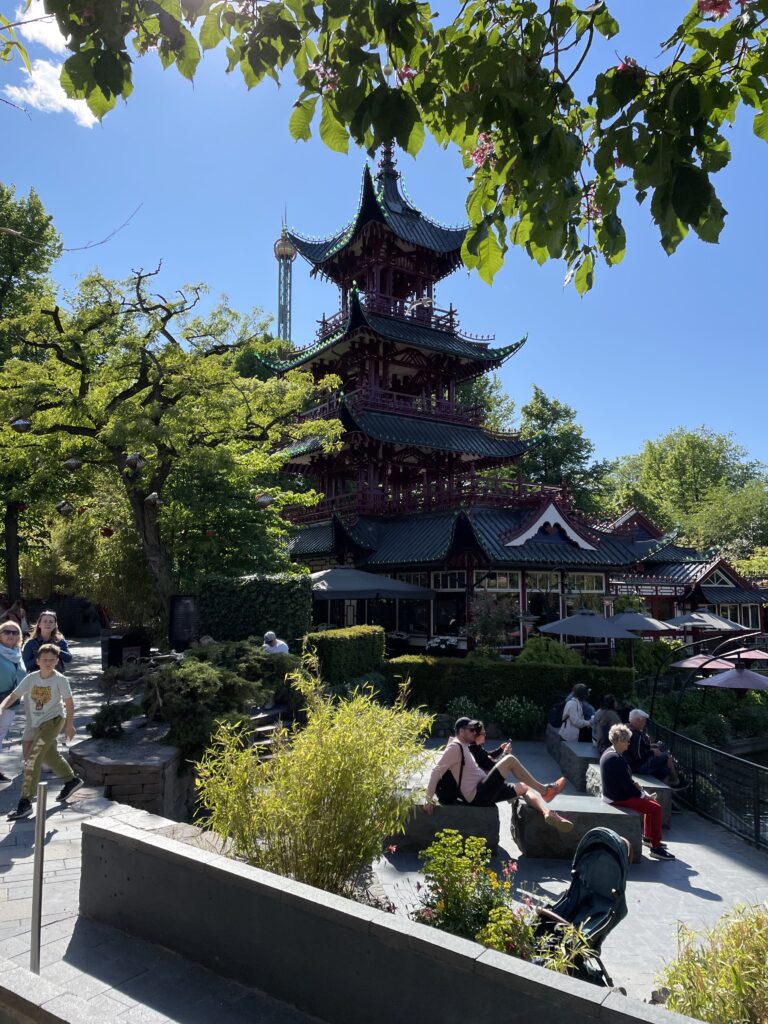 On a practical note. In order to try the menu at Lafleur you need an access to Tivoli but that is just a good excuse to see the 150 year old amusement part that inspired Walt Disney to build Disneyland.
In the spirit of transparency I was Invited by the restaurant to try the menu.
Practical information
Head chef: Andreas Krolik
Menu price: 1380 kr (about $200)
Booking: https://www.tivoli.dk/da/mad-og-drikke/spisesteder/lafleur-pop-up-i-det-japanske-taarn