The owners of Ark are serious about plant based dining. Their dedication doesn't stop at the food and the drinks but the entire restaurant. Before visiting the restaurant, I had no idea that there are animal products in both paint and glue and that alternatives existed as well. So it was naturally quiete the surprise to hear that their plant based approach included every aspect o the restaurant such as paint and furniture. As a guest they are however at no point preaching. You feel welcome like you would at any other restaurant, but naturally you understand their hope to make an impact on the world. So with that kind of dedication I was curious to say the least as to how the food would taste.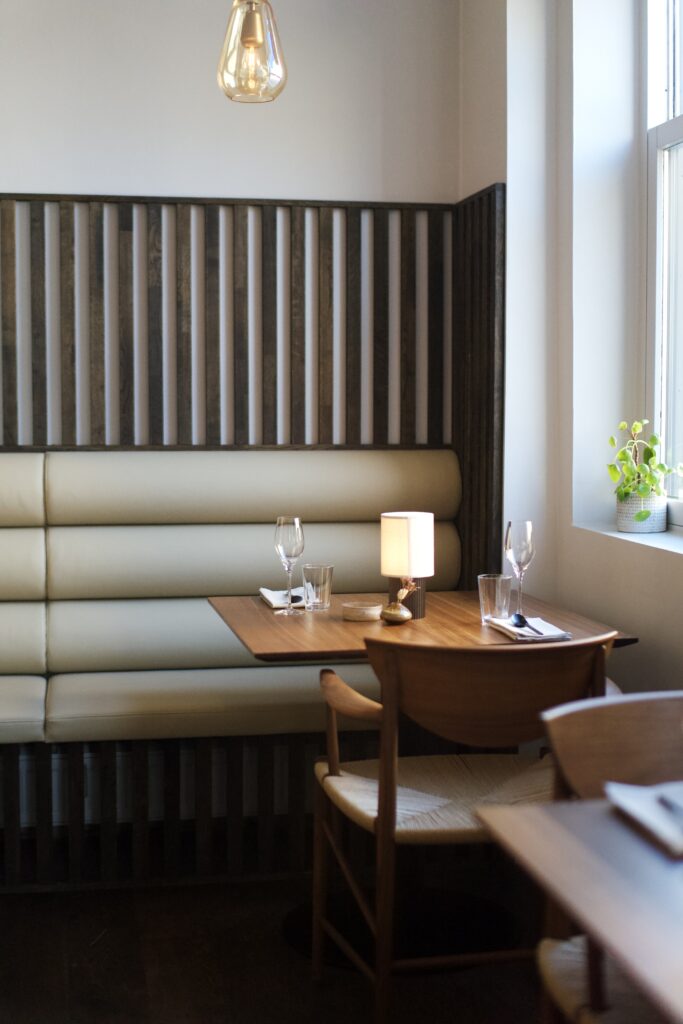 The restaurant is beautiful and cozy with a focus on natural materials like wood. For a tasting menu place it is rather big with room for about 50-60 people and the day we were there it was almost full creating a nice atmosphere. As a guest you have the option between 2 tasting menus where the shorter menu is only available at the early seating. We naturally went for the larger one of 9 dishes and petit fours.
In contradiction to many other fine dining restaurant you are not bombarded with a series of snacks to begin with but here you are strait on to a series of lighter starters. The first one was a refreshing seaweed "jelly" with both cucumber and umeboshi. The combination was very interesting while being both refreshing from the cucumber but also depth of umami flavors from the umeboshi and seaweed.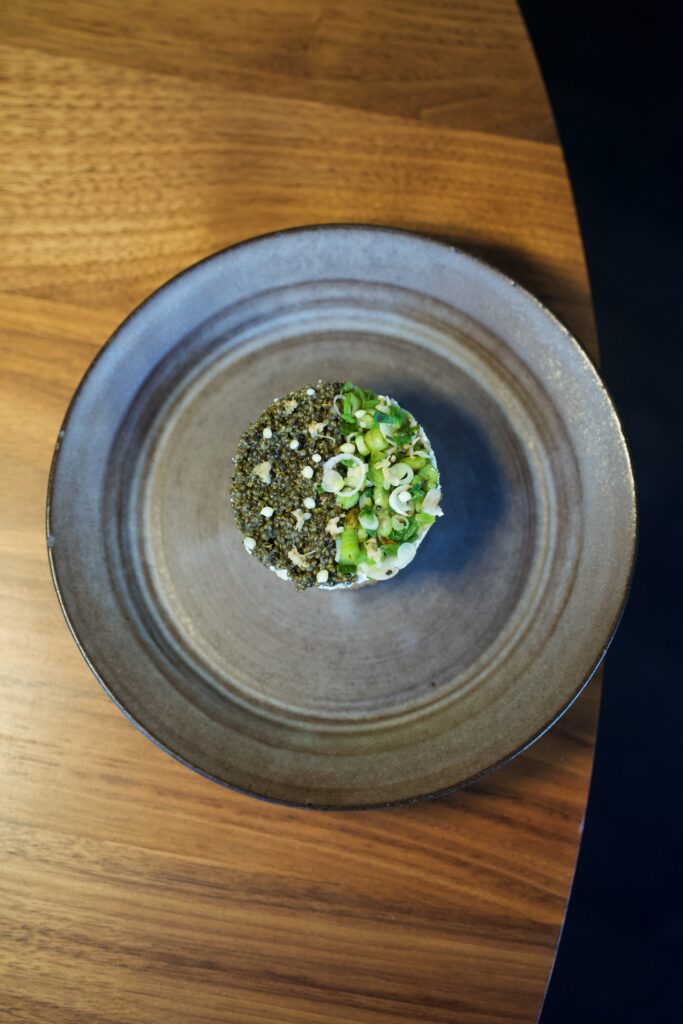 The next dish is a naturally visually impressive dish mimicking that of caviar but here with tonburi instead. It was combined with a sourdough crumpet, smoked ricotta cheese and a bit of apple vinegar. Again it was a nice flavor and texture combination which displayed their ability to build interesting and delicious flavor profile.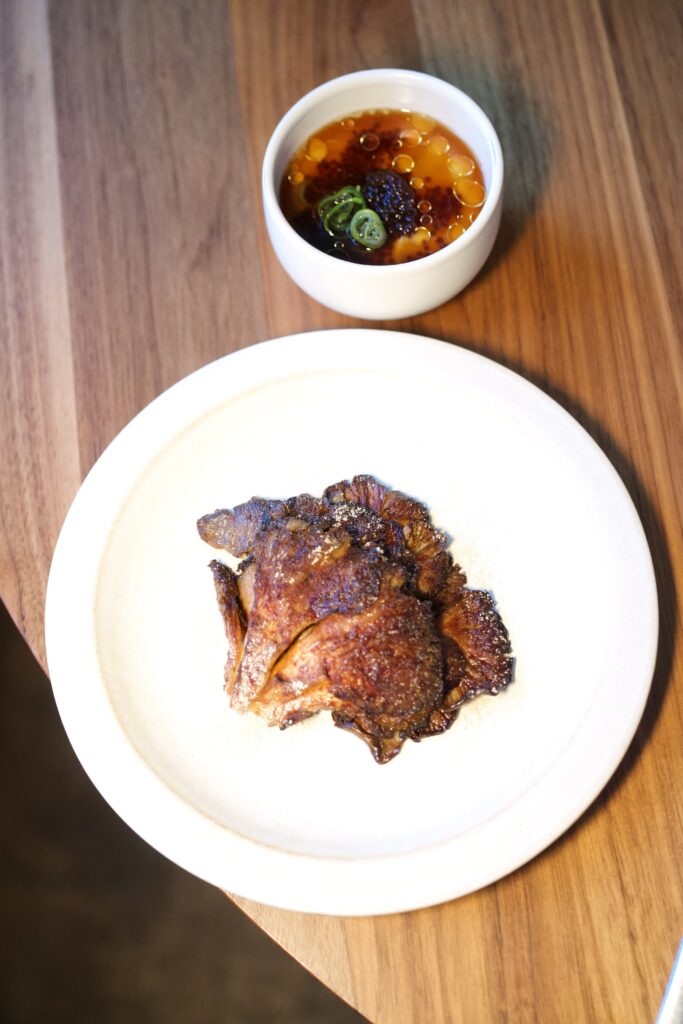 You would think that it is impossible to make a chawanmushi, which is Japanese for egg custard, without eggs but they managed to do just that.  It is made based on soybeans and served with spring onion and fresh shiso. This was served on the side of their super delicious oyster mushrooms from Fuga farm. Being yakitori grilled they held so much flavor and a great texture. Simply a delicious dish.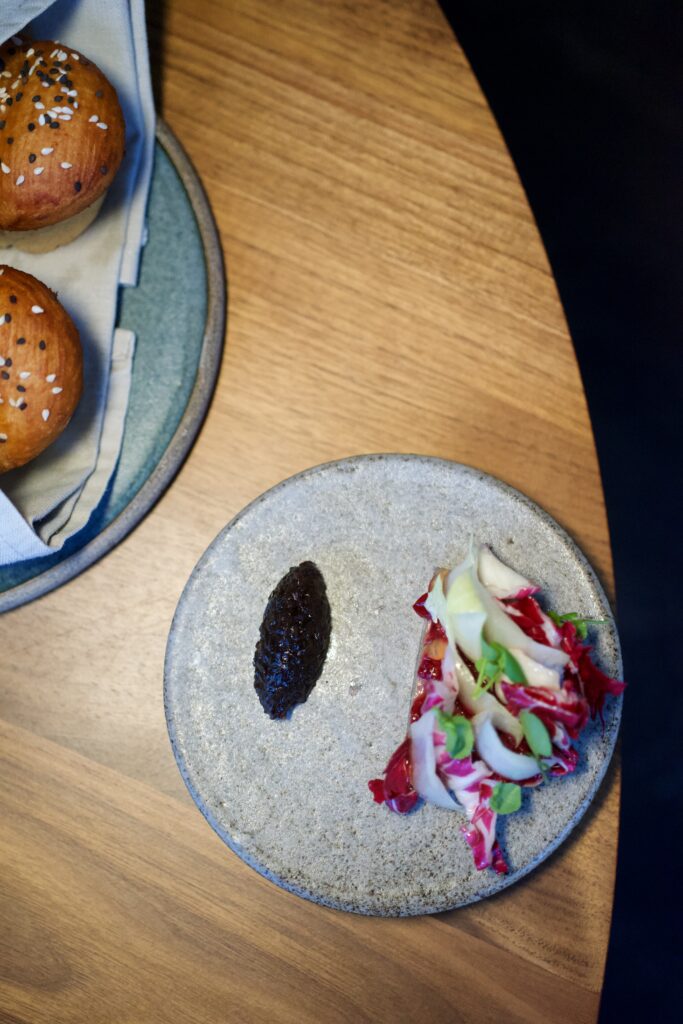 Bread and butter is often its own serving as part of a tasting menu. It is here as well but its served with a mushroom "paste " with a bit of sherry and topped with radicchio. A nice mix of flavors and great to have a bit of variation in there in stead of the traditional serving.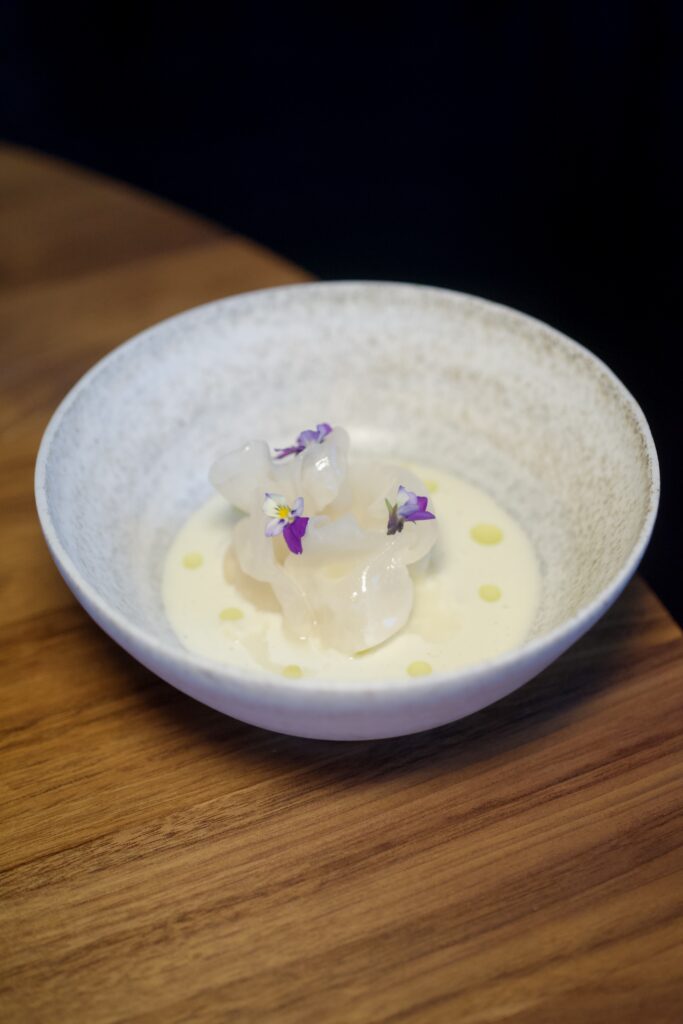 Perhaps the most beautiful serving of the evening was next. Turnip formed like a flower served with a sauce made of radish, apple and macadamia. Especially the green apples gave a great acidity to match the rich macadamia sauce.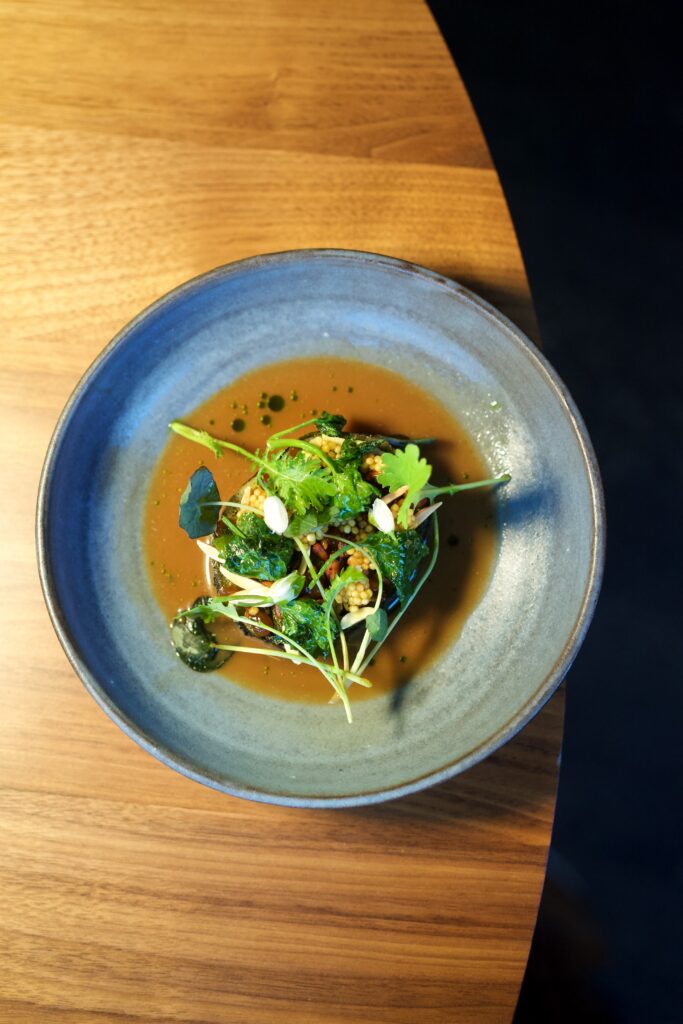 The most umami rich dish was next in the form of grilled leeks, wrapped in nori and served in a rich ponzu and yeast cream. There was a bit too much nori for my flavor but that was easily removed and after that it was a nice umami rich dish.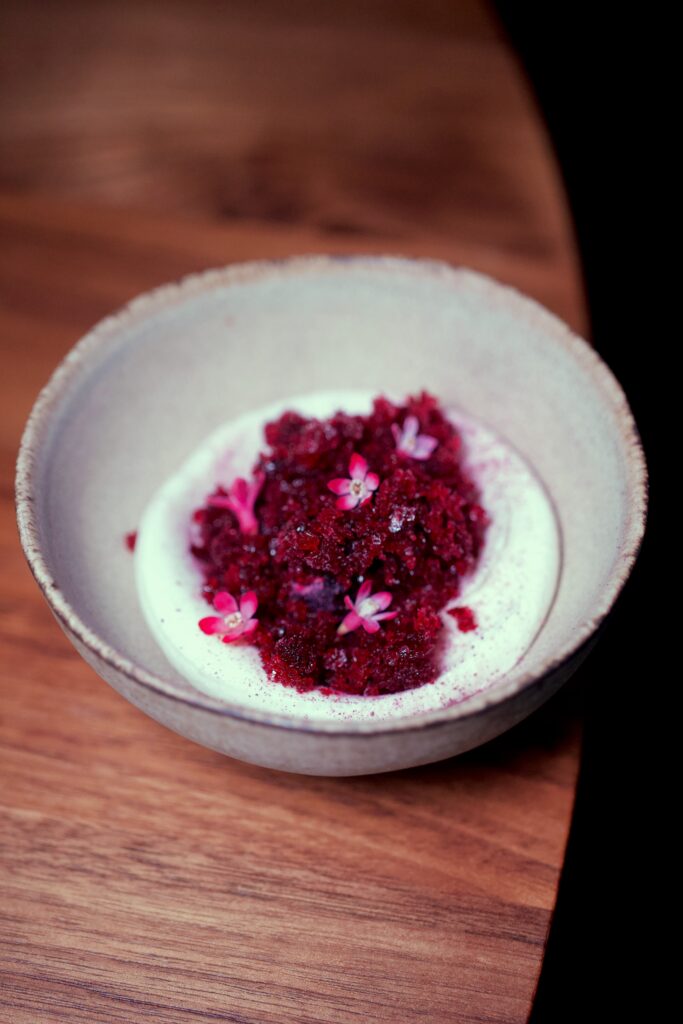 To finish we would have two desserts. The first was a cherry and beetroot granite served with a bit of crème fraiche "crème" and hibiscus. The tartness and earthiness of the beetroot was a great match to the sweet and sour cherries and acidity. A dish that was very well rounded and nice.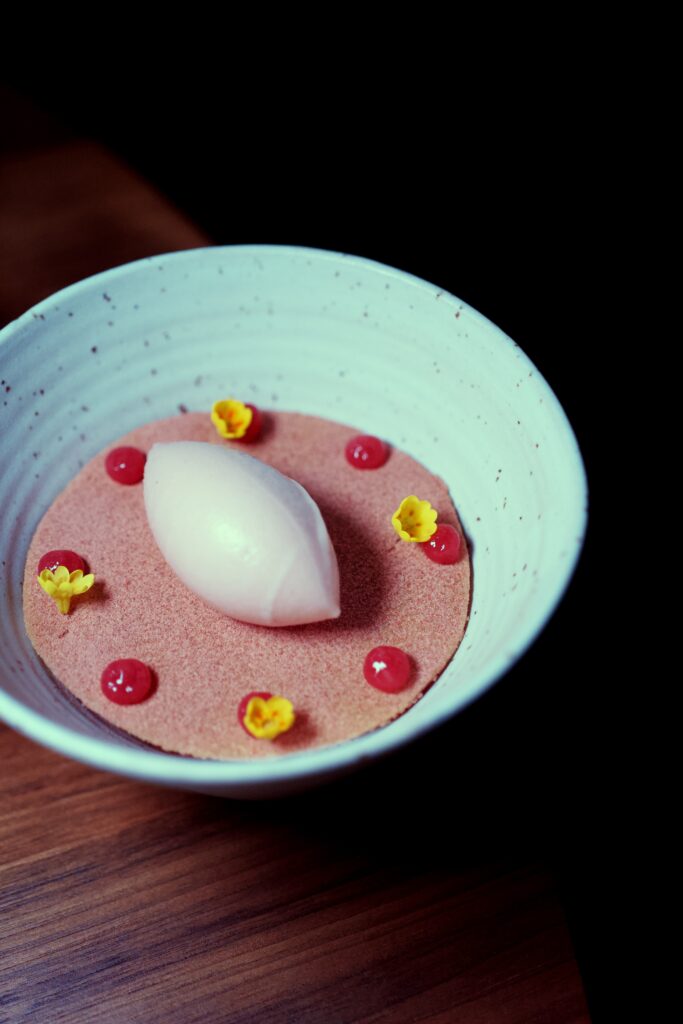 The final dessert was visually impressive and equally delicious. This time a more sweet dessert with rhubarb yogurt and a bit of lemon thyme. Classic and delicious.
Plant based dining is not very common in Denmark. As I am not a vegetarian it is also not something I seek out but I do seek out flavor, presentation and good service and Ark has all of those things. So if you are a vegetarian it is a clear recommendation in Copenhagen but also for those eating fish and meat. At no point in the menu did I miss those things and they have managed to create depth of flavor and umami using ferments and other ingredients like seaweed.
As a restaurant it is balancing on the verge of a Michelin star and for the sake of our planet I hope they will get it to put even more emphasis on sustainable dining.
Practical information
Location: Copenhagen
Head Chef: Brett Lavender
Menu: Tasting menu 1000kr (apx. $140) and $275 including wine
Webstite: Ark – A Green Michelin Starred Restaurant — Restaurant Ark