Kona started just briefly before the lockdown as a ramen bar to big success, but people spent to much time hanging around in the beautiful bar, so they decided to build on that when they reopened. I am sure a deciding factor had been that Jessica Natali joined the team. With her experience as sous chef in INUA and before that Noma it was obvious to build upon that hence they opened it as a 24 seat omakase counter, and it was the omakase counter that had brought me here today. They do however also have a Izakaya but that is for a later visit.
It seems that oysters are one the hottest ingredients in Copenhagen right now and they had also made it to the menu at Kona. Oysters in 3 different variations, the all-natural, with chili and lastly with shiso all to be finished with a splash of refreshing tomato water. My favorite was the somewhat smokey chili but they were all tasty.
One of my favorite Japanese dishes is katsu which some might call the Japanese version of a sandwich and what a sandwich it can be especially when treated with dedication and luxurious ingredients are used. The Kona version had neither Kobe beef or other luxurious ingredients instead; it was prepared by an intelligent and dedicated chef that was able to turn a humble eggplant in to the most umami rich and soft dish. Its safe to say the highlight of the meal as it was just very impressive.
After an umami rich dish, we were to move on to a bit more herbal and refreshing with a nori filled with different herbs, umeboshi and a bit of fresh vegetables. A simple and no fuss refreshing dish that cleaned the palate.
I am a huge fan of squid and this version would live up to my high expectations. Served with kanzuri butter, lemon zest and topped of with caviar. Caviar is the other hyped ingredients in Copenhagen right now which I had to go for. The texture of the squid was just delicious, the texture was soft and "fatty" and perfectly matched with the heat from the kanzuri. As for the caviar it was nice, but the dish actually did fine without it as well.
A red mullet dashi was next. A lonely horseradish flower which I just absolutely love was however to play a central part. I decided to just lightly cook my red mullet in the dashi and with the heat from the horseradish it worked perfectly. Finishing drinking the dashi was just a pleasure. For me it was the simple horseradish flower that really rounded of the dish and made it stand out.
The next dish was the simplest of the menu were some humble Yakatori grilled oyster mushrooms. To bring out even more umami flavors it had been brushed with a smoked butter glace. Simple yet delicious. A dish cooked with knowledge, but also a dish that made me think how much it was able to build this dish even further with just a bit more time.
As it is a Japanese inspired restaurant finishing with a rice dish is a given and the Kona version is beautiful. Lots of edible flowers, a soy marinated egg yolk, rice and on the side miso soup and pickled. Classic and good, but it didn't blow me away unfortunately. Up until this point it had been rather small dishes so starting at this dish, I was still hungry but all that ended here as there was A LOT of rice.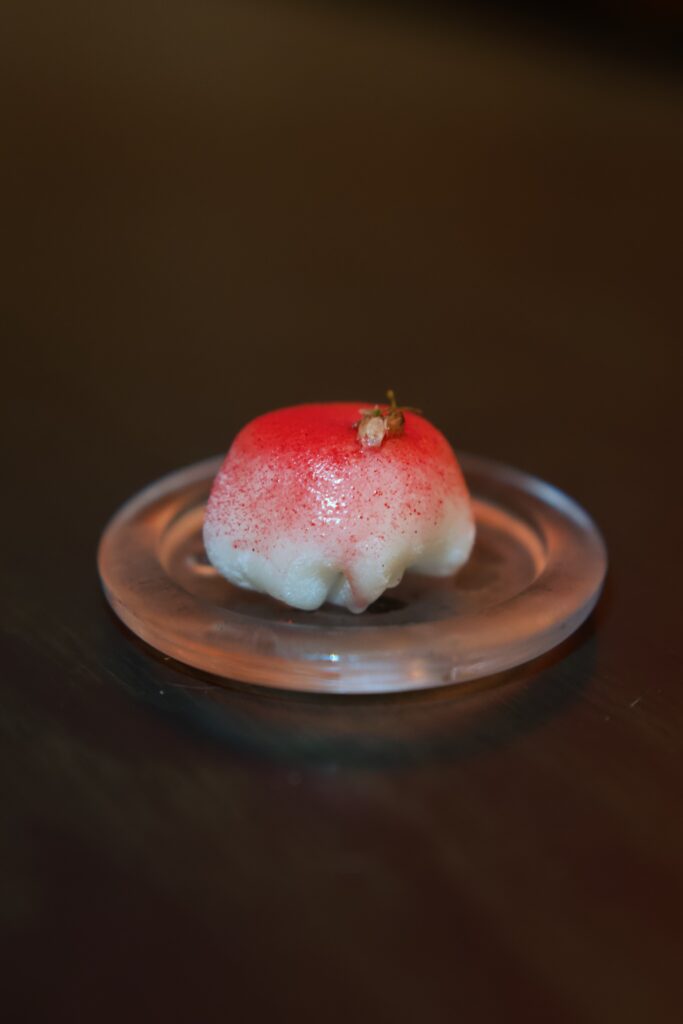 To finish was a simple vanilla ice-cream mochi with preserved cherry blossoms. Not a dish that blew me away, but it was very nice.
Since having visited Japan almost 2 years ago I had missed good Japanese food and with KONA I found it. They call them selfs a Japanese inspired restaurant which I think is a fair description. It is not 100% strict Japanese but everything feels Japanese. Everything was delicious despite some of the dishes being quite simple and the katsu blew me away. At the price point of $100 for an 8-course menu it's fair to say that it is amazing value for money. The omakase counter has only been open for less than 2 months when we visited, and Jessica had never worked as head chef before, but we were still very much impressed, and it shows lots of potential just waiting to be fulfilled. With a bit of luck, they will be able to gradually increase the price to allow for more elaborated dishes and luxurious or scares ingredients.
Just 10 days after visiting the omakase counter my wife had visited the Izakaya and came back happy and I already cannot wait to go as well so it seems that that is up for me next and the mix between the two is bound to be a good match.
Practical information
Website: Kōnā – Japanese Inspired Eatery (behind-the-elephants.com)
Head chef: Jessica Natali
Menu: Tasting menu at the Omakasse counter and a la Carte at Izakaya
Price: $100 for the tasting menu excluding wine
Location: Copenhagen, Denmark