Geranium recently announced that it would be cutting the menu that it had spent years perfecting and had taken them to number 2 on W50B. With the change of the menu they also cut meat from the menu completely as well as a small remodeling of the restaurant it self.
Geranium is a restaurant that I early in my foodie career visited frequently but recently for reasons I cannot explain had slipped of my radar. A new menu was however exactly what it took for me to come back.
The restaurant is placed in an unusual place. Neither in a fancy hotel nor a luxurious commercial building but in the corner of the national football stadium. Entering into the restaurant any thoughts of football is long forgotten. The open restaurant with flowers and other plants painted on the walls tells you exactly what you are in for. A vegetable driven restaurant with attention to all the small details. Quickly after we sat down in the lounge a champagne cart quickly arrived with options such as Dom Perignon and Grande Annee also tells you that it will be a night filled with luxury.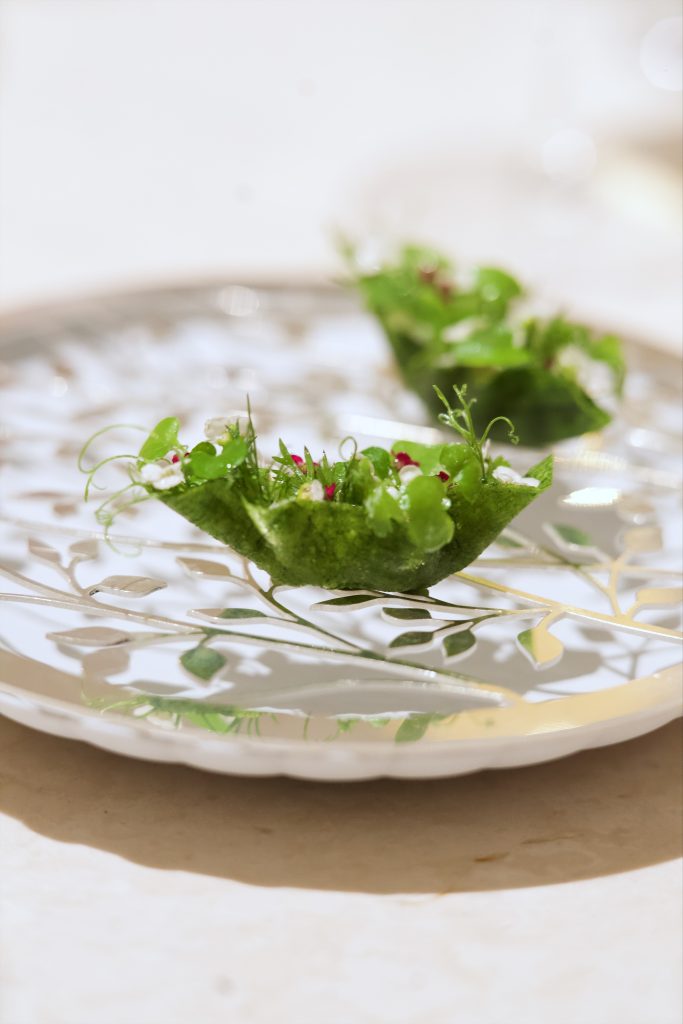 More or less the entire menu at Geranium was snack size so the first dish on the menu was almost the same size as the last savory dish where we were to begin with a salted hearing with dill stem and aquavit but end with ryebread and cheese. Both classic Danish dishes but in completely new interpretations. The first was super refreshing and a nice take on the otherwise sharp hearing.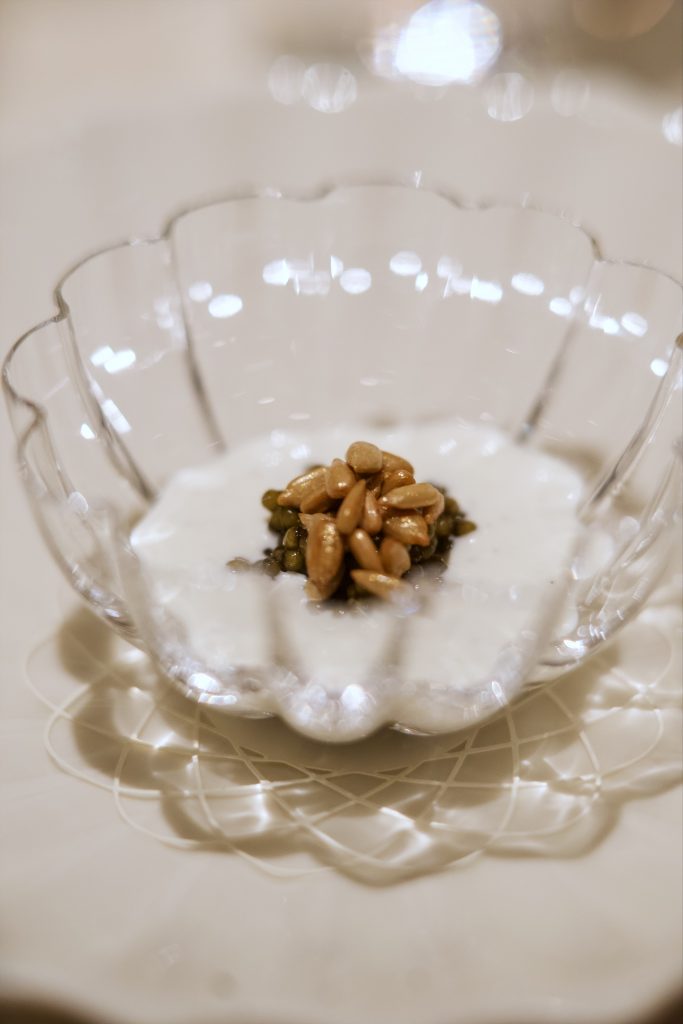 We were to continue with the first round of caviar. This time oscietra together with lightly smoked sunflower seeds and whipped crème. The combination of cream and caviar needs no introduction, and it is used by many restaurants because of how they balance each other out very nicely as they did here as well with the fresh element of the smoked sunflower seeds.
Next up a umami rich infusion which from grilled squid, yeast and potato skins. Very nice umami flavors, but I am not sure why a pure broth was served on its own. It could have used some contrast in both texture and flavor.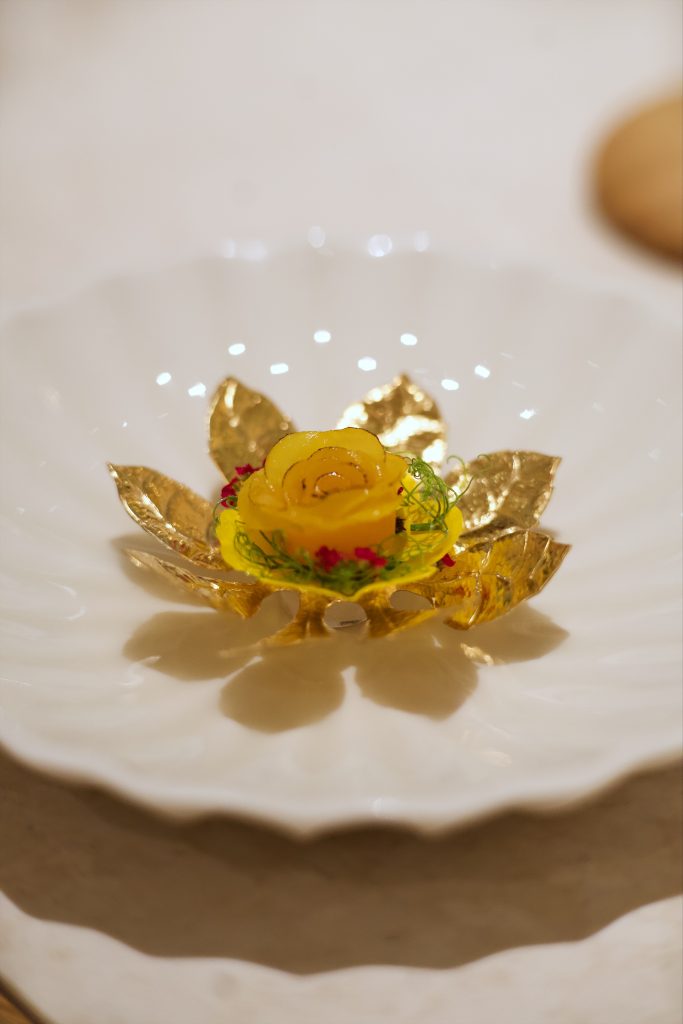 The yellow beets with seabuckthorn and goatchese was however very nice. The tartness of the beet was nicely matched by the seabuckthorn and the plating was just impressive.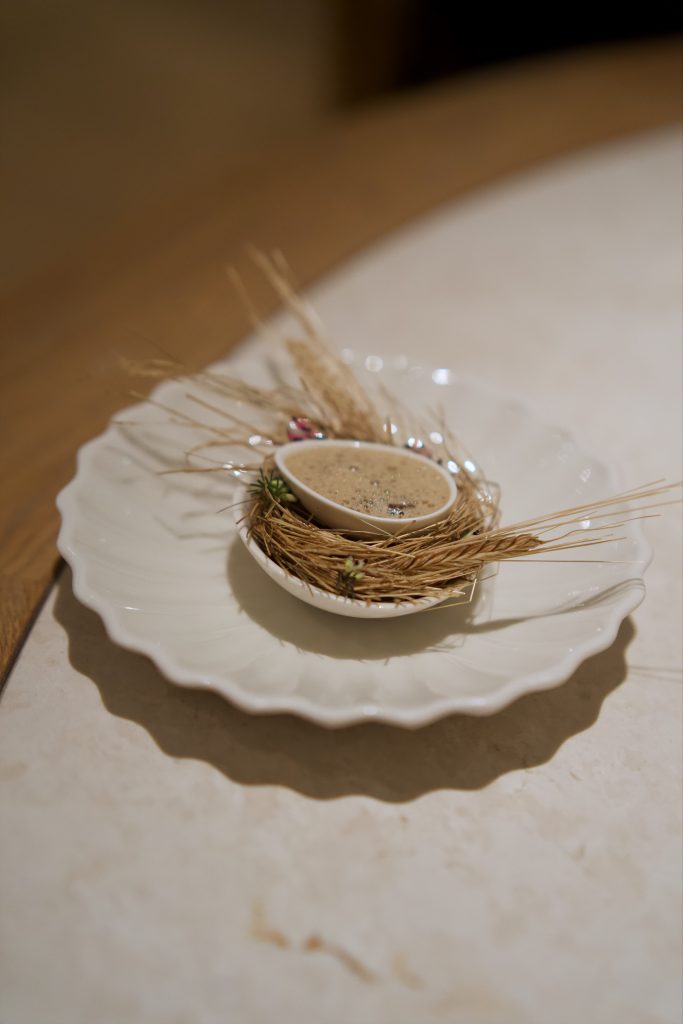 Impressive is also a word that I would use to describe the next dish in the form of mushrooms, dark beer and a quail egg yolk. Naturally the egg yolk and the mushrooms goes extremely well together to form an umami heaven.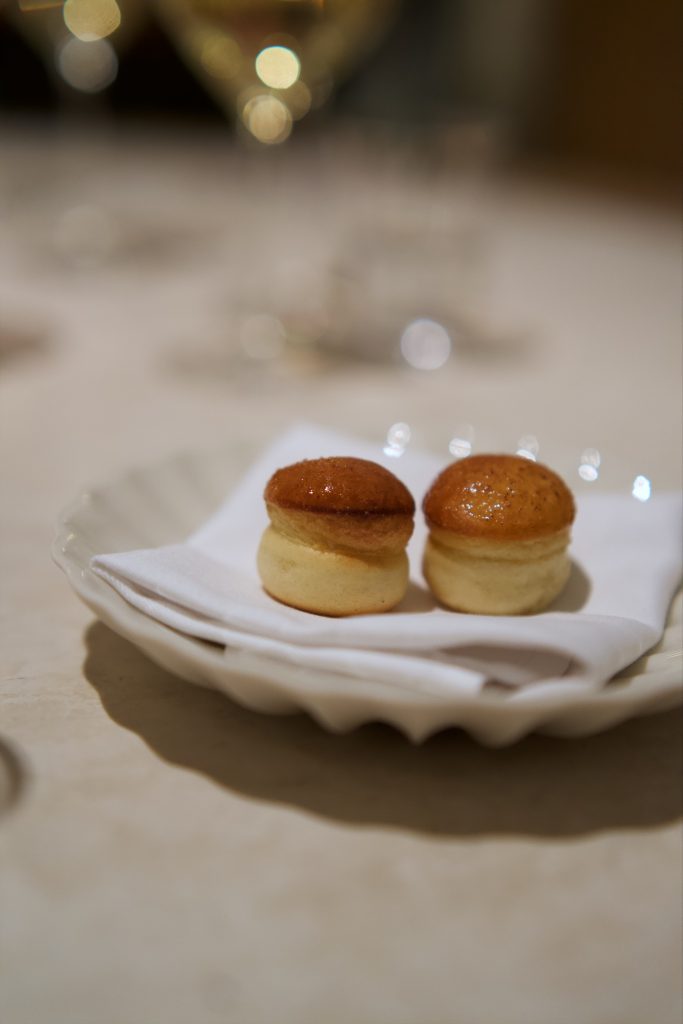 To continue in the forest we were to have a small cepmushroom brioche bun with a bit of butter. Extremely fluffy and light, but in reality I could have used a bit more of cep flavor for the bun to truly stand out.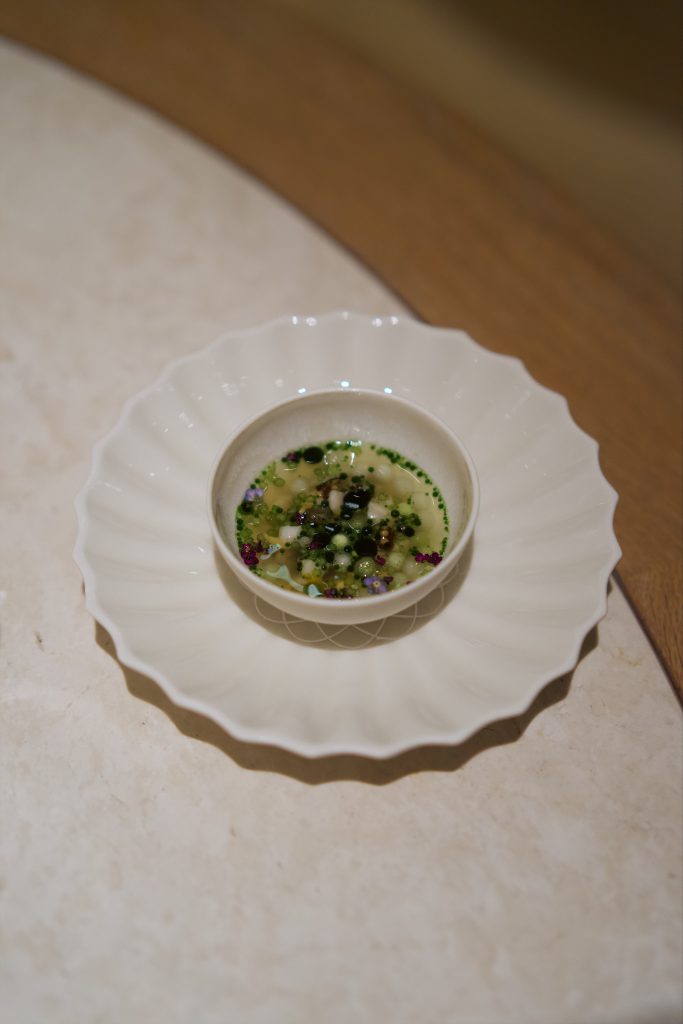 First dish from the ocean this evening was a small cold bowl of cucumber juice with smoked snail eggs and a variety of different herbs. A very nice introduction to how Rasmus views the flavors of the ocean.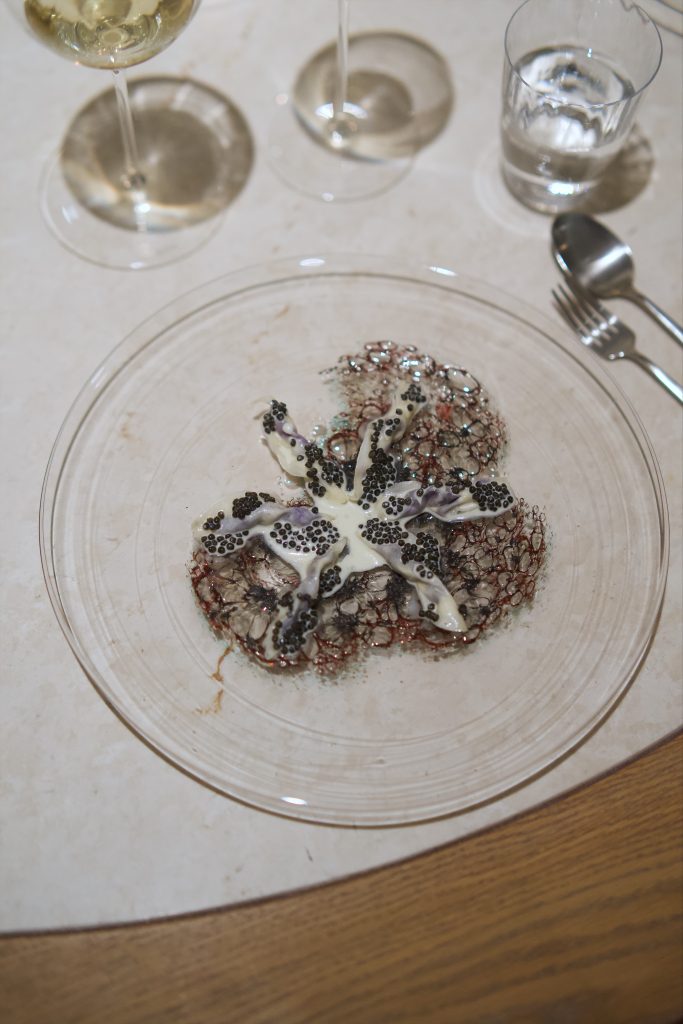 Quickly back on land with a dish that is sure to be a new stable and probable signature dish. Celeriac with hazelnuts kefir and caviar. A dish that is subtle and yet powerful which is perfectly underscored by the very special plate. A match made in heaven.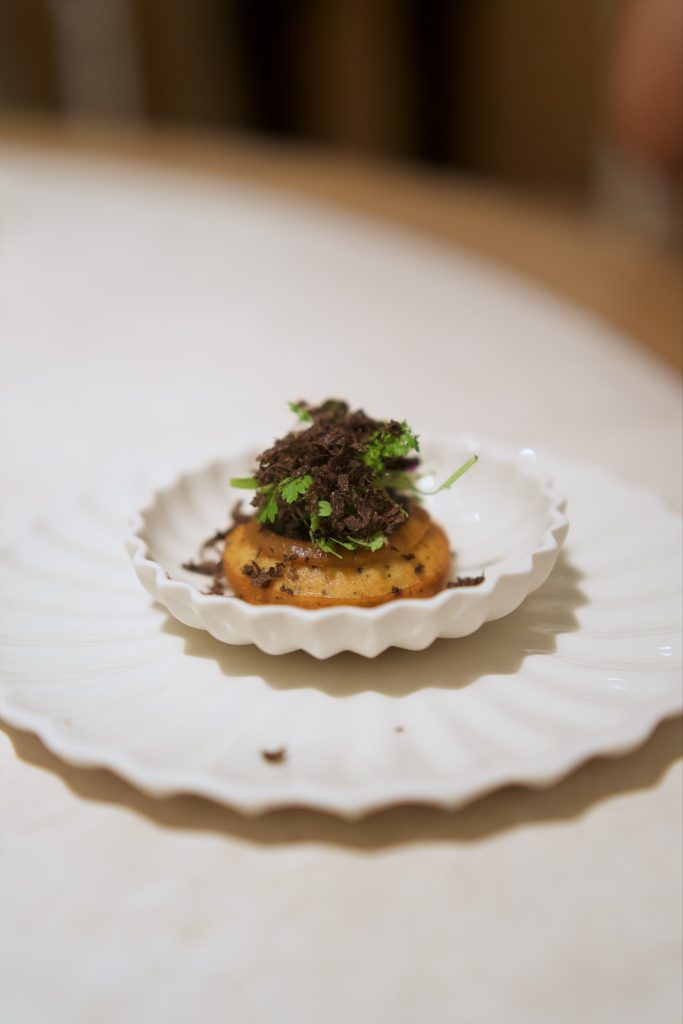 Next up another favorite of mine in the form of a small pancake with wild onions, winter truffle and a bit of aged cheese. Again we are back in umami and classic heaven where the truffle was naturally present in the flavor but without dominating.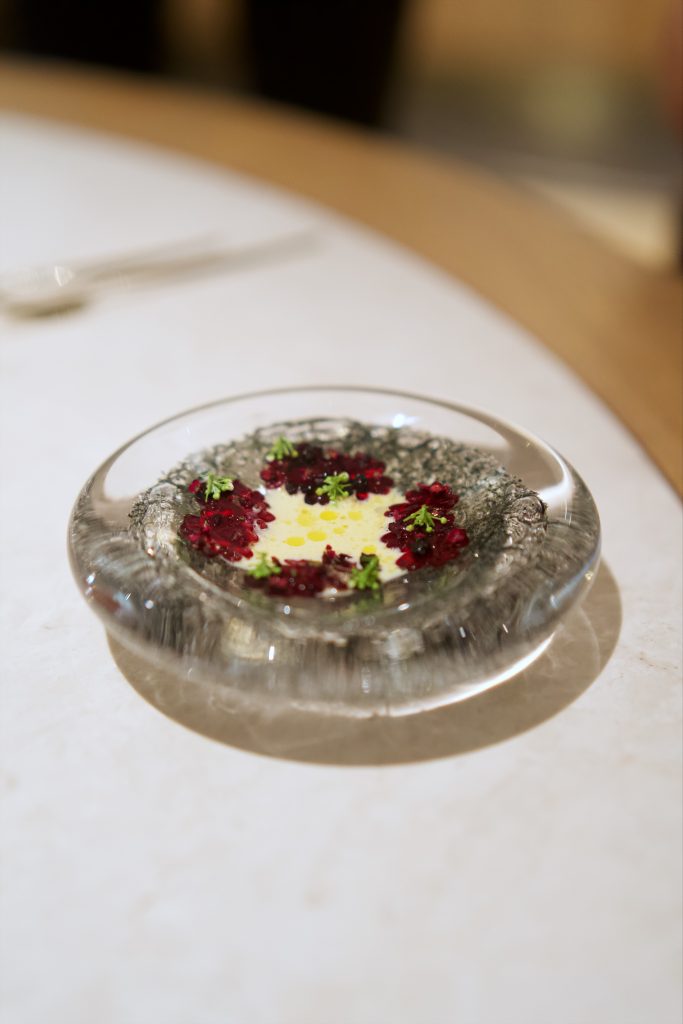 With a small dish of leather beetroot matched by dried blueberries and a horseradish sauce that in the last couple of years have made a comeback in the finedining scene. A comeback that I am really happy about. Especially when this delicious and when used to create balance in a dish and not just edge and this dish was balanced.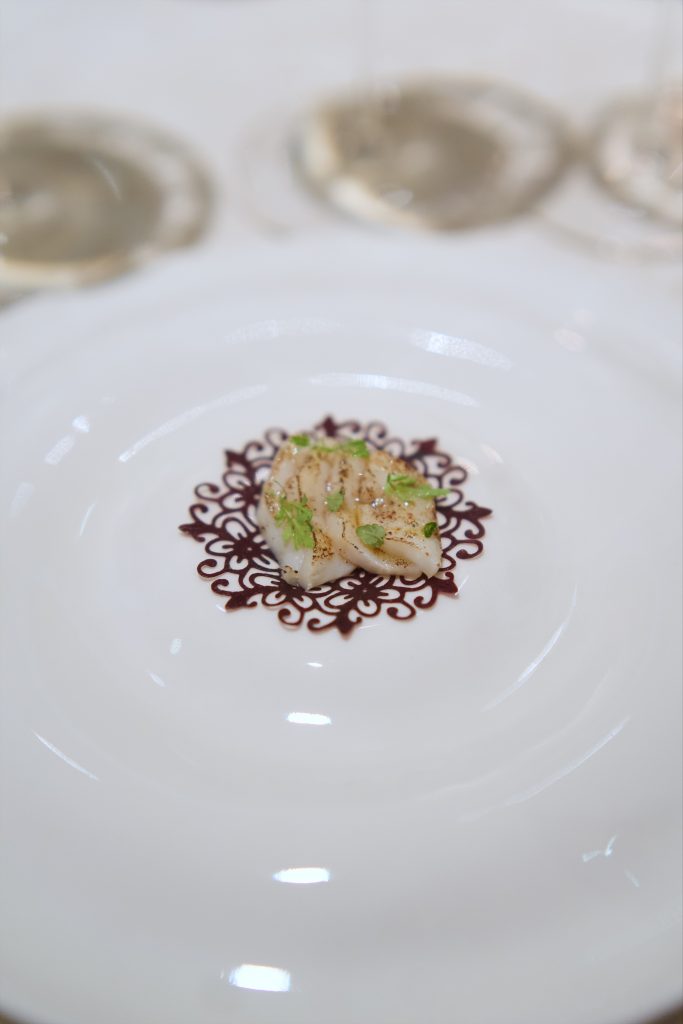 Next up was a fine dining taco. Scallops had been lightly grilled with a bit of black garlic only to be folded in a fancy shape made of dried blackcurrant and roe emulsion. Naturally very nice flavors but I could have used a bit of crunchy for balance.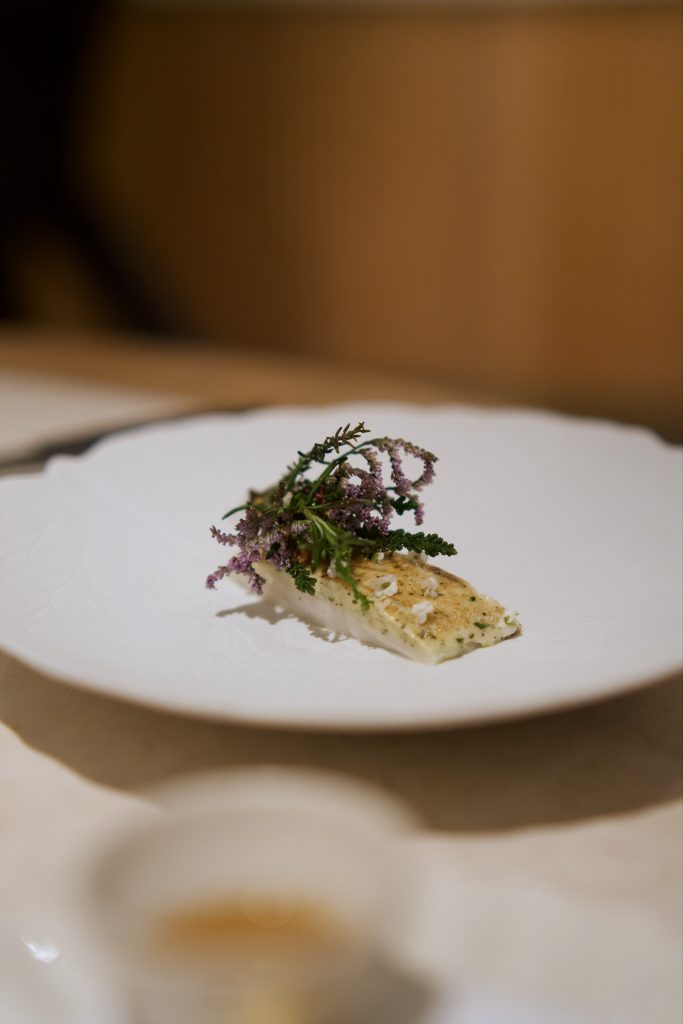 The next dish was the only non snack size dish on the menu. A classic preparation of turbot with a langoustine souffle a long with a series of aromatic herbs and a turbot sauce. A dish that was simply just delicious and hopefully also a new stable at the restaurant.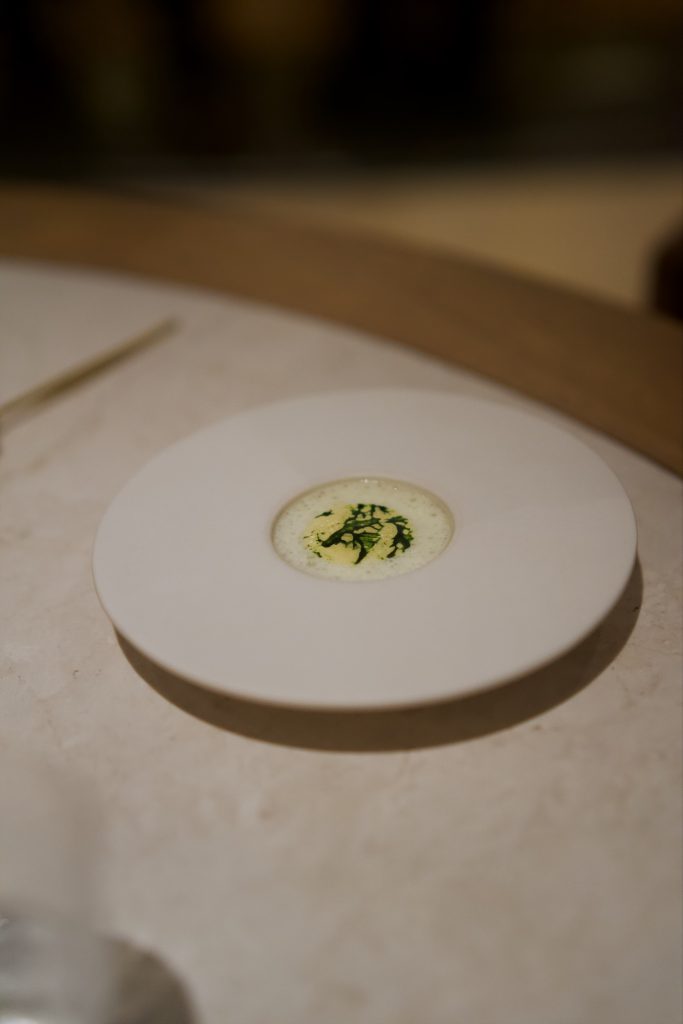 As meat is off the menu at Geranium we had enjoyed champagne and white wine up until now but for a dish of cabbage and quince we were to have the only red wine on the menu. A 2008 Rioja was a suitable choice to go with the simple but very delicious dish. A dish that brought me about 10 years back to another dish Rasmus did at Geranium called 5 types of kale. A standout dish at the early days of the restaurant.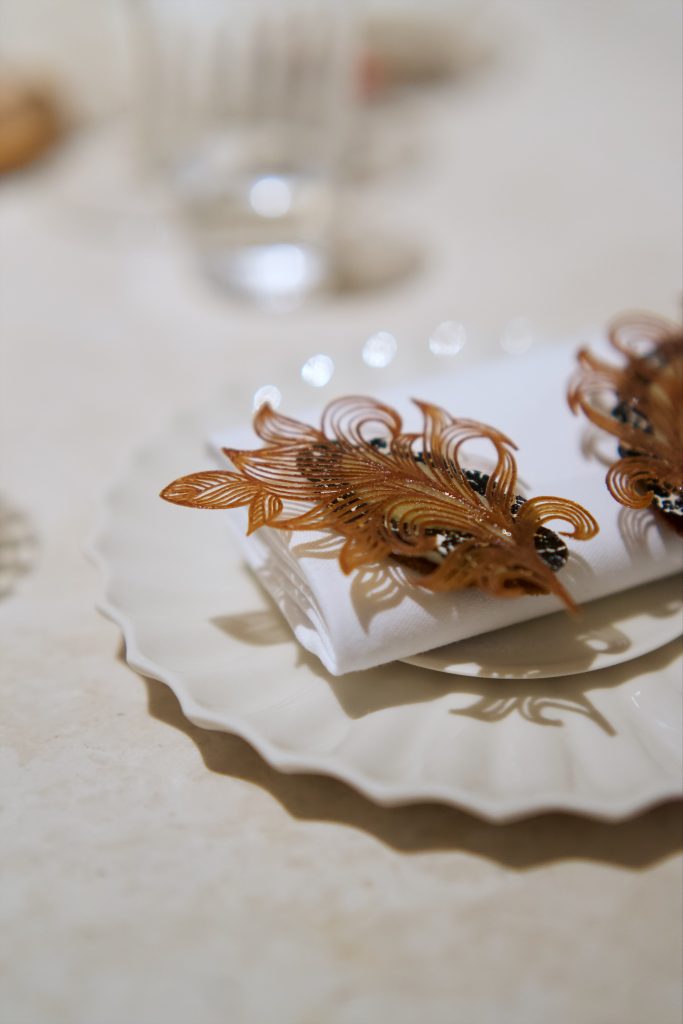 To finish the savory part of the meal was ryebread with cheese. A dish/snack that any Dane will have grown up with and depending on the person have weekly and one that can be served both as breakfast, midafternoon- or midnight snack. As the opening snack this was anything but classic.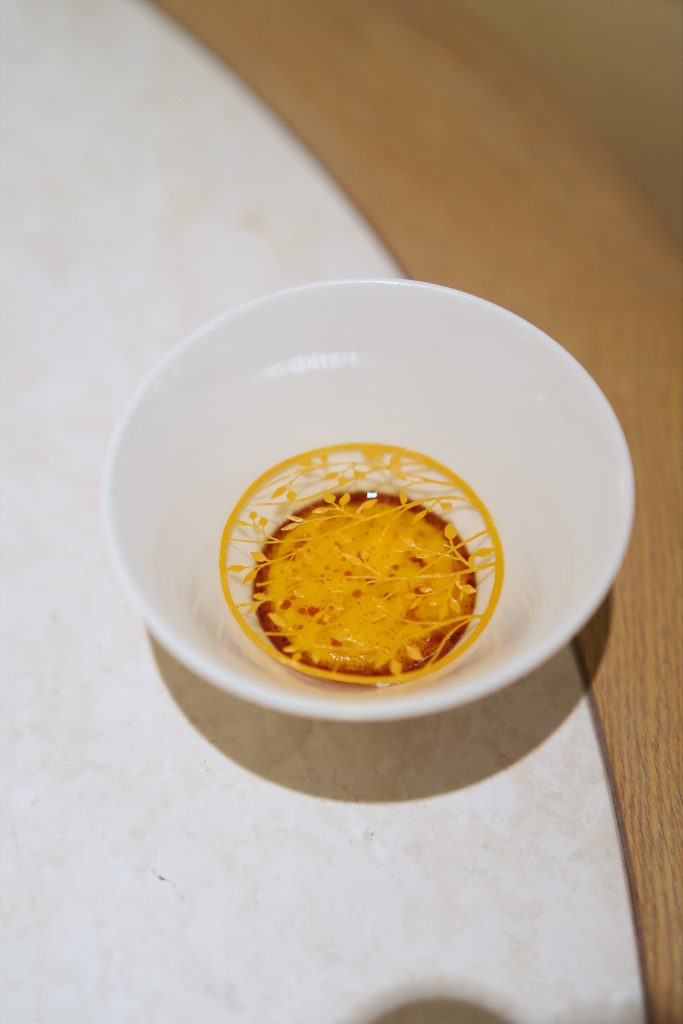 Our fist dessert was cloudberry, pumpkin and white chocolate. A dish that combined acidity and sweetness in a very nice manner. One of my favorites of the evening.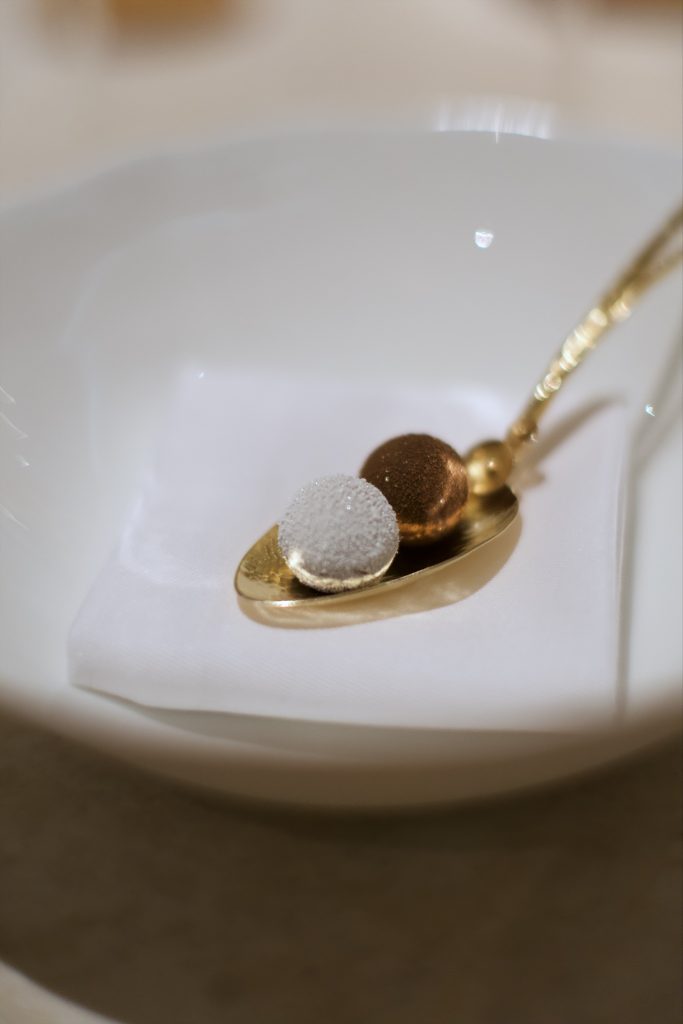 On a gold spoon was placed to pieces of chocolate. One of dark chocolate and another containing Jerusalem artischoke reduction. Naturally a nice mix of umami and sweetness.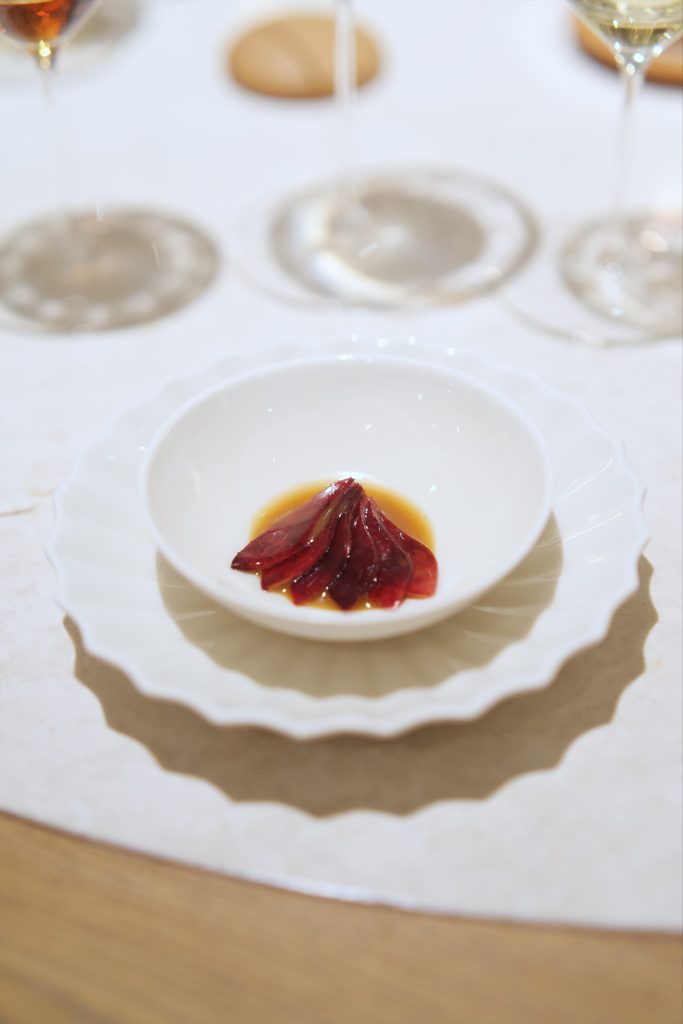 Apples and aronian berries with a bit of apple butter would be catapulted strait in as one of my favorite desserts once again matching sweetness and acidity very nice and I truly enjoyed the simple presentation.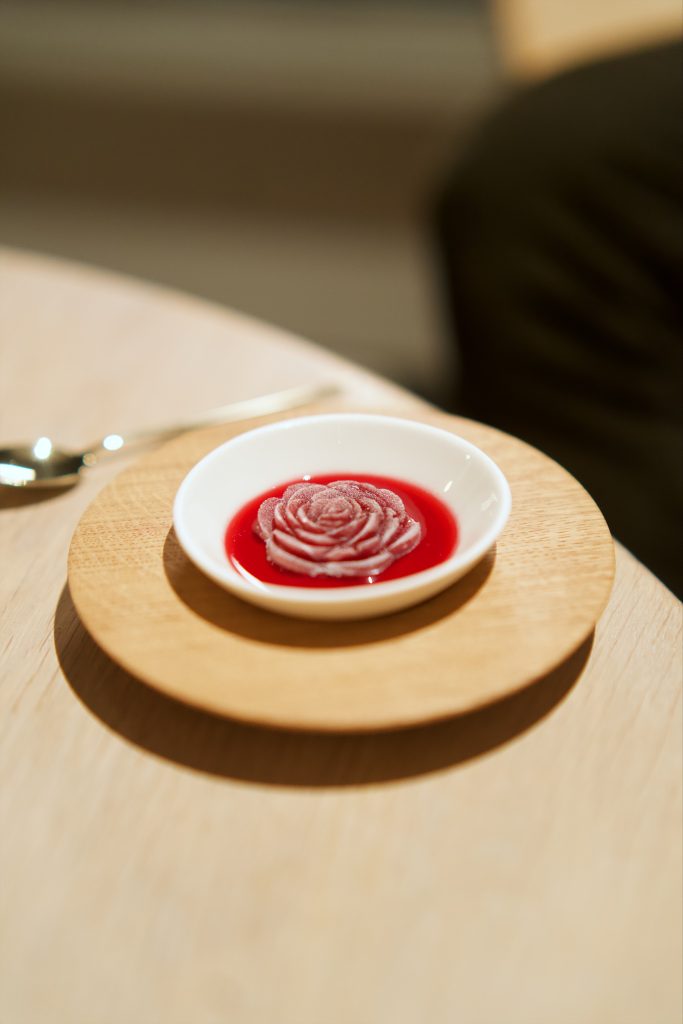 Usually I am not a big dessert person but here they were knocking it out of the part dessert by dessert which a frozen raspberry juice with a bit of liquirice was another great example of.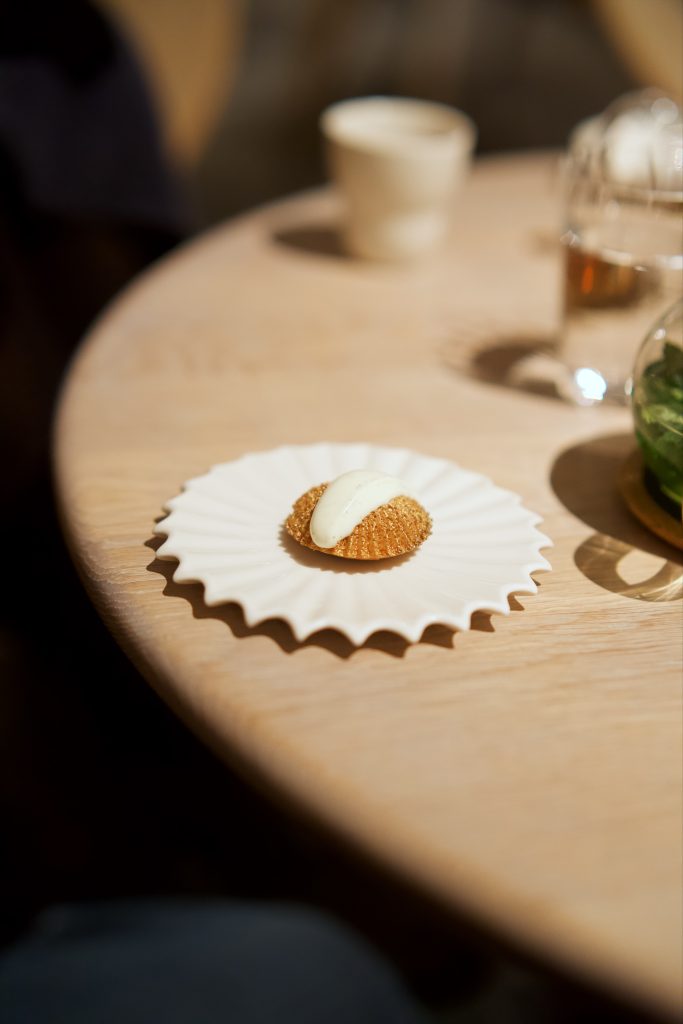 A warm potato cake with nutmeg and yoghurt would be the end of this delicious meal. One that I truly enjoyed but didn't blow my sucks of like the other desserts.
As Geranium rose the World 50 Best the last 3 years from number 20 to number 2 it is fair to say I was surprised. The restaurant is more than 10 years old and most of the menu was had been developed over the last 6 years with few changes. Having experienced the restaurant first hand I know understand it. The physical restaurant is truly beautiful and embodies the food and the service.
The service is classic 3 star Michelin, competent, formal and ever present. With Søren Ledet as head of the front house naturally the service team takes on a larger role through mixing cocktails and final preparations of a few dishes in front of the guests.
Finishing with the most important part which is the food which are all small works of art of delicate intricate dishes. The menu is vegetable driven with few elements from the sea and naturally zero proteins from the land. As with other Nordic restaurants the flavor profile is very subtle and on occasions, I think too subtle and a bit more depth could have been added to the dishes without the use of proteins.
End to end Geranium is an impressive experience that truly embodies the 3 Michelin star experience.
Information
Head chef: Rasmus Kofoed
Menu: 20 course tasting menu
Price: about $750 including wine
Website: Geranium