One post about a wiggling dessert from Rene Redzepi catapulted Jatak onto the Copenhagen dining scene making a reservation impossible even before it was even officially open. An invitation from a friend to join him for dinner was therefore an extremely welcome invitation.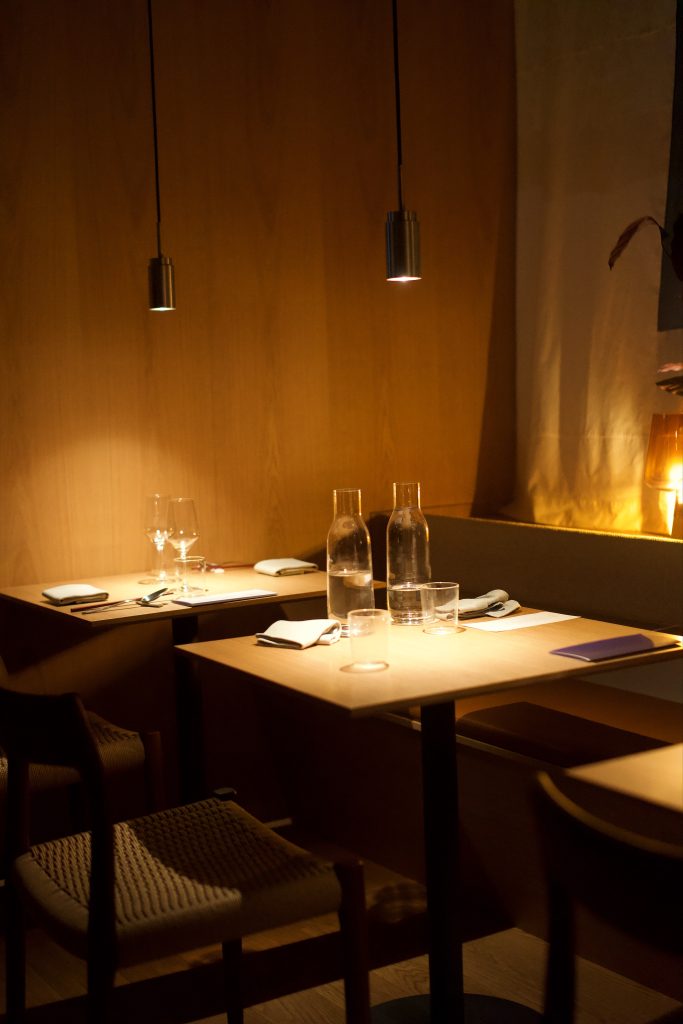 The restaurant is located in the hip but wore down neighborhood of Nørrebro but taking two steps into the restaurant all of that is forgotten. A sleek minimalistic but still super cozy interior gives you a warm hug and makes you feal relaxed and in a good mood. Knowing the history of Jonathan just looking at the interior immediate tells you that the food is going to mimic the interior. Simple presentations, good products and executed with a firm hand.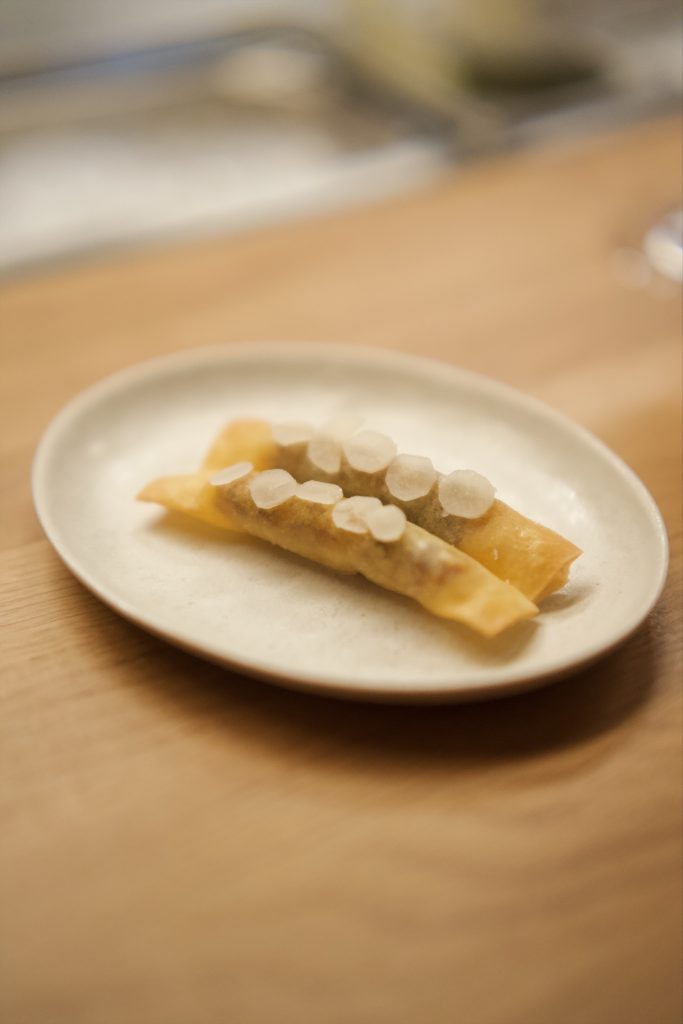 The first dish was to confirm this. Salsify, chili, pumpkin, and peanuts. A super delicious and great snack where the salsify gave both texture and heat to the dish.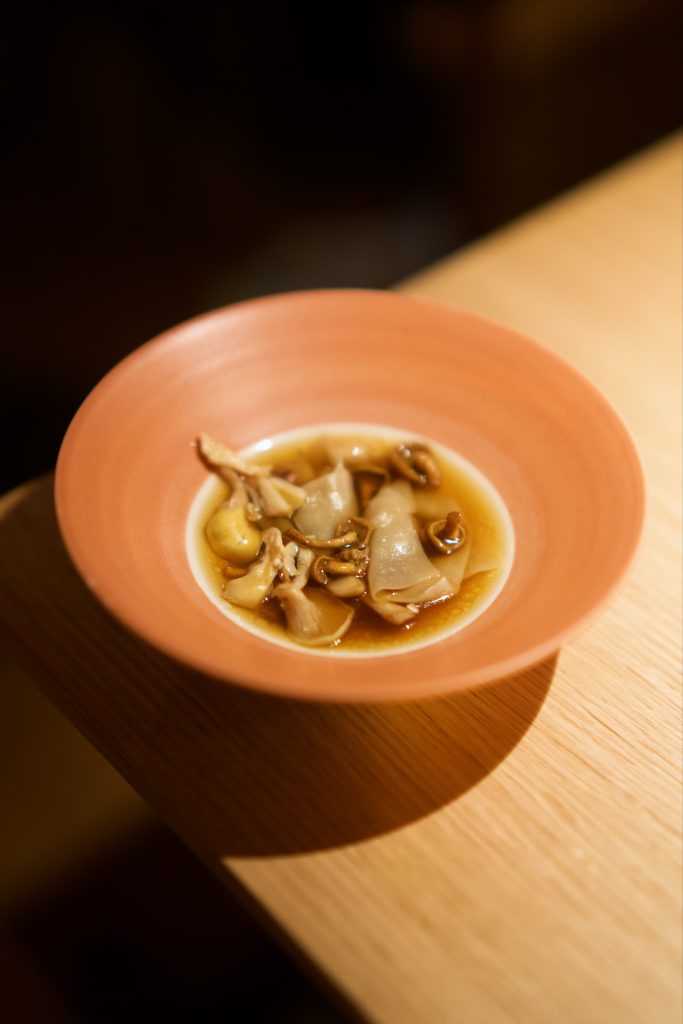 In a cold danish winter what's better than a warm umami rich broth with lots of mushrooms and the most delicious wontons. I will tell you, nothing. Heartwarming, simple, great products and simply just delicious. A bit of lemon gave very nice contrast to the umami rich mushrooms.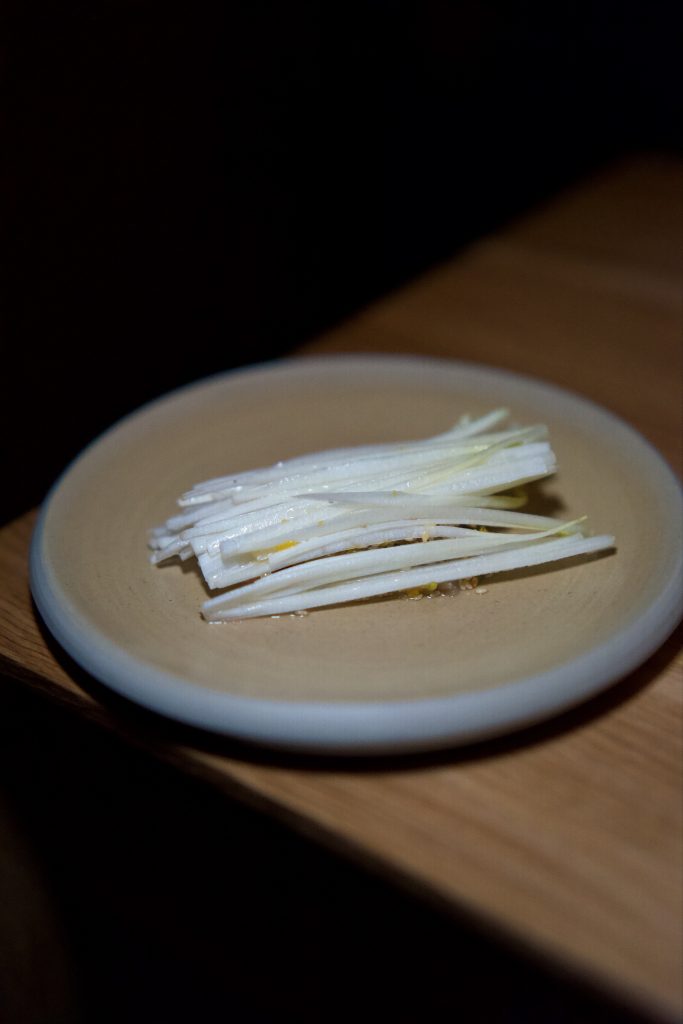 Next dish just a bit more complex. Endives with sesame and bergamot The endives came both cooked and raw so it was both sweet and bitter. Normally I am not a big fan of bitter flavors like endives, but here it really worked both in terms of flavor and naturally for its crunchy texture.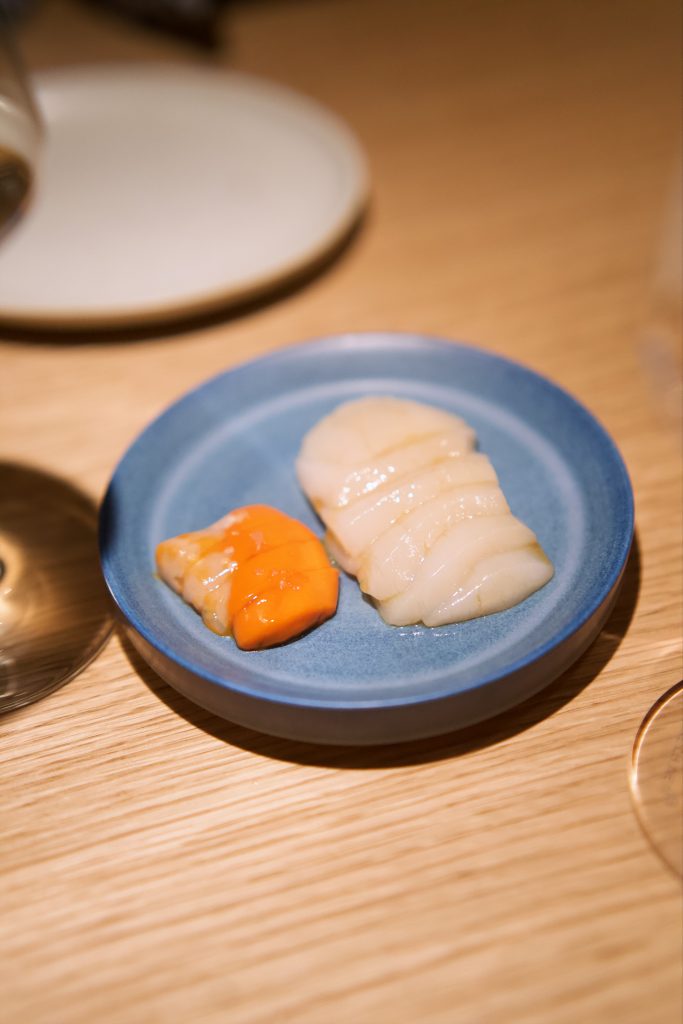 Next up it was all about the product. A Norweigan scallop and its roe had simply been sliced and then brushed with a bit of Empirical Spirtis shoyu in to highlight the flavor of the product. Just enough preparation so that you can call it a dish and that the chef actually did something besides cutting the scallop. It was simply pure magic.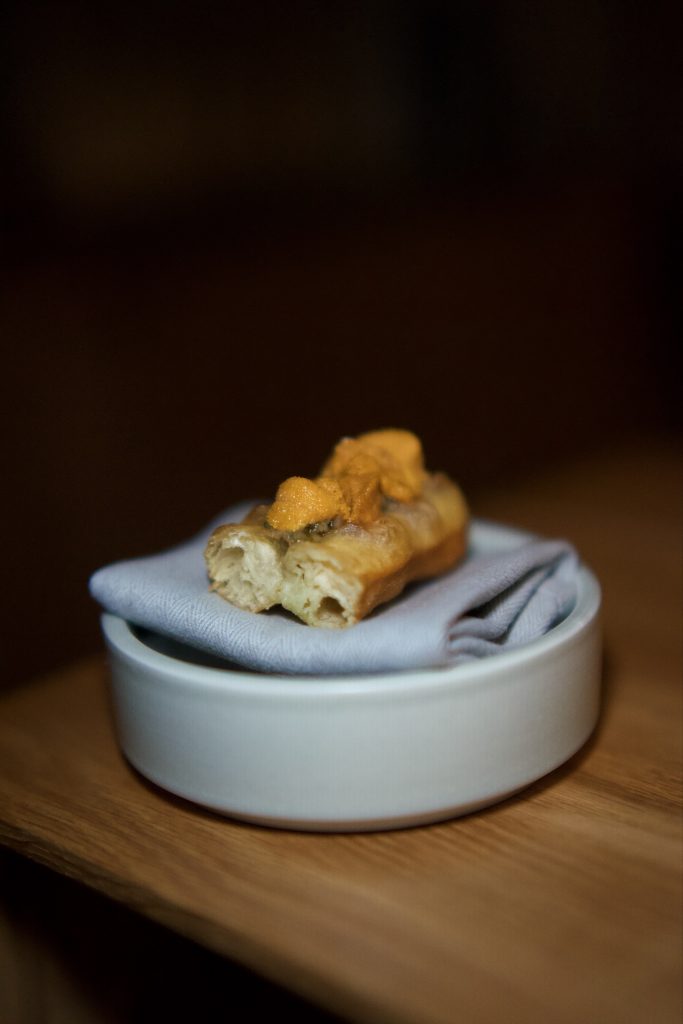 So was the Chinese bread which was topped with a bit of cooked onion and a rich uni. To me it was another outstanding dish where at first site it looked simple but held an immense amount of flavor and so many levels of flavor and naturally the textures were once again matched perfectly between crunchy and soft.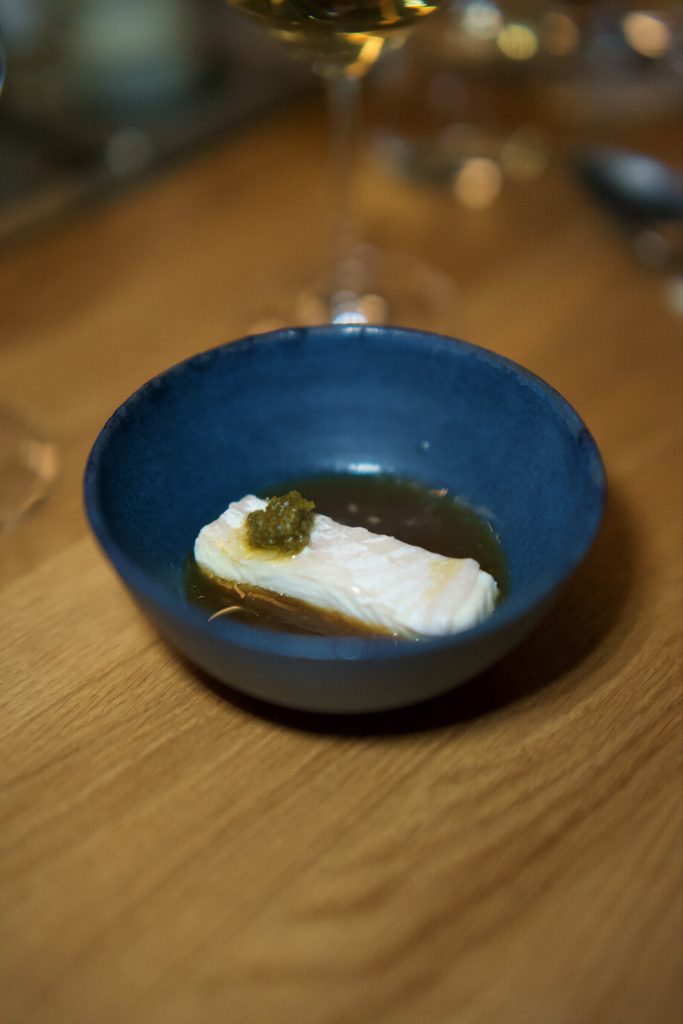 Halibut was served once again. This time perfectly grilled over the yakatory grill with a leek and jalapenos tamari which naturally provided a nice contrast to the rich fish. Once again the fish was paired with paired with a small umamirich broth. Purely and simply delicious.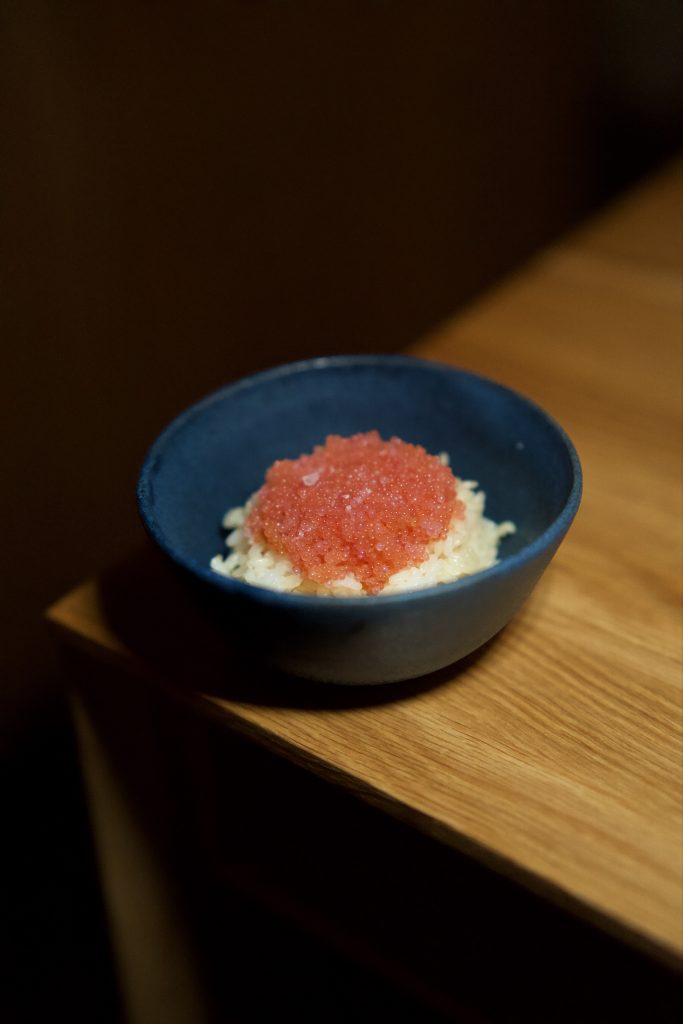 Even before the kitchen had tried it we were to test out a new dish. Rice treated with the respect and attention to detail that you would otherwise only see from Japanese sushi chefs was presented with a very generous amount of lumpfish roe. A great dish which showed a lot of things about Jonathan, primarily about his respect for products and his dedication to make that product shine. In this dish the rise really shined and it will shine brighter after a round or two more in the testkitchen.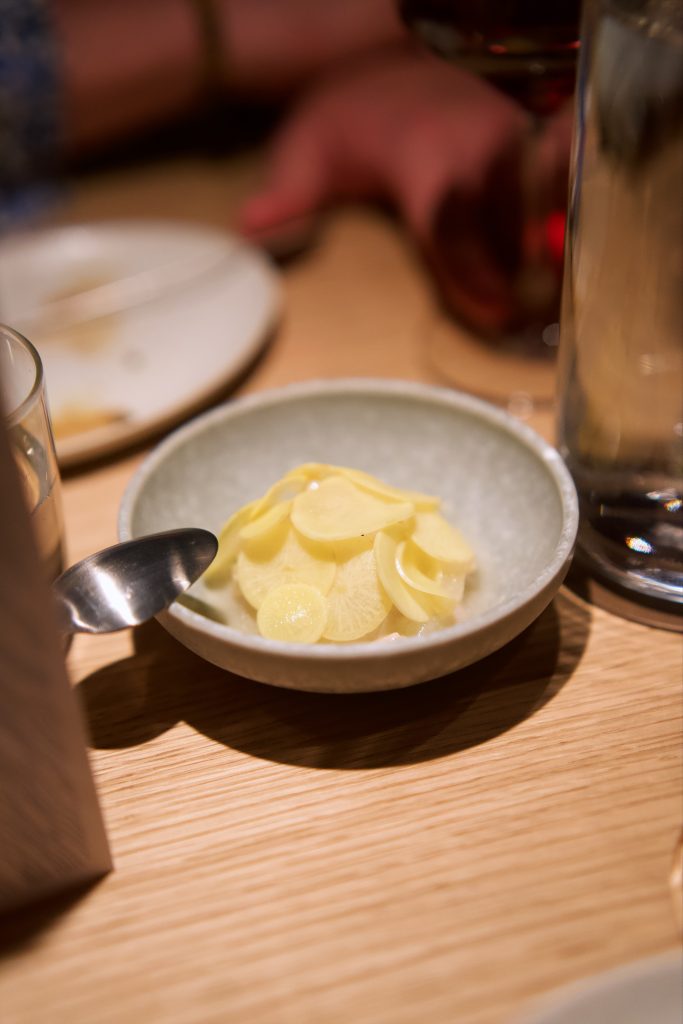 I admit that for me a bit of fat never hurt anybody so a big piece of fried pork skin to scoop up some fresh razor clams with Sichuan pepper in a meeting of contrasts that just works which I really didn't expect to from the fatty pork skin to the refreshing razor clam. A bit of smoked oil had been added so even the razor clam had an oily texture and rich flavor. An insane combination where I can't help to wonder how those ingredients were combined and even more amazed that the result was so delicious.
I think its fair to conclude that Jatak is a very product driven restaurant and the different cuts of Hindsholm pork proved just that served char siu stile. I can't remember tasting a piece of pork this good in a very long time. On the side was various grilled cabbages and different grains that had an amazing crunchy texture mimicic a mix between rice and corn. Uber crunchy and went perfectly with the almost see through pork lard.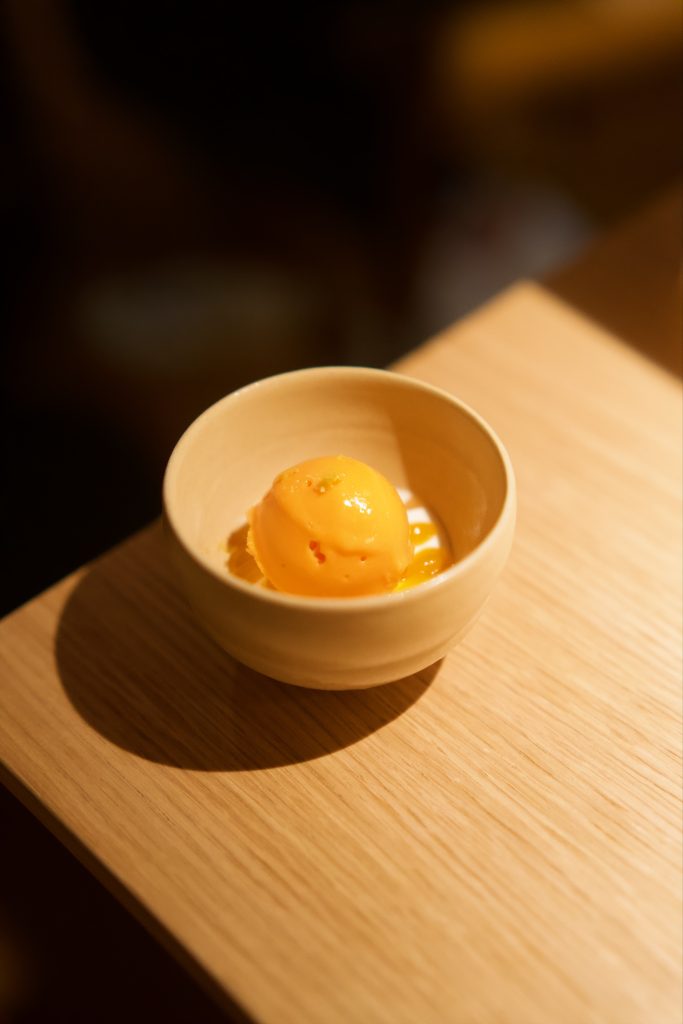 Our first dish was a mix of pumpkin and habanero chili ice cream. Naturally the chili had its heat taken away allowing you to taste the pure rich habanero flavor which I have come to know and love. A great combination in both flavor and texture.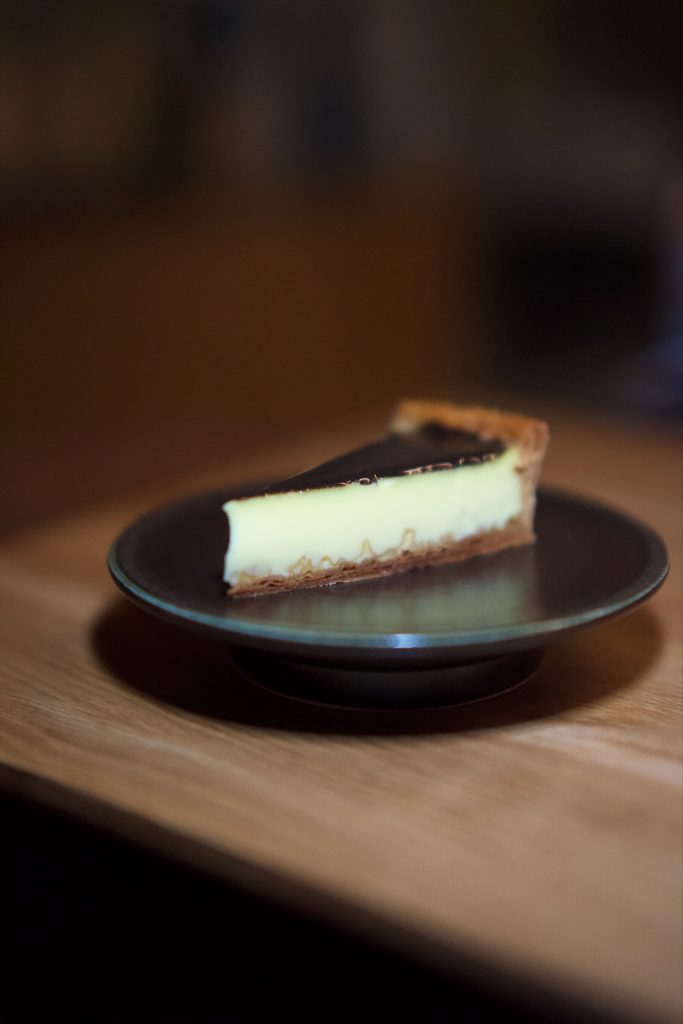 To finish of the dish that started it all. Egg tart with poppy seeds and black tea. The execution of the crème was insane and so light but still rich at the same time. That it was balanced with more savory elements like the poppy seeds was a stroke of genius.
I think its fair to say that I fell in love with the place from the very first dish or maybe even earlier when walking in the door. I always find it interesting when a chef that has been at a great restaurant for a long time steps out of the shadow and opens his own restaurant. Afterall what is the chefs own identity and how much does he want to distance him self from where he was before and how much does he want to bring. At Jatak I think its fair to say that Jonathan managed to distance himself completely from Relæ while still staying completely true to the type of food he created there. The biggest difference is obviously that Jatak is inspired by Chinese cusine while Relæ was New Nordic which makes any comparison stop after that. His style of cooking has besides that not changed at all. It is still very product driven and naturally also working with some of the same suppliers as before and since they are some of the best they only need little addition to truly stand out. Maybe because it was a winter menu or maybe not but in comparison with Relæ there is a lot more protein on the menu which in this menu felt extremely natural.
Information
Head chef: Jonathan Tam
Menu: Tasting menu only – 7 or 9 dishes
Price: about $350 for 9 courses including wine
Website: Restaurant JATAK (jatakcph.com)