A cancelled trip to San Francisco had brought me a couple of days to Aarhus and it's surroundings which to make the best of it I had naturally booked a few restaurant. One of these were Domestic, that a trusted foodie friend of mine had recommended.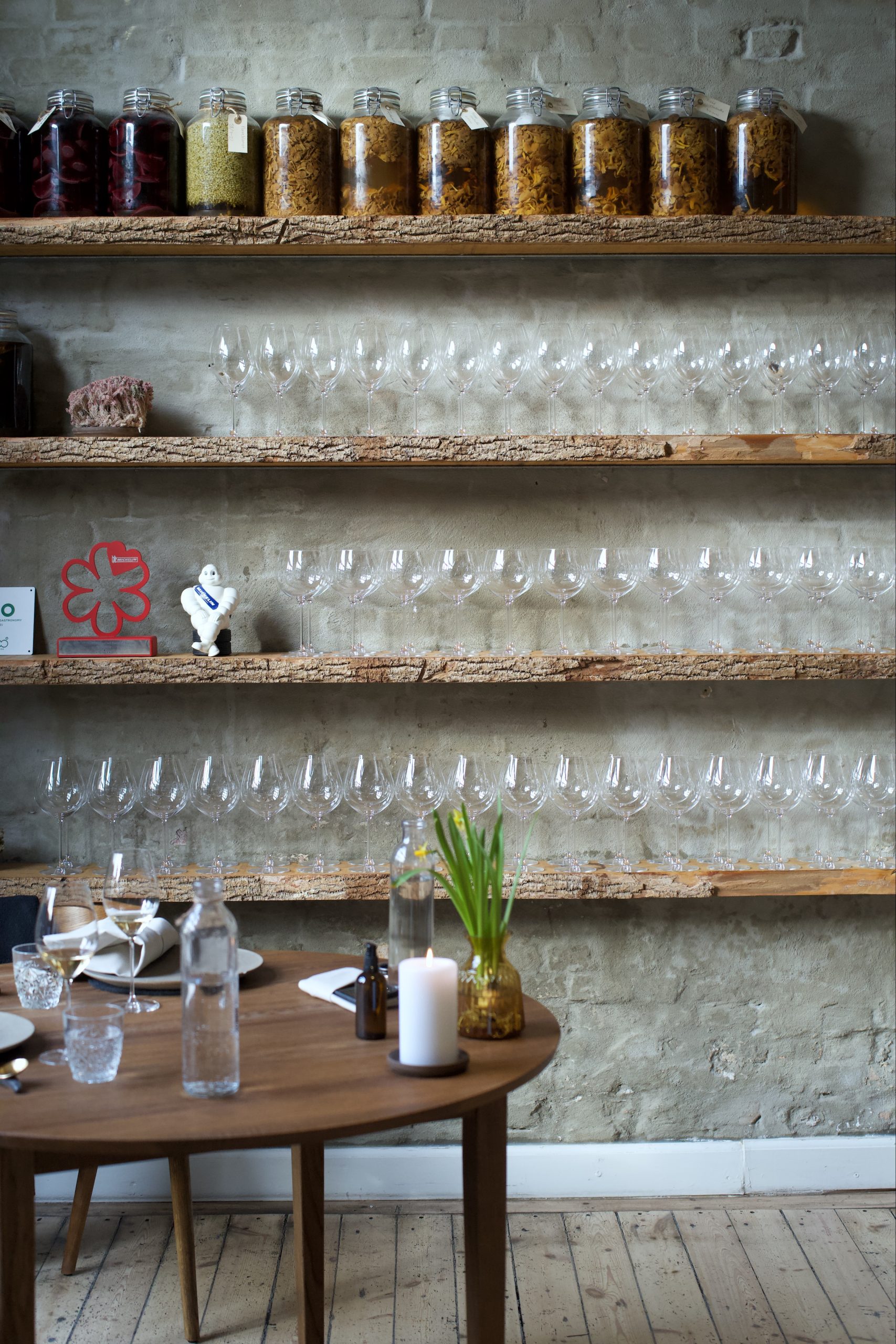 You enter the restaurant through a simple court yard and except for a red Michelin plack on the wall you would never think that this was the place for a gourmet restaurant. Once you enter an open charismatic restaurant filled with lots of sunlight reveals it self.
I had peaked at the restaurants Instagram profile but besides that I didn't know much about the restaurant as it doesn't get a lot of attention so I didn't really know what to expect.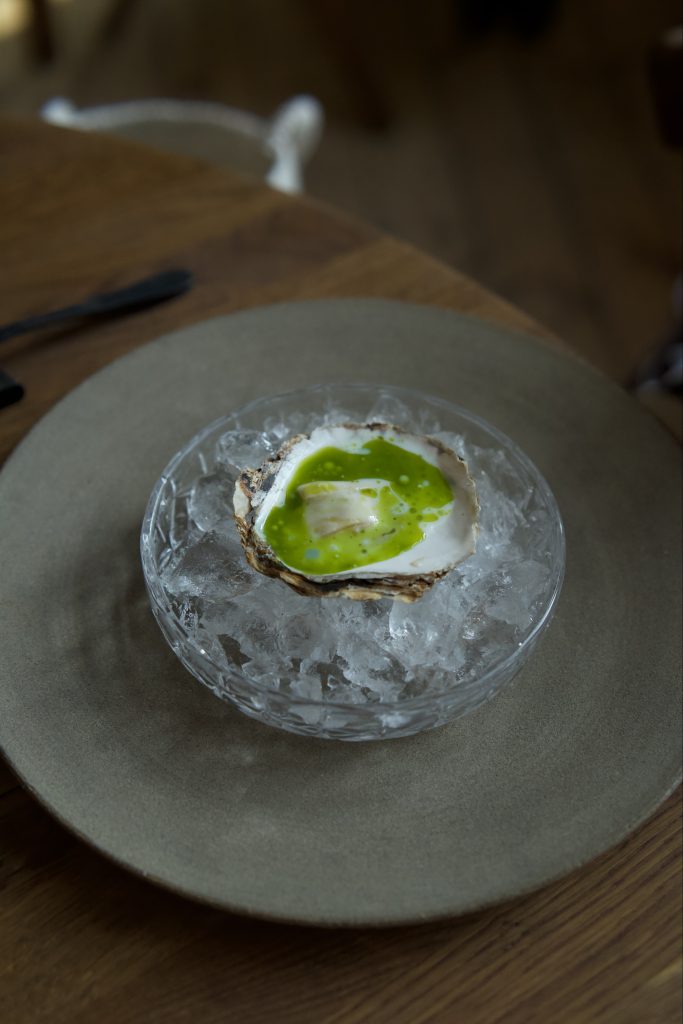 Within minutes a glass of champagne and the first snack had found it's way to our table. That snack was oyster, horseradish, dill and buttermilk.The ingredients form an almost classic combination but the dish definently didn't feel classic. The horseradish gave more flavor then heat and provided just a bit of freshness to the dish. A great start.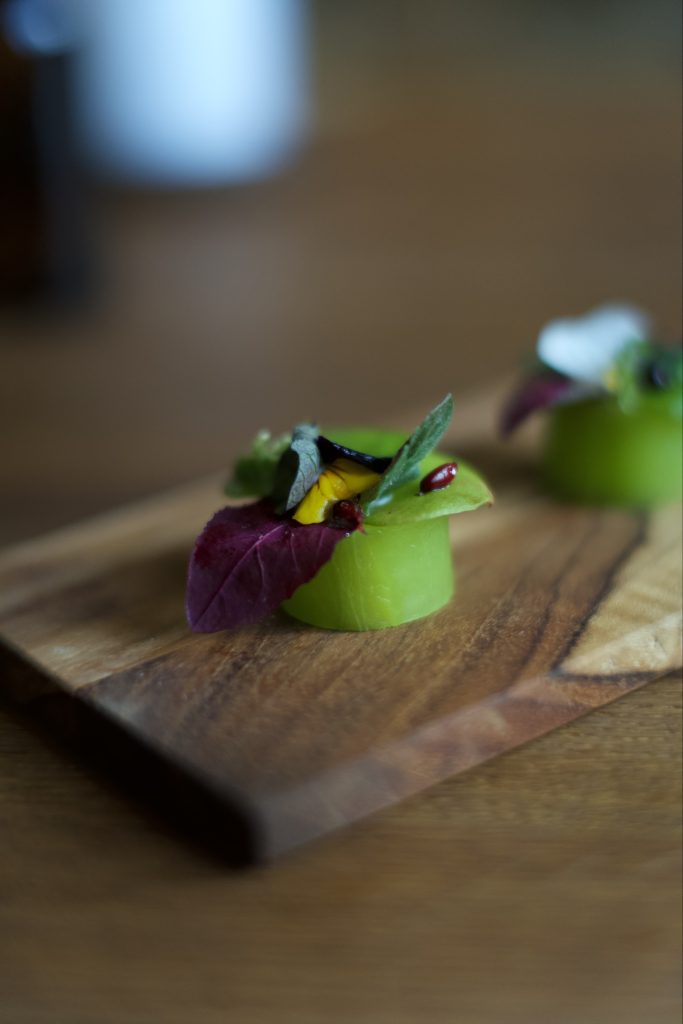 Second snak consisted of smoked cheese and cucumber which is a classic combination but here the flavor was anything but classic and once again spot on.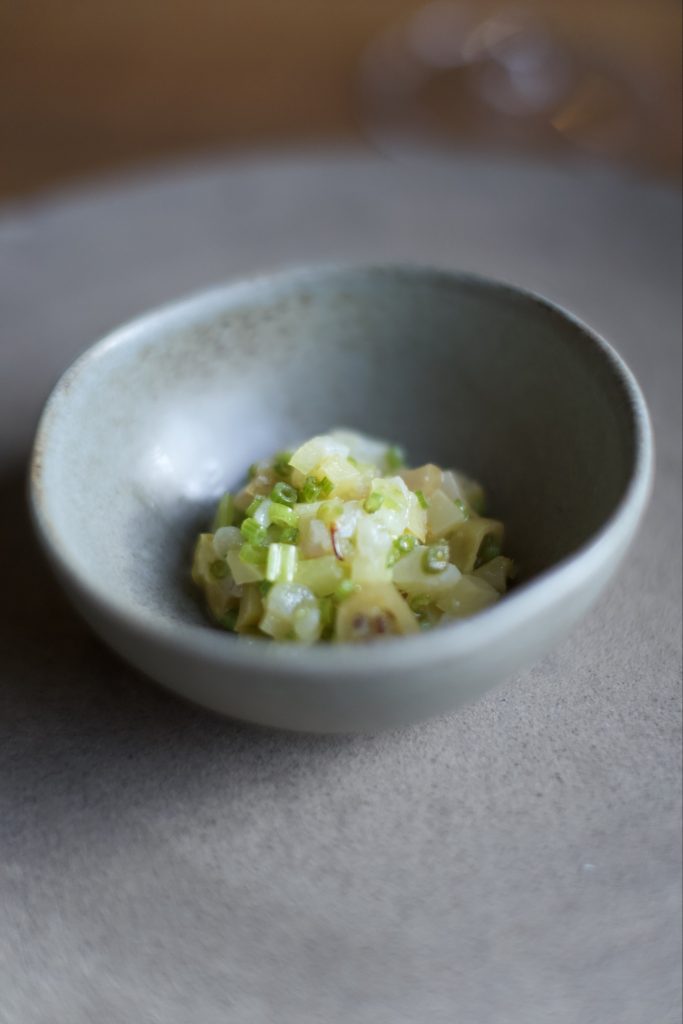 Third snack was to be one of the highlights of the menu and maybe even the year. A series of different ferments and preserved vegetables/herbs, covered a bit of smoked cheese and piked perch. The explosion of flavors from all the ferments were simply just amazing. Such a great layering of flavors.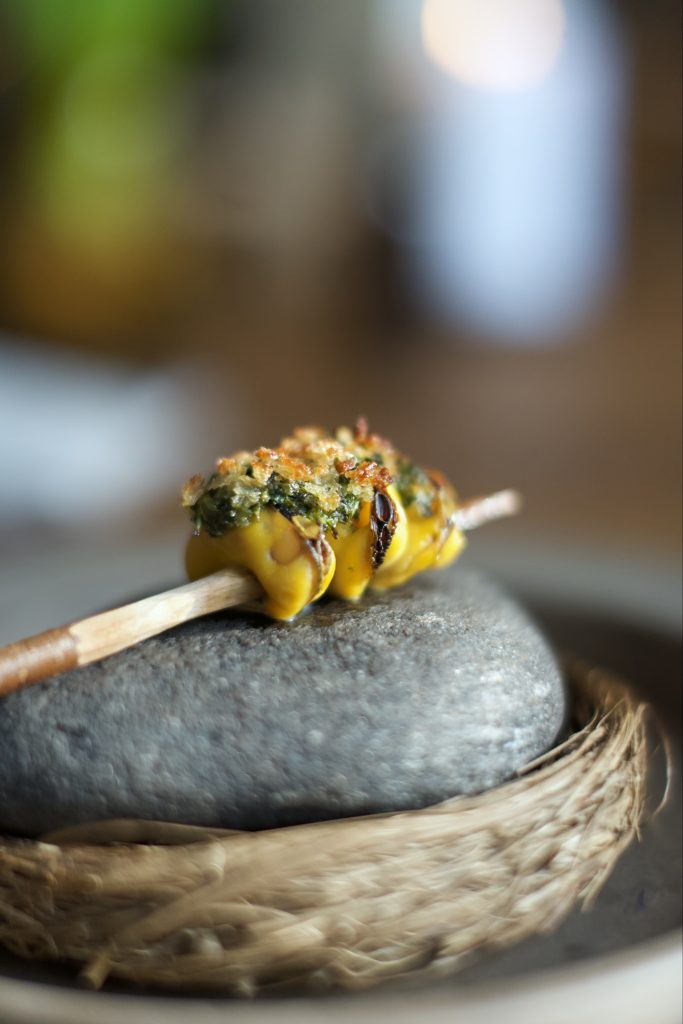 The last of the snacks was a steamed and smoked mussel with breadcrumbs and parsley. Once again a few ferments lifted this humble dish into the stars. A very unexpected combination and it really worked.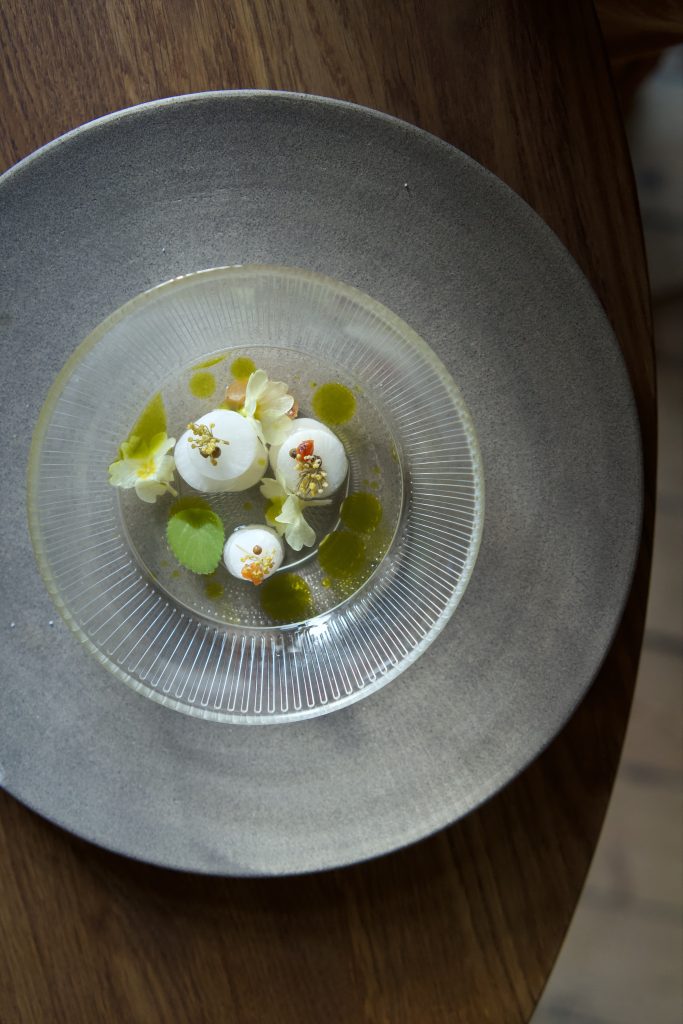 A series of daikon was presented with a cristal clear broth as well as salted flowers and preserved herbs. A dish that was as delicious as it was beautifully and while eating it I couldn't help but wonder how on earth they got that broth so cristal clear.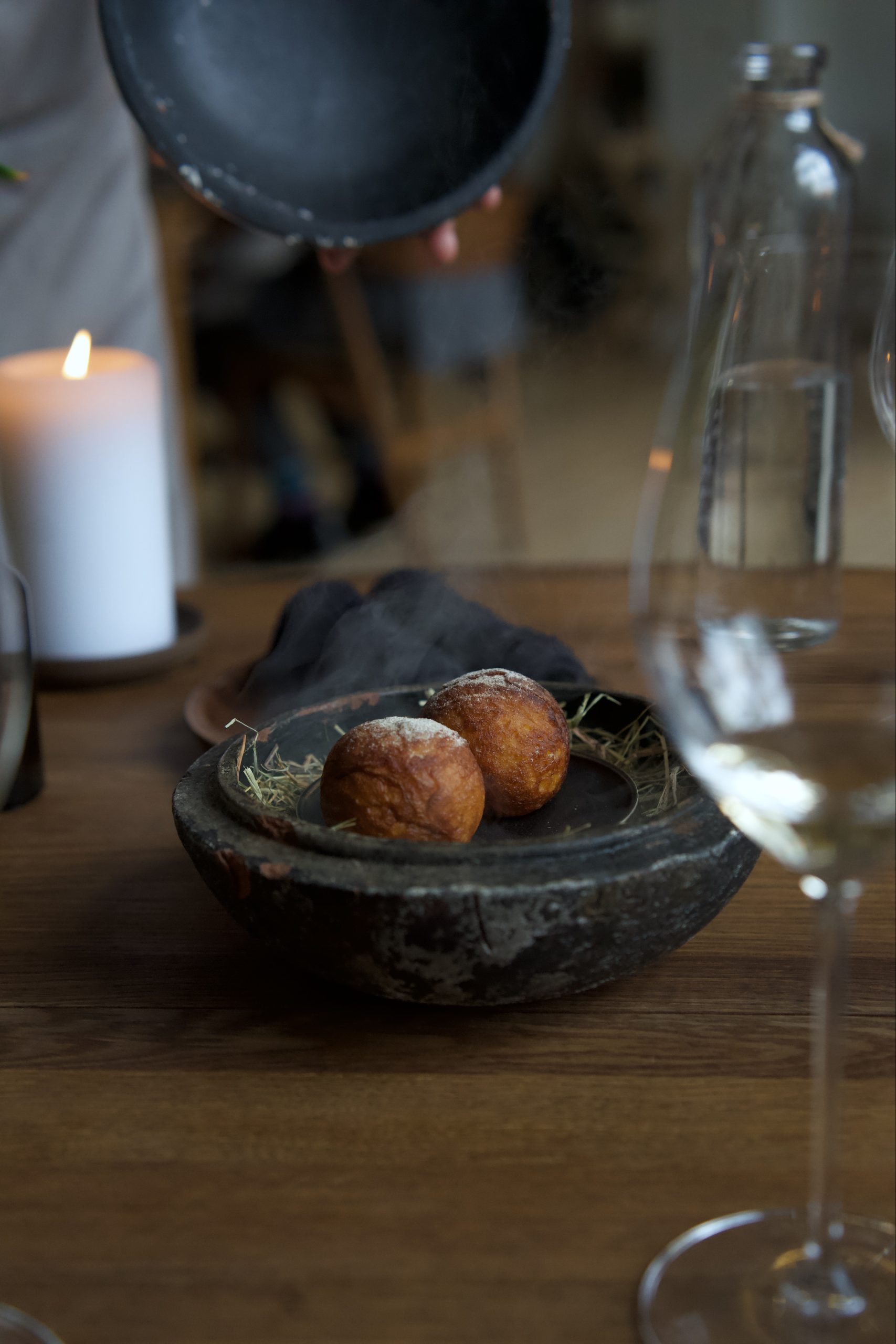 The Danish "æbleskive" has had many interpretations by restaurants and not all of them successful. This truely was though. The dough had been filled with a few pieces of pike perch, herbs and topped with vinegar dust, smoked and served with generous amounts of lumpfish roe and creame. Admittedly I love all things smoked but this dish was simply extraordinary good.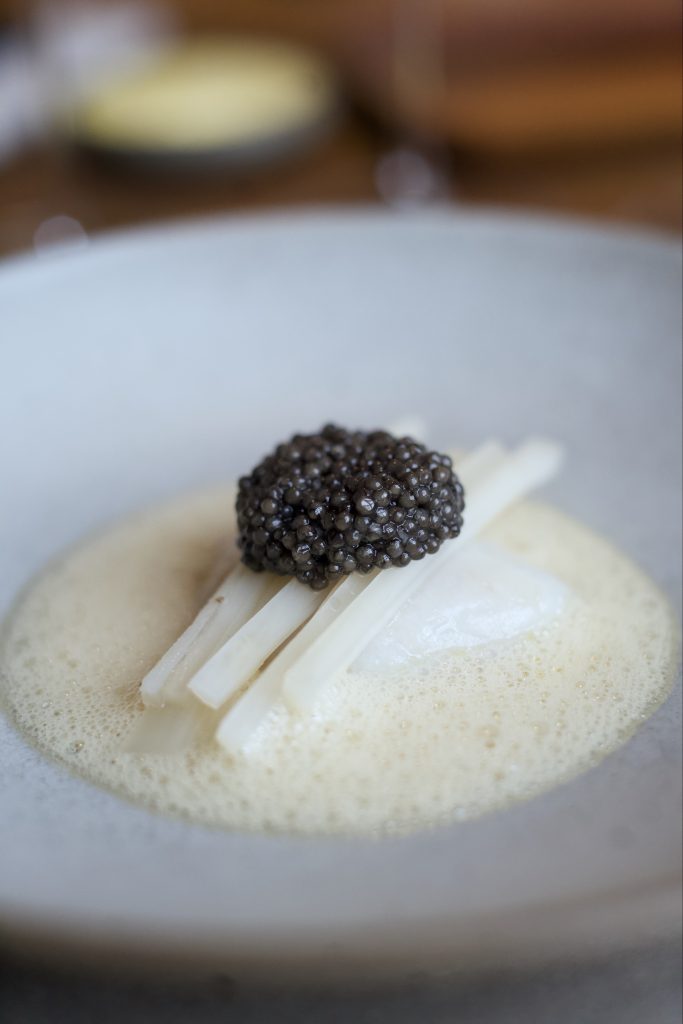 Next up would be the first adventure into the more classic flavor profiles. Cod cheek served with salsify, baeri caviar and a buttery sauce made of last years white asparagus. A dish that I once again absolutely loved and that I also loved as it proved that Domestic could also do some of the classic flavors but still execute it perfectly.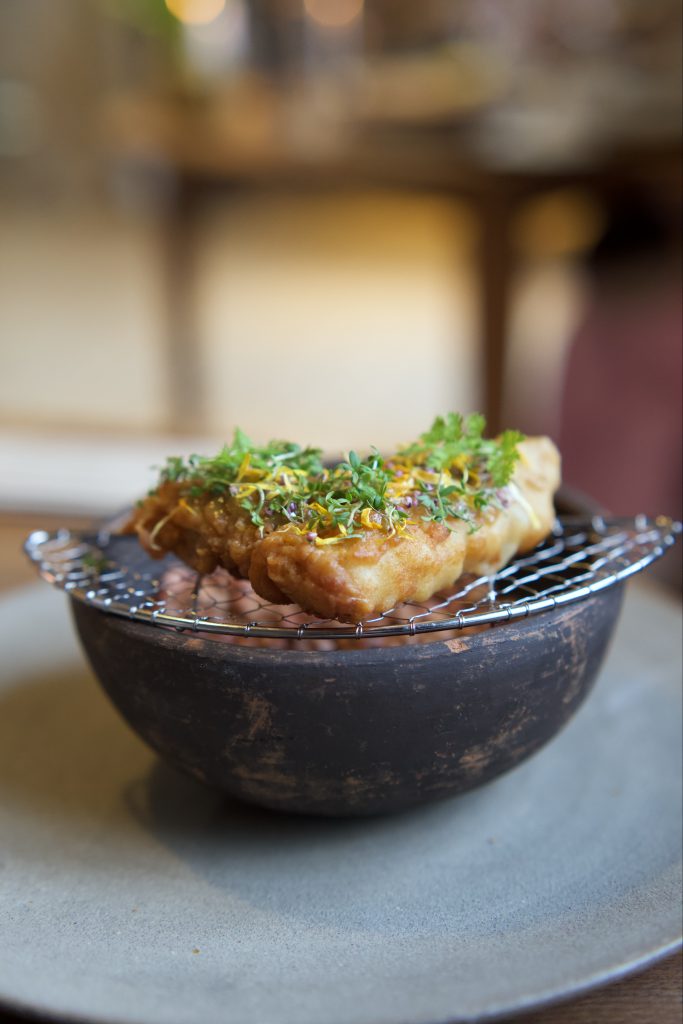 That was also to be the case with cod collar that had been glazed with miso, dipped in panko and fried before covered in aromatic herbs such as watercress which provided a very nice peppery note to the dish. Relaxed and delicious. Their own version of Kentucky Fries Chicken.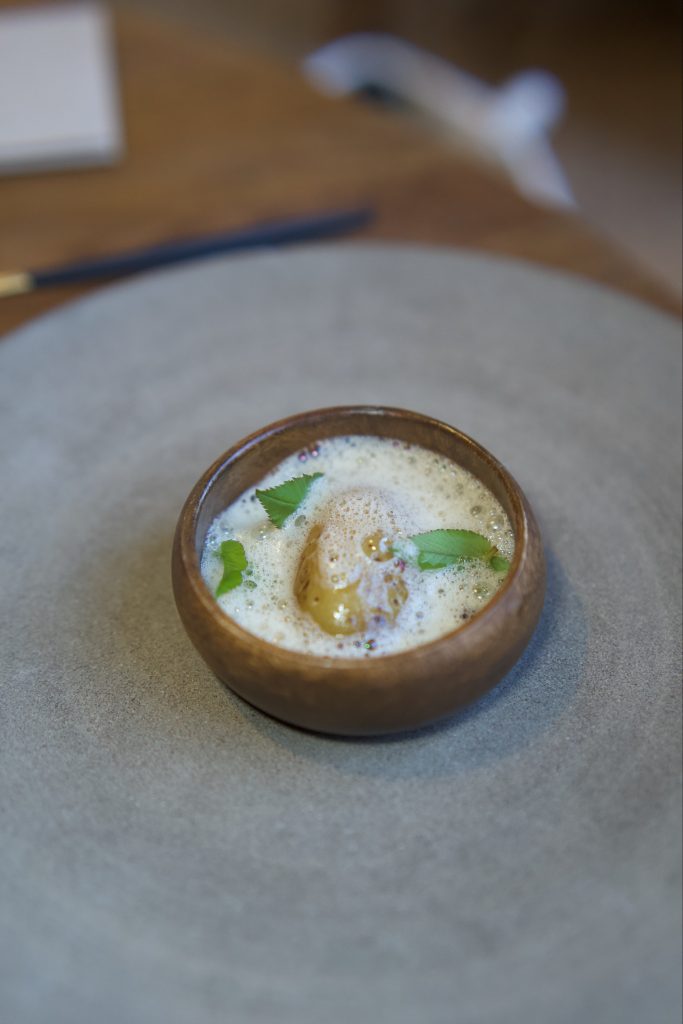 Next up was the first of this years potato  which had been hollowed out and stuffed with leaks and served with an aromatic foam. As simple as it was delicious.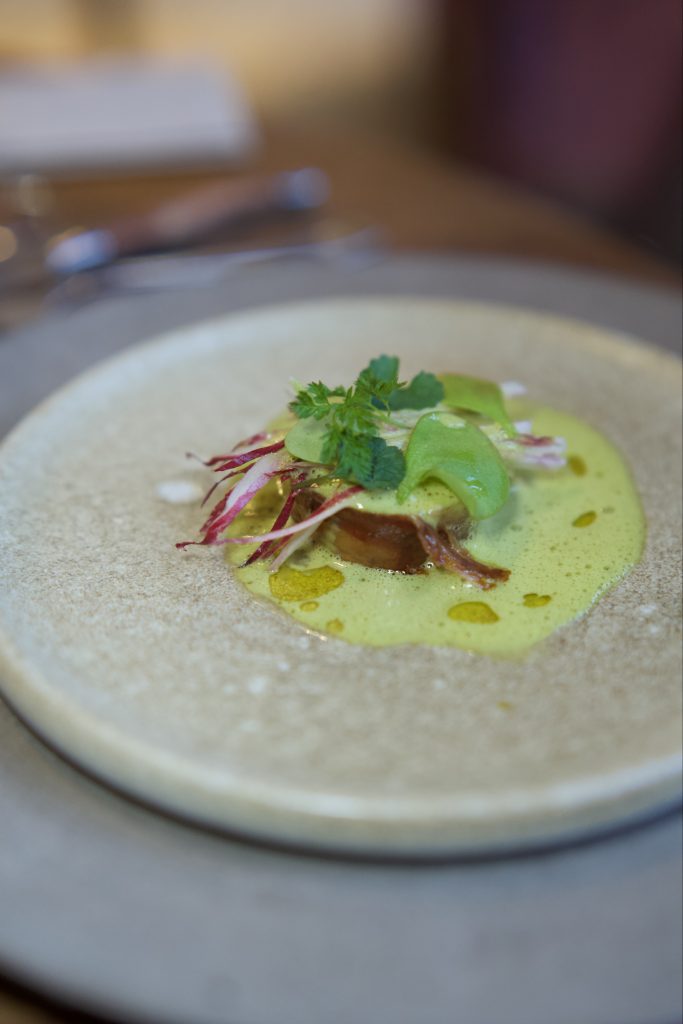 Bacon is not an ingredient that usually finds it way on the menu at gourmet restaurants so imagine my surprise when I saw a piece of monkfish wrapped in bacon and covered in herbs but as with everything else that evening naturally it worked.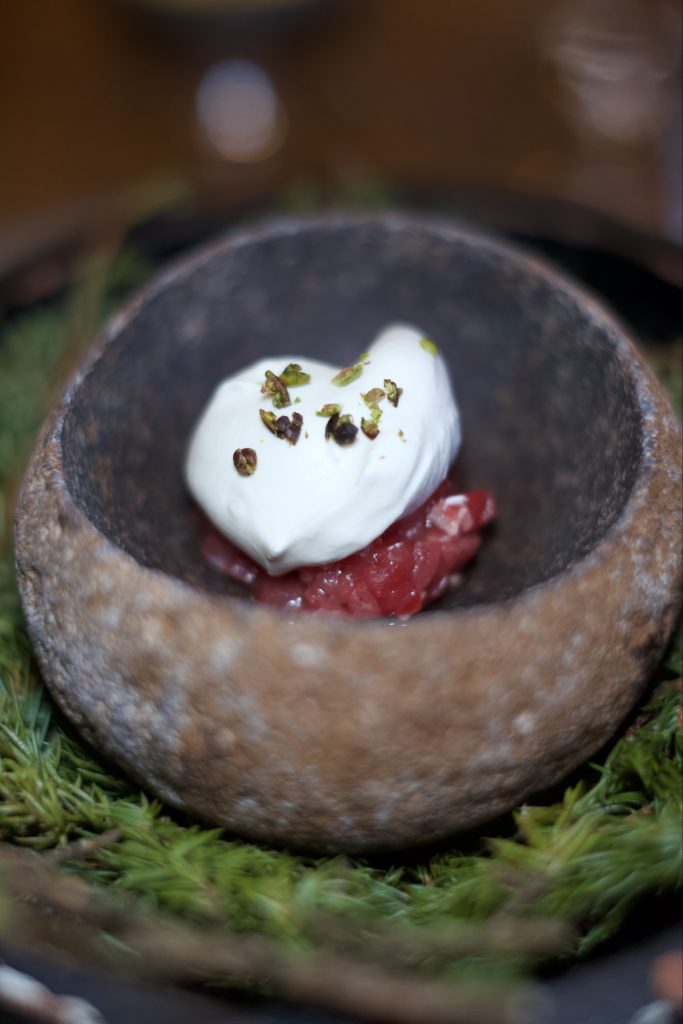 It was now time for the last two main dishes which would have a common theme in the form of lamb. First up a lamb tarter with a light horseradish creme and juniper salt. A nice, soft and delicate serving.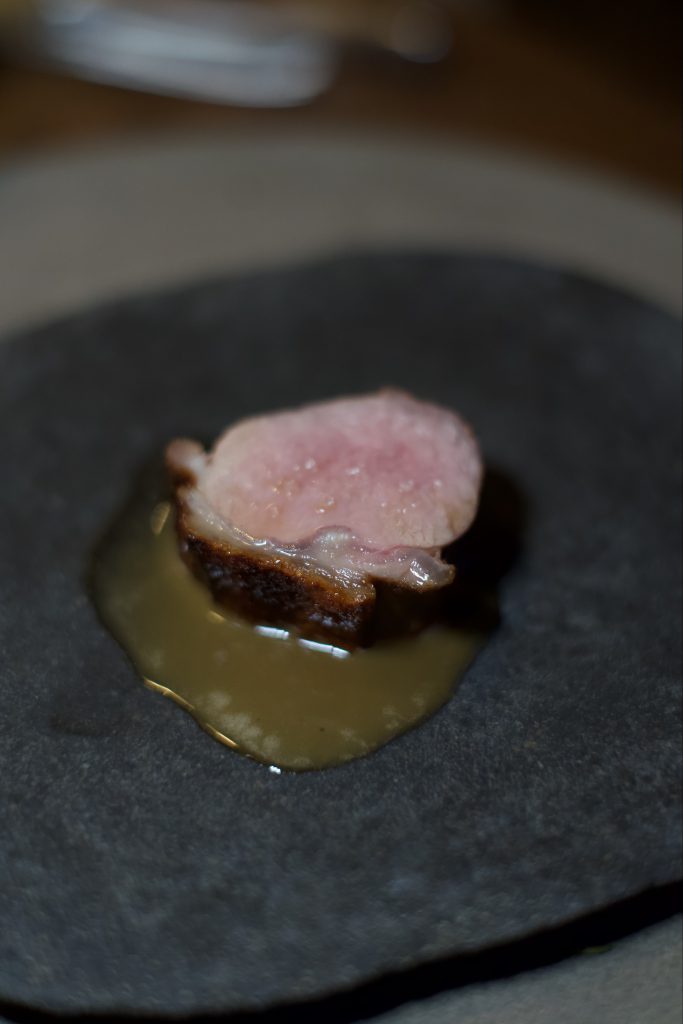 The last was anything but soft. A rose cooked piece of lamb was served with a rich onion sauce and as side more onions in the form of black garlic, ransoms and lots of small onions. A dish that was super potent while still being extremely delicious.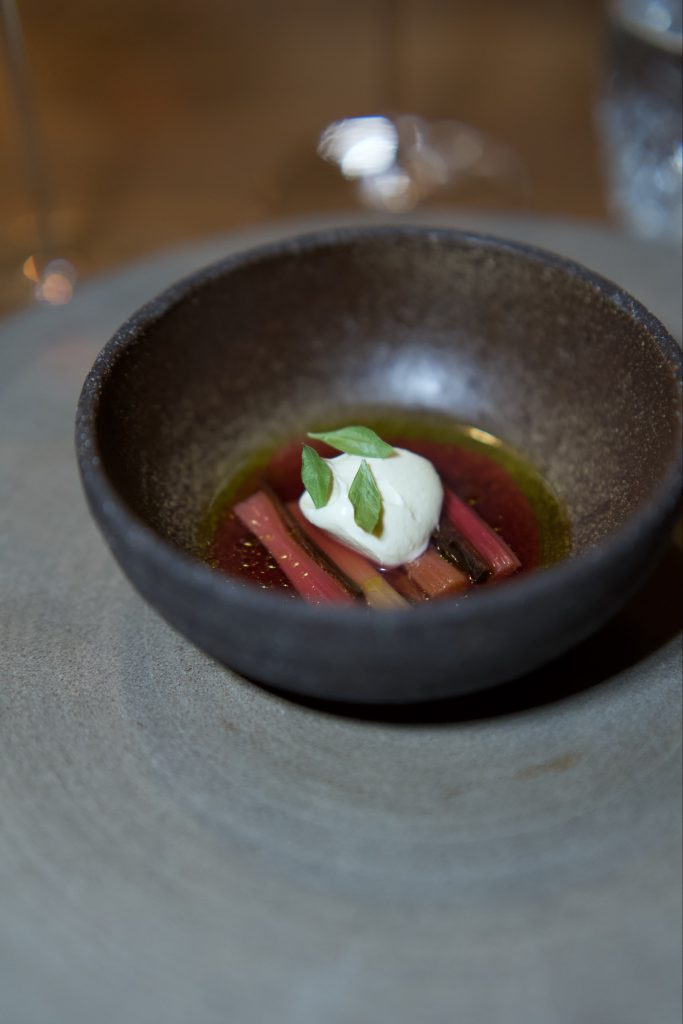 So was the first dessert in the form of rhubarb both fresh and picked and a mascarpone creme. Simply just delicious and refreshing.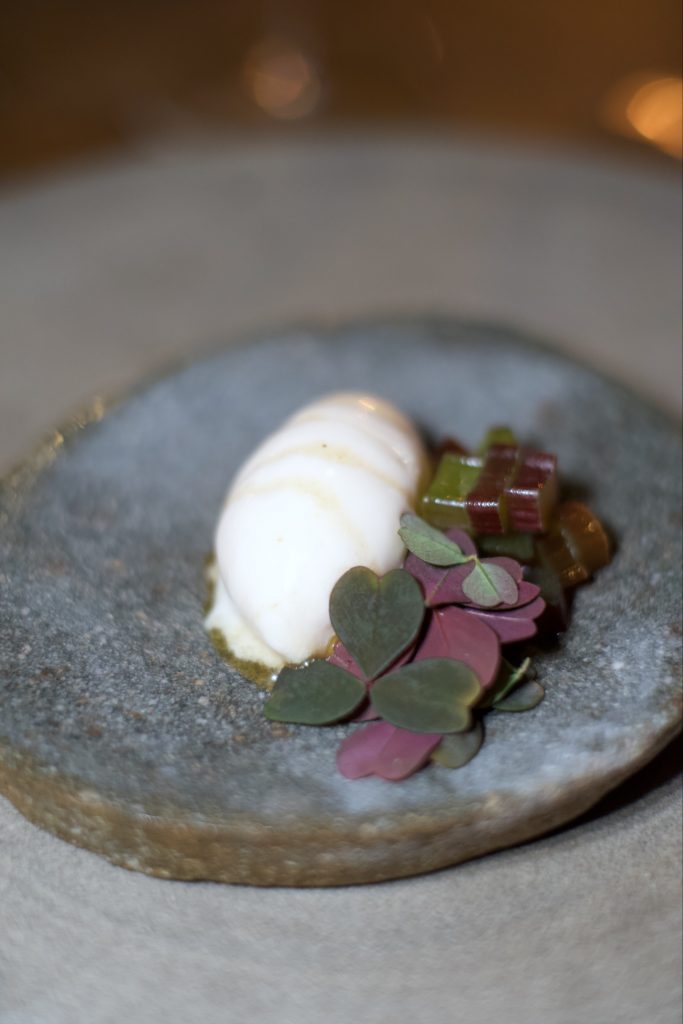 Rhubarb was also the theme for the next dessert together with honey and oxalis. Here the rhubarb were unripe and gave a much bigger contrast to the the sweet honey both in terms of flavor and texture.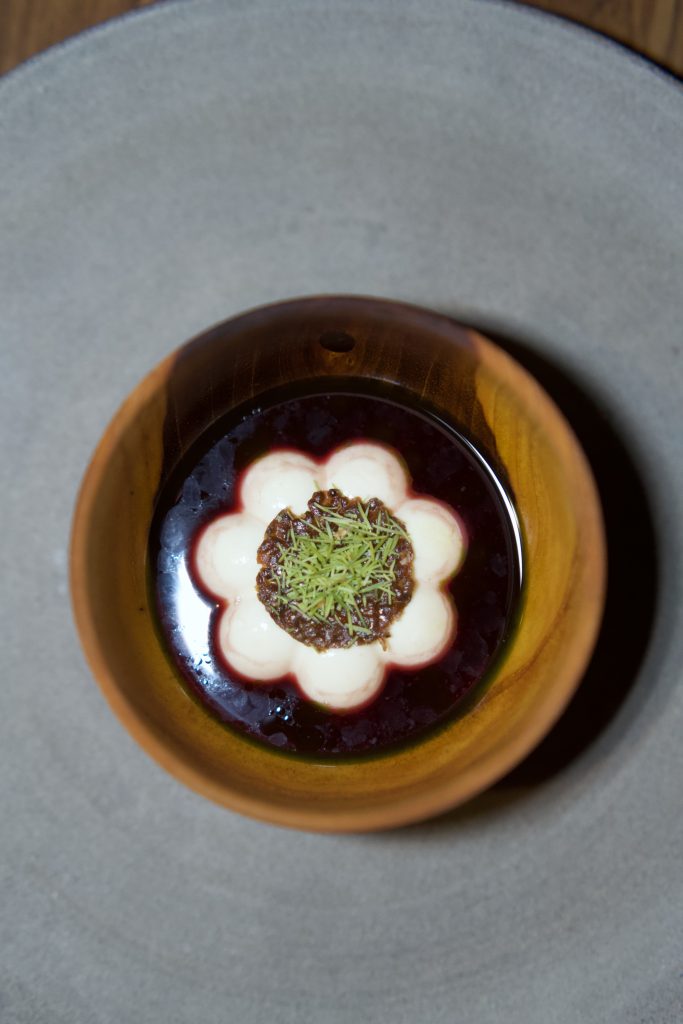 Last dish was creme and dark berries served together with fresh shoots of pine for contrast which was naturally delicious.
Now the sometimes frustrating part about going to a lot of restaurants is that you become difficult to both impress and surprise. At Domestic it's easy to say that I was both surprised and impressed. End to end their flavors were very impressive with everything on the menu being delicious which to me always the most important. In creating the dishes great inginuity and creativity was shown and I truly enjoyed the evening end to end. Service was on point being both relaxed and personal but still professional which only got underpinned by having the chefs serve several of the dishes.
Why this restaurant doesn't receive more attention is beyond me as it is clearly a 2 Michelin star experience and with a clear identity and profile provides a fresh interpretation of new Nordic showing that New Nordic food doesn't live and die with Noma and should be on the to do list for any foodie visiting Denmark. And finally if you are not billionaire at a price point of about half of the top Copenhagen restaurants it's value for money is simply unmatched.
Information
Head chef: Christoffer Norton
Menu: 10 or 15 dishes
Price $220 for 15 courses excluding wine
Website: https://restaurantdomestic.dk/