"You travel to strange places for love" my girlfriend once said. This is very true in my case. I met her when travelling to Peru to eat at Central, so when Noma announced they were doing a pop up in Mexico there was no doubt in my mind that I had to go. After all how would the feminine vegetables and seafood based restaurant play out in a country known for its use of spices, tacos and chilies, I had to find out.
Just entering Noma Mexico was an experience on its own. A "massive" restaurant seating 80 people in the middle of the jungle with the palm trees forming a natural canopy in the tropical climate.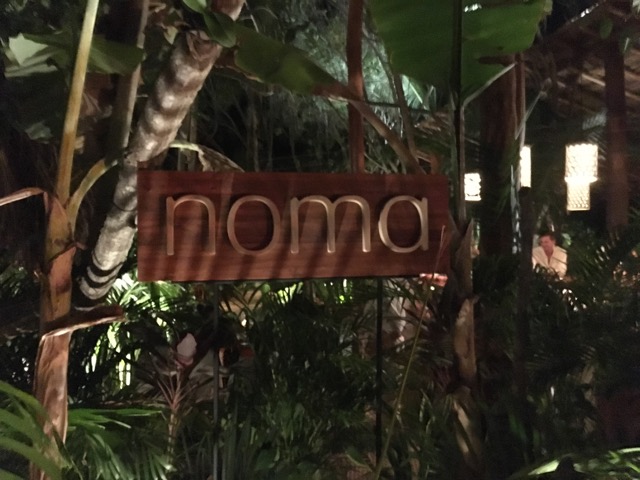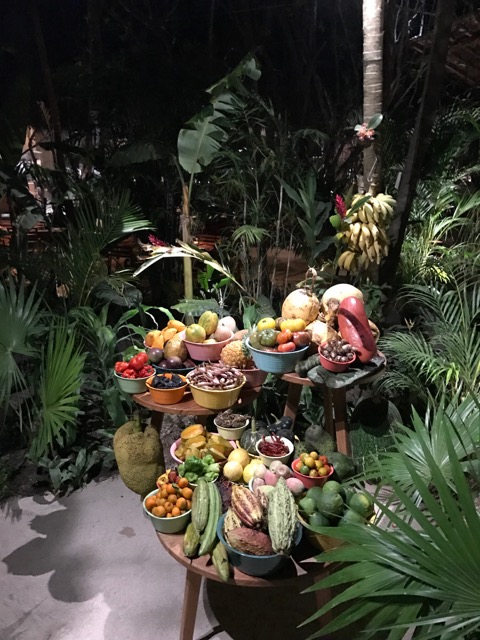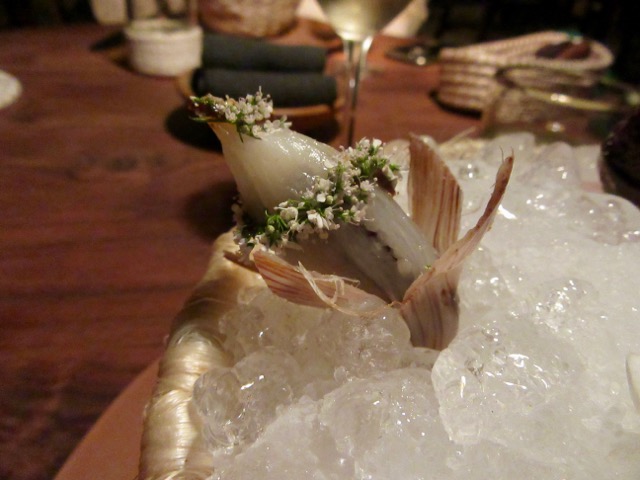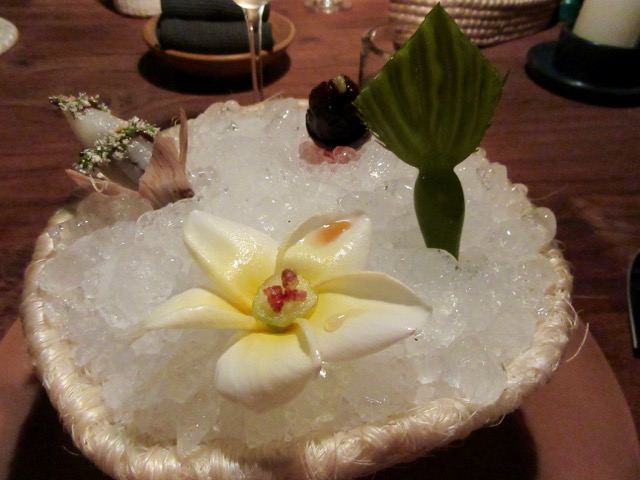 Champagne to accustom the first series of snacks. Flor de mayo and ginger, Pinuela and tamarind, spring cactus with ant paste and giant kelp and mussel michelada. Worth highlighting was the pimela which and the spring cactus, which was simply just amazingly beautiful.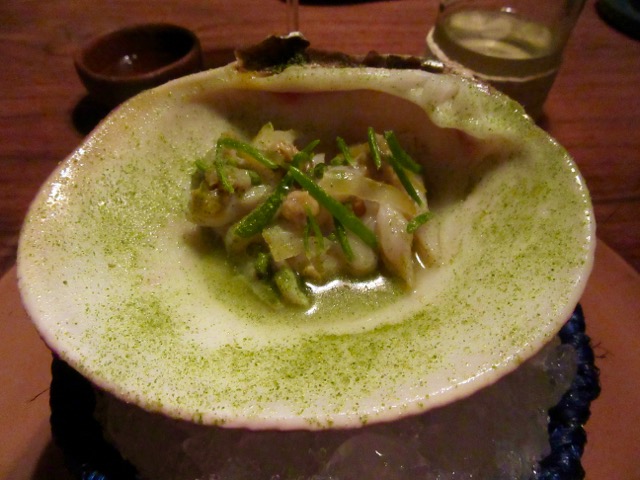 With a night full of highlights it is hard to single out dishes, but the next one is one of best I have ever had. Melon clam from the sea of Cortez. Everything about this dish just worked. The claim in it self was extremely delicious and small pieces of umami rich kelp was a perfect match a long with the fruit juice that finished the dish.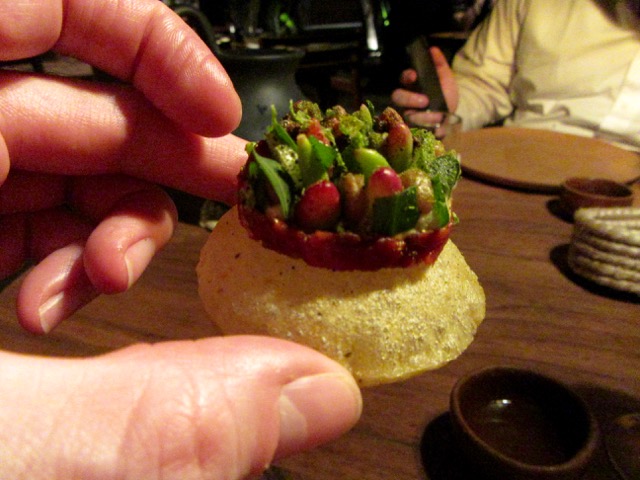 Salbute with dried tomatoes and chapulines was as beautiful as it was delicious.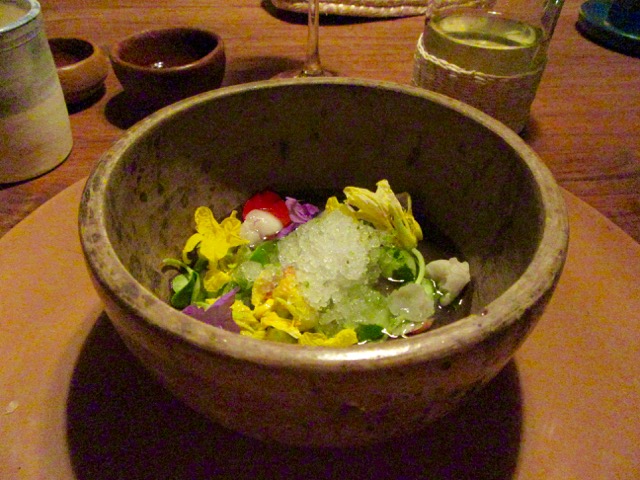 Following this was a cold and refreshing masa broth with lime and flowers. I always love smelling my hands after eating a good taco as is smells amazingly of corn. This was the very essence of this.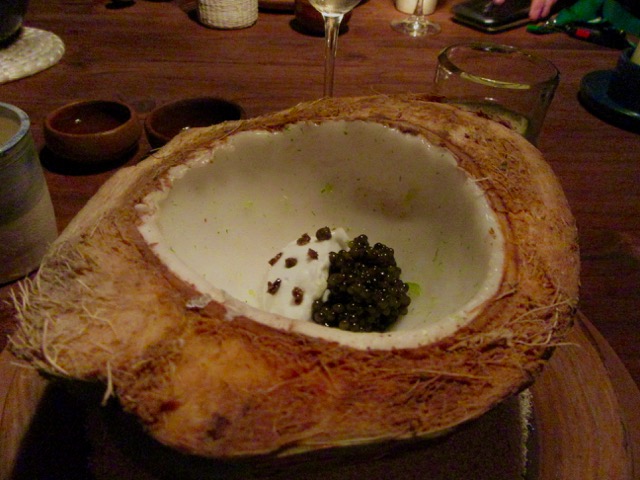 Young Coconut and caviar. A nice combination but why they decided to introduce Russian caviar to a menu in Mexico I don't know, but it worked. A bit of lemon cest worked well to finish off the dish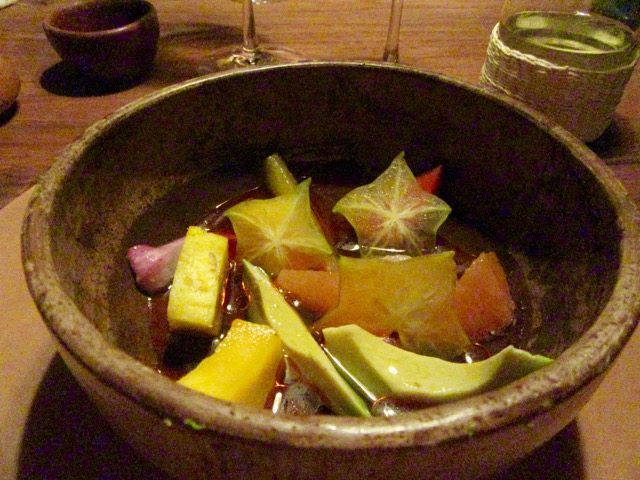 Tropical fruit and chili de arbol. Exceptional quality of fruits which might as well have been a dessert if it was not for the delicious and umami rich tamarind and chili juice. The first dish with a lot use of chili.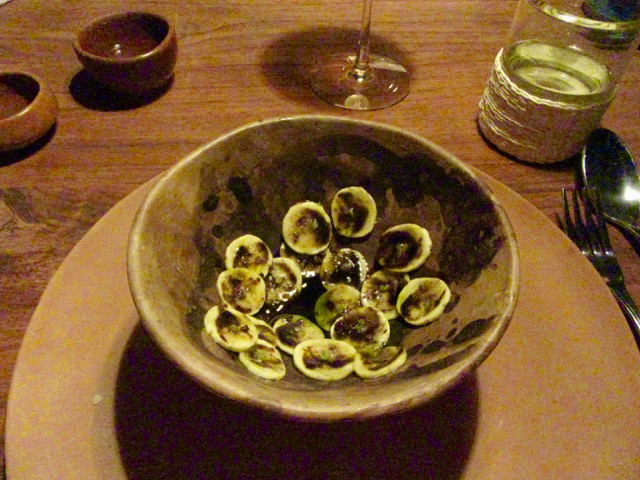 Next came my third foodie orgasm of the night. Banana ceviche with a very rich umami tasting kelp juice. It was just so damm delicious and yet so extremely simple.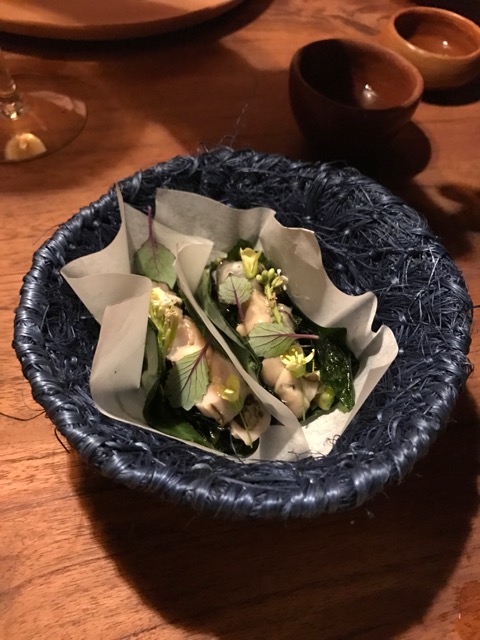 When the last dish was as great as it was you need something amazing to top it and so they did. Chayo oyster tacoJ a taco so pure and clean in its flavors and so anti taco but dam delicious. Served with kelp and mussel michelada to add to its flavors of the sea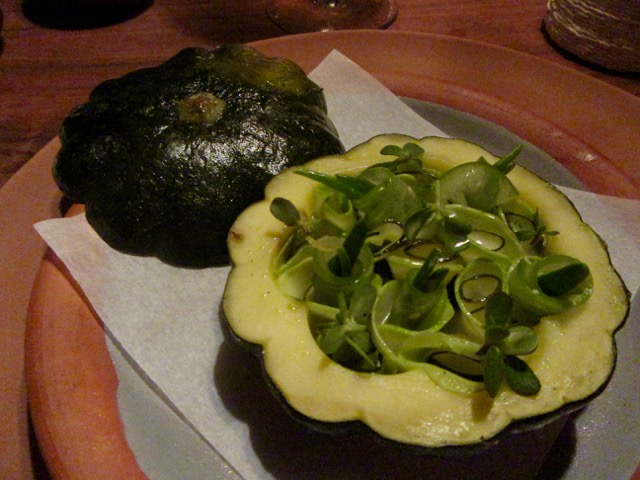 The next dish was the one dish that in flavors and composition was something that you could have had in Copenhagen. Whole grilled pumpkin but what really made it work was the avocado leaf sauce. So good and rich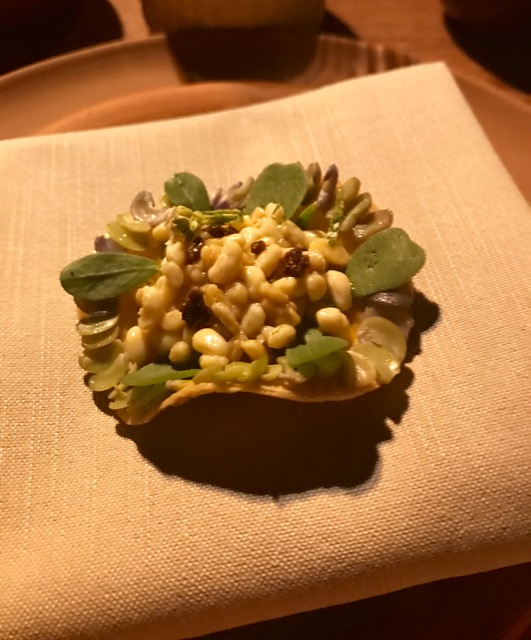 Usually I am a big fan of escamoles = ant eggs but with this serving I wasn't super impressed. Delicious, but I just felt they could do more with it. A beautiful dish.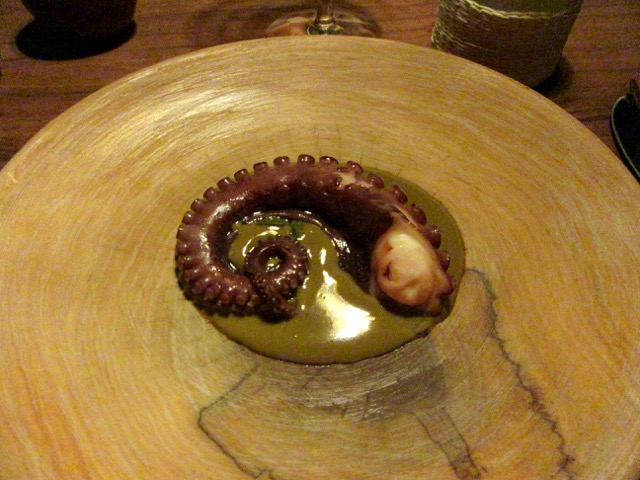 Do more is however exactly what they did with the next dish, which was probably the highlight of the meal. Octopus that has been cooked in masa and corn leaves to be served with a pumpkin "mole". The octopus was simply so tender and delicious. All that was missing from this dish was a tortilla to scoop up the delicious sauce.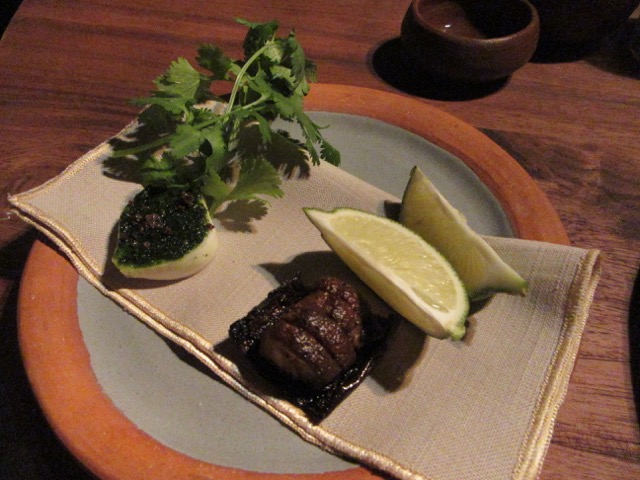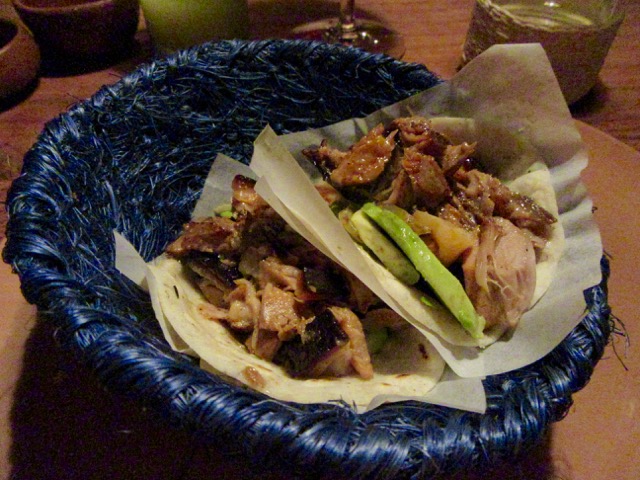 Off course at some point Noma would have to do a "traditional" taco and so they did. Suckling pig where there were mix between crispy and juicy bits. Served, as it is suppose to in a small braided bowl making it real authentic and hereby taken all the fine dining out of it. Off course it was a Noma taco so it was damm delicious.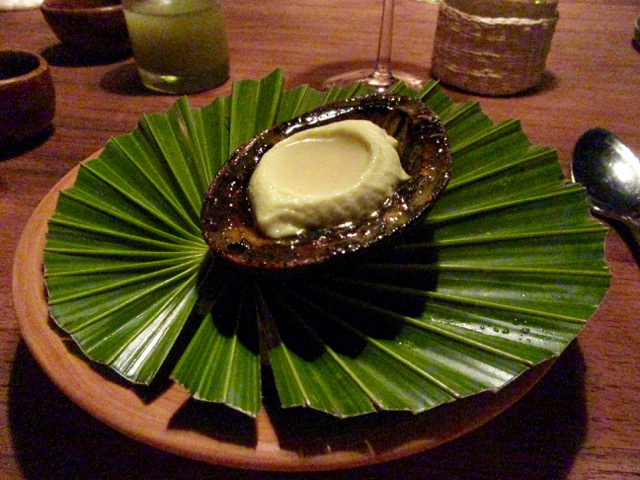 For our two desserts we started out with a grilled avocado with mamey seed oil. I am not a big fan of marzipan so naturally I was not a big fan of this dish.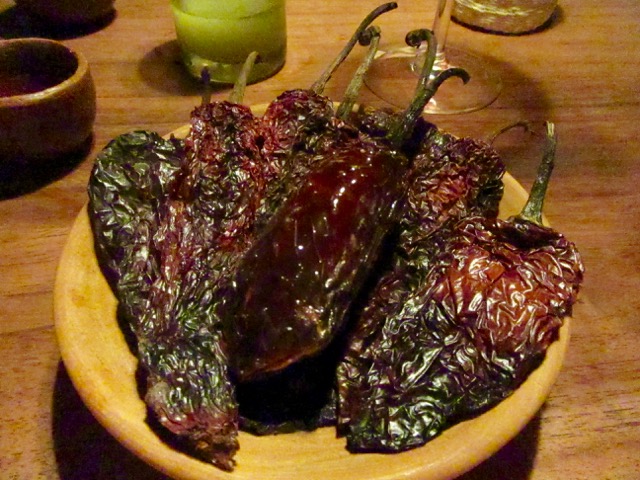 To finish off the desserts were a honey glaced chili with a chocolate parfait. The first one we got was seriously hot which they say happen every once in a while so we got a milder one. Very delicious and a classic combination. From Noma I had however expected something a bit more creative.
Sitting back in the lounge area with a mescal cocktail I was thinking about what I had just experienced. It actually took me a couple of days to wrap my head around it. Mette Søeberg from the test kitchen helped me a long in my though process with the question "could you recognize Noma?". The answer to that is a definite yes. It was 100% Noma just in a different country. They didn't try to take a classic Mexican dish and do a Noma take on it. They just cooked what they felt like with the amazing ingredients that they had available. Still very clean and pure flavors. With a lot of the dishes being heavy on chili it was more masculine in in flavours then is usually the case in Copenhagen but still very true to the heart of what is Noma.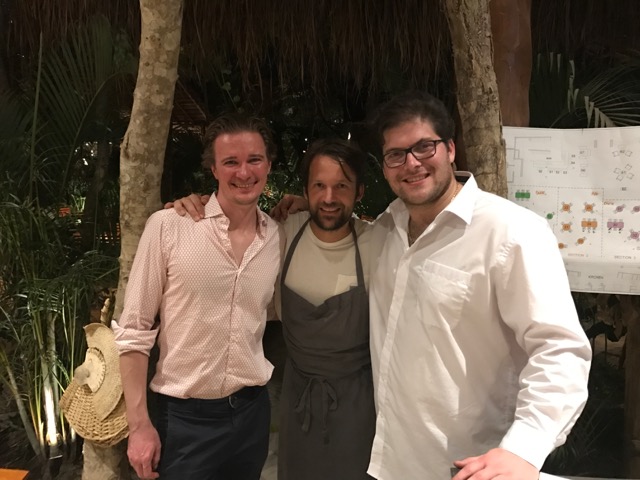 To me at the heart of Noma is also the ever present and personal service. Being a regular there and making the 8000km flight it was amazing to see the familiar faces of the front house that I know so well and I got more then one "hello nice to see that you in Mexico hug". Despite the restaurant being about twice the size of the one in Copenhagen it still felt personal and intimate as always.
Now all that is left to do is wait until they return to Copenhagen and see that they take with them home.