Søllerød Kro is a 340-year-old inn located about 20 km north of Copenhagen in a very small and idyllic town with less than 20.000 people. Søllerød Kro has had many giants as head chefs including Søren Gericke, Michael Michaud, Paul Cunningham and Jakob de Neergaard but despite this they have managed to maintain a certain style so consistent that if people say that it is "Søllerød Kro delicious" everybody knows what they mean.
This was my first visit to Søllerød Kro, which started with a train ride (too cheap to take a taxi) and a walk through Søllerød. The latter was great as you really got a feel for the place and the people living there. Despite being in a very wealthy neighborhood, I have the feeling that when their inhabitants get home their heartrate drop significantly as stress seems so foreign in a place like this.
Entering Søllerød Kro it feels very different from any fine dining restaurants I have been to. The building it is self is so idyllic and cozy. You might however have to be Danish with a grandmother living on the country to appreciate the low ceiling, the crooked walls, but if you do dam it is charming. Google the Danish phrase "hygge" and you will know what I mean.
The meal started with a series of smaller snacks. Worth highlighting, was an amazing cured ham with truffle, which was made at Søllerød Kro. In the curing process, they have added fennel and other spices, which was a great combination with the delicious ham. A different output of their curing cabin was duck with a very acidic topping. Which I cannot remember, but dam it was good.
The only dish that required a spoon was an egg foam with a series of different crunchy elements. So very well balanced in both textures from the light foam to the raw cucumbers and the fish eggs and balanced in flavor from the rich egg to the refreshing cucumber.
The final snack was a very refreshing raw apple, which had been infused with yuzu increasing the freshness and acidic apple, and hereby preparing our palet for what was to come.
From refreshing to heavy. Double cream and cress water and a crumble of roasted rye and ligonberries. There is a first time for everything and double cream as a starter is definitely the first for me. Very well balanced and delicious. It also served as an omen of what was to come. It would not be a light meal.
The first real dish was a Søllerød Kro classic, which off course have been made in many variations over the years. Caviar with an elderflower cream and a cracker with horseradish. The heat from the horseradish was an amazing match to the cream and salty caviar. Pure deliciousness and in reality so simple and provided the first foodie orgasm of the day.
The next two dishes were variations of classic French soups and classic techniques. The first in the form of a light foam with a light "fish soup meatball". Off course, I forgot the correct French expression for this. Topped with caviar it was again very delicious also showing off just how different caviar can be.
In the next variation it was a f…. delicious filet of turbot wrapped in yes, more turbot served with a sauce made with oysters, mussels and all kinds of fish together with fish eggs and a piece of beauty in the form of very small pieces of potato which added a valuable crunchy element and the other foodie orgasm.
Since it was fall off course, it was time to look to the forest. This time with chanterelles which played secondary to a very very good and big langoustine. A crisp made from pig's feat added a both crunchy and rich element to the dish. I loved this one.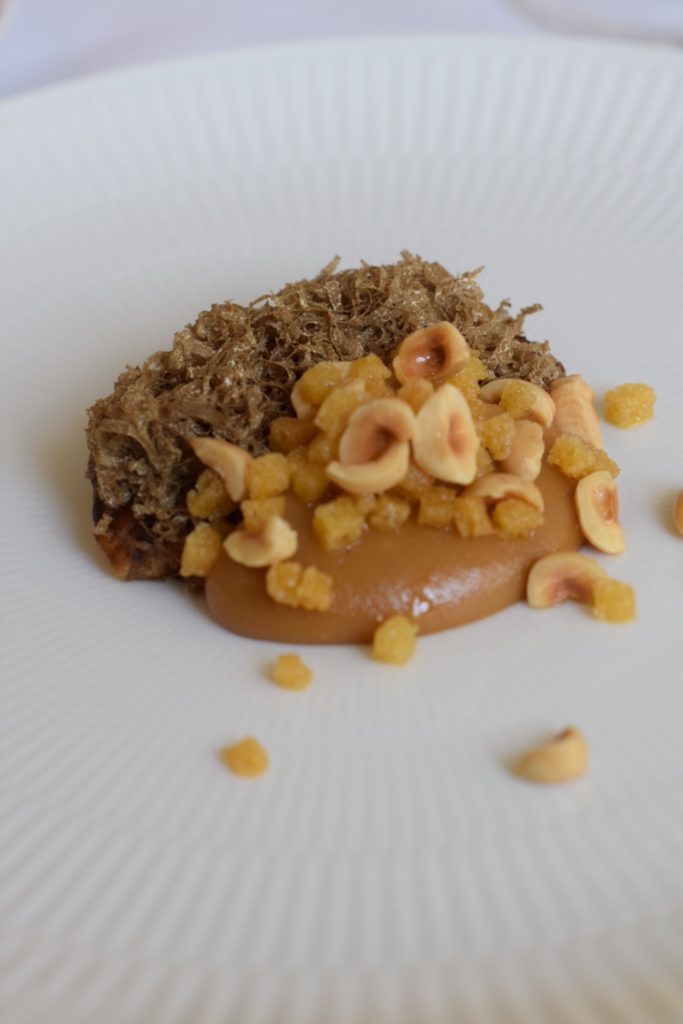 The next dish I had only heard good things about. Cheese, truffle and celery. A rich and delicious dish. Celery is a personal favorite of mine and the sweetness was united in the combination with both the truffle and cheese. Very delicious.
At a classic French restaurant, there are certain things that needs to be on the menu. Foie gras is one of them which we were about to have. Served pan-fried with a sweet onion and a whiskey sauce. Again a dish in perfect balance. Very very tasty.
I only needed one more thing to complete the full experience of a classic French restaurant in the middle of autumn. Dear or some other kind of game. Dear with a series of crunchy toppings, chestnut pure and a very refreshing dehydrated pear with a rich sauce to bring it together. I have to say that at this point, I was quite full but had they served another portion of this I would probably have eaten it too. It was that delicious.
That was however not the case for the next dish. Most of the dishes we were served were quite rich and this was probably the riches of them all. Cheese, crackers and a "sauce" which was very generously filled with morels and chanterelles. Delicious but it was just over the top at this point of the menu. Served after a 3-course menu it would have suited quite well.
The first sweet dessert was their take of a Danish "popsicle" called Kæmpeeskimo (Giant Eskimo) consisting of a vanilla parfait, chocolate and blackcurrant. It was rich and delicious but with so many impressions and AMAZING dishes, this did not leave a huge impression.
Neither did the last one which truth be told I could not actually finish. Caramel, plum and hazelnuts served with cream, oxalis, and a waffle.
I had for a long time put off going to Søllerød Kro. One of the reasons was pure logistics, but in reality it was not that difficult, the other being that I have lost my heart to the experimental Nordic kitchen which in my closeminded view put the classic French cooking that Søllerød Kro practices at the lower end of my to-do list.
I am however so glad that it finally did get to experience their magic. I am not sure how many restaurants I have been to but it is a lot and this meal was one of my all-time favorites. Everything was just so balanced, the flavor composition was always spot on and despite being classic flavors they were executed so well that it could bring forth the same feelings and levels of excitements as the more experimental Nordic Kitchen can. I think it is very telling that I have used the word delicious 13 times. I haven't compared to other blogposts but that seems like a record.
For it to be a complete experience both the atmosphere, wine and hostmanship has to be spot on. Jan Restoff is an amazing host, such warm hearted and he spoke with amazing enthusiasm of all the dishes that we had this day so the passion was amazing to fell. This level of passion is off course contagious in the best possible way. As already mentioned in the beginning I loved the location and atmosphere of the restaurant which I know would not hold the same authenticity if it was placed in a modern building in the heart of Copenhagen. If that was the case, I am sure that both the food and the people would be different as well. After all being in a 340-year-old building does something to you.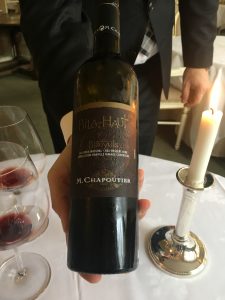 Wine is not my specialty but I truly enjoyed the wine we had this day. To classic food, you have to serve old world wines and what wines we got. 1 grand cru from Bourgogne with some age, 20 year port and the best Italy from both Brunello and Barbera. Off course, they matched the food.
My only negative thing to say about our visit, which took close to 5 hours, was the amount of food we were served. My friend who I joined for this visit is good friends with Jan, which meant that we got a couple of extra dishes. Usually I can always eat a big tasting menu, but as the portions are neither small and in an autumn menu, they are quite rich there was simply too much food. A sin that is easy to forgive, but don't plan to eat 24 hours after a full tasting menu at Søllerød Kro.
Usually I am not a fan of the Michelin guide and disagree with their verdicts quite often. I guess the only reason for not being rewarded 3 starts is the lack of consistency on the head chefs as everything is spot on and I am already looking forward to the next visit which I am sure will come soon. The contrast to the summer menu would be amazing so that an obvious time to visit again.