In Denmark it took Rene Redzepi half Dane half Albanian to reinvent Danish cuisine. For Norway it took the Dane Esben Holmboe Bang and he has done just that. He has done it a very "simple way". Cooking what is in season in way that reflects the Norwegian landscape and culinary history using modern techniques and only the best ingredients. As my visit was in late winter I was already filled with exicetement that I was going to taste a lot of shellfish from the cold fjords that is in season.
Entering the restaurant it is sleek, simple and still full of charm, personality and luxury, which is often expected when the restaurant holds 3 Michelin stars.
Staying true to the classic menu setup I was initially bombarded with a series of snacks. The first was chantarels in different textures served on crisp chicken skin. Such a pure umami taste to start with. Delicious.
Soon to follow was a beautiful serving of Jerusalem artichoke cooked with buckwheat, chamomile, ramson onion and wood sorrel. The utensil for this dish was delicious. Deep-fried Jerusalem artichoke skin. Using the entire produce whether it being a cheap artichoke or an expensive langoustine is always worthy of recognition. Especially because you often find your self eating something which you have never tried before and often it is delicious.
Continuing with yet another beautiful and delicious serving. A small cornet filled with caramelized yeast and smoked løyrom. The caramelized yeast added a special punch to the classic dish.
Raw langoustine with a flaky and delicious chicken skin, an elderflower gel and dried elderflower. I have and probably always will love raw langoustine. It is so delicate in its flavours and doesn't need much else. Just great.
Next dish was the first in the serious of classic Norwegian dishes that have been reinvented. Fermented mountain trout with the best leeks I have ever had. They were sweet in the best possible way and with garum made of mackerel it was a very well balanced dish.
When being presented with a mahogony clam I already at the presentation start to smile. I mean how often do you get the opportunity to taste something, which is 100-200 years old? Having spent that amount of time in the cold Norwegian water it will get a strong and rich umami flavour. To increase this it was served with a dashi on shitake mushrooms.
Up next was a Maaemo classic. An emulsion on raw oyster with a warm sauce on mussels and dill. The balance in the dish was amazing both in terms of flavours but also in temperature.
This next dish was just ridicilously good. Raw scallop with smoked cream and Kampuchea tea. A dish with great balance and few ingredients of high quality. This is my kind of cooking. No more is needed.
The grilled scallop had a hard time following the raw version. Served with wood sorrel, celeriac and apples it was very beautiful but the flavours just didn't stand out.
This dish I had looked forward to already from the time I booked the table. Langoustine with pineinfused butter. Again a great lesson in keeping it simple. To compliment was a great juice pairing. Pine and elderflower. Easy to see why this went well together. It definitely put a smile on my face.
Instead of having bread through out the entire meal Maaemo has a distinct bread service. As wheat is not in season it was primarily based on potatoes. A nice touch. Two different "butters" were served made with respectably pork and ox. Both a bit too fatty for my taste.
Another highlight of the meal was the next serving. Classic when it is best. A turbot cooked on the bone with different herbs, cabbage and off course caviar and a butter and black garlic sauce. Just delicious.
Reinventing the classics. This was definently the case for the next dish. "Rømmegrød" with smoked, grated reindeer heart. Rich in umami and probably the best porridge I have ever had.
Next dish was definently not classic but very tasty. A quail egg with charred and pickled onions a long aged lamb leg (fenalår) and smoked bone marrow. The saltiness of the lamb went well with the acidic onions.
Up next was the highlight of the meal. 3 different servings of duck. Lavender and honey roasted breast with black truffle and cauliflower sauce. The duck had been prepared at low temperature making it extremely juicy without loosing its texture. A broth made from the rest of the duck a long with a twist in the form of an aromatic lemonthymejuice was the second part. The juice gave great balance to the umami and fatty flavours that is the usual duck broth.
Now the best part was still to come. Duck heart with moss and a brown butter sauce. Again extremely juicy. Preparing it sous vide before it went on the yakkatori grill made a huge different. Magnificent. So simple but so delicious.
As a last savoury dish was shaved frozen blue cheese with pickled black trumpet mushrooms. Nice but the duck was still stuck in my brain making it hard to impress me again.
Next dessert was grilled pear with autumn honey and pickled elderflower. The best part of this was probably the juice pairing. The acidity from the pickled elderflower just went extremely well together with the acidity in the juice.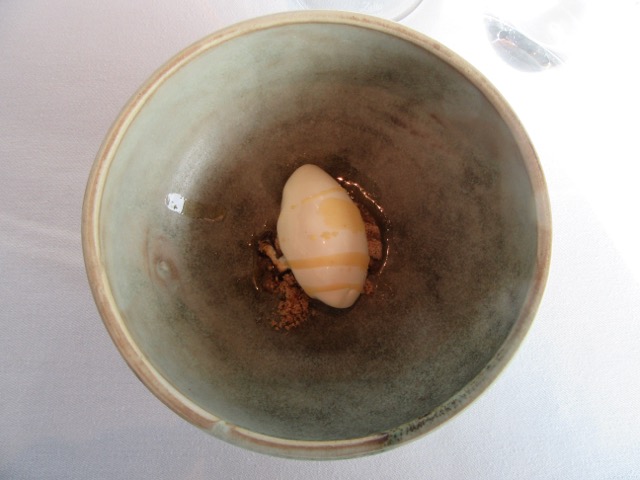 Last dessert was yet another highlight. Brownbutter ice cream, coffee and hazelnuts. Just delicious. A hazelnut infused juice was again a perfect supplement.
To finish was two petit fours. A waffle filled with cold gel and a brown cheese tart. Especially the tart was interesting as this was my first time having brown cheese.
4 hours had passed since I entered Maaemo and I was leaving with a great smile on my face. From end to end it was a unique and complete experience. Friendly and knowledgeable waiters, a beautiful space and magnificent food. Next time I will be in Oslo I will definitely be back.