Travelling 13.000km from Copenhagen to the very tip of the African continent I expetected to find a palet full of exotic ingredients from the dry savannah and the cold artic waters full of sharks (which was why I was in South Africa to begin with). To the day I am still not sure whether or not I had an "African" food experience, but I was I was impressed.
To begin with two small appetizers with actually set a pace for one of the overall themes of the menu – all dishes had a crunhy element for texture.
First a delicious tartar with mayo and the most delicious thin crispy "bread"
Second a Jerusalem artichoke foam, pickeld radishes and a quail egg. A great dish where the acidity from the radish was the dominant flavour. Excellent.
The first dish was a great example of the fusion kithcehn. A bit of Asia as well as some familiar taste from the Nordic.
Trout with beetroot, crème fraiche, saffron pickled onions and buttermilk troul crema. Delicious and beautiful. Again with a razor thin crispy piece of "bread" on top.
The next dish was for me the hightlight of the meal. Scallop, bacon, cauliflower salad, black garlic; caper & pine nut salsa, cauliflower cheese foam
A dish in fantastic balance and simply just delicious. Off course using black garlic is amost cheating as this is just fantastic on its own.
Having the option for a extra dish I off ocurse went for it. A decision I didn't regret. A delicious HARD grilled piece of veal sweetbread with picled onions and a delicious sauce. I love sweetbread and here the texture was amazing.
"Light Curry Glazed Kingklip"
Carrot and cashew puree, carrot beurre noisette.
To me dish was actually quite typical Africa. The sweet curry gave great balance to the dish and off course they get top marks for presentation with presenting the fish with some hot coals in a big heavy "rock pot"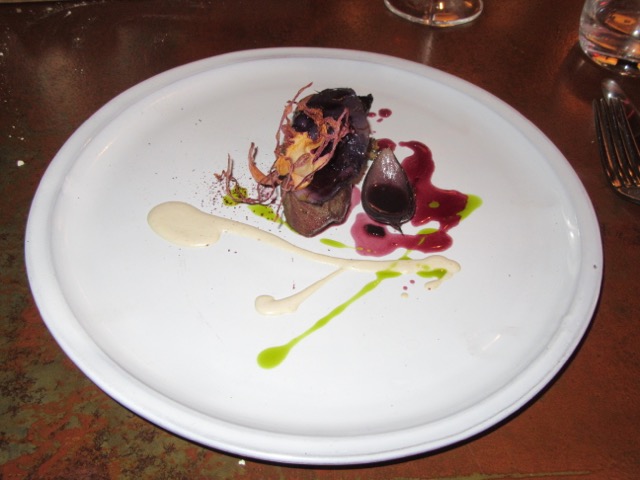 "Springbok"
My last main was in my opinion the weakest of the meal.
Char-grilled loin, ember roasted red cabbage, almond cream, red cabbage emulsion, pine oil. The springbok was delicious but to me the dish just didn't come together. Something was either missing or maybe too many ingredients.
"Golden sunflower seeds, honeycomb, brown butter & chamomile"
A great dessert with classic textures and brown butter and chamonmile is always delicious.
To finish the meal was a delicious dessert with guava as the main ingredients and a very fluffy panna cotta.
My dinner at The Test Kitchen was both a surprise in terms of choices of ingredients but also in terms of quality. Despite often being critized for having it "easy" on the worlds 50 best list to me it lived up to its place as number 28. It definently isn't the most innovative restaurant in the world but the dishes worked, the service was competent and personal and the space was very unique. Off course being 1/5 of the prize of a comparable restaurant in Copenhagen didn't hurt to make me a happy customer.