Lido84 has quickly rose the ranks and gotten the attention of the gastronomic community with its fresh approach to the traditional Italian cuisine. It was therefore a obvious destination for our trip to the north of Italy.
Arriving to Garda Lake it's easy to fall in love from the very first minute as the scene is just beautiful.
We we given a front row table to the lake on a sunny afternoon and when 2 glasses of champagne quickly arrived all was good in the world.
For the menu we decided to go for the classic menu as there are several dishes in that menu that I had been admiring from a distance
Snacks quickly filled our table in the form of apples compressed with juice and topped with mussels, super delicious fluffy focaccia, pickled radishes and a super delicious crunchy zucchine flower.
Our first actual dish was a gigantic grilled oyster with a fig, grapefruit and timut pepper. Such a greatly balanced dish between sweet and salty
A layered cod and perch was fried in tempura and topped with lemon and small eggs. The limon really made the fatty tempura and gelatine rich cod balance out nicely. Very delicious
The next dish is one of their classic servings and you tried it you knew exactly why. 56 hours dried yeast and a buttery pasta. The yeast had both structure and umami without being overpowerering. It was truely a great dish with so much flavor and still so simple while being true to the Italian heritage
Black garlic garlic risotto with red berries was a great mix of powerfully flavors. An intense dish of course but it was still in balance from the sweet red berries. The simplicity was amazing and almost weird to see a dish having that much black garlic and still being balanced.
Next up another classic combination which was still done very traditional. An eggplant had been fried black on a grill. It was served with a rich parmesan sauce and a tomato sauce. It was such a great mix of smokey, sweet and acidic.
It was now time for their signature dish. A classic cacio e pepe but cooked inside a pigs bladder. I was so amazed as to how they got everything distributed so evenly. The pepper, the cheese and nothing was sticking to the bottom no everything was distributed evenly. It has all the same elements as the dish as you would cook it at home, it was plated similarly but it was just so much better.
As a final salty dish was a ribeye with a simple salat of grilled vegetables and a lovage and oliveoil dressing. Great flavors but the cut had lots of tendencies.
For dessert we were to start with a brioche flatbread that had been caramelized and topped with apricots and tomatoes. I loved the mix of sweetness and acidity of the dish. Turning a classic salty dish like a bruschetta into a dessert is not often seen but it really worked.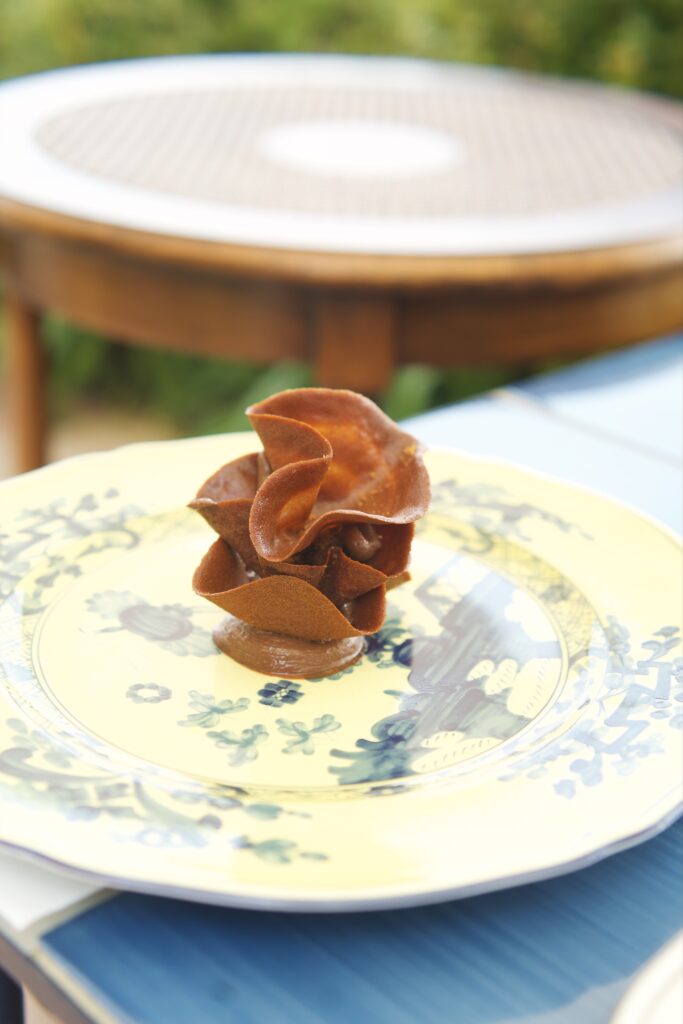 Next up a tower of chocolate with a mix of crispy and soft textures. Simple and good.
The location of the restaurant is something else. Sitting by the water overlooking the Garda Lake is unique and how a lunch in Italy should always be. When the weather permits it you are naturally sitting outside and in winter time the restaurant moves inside into a modern and funky looking restaurant that has both white tablecloths and lots of use of color
Lido84 is truely a gem. A restaurant that is filled of respect for its countries cusine which it is not trying to reinventing but reinterpreting. The owner told me that except for the summer season most guests are actually Italian. I asume because they still feal at home with the food but at the same time being presented a new approach to their classic dishes is truely appealing or in the case of the cacio e pepe just the best version of that I have ever had. Here there reinventing was cooking techniques but keeping the ingredients intact. I actually find it quiete rare that truely top fine dining are actually reinterpreting and staying true to its country history and cusine as most avant- grade restaurants like Noma, Central and Borago will rediscover it's countries ingredients but not it's dishes. So actually getting a reinventing off classic dishes in a way that felt both old and new at the same time was so refreshing.