Despite the fact that Copenhagen has for a long time been a culinary capital good sushi has just not made its entrance untill sushi Anaba. Even in my short trip to Japan I unfortunately only had sushi on a few occations so my experience with High end sushi was therefore limited. So being a sushi novice I was very curious to see how Mads would approach sushi in Denmark.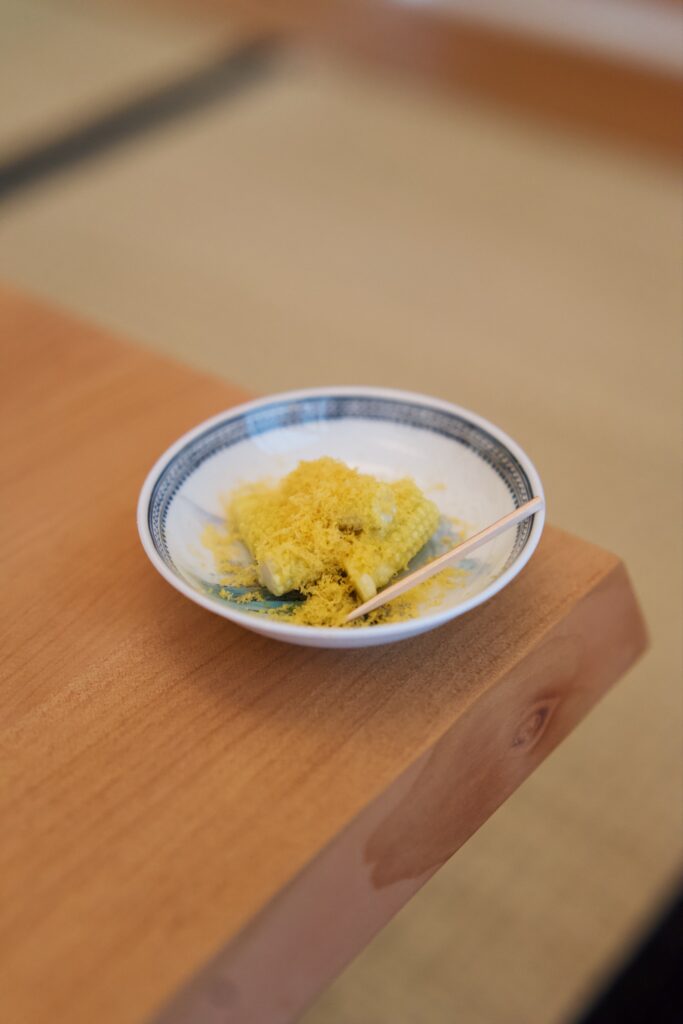 The starter was to give strong indikations about the style of Sushi Anaba. In front of us were a pickled babycorn with generous amounts of botterage. It goes without saying that it was a delicious bite where the acidity was matched well by the umami.
Next up a simple seabass sashimi with a sweet sauce. Simply just a great product.
In the same line we would have salted sardines with wasabi and lemon. Simply just delicious
We would now start the nigiri section which to me was the highlight of the menu. At this level it goes without saying that temperature is important and it was spot on for both fish and rice in the entire section. As well was preparation of the rice and the insane quality of the fish. Worth highlighting was both the octopus, mahogany clam and naturally the tuna. Just impressive end to end.
The next was obviously impressive as well. White rice with generous amounts of caviar and an quail egg. It was a combination that I first tried in Kyoto and it's equally impressive every time.
A mix of a tomato that has been cooked gently in dashi with an oyster and an oyster/wasabi gel was both delicious and refreshing.
We were slowly approaching the finish ine and it was time for an egg and corn pure topped with generous amounts of chantarells and bakskul. Delicious but not impressive.
The summer truffle toast was however impressive. A nice mix of textures and flavors.
To finish the salty dishes a piece of fried fish with wasabi and friedrice. Nice flavors but without being as impressive as the dishes that would start the meal.
The classic omelet would finish the mea at the same high note as we started. The eggs had been infused with lots of mushrooms providing for a much more complex flavor then expected. The texture was of course in point.
Without by any means being a sushi expert I still got very impressed by Sushi Anaba. The quality of ingredients was of the highest quality. The style of both food and interior felt like just the right mix of traditional Japanese and Nordic. By doing this it felt both authentic Japanese and at the same time you got a sense of time and place. So to summarize Sushi Anaba is by far the best sushi place in Denmark