Caviar, Wagyu beef and expensive Japanese ingredients are surprisingly common in top Hong Kong restaurants but at Haku the flavors truely lived up its expensive prices and renowed name.
Haku opened just two years ago but has already made quiet the name for it self in the foodie community. Chef Agustin has been trained in Japan which provides a natural respect for product and a deep understanding of the amazing quality products Japan has to offer. Combining this with more classical techniques from Argentina and the US what you get is Haku a modern Kaiseki restaurant.
As with most Japanese restaurants you enter through small "curtains" to a small counter from where you can watch the final preparations of the dishes or you can enjoy a private table. Of course we went for the counter.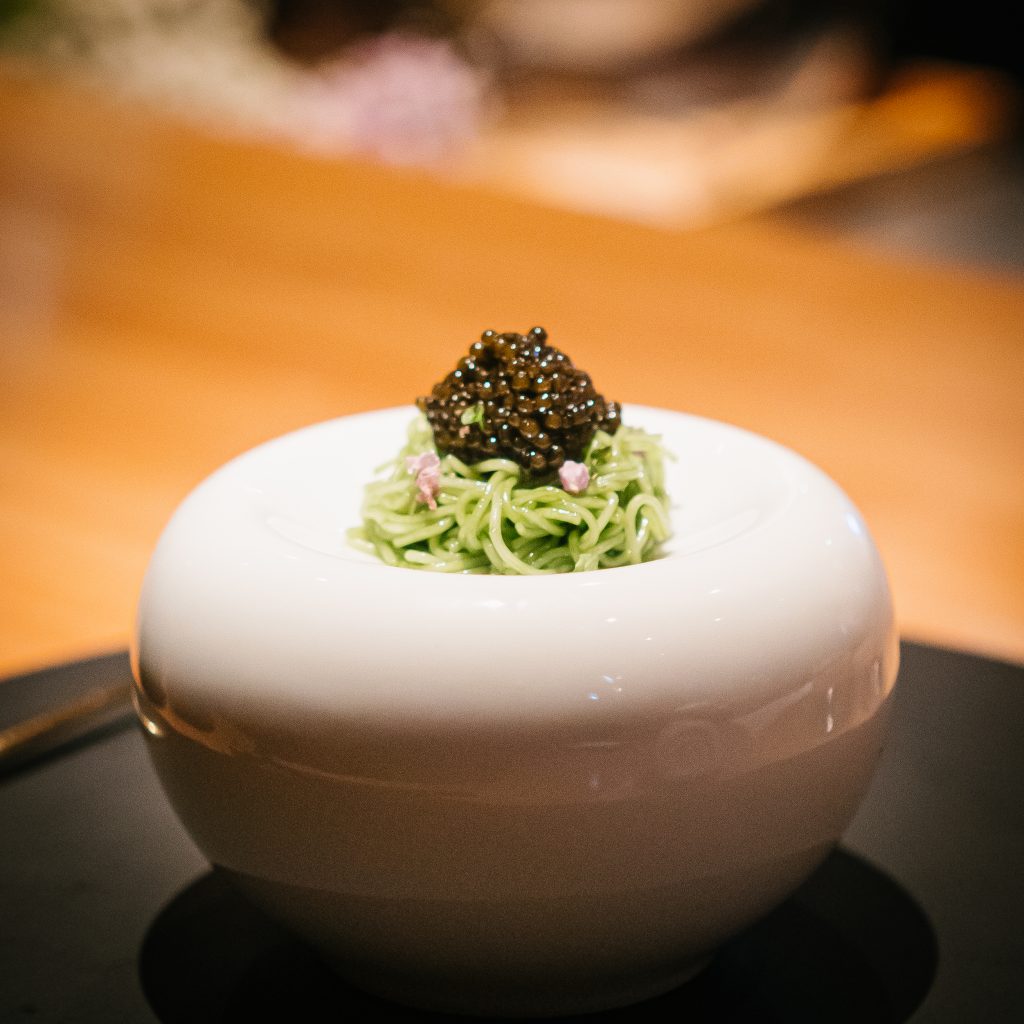 First dish on the menu is cold somen noodles with Kristal caviar a bit of plankton and flowers. Cold noodles to cool down is a classic way to start a kaiseki meal. It was refreshing and the plankton provided a very nice balance to the caviar. Instant foodieorgasm and well just plane beautifull as well.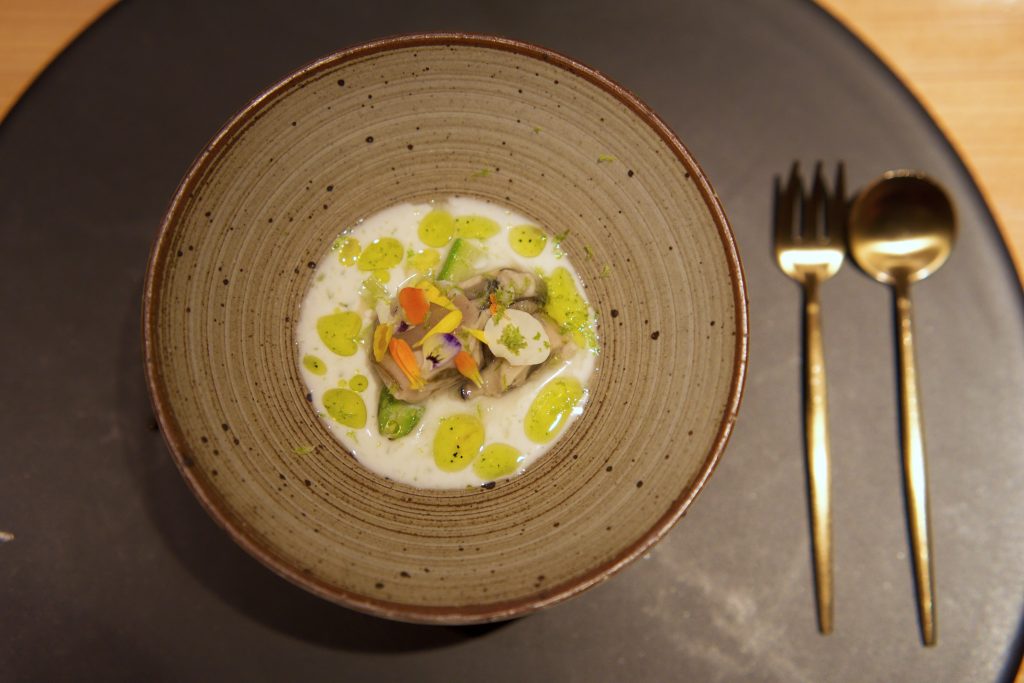 Another foodieorgasm was soon to follow in the form of oyster with sudashi, ponzu, asparagues and asparagues oil. Soft and creamy flavours where the oyster was a main component in the dish but didn't overshadow the other elements. Extremely well balanced.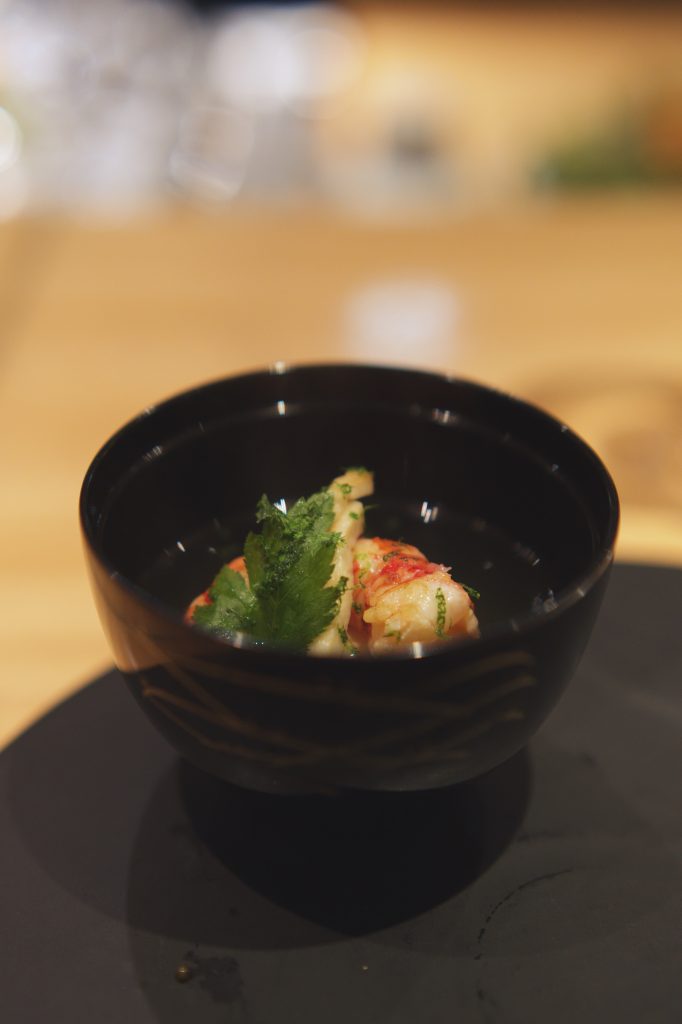 Next up a light dashi with a Spanish prawn and a silky smooth tofu. A great example of how you can do classic umami ingredients but very feminine.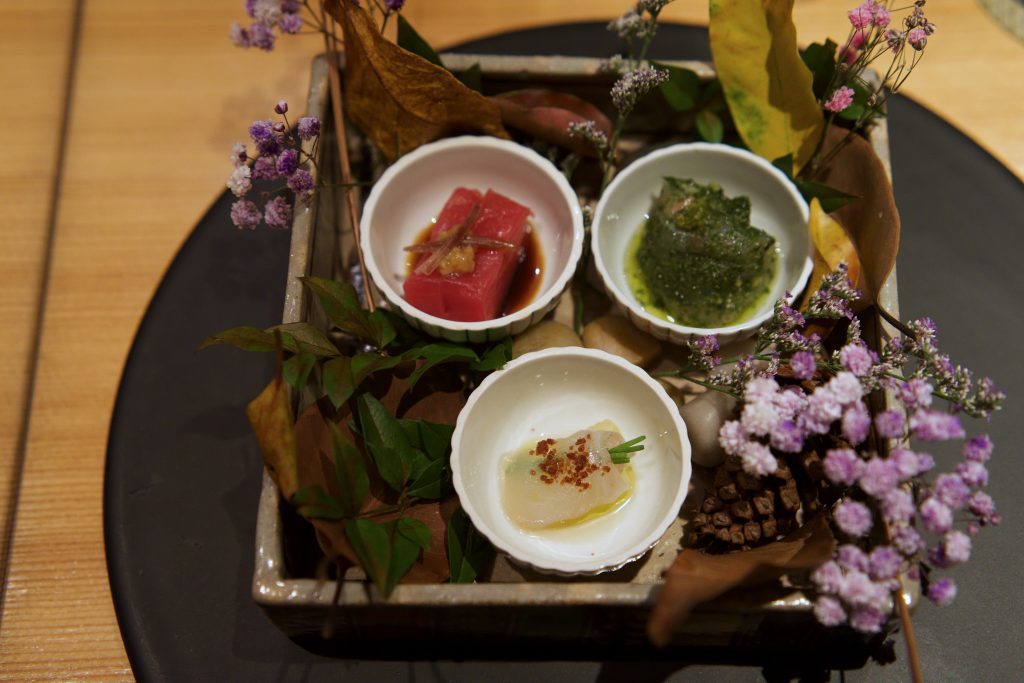 Being a kaiseki menu next up was 3 pieces of sashimi. Each very different and delicious. I asume using spices or basil for that matter in sashimi isn't very classic in Japan but damm it was delicious. 
In a kaiseki meal it is custom to have a salad of local vegetables. For natural reasons not that many vegetables are grown in Hong Kong but they managed to grown some nice quality tomatoes served with different vegetables with a tomatillo juice. Naturally served with just a bit of miso and tofu. Refreshing and nice.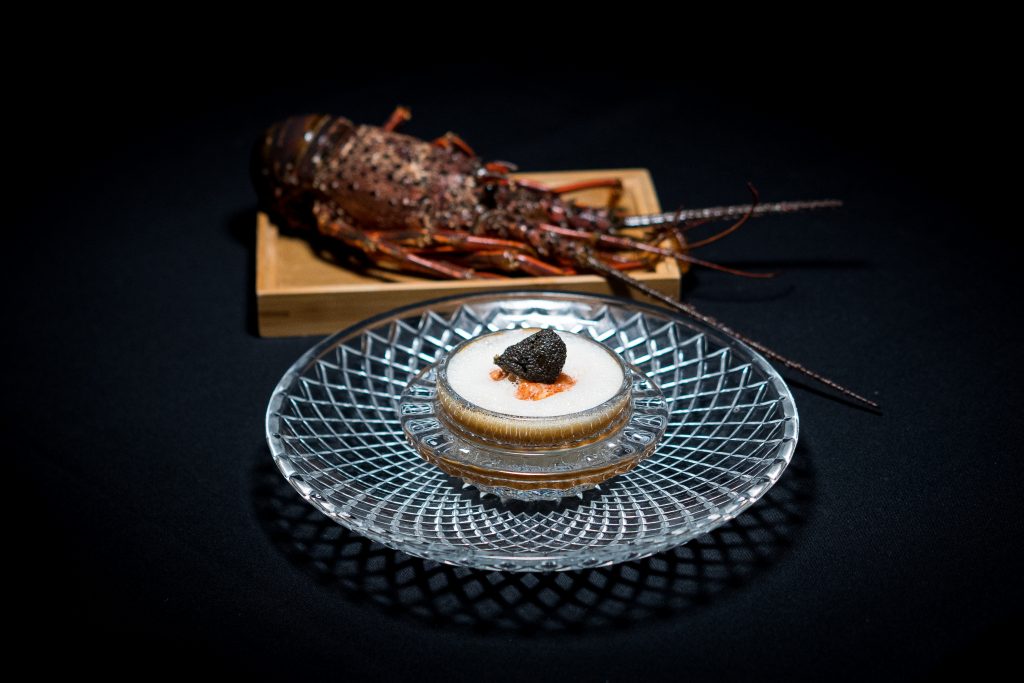 Once again chef Agustin was to put together brand new combinations in an extremely delicious manner. A lobster with fermented olives and a cauliflower pure. Amazing combination of umami, sweetness and just a bit salty. Very well balanced.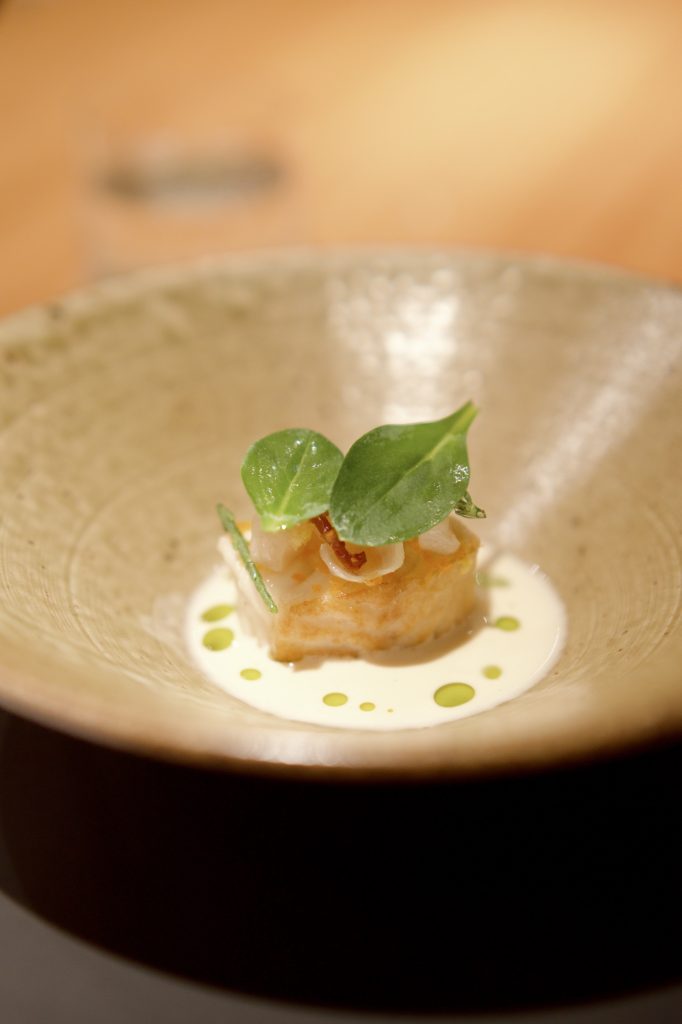 With the next dish we were to leave the umami world for just a moment. Bacalou served with crispy oyster leaves sundried tomatoes and a refreshing and buttery lemon sauce. Another delicate and just plane delicious dish.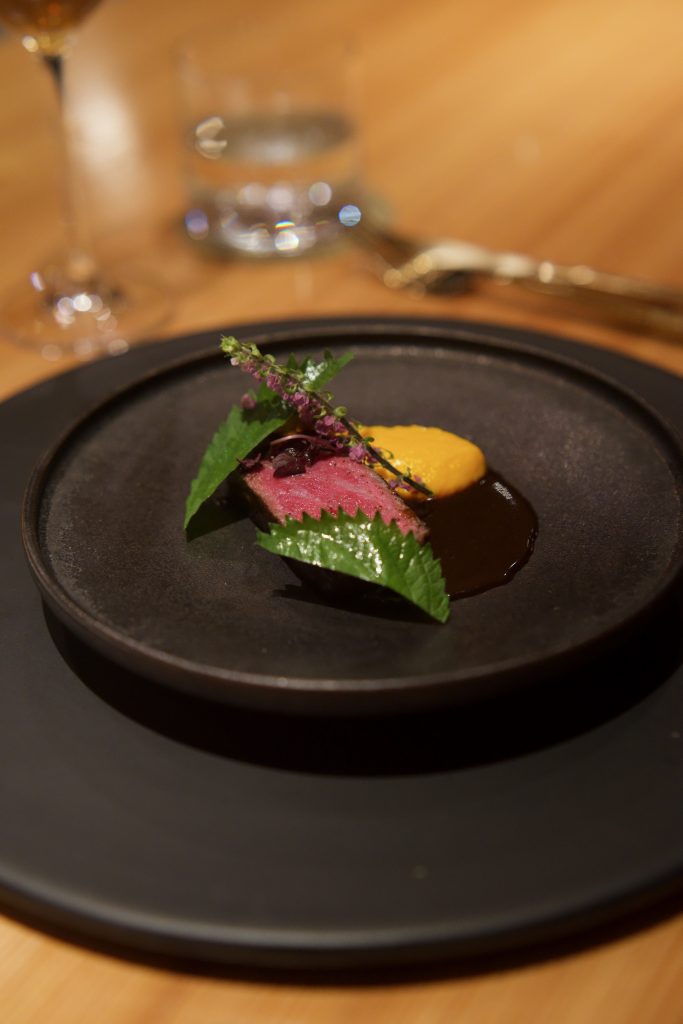 Being in Hong Kong and already having had caviar, A4 Kumamoto wagyu beef was naturally on the menu as well. It was served with a carrot  and mimolette cheese pure and a super delicious sauce from bones and bell peppers with chanterelle and a few  shitso leaves which provided a nice bit of contrast with the anise flavors. An outstanding waguy dish.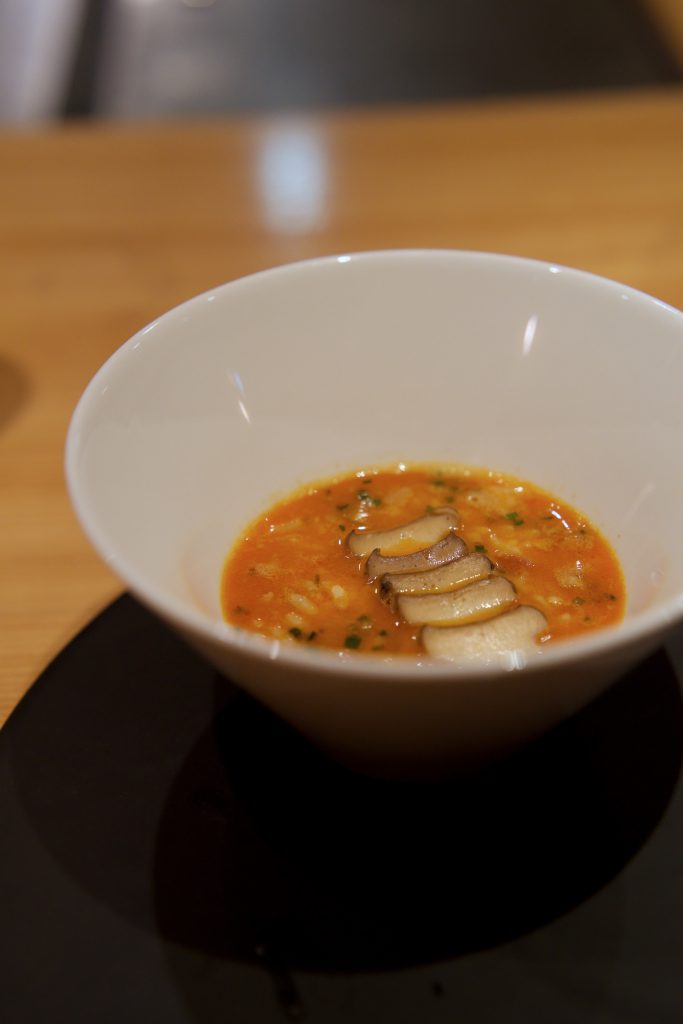 True to kaiseki forms we were to finish with a rice dish which my Peruvian wife naturally loved. Served together with abalone and a chorizo  gave it a very nice spicey and heart warm feal. 
As a pre dessert it was time for a milk, naturally from Hokkaido, icecream served together with a floral persimmon jam, creams cheese and a hint of gran mariner. Almost classic French combinations in this Japanese world.
For the main dessert chef Agustin  combined his Argentinian background in the form of a Malbec reduction with his love for Japan in the form of Kyoto grapes. Actually the dessert borrowed from all over the World with nibs of cacao with I have never had outside Latin America before and an elderflower gel. A great dessert that showed both personality and great techniques.
The wine menu holds both beers, sake and especially if you go for the premium menu you will truely be blown away as the menu holds some were nice gems primarily French and organic European wines which acidity was a great match for the delicate dishes on the menu. 
Summing of this meal is easy. The food is both innovative, creative and first and foremost it is super delicious. The use of quality ingredients were key and all handles with great care and matched with amazing wines. It should therefore be on the top for any foodie visiting Hong Kong. 
Menu price: 1480 HK$ (about 200$)
Head chef: Agustin Balbi
Website: http://www.haku.com.hk/