First Hollandaise then beurre blanch all on the same dish. Now if that isn't heaven on earth I don't know what is especially not if served with some fresh vegetables as was the case at De Patio.
Santiago in Chile isn't exactly know as a food destination restaurant but in the last few years a new generation of chefs have opened their restaurants and providing much more options than previsously. So far Santiago has 4 restaurants among the Latin 50 Best and more should be to come.
De Patio with Benjamin Nast as owner and head chef just had their second birthday. Before opening De Patio he worked in a series of European restaurants breathing in new techniques and flavor combination.
To be fair I hadn't heard much about the restaurant before going so for once my expectations was almost a blank shape.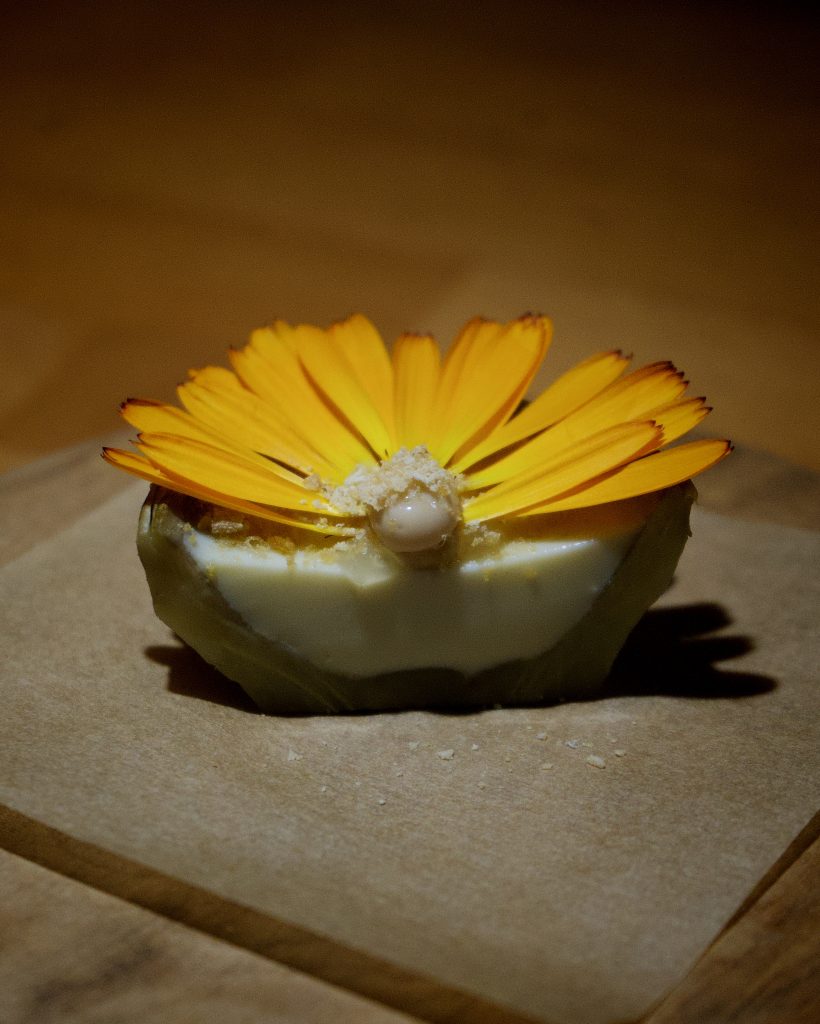 The first brush stoke on the blank canvas was a beautiful sunflower with artischoke, flan and a miso crepe. The result was both beautiful and delicious.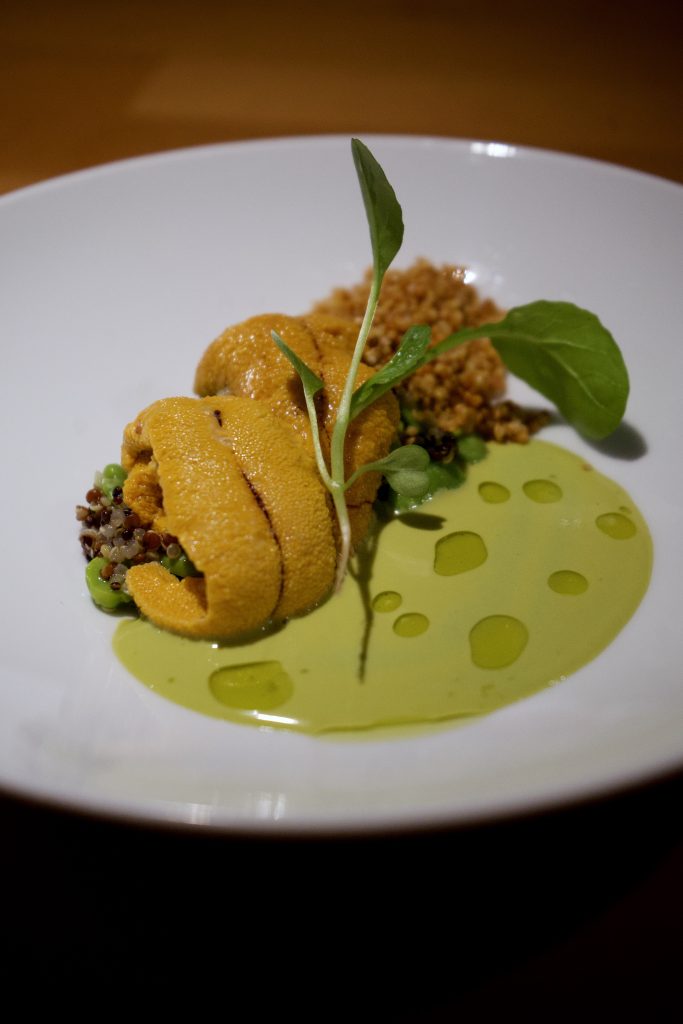 I always love uni and this dish would not disappoint. This one with fresh broadbeans, puffed crunchy quinoa a coriander sauce. The sweetness of the uni really came through delicious koriander sauce.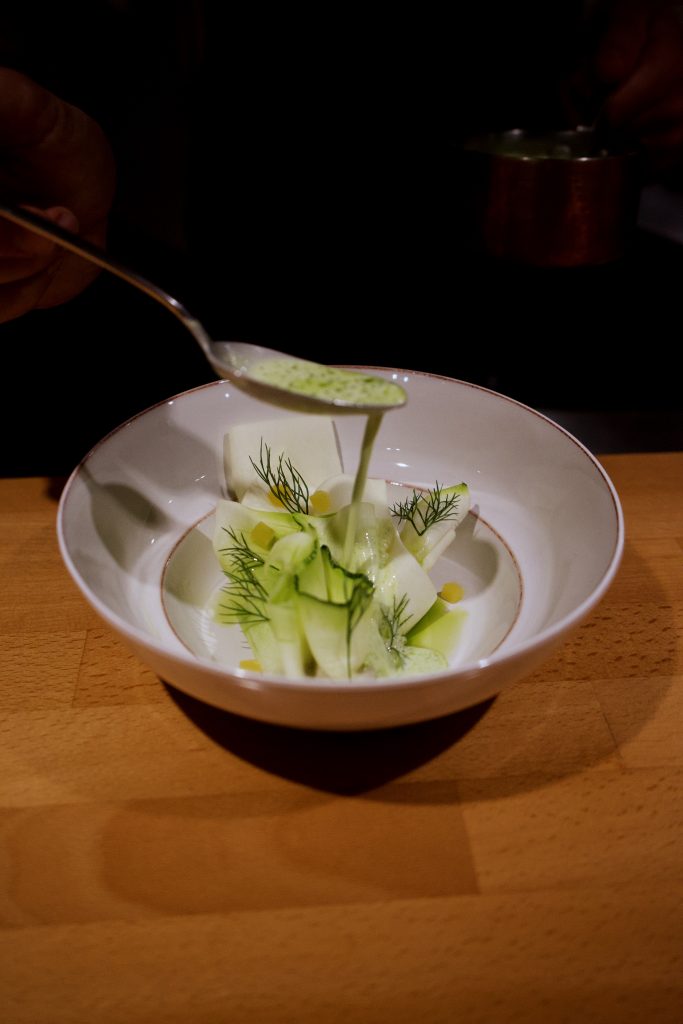 So far the inspiration had come from Chile and Japan as I but but with this dish we were to visit Europe for a bit of inspiration.
A light but the same time rich buttery sauce infused with charcoal served with softly grilled squash and oysters. A dish that provided soft simple and clean flavors while the sauce was so creamy and provided a great contrast to the soft vegetables and meaty oyster was so good. An exquisite dish with amazing flavors.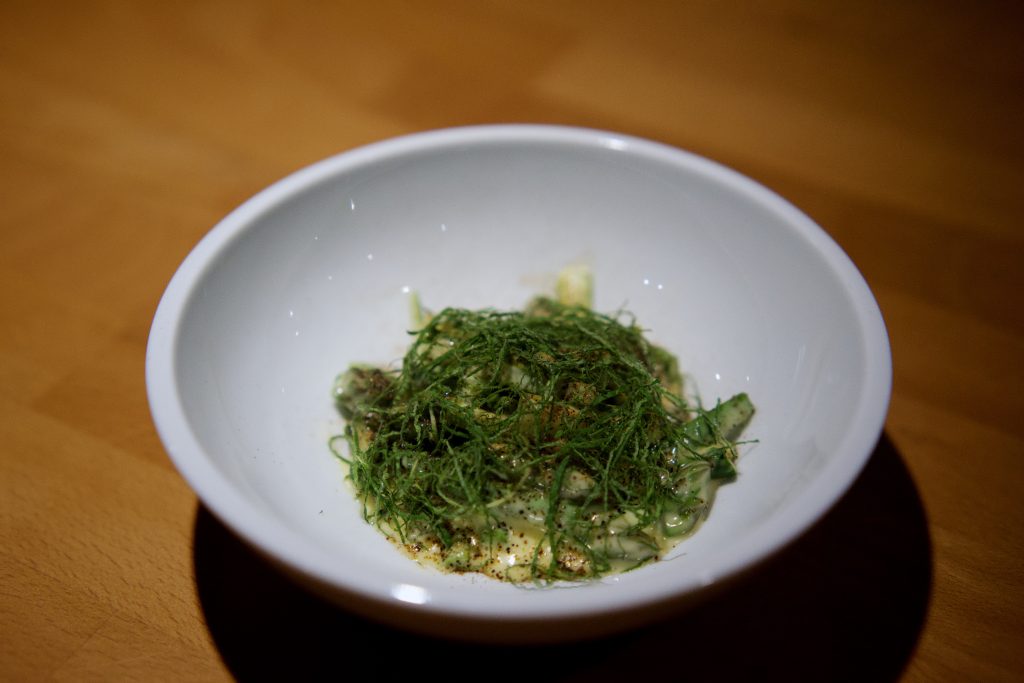 Asparagues with beurre black and hollandaise and lemon salt. Felt like a nice Nordic spring dish. Who doesn't like a good butter sauce with vegetables after all.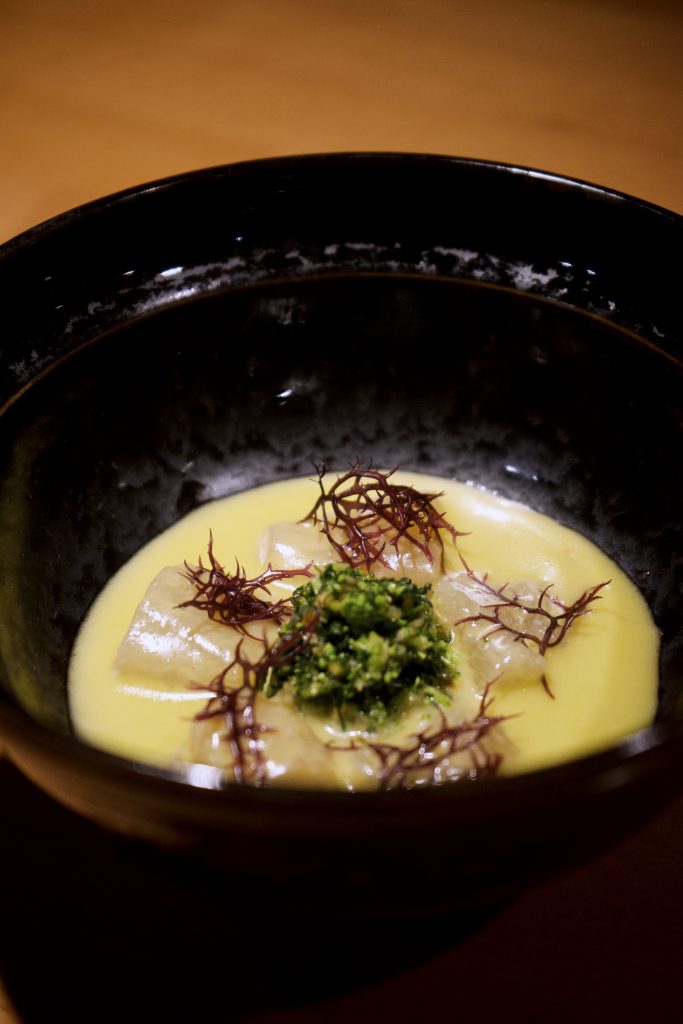 From buttery and vegetables to buttery and seafood. Octopus escabeches with brócoli and ginger. Depending on the spoonful for me the ginger was either spot on or a bit too much but I liked the acidic buttery. The texture of the tentacles of the i octopus was soft and delicious like I never tried before.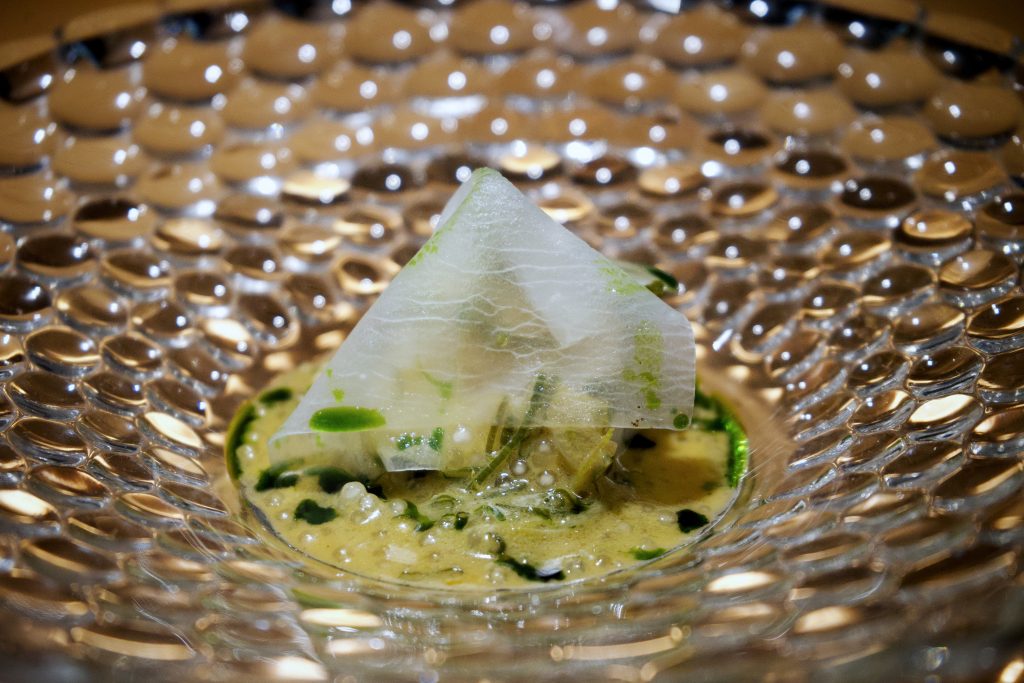 Next up was a fried Rockfish served with an xo sauce, tapioca and a raw turnip. Nice flavors but nothing truely memorable.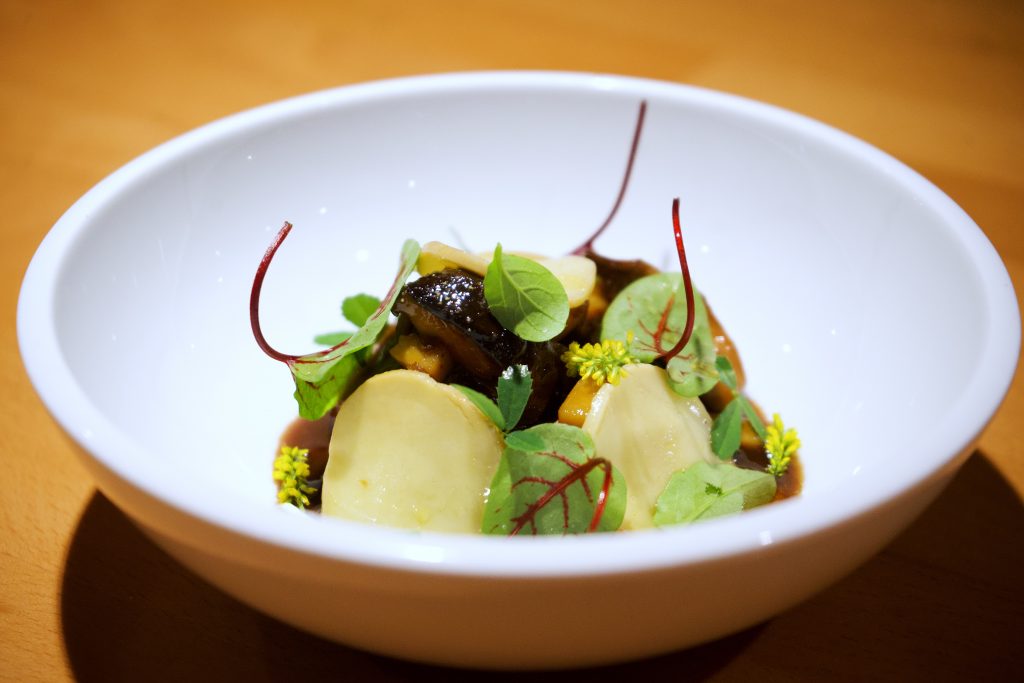 Up to this point the flavors had peen pure, rich but delicate but now we would be turning to umami. A stew with duck heart mushrooms and a sauce that was just pure umami.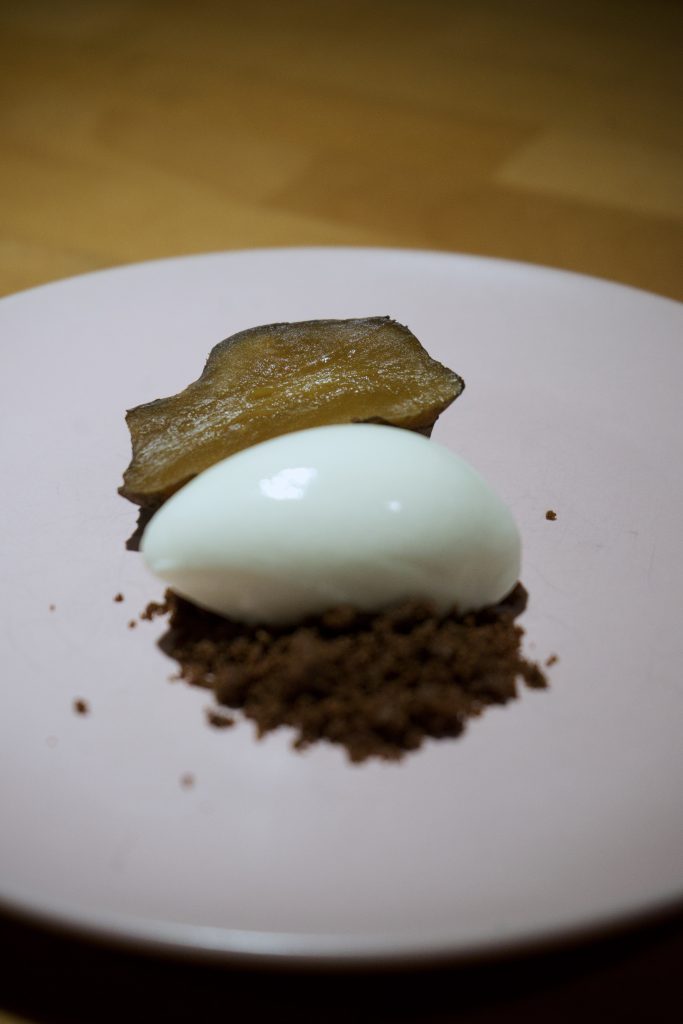 First dessert was fermented black Jerusalem artischoke with chocolate crumble and fortified icecream for acididity. Definently something I have tried that before but it really worked.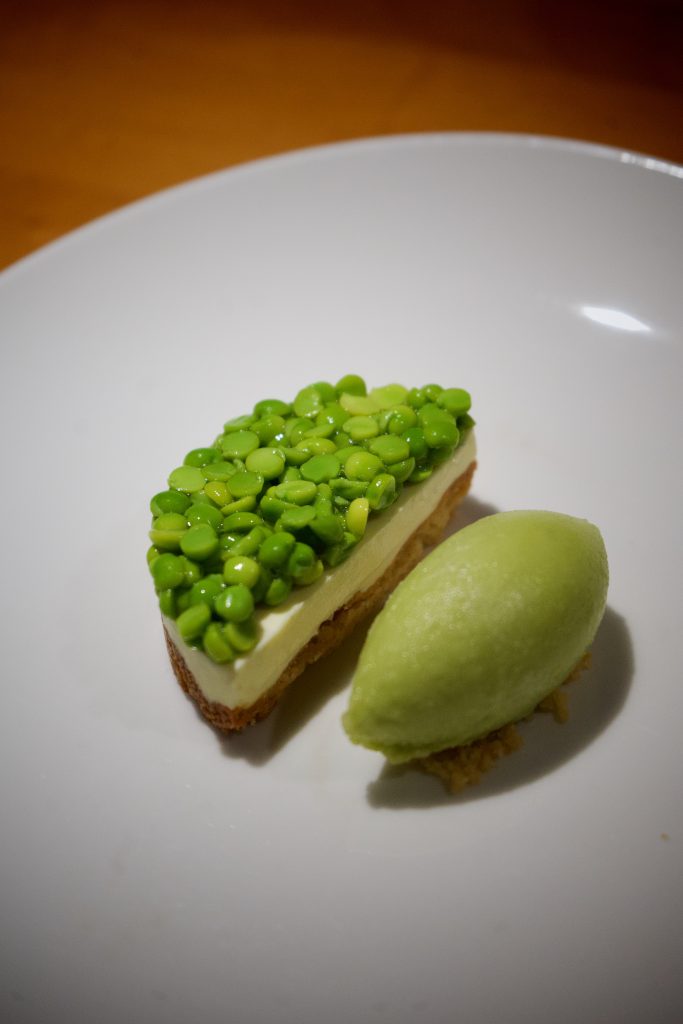 The next dish worked even better though. Very small fresh peas tart with a sorbet made from the peas pods and a bit of lemon. My favorite childhood memory is eating peas in the field of my grandparents in the sun. Any dish that can take me back there makes me very happy and this dish did just that.
I have tried restaurants before that drew inspired from many different countries and most of them felt confusing like a bad abstract painting. This was not the case at De Patio. The inspiration was just that, inspiration but not overwhelming and defining for the restaurant so the different colors of each cane together to create a complete and beautifull picture. The food was refined and delicious. Reminded me of the clean Nordic flavors probably because the inspiration from Japan is obvious in both places. 
Now I usually don't talk a lot about the costs of the places but 11 dishes with wine for 100$ is the best value for money I have seen in a while.
Now here after De Patios second birthday I am surprised to discover that among the best restaurants in Santiago and well deserved of a place among the top 50 in the coming list.