A "popsicle" was presented, but the menu said sushi. I thought to myself they really are inspired by the molecular kitchen from Spain. Biting in to it I knew that I was in for a treat.
In the basement of a hotel in the hipster area Bellavista in Santiago lies Restaurant 040. It is ran by Sergio Urbano and Raul Yanez. Both chefs have worked at several European restaurants including El Bulli having therefore learned the molecular cuisine from the masters.  The menu draws heavy inspiration from their work there both in use of techniques as well as menu construction as the menu is all tapas size that you are to eat with your hands.
To kick of the menu was a beef dumpling with a quail egg. Nice flavors and I liked the balance between the warm dumpling and the cold egg. On the side a rich mushroom broth.
The second dish was probably my favorite dish of the evening. A cold sushi where the "rice" was an apple ice cream, roasted almonds and a soy sauce for umami and a sweet slightly grilled salmon. I really liked the dish. It had all the classic sushi elements whereas the most important is balance which it really had.
For the next dish a "bowl" of cotton candy was filled with oyster and other elements from the sea as well as a bit of chili. Next to it was a frozen bloody marry. Of the two the bloody marry was definitely my favorite. It was spicy, refreshing and cold all at the same time.
Before this trip I had never tried yet even heard of conger eel and here I was to try it for the 5 time in two days. This time in a usual setting in the form of a grilled rice cake. I liked the spice combinations but the texture was very flaky and quite impossible to eat with your hands without making a huge mess.
Next dish. Nice flavors but for me this was a "texture dish" with the meeting between the soft cream and the puffed rice.
Shrimp was in focus of the next dish. Both fried and dried for enhanced flavor. Nice but not amazing.
This dish was one of my favorites. A tomato had been very slowly grilled. The slowly grilling had left it sweet, smoky and I loved the slightly chewy texture.
A Danish classic is potato soup with bacon bits on top. Here things were turned upside down with a bacon soup and crispy bits of potato on top. It was also served with a "raw" scallop which I thought was a nice touch.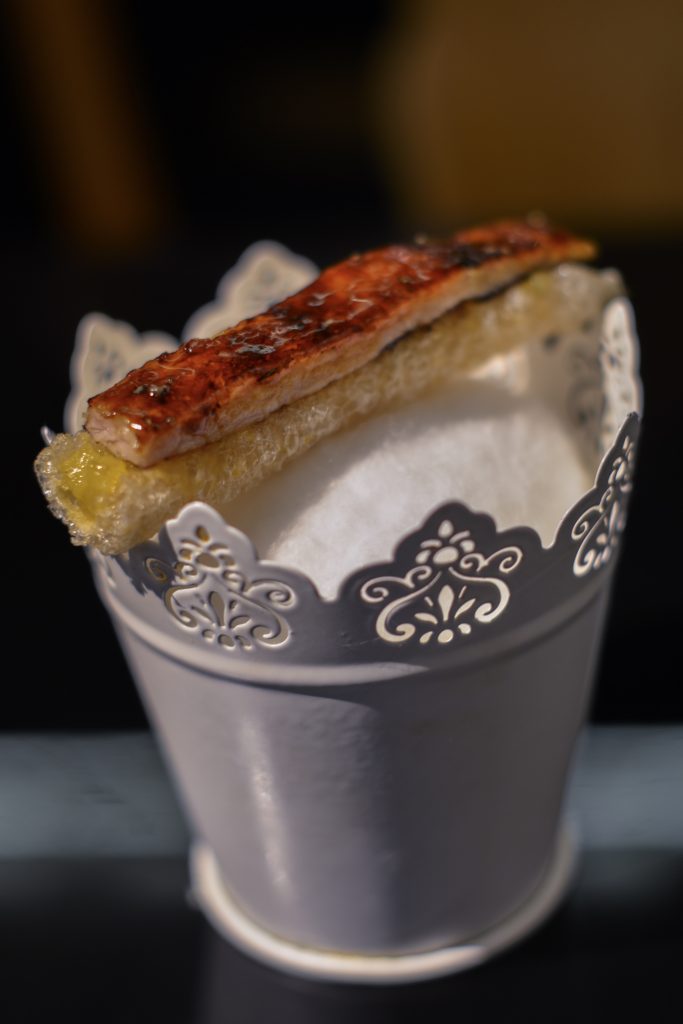 I do love pork belly. I love the rich and juicy meat a long with the crispy crackling. This time it was done Korean barbecue style. A very nice and simple dish.
Next up was a bolognaise "roll" with a fried shrimp on top. A very artistic dish.
To finish the savory section was a classic shawarma. It was of course a tiny two or 3 bite lamb shawarma served with a mint foam and just a bit of vanilla. The addition of vanilla was nice and the combination always works so done with good produce it was delicious.
The first dessert was a merenque and fresh cheese "sandwich". I loved the texture of the somehow both crispy and firm merenque and the slightly salty merenque create a nice contrast to the sweet merenque.
A beautiful chocolate crocant dish to finish the meal. It was a beautiful serving, but unfortunately it didn't leave a huge impression.
As a guest at the restaurant and the hotel it is obvious to visit their bar Room 09 which is inspired by the secret American bars that existed during prohibition. They only play jazz, the light is almost none existing, the chairs are low and comfortable and the drinks are delicious. After two days and more than 40 dishes I was happy to sit back in a comfortable chair and relax for just a moment.
With its black tables, naked walls and tables situated quite close it is perhaps more suitable for a night out with the guys then a romantic night with your wife/girlfriend and the general feel of the restaurant for me was not classic fine dining it didn't really have a luxurious feel to it and in general a very "naked restaurant"
After visiting a restaurant, I always ask myself whether this is a restaurant that I would recommend to others and if I would go back to myself. For Restaurant 040 the answer is yes. I liked the surprisingly flavor combinations and the great presentations. There was a bit more use of spices than expected putting drawing in flavor compositions from a large part of the World.
All the dishes are snack size and eaten in a bite or two. Had it not been for the fact that this was my 4th tasting menu in two days I am however sure I would have left the restaurant just a bit hungry so either a dish or two "normal size", just a few more dishes or bread would have been nice.