A small Maruviel bowl appeared at our table containing the most delicious sauce. It was the first time in 5 months that I had a sauce, not a salsa, not a stew or a chili but a classic french sauce. Something that I had missed for a while.
Andre Patsiam left Central 2 years ago to start his own restaurant and in classic Peruvian style with lots of difficulties it took him 2 years to build and open Statera. Part of this time was spent travelling in Peru in search for amazing ingredients. Before working at Central he worked in several finedining restaurants in France and in the fermentation bunker at Noma. With such a diverse background I was very curious to see where among these very different styles of kitchens he would find his own identity. 
Andre is a young ambitious chef and the design reflects just this. Raw concrete walls, green flowers in the ceiling and a giant bar that constitutes the kitchen and among these sharply dressed waiters in black suits
The first dish was inspired by the classic Peruvian dish papa huancaina with a cold fried potato with a thick mashua and chili cream, raw brovalo fish and a deepfried mashua on top. The different textures naturally worked well together and the fried potato and raw brovalo was a new element that I had never tried before but I should. A great dish.
Every once in a while it is however the most simple dishes that end up surprising you. The next dish did just that. Bread and butter. As simple as that. Except that it wasn´t simple. The bread was sourdough made from chuño and the butter was based on burnt agüaje which gave it a rich and deliciously sweet flavor. Needes to say the bread stayed with us through out the meal.
With the first main we were to see his french inspiration, for the first time with a sweetbread and arracacha serving. Usually the sweetbread is served maticulus taken a part in small pieces but I have to admit that it looks pretty damm good when you serve it in the much bigger piece we got at Statera. To accompany the sweetbread was fried arraracha and a silky smooth pure of "cacao netcafe". It didn't quit need the salad leaf with the acidic dressing although I coul see its purpose, but it definently didn't help with the presentation of the dish. Otherwise a really great dish.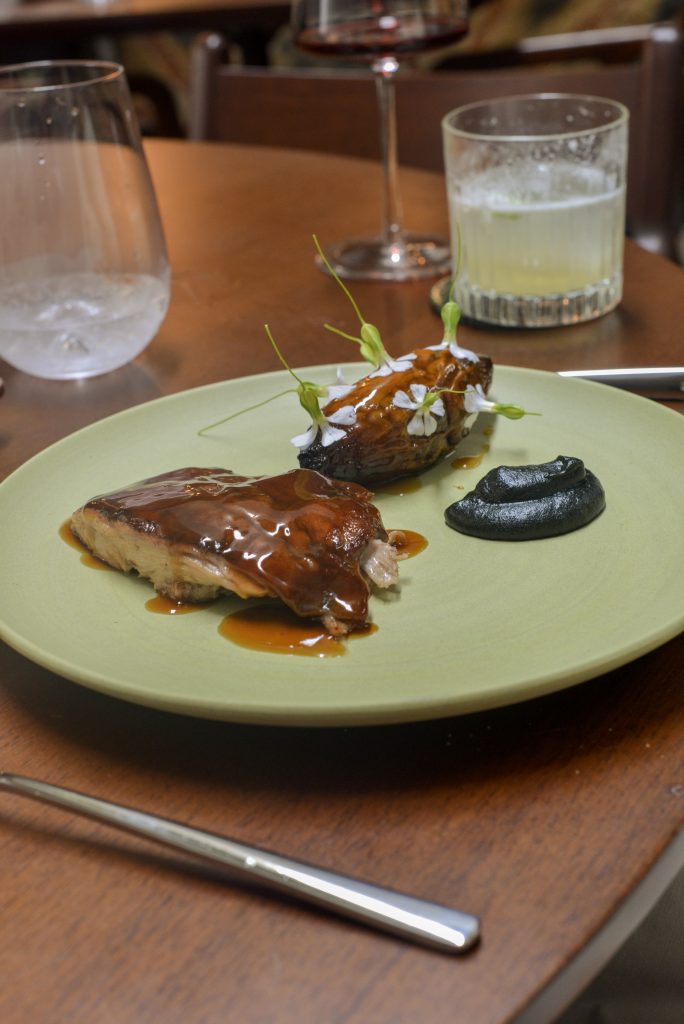 With the last main we were full on french with a delicious piece of juicy pork served with yacon and the most delicious sauce I have had in a long time. I really liked this dish and I liked everything about it: from the juicy meat to the crunchy but full glaced yacon and naturally the sauce. Uhh that sauce was good.
As the first dessert we were back in Peru and back at Andres time at Central. It was a technically well executed dish that combined chocolate, muña and Maras salt. All classic combinations so on one hand it is unfair to say that it was a "Central dish" but the textures were quite classic Central. If you ever are to be compared to another restaurant Central is not a bad one.
To finish the meal we got a sneakpeak at one of their desserts from the desert. My favorite of the two desserts. All the textures were silky smooth and the honey and get of camu camu was very sweet but in a very very good way.
To accompany all the dishes was a great wine-menu which is actually very rare to come by in Peru as imported goods comes with high taxes making them too expensive for the average peruvians. It was therefore a great pleasure to enjoy a nice winemenu for once with wines even as far as Australian which is even more rare in Peru. In Peru cocktails are a use and of course they are delicious as well.
There is no doubt that if it was a good business decision Statera would only  do a tastingmenu but Lima is not a tasting menu sort of a town, but Andre definently has both the ambitions and the talent to pull it of down the line.
My meal took place one week before  the official opening and we therefore not able to try the full menu. I am however sure that the rest of the dishes will live up to the same high standard, but whether or not they will draw on his time in Denmark, France or Peru I will have to wait a few weeks to find out. I am however very curious to come back and see what he can do and in generally follow him over the next couple of years as it is without a doubt one of the more interesting new restaurants Lima.