Some meals have the potential to stay with you for a long while and change the way you think about food. I am lucky to have had a few of these iconic experiences.
I had travelled to Lima in Peru primarily to eat at Central and I thought Central would have been one of those experiences, but instead it turned out that Maido would take that place.
I had joined a local for the dinner at Central and for the entire meal she would not stop talking about Maido so walking in to the restaurant my expectations were quite high.
To kick off the menu two small snacks was served. Crispy chicken skin with a delicious pachnikay sauce where the ginger in the sauce was an excellent match for the fatty chicken skin.
Next a rice senbei with a spicey chorizo sausage and sachamotate emulsion. The first of many dishes where great tecniques and fusion of different cusines was a perfect match.
A refreshing dale dale foam (potato) with river snails. Simple and great.
This dish was maybe the highlight of the meal. Ceviche is maybe the most iconic dish from Peru and here they had taken all the classic ingredients corn, avocado, lime, chili, sweetpotato and octopus and deconstructed the dish in a whole new setting in terms presentation and tecniques. Using liquid nitrogen to create the cold powder and serving it on an equally cold plate was a great touch as it took some of the heat out of the dish letting each flavour stand out on its own. Just amazing.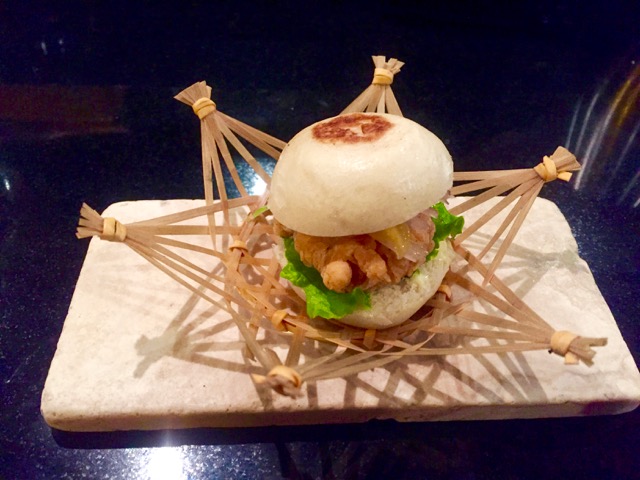 From refreshing and innovative to classics and simple. A crispy paiche sandwich with a delicious tartare sauce. Somehow the contrast to the previous dish just worked.
After dish Asia and Peru was combined in a gyoza filled with Peru as the waiter said. In this case guinea pig and different things from the amazon.
I was sitting at the sushi counter and therefore also wondering when I was going to try some of their amazing looking sushis. Apparantly now.
The first two were with squid and scallops. This was my first time having sushi at a finedining restaurant and the freshness of the first and how amazing sushi rice can actually taste amazed me.
Amazonic ceviche with heart of palm. Simple and delicate
Porkbelly with yucca and ramen reduction. Great combination and again incredible simple.
At this point inspiration was drawn from Italy and Japan with a soba with crab in an extremely rich vongoles sauce. I really hate repeating my self but this was again a great example of less is more.
Less is more is definently the case for the next two pieces of sushi. A beef sushi with " a lo pobre" egg. The beef had been fried very hard and was of very good quality. It was extremely delicious. Extremely simple and one of the most delicious things I have ever tasted.
The sweetbread sushi was bland in comparison but still very tasty.
The next dish was anything but simple, but with many elements you have the possiblility of creating beautifull servings. Which is definently was as well as extremely pure and delicious. Coffee, quinoa, beans and avocado was a great combination.
Yet again another beautifull dish was served. Cod is a personal favorite of mine. Marinated it in miso gave it a rich umami and sweet flavour which was perfectly balanced to the fermented nuts and potato cream.
Sous vide wagyu short ribs with egg yoke and a cecina with fried rie and amazonic chile is always a great way to finish the salty part of a meal and this was definently no exception.
Having had 7 courses for lunch before going to Maido I wondered whether or not I had enough appetite for the whole experience. It turned out I did and then some. At this point I just didn't want the meal to end so I asked if they had some additional dishes that I just had to try, and off course they did.
Nigiri with salmon, silverfish and a white fish I cannot remember. Again simple and delicious.
I learning on this trip. If you want a great cacao = chocolade dessert just go to South America. If it is because it is more fresh, because they just understand or simply because they often combine it in different ways the more classic European way I don't know but the cacao dishes I have had on this trip and just been better then any other chocolade dessert I have had before.
The last dessert was in the more technical section with great techtures and amazing taste. Just to name a few of the elements: plantain ice cream, tapioca, coconut and rice milk.
After almost 4 hours and 20 dishes my experiences at Maido was concluded and in this time there had been a big smile on my face. My personal preference in food are the two extremes of food. The first is where very little is done to an excellent produce because the chef knows this so well and all he has to do is to not change this and make it stand out, which is way more difficult then it sounds. The other extreme is where elaborate techniques are used to transform a given produce and hereby creating brand new flavours. At Maido they mastered both from the extremely delicious beef sashimi to the cold and innovative ceviche. A long with very friendly and competent waiters I had a memorable evening at Maido.