Massimo Bottura has long ago established his name within the world of gastronomy. This has meant an expansion of restaurants from both in Modena but also internationally. Some of these through partnership with luxury giants Gucci and Ferrari.
A few years ago they did however open what to me is their most impressive addition – Casa Maria Luigia a home away from home type hotel just 10 minutes outside Modena. The hotel has 10 rooms and one restaurant that serves the best breakfast you will ever try as well as Osteria Francescana at Casa Maria Luigia which serves iconic dishes from Osteria. At the helm of this the last couple of years has been the talented Jessica Rosval. It is therefore very well deserved that with the restaurant Al Gato Verde in Casa Maria Luigia she gets her opportunity to express her self and cook her own creations and not just those of Massimo. For that she choose fire which means that everything is created over fire.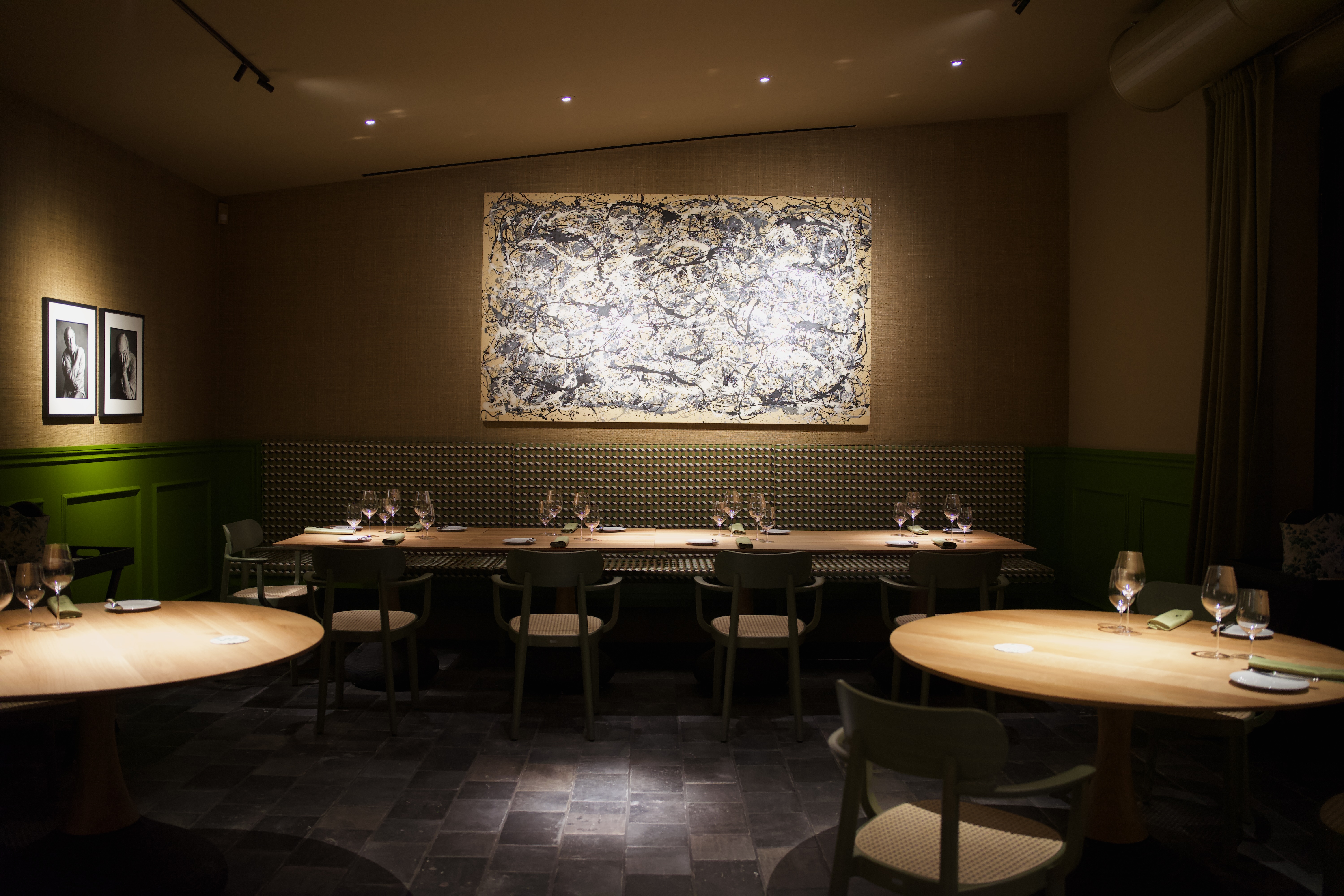 The restaurant is every bit as beautiful as you could hope for. At the center you have a "not Jackson Pollock" which naturally steals the attention the moment you step through the doors. The bright green color that you also see at some of the restaurants together with Gucci quickly thereafter takes your attention. All in all a place that is both cosy, inviting and luxurious.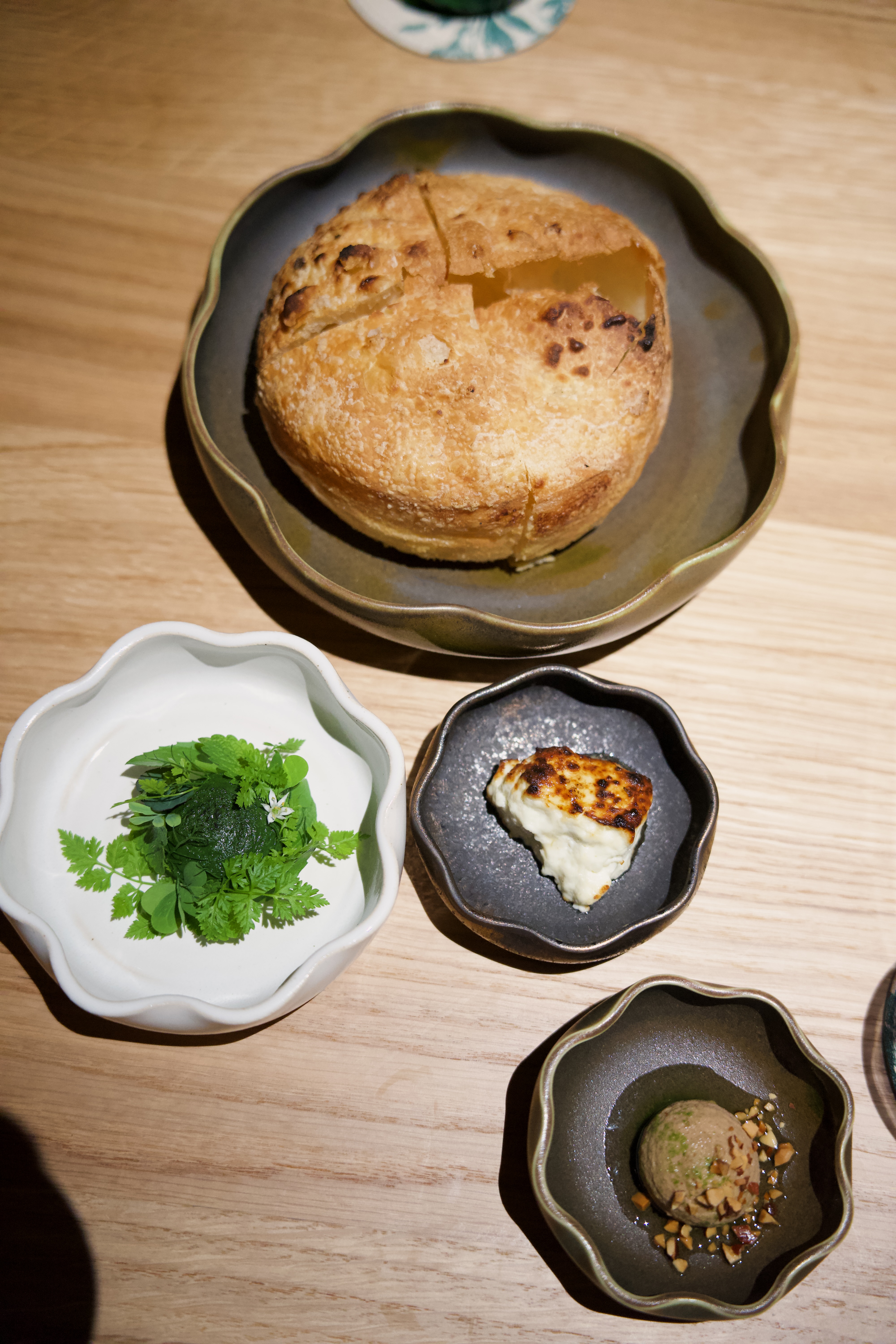 TÒLA DÒLZA
To begin the meal would be a super hydrated focaccia with 3 condiments modenese pesto, ricotta from Rosola and almond hummus and cedar tip oil. For me everything starts with flavor and these were spot on. Neither of these were simple where fx the modenese pesto had both spinach, lardo and Parmesan which naturally gave a much richer flavor than you would normally get from a simple pesto. If you were to combine this with the ricotta you were in heaven.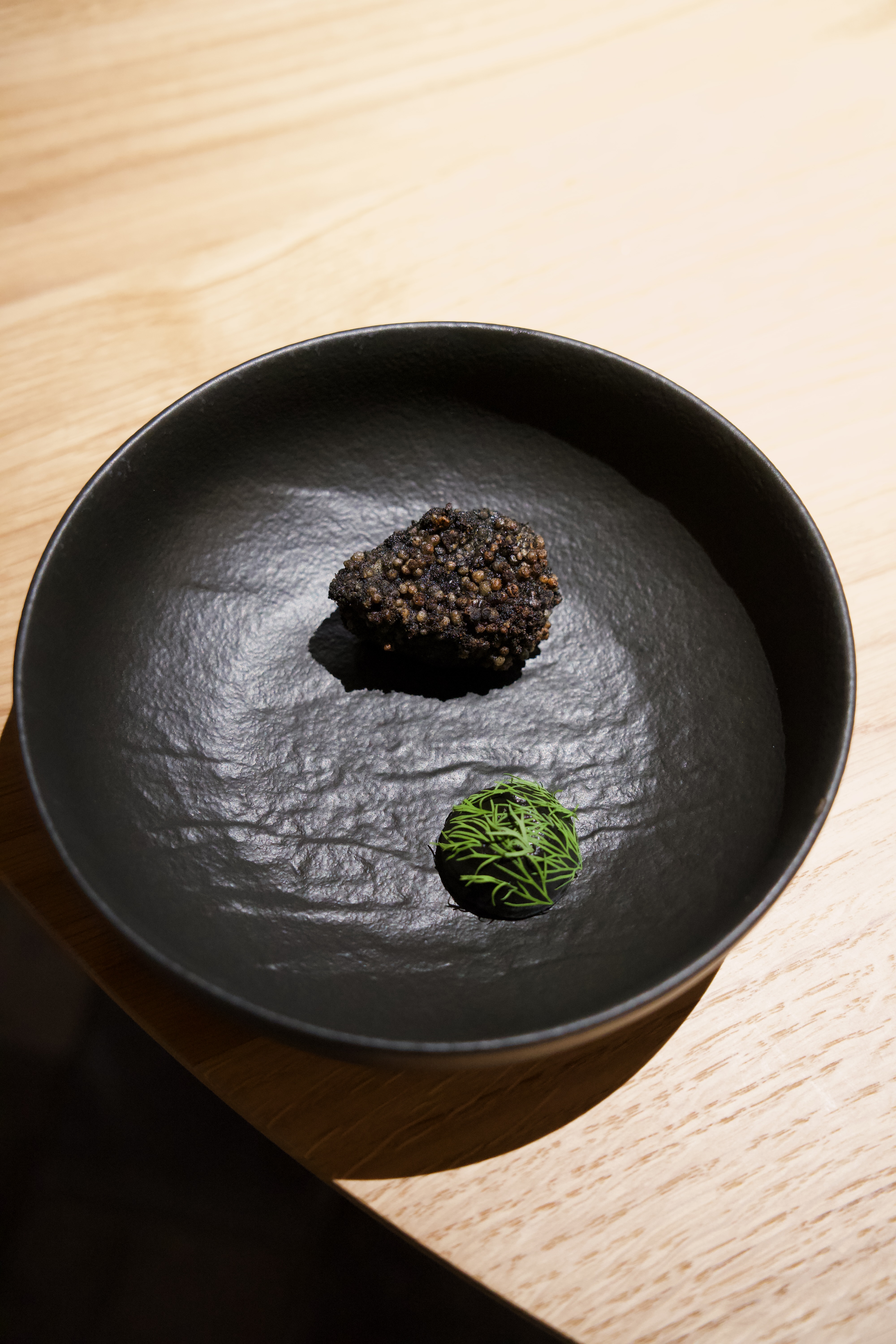 NOT A MUSSEL
In Denmark I would call this an updated and luxurious fish cake. The crispy black batter was a super nice addition to the fish cake of both blue crab, scallops and jus a bit of pork belly. It was served with an inventive sour crème dressing with black apple and dill. A dish with both nice flavors and textures.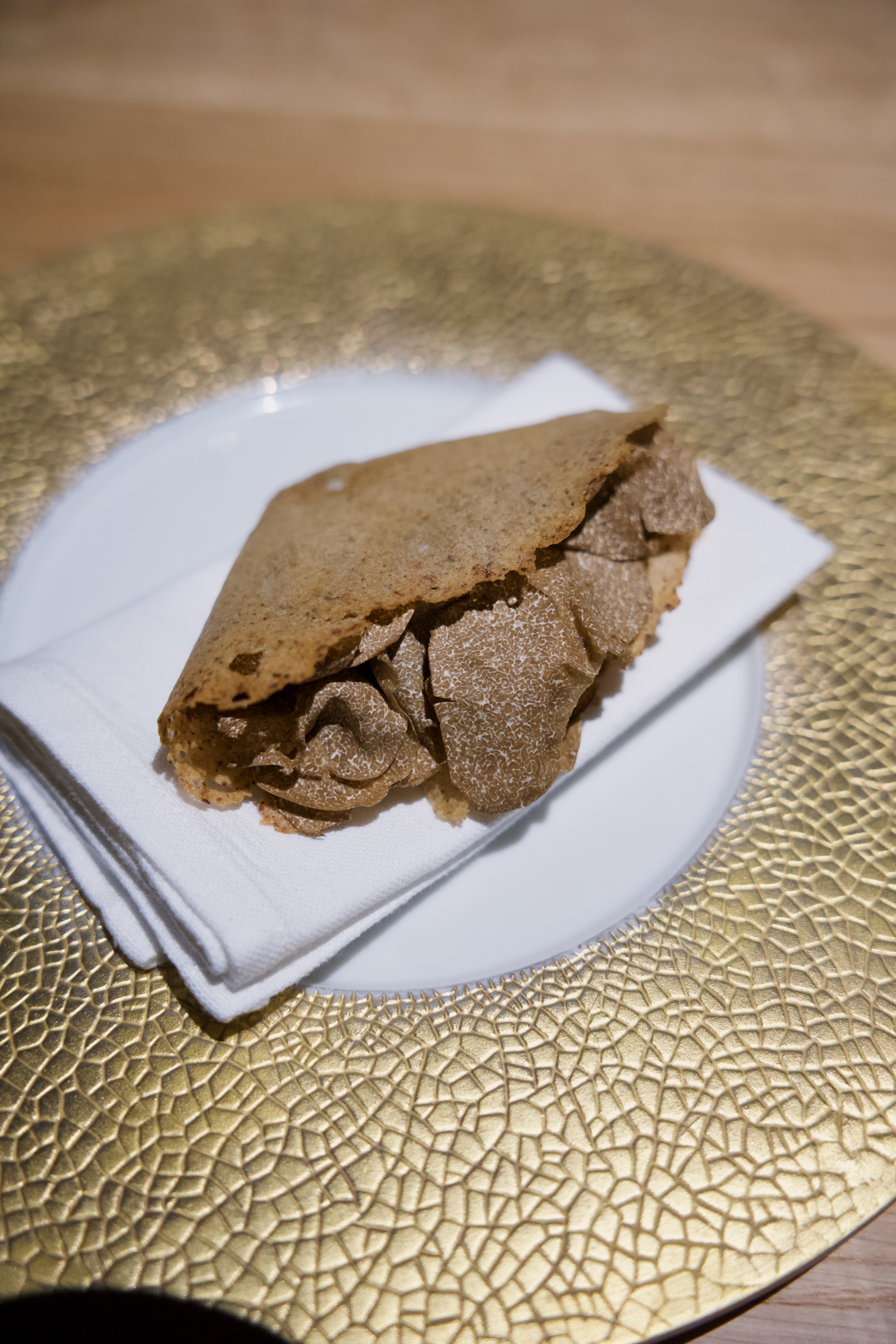 PORCINO WATER BORLENGO
Borlengo is a traditional snack from Modena made with just flour, water, milk and eggs which makes it a cheap and filling snack. What Jessica did was however to make this a luxurious and super rich dish where the water was replaced by white porcini broth and both 36 month parmigiana reggiano and black truffles was added. It was a super intense and delicious dish.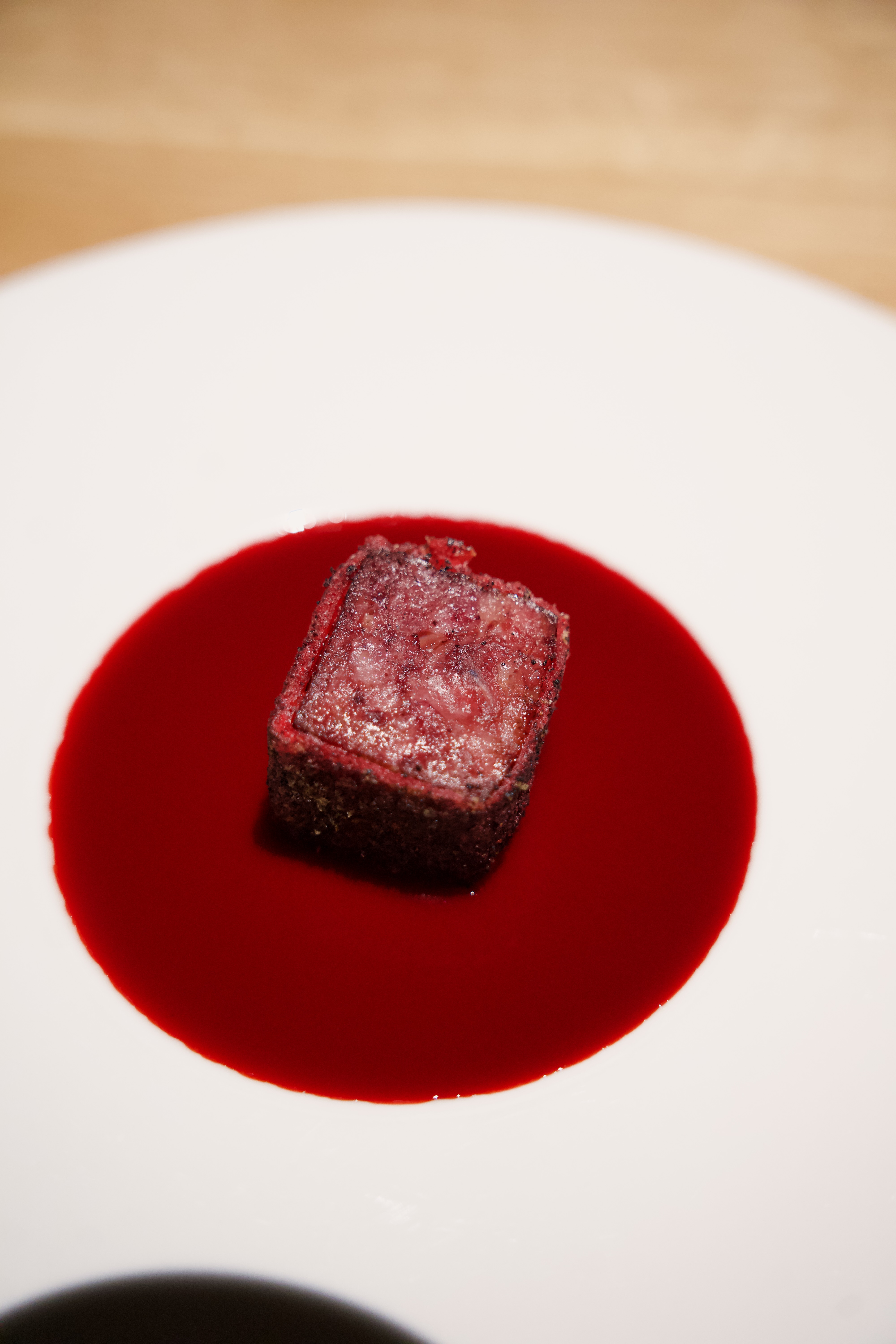 COTECHINO AND DRAGON'S BLOOD
This was my favorite dish of the evening. A rather simple looking dish but it had the most complex flavor you could imagine. It mixed sweetness, smoke, fattyness, acidity and a bit of heat for an extremely delicious dish. In addition to the cotechino this came from both hibiscus flowers and different plums. It was quite clear at this point that Jessica truely had stepped out of Massimo shadow and cooking her own dishes. Inspired by and cooked in Modena but with a different flavor palette than you usually see at Massimo restaurants.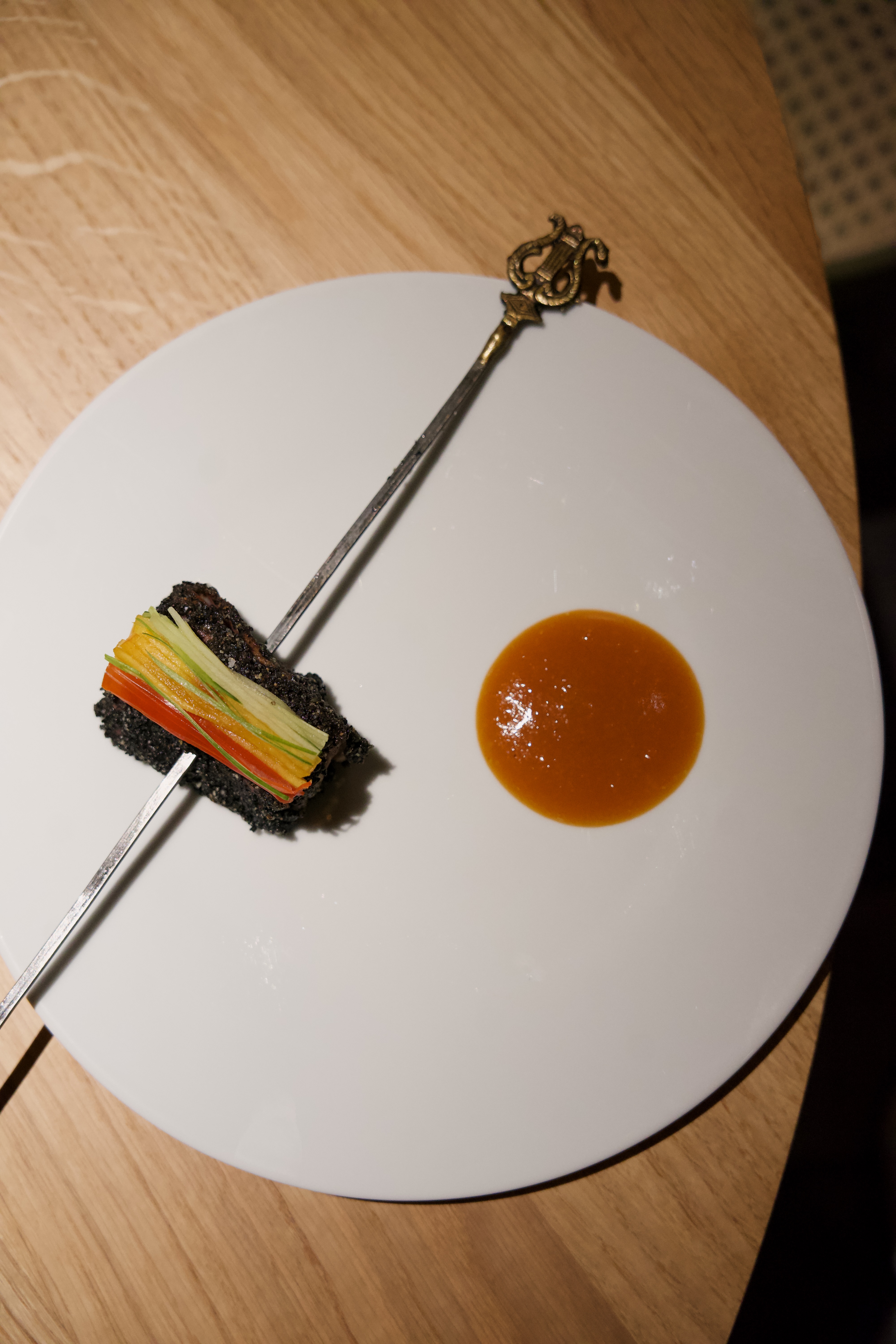 LAMB FROM MONTREAL TO SAN DAMASO
We would see that even more in the next dish with a lamb kebab and a "Canadian everything bagel". The lamb had been cooked in the smoker like you would a brisket. It was topped with fresh vegetables for a bit of acidity and balance to the dish. The icing on top of the cake was a sauce made on peaches and burnt bread.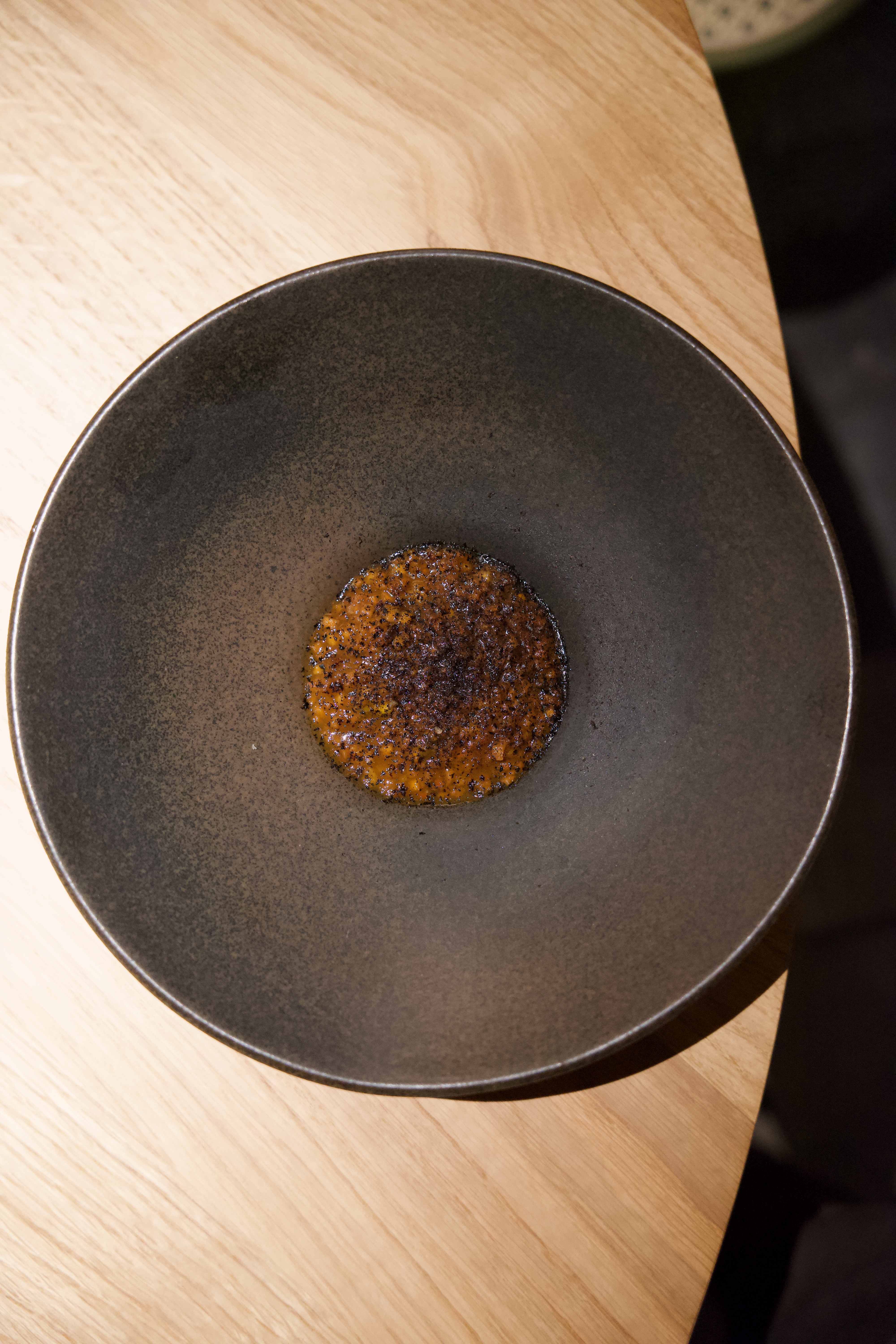 PASTA ARSA
This was the most interesting dish of the menu. Burnt pasta was cooked like a risotto, pulled beef short rib, maple syrup, sweet and spicy pistachio was added. In reality this could be both a main and a dessert as it naturally had a lot of both sweet and savory notes to it. The balance was right on but a difficult one to master. If the proportions were just slightly off it would be either too sweet or too savory. Simply incredible and extremely interesting.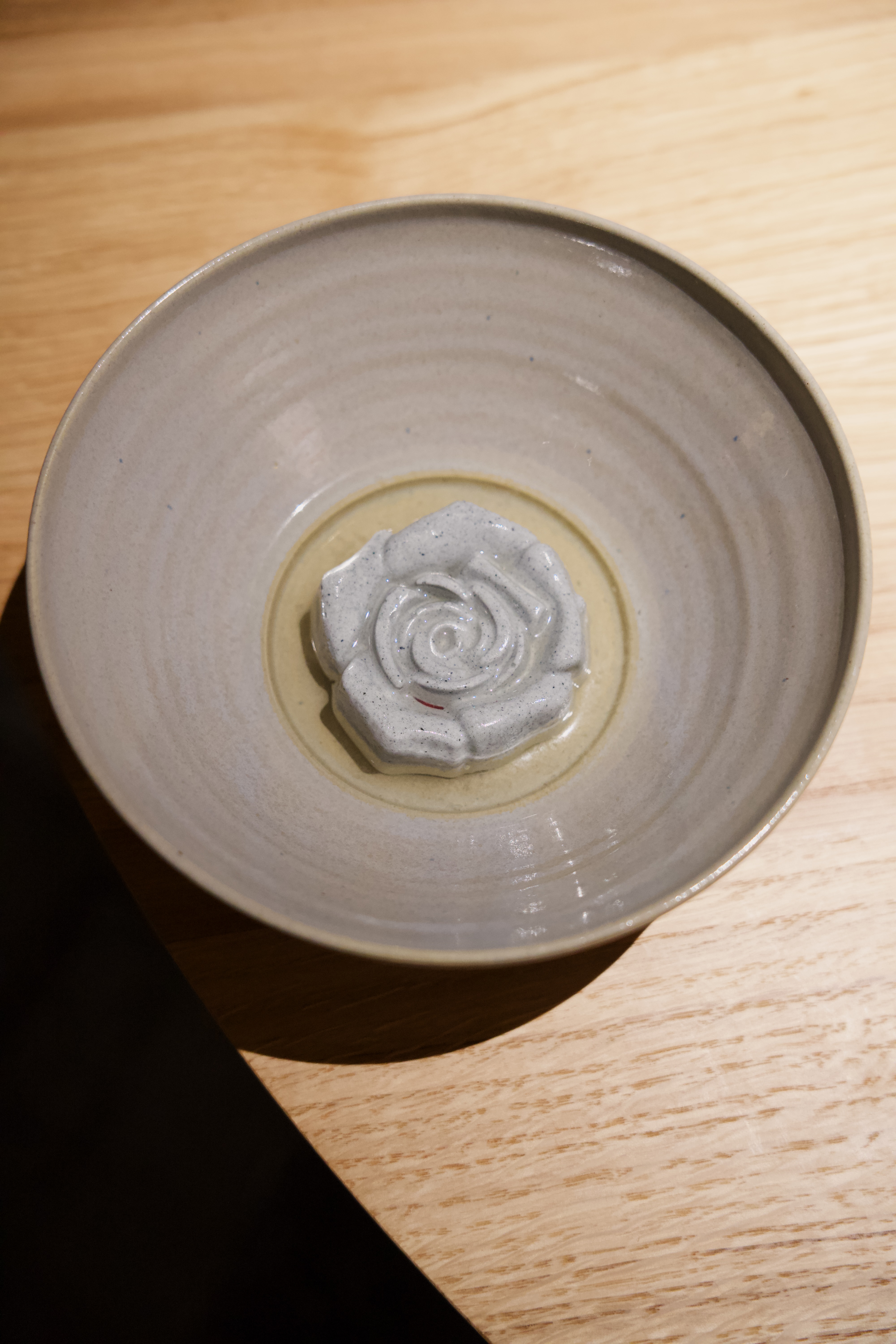 CIELO TERRA MARE
Our final dessert would be equally impressive and again mix sweet and savory. A dish that I had looked forward to ever since seing the description for the first time. "Charcoal, caviar, raspberry, rose and sea water". I wondered how they would combine those elements in to one dish? I still don't understand how they did it but it was a dish with deep flavors from the ocean that were perfectly balanced by the sweet rose and raspberries. An impressive ending to an impressive meal.
As I mentioned in the beginning this would be the first time that Jessica would be able to express her self as a chef. Based on this dinner I love what I see. Everything is delicious and the flavor combinations are super interesting an unexpected for me in Italy. From the tasting menu there was genuinely nothing on the menu that I thought I had tried before (bread a side) in a form which is unusual. The restaurant has also been underway for a long time so I can imagine the creative energy that Jessica has built up and now released.
The restaurant has both a la carte and tasting menu which is only natural when you are a hotel restaurant and I could easily imagine my self relaxing on the terrace in with just a few simple dishes or hopefully in time a pizza or two. At least they have the oven to make it possible.
The staff has been selected from various restaurants in the Francescana group. There were therefore many familiar faces which made me feel at home from the moment we sat down. That feeling lasted for the entire meal.
At 140€ for a menu its extremely good value for money and I would have no problem paying 50% more and I can't wait to come back and see what Jessica and the rest of the team is up to.
Practical information
Head Chef: Jessica Rosval
Menu: a la carte and €140 tasting menu
Location: Casa Maria Luigia – Modena