By the look of it the restaurant doesn't look like much. It is located in Orestad a small suburb to Copenhagen in a building filled with offices and you enter the restaurant through the grocery store which it also functions as but don't let the humble scene deceive you.
During the weekdays they do breakfast and simple lunch dishes but the reason for my visit was the weekend tasting menu which changes every weekend. The head chef Martin Guf likes to challenge him self, so each weekend has a different theme and none of the dishes have ever been served before. The theme for the week of my visit was Danish, but as Martin said a touch of Japan always sneaks its way in.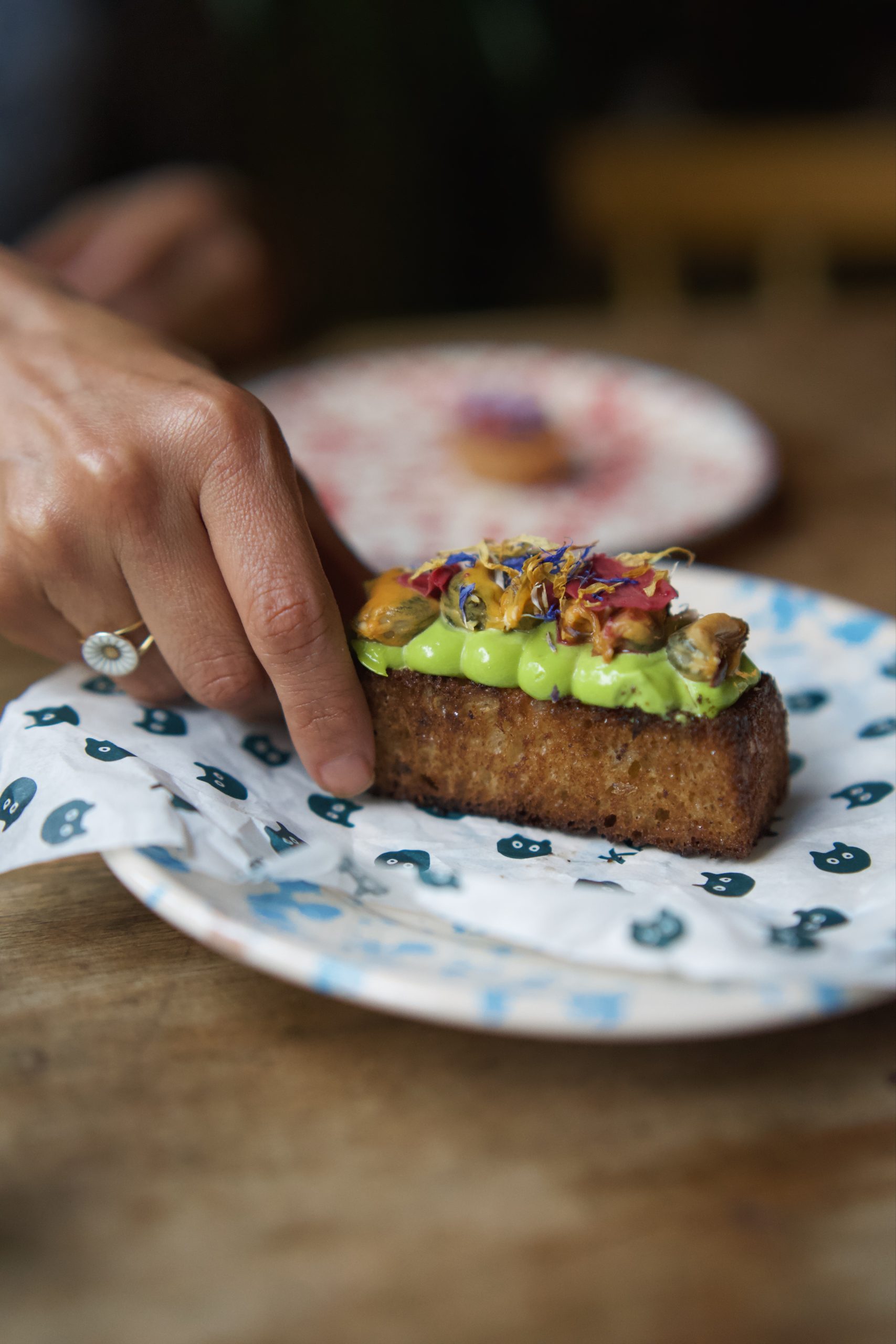 To start with two small snacks one more delicious than the other. The first a fried brioche bread with smoked bonemarrow, mussels, a ramson cream and pickled rosehip. I think its pretty obvious that it was just extremely delicious. A dish filled with so many different flavors that just came together so nicely. To follow a small tartare with a bit acidic oyster mayo and chive flowers. Very nicely balanced.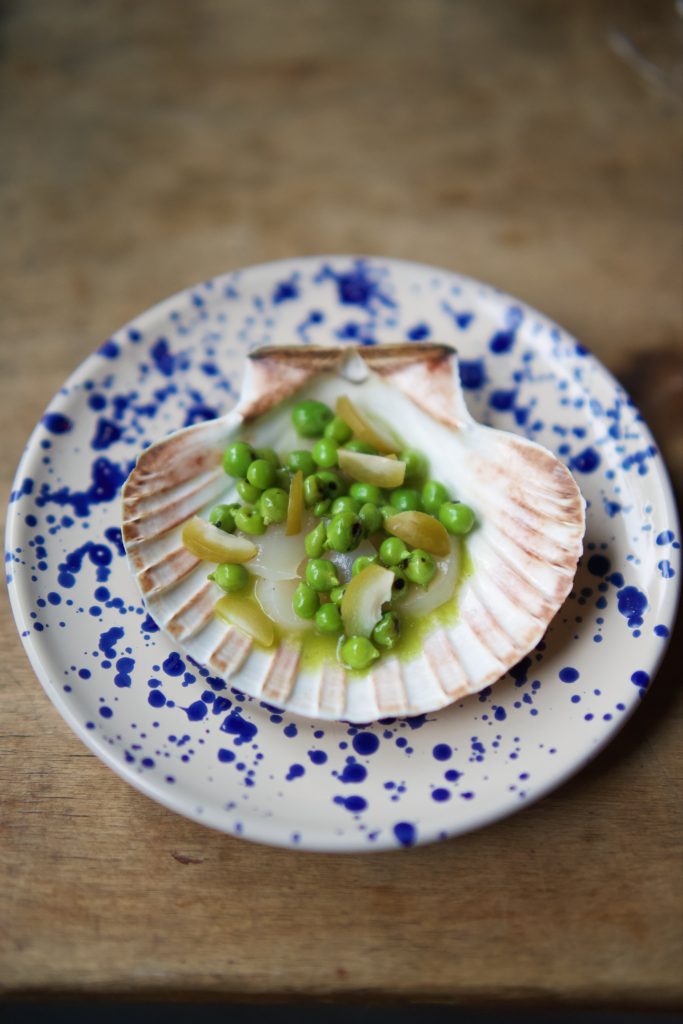 First real dish was equally delicious. Fresh scallops, sour creme, grilled peas and unripe peaches and a refreshing cucumber juice. At this point it was clear that Martin is a chef that knows how to build flavor in every dish and level these perfectly. I wouldn't call it a simple dish but small touches had been added where needed to build the desired flavor composition like the fact that the peas had been grilled and not just fresh or slightly boiled as they usually are.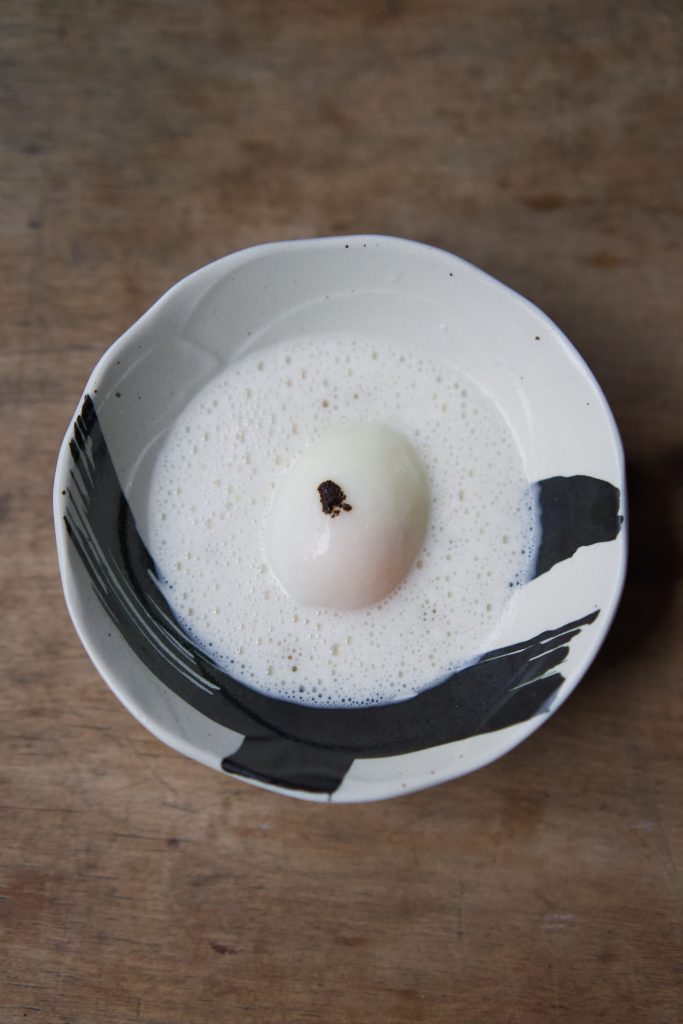 In my house for Christmas day my dad always makes asparagus soup. Unfortunately not from fresh asparagus as they are not at all in season but here I got to try how an asparagus soup could taste like when done with great ingredients and just a bit of technique. Here the asparagus had been slightly fermented and to the soup a bit of mussel juice had been added as well as an sous vide egg and burnt whey. Not my favorite of the evening but definently nice.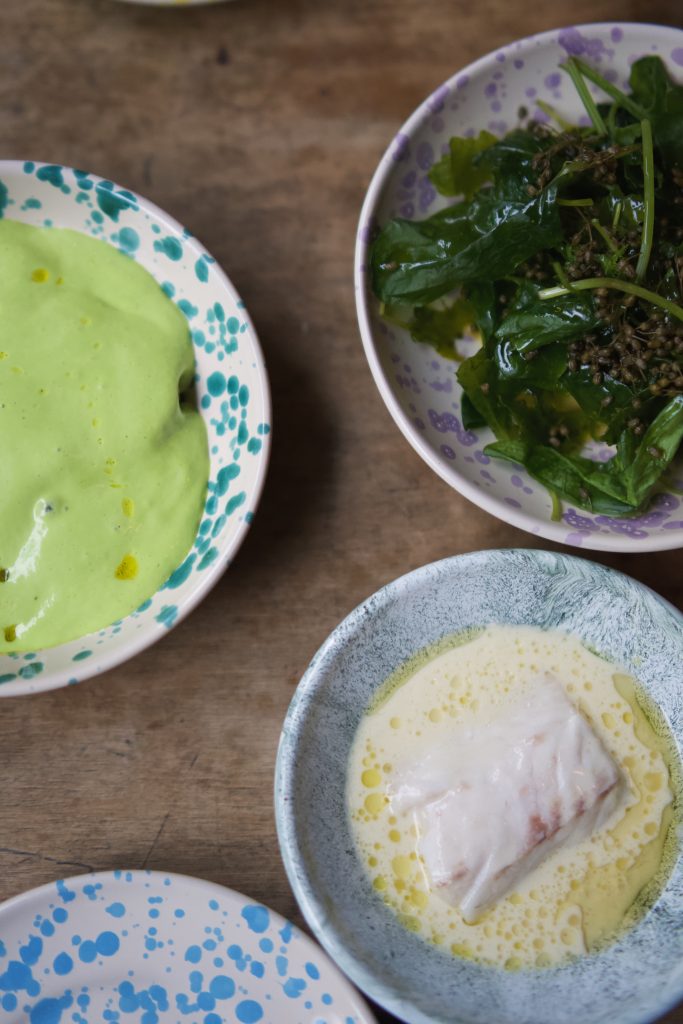 My favorite was however coming up and an instant candidate to best dish of the year. A poached hake with the most insanely delicious sauce made from Vesterhavs cheese and buttermilk and to top it off the fat from a good quality smoked ham. Simply just amazing. I seriously couldn't stop smiling. To accompany the delicious fish was fresh Danish potatoes in a yuzu zest bernaise and herbal foam and a fresh salat.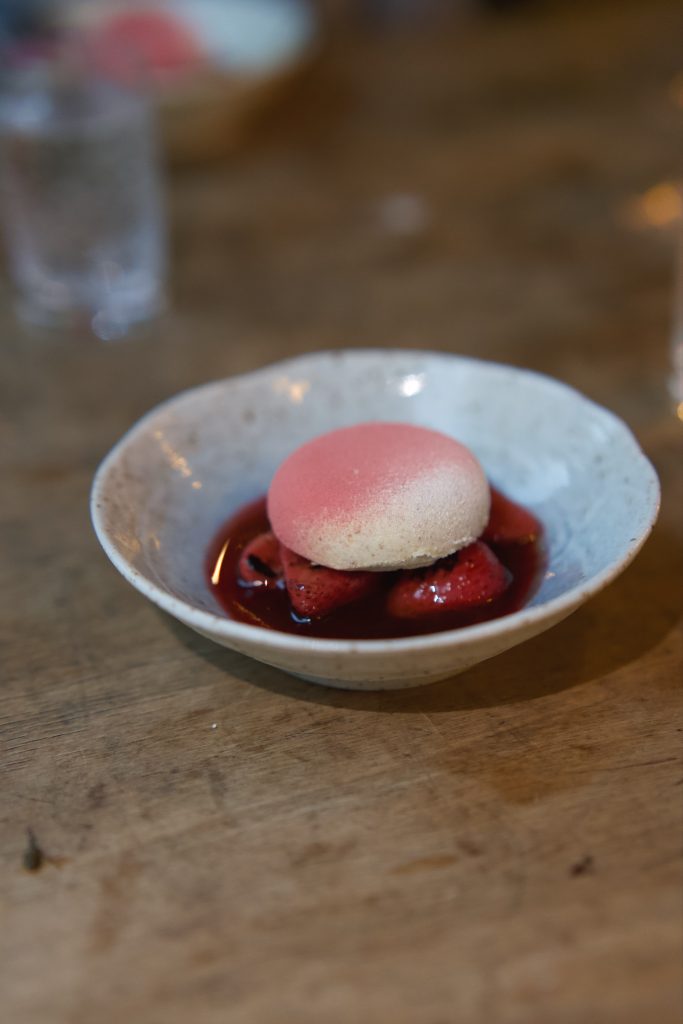 The final desert would however once again blow me away. Strawberries in Denmark are some of the best in the world so when they are in season you will find them on the menu everywhere, usually in boring or classic combinations but here once again it surprised. First of all they were grilled which naturally gave a nice smokey flavor and to pair it was a dense parfait made of old bread and a rhubarb sauce. Once again a dish with so many different flavor profiles which matched together very nicely to create pure flavorbombs.
I have a personal preference for chefs that are able to create great things in a humble setting and with limited tools. The first time I truly experiences this was at Diego Munoz private house where him and another chef cooked an 8 course tasting menu for 10 people. This is naturally a different level but the restaurant is run with just one chef, it seats about 20 people and in addition to this the kitchen doesn't even have a stove and he is able to equally surpasses expectations and do so much with so little. To me this make the accomplishment event bigger as he is truly playing with a handicap.
Now I did call Orestad a suburb but it is only 5 stops with the metro from the very center of Copenhagen and it is definently worth the small detour to try his food. I know I can't wait to be back to try his extremely delicious food once again.
Practical information
Website: Om KAYs Madbodega – Kays (kayscph.dk)
Price: 5 course tasting menu $65
Head chef: Martin Guf