Studio is one of those restaurants that has had its fair share of different chefs. With the young and talented Christoffer Sørensen it looks like they have found a permanent solution.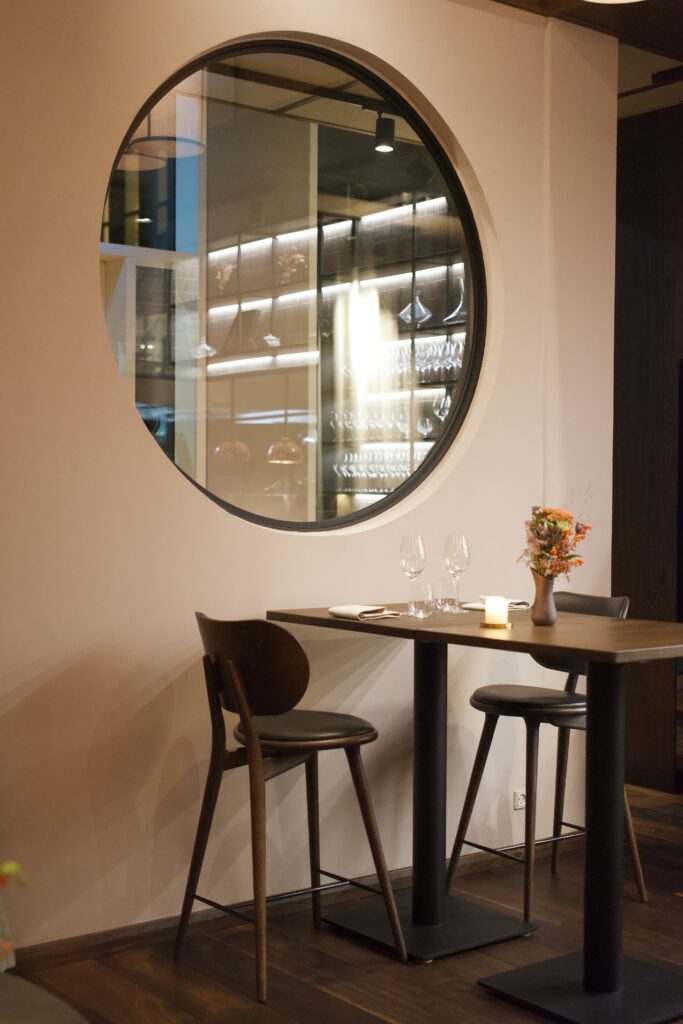 He was unfortunately only to be head chef at its old location for 6 months before it closed. Less than a year later a new home has been found in the area that used to hold Carsberg. With this new location he can express his vision for Studio and develop it in the way he wants to. The design of the restaurant points to a mix between Nordic and Japanese.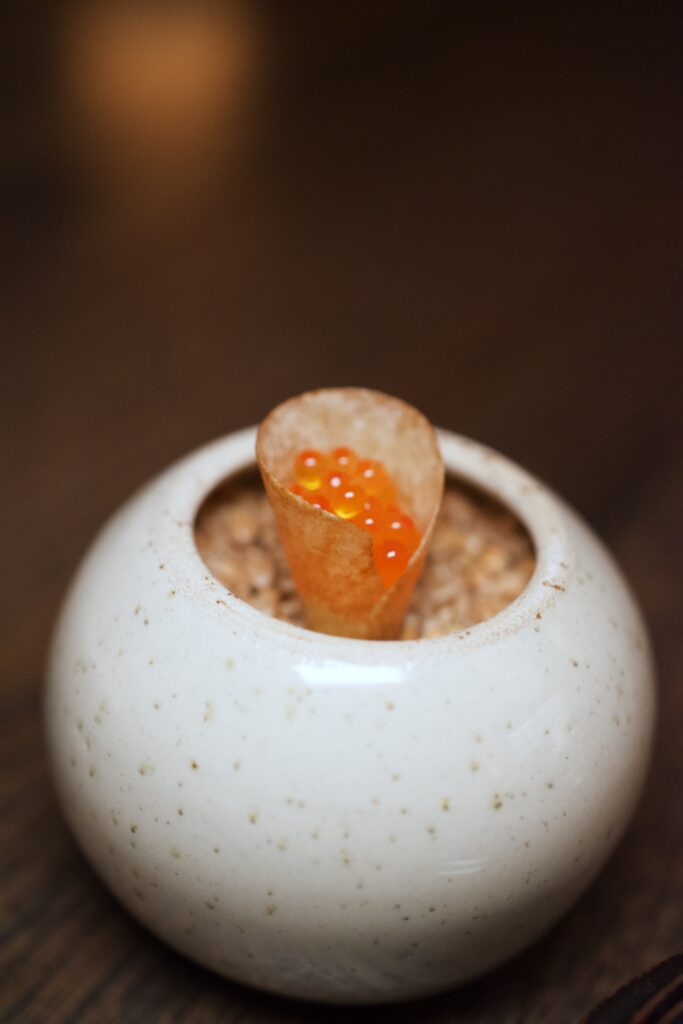 The menu at Studio starts with 4 small snacks. A crispy potato nest, a venison and juniper tarter, celeriac and truffles cake and trout roe with almonds and wasabi. All classic and delicious combinations that were very well executed. As hinted by the decoration it is a classic mix of new Nordic with a hint of Japan.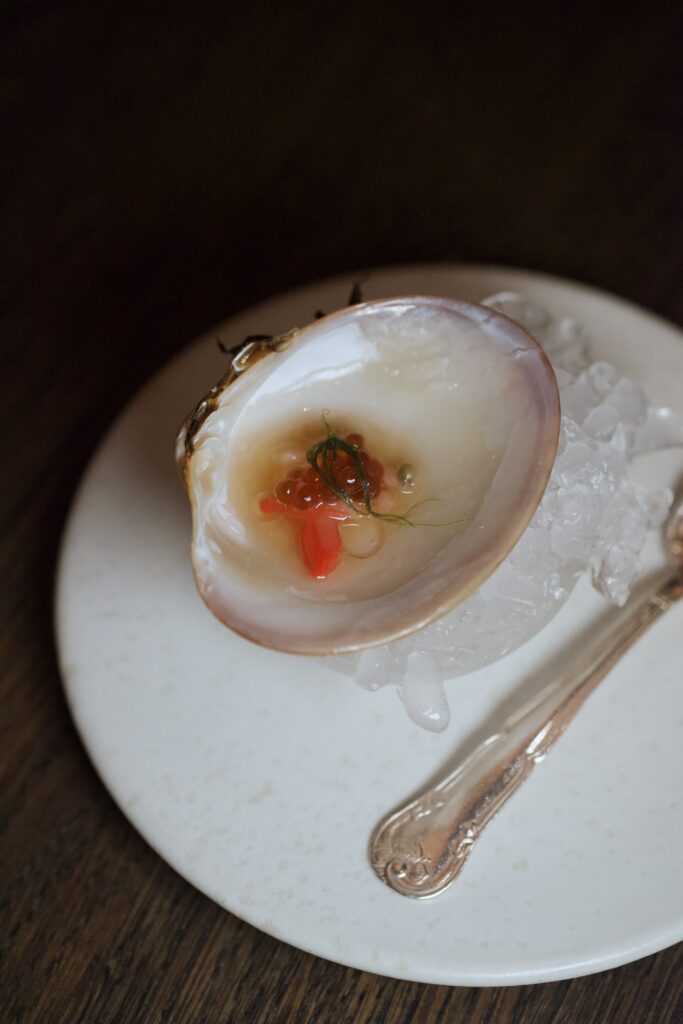 A small Venus clam with seaweed and salted coriander capers were served. The seaweed had a very nice texture and popped in your mouth and the coriander capers had a distinct and great flavor that I thought really suited the dish. Original and delicious.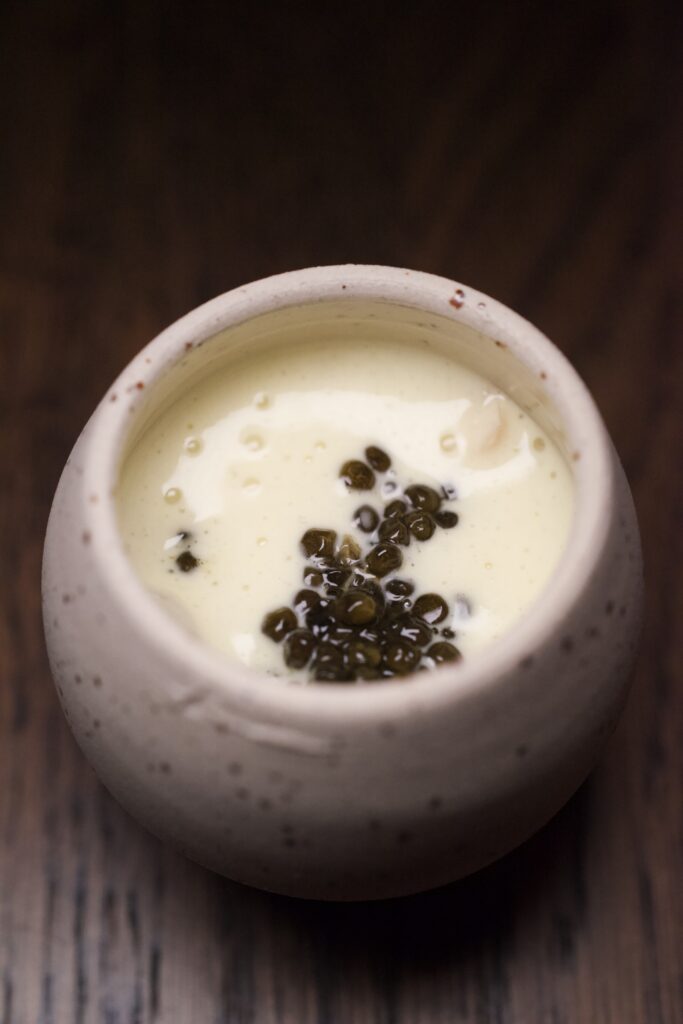 One of the classic combinations in recent years in Copenhagen is cauliflower, hazelnut and caviar. The saltiness of the caviar generally just suits the soft flavor of the other two elements very well. Here the twist was that the hazelnut was served raw to give a bit of texture.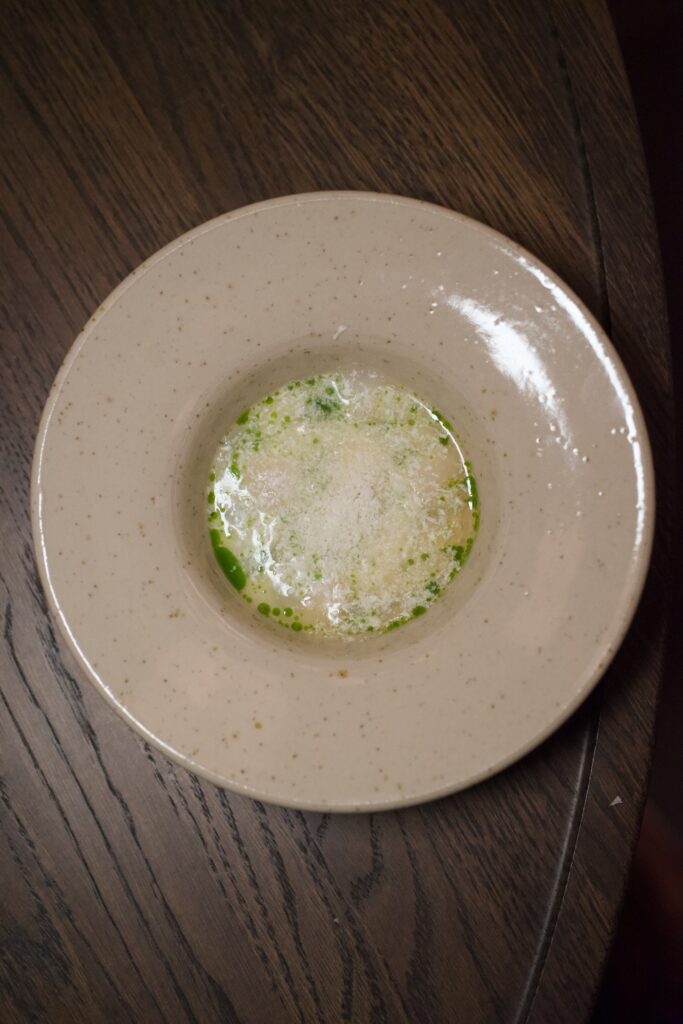 Scallop, horseradish and dill is also a very classic combination. The heat of the horseradish simply just works very well together with the soft scallop and the beautiful green dill oil breaks it up nicely.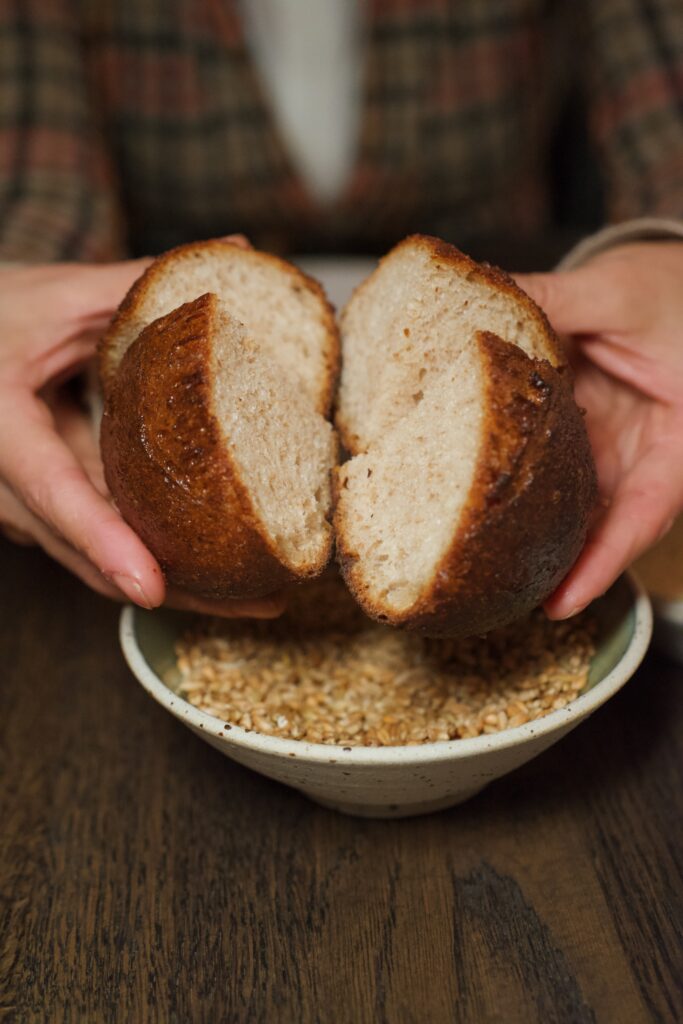 Lately it has been customary to serve bread as a separate dish. At Studio as well. A nice and crispy sourdough bread which I really liked together with the Jerusalem artischoke butter.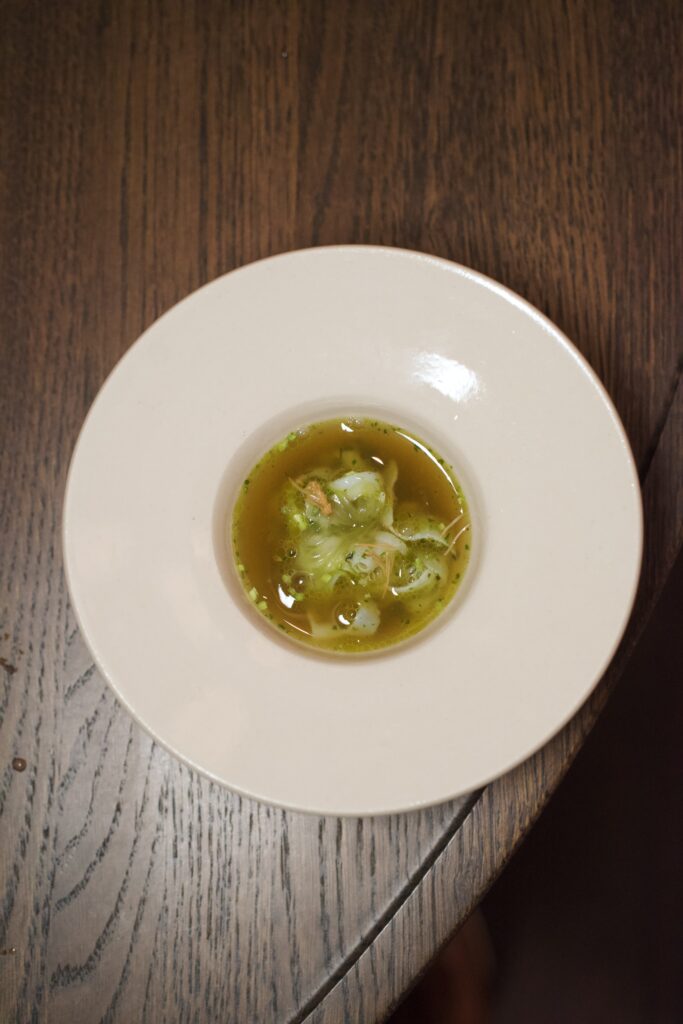 Next up was the only dish of the evening that I didn't care for that much. A mix of octopus, seaweed together with a broth made of roasted chicken skin and fermented cucumber. To me a dish that should have chosen whether or not it wanted to be sweet or umami rich. In stead it got stuck somewhere in between. .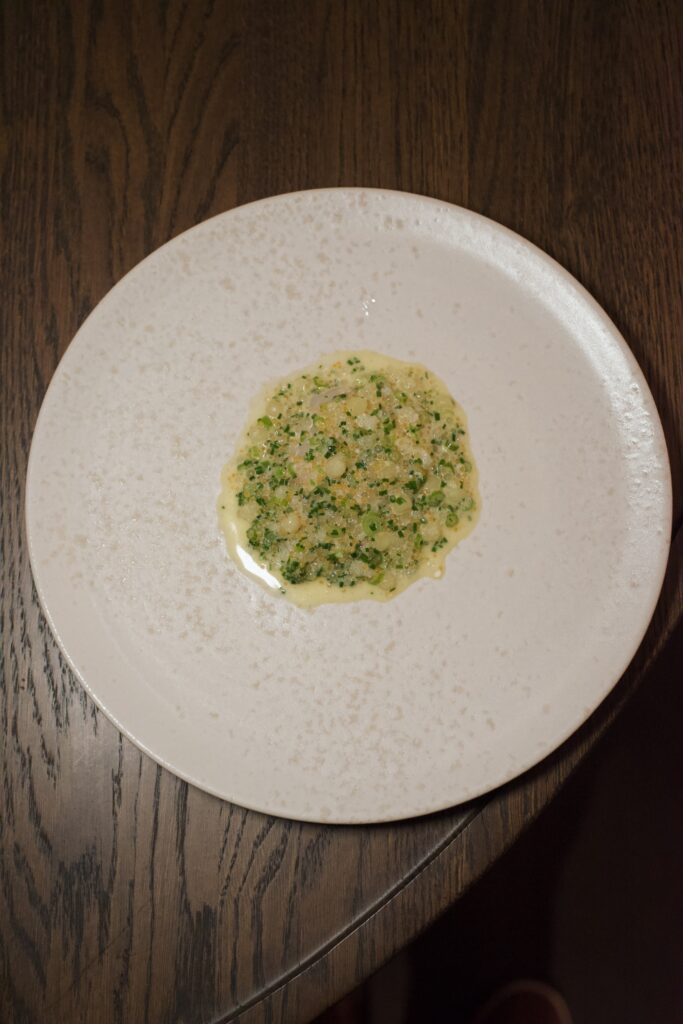 For our first main course another repeat from their pop up at Tivoli earlier this year. Sous vide cooked cod with lots of lojrom, potato's and a nice mix of herbs. Just the right amount of butter as well to give it lots of depth.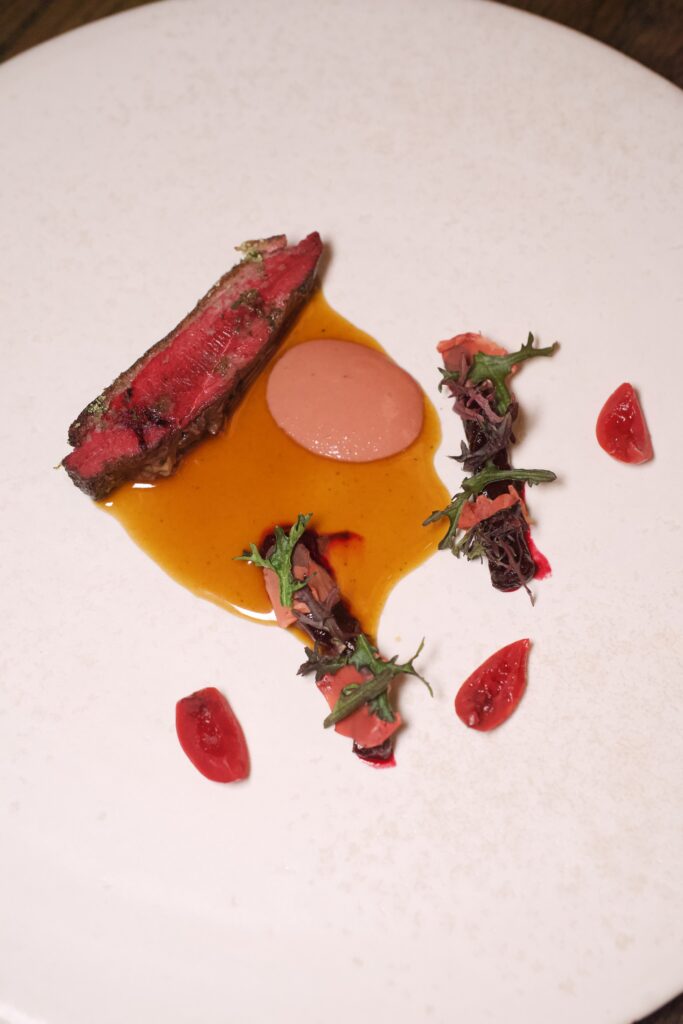 We would finish the salty section with duck served with beetroot, a bit of quince and shizuan pepper. It had a strong flavor of iron which I really loved. Cooked as it should and it tasted really great.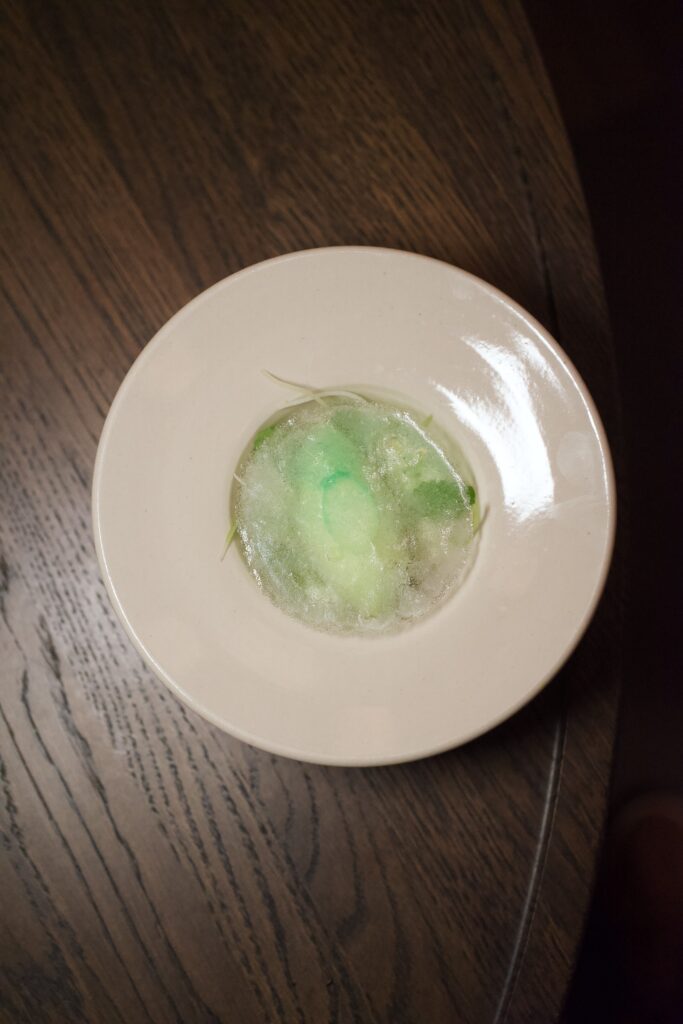 For our first dessert we would start with something light and refreshing. Celeriac with kefir, sorrel and honey. A combination he has served before but this time it was done completely different in terms of techniques and presentation. A very delicious dish and innovative dish.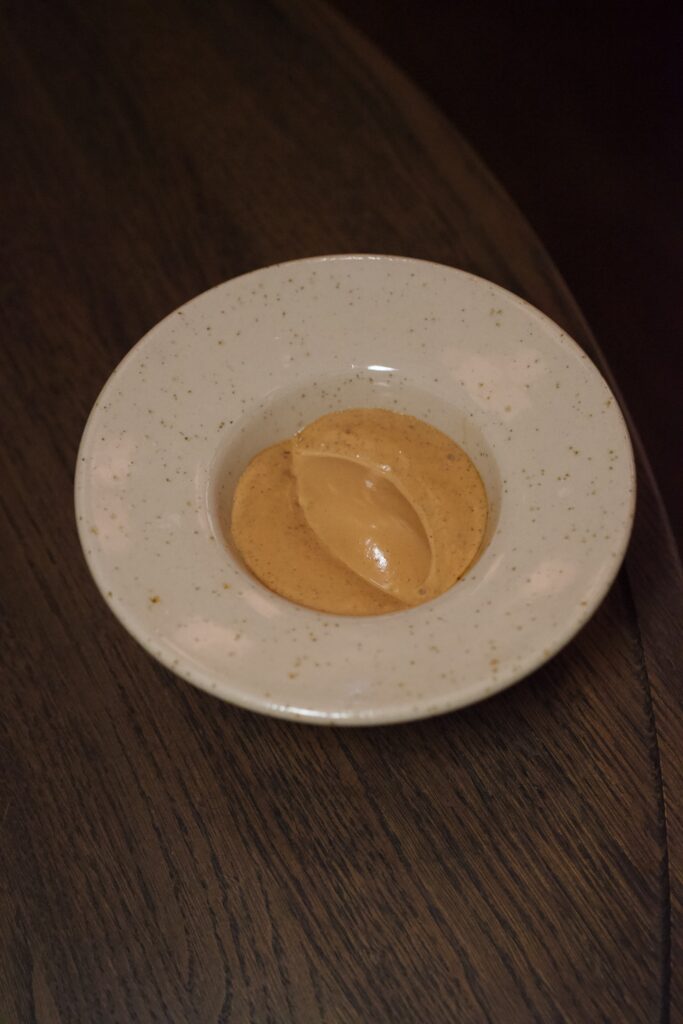 From refreshing and light to rich and heavy. An homage to an old danish dish called "øllebrød" which is a dish made of cooking old rye bread cooked in brown beer before serving it warm with whipcreme. Here it was still made with day old bread but malt and whey had been added. Nice rich flavors, but it didn't blow me away.
Finishing our meal it is obvious that Christoffer is a talented chef with a great palette. Almost all of the dishes were very delicious and technically well executed. I did however also think that it was a very safe menu where many of the combinations you have seen by many other restaurants in Copenhagen over the last couple of years. At Studio as well for their pop up earlier this year where there were many repeats. I was told that the kitchen team moved into the new restaurant just 2 days before the official opening. So if the team isn't 100% up and running that could be why. With a new location after being closed for almost 1 year even despite of that I do however think that a new menu is in order.
The same can be said for the service. Our meal took 4,5 hours which is way to long for my patience when the menu isn't longer. I do however give them the benefit of the doubt and say that these are troubles caused by the move and that things soon will be up and running as it should.
Practical information
Head Chef: Christoffer Sørensen
Menu: 10 course tasting menu 250
Website: https://studiocph.dk/