Claus Henriksen was a part of Noma at the very early days before becoming head chef at Dragsholm castle which he led to a Michelin star. Even though its situated in a "hotel" its wasn't your classic hotel restaurant with his vegetable driven menu he didn't treat it as either. About 3 years ago he left to start Mota which is situated about 80km from Copenhagen in the country side. 
I never had the pleasure to taste his food at Dragsholm castle where he was known for his close collaboration with Søren Wiuff (the asparagus whisper) and general vegetable driven menu. A Michelin star, a couple of vacation days and a  low priced tasting menu of 1100kr was what finally made a visit happen now at Mota. 
I do love the destination restaurants where the journey to the restaurant is part of the experience. Naturally the 1 hour drive on the highway is not the most interesting but driving the last 20 minutes between corn fields, small country towns and finally arriving at the "culture park" which use to house a mental hospital is quiete the journey.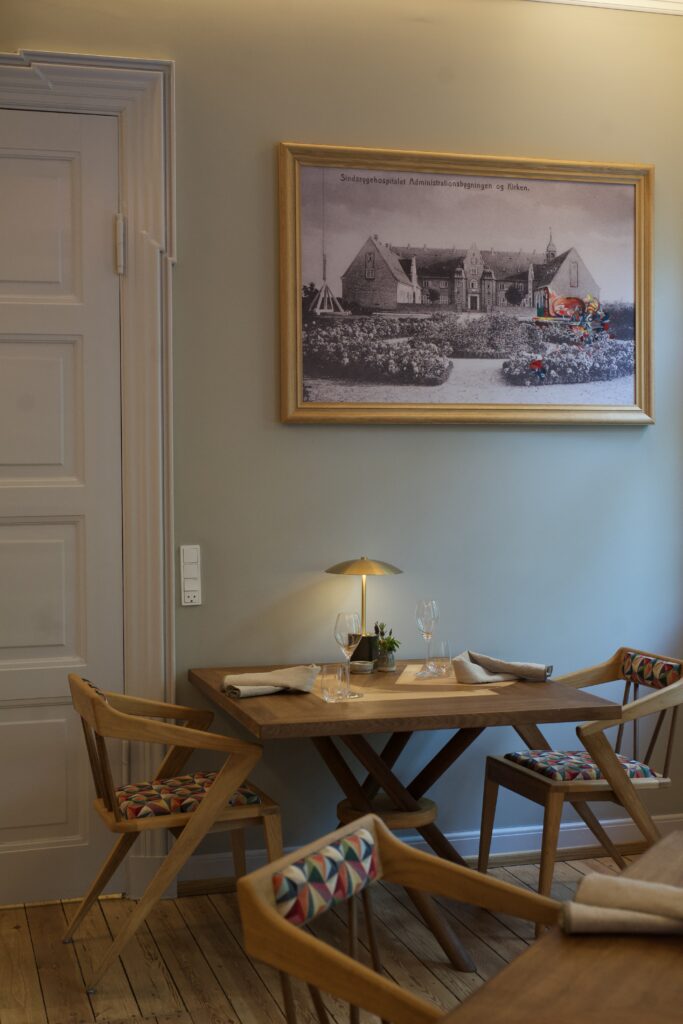 In such a location you wouldn't expect to find a highly experiential and modern restaurant but a restaurant based on the local community and traditions which is exactly what Mota is. The restaurant is cosy and traditional but without feeling outdated.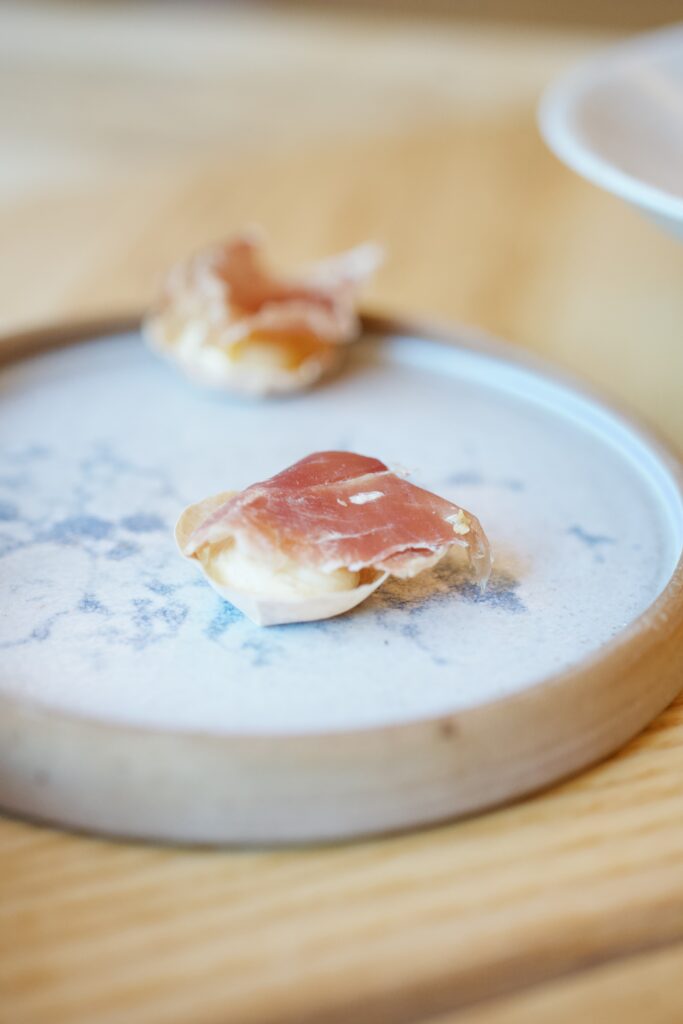 The menu would start with a couple of snack. The first being a steamed "bun" filled with seaweed and mint. A both interesting and delicious combination where the seaweed had just the right amount of dominant flavor. The mint I cared less about but was easily removed for those that share my feelings towards that. The second was a tart of potato with cured ham. A snack that worked both for its texture and flavor. Two snacks that as stated initially is traditional but not at all old school or boring. Neither would be a deep fried giga ouster served with horseradish emulsion and pickled horseradish. Naturally the heat from the horseradish was able to cut through the fattyness of the deep fried oyster.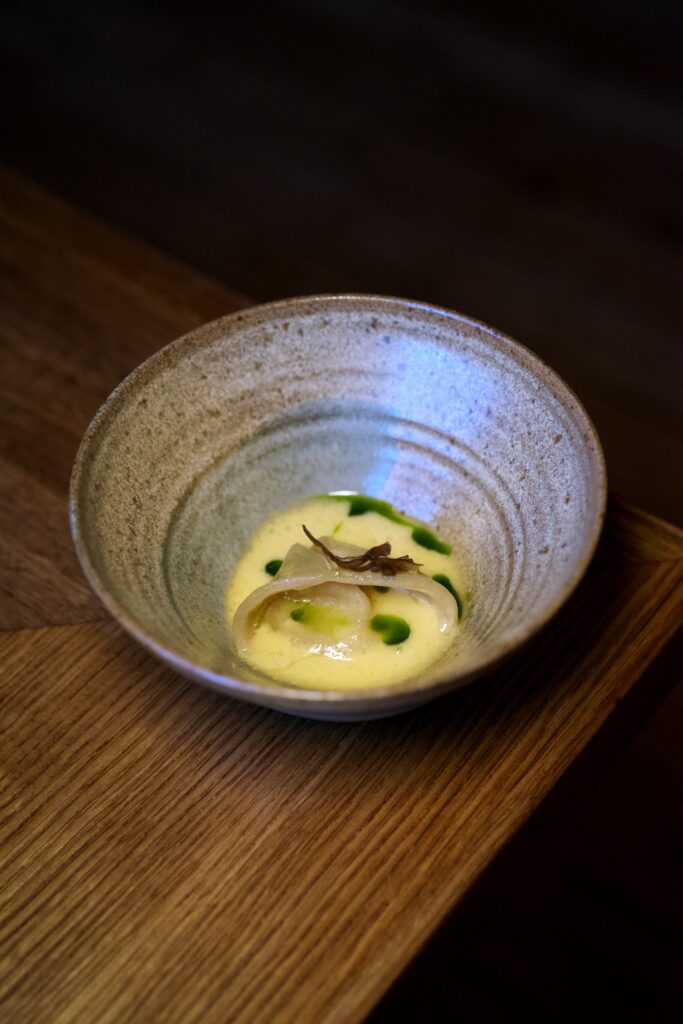 "Fuglekage = bird cake" is a local dish that was here made with a lobster ravioli, burnt leek and whey. This was the highlight of the menu so far. The dish is rooted in local traditions but made contemporary by the skills and knowledge of Claus Henriksen. All while naturally being very delicious.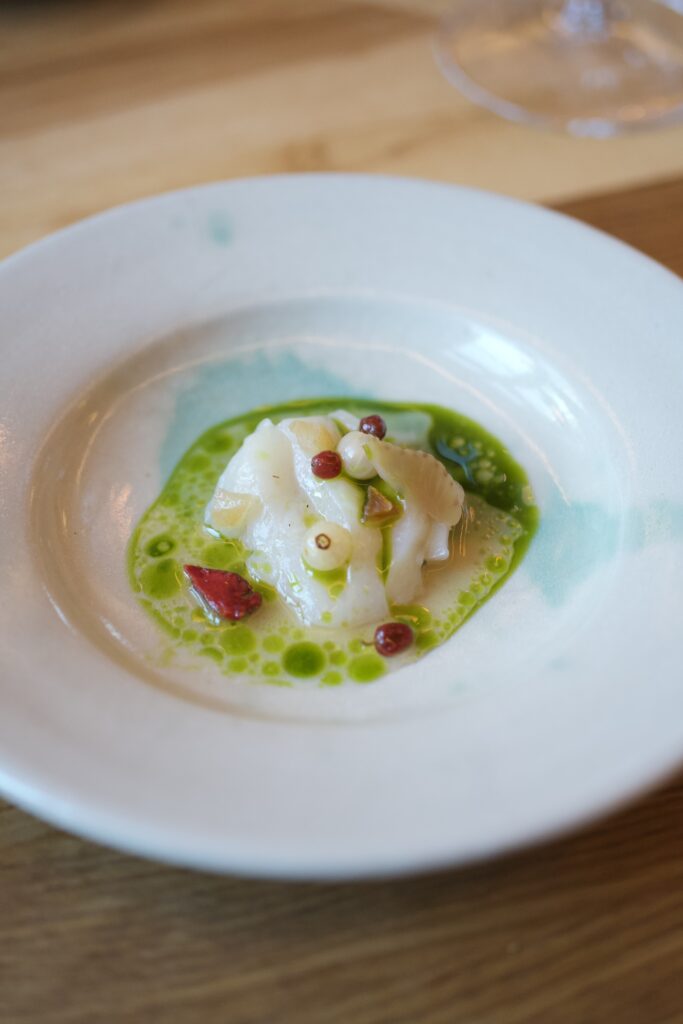 For the first dish of the menu we would have an almost classic New Nordic dish. Scallop with a sauce of mussels split with dill oil, served with green strawberries and preserved berries. A refreshing and delicious dish where the preserved berries really gave it a new spin.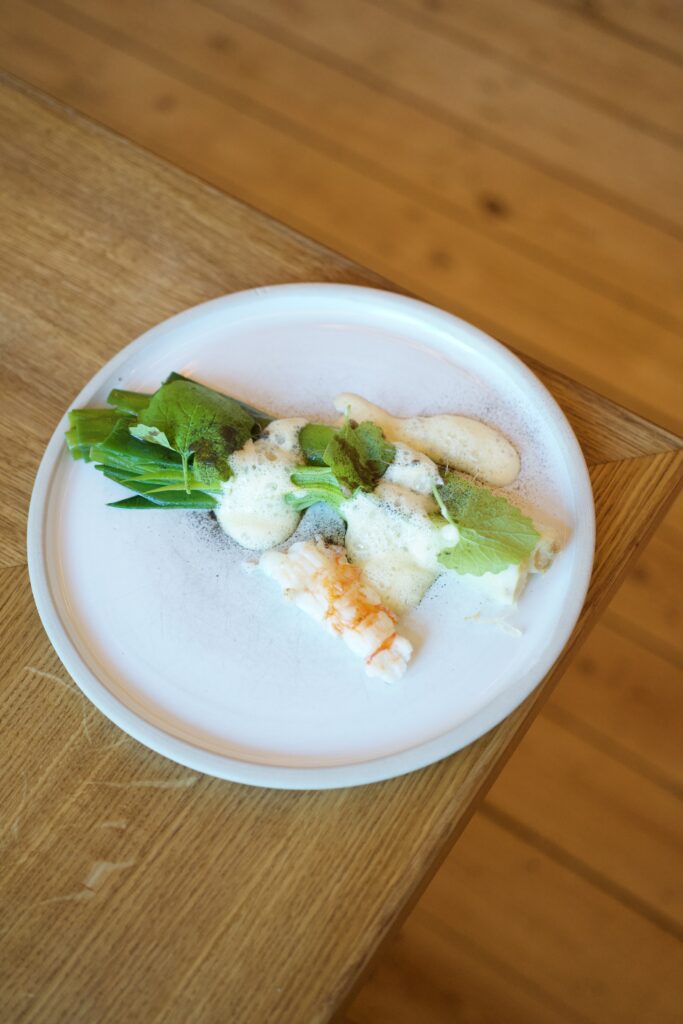 A langoustine was served with poached fresh onions and a nice classic buttery sauce. I really do love how in recent years some of the classic French elements like buttery sauces have found its way into the vegetable driven Nordic restaurants. It really does give a nice balance to the dishes where a bit of depth to the dishes are a good match.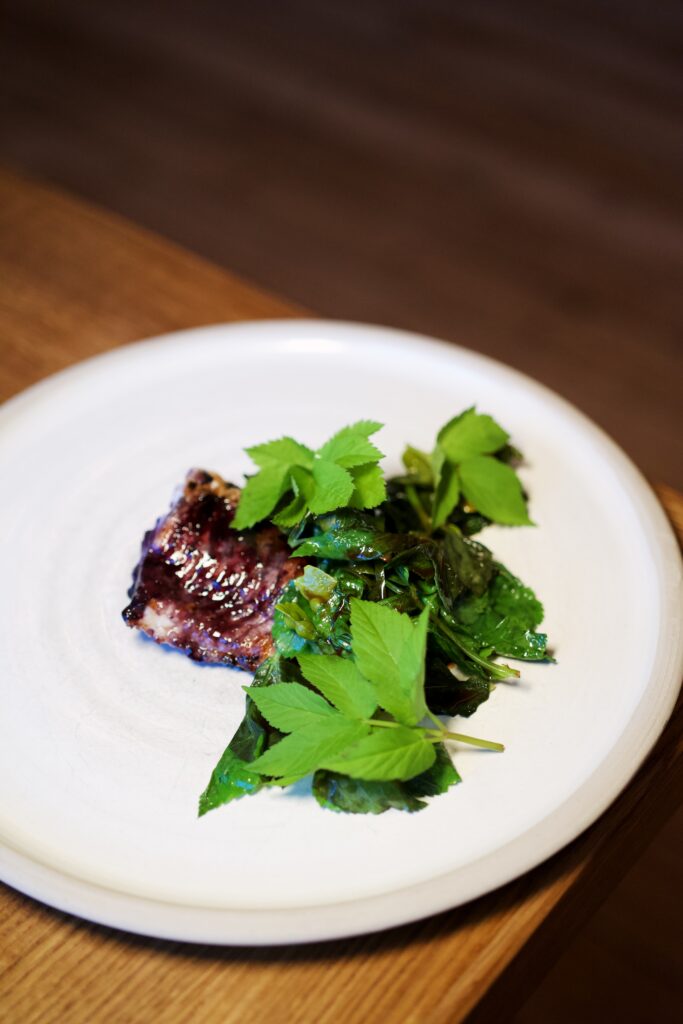 A piece of catfish had been basted with a blueberry reduction given it a surprisingly floral and acidic flavor element to balance the grilled and fresh gossamer cabbage. The cabbage is probably unknown to most people on a plate because it's a weed found in most gardens annoying gardeners. A fresh approach and use of the cabbage was very welcome. A red wine reduction hinted the dish even more towards the umami rich flavors.
To finish the savory part of the menu was a salat of both white and green asparagus with a terragon sauce, different fresh herbs and bread croutons for crunch. A nice dish of great product from Soren Wiulff but I never understood its place on the menu as the last savory dish. The asparagus are of the highest quality but for my personal flavor I would have liked to see a bit more done to underscore their flavor.  After all these asparagus are served at a lot of restaurants right now so their version for me din't stand out. His other dishes shows that he has both the skill and creative to do just that.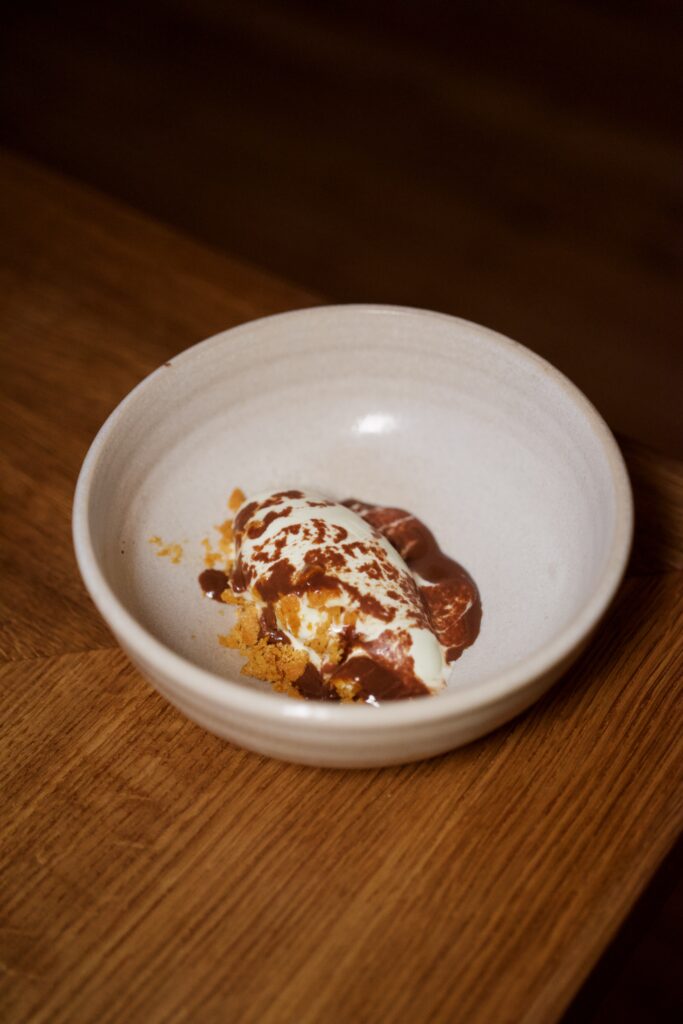 For the transition to desserts we would have the most surprising and delicious dish of the menu. A sorrel ice cream was served with a sauce mixing chocolate and lobster bisque. I have no idea how it worked and I can't explain why it worked but it really did.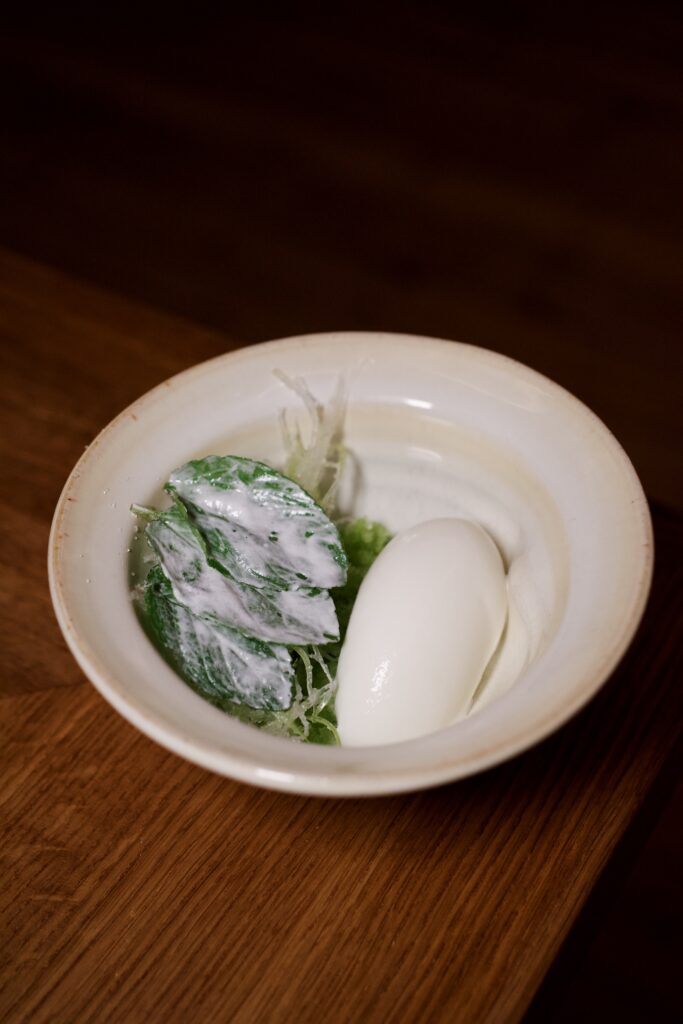 We would finish our meal with a sheeps milk ice cream with a cucumber granite. A very nice and refreshing ending to our meal. A bit of celeriac had been coated with sugar of a kind for a very nice crunchy element.
At a price of just just 1100kr it is the cheapest Michelin star restaurant on Sjælland with a great value for money proposition. The menu was mixed between classic and modern. My preference was the more modern elements like mixing lobster bisque into a chocolate sauce in a dessert and the use of whey in the bird cake. Being a country side restaurant they are probably better of leaning to the classic flavor elements as they do most of the time so their menu is well constructed towards just that.
With its attractive value for money proposition I have a feeling I will return for the even cheaper lunch menu, but and there is a but to that sentence. Our dinner took 4 hours and 20 minutes which to me is about 1,5 hours too long for a 6 course menu plus snacks so I will probably add a comment around time of the meal the next time I book.  
The restaurant has small guest quarters for diners if you prefer to have wine with your menu. These can be booked through the restaurant. 
Practical information
Head chef: Claus Henriksen
Menu Price: $150 (1100kr) for tasting menu
Location: Odsherreds – 1 hour 20 minute drive from Copenhagen
Website: https://www.restaurant-mota.com/