Walking in to Mont Bar for lunch the day after they won their first Michelin star was quiete a privilege. As the guide had given out 29 new stars that evening I was curious to see if this one was well deserved.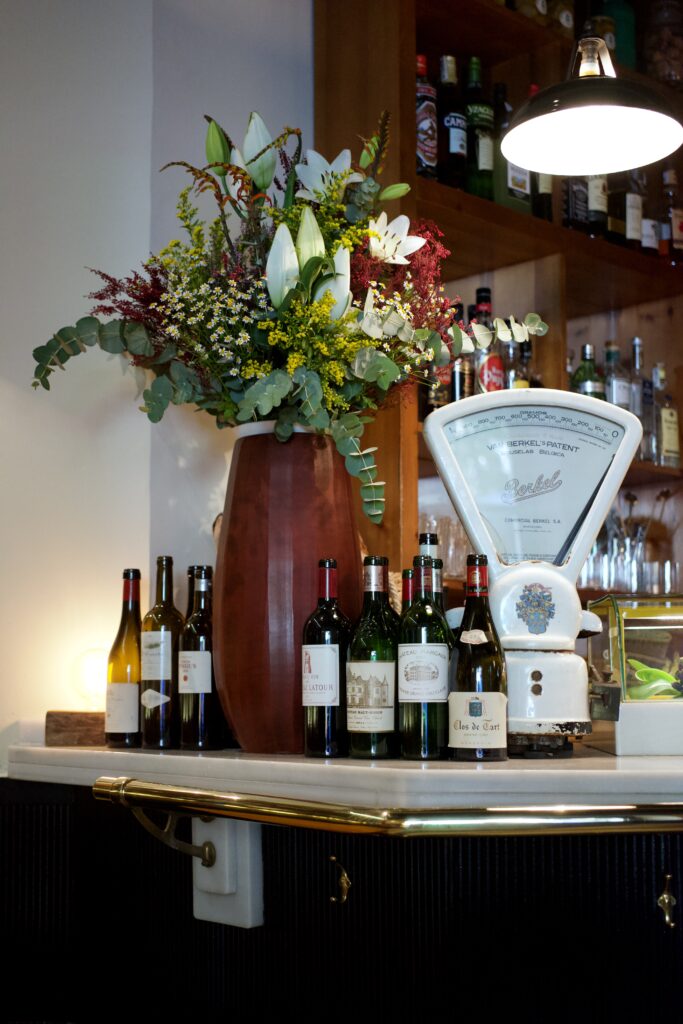 I became even more curious as it at first had looks as any other slightly upscale bar. At closer look you see the small details that makes it stand out like It's artwork and the wines on the wall.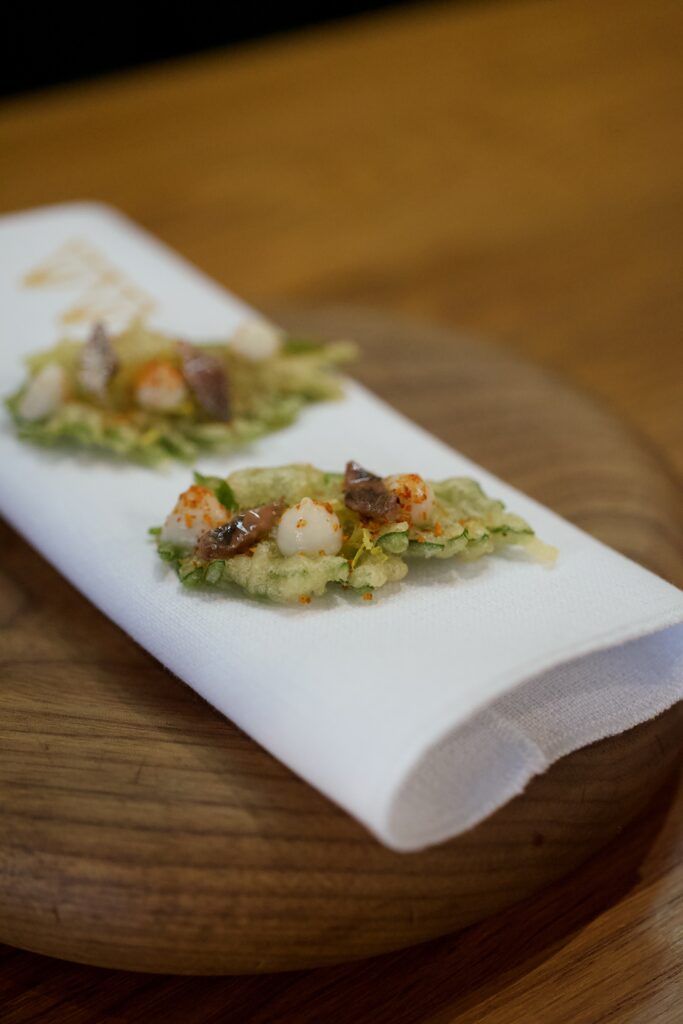 With arrival of the first snack it looked like it was. A shiso lead tempura with jerusalem artischoke crème as well as acidity from lime zest and juice. That naturally creates a very balanced dish.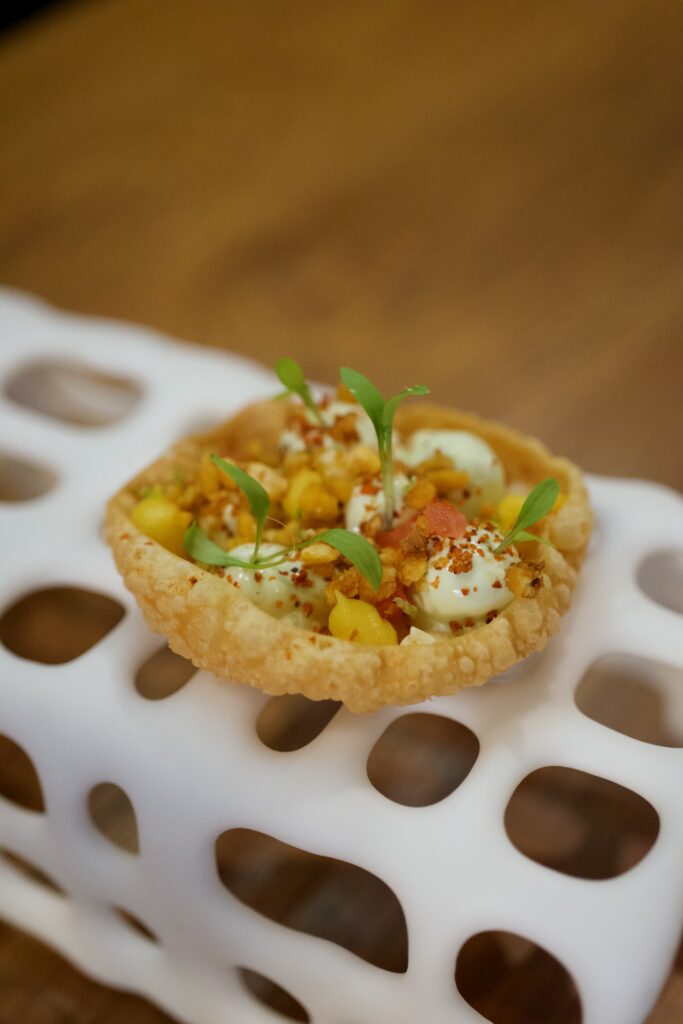 We continued with inspiration from Latin America with a buckwheat and jalapeños cracker.The heat from the jalapeños was very nicely balanced out by a fatty mayonnaise. Yet again impressive.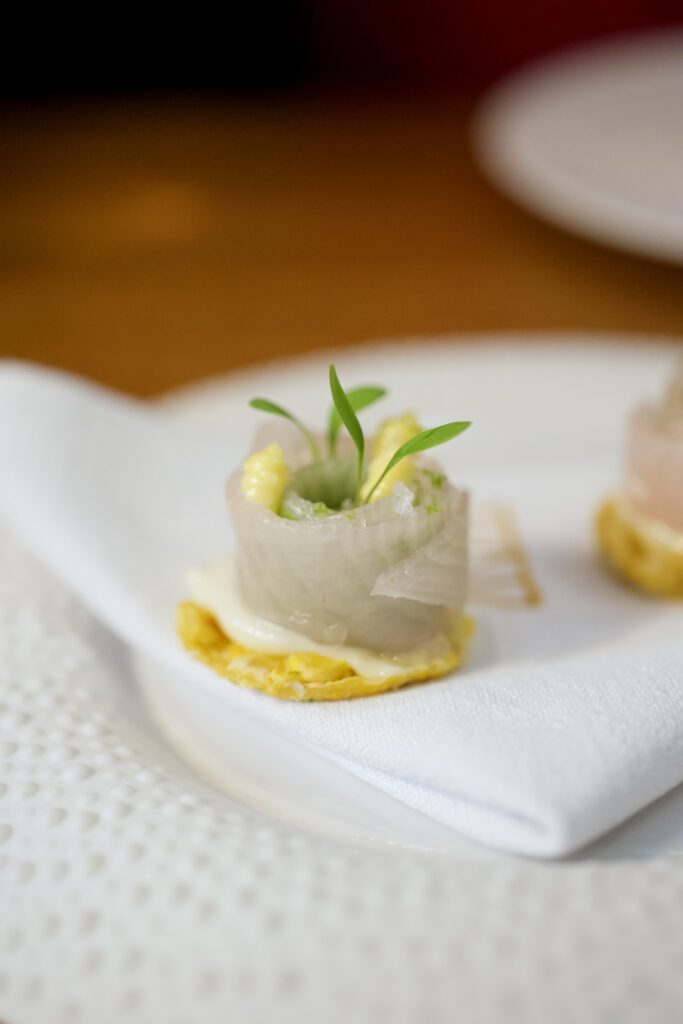 Another Latin dish would be equally delicious. The classic elements of a ceviche were there but in completely different shape and form. First of all gone was the deep bowl for lots of leche de tigre. Instead the raw eal was standing on a corn cracker which had been given a small crème of leche de Tigre. The crispy corn cracker gave a very nice elements to the dish and the flavors were once again spot on and balanced.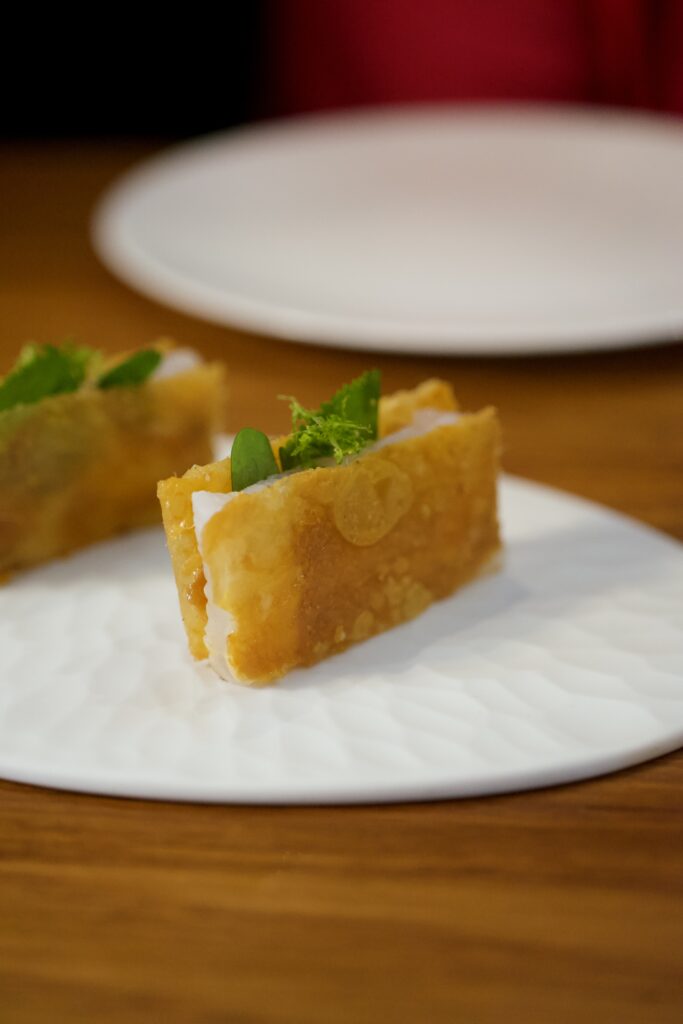 Crispy chicken skin would be served with a delicate squid and a small amount of kimchi. I always love the rich chickenskin when it is balanced against soft flavors and textures. Both were the case here.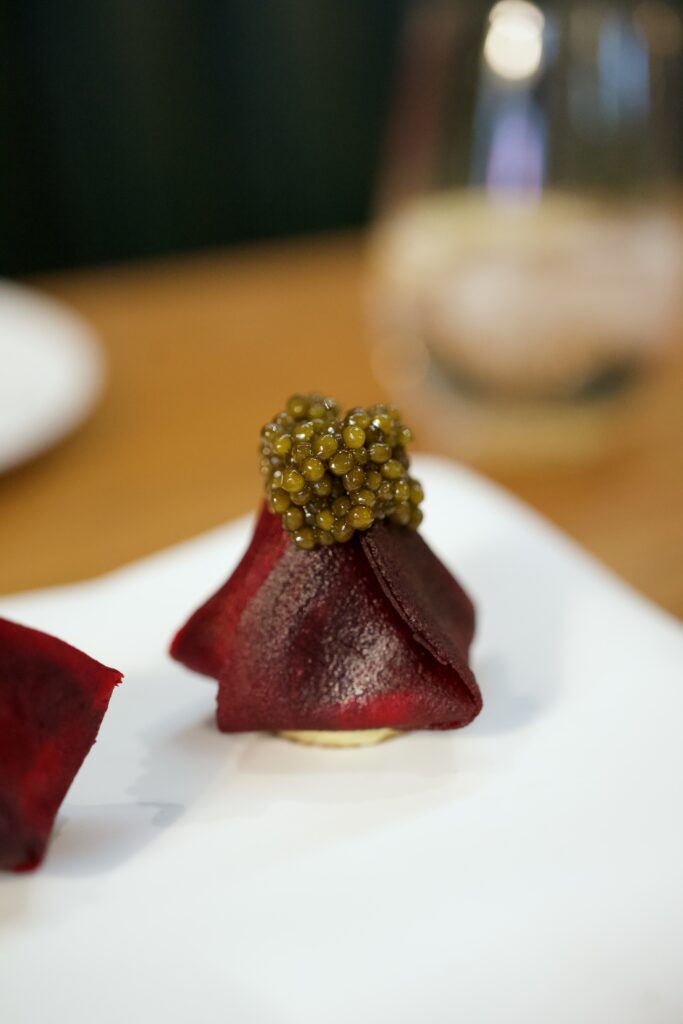 A dish that I had taken my attention on Instagram was a beetroot "flower" topped with caviar. Obviously a beautiful dish that draws a lot of attention. It should also have lots of attention for its great flavors. Inside it held a "ravioli" filled with umami and smokey flavors. A great match for the sweet beetroot and saltyness from the caviar.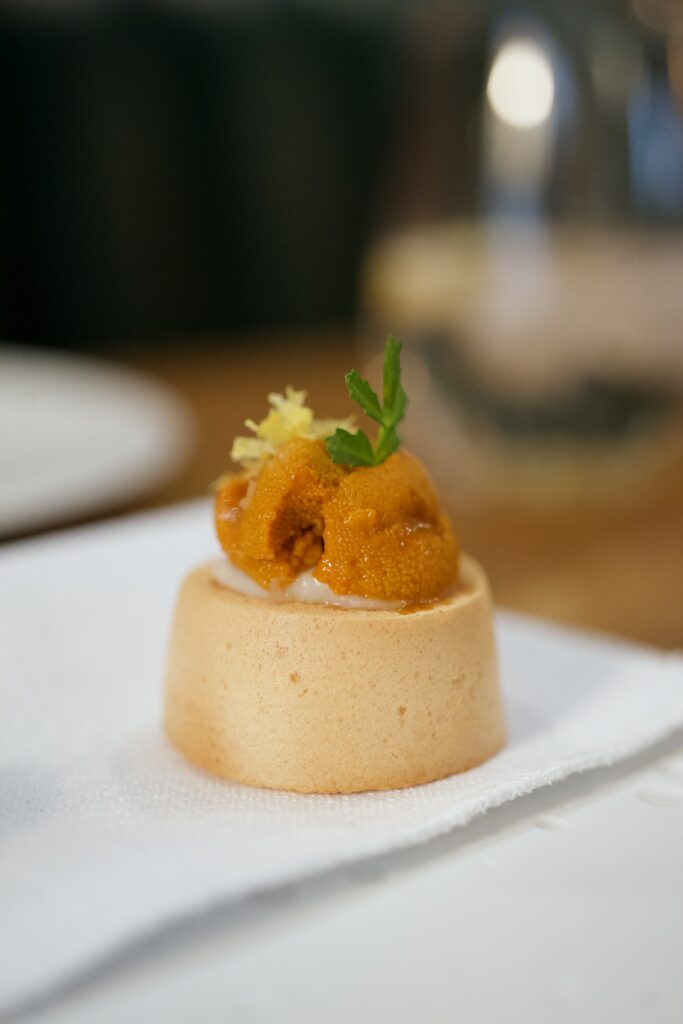 As is apparent some of the dishes are quiete technical and the next wasn't any different. A cold merengue was made from jerusalem artischoke and seaurchin. Naturally topped with a small seaurchin and lime zest. I loved the texture of the merenque and once again how they use the acidity and floral flavors of lime to balance out a dish.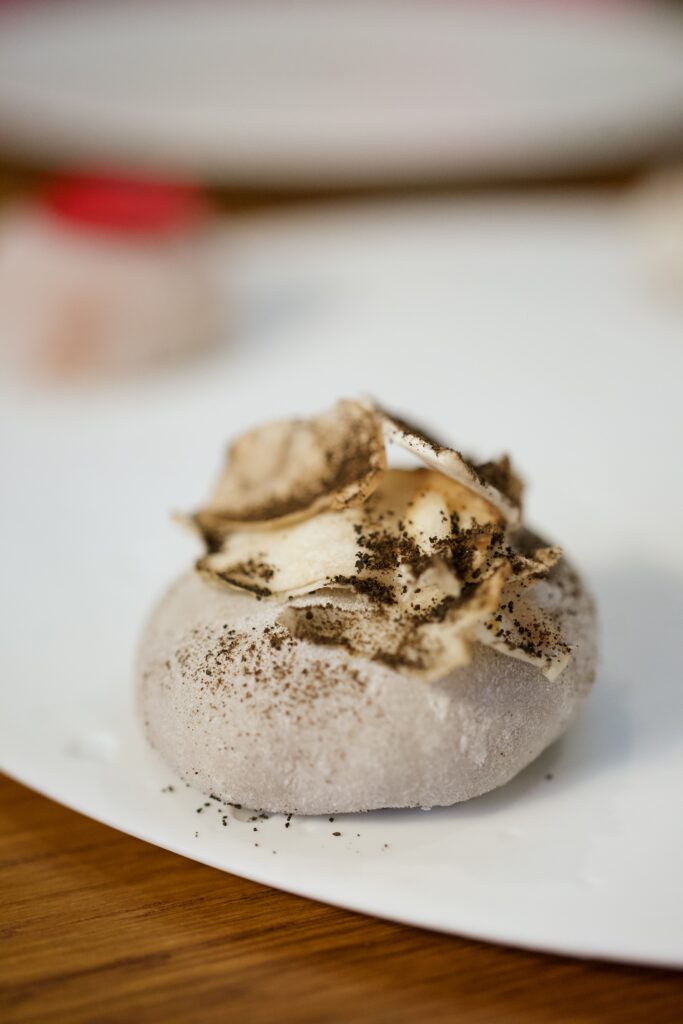 Mochi is usually a dessert but here its also a savory dish. Two served with walnuts and Parmesan. I loved the flavor and the creativity of the two but I wasn't a big fan of the texture.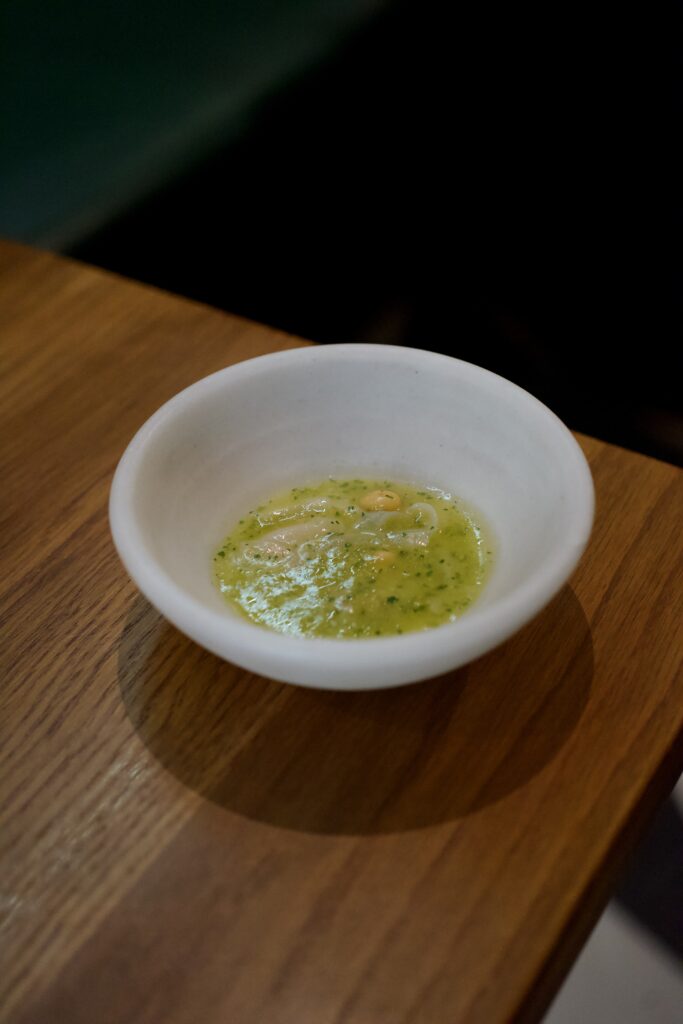 Until now I think it's fair to say that the dishes had all been snacks. So now it was time for some bigger dishes. The first was a cold soup with razón clam, parsley and chili. This time a chili that was a central element and really sneaked up on you. A flavor combination that to me really worked.
A smoked tuna belly tartare was next on the menu. Tuna belly is always delicious and the sweet fatty flavor worked really well with the smoke. Combinations underpinned by a delicate pine emulsion. A creative combo that you just had to love.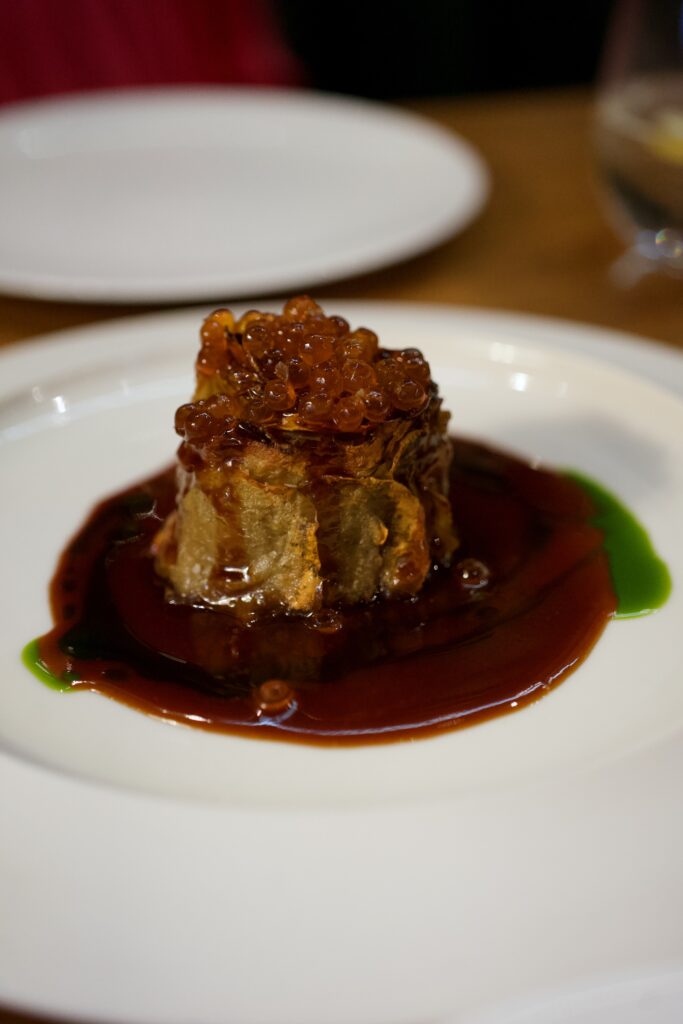 For the next couple of dishes sauces would be a dominant factor showing that the chef also masters the classic French. First with deep fried artischoke, topped with salmon eggs and the most umami rich and delicious sauce. Pure happiness.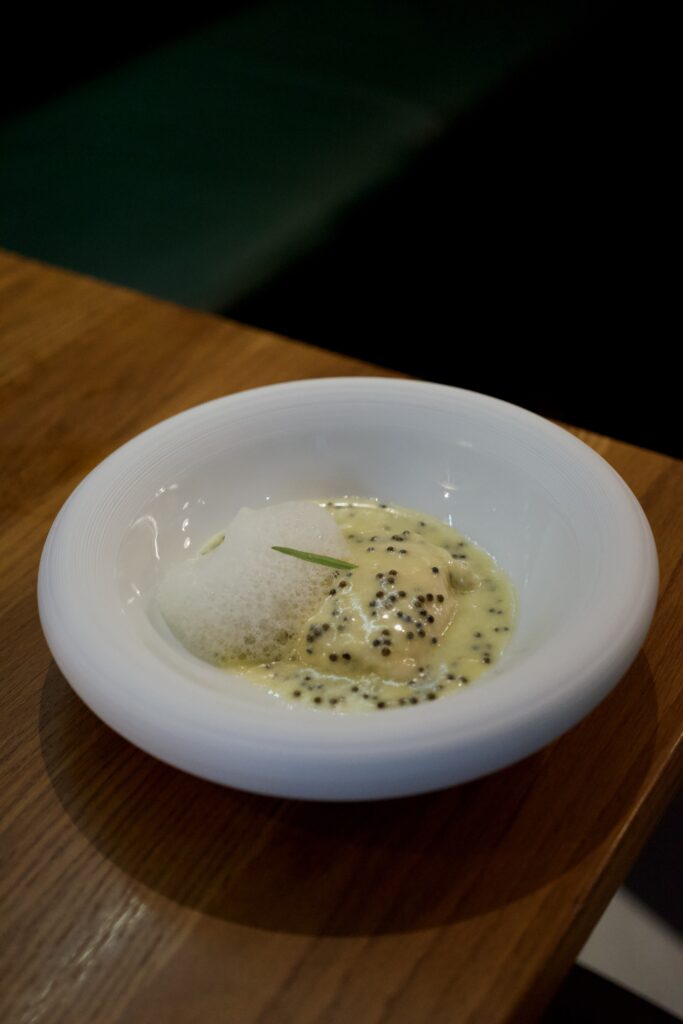 We would now take another step towards the classic French in the form of a beurre blanc sauce with caviar to accompany a fried piece of fish. Buttery deliciousness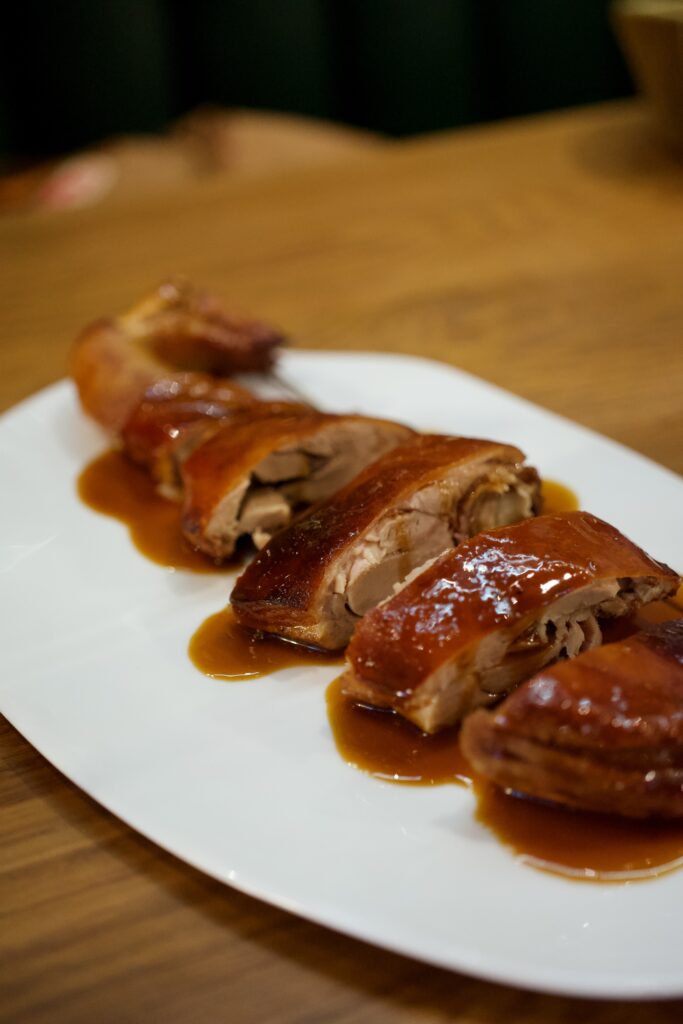 The first piece of meat was now on the menu. A suckling pig with extremely crispy skin served with a slightly acid soy like sauce. It was simple but it was also very delicious.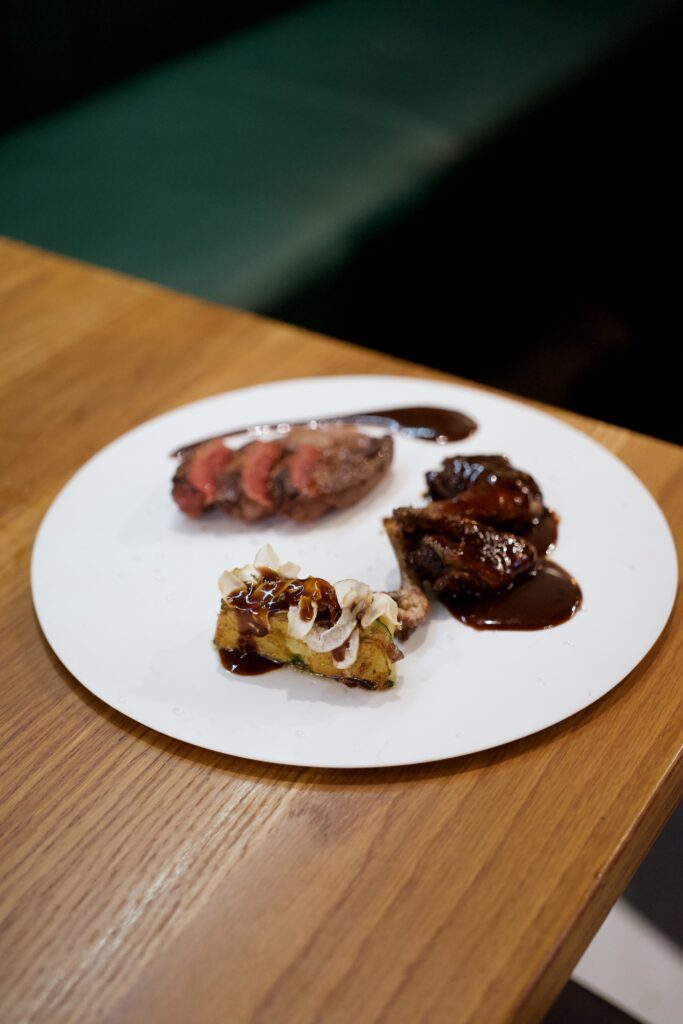 To finish a perfectly grilled pigeon served with a super rich glaze and a potato and kale combination. Again I loved the combination of smoke, sweetness and umami where weirdly enough it was the potato side that really brought everything together.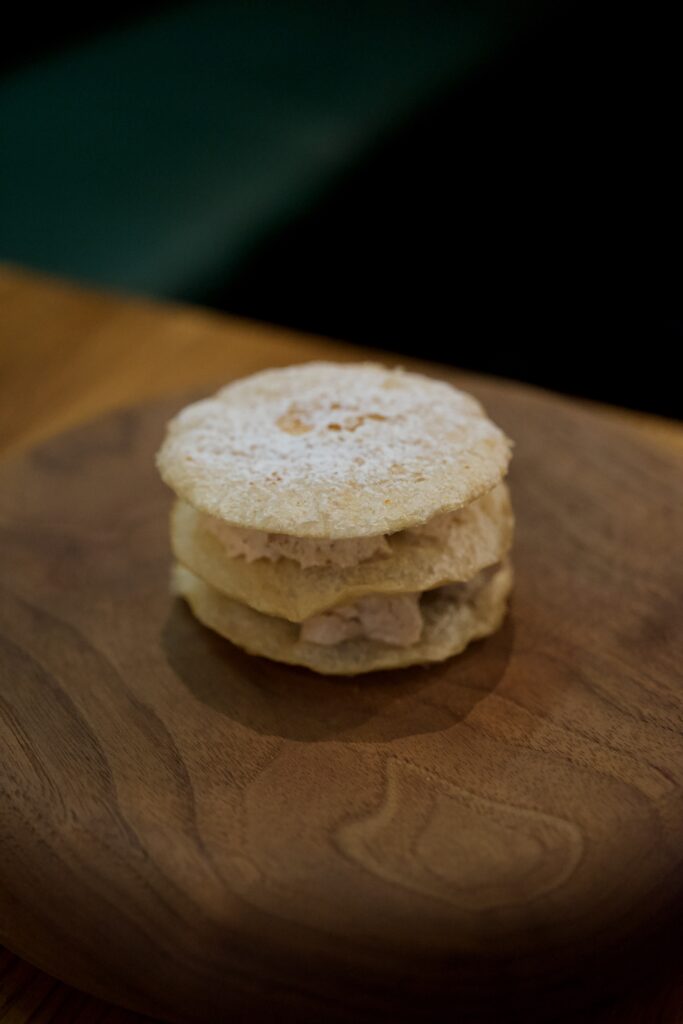 For desserts we staid in the classic flavors. First with a hazelnut millefeuill. Nice flavors and super crispy textures. The second one was a chocolate and soy tartlet. Both nice but they were unable to live up especially to the creative snacks.
To be honest I didn't really know what to expect from Mont Bar. I only heard if it when planning this trip where I saw it was one of the most recommended restaurants in Barcelona. What I didn't know was that it just 1,5 year ago got a new head chef who had previously had the same position at Tickets.
The look and feal of the place says upscale bistro but the food is anything but. For me food starts and begins with flavor and here the flavors were spot on. The presentations are obviously very beautiful but you still feal very clearly that they are built for flavor and not presentation. The chef obviously has a global view in food where he borrows a bit of inspiration from both Latin America, Asia and France but to me that just gives the little bit of variation that makes a restaurant really interesting.
The service is very friendly and professional without in any way having a big distance to the customer. Finally I loved the causal and cosy interior which completes the sensation that the entire restaurant is just giving you a warm big hug. Exactly the kind of place every city needs. Having earned a Michelin star just the night before our lunch I really hope they stay true to the concept that we saw. Especially because even though two Michelin stars are obviously attractive I just hope it won't come at the expense of the very warm and cosy fealing the restaurant has. The food obviously has the potential and in my opinion so does the space.

Practical information
location: Barcelona
Menu: A la carte. Dishes from 10-35€
website: www.montbar.com