I have been to Borago in Chile 5 or 6 times before so I know Rodolfo and the menus of Borago quiete well and its one of my favorite resteraurants in the World. A pop up in a different continent is something completely different though. The menu at Borago uses a lot of fresh vegetables and flowers native to Chile which for natural reasons are hard to bring on a 3 week pup up. It is therefore safe to say that I was curious how they would manage the task of giving a proper Borago experience in Madrid.
The concept of this poop is to pair the Spanish autum with the Chilean spring as a way to bridge the gap and to incorporate fresh Spanish produce.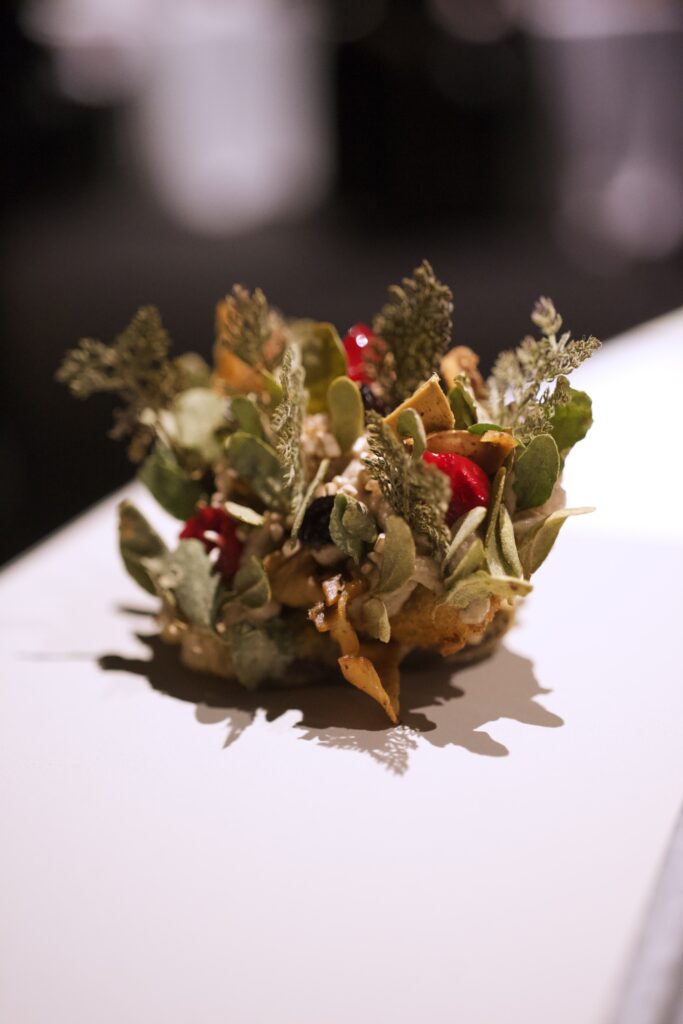 The very first dish is classic Rodolfo. It's classic in the sense that it is very elaborated. It also serves as a prolog to the story he wants to convey about the culture and history of Chile. A wild mushroom "crème" is served with different dried herbs and fruits to mimic a walk in the forest. It's safe to say that we were of to a good start.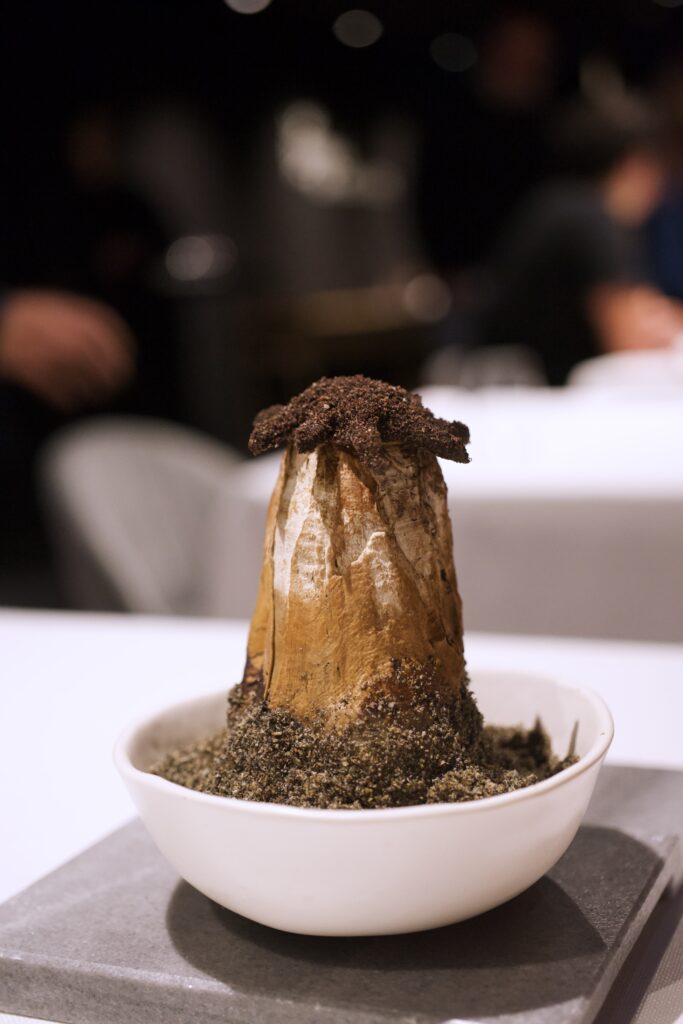 We would then continue to the rock séquense where a "starfish" was placed on top of a seashell buried in beach sand. Underneath the most intense broth made from Picoroca and smoked tepu. A flavor composition that is hard to describe. You simply have to try it which is for natural reasons only possible at Borago as they are the only restaurant in the World giving these ingredients a place on the center stage. I loved it.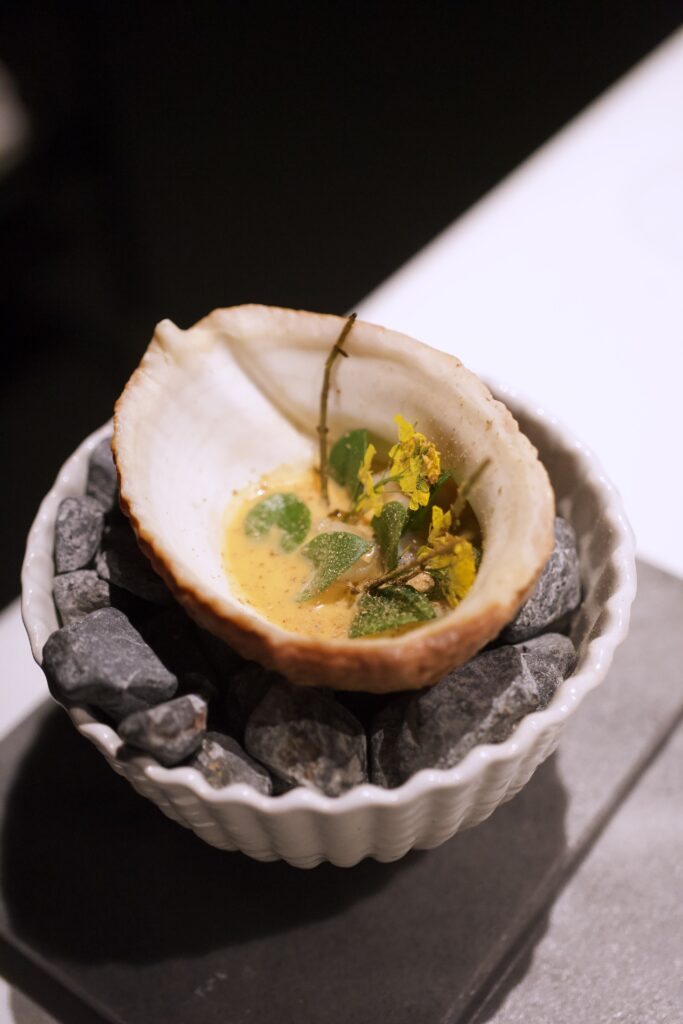 Ceviche is a classic dish that Rodolfo likes to reinterpretate. In this version it was based on the piure which holds a unique floral and slightly umami flavor which really worked well with the clams and the classic acidity from the leche de tigre.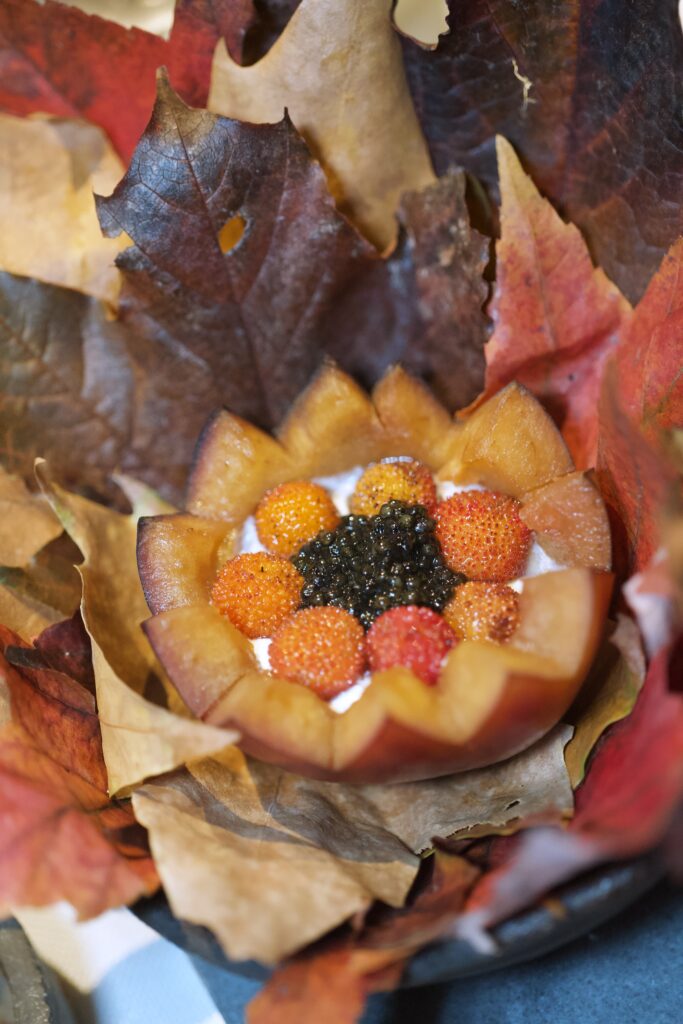 Next up is a dish that to me showed the perfect marriage between Chile and Spain. Chilean caviar was served with roasted apples, a sour yoghurt and berries similar to wild strawberries. I loved everything about it. A dish that was both sweet, sour and salty and in texture both soft and crunchy. Just amazing.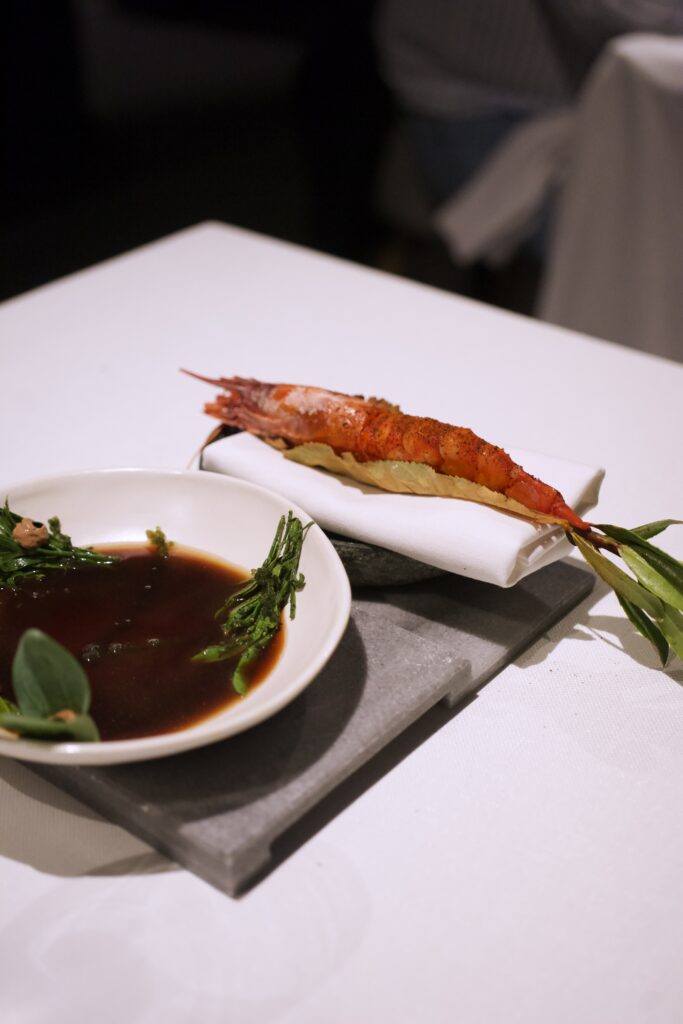 One of my absolute favorite products is the carabinero shrimp from Spain. An unmatched ingredient which for that reason is almost always served very simple. Here it wasn't any different. Grilled in its shell softly and topped with a powder made from the same shrimp to intensify the umami flavors. A stunning dish. Equally stunning was the side which was a broth made of the immense kolof seaweed from Chile. The broth was super intense and held so many different flavors from both dried squid, different mushrooms and served with local grilled rock plants for texture.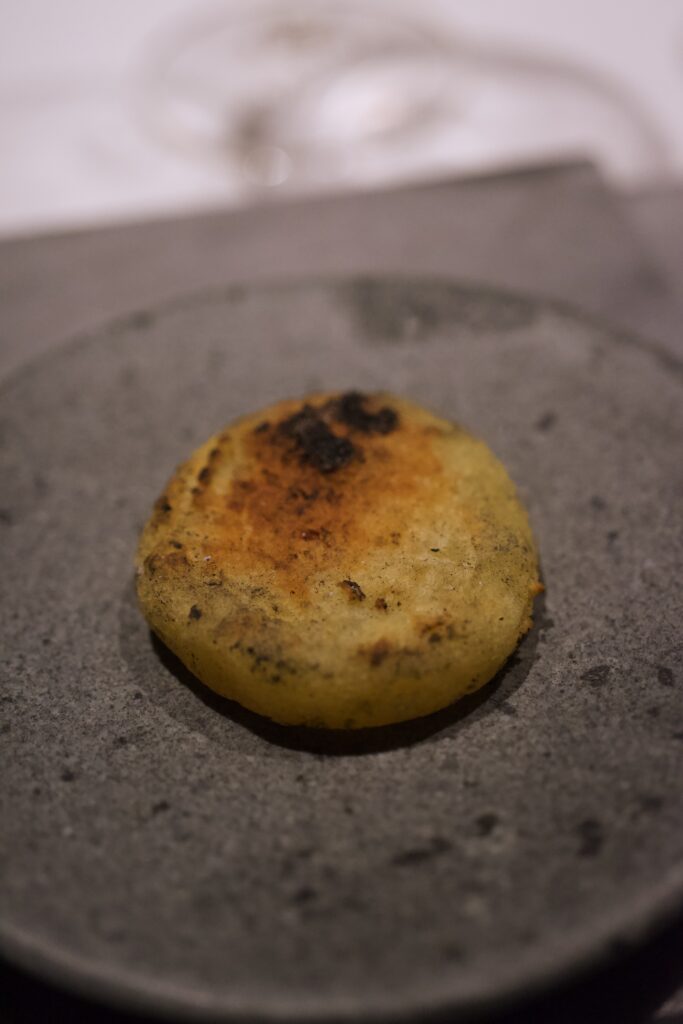 As usual bread is its own serving at Borago. Here it is a local version of a potato bread served with a kefir like butter. Potato bread is always delicious and this wasn't any different.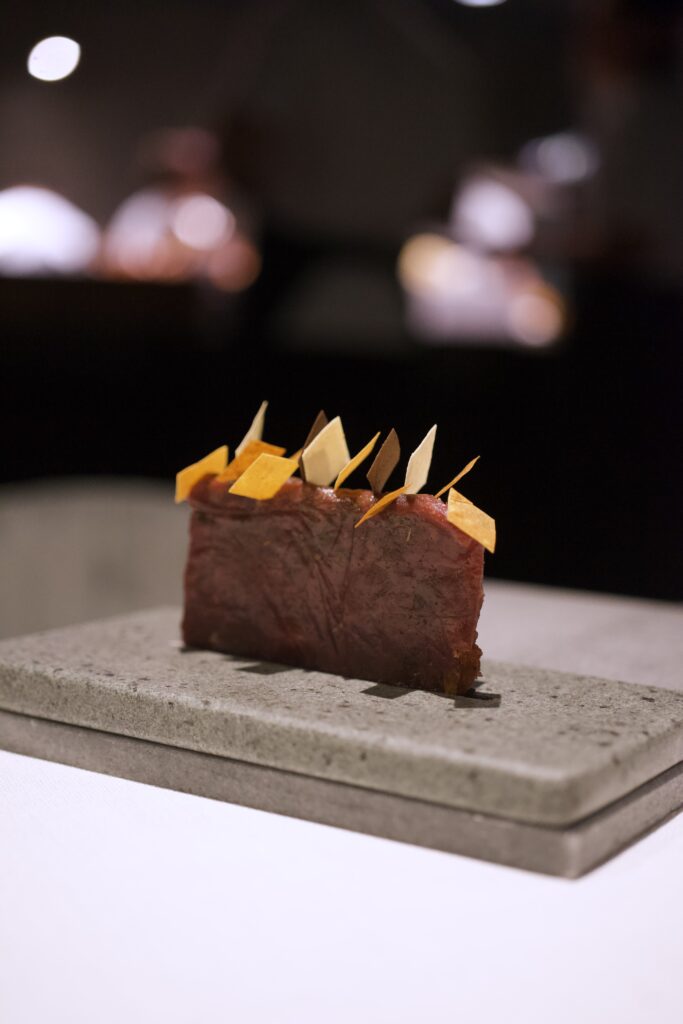 Crudo (tartar) has been on the menu at Borago in different versions as its a Chilean staple. Here the meat had been cured first together with beeswax and then together with the bark of a peumo tree. A super story and creative technique. However the dish was not one of my favorite. The meat had a very strong flavor and in my opinion could have used with a bit of balance, maybe from some floral or refreshing elements.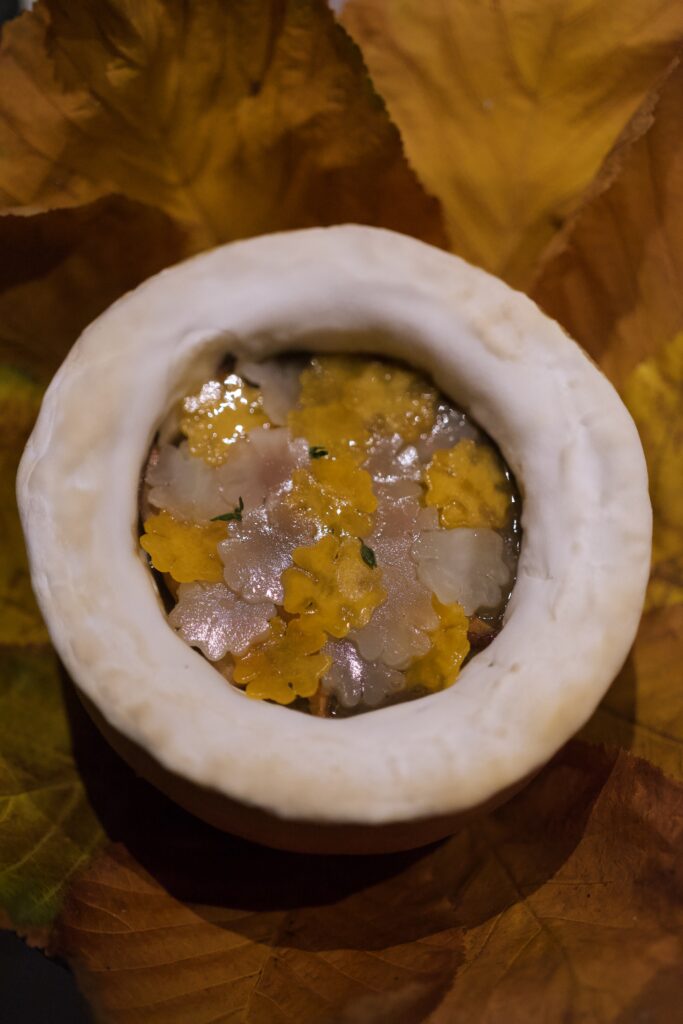 Rodolfo loves to treat vegetables like cheese. The next dish would be the only time we would try it at this menu. Pumpkin treated like blue cheese served with different mushrooms. Such an umami rich dish that I absolutely loved. A great match between flavor and technique.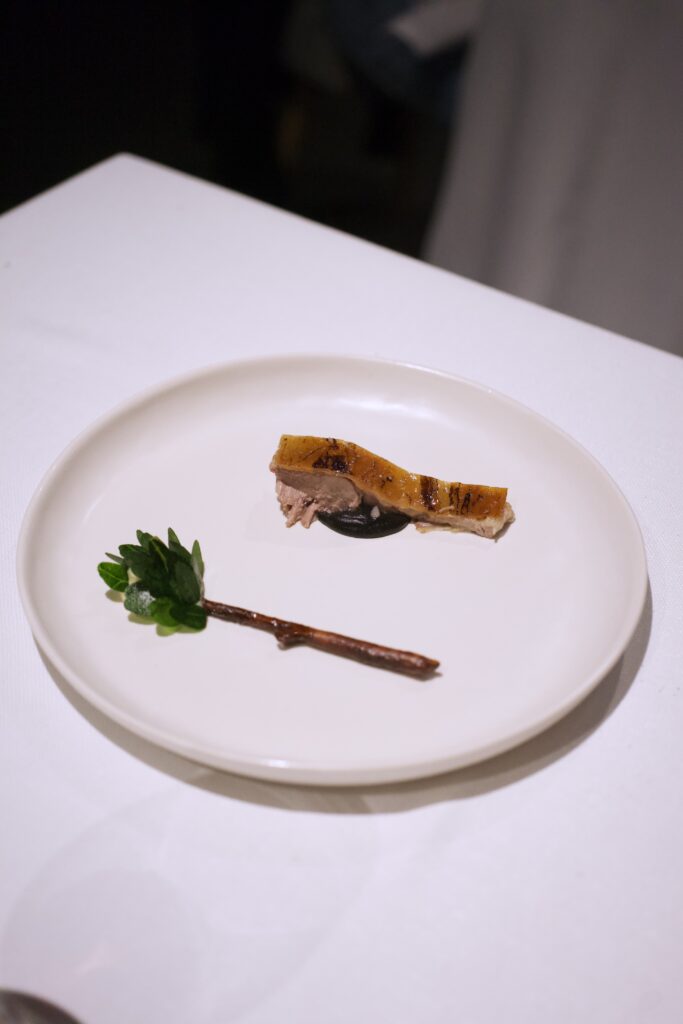 The most famous dish from Borago is the whole lamb cooked opposite of the traditional methods. A natural dish to be on the menu for a pop up. Here super complicated as the preparation was done two floors up and a 5 minute walk through various spaces and cooked outside in the cold. Not optimal but worth it. It was served with a fig branch which again was anything but simple. To make it every part of the fig had been used. It's fruit in various stages of ripeness, the bark and naturally the leafs. The result was the most floral and delicious fig I have ever tried. Not the kind of flavor you would expect inside a crisp "branch".
Once pr year it rains in the Atacama dessert in the north of Chile. When it does the otherwise extremely dry dessert is turned into a heaven of flowers which quickly bloom only to dry again quickly thereafter. The desserts were to pay homage to exactly that.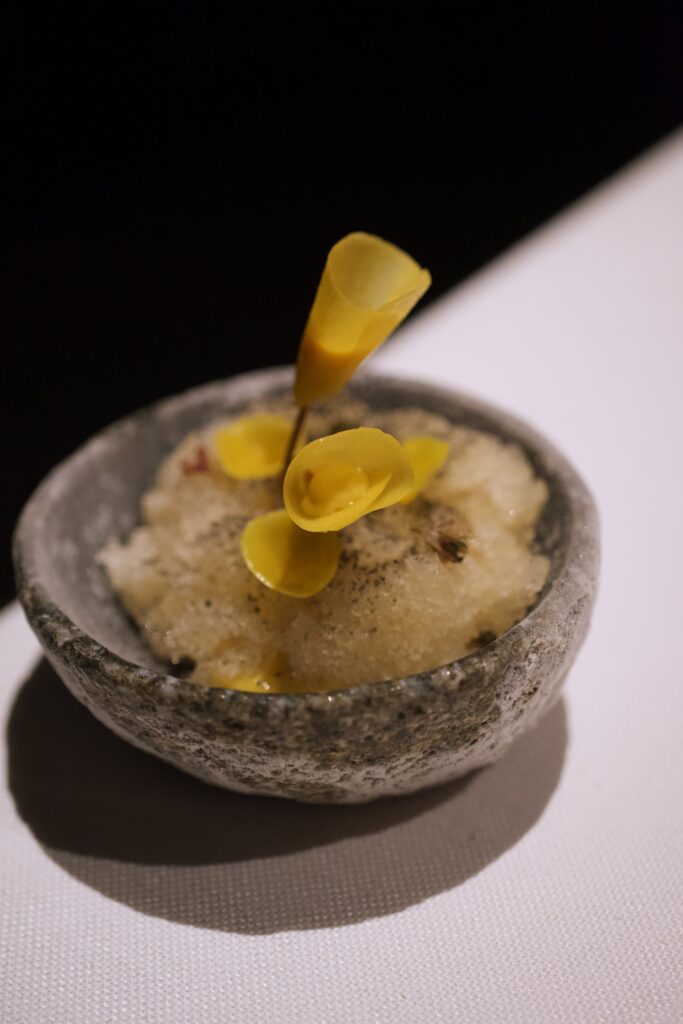 The first dessert was bitter plants from the dessert along with chirimoya leather. A super creative dish but I am not a fan of bitter flavors so it wasn't a dessert for me.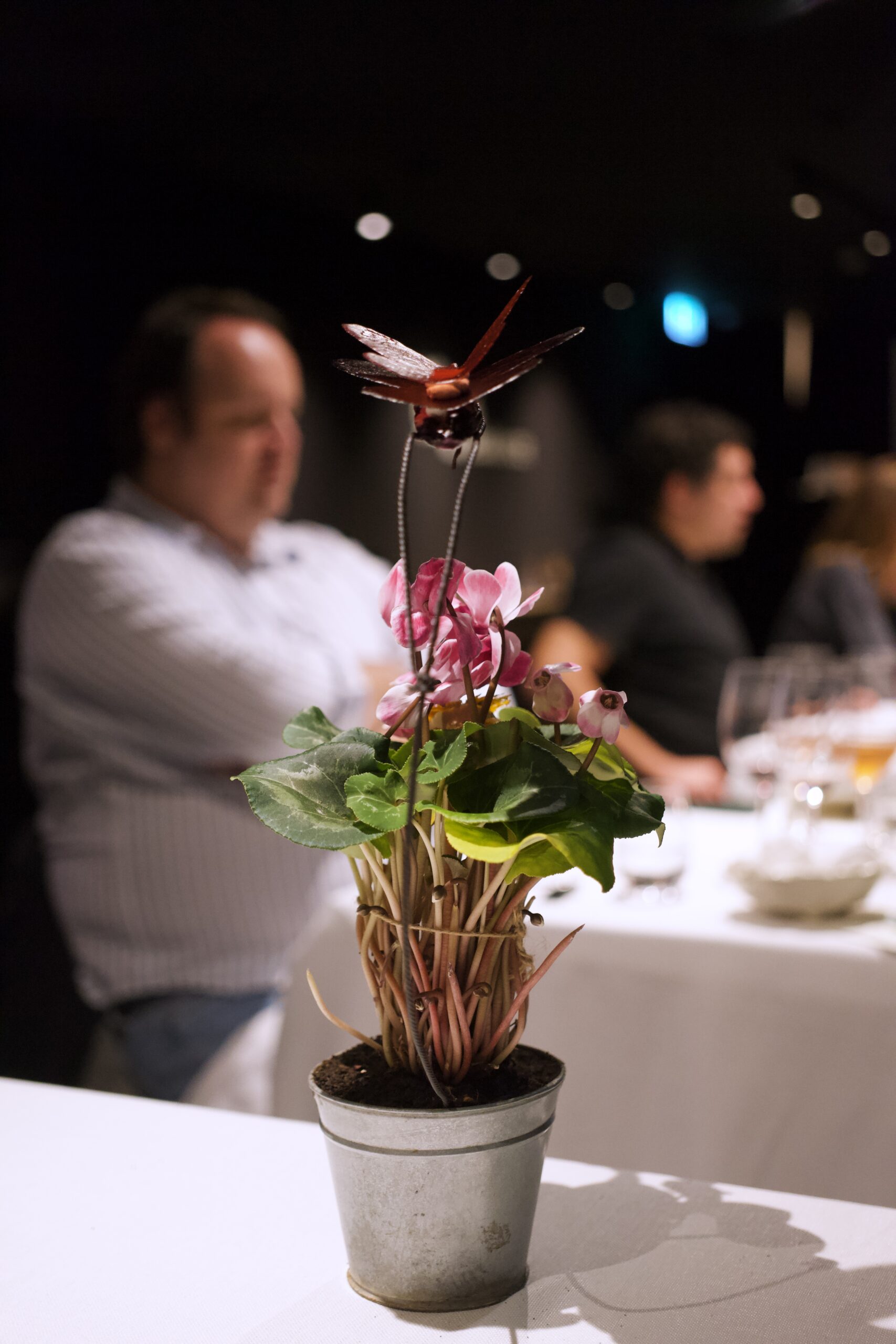 The next one was however. Above the flowers flys various butterflies which this represents. A butterfly with a mix of both umami rich ingredients like seaweed and rica rica which has a strawberry like flavor. I loved both the flavor and its texture. Below a crispy tempura like flower made with different roses for a great floral expression.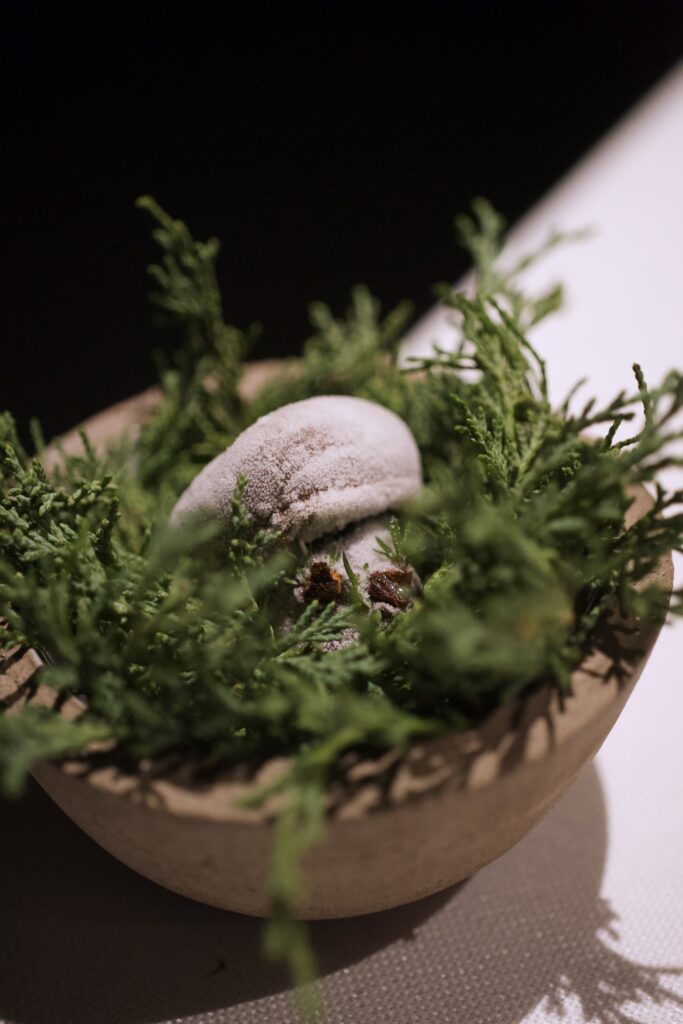 For the last dessert we would have a loyo and seaweed "mini magnum". Loyo is a massive 1kg mushroom from Chile. Again I loved the umami rich combinations and again it was executed perfectly with its super crispy shell. Difficult to eat but just delicious.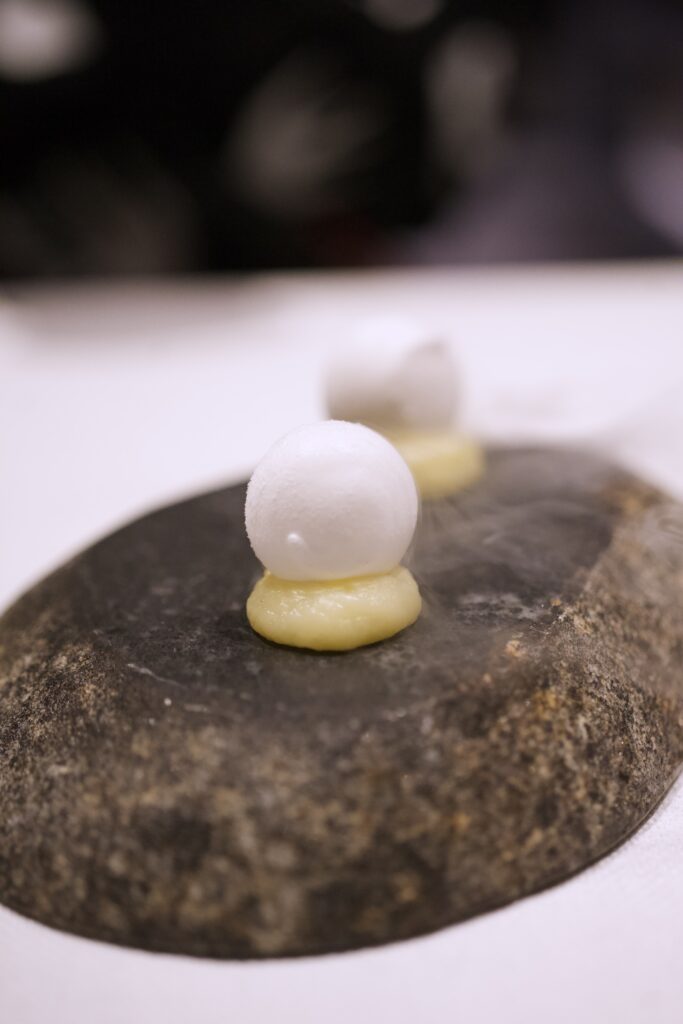 The final taste would therefore be from the extreme south with a "glacial breath of air". A bite made with liquid nitrogen so when biting into it your mouth and nose exhales a cold and entertaining smoke. Besides the obvious gimmick its still delicious and very fun to eat.
In generally I like the opportunities that pop up's give to try a chefs proposition when you live far away from the restaurant. At the same time it is never the same as when you go to the actual restaurant. The Borago pop up wasn't any different. You can still feal that the team made a huge effort to give the guest a true Borago experience with lots of ingredients from Chile, crazy presentations like the picoroco dish and the butterfly dessert. The storytelling about Chile, the history of the mapuchas and the passion from Rodolfo about all comes through. I also absolutely loved the ceviche, shrimp, caviar dish and of course the lamb. If anything it makes me miss Borago anymore for the full experience. The pop up has therefore served its purpose which is for make people desire to visit the restaurant in Santiago for the full experience where Rodolfo can give the full experience without restrictions.
Practical information
Menu: Tasting menu
Website: Www.Borago.cl