I first visited Jordnær almost 3 years not that long after it opened. I remember being impressed but not blown away. Having watched from a distance it was obvious that a lot had happened in the restaurant while I had been away. It was therefore at the top of my list for my return to Denmark. So when an invite came to try it again I jumped at the chance.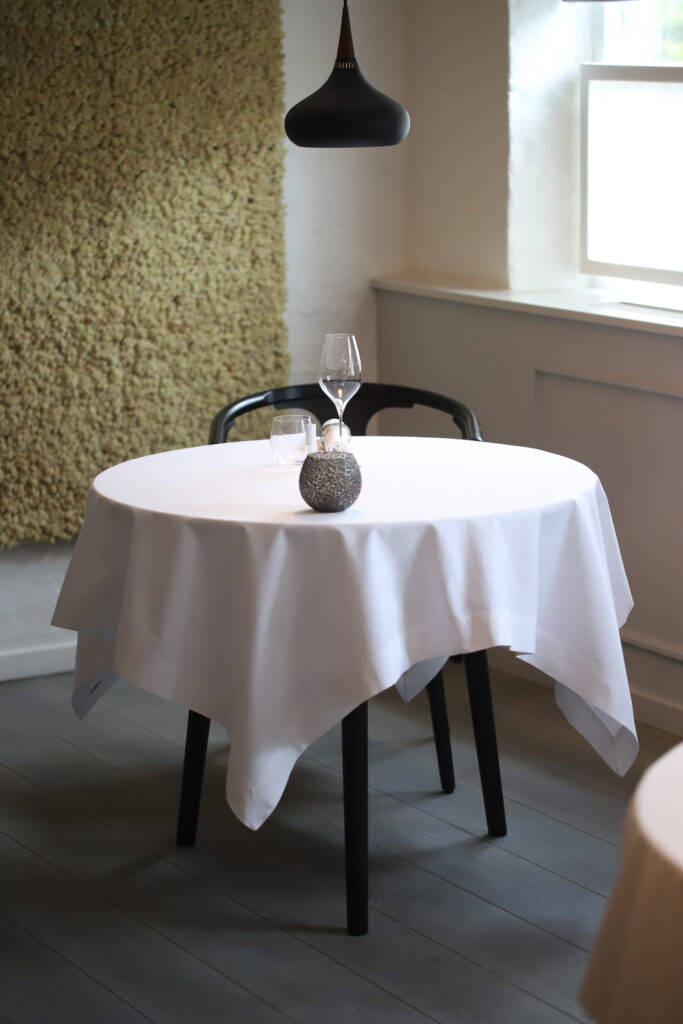 Arriving to the hotel where Jordnær is situated everything looks the same, but all of that changed the moment you walk through the door. The dining room has gotten a major upgrade. White table cloths, a display for wine decanters, artworks and new stylised uniforms for the waiters just to name a few. Quickly upon arrival the second change was apparent. The house champagne now comes with 2 Michelin stars printed on the bottle and not just one.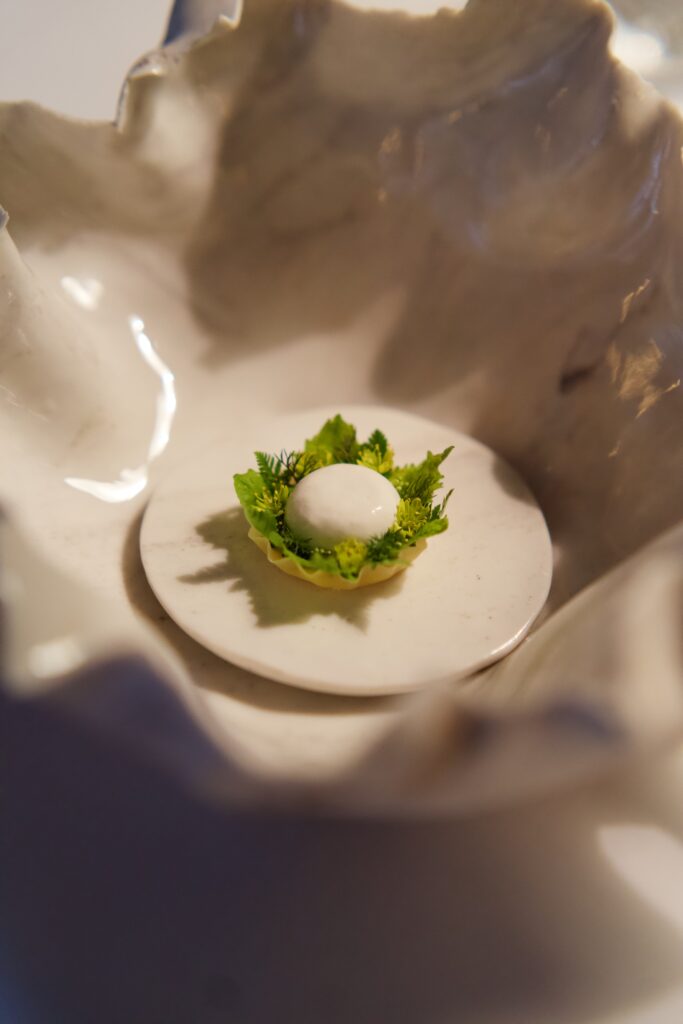 As the first snack arrived the third change was obvious as well. The food is extremely well designed in terms of flavor, presentation both the actual food but also the on which plate it is served for both the optimal visual expression as well as flavor where they constantly pursue that extra 1% that will set them apart from other amazing restaurants. The snack consisted of king crab, small herbs and sake. Breathtakingly beautiful and delicious. Designed to blow you away from the first chance they got.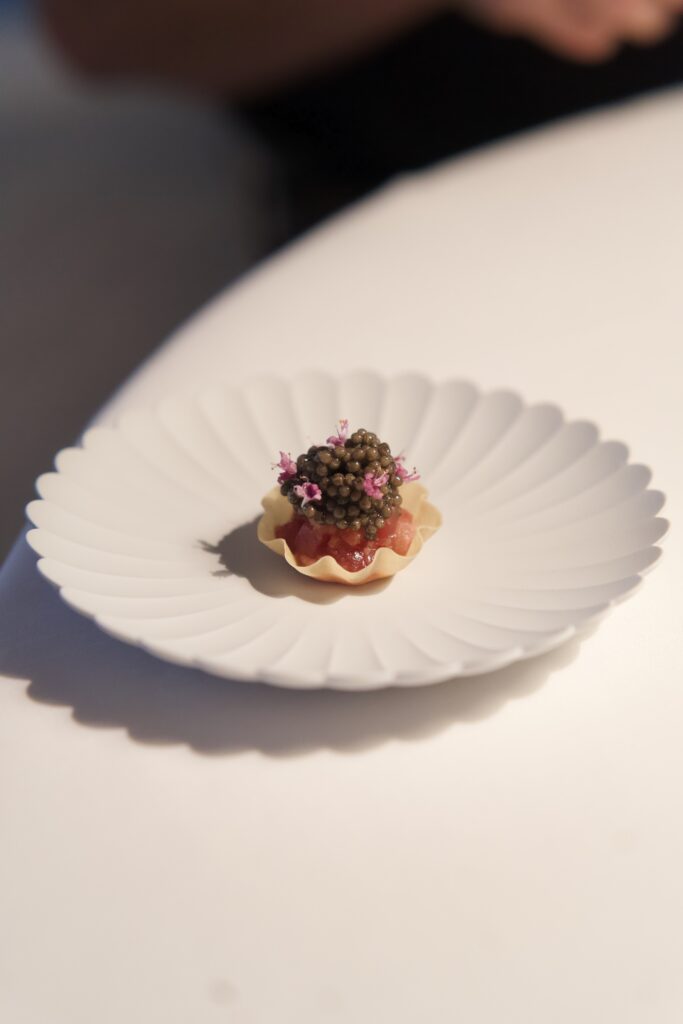 Introducing luxurious ingredients was up next. Cold Atlantic tuna with platinum caviar, soy and wasabi was just mind-blowing good. In the mark of the true great chef the tuna was served just cold enough to make a great contrast to the remaining ingredients and the wasabi provided just a bit of edge but not overwhelming. Just impressive.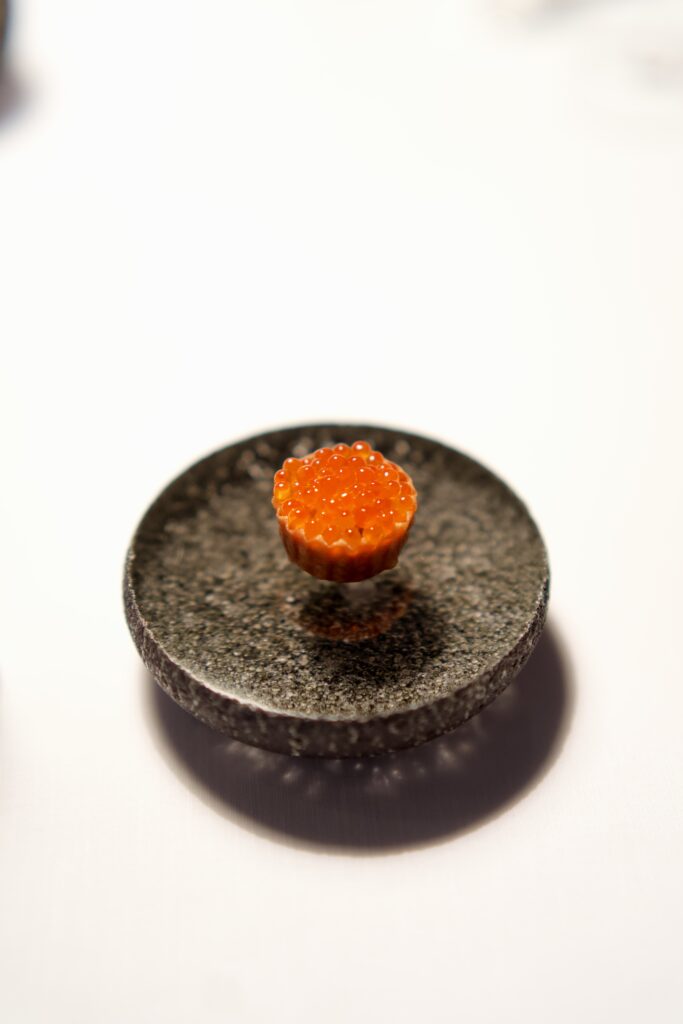 I am not sure what was most impressive about the next dish. The presentation or the flavor. The perception was that the small tart with lobster, yuzu and trout roe was floating while in reality plated on glass above the ceramic dish. Delicate and very delicious.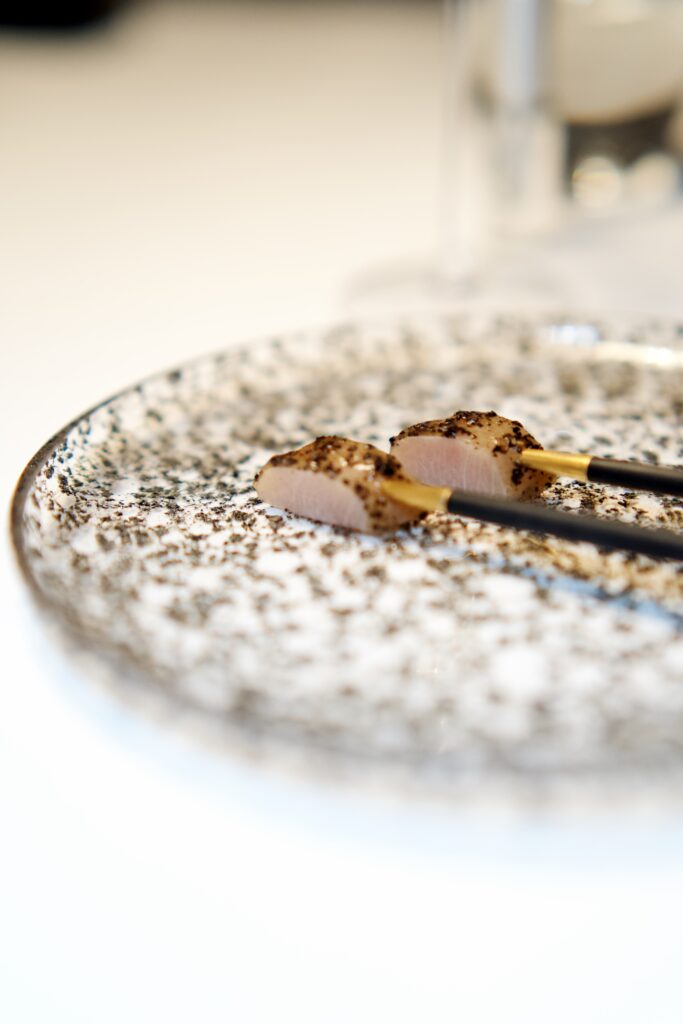 Hamachi was to be a recurring theme through out the menu as well as caviar, but what's not to like about that. The first time served raw with a bit of truffles and pickled ramson. The small amount of truffle gave great balance to the delicate Hamachi.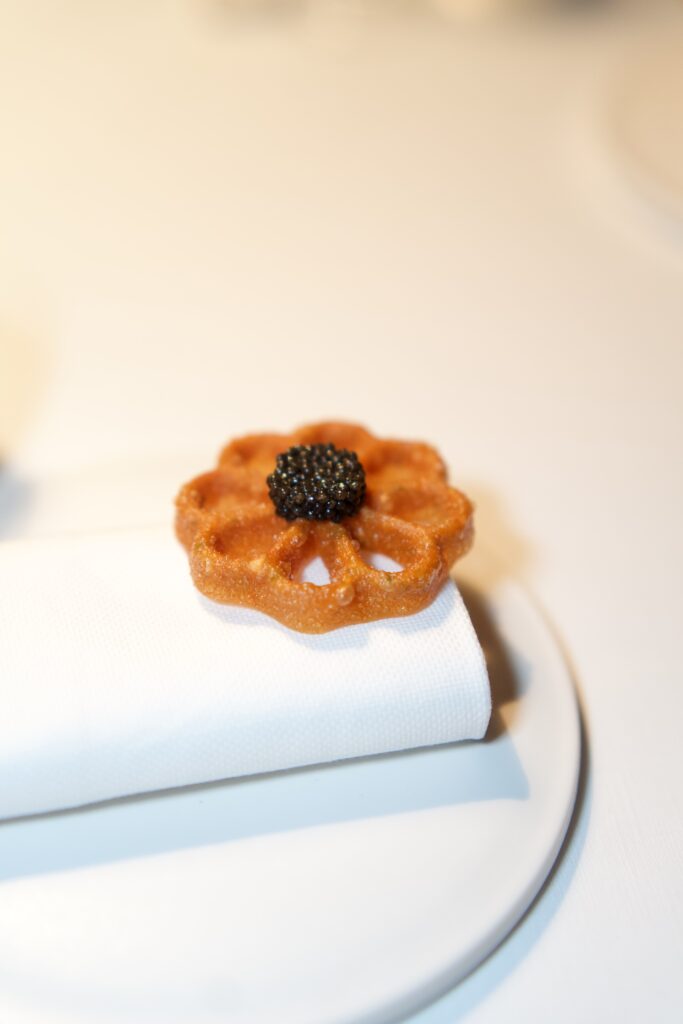 The next dish looked simple but I assume overwhelmingly complex to create. A rosette waffle filled with fjord shrimps and Baerri selection caviar. The umami from the shrimps was a wonderful contrast to the always delicious Baerri caviar. As delicious and decadent as it looks and I thinks it looks pretty great.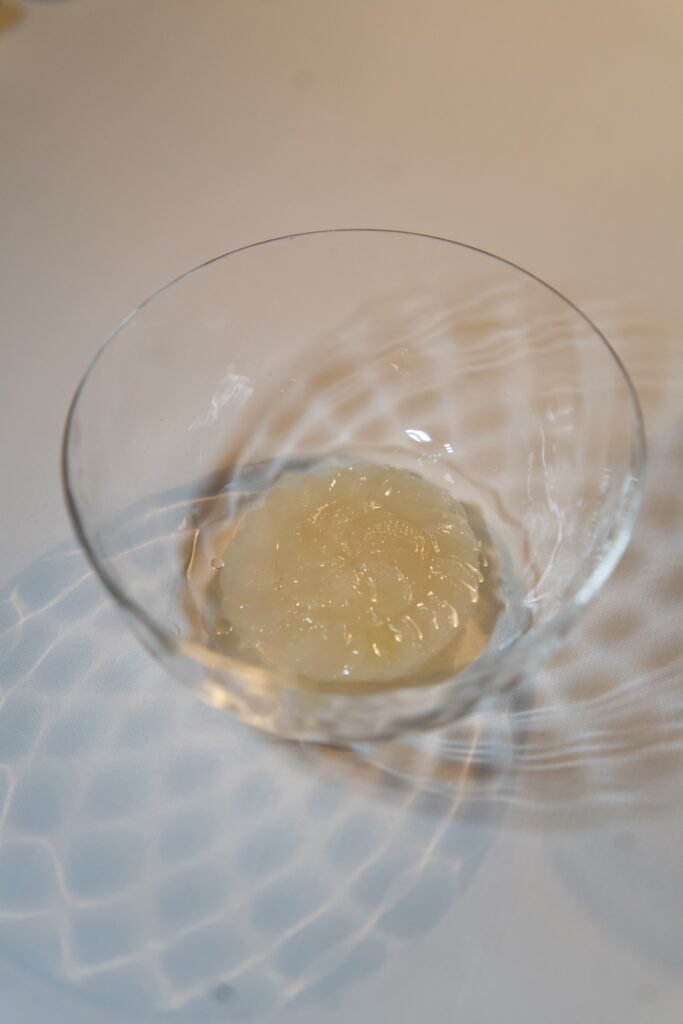 Now this dish may not look like much but damm was it good. Very small pieces of scallops, precision cut pears, fingerlime and an elderflower and white currant oil. A dish that worked on every level. Before diving into the dish I could not help to wonder the time it would take to cut and lay plus 20 pears forming concentric circles vs, the time it would take me to eat it.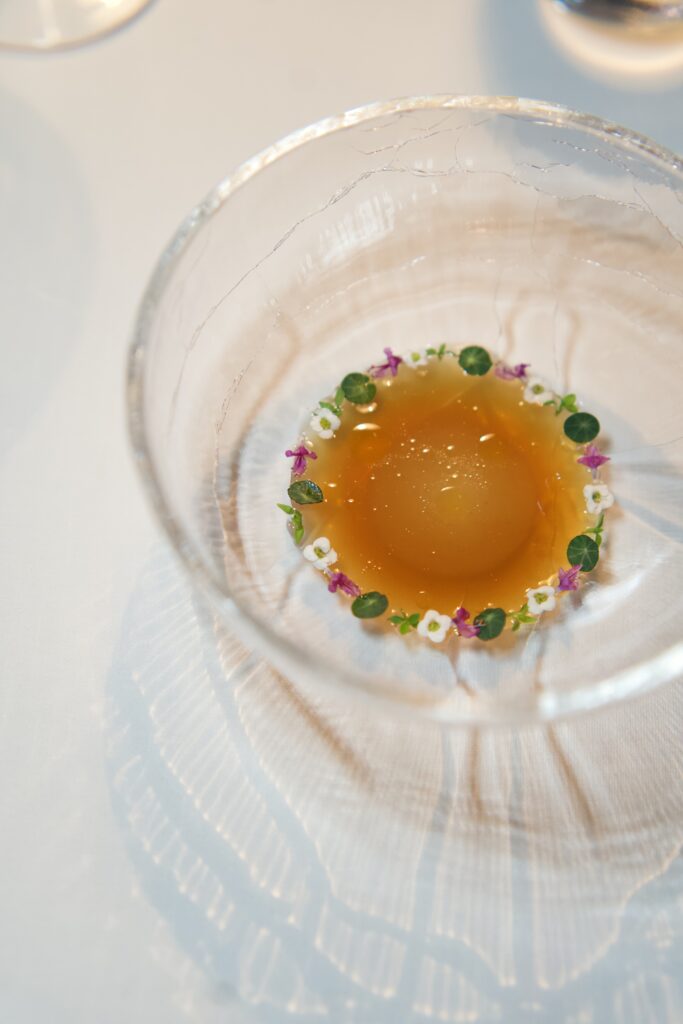 The same awe for the attention to detail and labor-intensive presentation was the case for the next dish. Langoustine, clear tomato broth and olive oil. The nasturtium was first to be cut out, using only the center in pieces less than 1cm to be arranged with flowers in the bowl with military like precision. It was as good as it looked.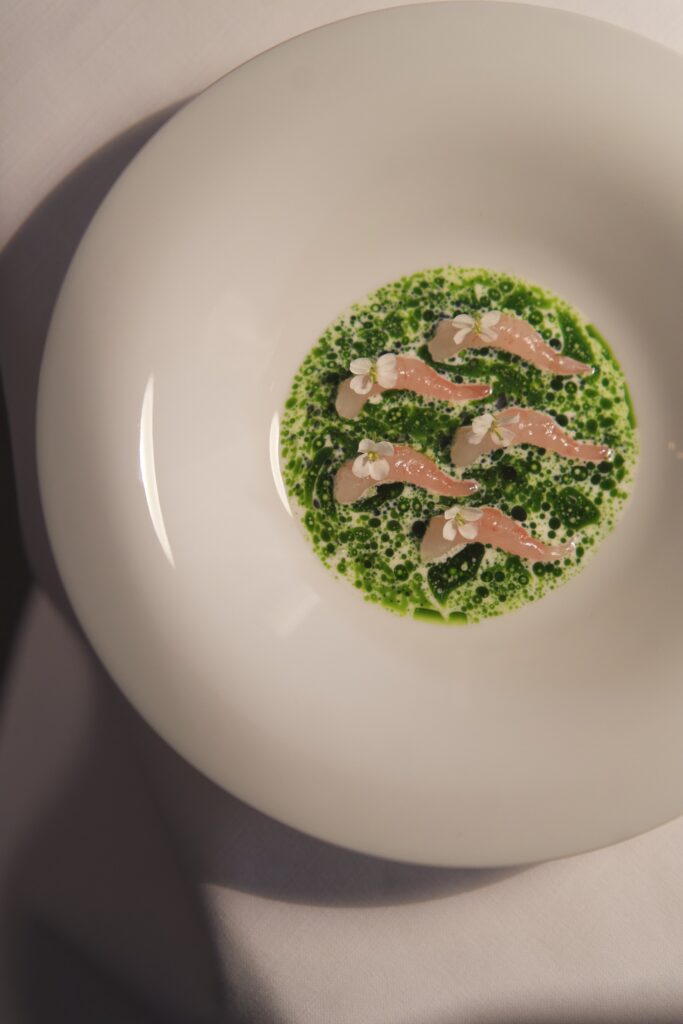 I am not sure but I think the next dish is the only dish that has been on the menu since day one. An homage to his old chef René Redzepi. The most delicious sweet raw shrimps served with a horseradish sauce split with dill oil. Now this was not a gentle touch of horseradish, no this was a full on "is it too dominant?" and smack you in the face strong horseradish. That amount of heat would normally just be too strong and would not work I this kind of setting, but it truly truly did. Despite looking like the same dish that I had 3 years early the flavor had transformed drastically, meaning that a small change in the amount of horseradish had completely transformed the dish. So chef, please keep it on the menu and keep pushing for that small change as it truly pays off.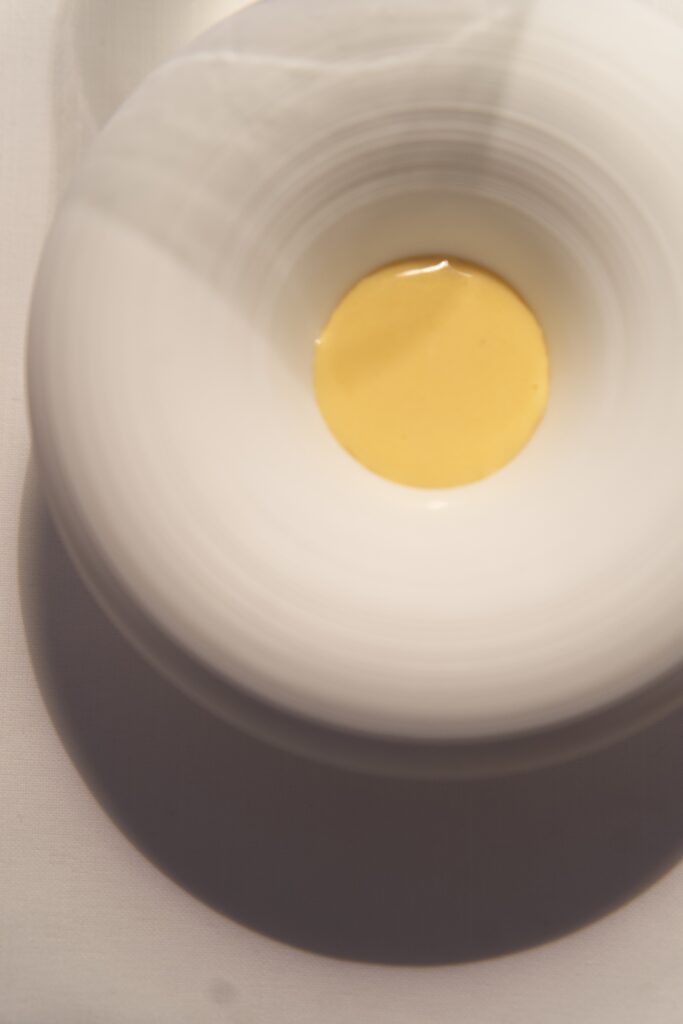 A seamingless monotone and simple looking dish would naturally hold great depths below. Lobster matched with red grapefruit and fermented asparagus. Especially the red grapefruit surprised and delighted me in an unexpected way.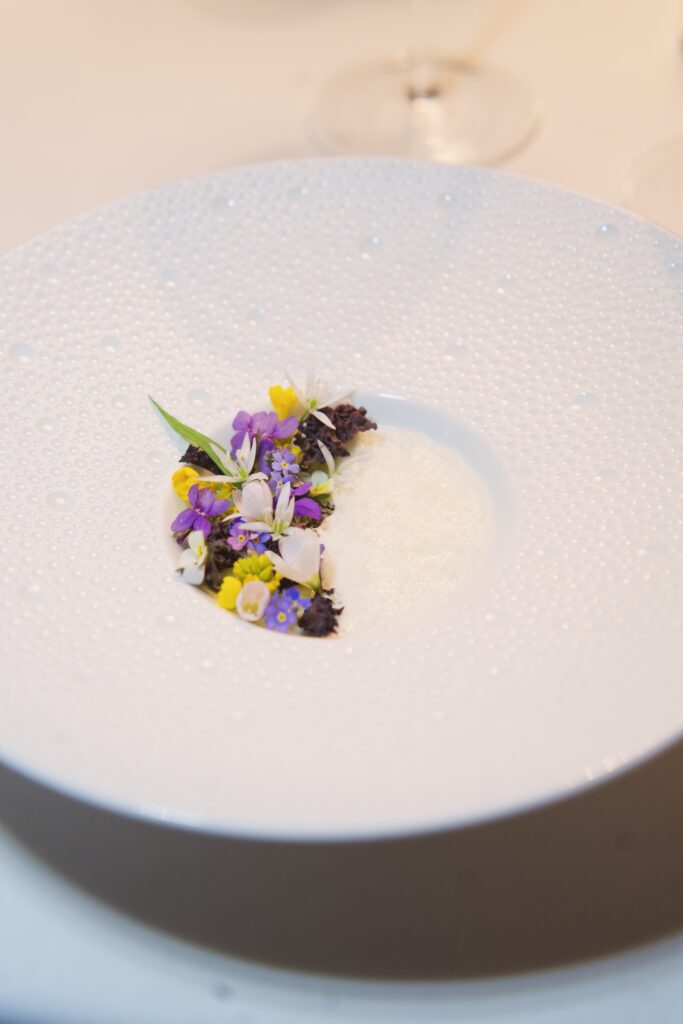 Now, the next dish was actually the only dish that I wasn't that big a fan of. Wild onions, different flowers with a comté and ramson sauce. Raw onions despite small in size holds very strong and dominant flavor that in my opinion was not balanced out sufficiently by the cheese sauce. Also a new dish on the menu so still a dish, that is early in its journey for perfection and just not quite there yet.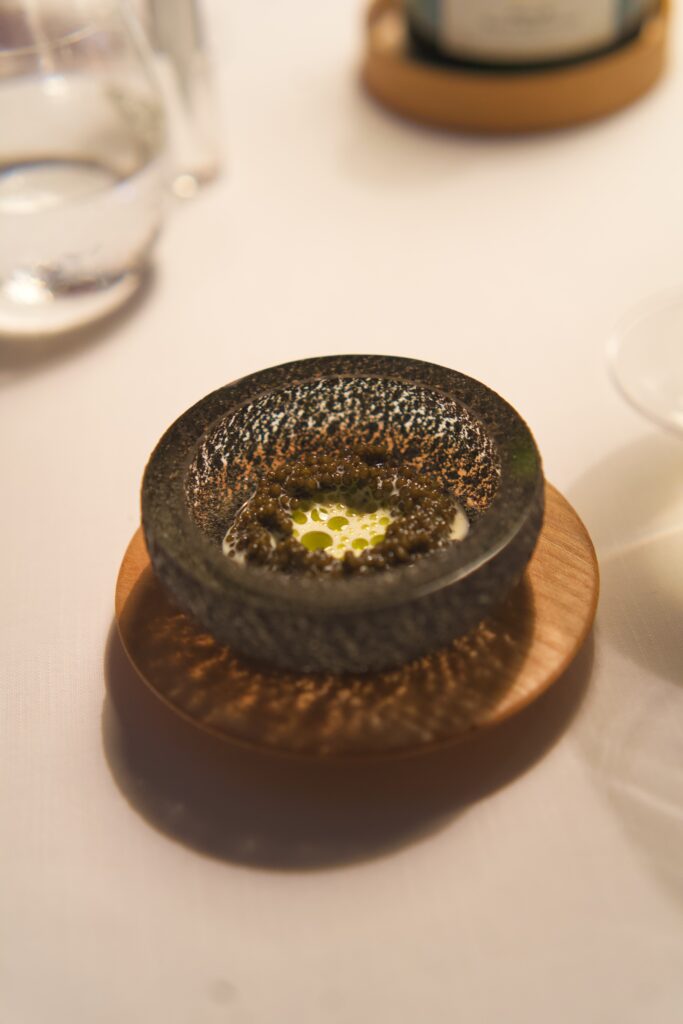 The next dish was there though. Presented by the big man him self as his favorite caviar Elecance Osetra Imperial caviar with miso and currant branch oil. The story behind the dish is that when he first saw the caviar, the color reminded him of that of the currant branch oil, so why not combine the two in a simple serving? Why not, exactly why not? Because it works. And as you might have seen, they are definitely not stingy with the caviar which is also hard when it's the main ingredient of a dish, but it also takes a lot of guts to make it the main ingredient. If for nothing else then just financially.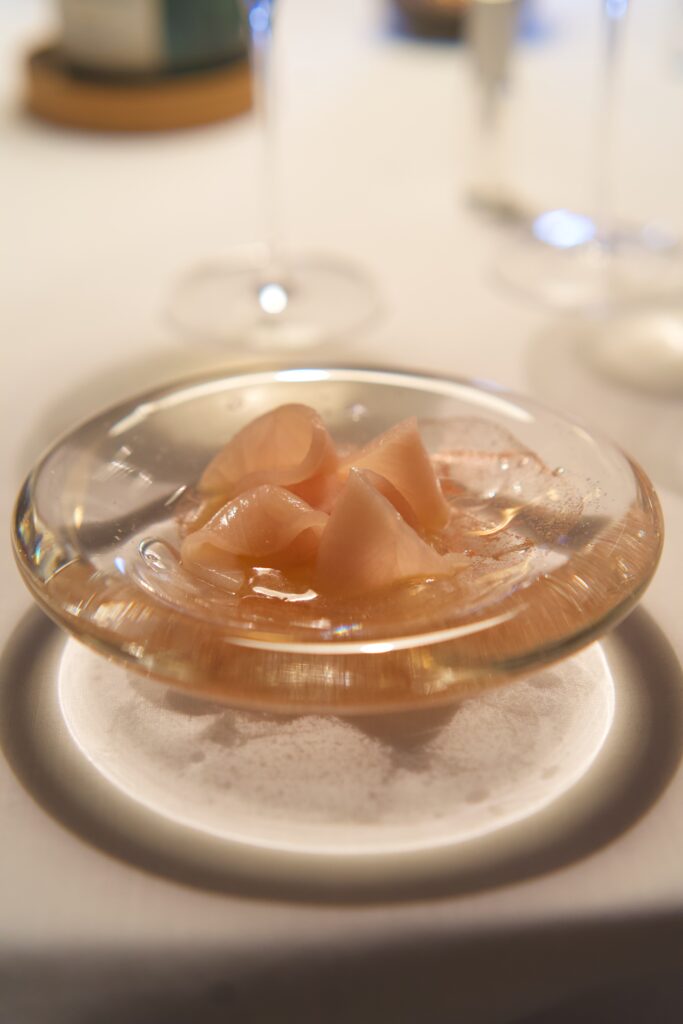 Another innocently looking dish of hamachi, sesame oil and ponzu would completely blow my socks off. The dept of flavor simply just worked and the powerful sesame flavor worked brilliantly against the soft and delicate hamachi.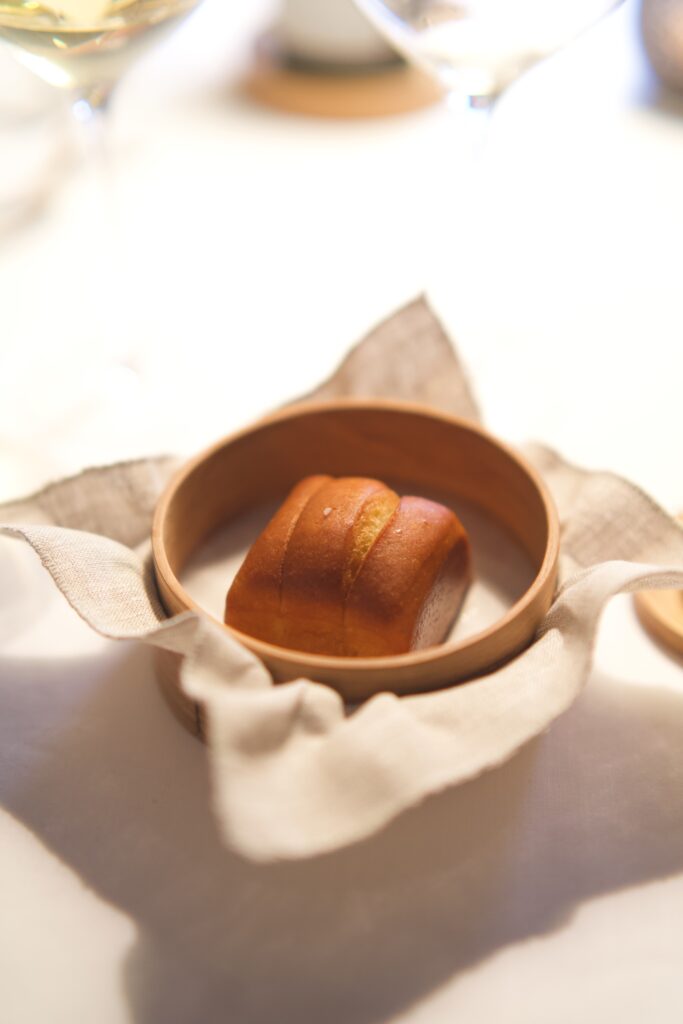 I have come to enjoy that bread servings are put front and center as their own dish. That was the case here as well with a small brioche bread basted with herb oil and innocently looking butter. Truly delicious and worthy of its own serving.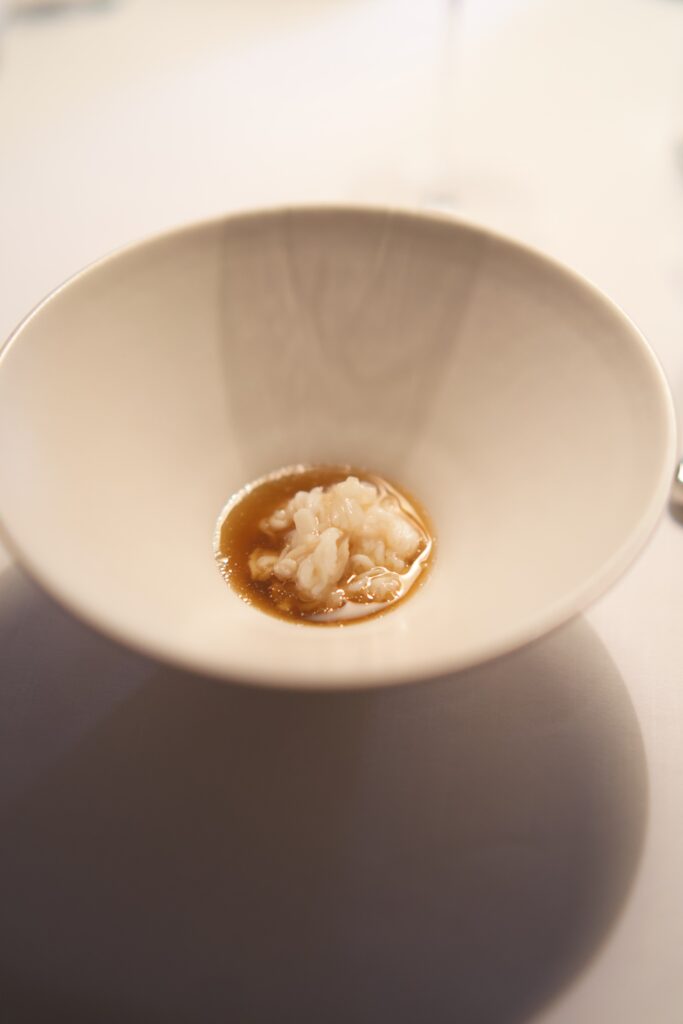 Another simple looking dish in the form of king crab imitating noodles with a light ginger dashi sauce. The soft flavors and textures of the crab had a great fit with the sweet dashi. It just worked in its own simplicity.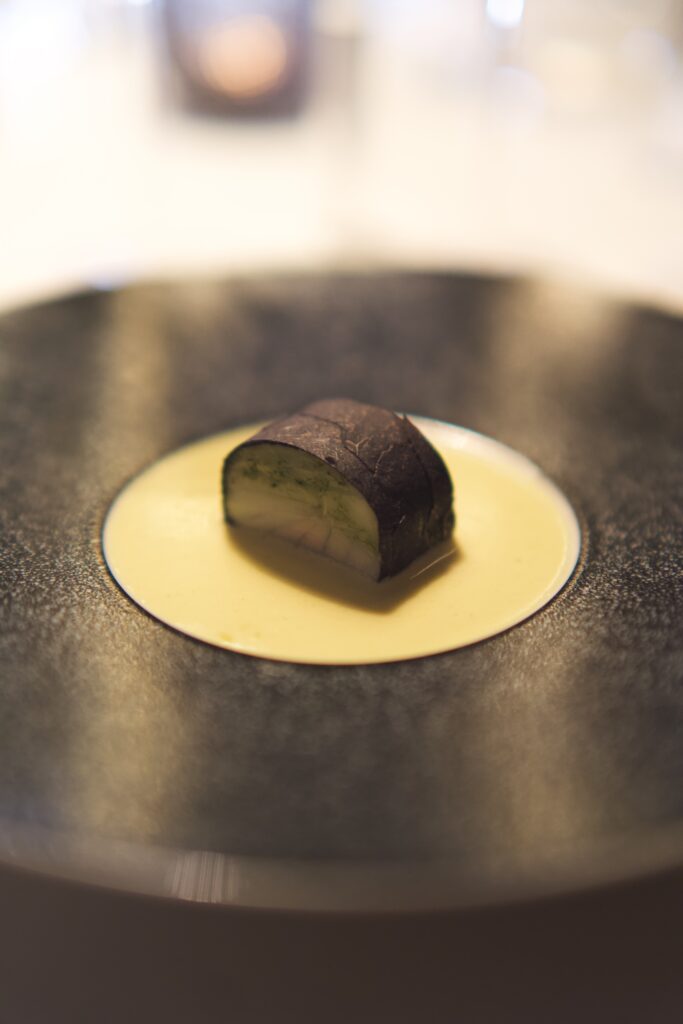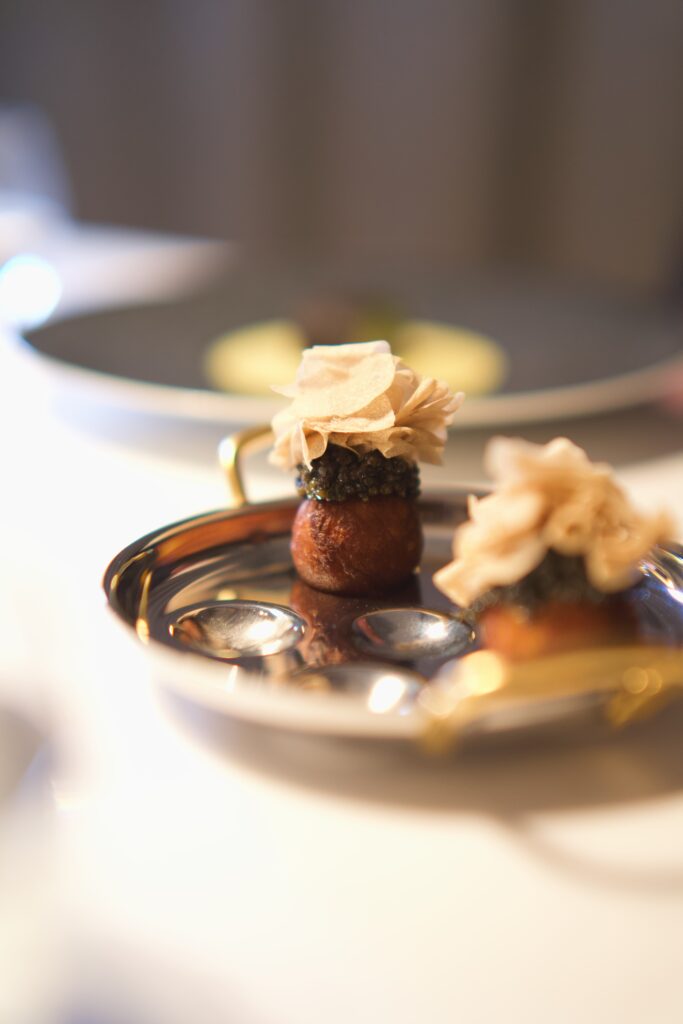 The next serving was a dish of two elements. A classic turbot in a baulottin like setting with beurre blanc that had been spiked with yuzu and the most perfectly layered black truffles. A combination that with few exceptions could be found in so many other restaurants but not executed to this level of perfection. The second part was also an almost classic 3 Michelin star combination: white truffle, Takoyaki and caviar. Another mouth-dripping dish.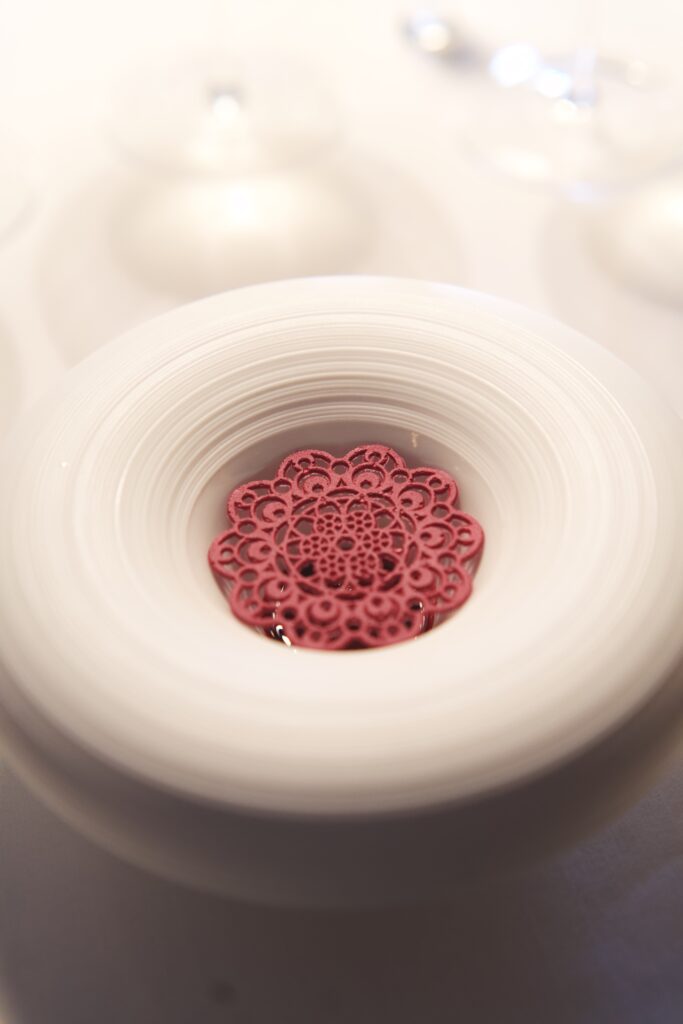 Our first dessert was another classic combination of beetroot, black currant and goat milk. A soft goat milk went great together with the earthy beetroot and a nice transition with a slightly savory dessert before moving into the sweeter ones.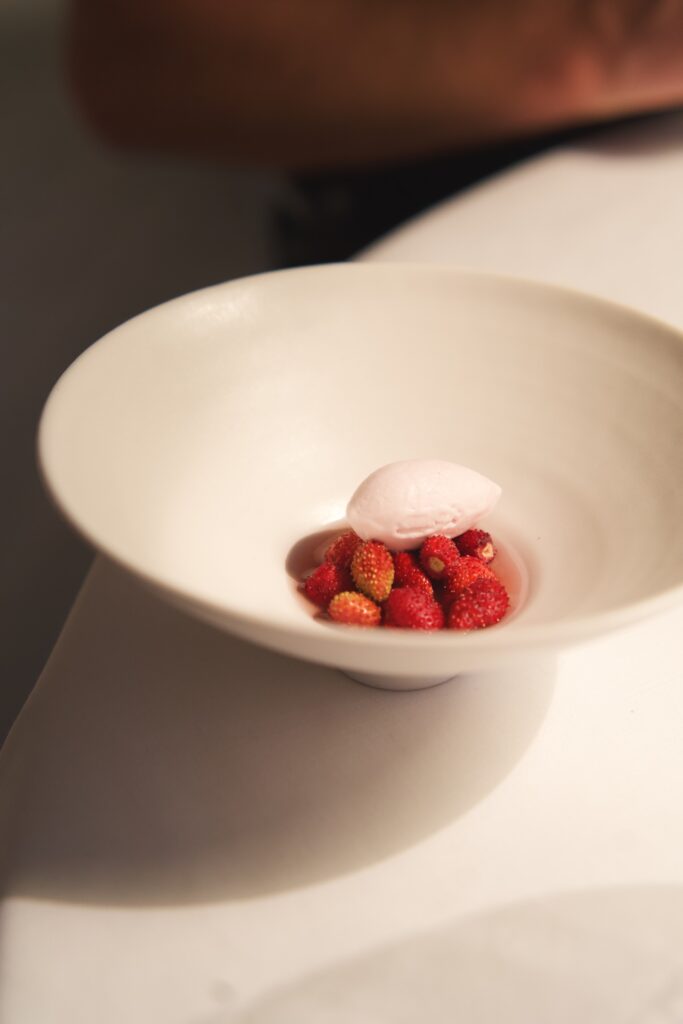 It is Spring so when you have the option to serve the smallest wild strawberries, you should jump at the chance and you should keep it simple and just let the product speak for itself. They did all of that serving fresh strawberries with elderflower juice and a very light strawberry mouse. Pure, simple deliciousness.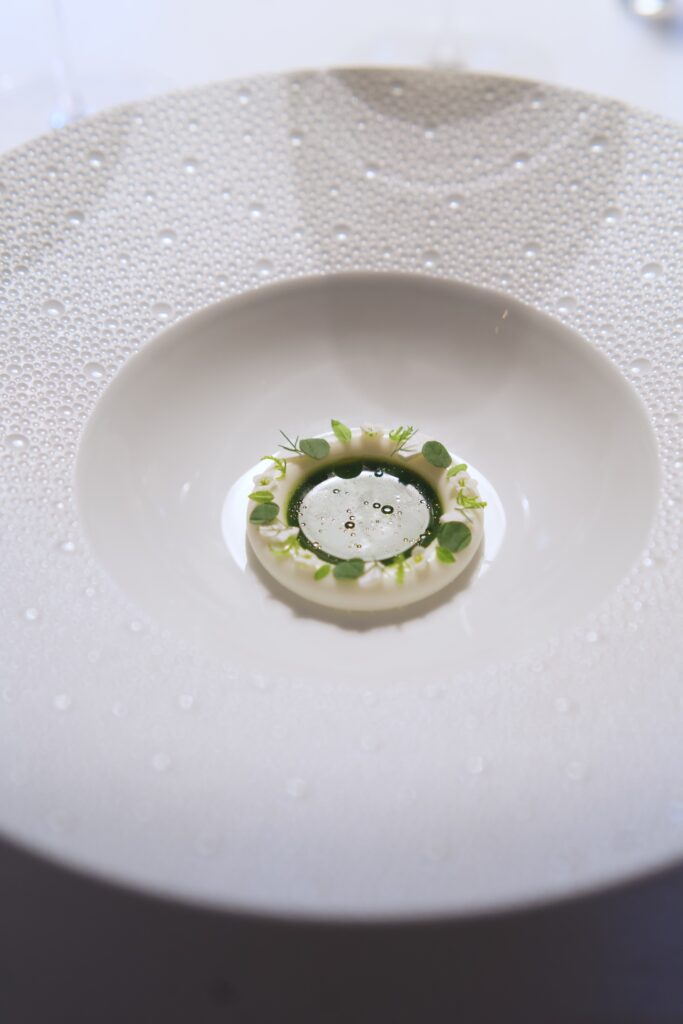 Woodsorrel and sheep milk is another classic combination that works well together so why complicate things. So they didn't. At least not flavor-wise, but it would be a shame to call the beautiful presentation simple. I call it a work of art.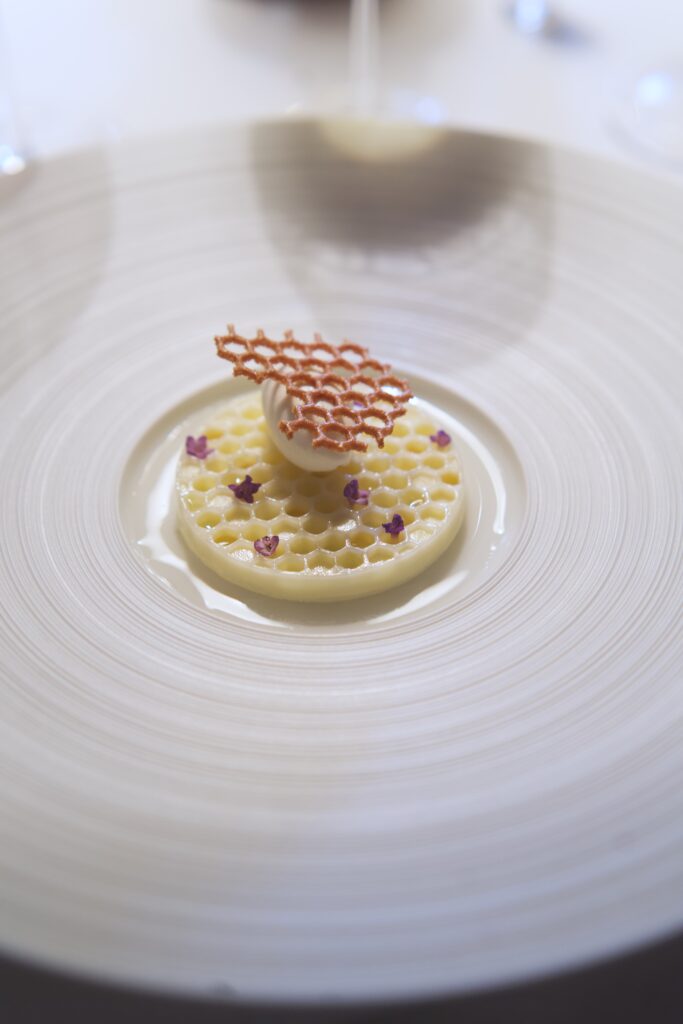 With the last dessert served in the main dining room "simple" was not a word you would use. Honey, lavender and chamomile was served in a beehive like structure. Some of the gaps filled with lavender jell. Just delicious soft flavors with honey at the center stage.
We were to finish this tour de force of perfection in the kitchen with a last caviar serving. This time mimicking the Danish ice cream Kung Fu through Friis-Holm creme, a bit of honey and white chocolate. Do I even need to say that it was an impressive serving and its almost even more impressive when its already laid out in front of you when entering the kitchen.
Concluding on the experience, well I already gave it away in the description of the first snack. A famous Danish chef gave a motivational speech to his staff where the story is that humans and monkeys share 98% DNA and that latter 2% means all the world. That is also the case for Jordnær. Since my last visited they seem to have went through all the processes in the restaurants looking for improvements and whether it being a 1% improvement or the more drastic changes. All of those improvements are both in the kitchen and the service which runs with a precision that would make Swiss clocks jealous. The table wear and wineglasses are masterpieces as well and the heart of the restaurant in the form of the kitchen has also gotten a major upgrade. Being open only 4 days a week not including weekends I also see as a search of perfection as a balanced family life is an obvious necessity if you are striving for perfection in your professional life.
Perfection, elegance, decadence, visual stunning presentations, insanely luxurious and great ingredients are the words that I think best describe my experience at Jordnær. Our meal was a spring menu where everything in Denmark is usually focused on seafood and the fresh vegetables you get are small and delicate, so its not usually a time where the restaurants with a strong terroir focus presents menus that have flavor explosions but rather small delicate flavors. I am therefore curious if the winter menu is one that has more intense flavors than on the current menu where everything, the raw shrimp dish as an exception, represented feminine delicate flavors, so I missed a bit more width in terms and using a bigger part of the flavor spectra such as deep umami flavors as it would set the individual dishes even more apart.
In my own way of thinking about how much I love a restaurant I usually ask my self the question "how soon do I want to go back?" Already midway through the meal I was thinking to my self that I need to come back. That for two reasons. 1. Its an experience that can be hard to completely take in all at once and 2. I would very much like to share this experience with my wife as well as she like every other guest cannot avoid being seriously impressed with this new gastronomic temple.
Returning to the obvious question. Will they get 3 Michelin stars and should they? The answer is clearly yes to both. When, only time will tell.
Eric and Tina thank you for allowing me this wonderful experience that it was to be invited into your home that is Jordnær.  
In all fairness and transparency, I was invited by the restaurant, but I would have loved it either way.
Website: www.restaurantjordnaer.dk
Head chef: Eric Vildgaard
Menu: Tasting menu only
Price: $700 for the tasting menu including wine
Location: Gentofte, Denmark