In recent years I have given just a bit more attention to Danish restaurants outside Copenhagen. One reason is obvious. The quality has gone way up and two sometimes they come at half of the price of their Copenhagen counterparts. Lastly the staff is more often than not Danish which can give a very different feel than where they are international.
Ghrelin is one of those restaurants I had on my list so when an invitation came I jumped at the chance. The restaurant is located in Aarhus which is about 2,5 hours from Copenhagen by train or just 40 minute by plane. The city holds several other Michelin star restaurants so plenty to do for a dedicated foodie.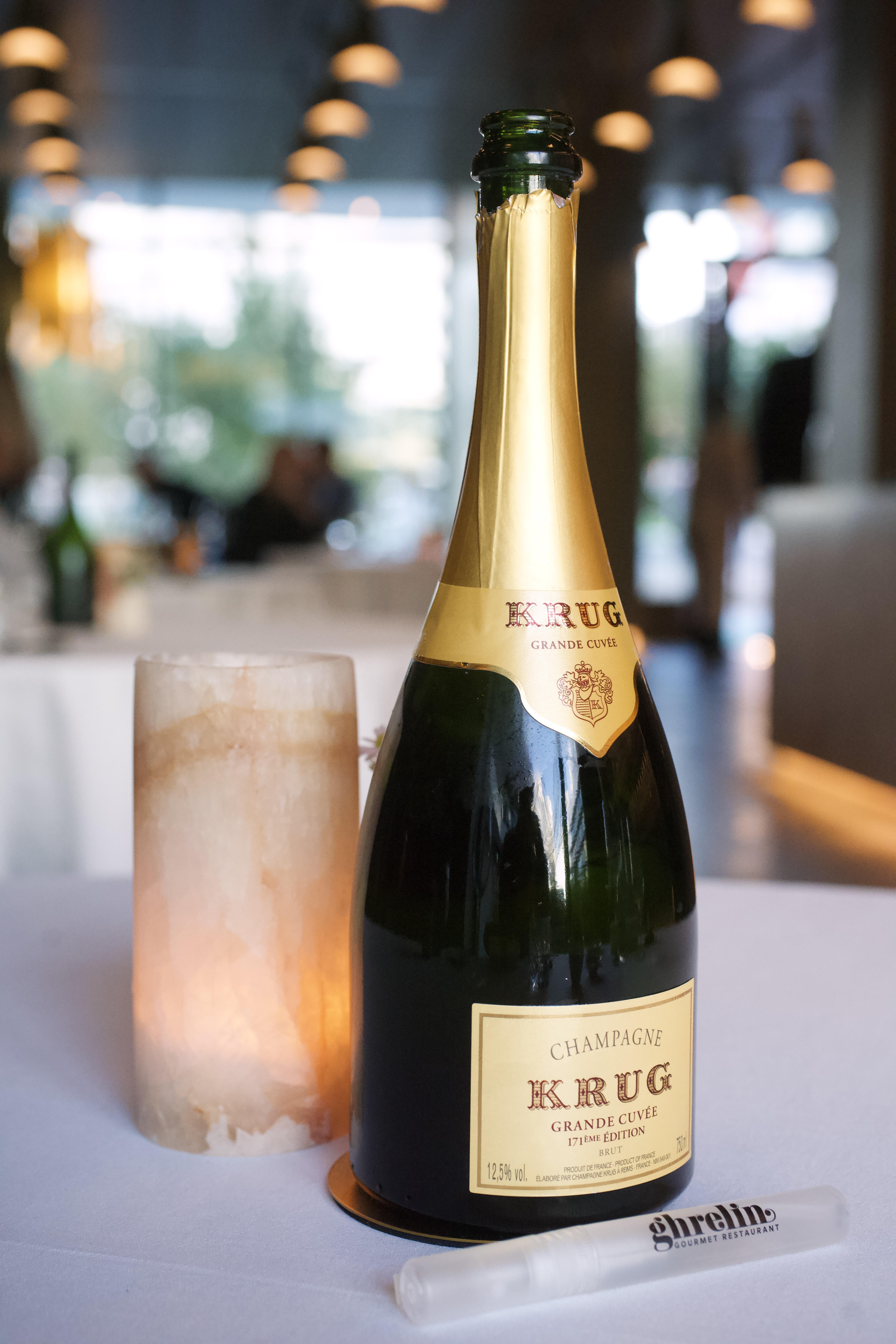 Ghrelin is based on French cooking style but naturally in a Nordic context with local produce and more lighter dishes. A constellation that you see more and more for good reason. It works. The restaurant is also a Krug ambassador so if you want and are willing to spend a bit more on wine Krug comes by the glass and is often also part of the wine menu if you go all out. This was a big selling point for me.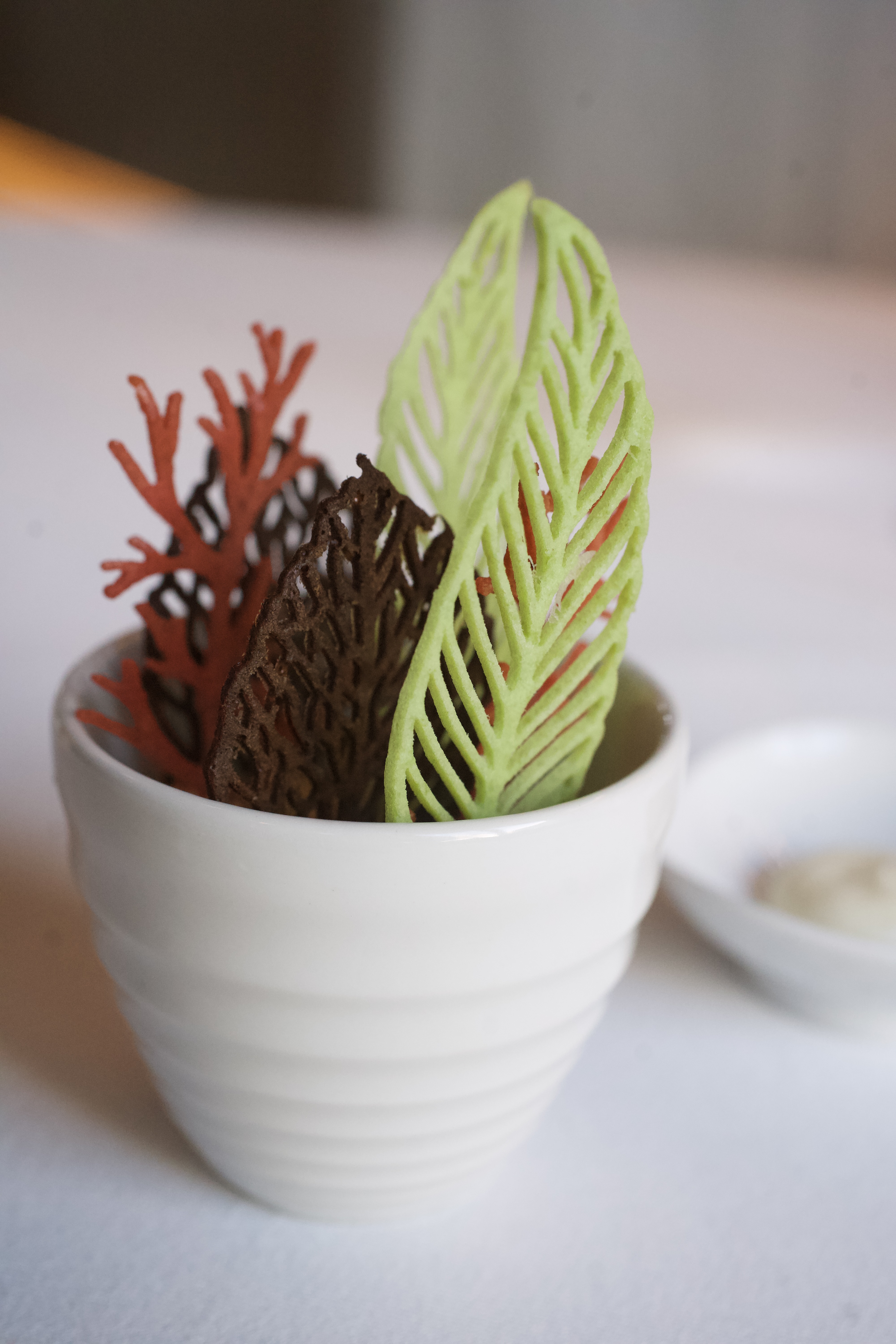 As usual we started with a series of snacks showing off the different sides of the kitchen. This from delicate and colorful tuille where it wasn't just the colors that were different the flavors as well to a small umami rich tarte with oyster and mussel sauce and lots of Parmesan cheese. The third one would show off a bit of technical skill with a cherry leather wrapped around a smoked piece of duck tartare. A snack that was obviously very delicious with its smokey and sweet flavors. The final snack would be two "samosas". One fried with "beef stew" and one refreshing with glas kål and smoked cheese. An impressive start where flavors were on point and the execution was spot on and the pairing with Krug was simply just perfect.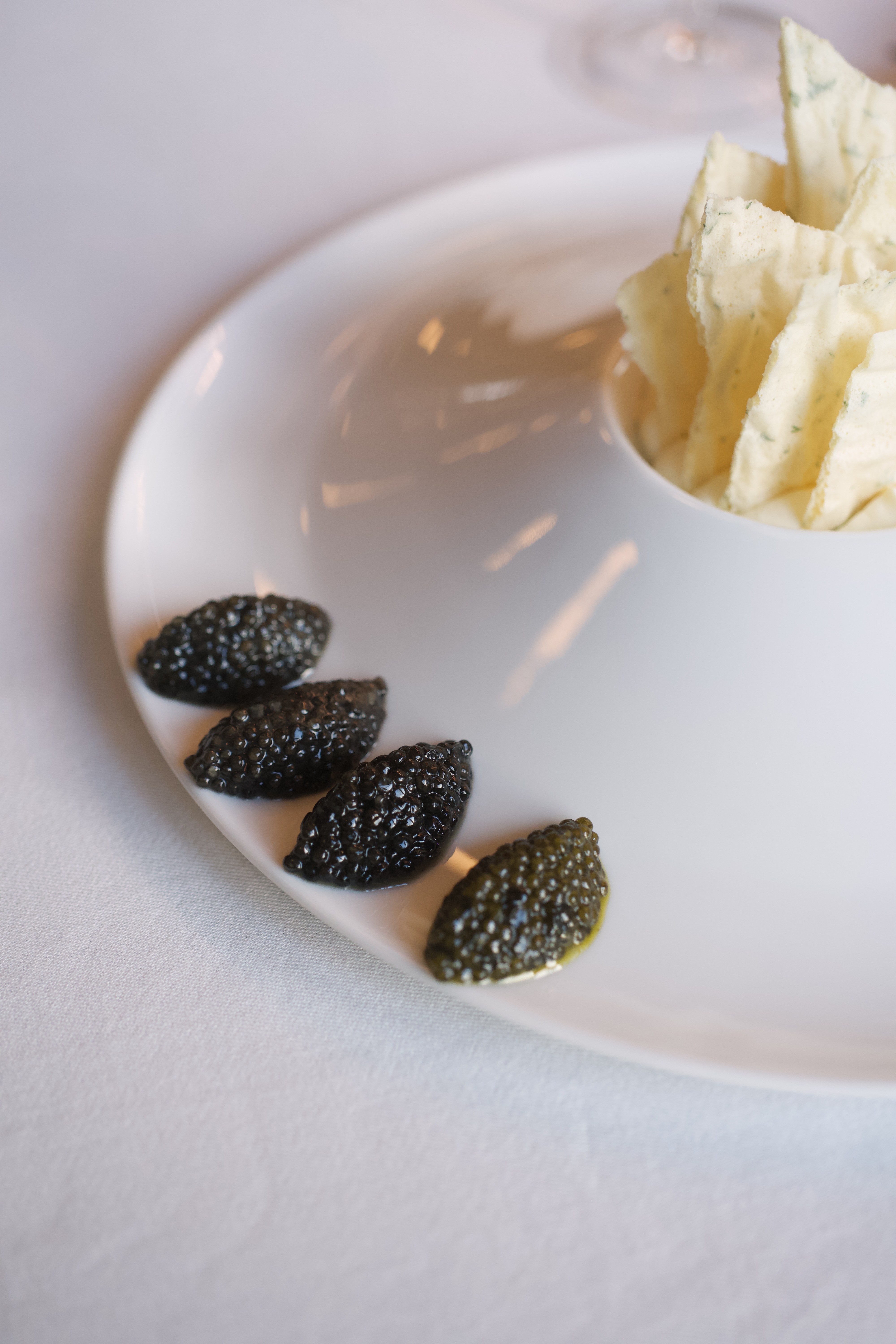 An addition to the regular menu was a small caviar tasting of 4 different caviar from different producers. It was paired with small crackers and a lemon "mayo" which cleansed the mouthfeel nicely from the salty caviar. A fun concept where you could dive into the differences in the flavors of caviar.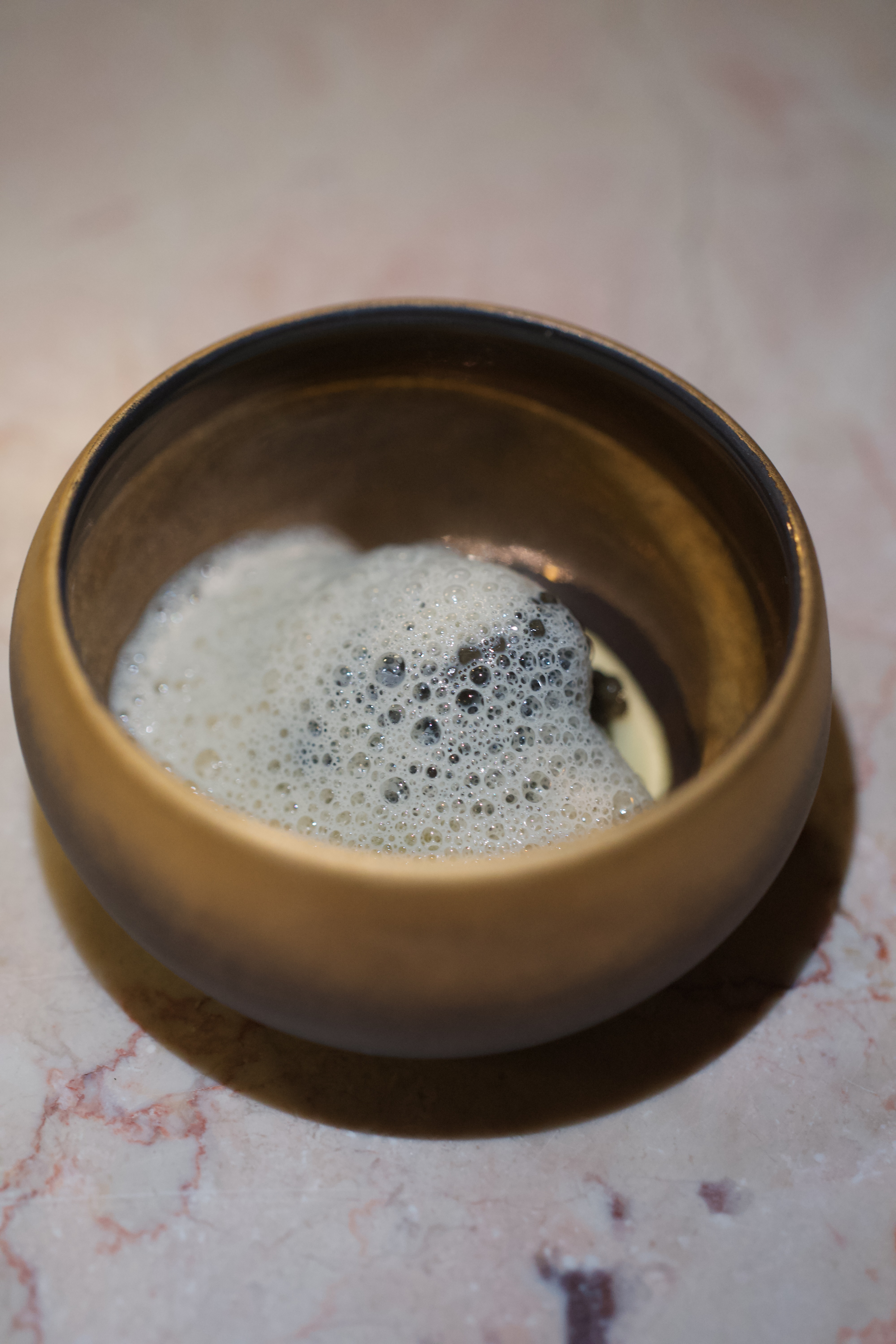 After a tour of the wine cellar we would have our first regular dish in the lounge. It was a classic combination of small balls of crisp potato with mashed potatoes caviar and brown butter. Pure umami and great flavor. I also really liked that they used the proper amount of caviar where it actually makes a difference in the dish.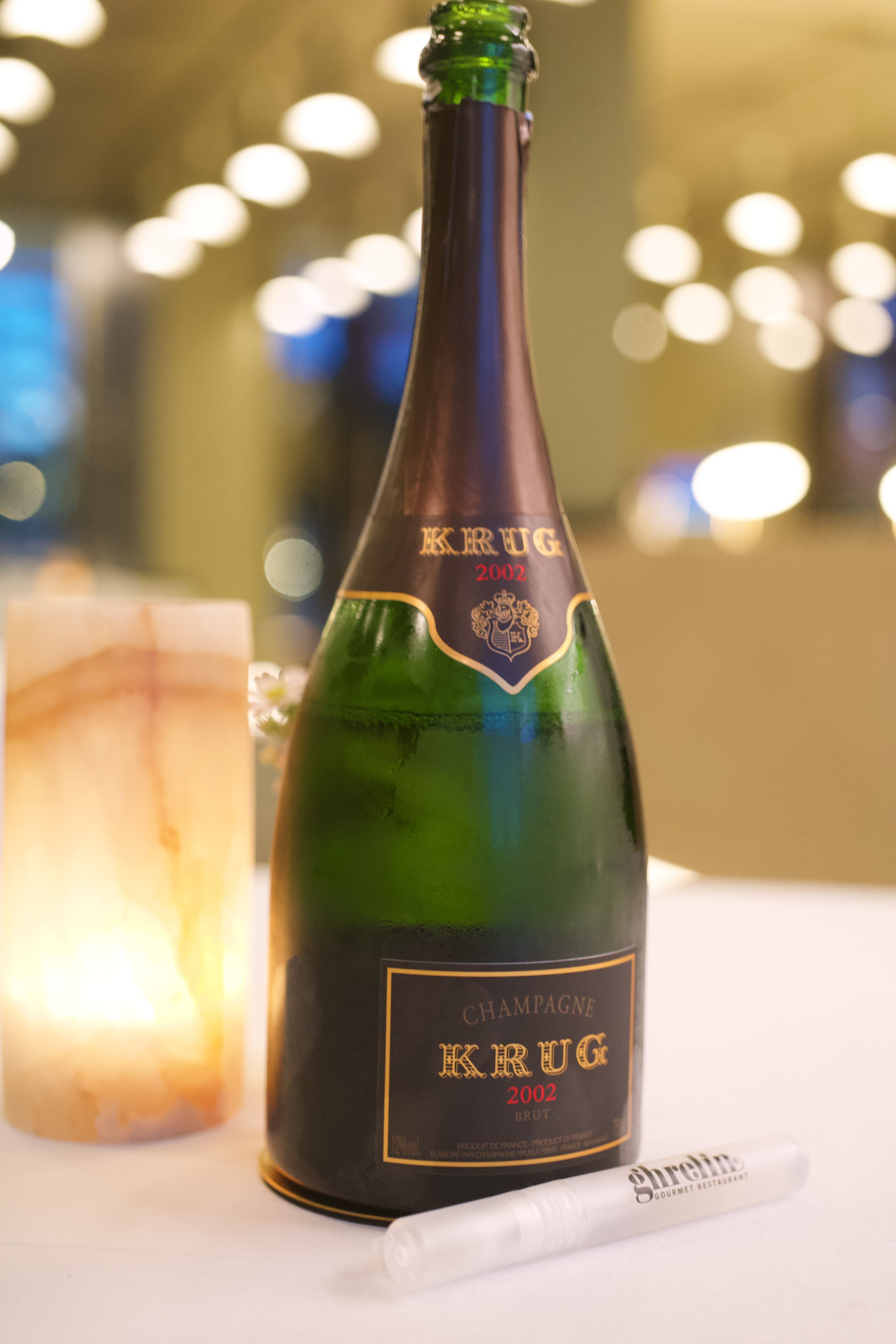 Back in the main restaurant we would have our third glass of champagne and this time a Krug 2002. A seriously delicious and rich champagne that was paired perfectly with salted Norwegian scallop, yuzu and more brown butter. A dish that you can only love for its great flavor.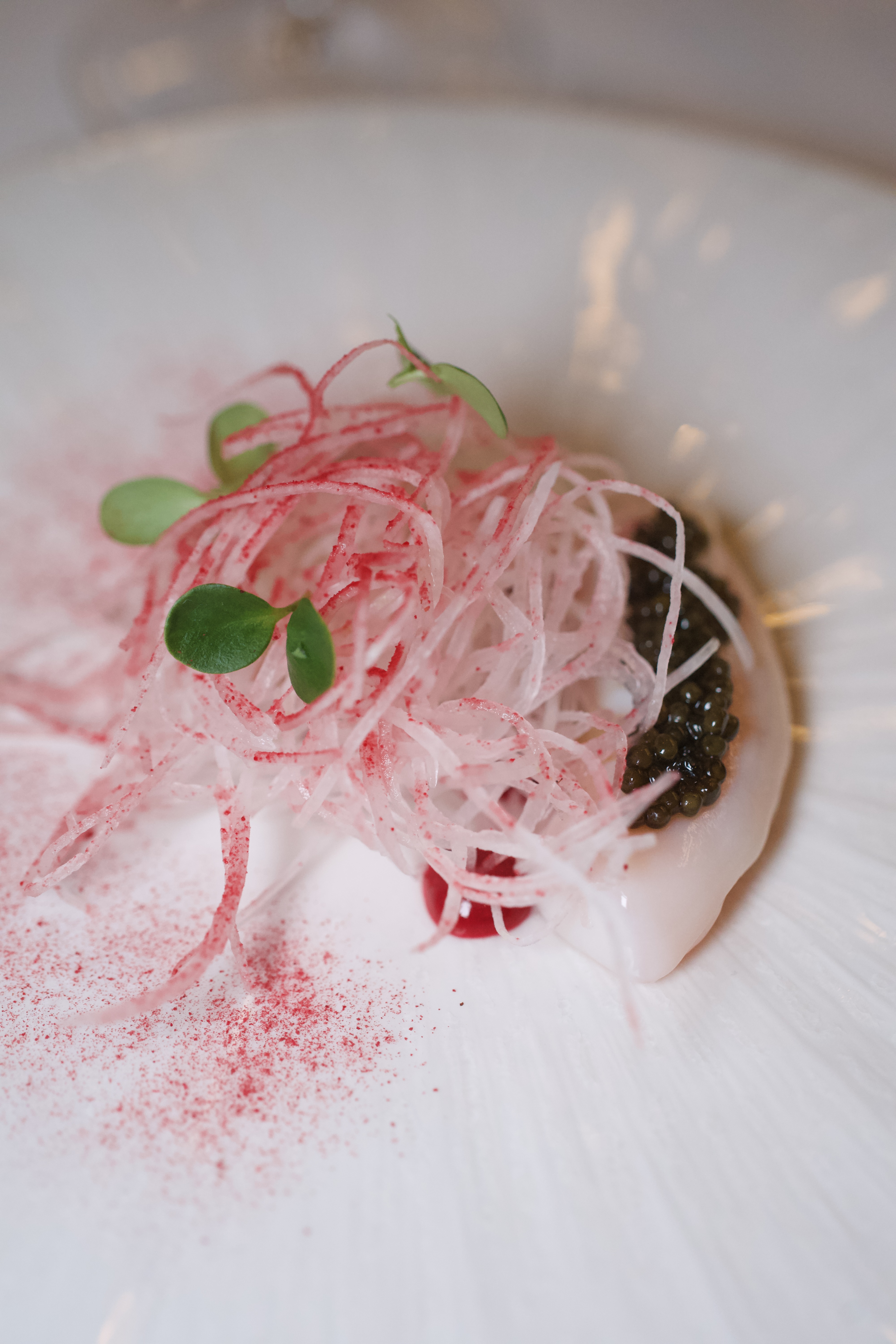 The next dish was the only dish of the evening that to me didn't quiete hit the mark. Scallop with a crème of crème fraiche kohlrabi and raspberry. For my preference it was just too sweet and a sweet Riesling pushed the flavor more in that direction.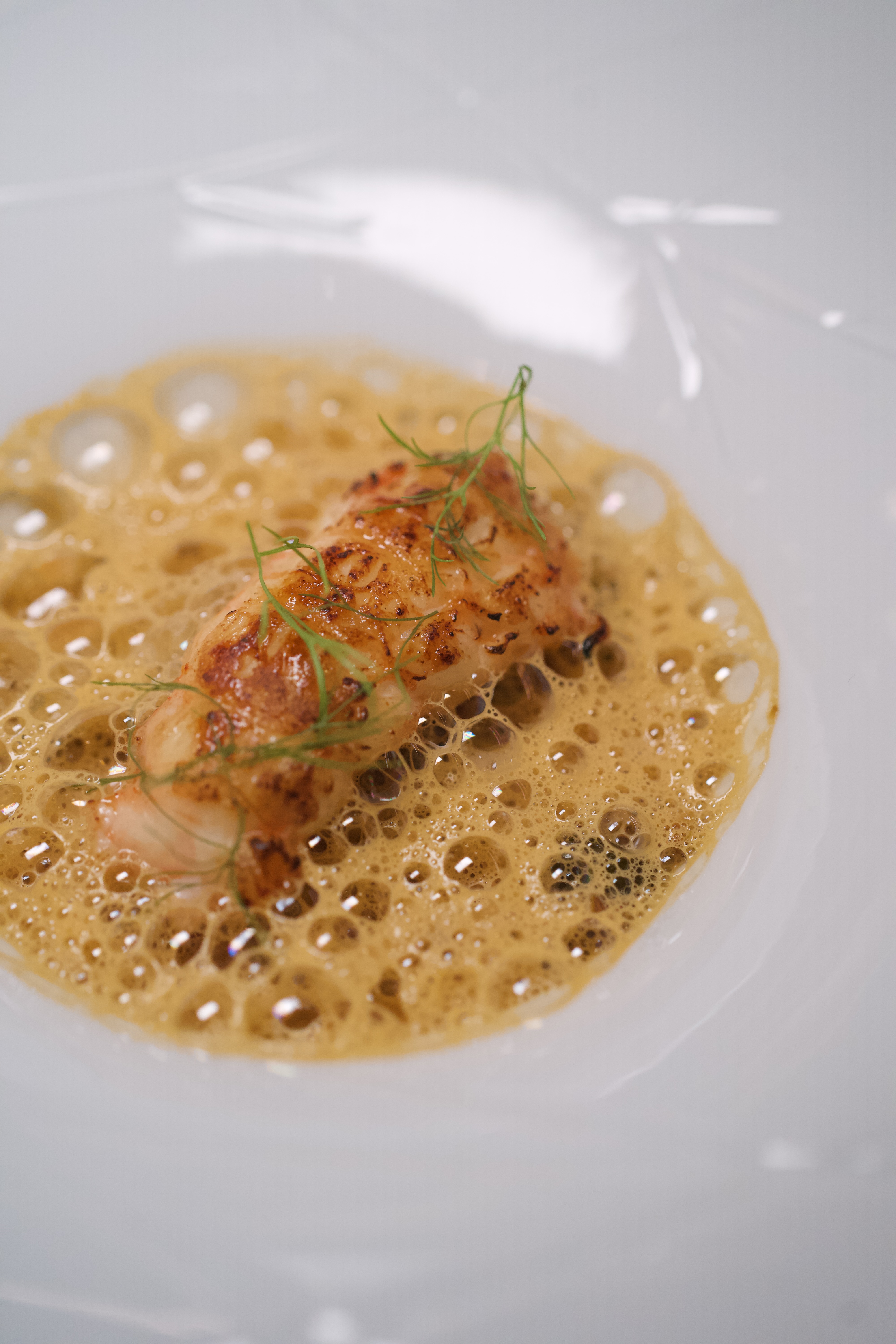 With the next dish we were back on track with a langostine tail with bronze fennel and a rich delicious bisque. If I remember correctly also a few pistachios which gave a nice bit of crunch to the dish.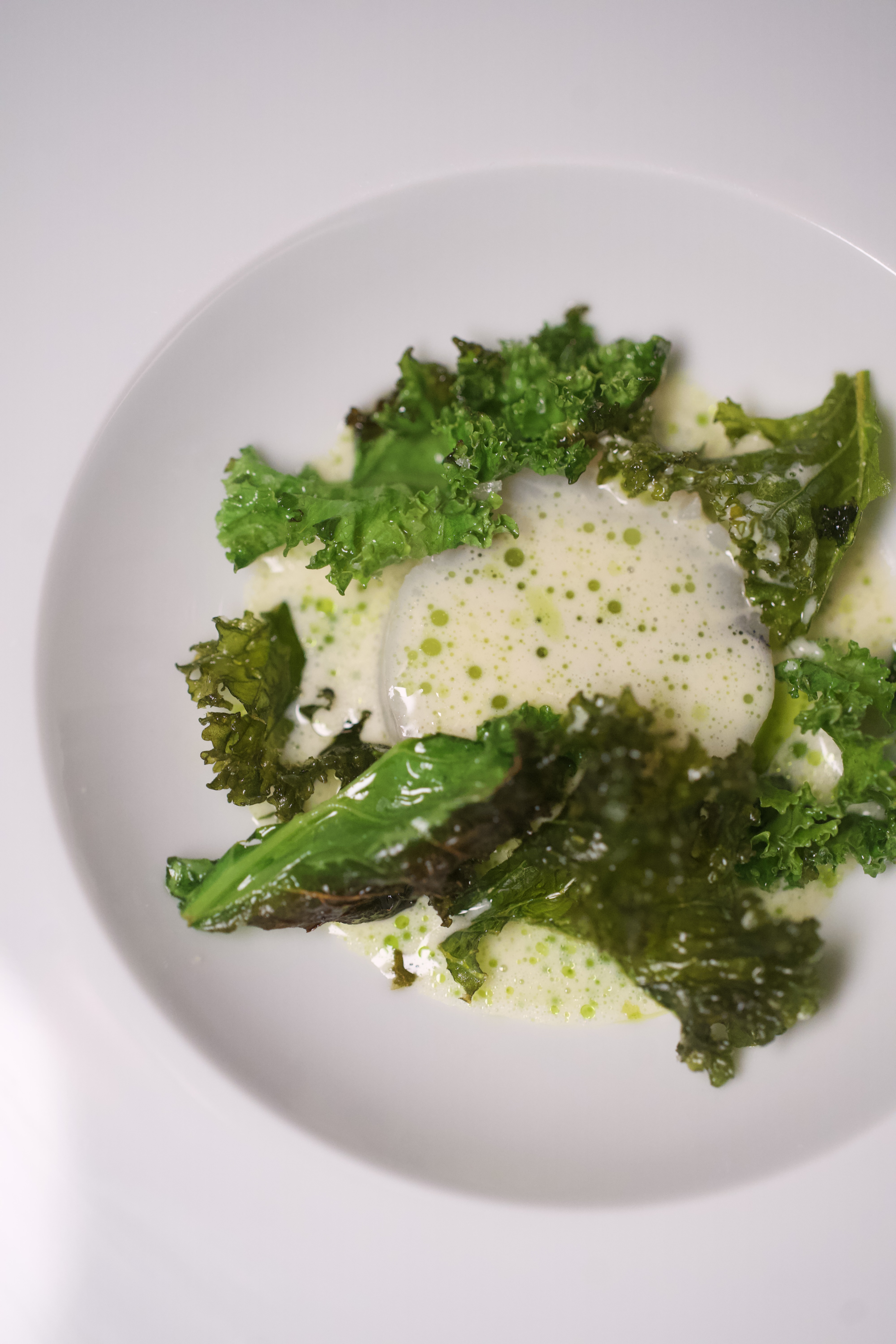 We would now venture to a dish with more classic Nordic flavors with a cod served with crispy cale and a light buttery sauce split with dill oil. Perfectly executed and very nice flavors proving that the restaurant can do classics both within the French cooking as well as the Nordic.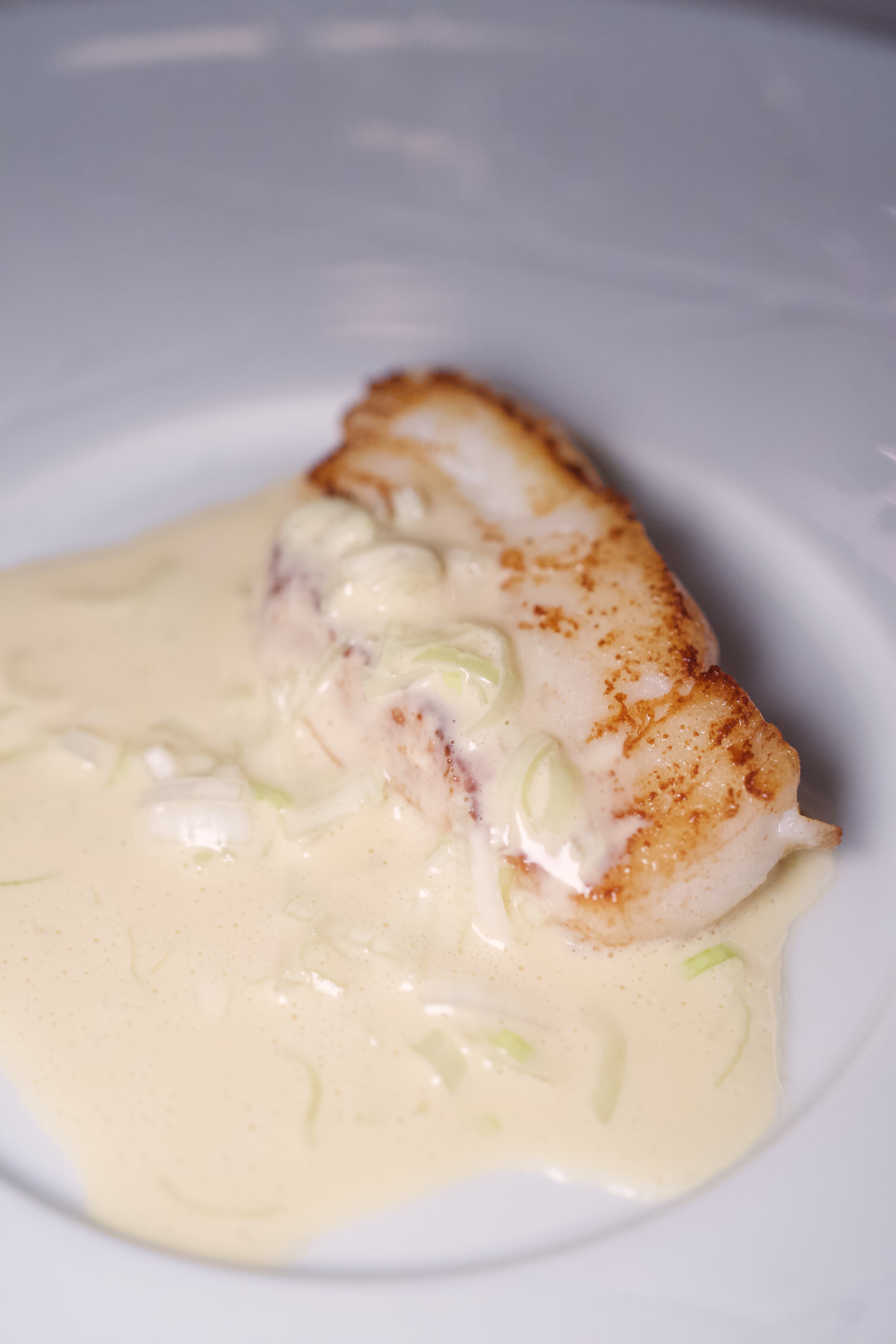 At this point it was clear that sauces would play a big part of the style of cooking. A piece of cod filet would be served with a sauce based on leeks and stock if I remember correctly. Sweet and nice but it didn't leave a huge impression.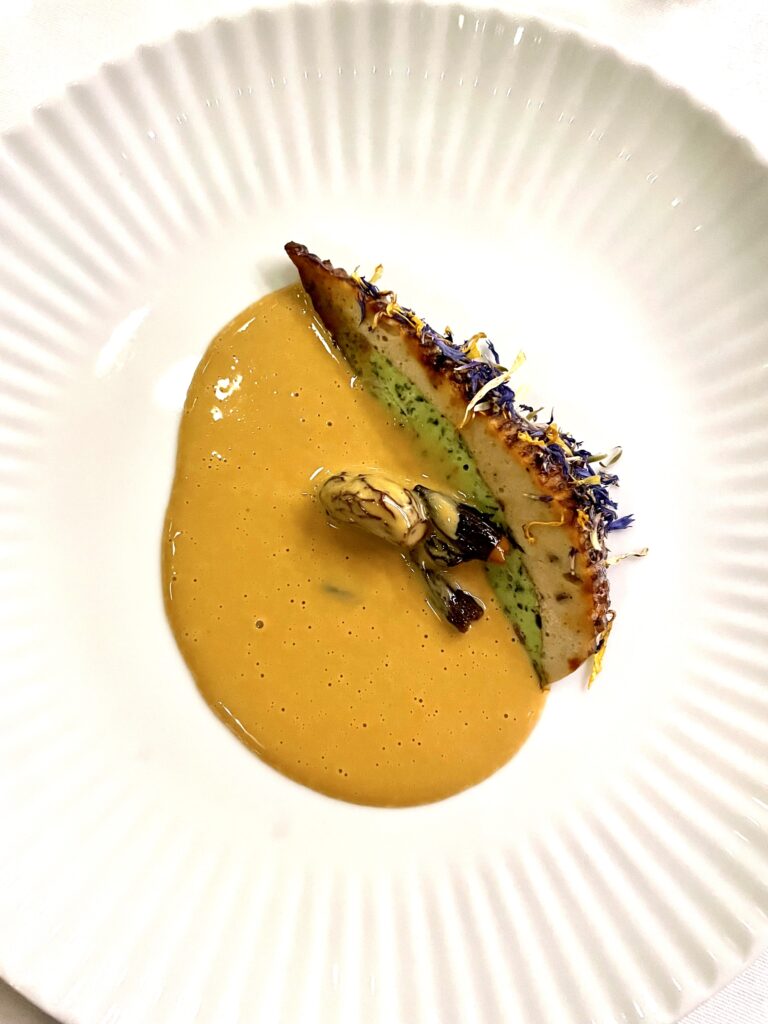 The next one did however. Guinea fowl with a stuffing on different herbs and paired with a rich sweet sauce with a few morels. A dish that both looked pretty and had a great comforting flavor
For our last savory dish we would also have our last sauce of the evening. Counting a foam that brings it to 6 all in all. Tenderloin with a chicken "stuffing" and a sauce based on black berries and beetroot. Again they were classic flavor combinations and they were very well executed.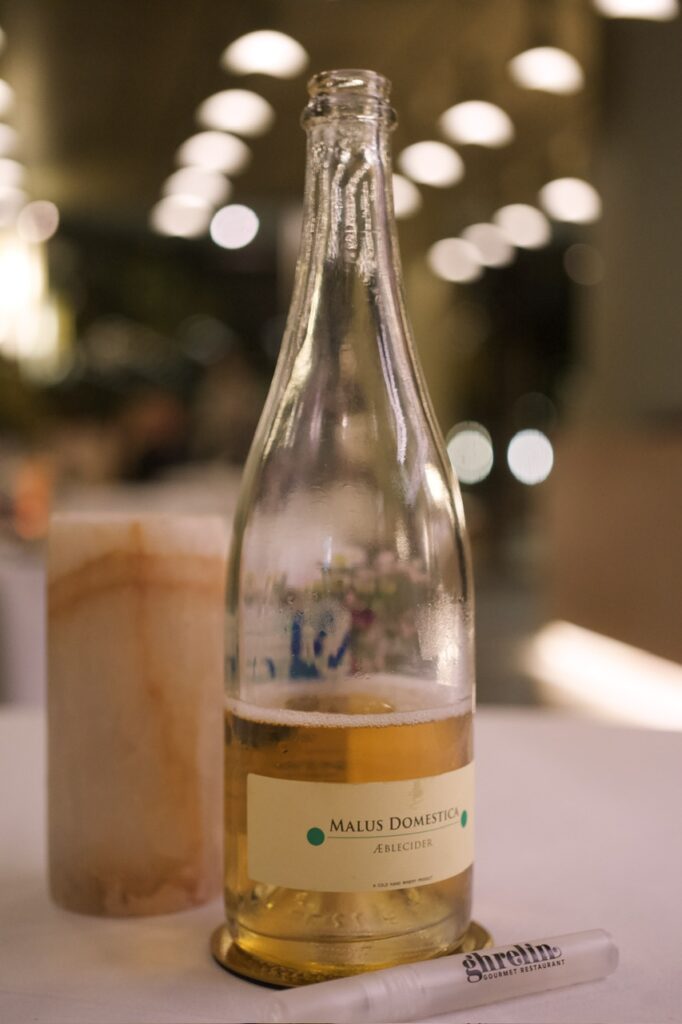 Just north of Aarhus lies the cider producer Cold Hand Winery which in my opinion makes some amazing ciders. This next one was more funky than sweet and would therefore paired amazing with a cheese tartare with bacon and apple. A dish and wine with strong flavors but I loved it.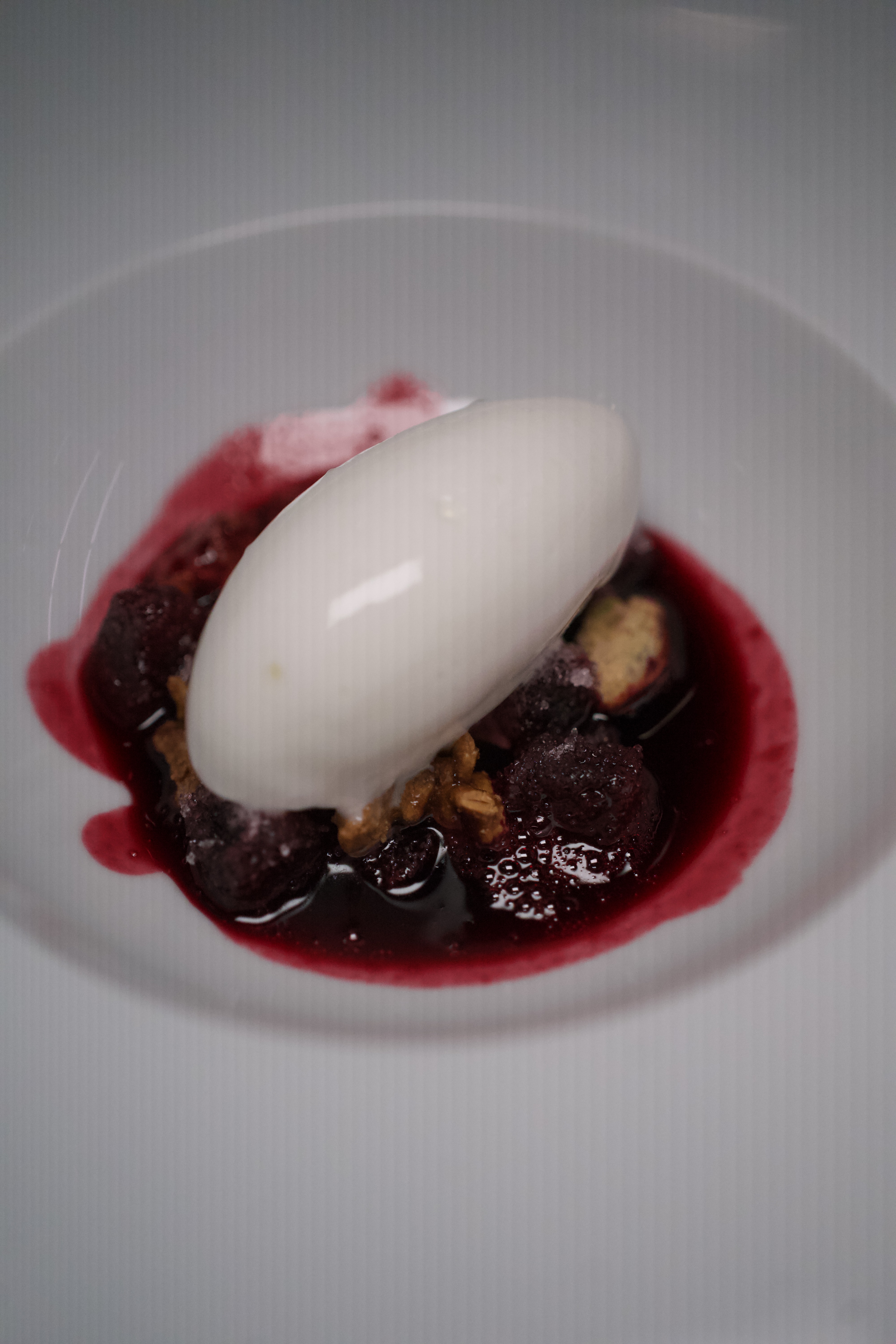 Crispy fried sunflower seeds, dried berries, a sauce based on varies redberries and a milk ice cream. A nice dish in terms of combination of textures and flavors which gave natural associations to the Danish Christmas dessert "ris a la mande"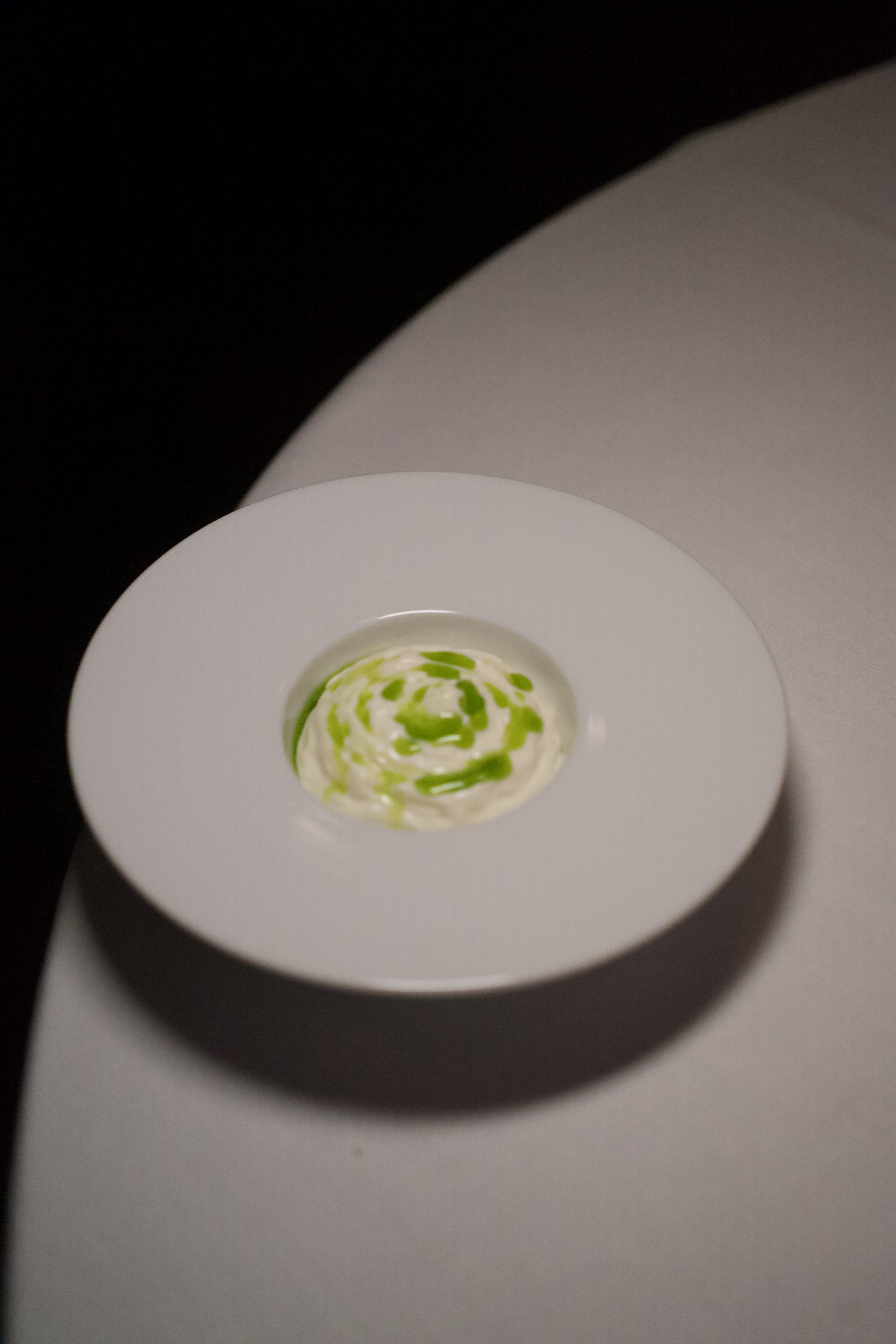 For our final dessert we would have a mousse made with skyr over red currant and topped with a beautiful sage oil. A nice dish to finish our evening.
I think it's fair to say that when we left the restaurant we were both very happy, content and also very full. Naturally we also went for the biggest menu and they are generous with the wines which you can only be happy about.
There is no doubt that Ghrelin is reaching for a Michelin star and one that I think they will get in time. For me it all starts with flavor and that was spot on for almost the entire menu. The mix of French inspiration and Nordic products works very well for them.  The flavors are classic and comforting which I have come to enjoy more and more. The service is warm and personal which I think is more natural outside Copenhagen. The icing on the cake is naturally that they are Krug ambassadors so Krug as only the third restaurant in Denmark and only in Aarhus. This gives you the option to enjoy it by the glass so you don't have to splurge for a full bottle. 
I was invited by the restaurant to enjoy the menu.
Practical information
Location: Aarhus Denmark
Menu: Tasting menu only from $200
Head chef: Anders Kuk Kristensen
Website: https://ghrelin.dk/