Last year a last minute booked dinner at Domestic was one of the best meals of the year and by far exceeding their rating of just one Michelin star. Neither was or is it feared featured in other other international lists. I therefore went into the dinner without great expectations.
About 6 months ago the ownership structure of the restaurant was changed where two of the original three partners left and Christoffer Norton as only remaining partner took charge of the place. Based on the press release and the initial pictures of the menu it was hard to see if this meant a change of direction for the restaurant. I was therefore very curios to find out.
At the start of the menu they would explain a bit about the concept which is still hyper seasonal, using only local produce and naturally sustainable which is also what I remember from last time. So far so good.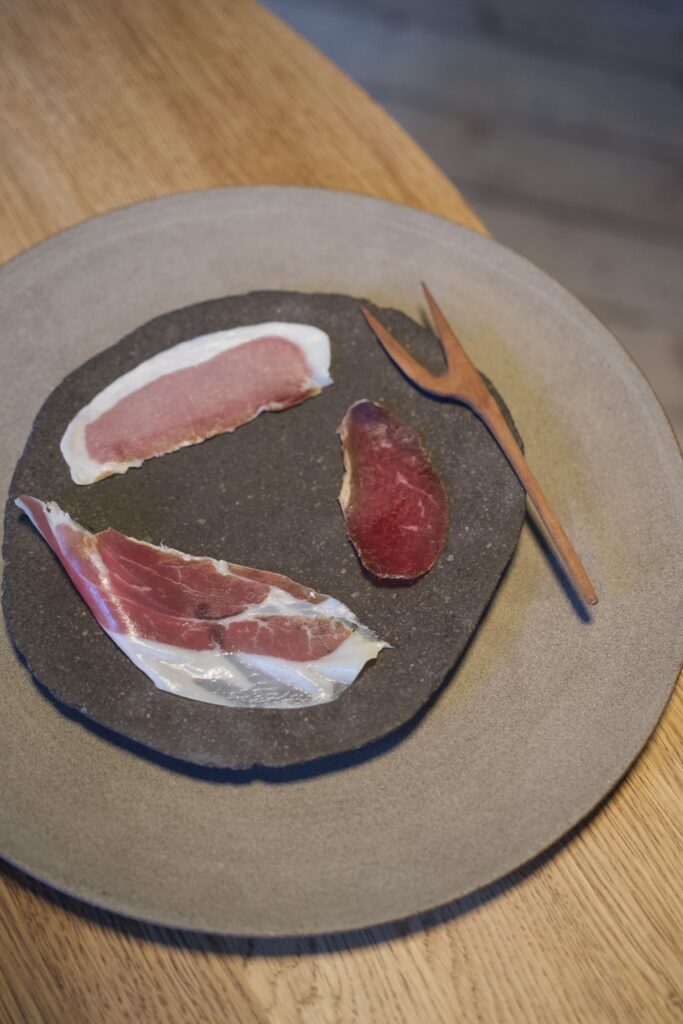 I naturally went all in for the big menu. 3 different hams were to accompany my champagne, initially this dish was to be paired with their own gin, but since I am not a gin person I opted for champagne. The hams were from Troldegård and all of great quality. My favorite the classic which had been salted for 6 months and its fat was just as soft and sweet as you could hope for.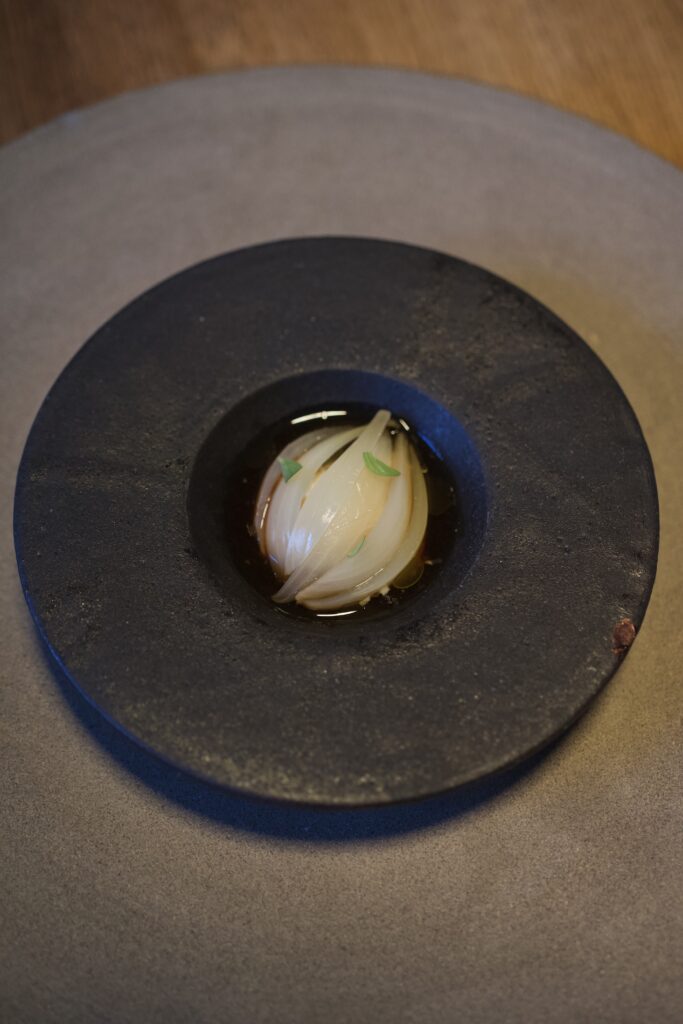 From here a dish that was presented as a ceviche with fresh cheese, pickled onion and thyme oil. A nice floral and sweet dish, but it bore little resemblance with a ceviche besides the fact that the fish had been marinated in lime.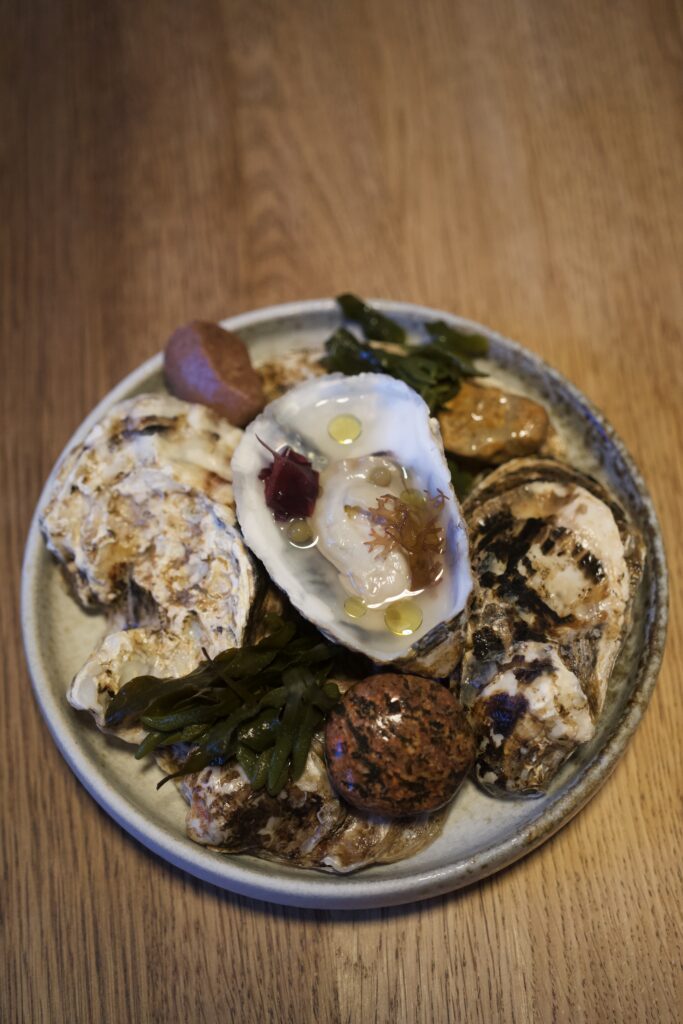 Last year we would have oyster served with varios ferments, but this time it would be different and hereby showing one of the changes of the restaurant. They sill preserve a lot of vegetables to be used in the winter but the general amount of fermentation on the menu has gone way down. The oyster had been steamed briefly firming it up and served with a bit of seaweed and kelp oil. A super nice flavor and much less salty than had it been served raw.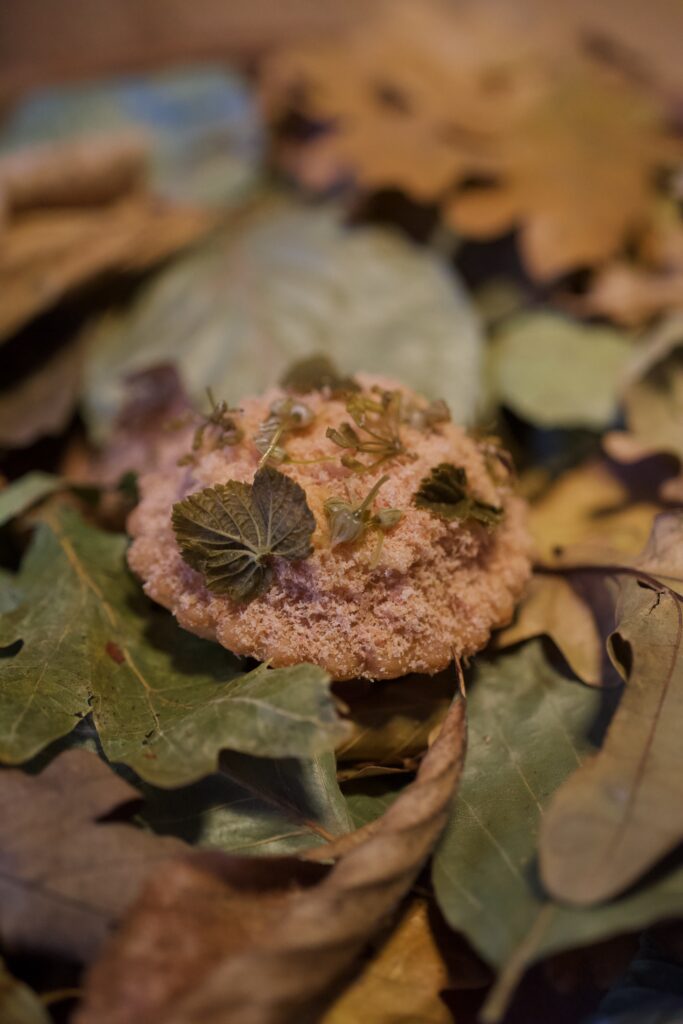 Next snack was one of the highlights of the evening and at this point the menu really took off for me. A small tarte was filled with miso and was topped with grated different meat cuts that had been salted. An umami bomb end to end and a few preserved herbs gave a bit of acidity. It was a pure joy to eat.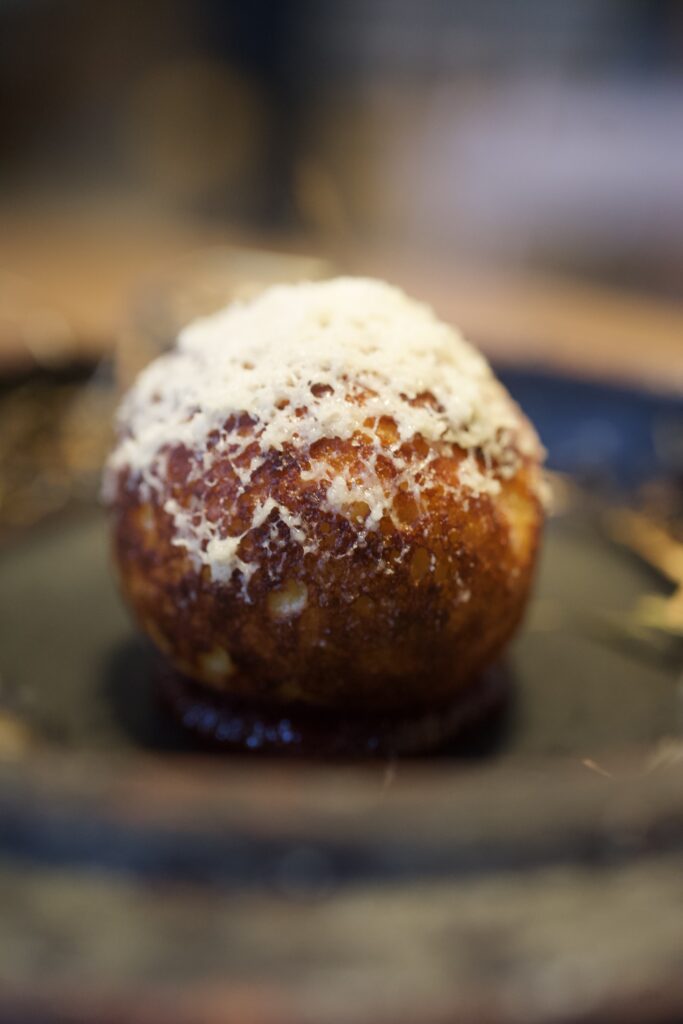 We would continue with more umami and complex flavors.  A "æbleskive" filled with mushrooms, topped with grated cheese and served with a red currant jam. The dish combined smoke, sweetness and umami. Simply just delicious and impressive.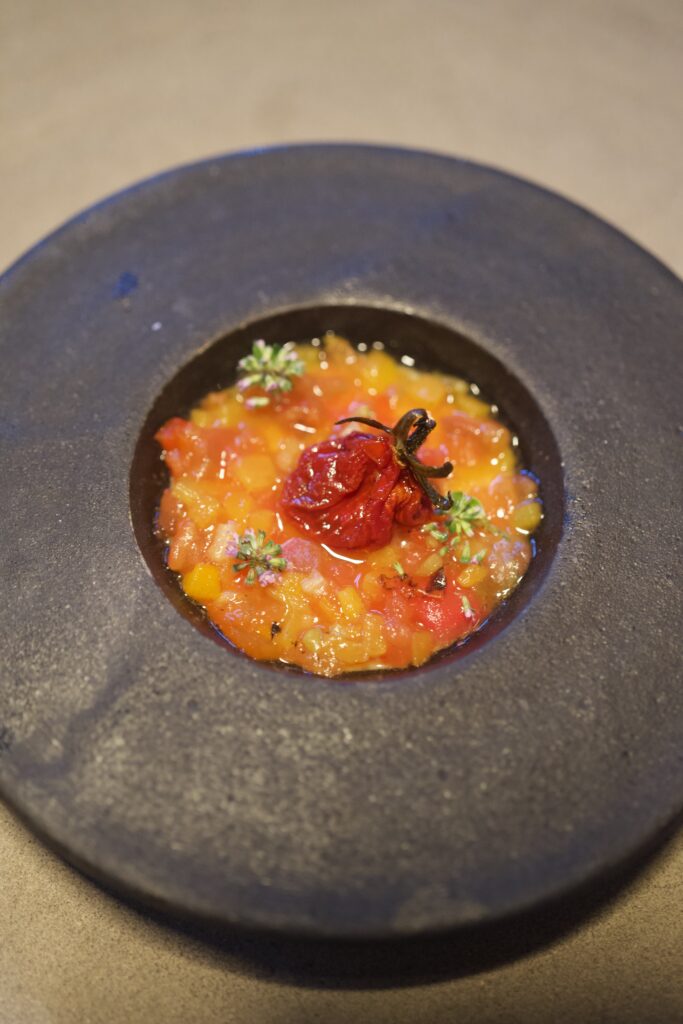 A bread serving was up and definitely not a classic one. A flatbread which had been filled with a bit of fresh cheese and chives was served together with a chawamushi based on tomato water and bread. It was yet another dish that combined a lot of different flavors. This time acidity, umami, sweetness and a bit of smoke again. Great execution and amazing flavors.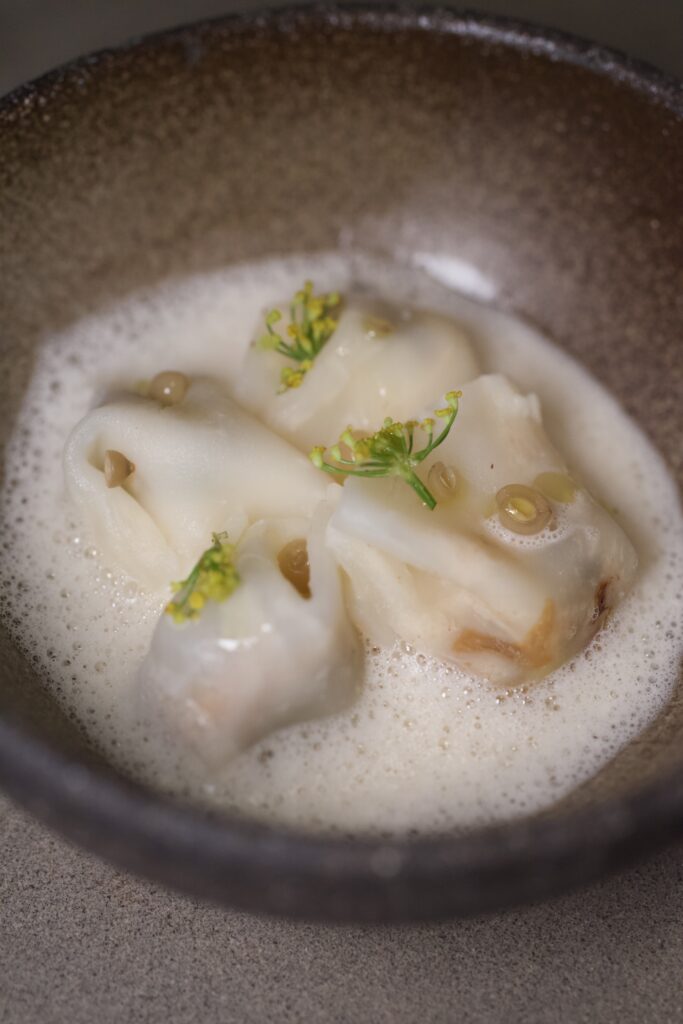 For a trip to the sea we would have a celeriac dumpling that was filled with mussel and mussel sauce. A very nice dish but it couldn't compete with the flavor of the two latter.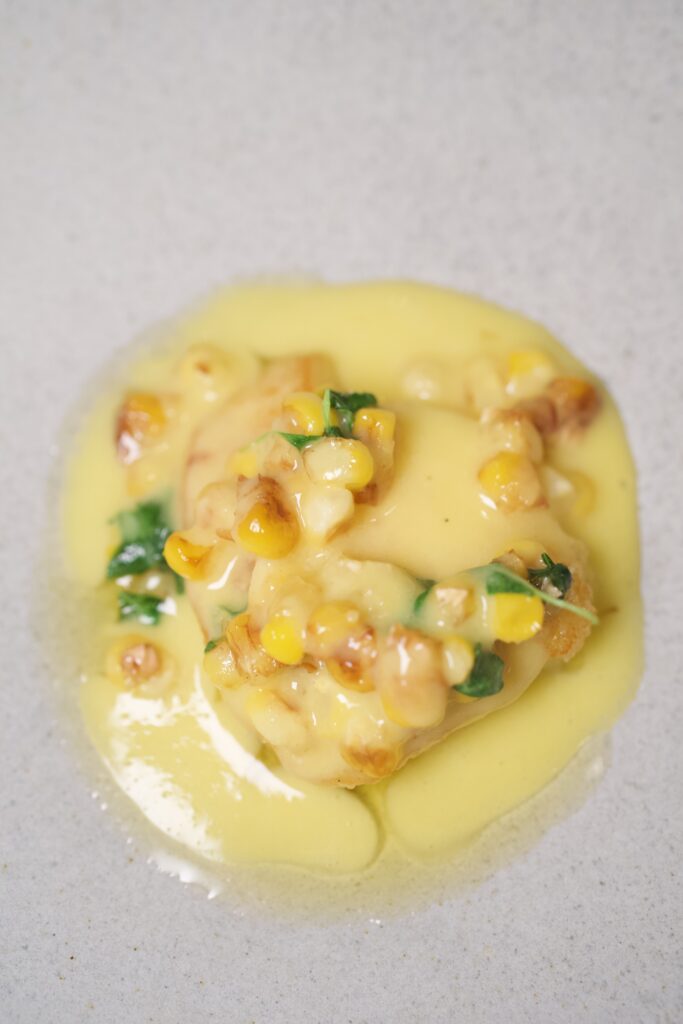 In order to use all of the fish and not just the loins we would now have cod cheeks served wit a sweet corn sauces which had also been infused with the dried husk. Again a nice inventive dish.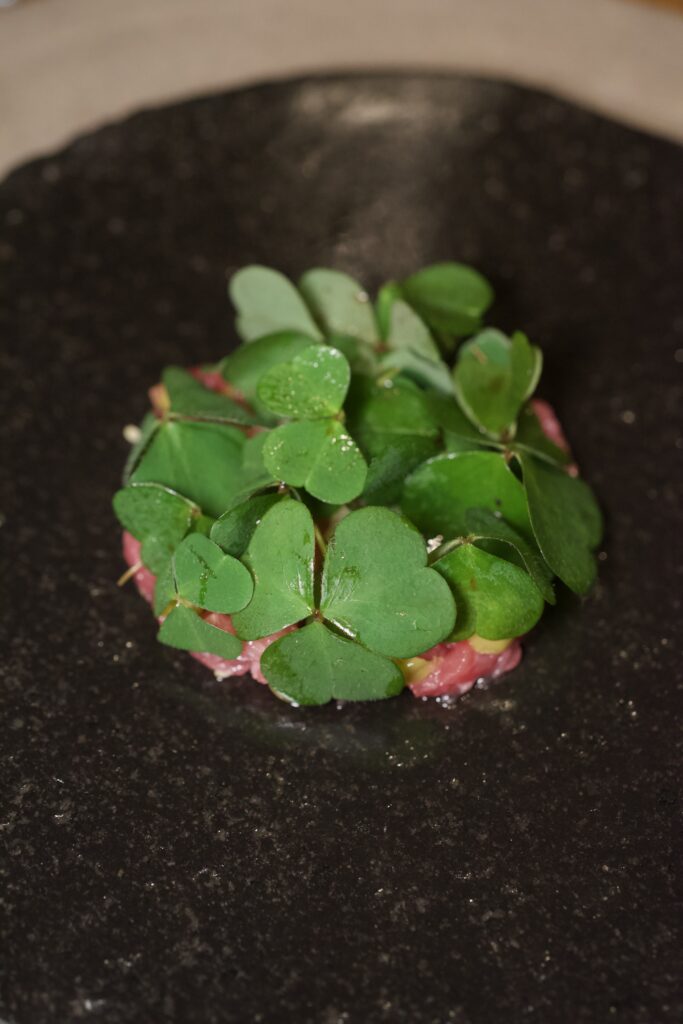 On my last visit there had a veal tartare on the menu and it would make a comeback in a very similar style. It was paired with red currant oil and woodsorrel. A nice dish but also one that I would look forward to trying at a later stage in the fall where the veal would be changed for dear.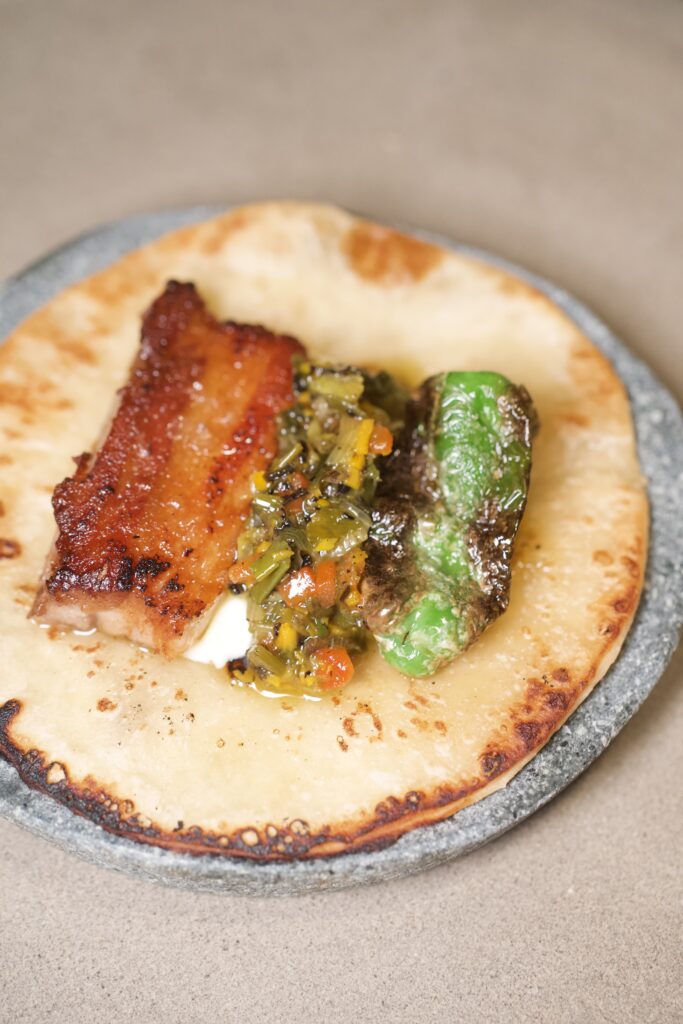 For the first main the inspiration would come from Mexico. A burnt flatbread was served with pork belly and a chimichurri made with a habanero without heat. I really loved this dish. The bitterness that came from the flatbread was burned and not just well cooked worked very well with the fatty pork and at no point did I wish for heat. Creative and super delicious.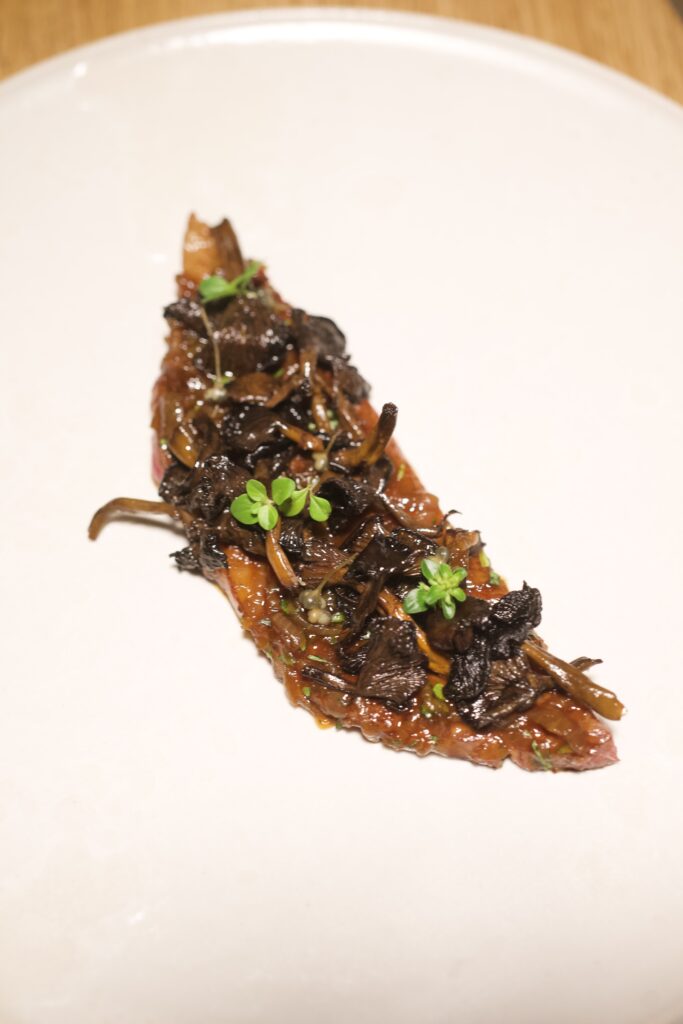 For a return to Denmark I would have a thin slice of dairy cow which had been aged for 30 days. It was topped with various mushrooms. Again a dish with lots of umami and strong flavors which at least for me is where Domestic is strongest.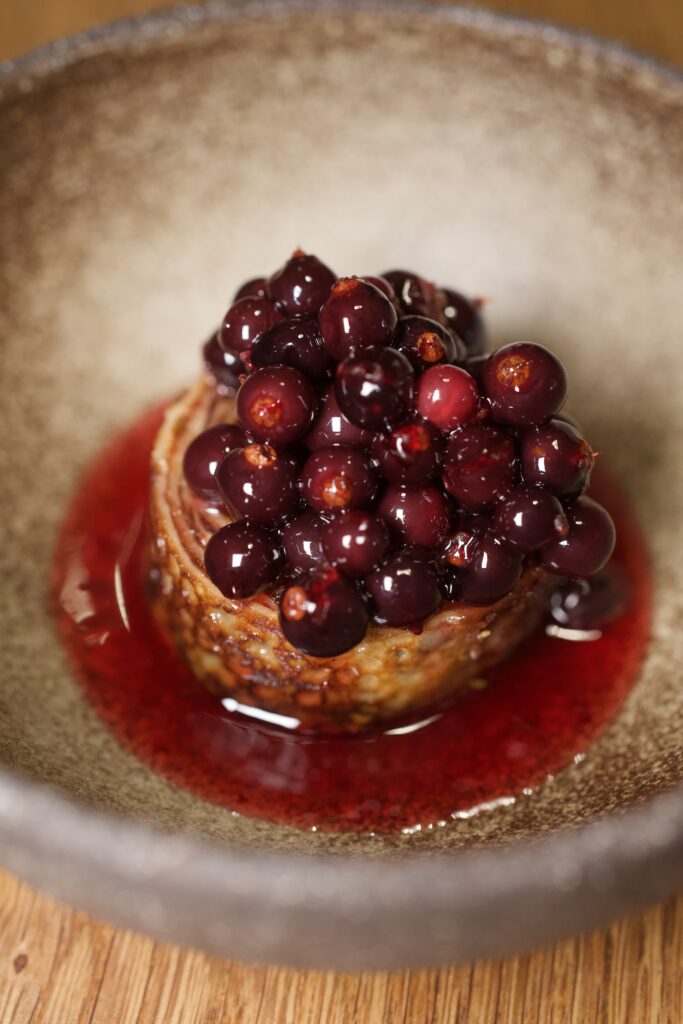 For my first dessert I would have a rolled up pancake served with pine and red currant. A super nice dish of great contrast and very nice textures. The latter exemplified by raw sugar mixed with pine which had been drizzles on top which gave a very nice crunchy element. Yet again delicious.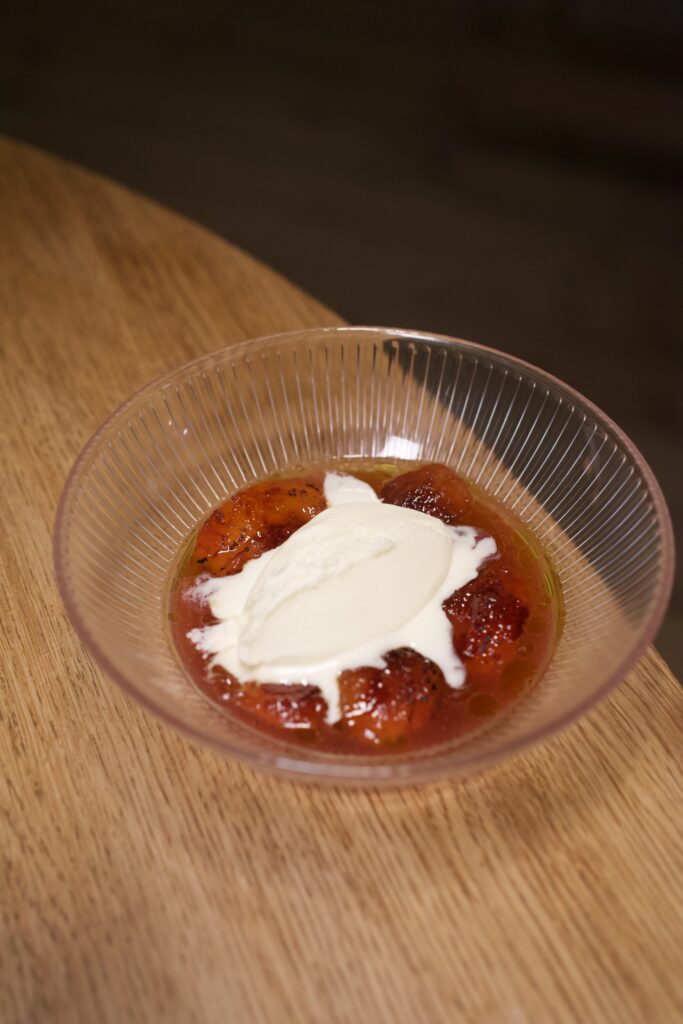 Crunchy elements would also be important in the last and final dish. Plums had been covered in sugar before grilling giving them a super crunchy texture to be balanced by the sweet and acidic sauce and a buttermilk ice cream. A dish that was both comforting and super delicious.
Yet again I loved Domestic. The concept and the heart of the restaurant remains unchanged. Nordic flavors with regional and local ingredients. It has however changed a lot in its use of fermentation which they use to a lesser extent. They still know how to combine flavors and in my opinion their strongest dishes are the powerful ones which means that the fall and winter menu has to be amazing.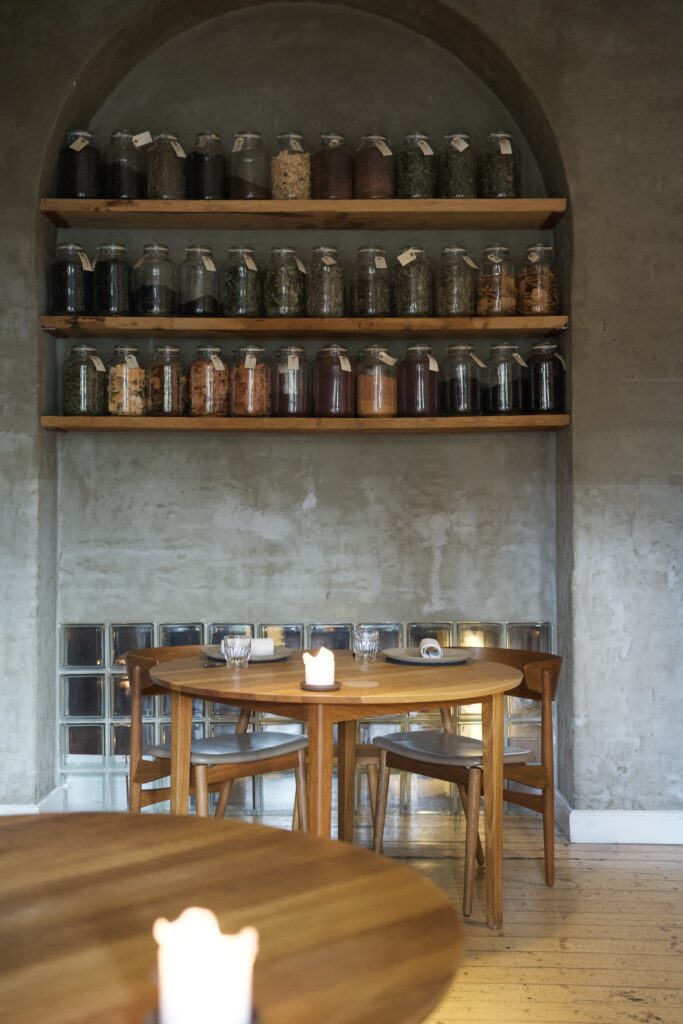 There is no change in the dining room which is still warm, cosy and inviting. Perfectly mimicking the food and the relaxed and welcoming service.
Domestic is in my opinion therefore very much worth the trip to Aarhus and it is not the only one in the city.  
Practical information
Head chef: Christoffer Norton
Menu: Two versions of a tasting menu – biggest about 200$
Location: Aarhus Denmark
Website: https://restaurantdomestic.dk/