San Sebastián is a legendary city for any foodie. It holds more Michelin stars pr. Capital than any other city in the world and in addition to the many top restaurants it holds an amazing culture for the accessible and delicious pintox. This culture and unprecedented level of foodie center was established more than 10 years ago and until Amelia no new restaurant had been given 2 stars in just as long. It is therefore safe to say that it is a breath of fresh air to the city.
Owner and head chef Pail Airaudo is also not your average chef and Amelia is not your average restaurant. The restaurant is located in the basement of the new and luxurious hotel Villa Favorita right by the beach.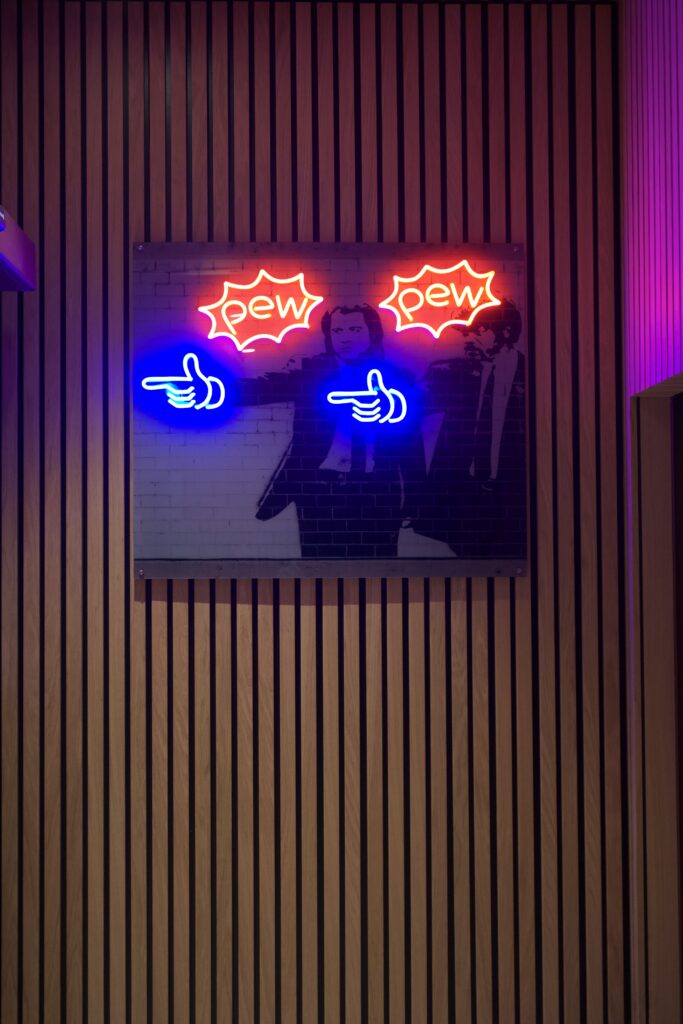 The first thing you see when you enter is an artwork with a Pulp Fiction theme and throughout the restaurant you have artwork with both Star Wars and the Simpsons unlining that it will not be a classic meal.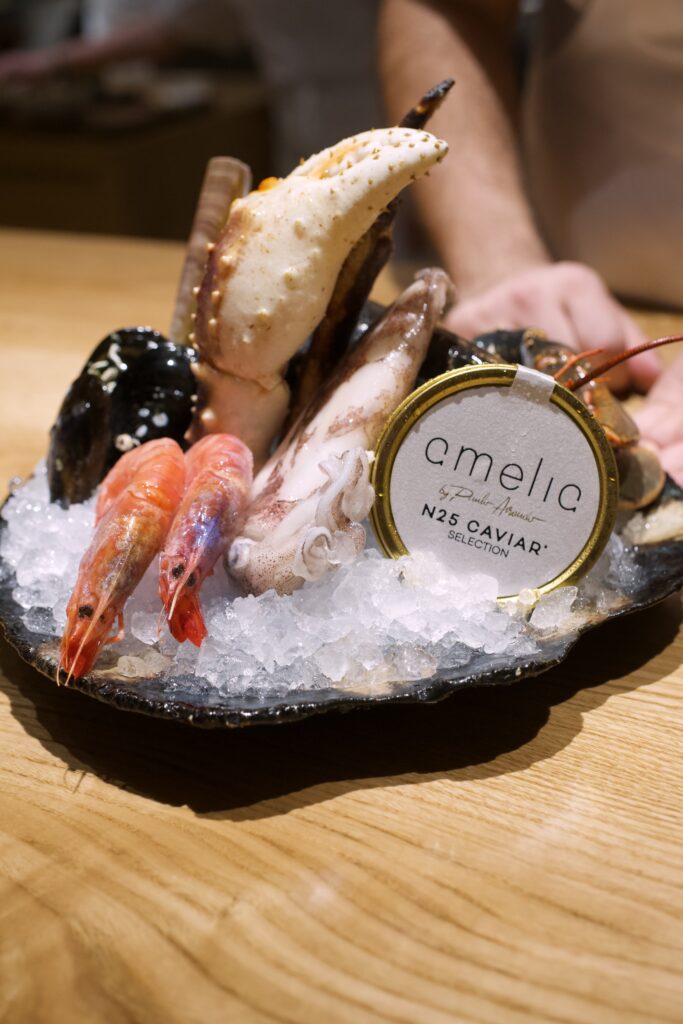 As it has become custom you are presented with two boxes of ingredients holding what will be the main stars for the meal. A mix of both local ingredients, Italian as to the theme of the restaurants and naturally Japanese when the quality demands it. All of the highest quality which also explains why the restaurant has the highest price tag in the city.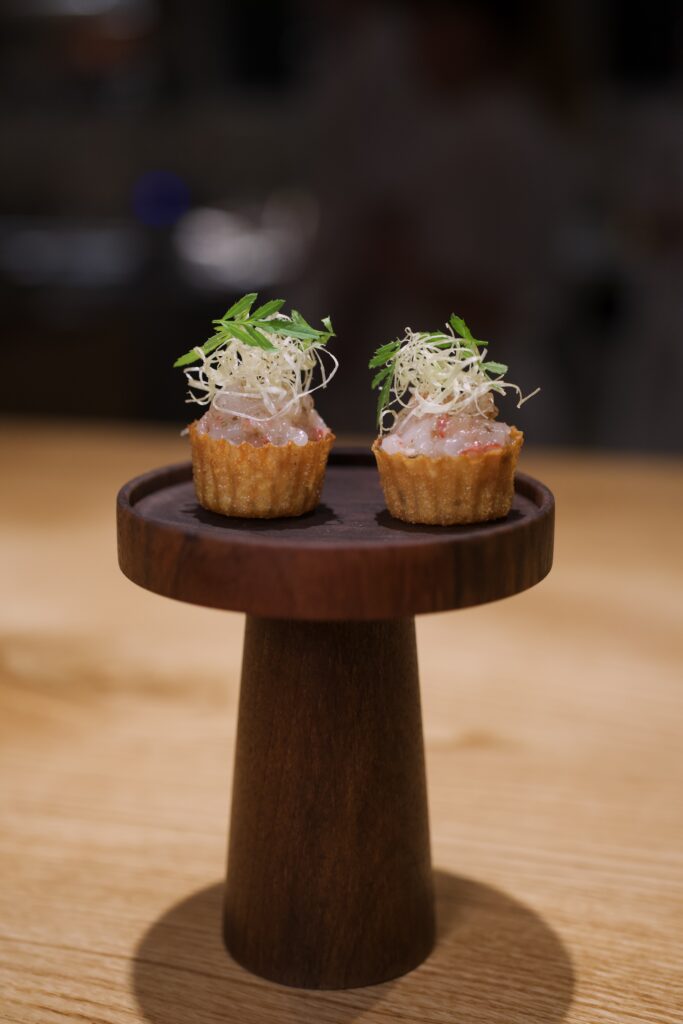 The opening rounds of snacks had both lobster, the impressive Palamos prawns and mackerel. All impressive and delicious showing of the products as well great technical skills by the chefs.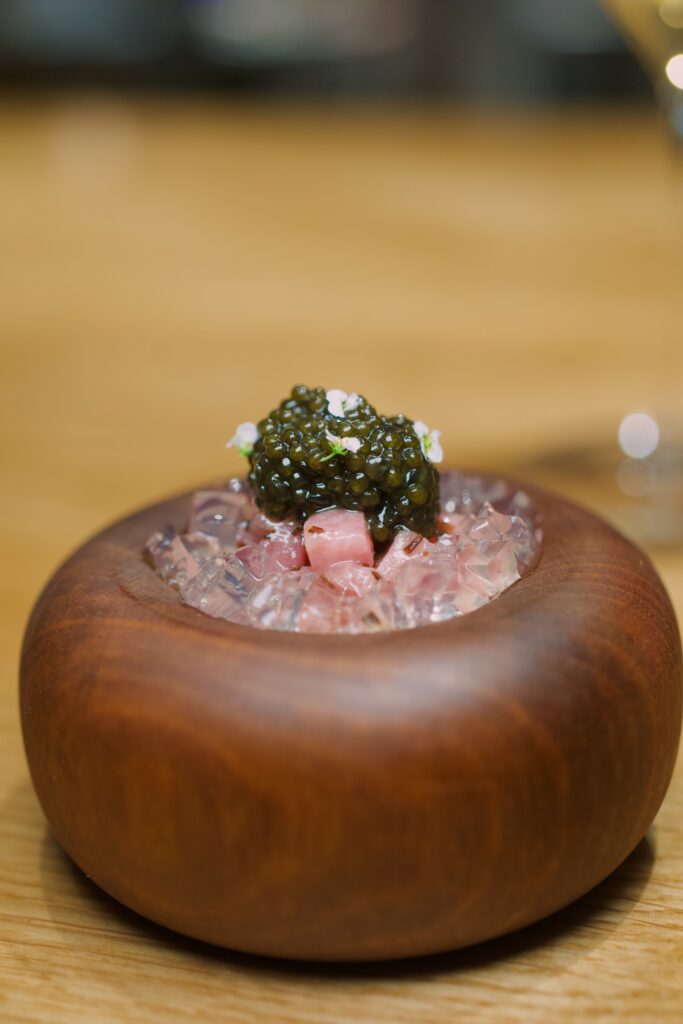 The same can be said for a combination that is becoming popular in the form of tuna belly, wasabi and caviar. Naturally super clean and delicious.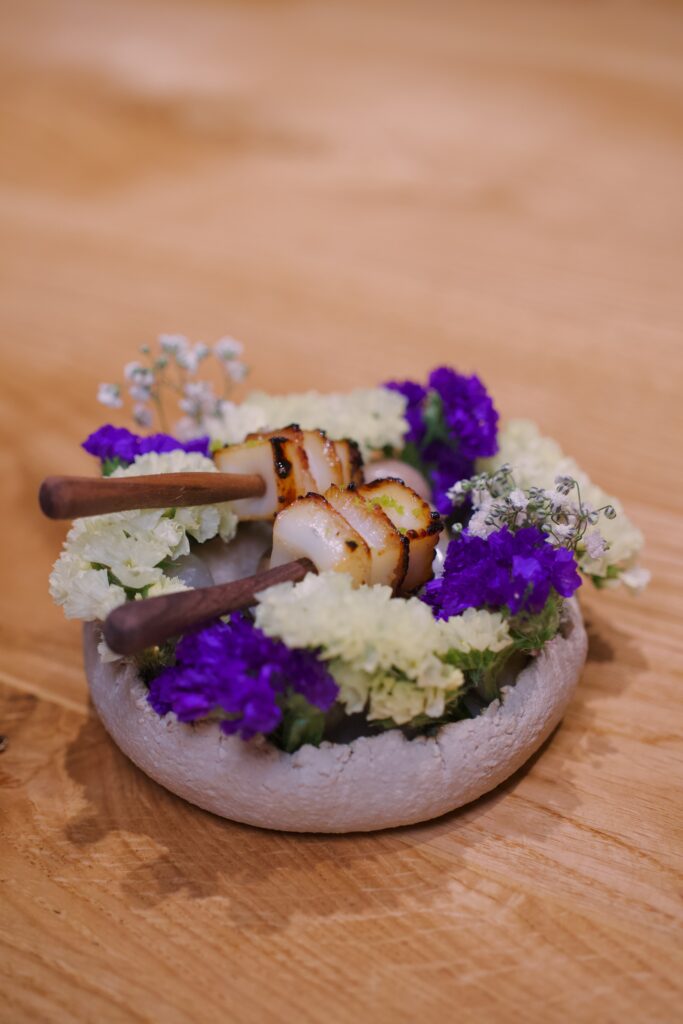 A theme through out our meal would be that the final touches to the dish would be done directly in front of us at the counter. Yakatori frilled squid with a bit of bacon and citrus zest where the zest gave a very nice floral and refreshing note to the dish. An impressive presentation as well.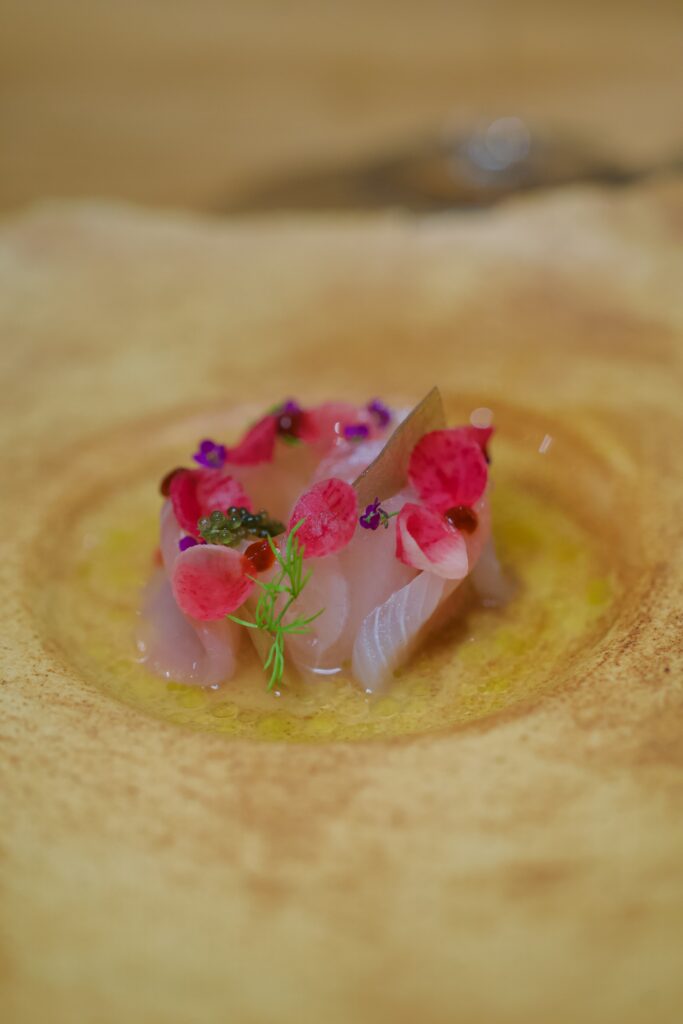 The next dish was as delicious as it was beautiful. Raw hamachi was served with a bit of seaweed, daikon and a tomato and basil water. This gave the dish such nice balance where the acidity was balanced perfectly with sweetness from the tomato water. In addition it added more debt to the dish that usual from a crudo of this kind.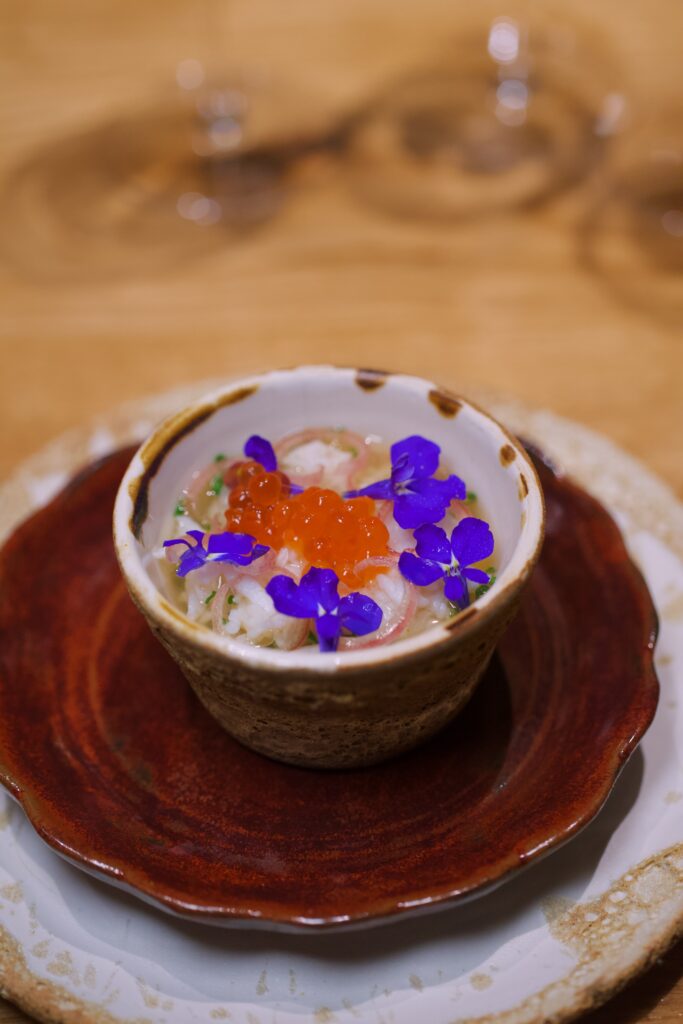 Japanese influence had been present in smaller elements but now we would have a classic Japanese dish in form of the egg custard chawamushi where a broth made from ibérico fat had been added. This naturally gave both sweetness and umami. Topped with snow crab and ikura this was just end to end a delicious dish.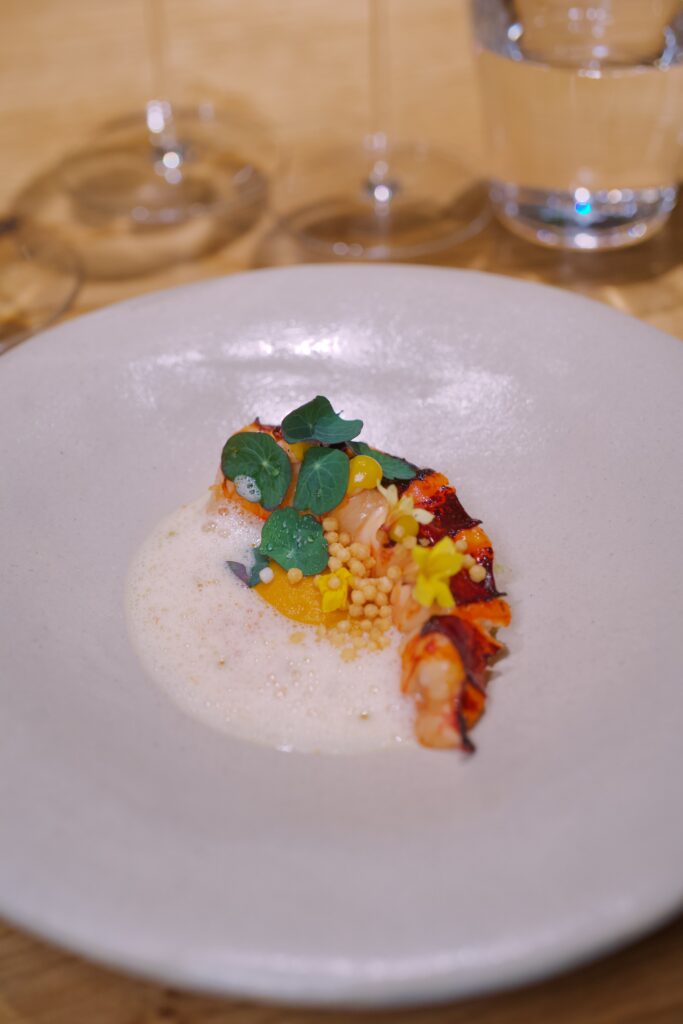 From Japan to France in the form of a grilled lobster with a very acidic beurre blanc where once again zest from a citrus fruit had been added. A crème of squash rounded of the dish. Again the use of citrus balanced the otherwise heavy dish. Italian influence was obvious once again.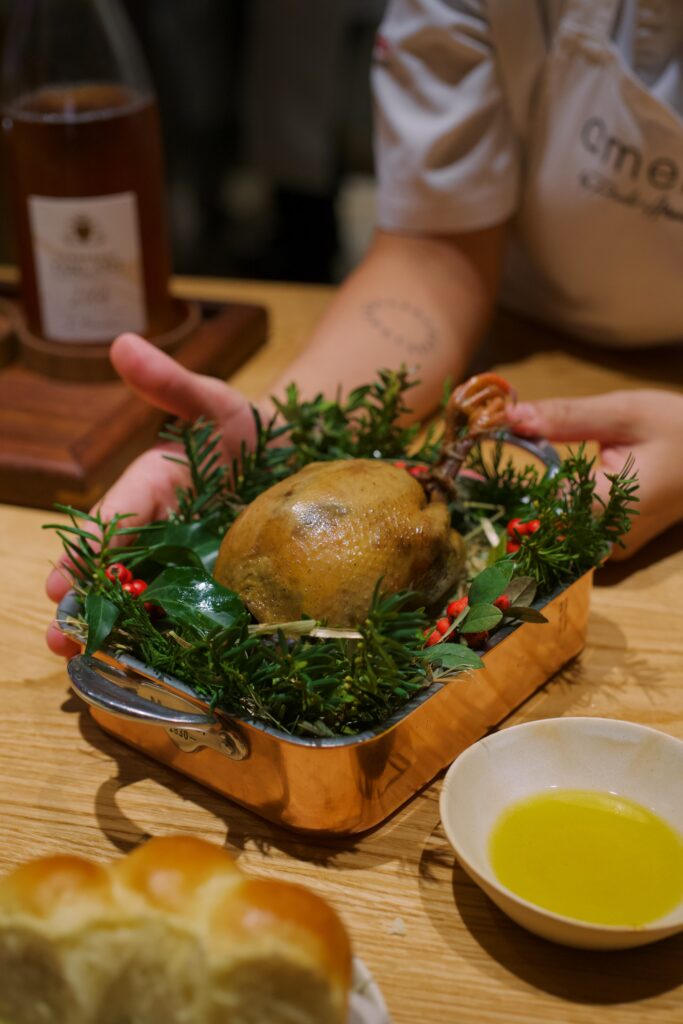 We would now venture into a more classic dish in the form of pigeon served with its jue, grilled onions and spinach. A classic and very tasty dish where it was all about flavor.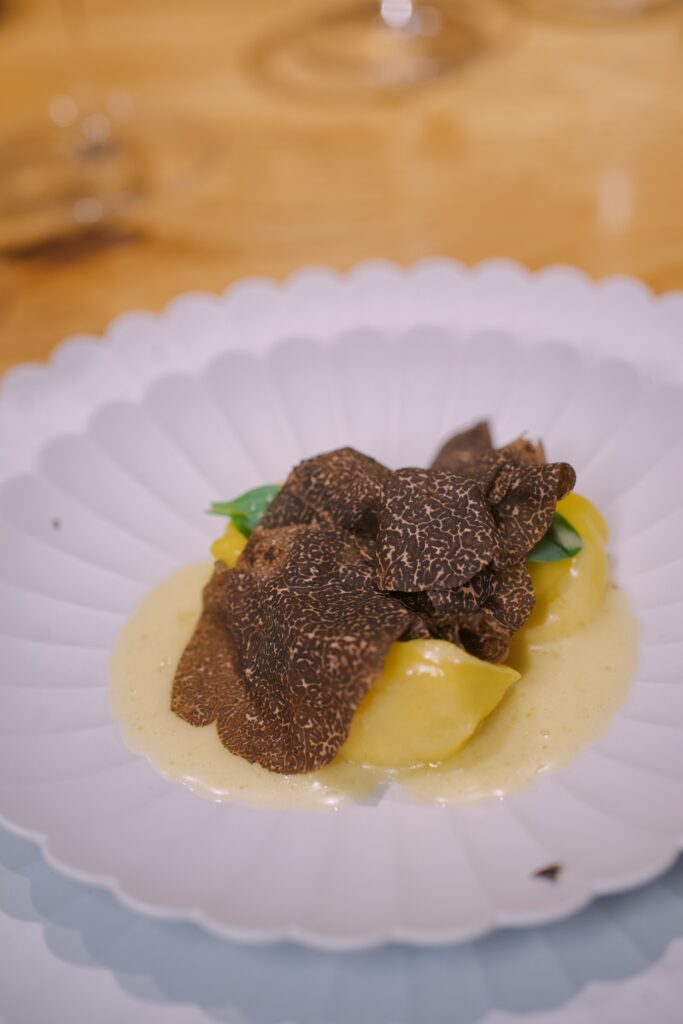 As a final savory dish we would finish with a pasta dish in the form of ravioli stuffed with squash and topped with a very generous amount of winter truffle. A rich sauce made of the Italian cheese taleggio gave even more dept and richness to the dish. Pure deliciousness.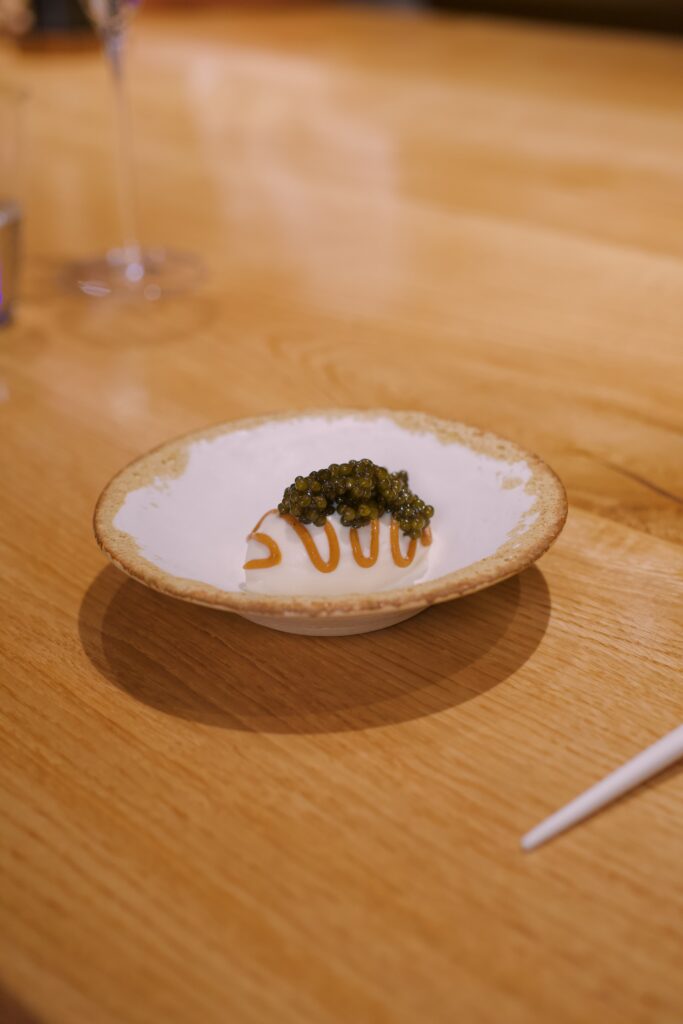 Caviar, banana and rum is a combination that just always works. The sweetness of the banana is matched perfectly from the saltiness of the caviar. A beautiful dish as well.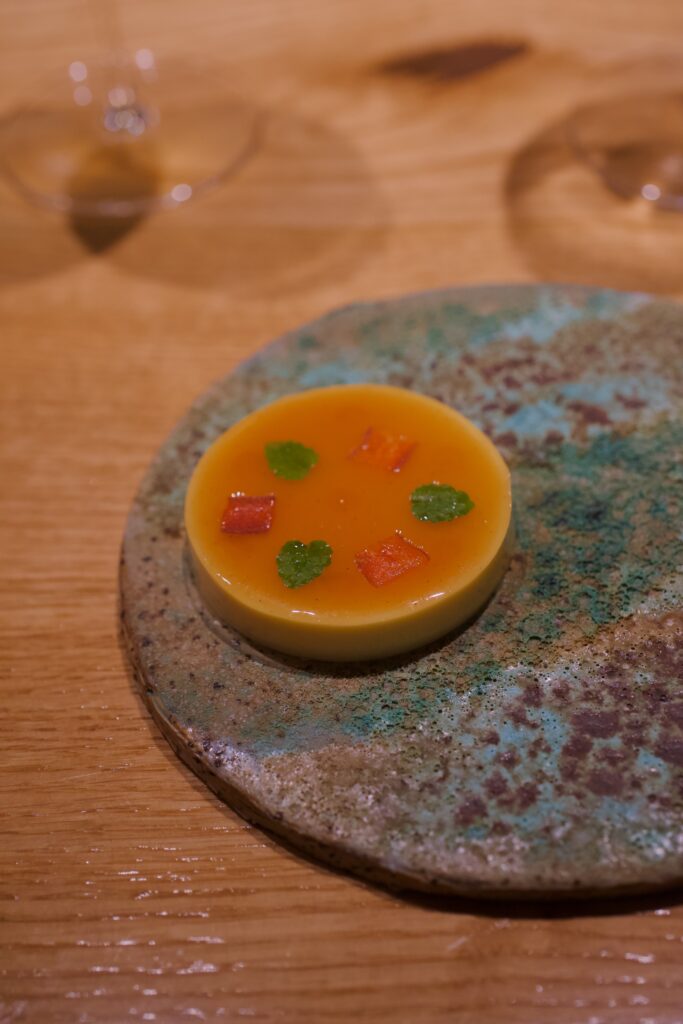 The last dish said cheese cake but it had absolutely nothing to do with the the classic Basque cheesecake. In stead it was refreshing and just delicious.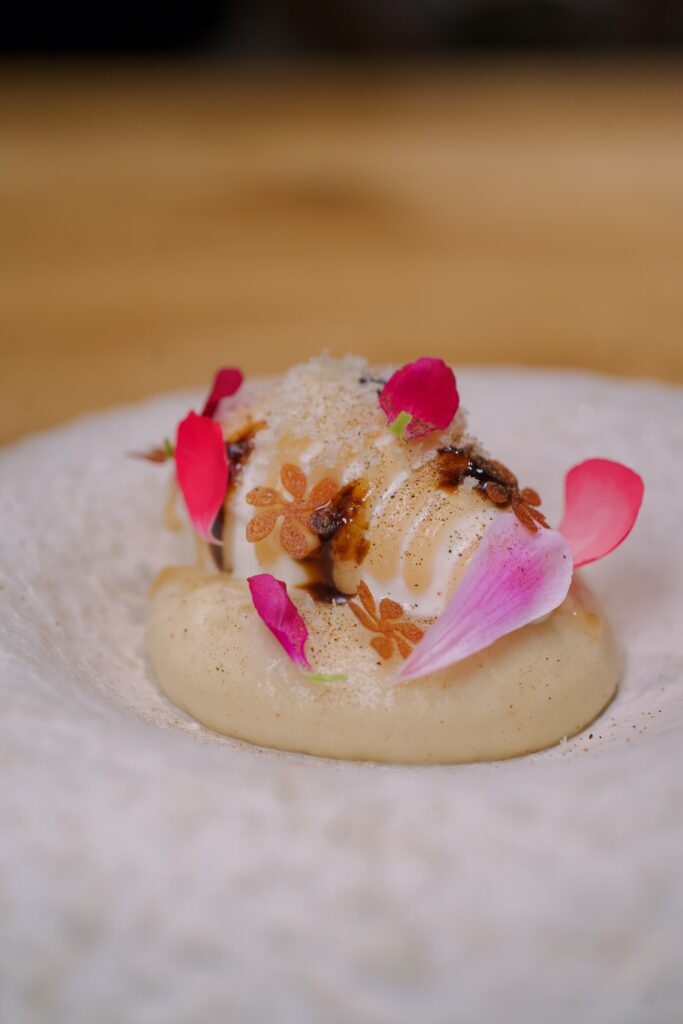 To finish an "apple cake" with textures of persimmon, dried Parmesan and topped of with aged 40 years with so much dept and quality. A perfect ending.
As mentioned already in the beginning Amelia is not at all your classic San Sebastián restaurant. It's stylished yet playfully decorated and Paul as well as a lot of the other chefs have their arms filled with tattoos. The food takes an international approach with its base in Italy but borrowing from both France and naturally Japan as the rest of the world does right now. With its broad use of exclusive ingredients and good techniques it offers the guest a world class experience with an international view. This makes it just the breath of fresh air that can help San Sebastián to stay as relevant as a foodie destination in 10 years as it is now. It does come with the highest price tag in the city but it is worth it.
To cater for an international demanding crowd there are 4 different pairings including non alcoholic, champagne and 2 different price tags for the wine menu. A certain tell that they are going for the 3 Michelin star and hopefully sooner rather than later. Most guest are seated at the counter where interaction with the chefs is obvious as most dishes are finished in front which I really liked
Practical information
Location: San Sebastian
Head chef: Paulo Airado
Menu: 290€ tasting menu