I naturally always have big expectations for a meal at Noma but they are even bigger when they take place in the best country in the world, Japan. An occasion well worth the 16 hour flight.
Despite dining on a rainy day the mood and the expectations were exceptional high. Being greeted by both Ali and Sebastian at the entrance, being seated close to the kitchen if was obvious that the expectations were going to be met.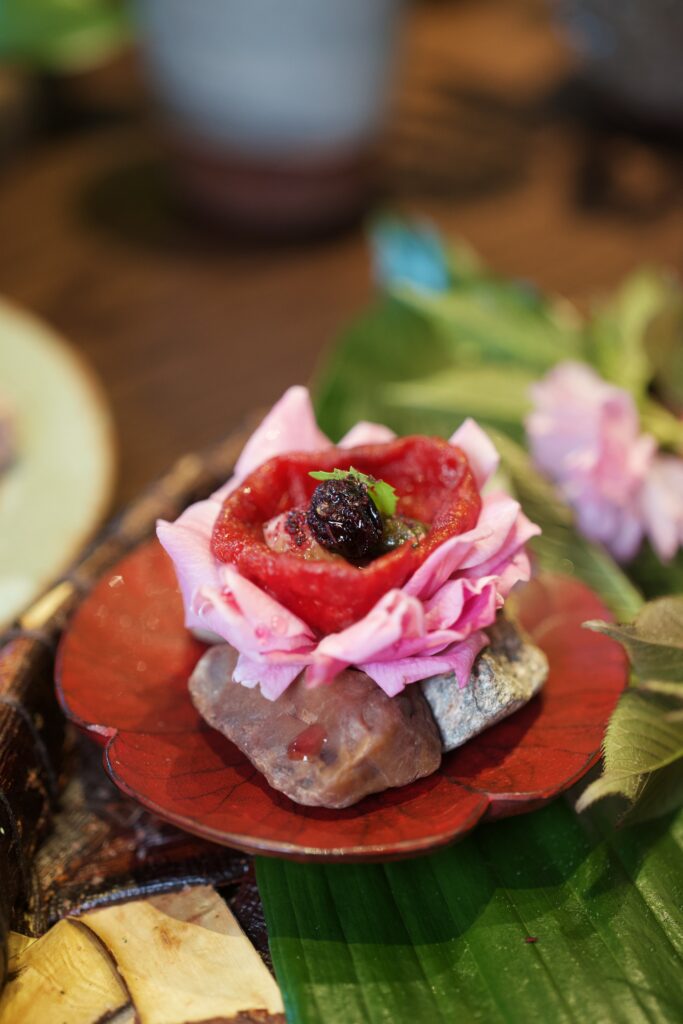 The opening snacks were by far the best snacks by Noma ever. All delicious, all very different giving a start full of flavorcontrasts, all creative and all distinct  Japanese where it was very hard to pick a favorite. The snacks were fresh yuba and wild greens, koji cake and ginger, dried tomato and roses, cherry leaf and bee pollen with tomato water. Needless to say that the level of creativity was exceptional high.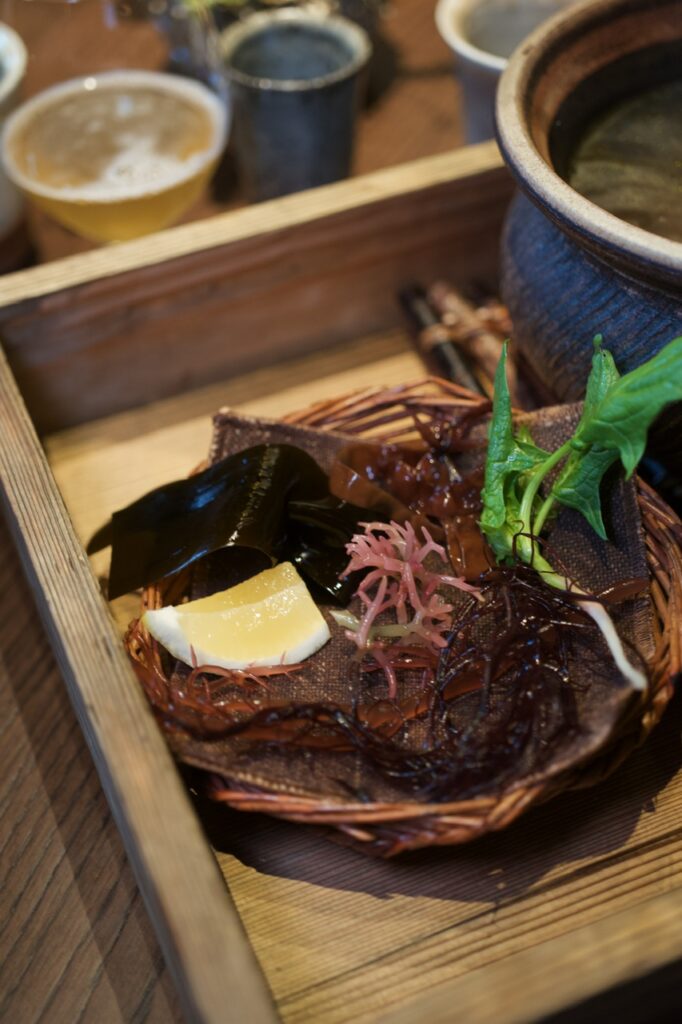 Noma has never been afraid to be informal and playful. For the next dish they were just that. A selection of seaweed was presented for you a long with a boiling hot pot of broth which which you would cook your seaweed before dipping them in a flavorfull herb sauce. A dish both intellually interesting diving into the differences within the seaweed within form, flavor and texture and they were as it is with Noma all very delicious.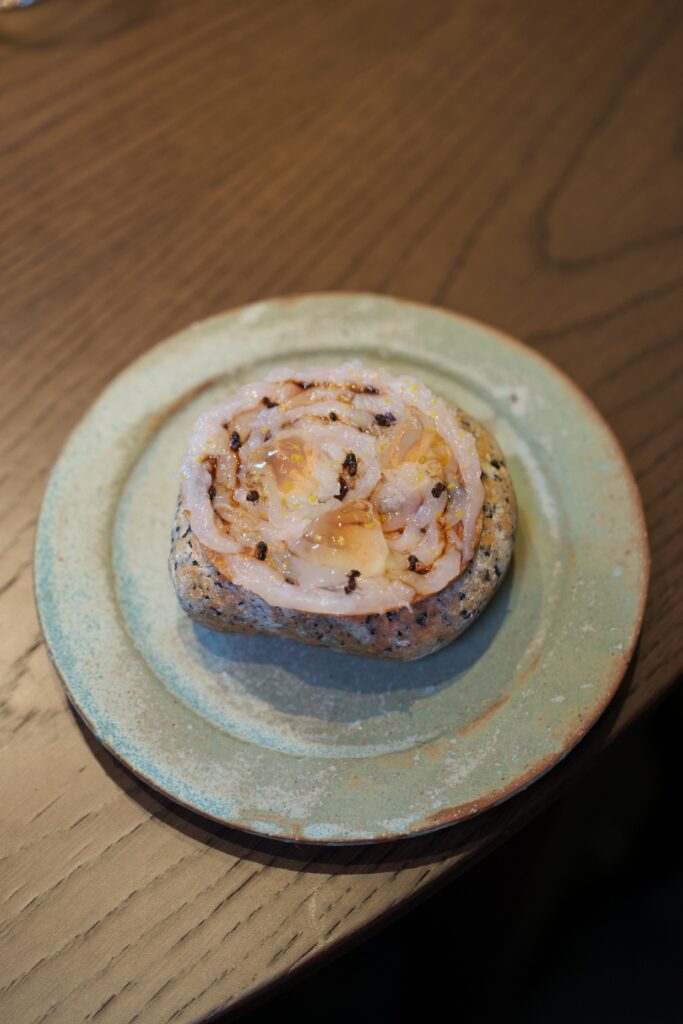 The next dish was two dishes in one. The first being a super thinly sliced cuttlefish with whiskey vinaigrette. The second being a pie with shrimps and ants on top. When the shrimps are this good it is for me one of the best ingredients in the world and here it was an exceptional dish. The ants were accompanied by a bit of citrus zest and some ferments building even more flavors. Another example of how the dishes may look simple but holds so many different small flavor elements which to me is the genius of Noma.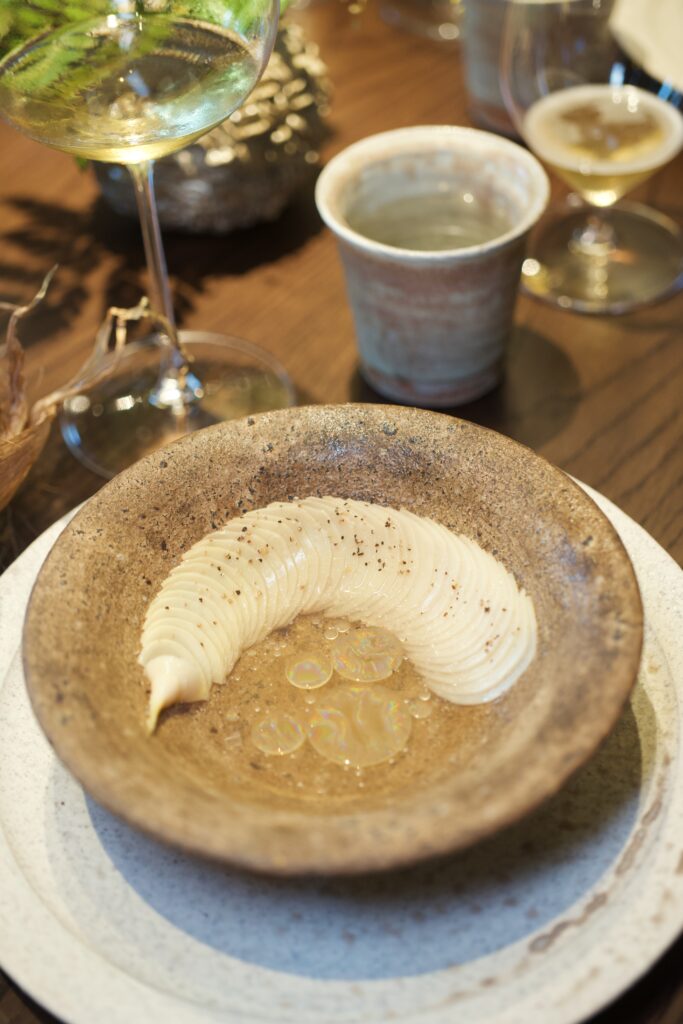 Noma also loves to show off their craftsmanship. For this dish knifeskills were in focus which they displayed in this dish of bamboo cooked in a broth with dashi, miso water, conbushi and tea leaves but cut and displayed ever so perfect. A lovely dish that provided a nice refreshing element in the menu.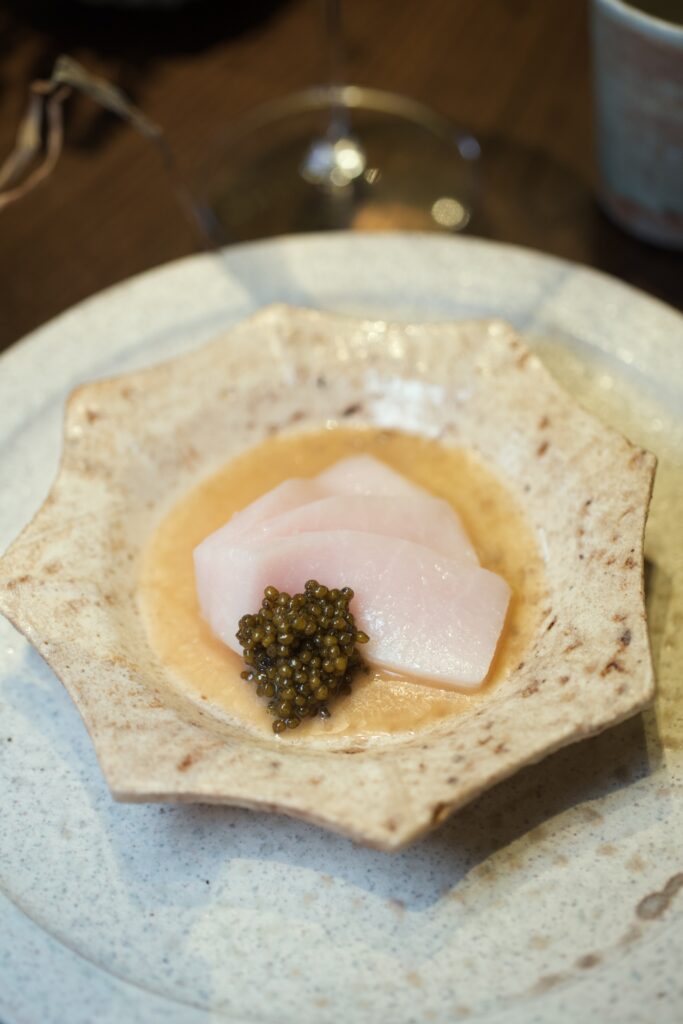 If you ask any AI image generator to create a picture of swordfish sashimi I guaranteed you that regardless of how many images they create none of them will look like this. Swordfish cut in thick and firm pieces were served with a butter kombucha and caviar. I can imagine that any Japanese person could have a love and hate relationship with this dish. Love it because it is simply OUTSTANDING but hate it because they break every rule in the book. An example of how Noma does not try to make a Japanese menu but simply get inspired by what they see and experience to make their own menu.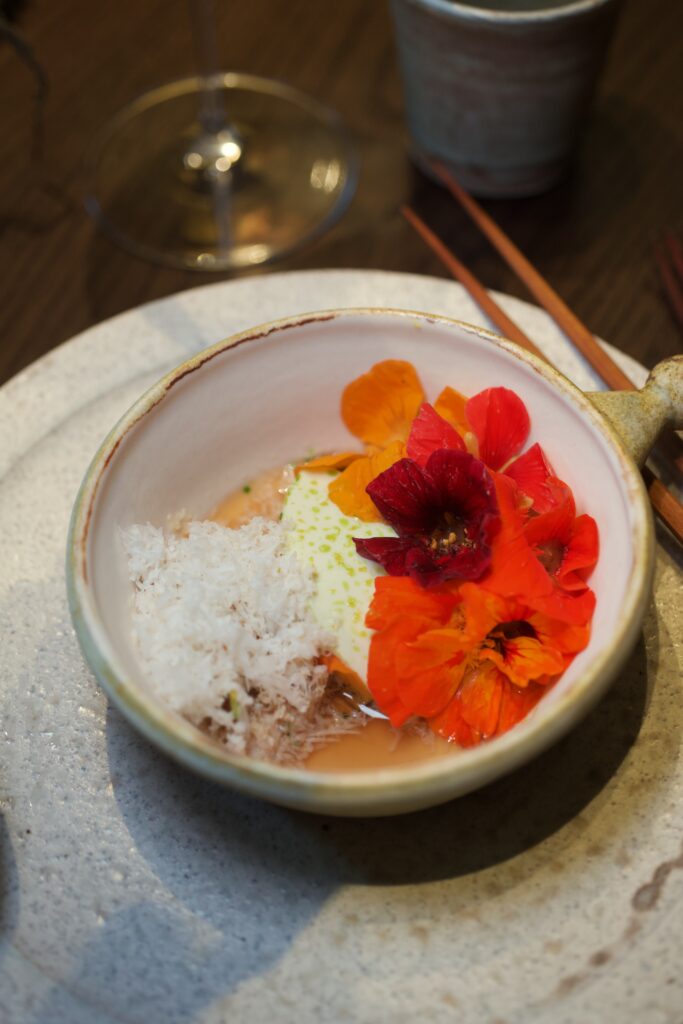 Tofu is a Kyoto specialty and therefore naturally had to be on the menu. Here a tofu made from green soybeans served with raw almonds and nasturtium leaves. Another truely amazing dish. I loved the delicate richness of the tofu which was met with a slight fruity sauce. Just delicious.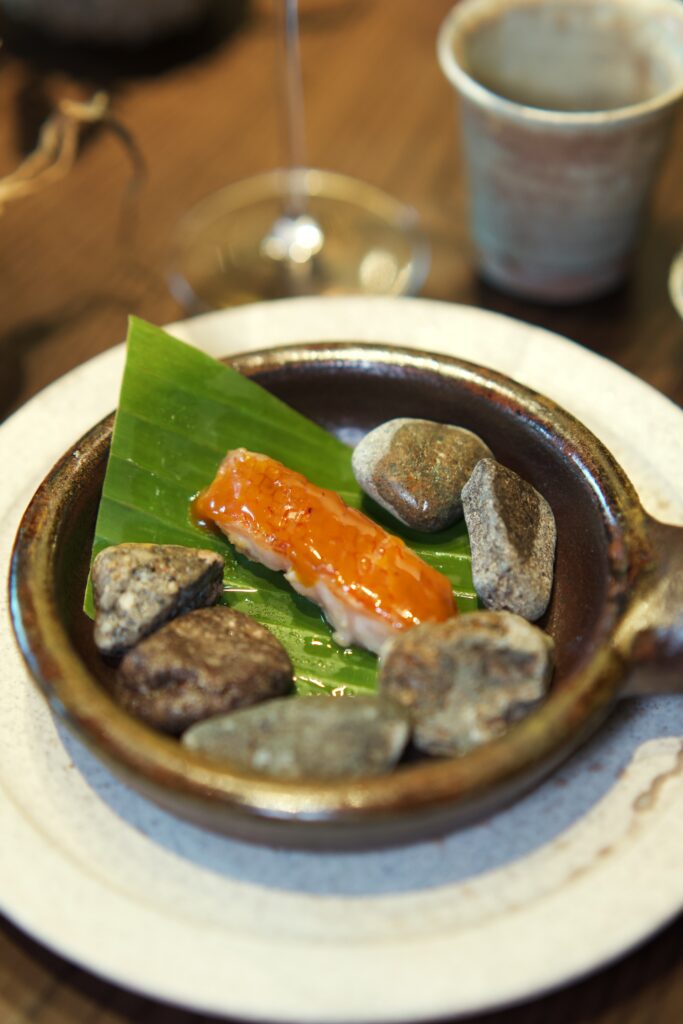 Kinki rock fish from Hokkaido had been cured in an elderflower paste before bring slightly grilled with egg yolk, sakura and yuzu garum. A dish that to me both paid respect to the product while still being super elaborated.
Even more simple was however its head which was served on its own just bring touched by a grill. I do love fishhead. I love picking the bones apart searching for every small bite of delicious meat and I love its rich gelatine rich flesh.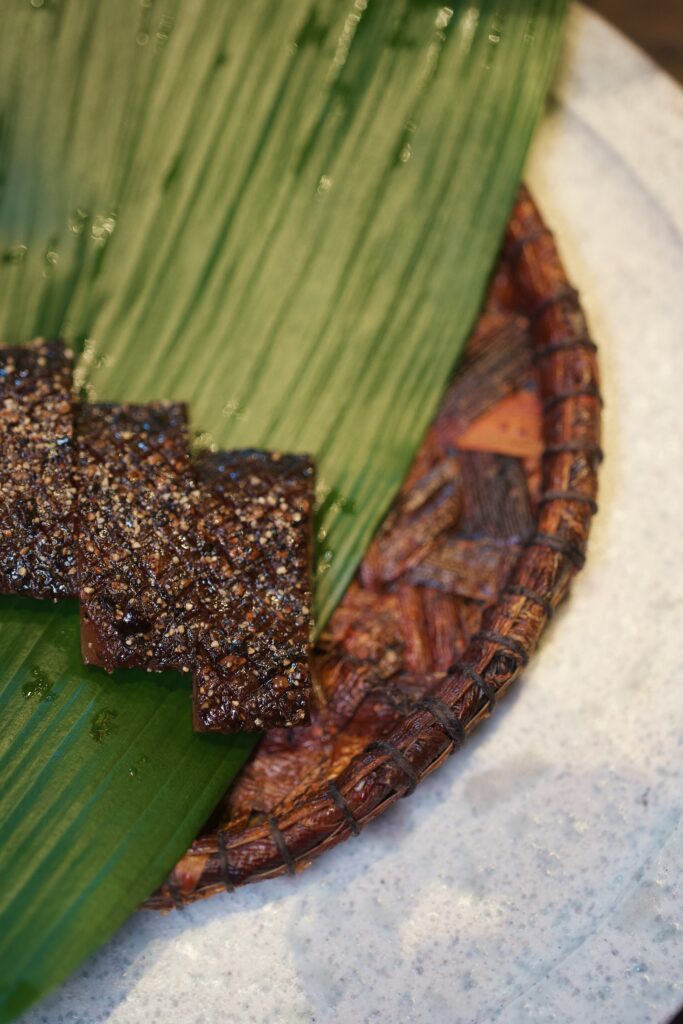 We were now moving into the main dishes and the first was a slowly grilled lotus "pepper steak" glazed with lots of umami rich ferments and served with a egg yolk rich sauce. The contrast with the rich sauce to the hot lotus root was amazing.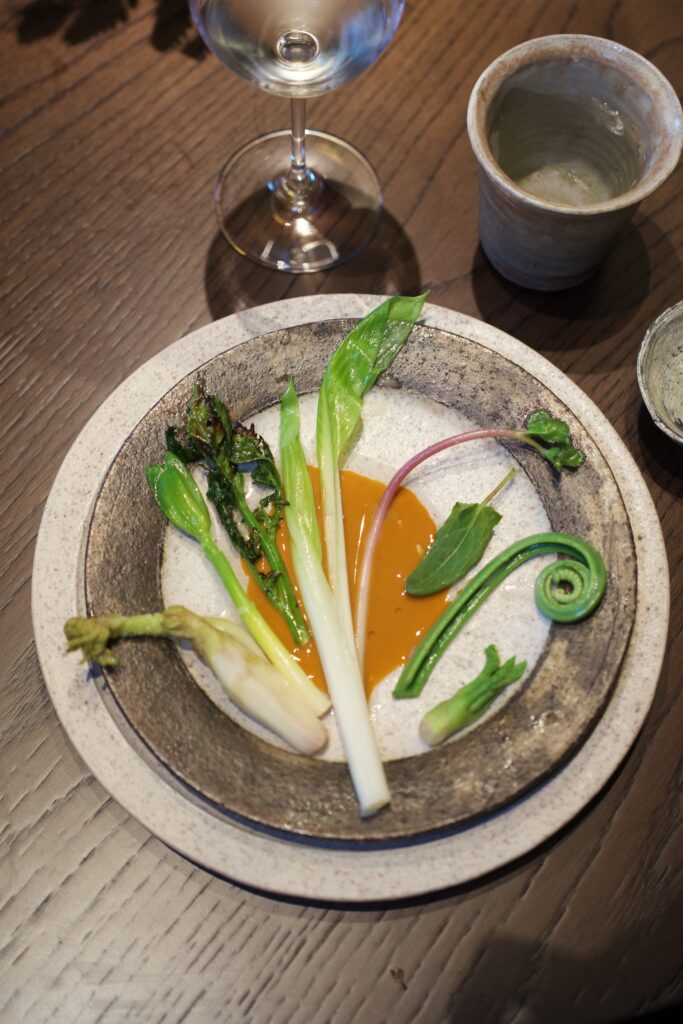 Different mountain vegetables was served. Each prepared in their own way to make them stand and was served with a sauce made from the head of a spiny lobster which was up next. Again truly delicious.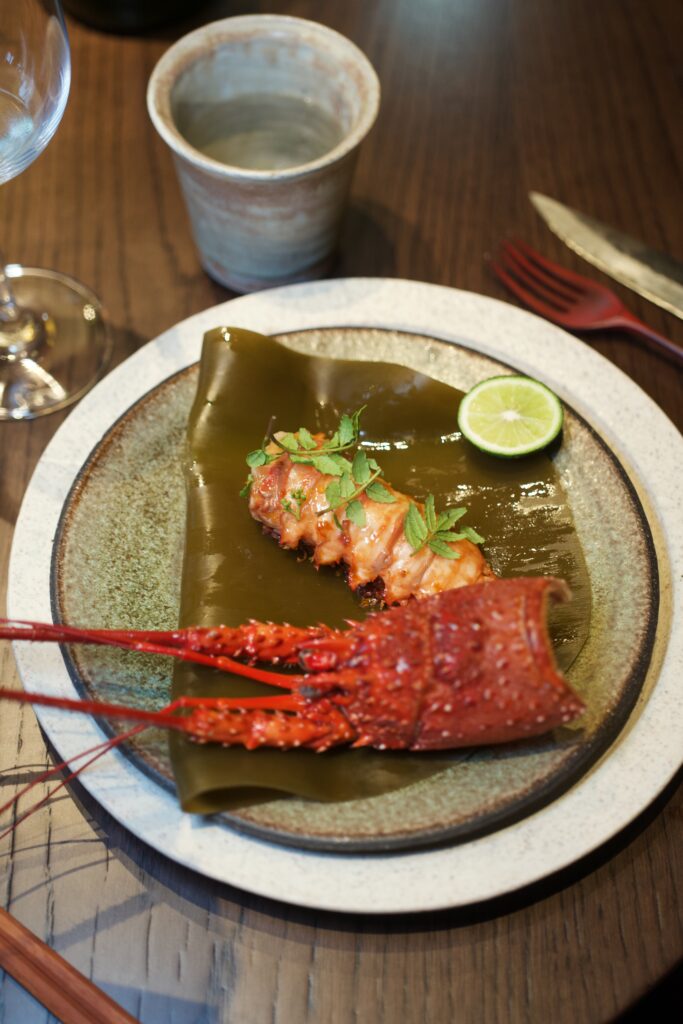 So was the actual lobster tail which was served whole with a spicy sauce to match the sweetness of the lobster. Yet another dish of outstanding quality.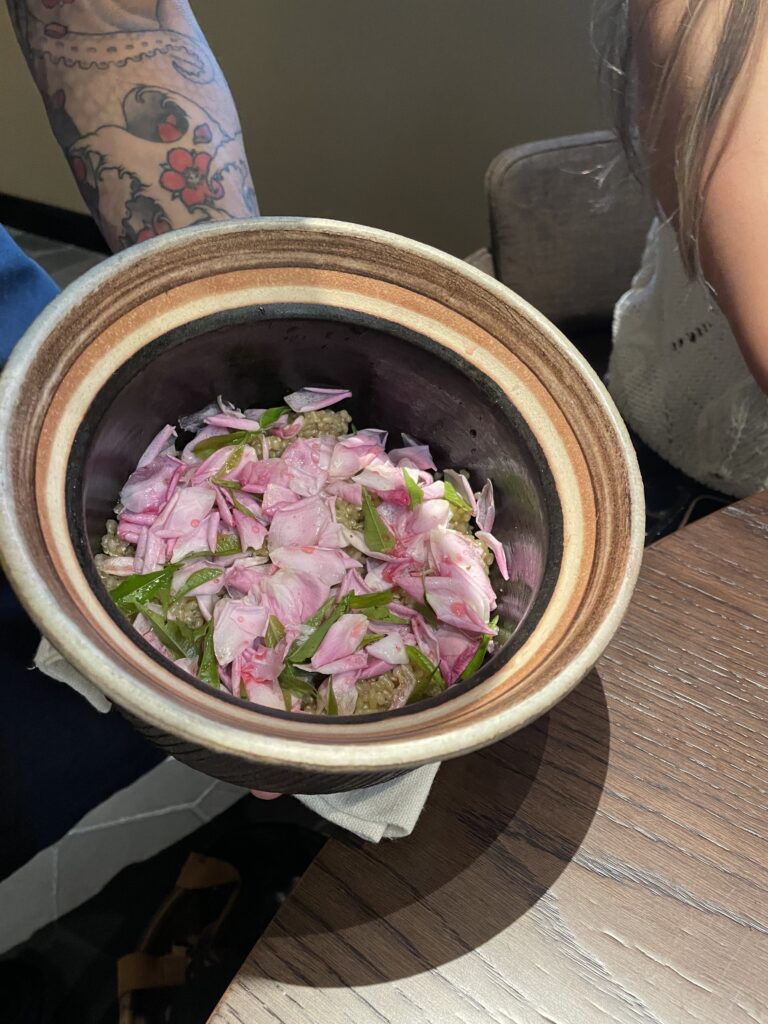 To finish our savory dishes we would as the traditions dictate end with rice. As it is Noma they would do this a bit different while still being true to traditions. The rice was a green rice served slightly crunchy and firm with the rest of the lobster and sakura leaves. A lighter dish in terms of flavor but still very impressive.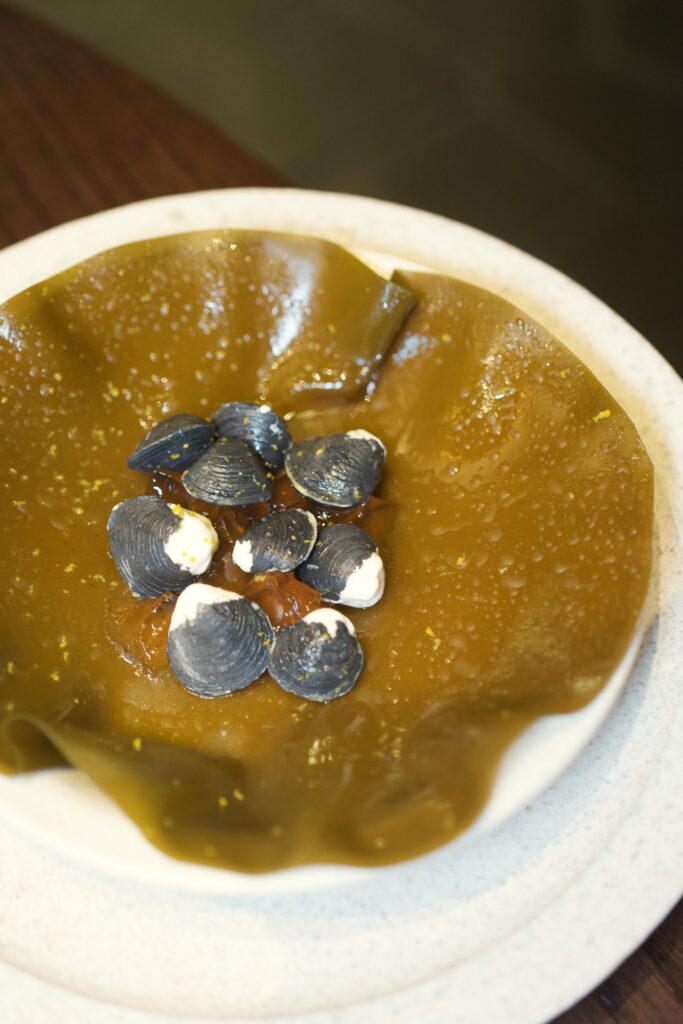 Impressive is also a very good word to use regarding this next dish. Yuzu is another favorite ingredient of mine and here it was combined with sake to form small clams. A dessert of contrast between the bitterness and refreshingness of the yuzu. Absolutely astonishing.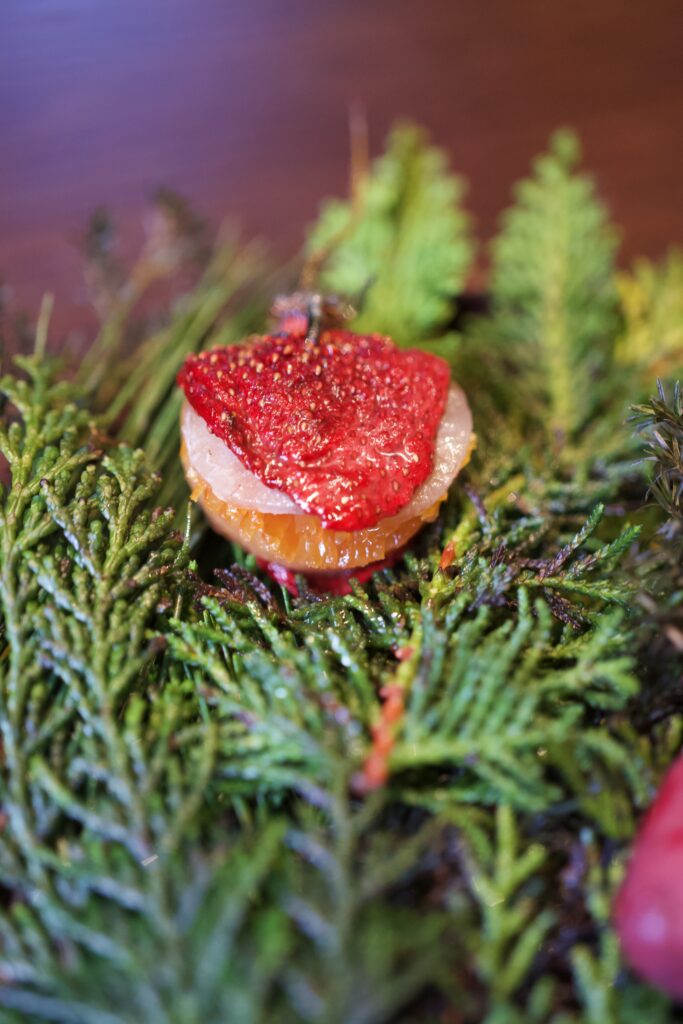 So was the last two bites of the menu was a dehydrated strawberry mochi and a sweet potato glazed with amakaze. Playfull, creative, super delicious and therefore also the perfect end to an increible meal.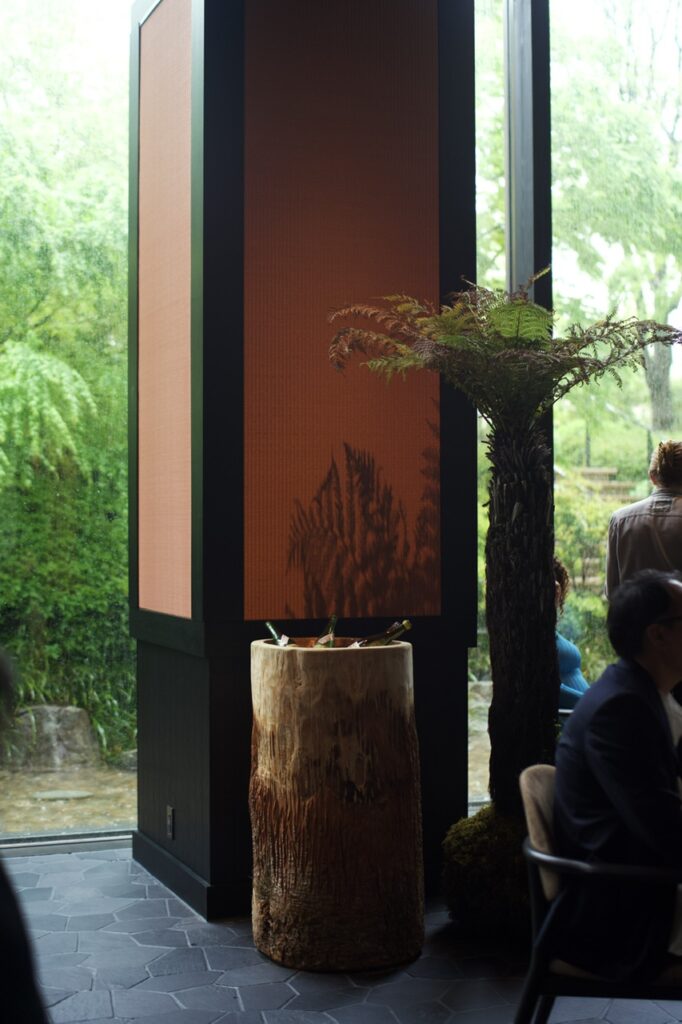 A meal at Noma is always an emotionel and impressive experience. Their popup in Kyoto wasn't any different in that regard, but it was definently not your standard Noma meal. The obvious one is that it took place in Japan where they kept their usual mindste but dived into the Japanese culture, traditions and not least their ingredients.
Before going to Japan you need to see the movie Lost in Translation. The reason being is that it is hard not to feal like things get lost in translation and you feal "like an outsider", but not in a bad way. I had the same experience at Noma. I was completely unfamiliar with 90% of the ingredients and the flavors that they had provided for a completely new Nomaexperience as intended. What they kept was the exceptional service where they like no other place make you feal at home and relaxed while knowing almost everything about you so they can tailor the experience to you. I consider my self a simple foodie in the sense that for me its about flavor before everything else and Noma has always had amazing flavors. In recent years they are less delicate and more powerful and filled with contrast whether being spice like on the lotus pepper steak or sharp contrast like the sake and yuzu dessert while also at some times being buttery and French like the swordfish sashi. Lastly they paid every bit attention to the decoration which also dived deep into Japanese design and colors which uncharacteristic of Noma was kept almost exclusively black and brown but with the gigantic window was still bright and cosy.
I will therefore curiously follow to see which of these many impressions Noma brings back with them to Copenhagen and naturally where they will go on their next pop up where I almost guaranteed will follow.