About 1,5 years ago Noma chocked the restaurant world by announcing that it would close down the restaurant to open a brand new restaurant which they would have to build from scratch less than 2km from the old building.
Having been open for 13 years in an historic building in Copenhagen and winning the title of best restaurant in the World 4 times the decision can be seen as risky but for Rene it was necessary to keep the innovation going.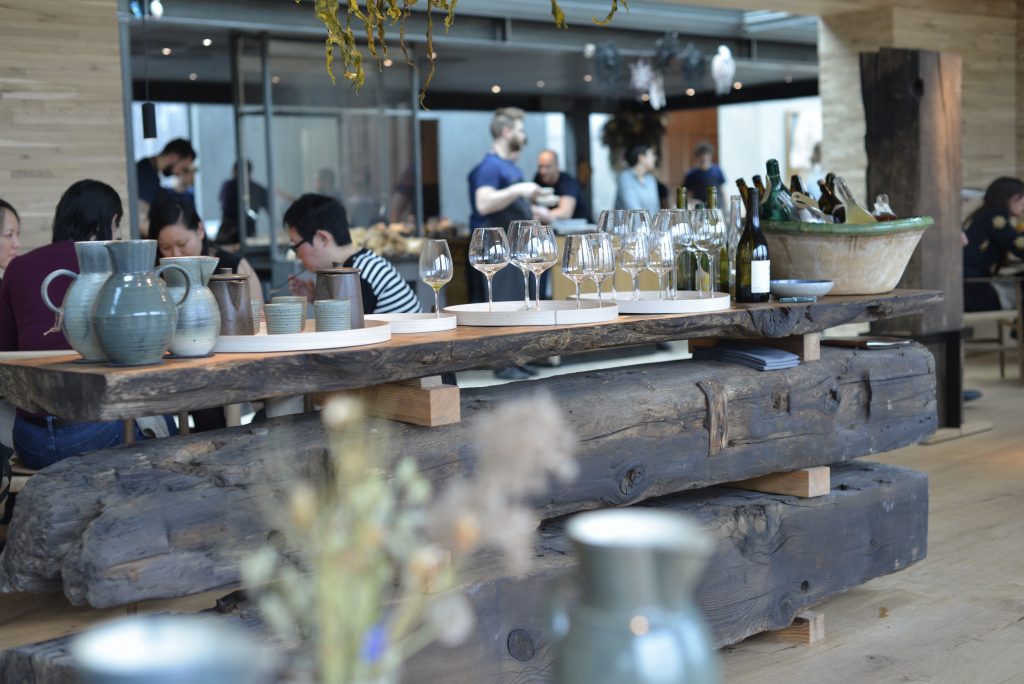 The new restaurant building is breathtaking. Especially at lunchtime it is filled with natural light and the light wood which is a big theme makes it extremely cozy while still maintaining a very exclusive feel. In stread of building one building they have created a small village of 11 buildings each with a specific purpose.
With the new restaurant Noma has divided the year in 3 seasons, The Ocean, Vegetables and The Forrest. The opening is in the middle of the seafood and shellfish season meaning that every dish will have an element from the sea and no other sauces of protein will be part of the menu.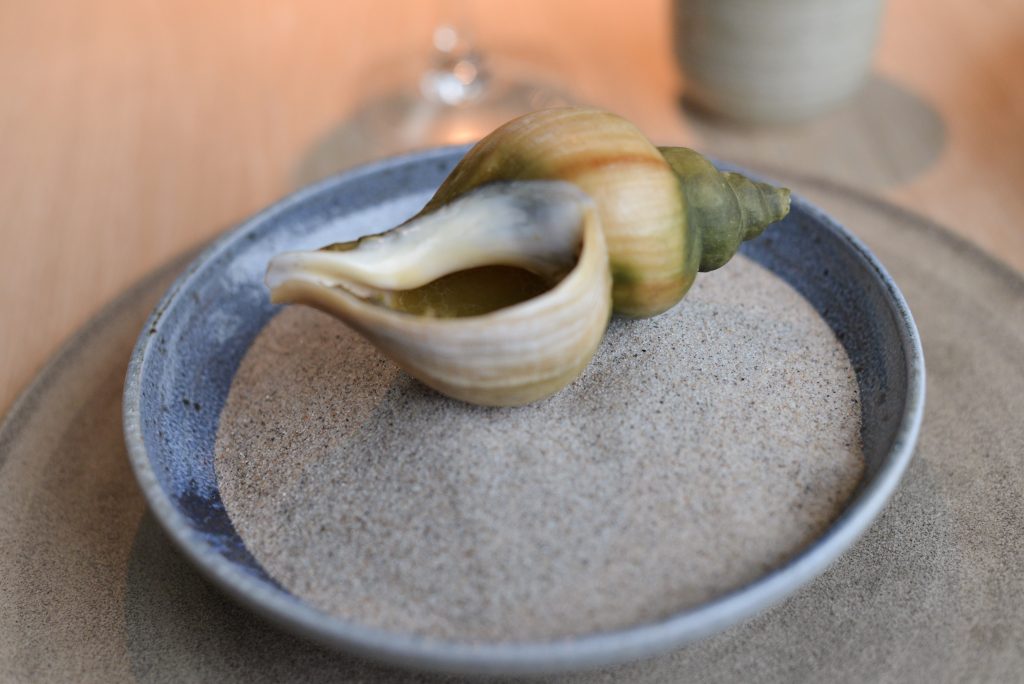 We kicked of the menu with a warm broth of sea snail and pickled herbs: It was served within a giant sea snail house from which you would drink it directly. It felt like a small warm hug to kick off the menu.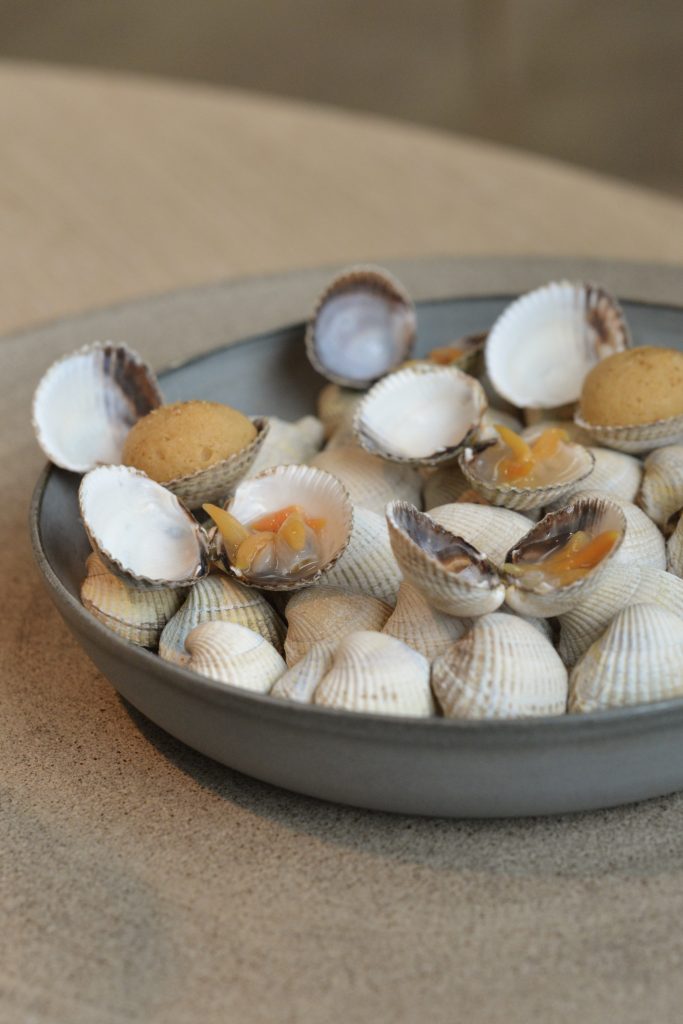 The second dish was the first where Noma would use their "magic potion" as I called it. A "juice" made with black currant, cucumber and fermentered kelp. This juice would play a big part of many of the dishes on this menu. Here it was served frozen together with Venus clams and was the first but not the last time where we were blown out of our chairs.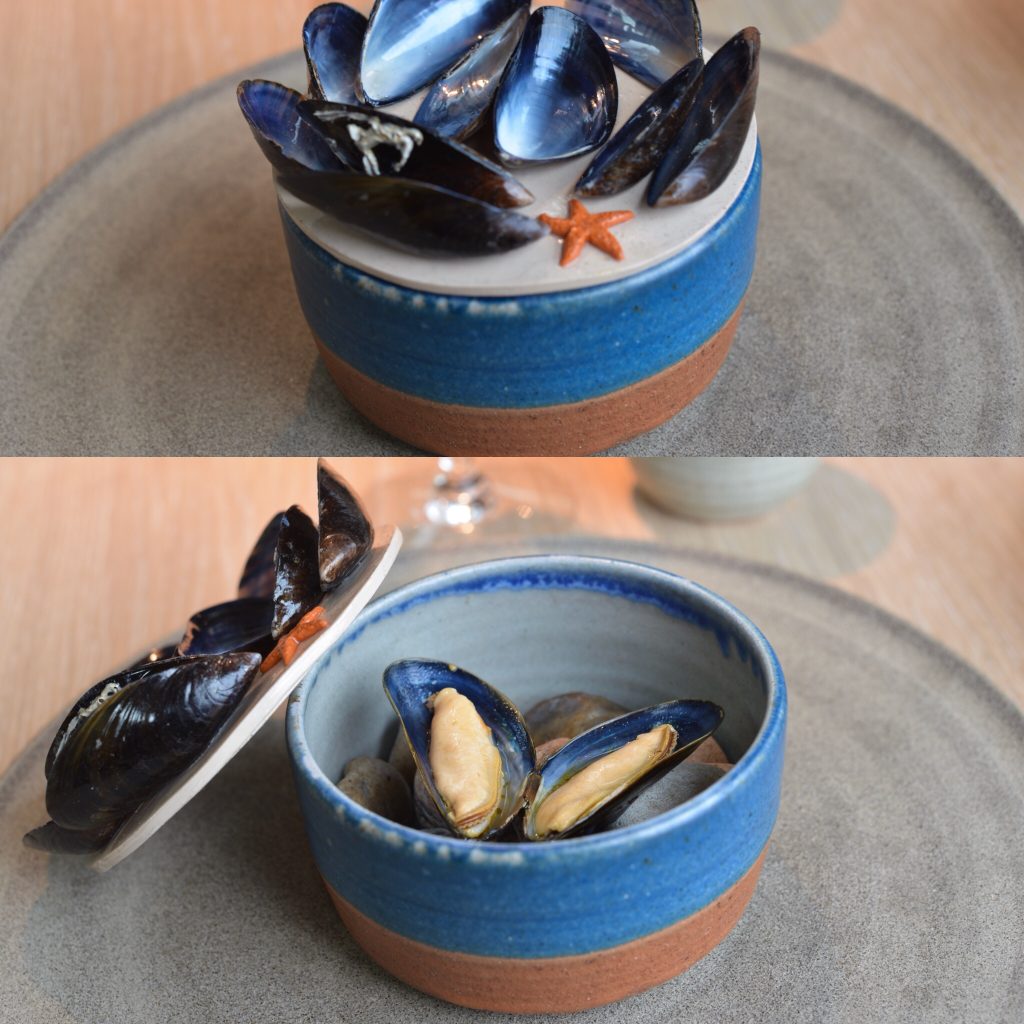 Noma's presentations have always been amazing but kept simple. Off course a streamed mussel was to be served inside a small ceramic pot with polished mussels on top. The texture of the mussel was soft, and the flavors was pure and delicious.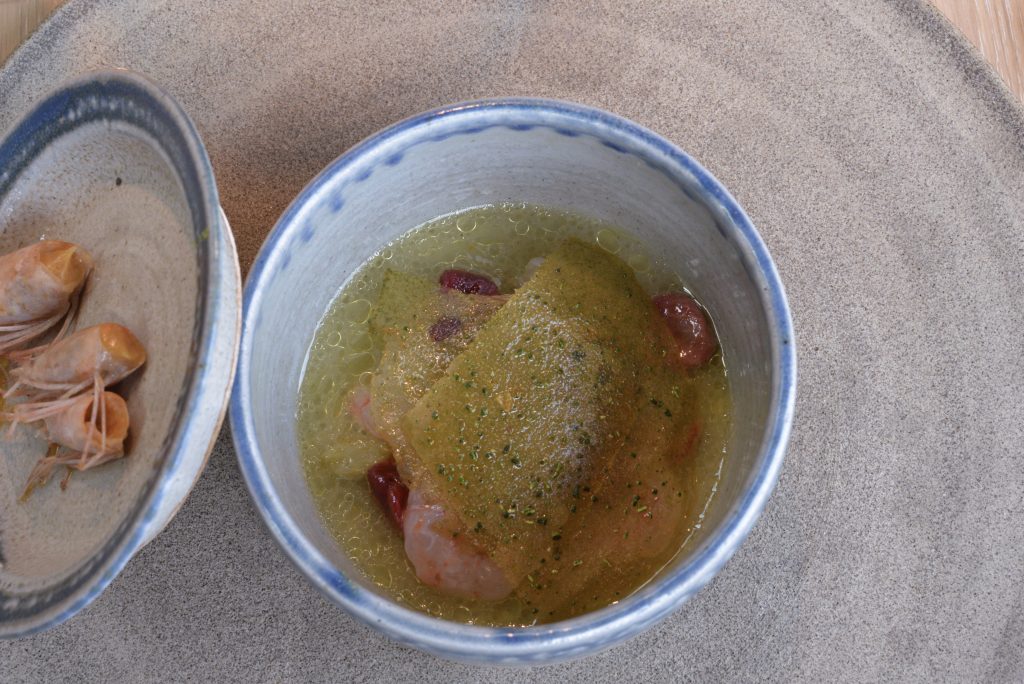 With this next dish we were yet again blown out of our chairs. Raw shrimps (that had been delivered alive from Norway) served together with the magic potion and dried fruits. The dish was so full of flavor from sweetness, to acidity and fruity creating a complex landscape which just worked so well. They like to use everything at Noma so off course the heads were filled with a butter using the brains of the shrimps.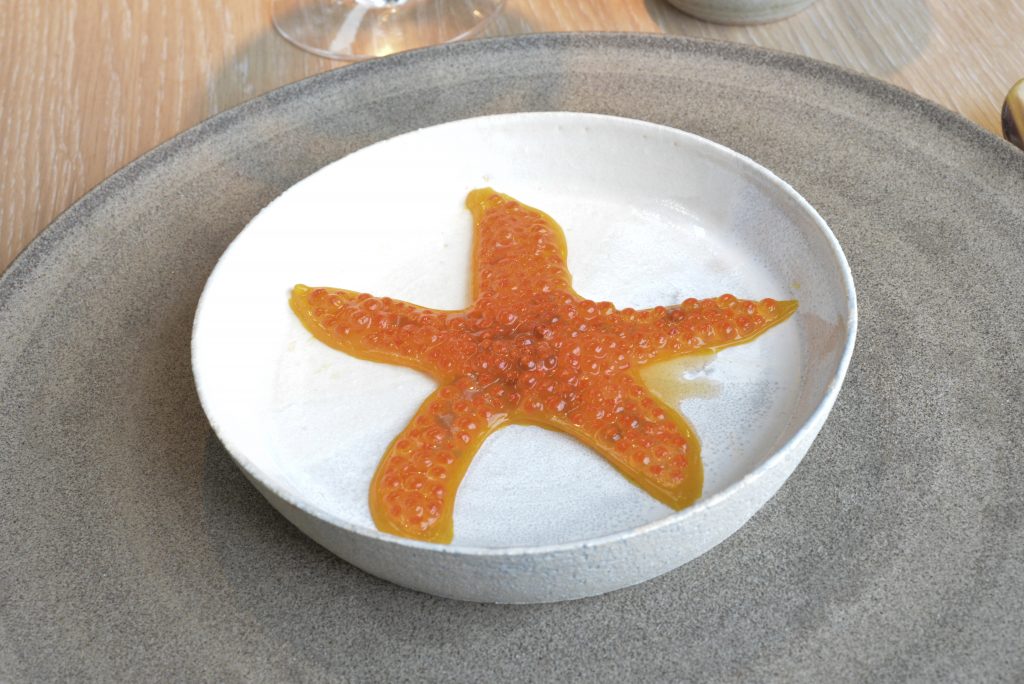 The test kitchen had worked long and hard trying to create delicious dishes using starfish but without luck. In this process they fell in love with the shape which was recreated using cured trout eggs, mackrel broth, cured egg yolk sauce and pumpkin seed oil. This dish grew on me with its sweet and nutty  Flavors.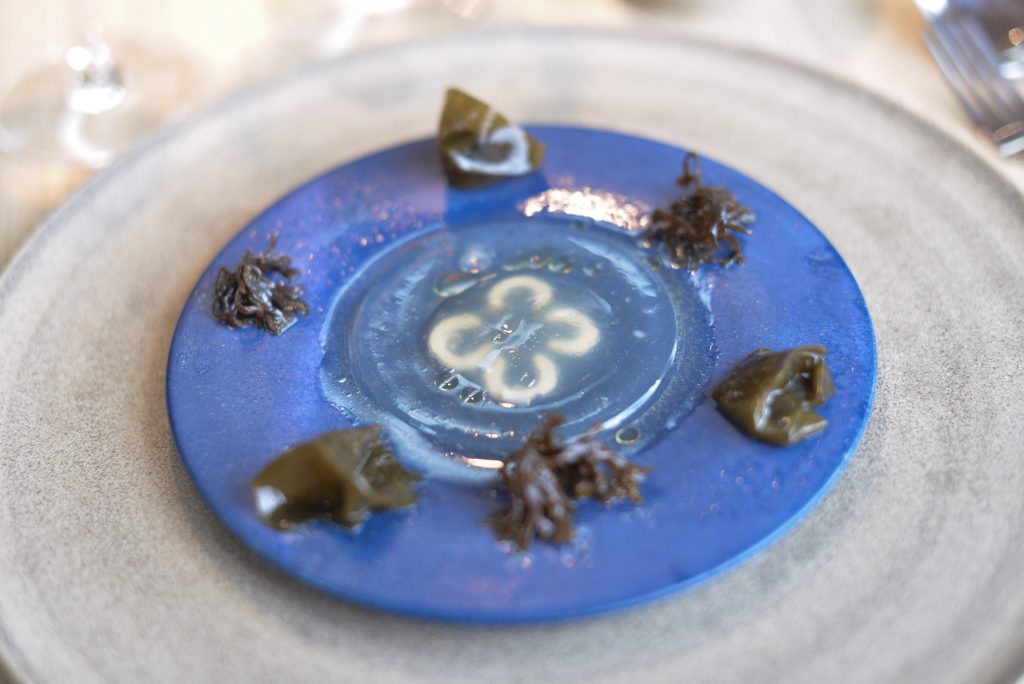 Proving that they really are crazy at Noma apparently, they also tried to cook with jellyfish which didn't work out so using a juice of agar they recreated the shape serving together with different types of sweet seaweed. It provided a refreshing cleansing element in the extensive menu but for me it was too mild in its flavors to really blow you away.
Blow me away they seriously did with a cool and classic element in the form of a series of seafood platters served on ice at the table. The first two elements were scallops and a mahogany clam. The mahogany clam is simply amazing and interesting. They live in the ice-cold fjords of Norway Living to be +150 years making them extremely umami rich and meaty in its flavor. Served with some pickled herbs and a light juice it is simply just  Amazing.
The scallops were served with the magic potion which for this dish was rehydrated. Again, such a simple dish which completely blew me away. It looks simply, but so much technics and skillset have gone into making it.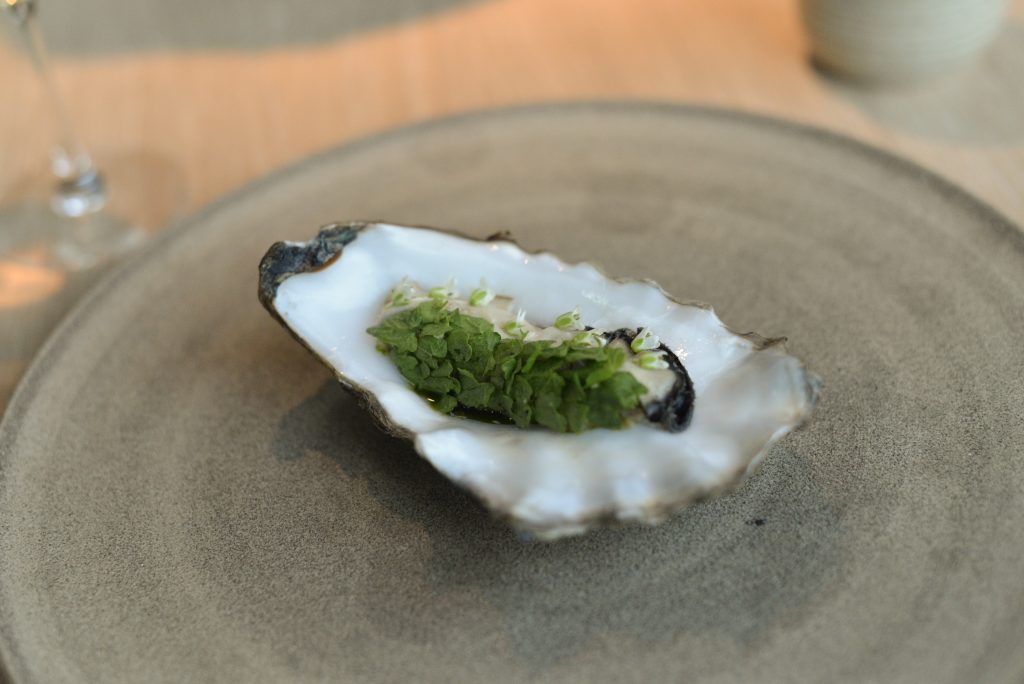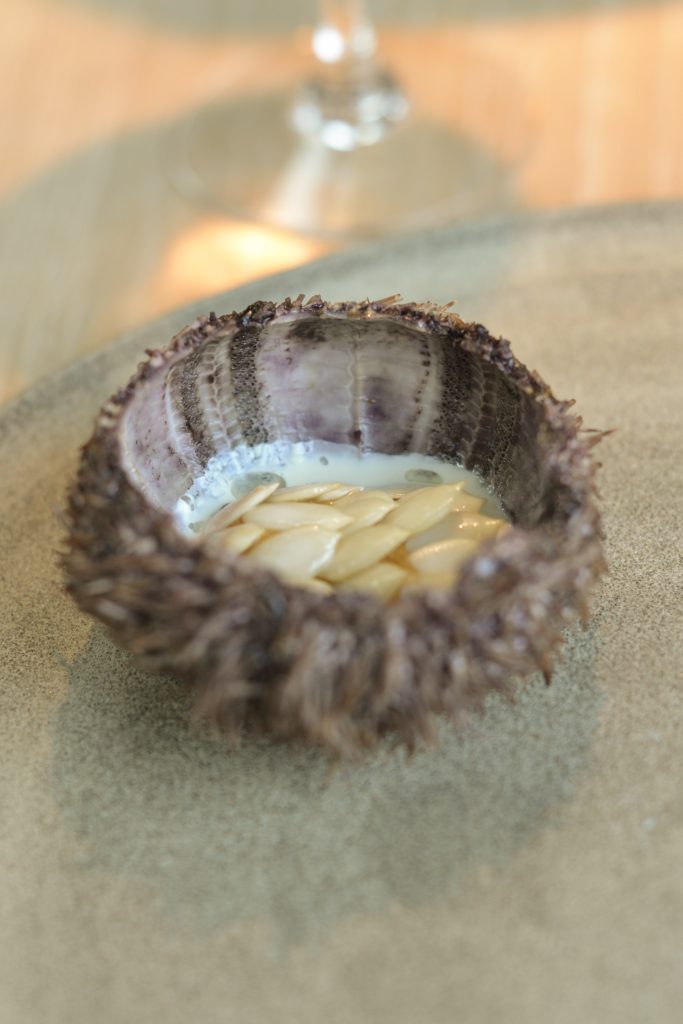 Continued with the seafood platter was a giant oyster and sea urchin. The giant oyster was the biggest I have ever seen, and the presentation was stunning. A small use of heat from horseradish and wasabi flowers.

The sea urchin felt extremely luxurious and delicate with raw pumpkin seeds and rose oil. So pure and delicate flavors. Simply just delicious.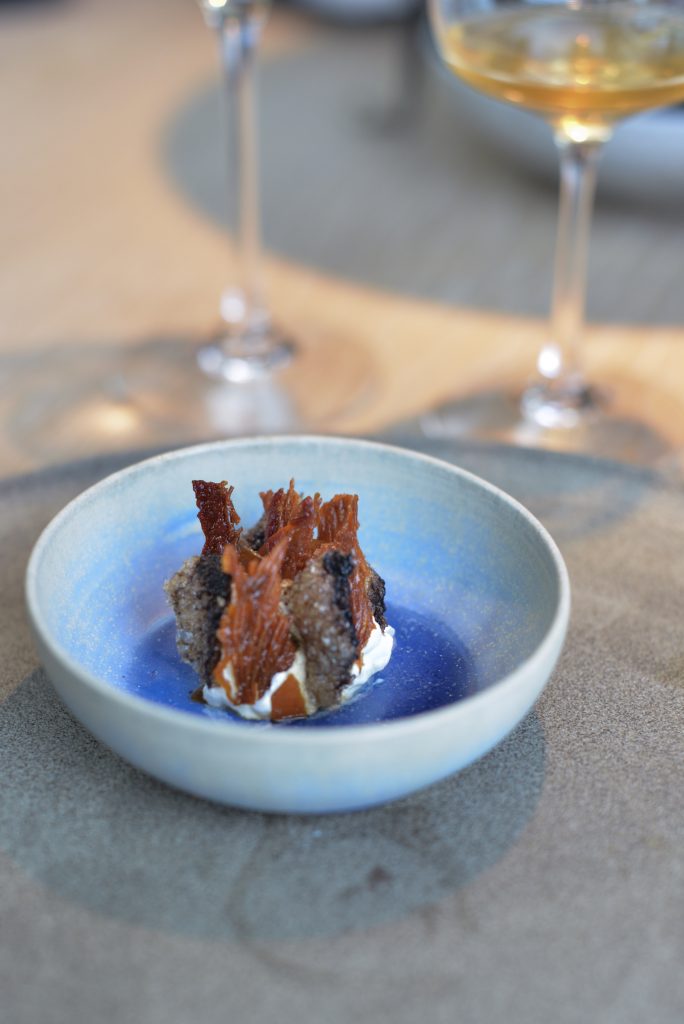 The last serving of the seafood platter was maybe the strangest thing I have ever eaten (which says a lot). Dried innards of sea cucumber and crispy sea cucumber skin served with a gonads cream. The innards were so rich and tastes like the most intense bisque I have ever had. I off course loved this dish. How someone gets the idea to cook with something like this I don´t know but I am glad that they did.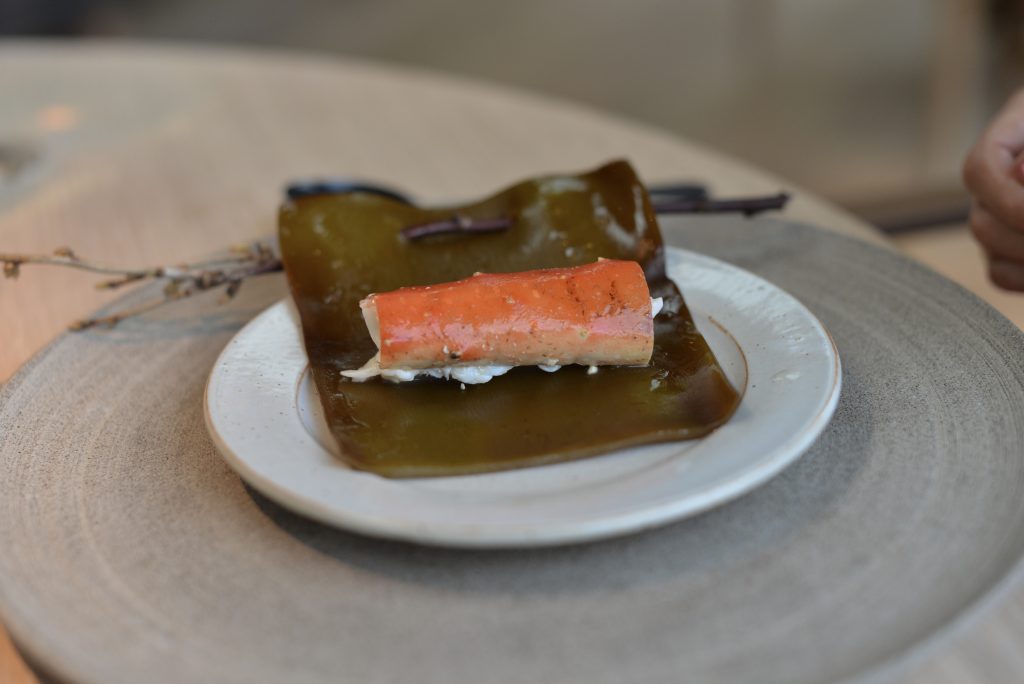 The dish was yet another "simple" dish which was full of flavor. Norwegian King crab that had been steamed in pumpkin seed milk. Soo sweet and delicate elements providing for a very delicious dish. It is not many top restaurants where a dish will basically just be made of one item in one texture. It truly shows are strong they are in their flavors and confident in their abilities.
Every once in a while, it is fun to repeat yourself. Especially when writing about yet another amazing dish. A very delicate squid served in a seaweed butter which was so umami rich and well just damm delicious. So off course I had to lift the bowl and drink the sauce.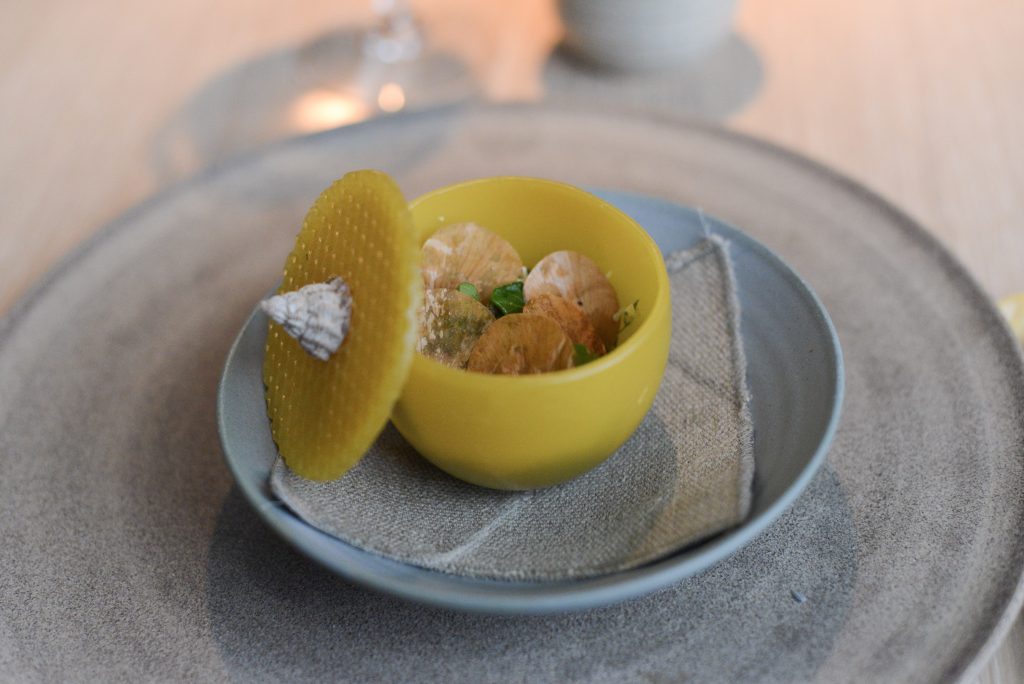 With the next dish the inspiration from Mexico was clear. Sea snail from the Faro Island with a spicy salat with dried rose petals and Icelandic wasabi flowers. With all the delicate dishes until now it was great with the small use of spices which came with this dish.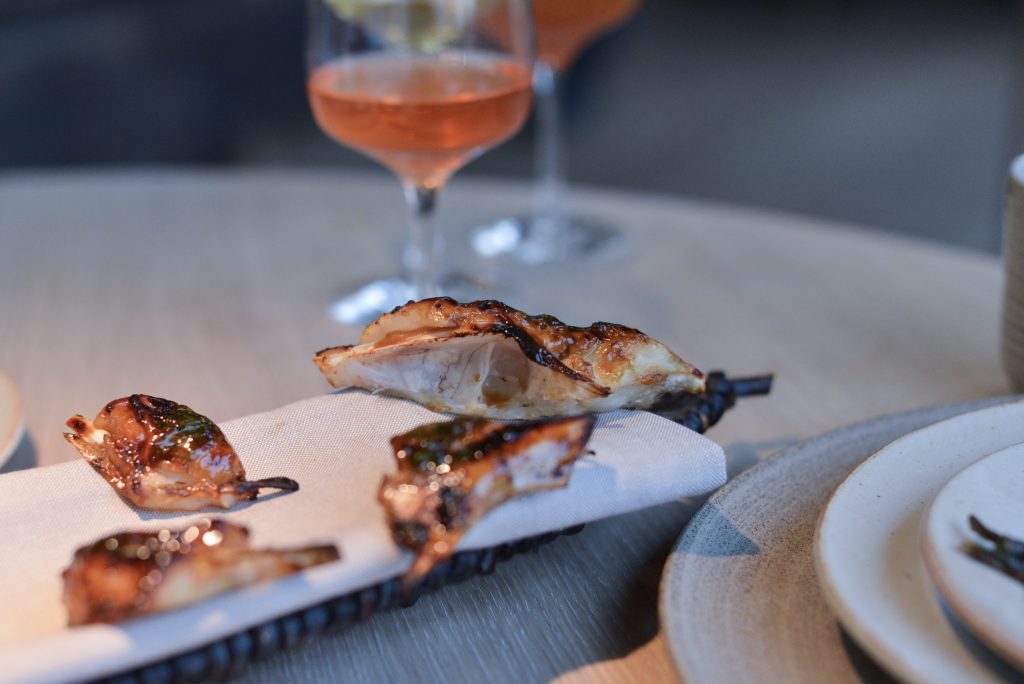 The main dish was fied cod head in different bites. In my opinion the head has the most juicy and delicious meat on the fish. Glazed in the magic potion it was just so dam delicious, so every piece of meat was eaten, and the bones sucked clean. The classic grilled ramson with scallops paste on the side just made the dish even more  delicious.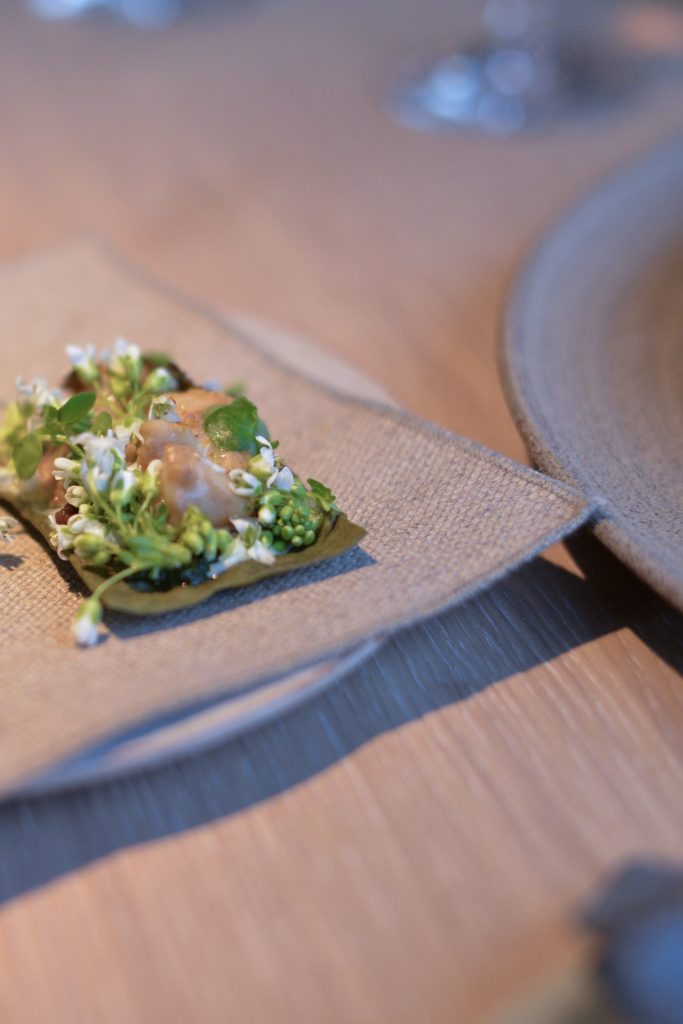 Before moving to desserts a small piece of kelp tart with sea snail and wasabi flowers was served. Again, a nice use of heat was used, so that the dish almost acted as a cleanser.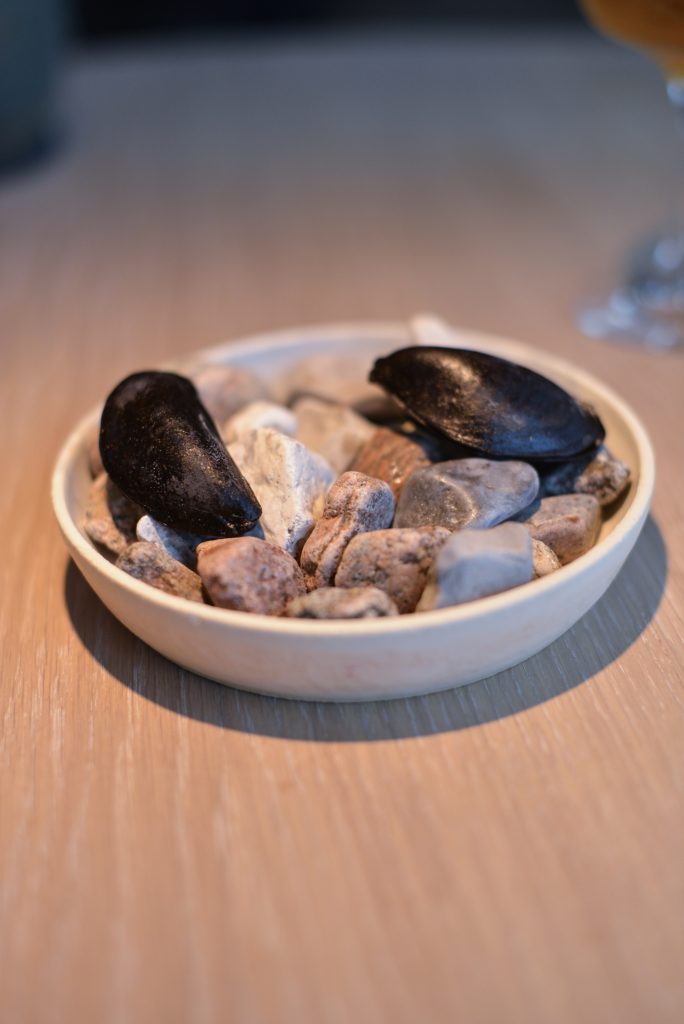 It is seldom that the desserts at Noma will blow me away but the first one really did. A pear had been "dried" for 3 months at 60 degrees making it completely black with a sweet and umami rich taste and leathery texture forming the "shell" of a mussel. Inside was a roasted kelp ice-cream. Definingly not your standard dessert but I loved the nutty umami flavors.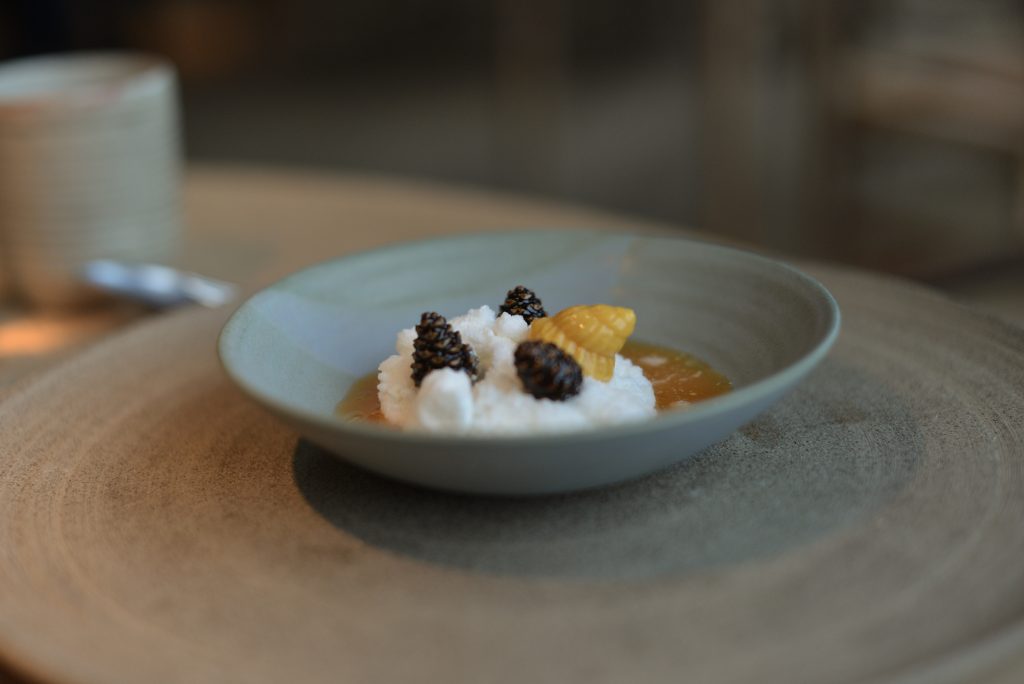 The next one could unfortunately not live up to the first dessert. At least not in flavors, but it could in technical skillset and innovation. Cloudberries ice-cream and small fermented pine cones. This was my first time eating pine cones which were soft and chewy in a very good way.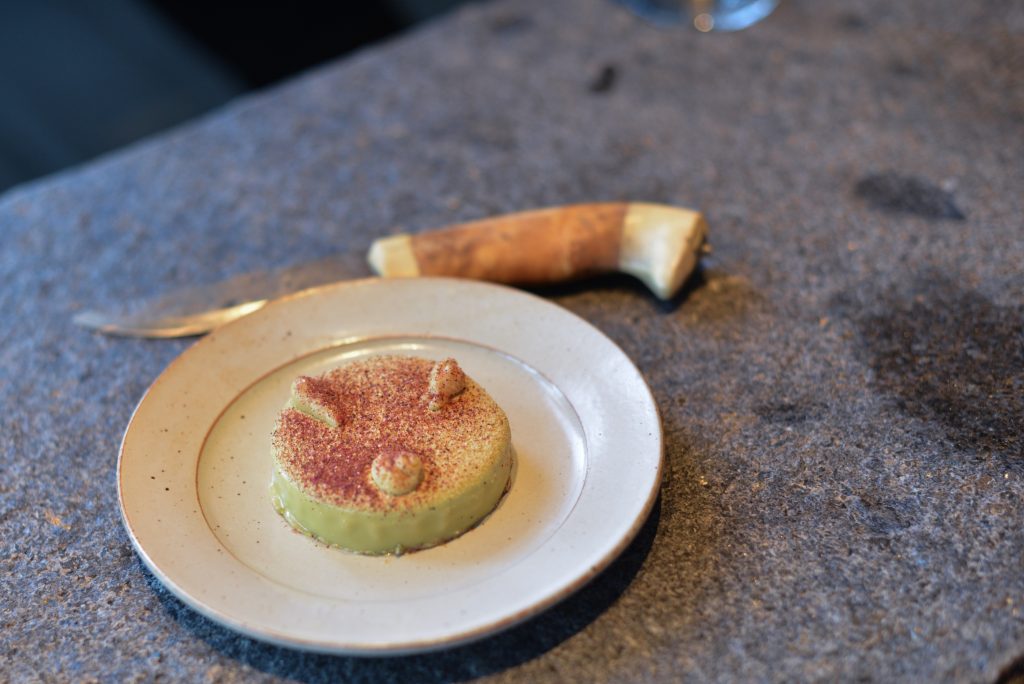 The last two small desserts were eaten in the adjacent lounge. A small bitesize sugar kelp tart and a pretty good plankton cake which true to the style of Noma had to be carved with a dagger. A nice finish of the meal.

This was my 9 visits to Noma and probably the most memorable.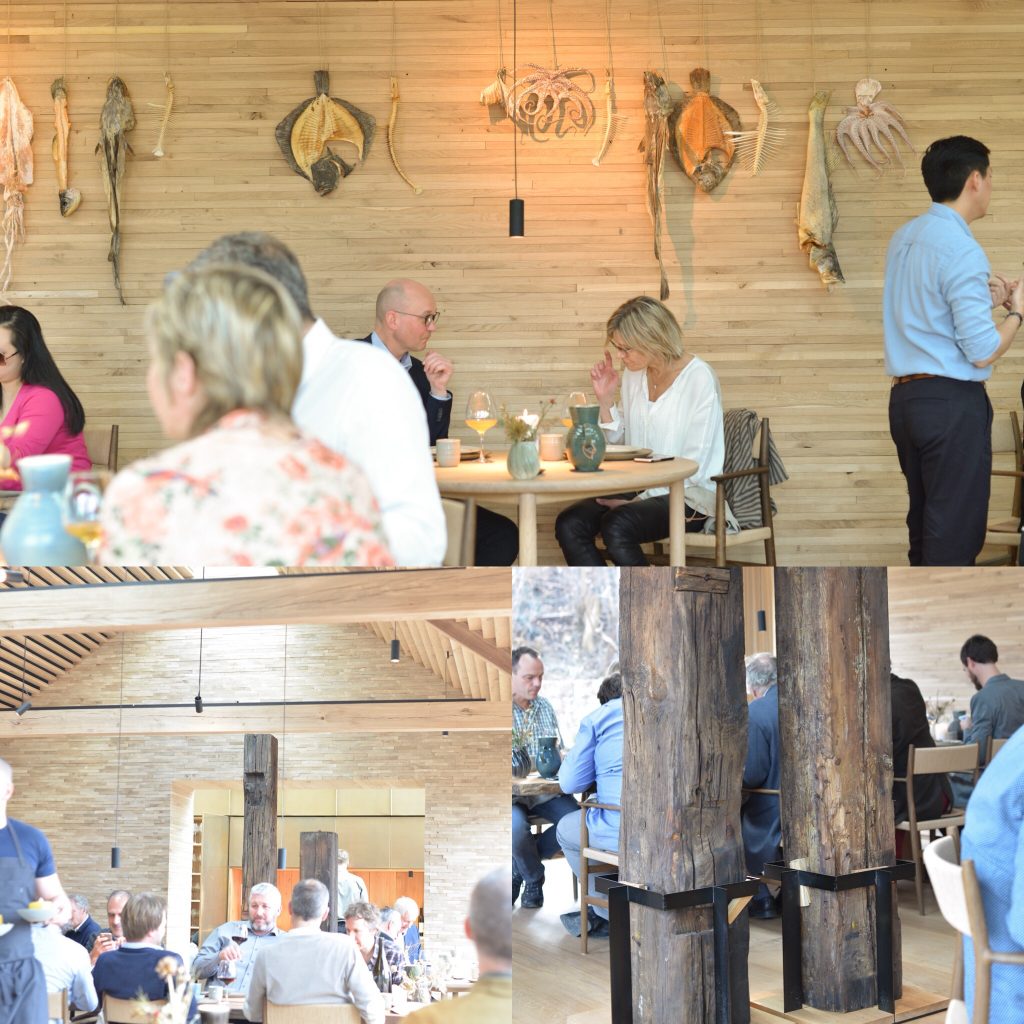 The dining room is simply amazing. Everything is so beautiful and luxurious where the attention to detail is amazing. I mean even the bathroom door is made of solid oak. Probably the most famous Danish word is hygge which is a term used for the special feeling of a warm, pleasant and laidback atmosphere. The new restaurant is extremely hyggelig and laidback which I absolutely love.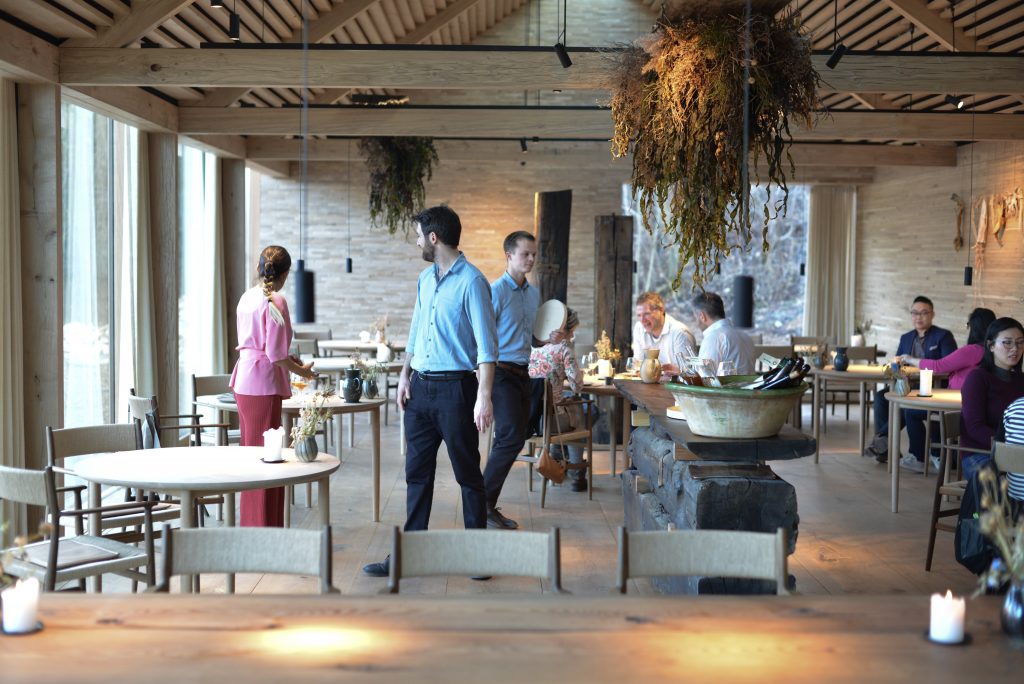 At Noma everyone is responsible for making the guests feel welcome. This starts already at the door where you as a guest is greeted by EVERYONE at work that day. The effect is off course that you feel extremely important from the first second and you understand that Noma is a temple for the guests not the chefs. This continues throughout the meal where the chefs present most of the dishes and even the now famous dishwasher and partner Ali walks around in the dining room to great the guests.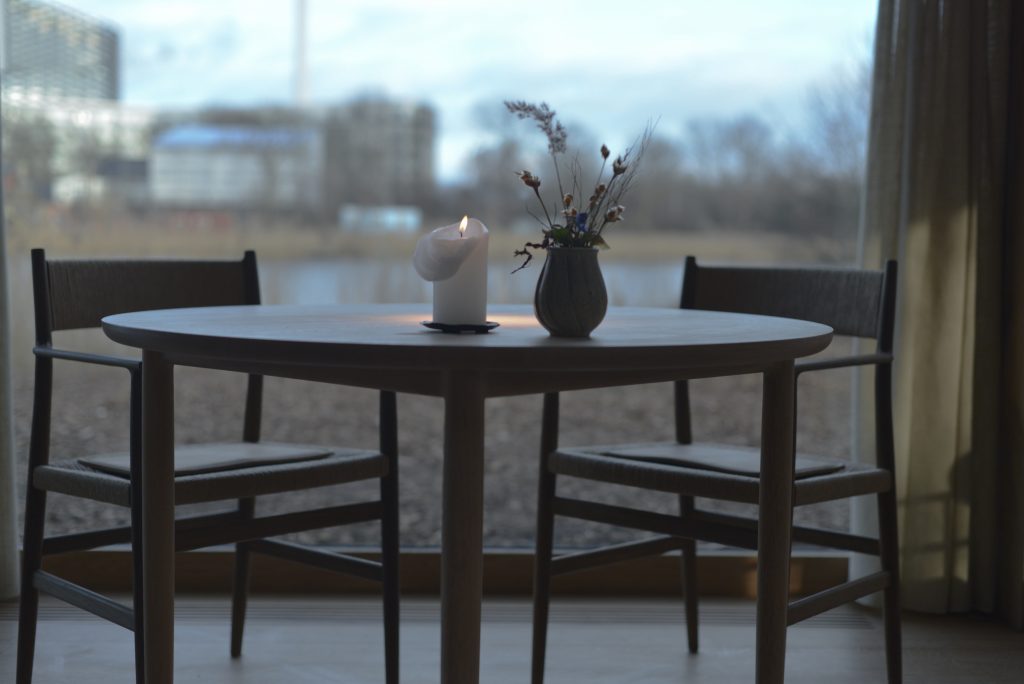 All these little pieces creates a relaxed and welcoming atmosphere.

Some of the most creative developments of food have come out of necessity and strict boundaries. By choosing the boundaries of 3 distinct seasons in the form of Ocean, Vegetables and The Forest Rene Redzepi has given the team very stringent and narrow theme to push the creativity even further then what they had already done.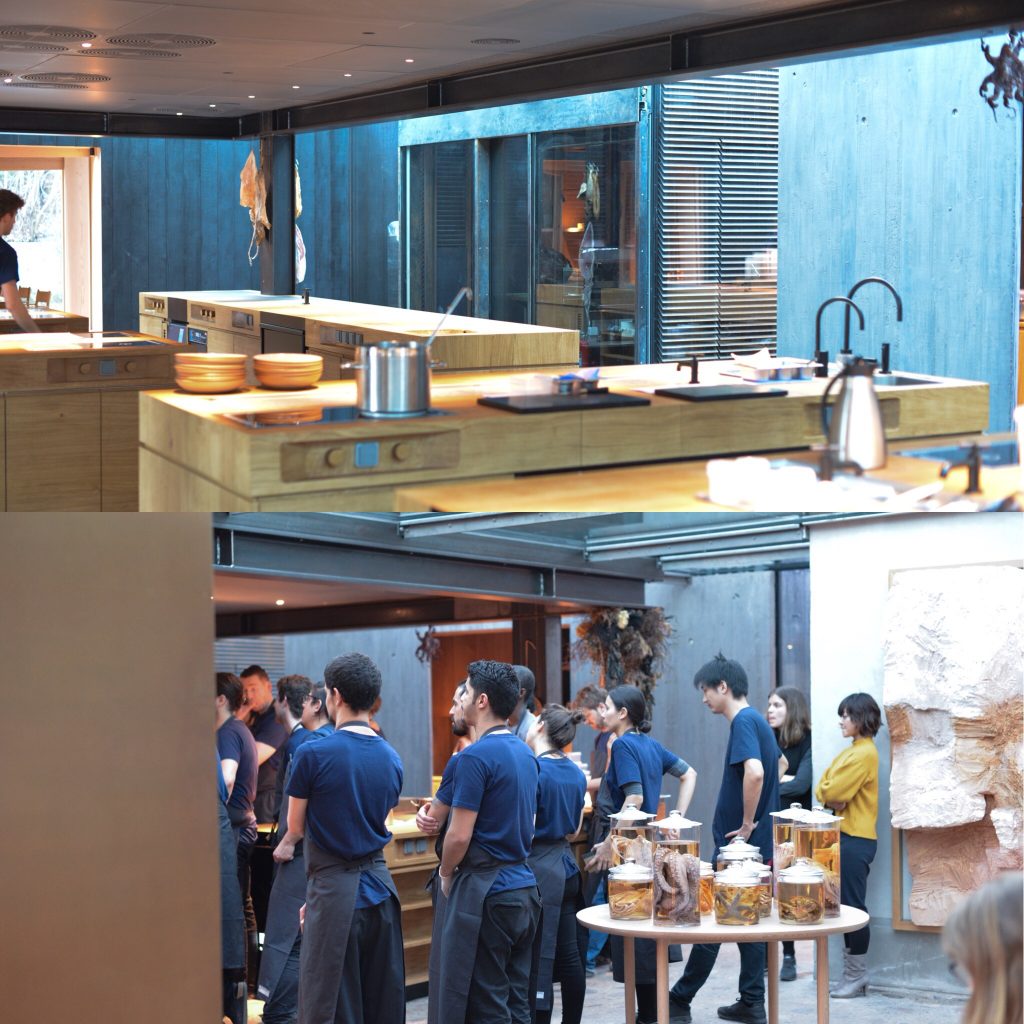 Whether or not Noma will return to number 1 of The Worlds 50 Best next year I don´t know there is no doubt in my mind that it is the most innovative and boundary pushing restaurant at the moment and they achieves all of this while still serving dishes that will blow you off away with delicious food. That is if you accept the premise of the restaurant, fx if you don´t like seafood don´t come in seafood season.

Regardless of the place on any list Noma will probably always be my favorite restaurant. The atmosphere is created by an amazing group of people which I always look forward to seeing is in my mind what makes Noma truly unique.
How Noma will evolve over the next couple of years or even tackle the creative challenge of the next season who knows, but I am very curious to follow the development and I cannot wait to return this summer for the Vegetables Season.