Mads started his career very young in the cookingshow Masterchef where he in 2015 became the runner up. Already at this point he impressed everybody with his technical skills and attention to detail. Following the program he did training at a finedining restaurant in Århus, but with his confidence off course he wanted to start on his own with a private dining concept. With an invitation to experience his concept at his farm and and to meet him my expectations were naturally high.
The evening started with a series of simple almost classic snacks served outside on the terrasse.
Nashipear infused with yuzu. Simple and refreshing.
Irish oysters with 50% cream and cucumberberries. Nice combination of richness from the cream and salty oyster.
I found the last snack the weakest. Shrimp crocette wihn an emulsion of ink and lemon. Nice textures but bland flavors. Luckily an amazing glass of 2002 Palmes d'Or champagne could make up for the crocette.
I am certain that neither any Peruvian or Mexican will call this next dish a ceviche as Mads does. A vey subtle raw turbot served with nuts from Piemonte and fresh cheese. Delicate flavors, but I do prefer the Mexican ceviche with more heat and acidity.
Next up was another small snack in the form of a cabbage stem with smoked bone marrow and cheese. Nice and umami rich.
Chicken skin and caviar is an almost classic combination and that for a reason, but then again what doesn't caviar work great with. Off course this was not to be our last caviar dish.
Caviar was not going to be our only exclusive ingredients for the night. With the next dish we started the truffle section of the evening.
Quailegg in a crispy batter served with Australian wintertruffle and plenty of it. Again classic combinations. Delicious.
The next dish was one of my favorites. Brill with caviar and a sauce based on champagne and brown butter. This was just pure deliciousness. One more please.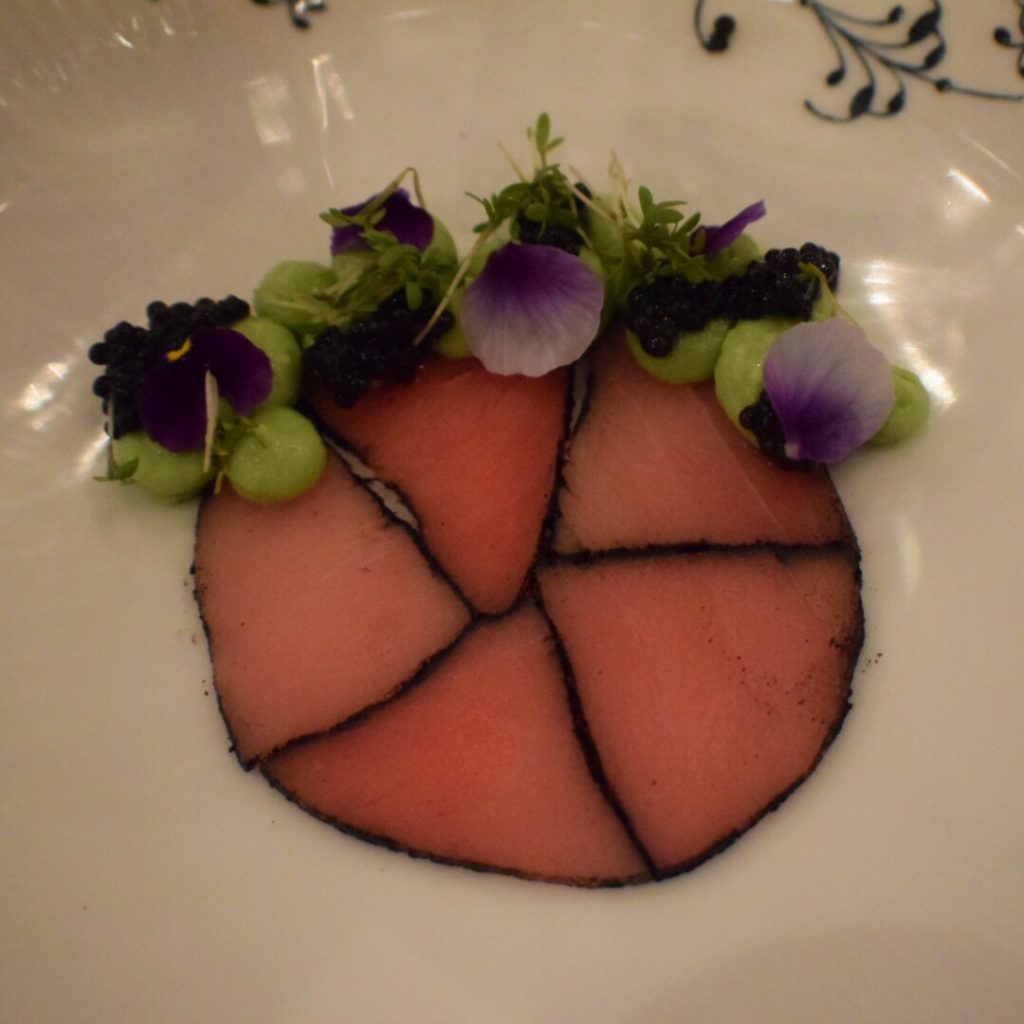 Truth be told I am not a big fan of tuna. This was not an exception, but it looked beautiful.
With the next dish we did however continue with pure deliciousness. Tartar in a very crisp cone and some pickled green tomatoes. A couple of weeks later I tried an updated version of this tartare. Even better than this version.
We continued in the raw meat section with some smoked dear with fermented garlic. Nice but still work in progress in my mind. Good potential though.
Quail with butternut squash and a reduced pomagrain sauce. Nice combination of sweet, fat and acidity.
To finish the main dish off course there was more truffle in store with yet another serving of dear with a fasansouffle and a classic "pomme anna" with truffles. A very rich and heavy dish. A bit too rich and heavy for my taste, especially after so many dishes.
Before the desserts we were to taste a very delicous goatcheese from Norway. Rich, creamy and with a potent flavor.
Moving on to desserts he definently wanted to show of his attention to details and technical skillset which in my view ment that he forgot that the dishes still had to be delicious. Champagne icecream.
In masterchef he amazed everybody with his cispy sugar globes which requires incredible skills but flavourwise it is just sugar. Inside was a nice pineapple foam. Great presentation but in my theatrical tricks fall to the ground if the flavors are not spot on. Which they were not in this case.
As a petit four he returned to old school classic combinations with a Danish Flødebolle with vanilla and rom.
So how was it overall. There is no doubt that Mads is extremely technical skilled and his flavor combinations are spot on. His age does however show. You can feel that he wants to impress guests with his skillset and use of exclusive ingredients. This is natural from a young chef where the ability and confidence to serve more simple dishes will come with age. I am therefore very curious to see in which direction his style of cooking will evolve, especially working by him self where I assume that mentoring is less then had he been working in a restaurant under a seasoned chef.
That being said it was an amazing meal by a very talented chef.