With 3 Michelin stars and having topped The World 50 Best it's fair to say that Osteria Francescana is one of the modern iconic restaurants. It wasn't until a year ago however that I were to try it for the first time. I promised my wife that we would return together. And so we did to celebrate 7 years since we met.
So July 19 we had lunch in the private room at Osteria Francescana. The theme of the menu this was Bob Dylan and was called "We are Here".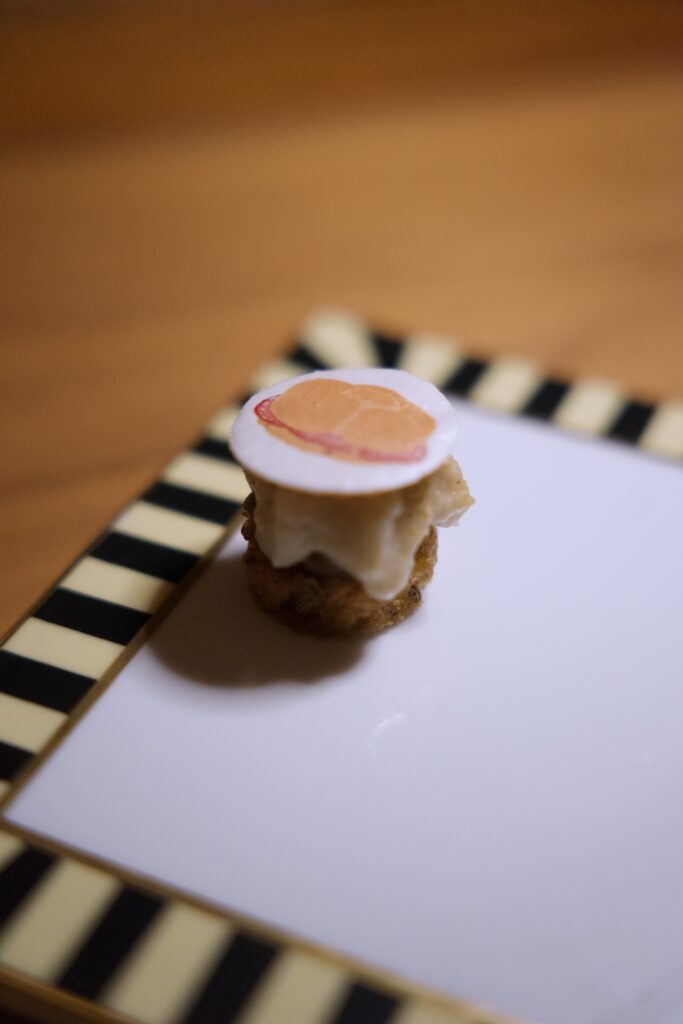 Already from the first snacks it's clear that Massimo looks to his own and Italys history to build his future. This to inspire and maintain traditions and not to get stuck in them. The 3 small snacks were all tributes to classic Osteria dishes such as " Normandía,  memory of a mortadella sandwich and an eel swimming up the Po River".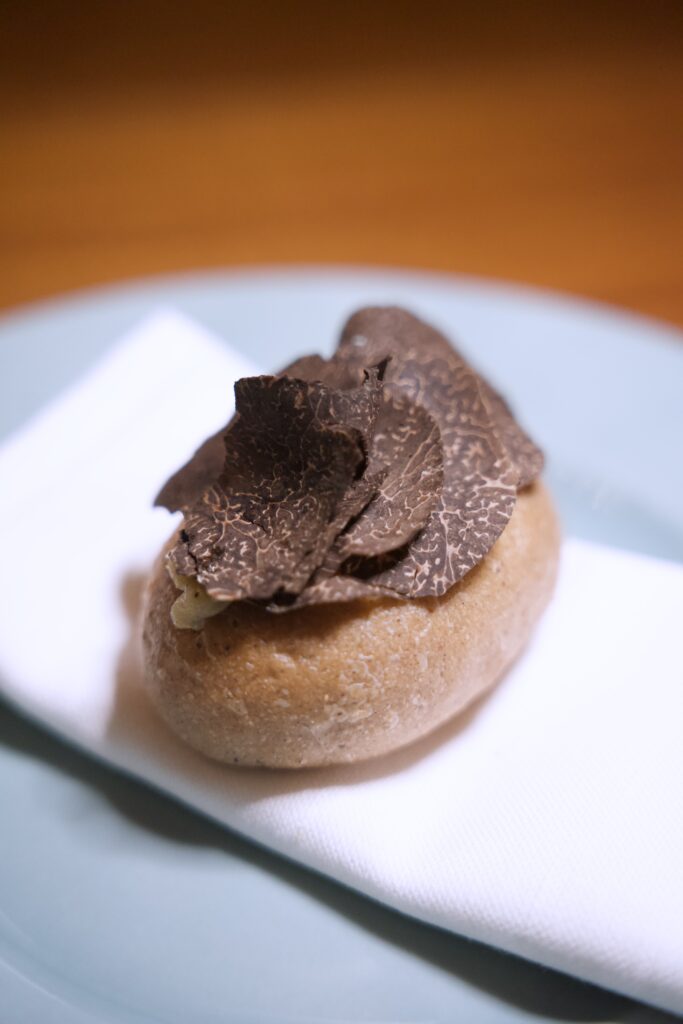 A potato that wants to become a truffle
For the next dish the complexity would be turned down. A potato bread was served with fregant summer truffles. A delicious dish but we didn't feel the magic yet.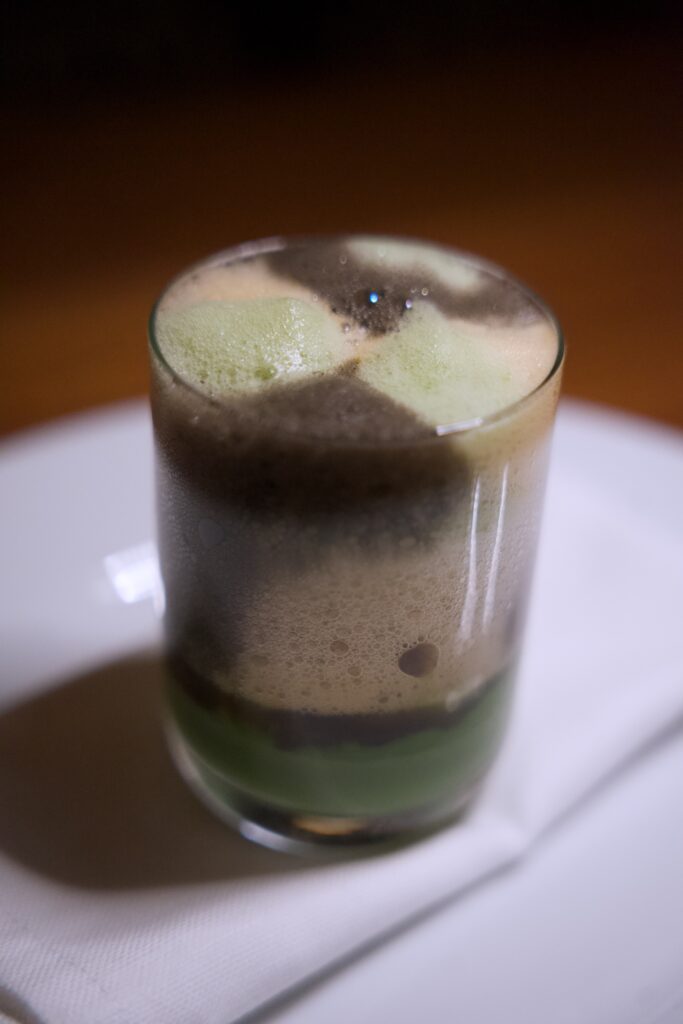 Mediteranian camouflage: red mullet and langostine
A very well constructed dish with very nice textures and a perfect seafood chawamushi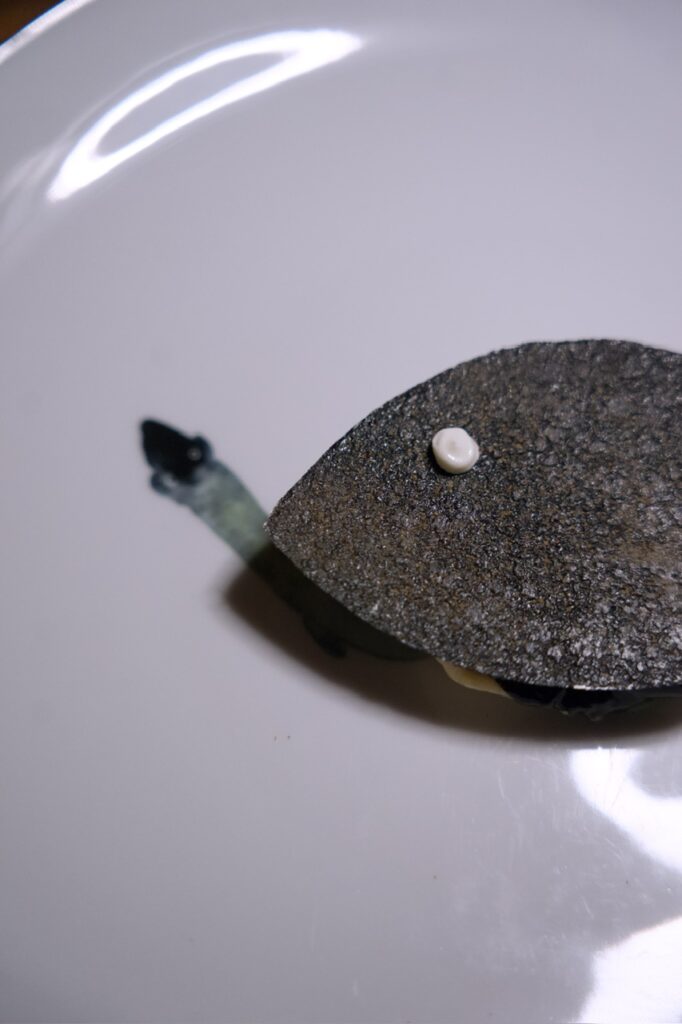 Trout in Black
In Modena trout is not considered to be a fish of high value. So naturally Massimo wants to change that. Here it was served  and lemon verbena was a super nice touch. The caviar was the icing on the cake.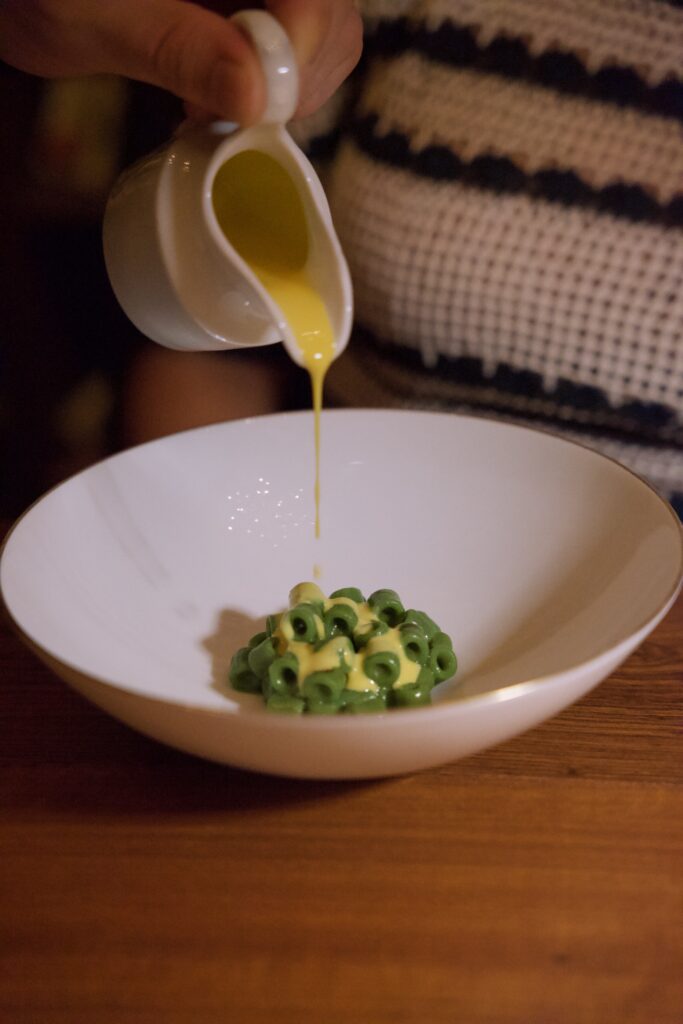 Caesar salat as a pasta
Next up was a cesar salat, but served as a pasta. The pasta had a bit of smoke a bit of anchovies and naturally lots of parmegiano reggiano. A dish that in its flavor simply just blew away. Deconstructing and reconstructing dishes in an unexpected manner really is something that he masters.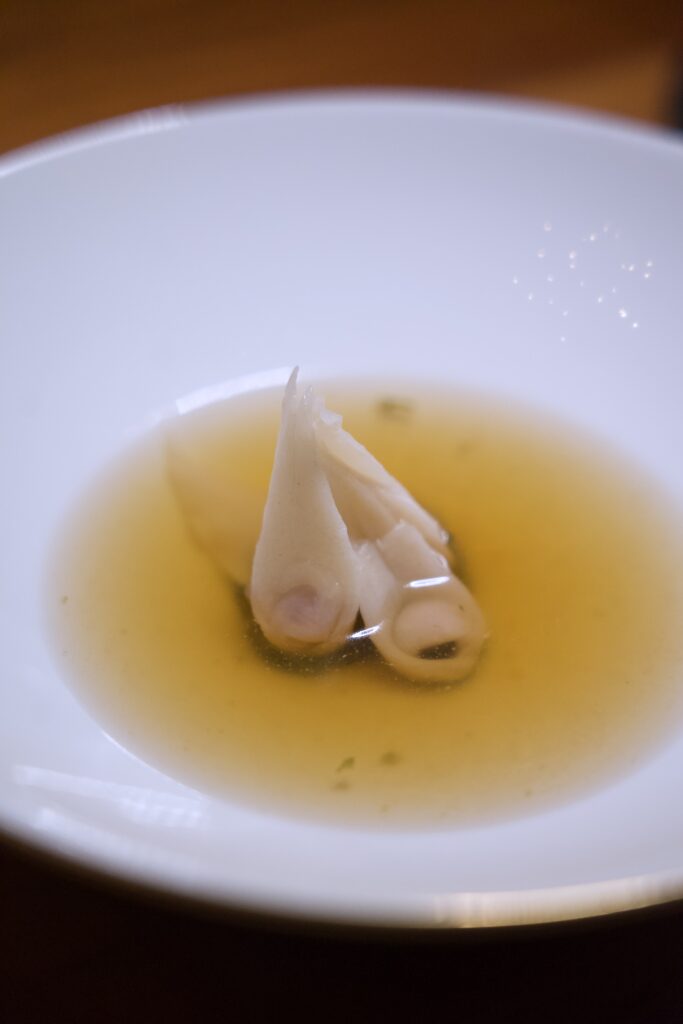 Dumpling or tortellini
Pushing and playing with traditions is another thing that he loves to do. The next one depending on how you see the world a dumpling or a tortellini. The broth was based on chicken but a bit of seaweed had also been added as they would do dumplings in seoul. The dumpling/tortellini was however classic Italian with mortadella, Parmegiano and prosciutto. A dish that played with the concept that lots of countries have similar dishes and by changing small elements you can change the nationality of a dish. It was also the best kind of fusion because it was inspired by both nationalities each with a traditional element on the plate without at any point feeling like a mashup. It was also just a really delicious dish. So delicious that we naturally drank all of the soup directly from the plate. It was also at that point with our faces stuffed into the bowl that Massimo made his entrance.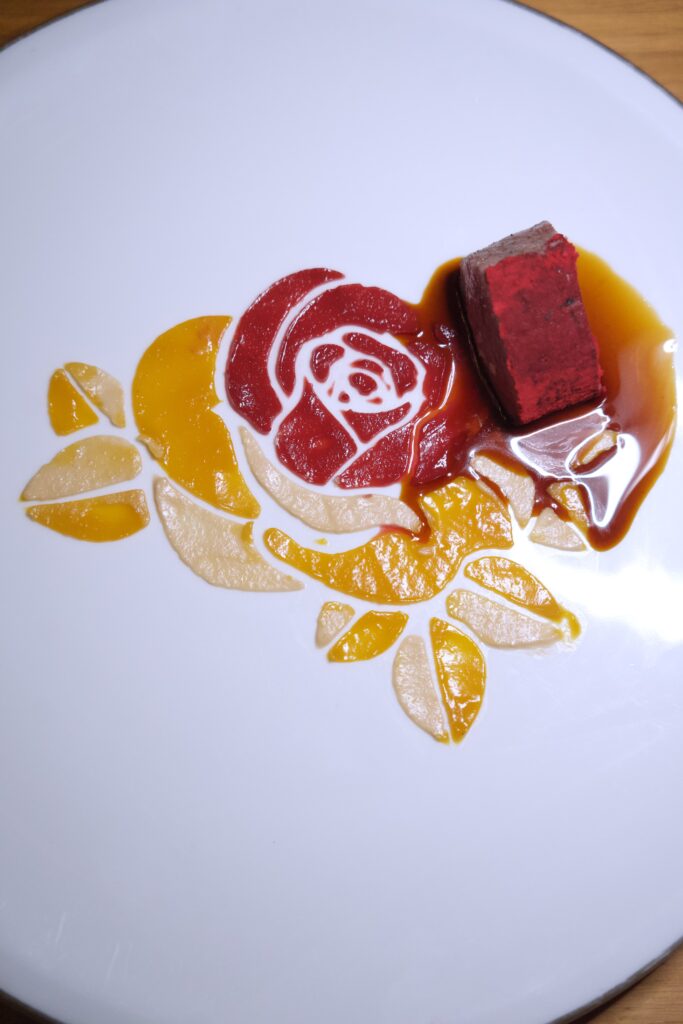 La vie en rose
As a final savory dish we would hav la vie en rose. A dish naturally inspired by the Edith Piaf of the same name. Beautifully decorated and teh rose powder gave a super nice sweet note to balance the smokey flavors. Absolutely delicious.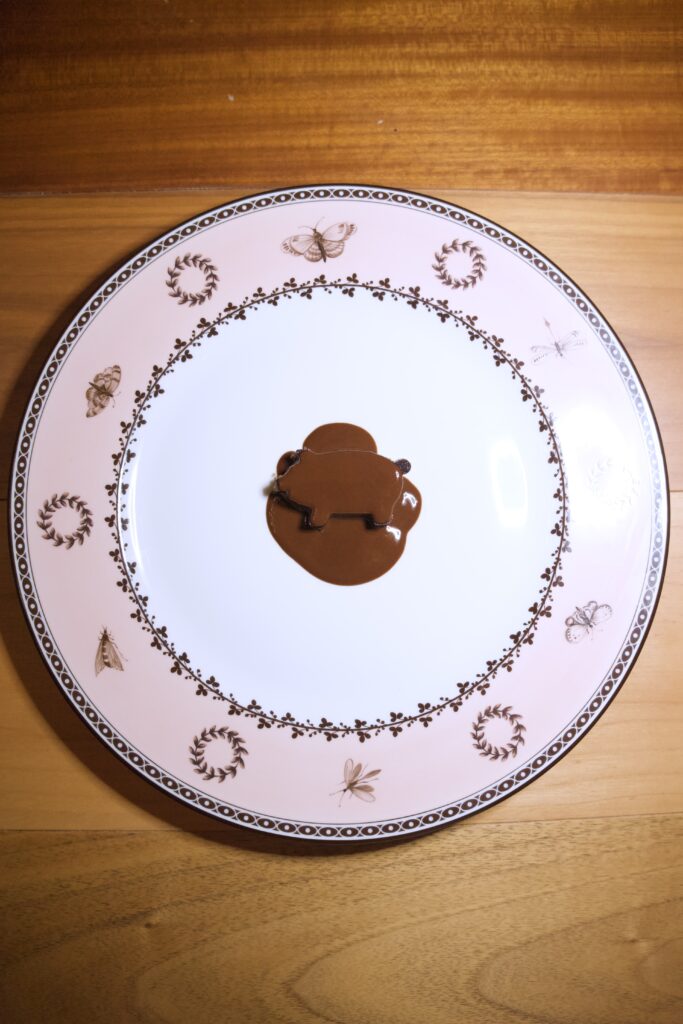 This little piggy went to the market
A really nice sweet and savory chocolate dessert that was playfully formed as a small pig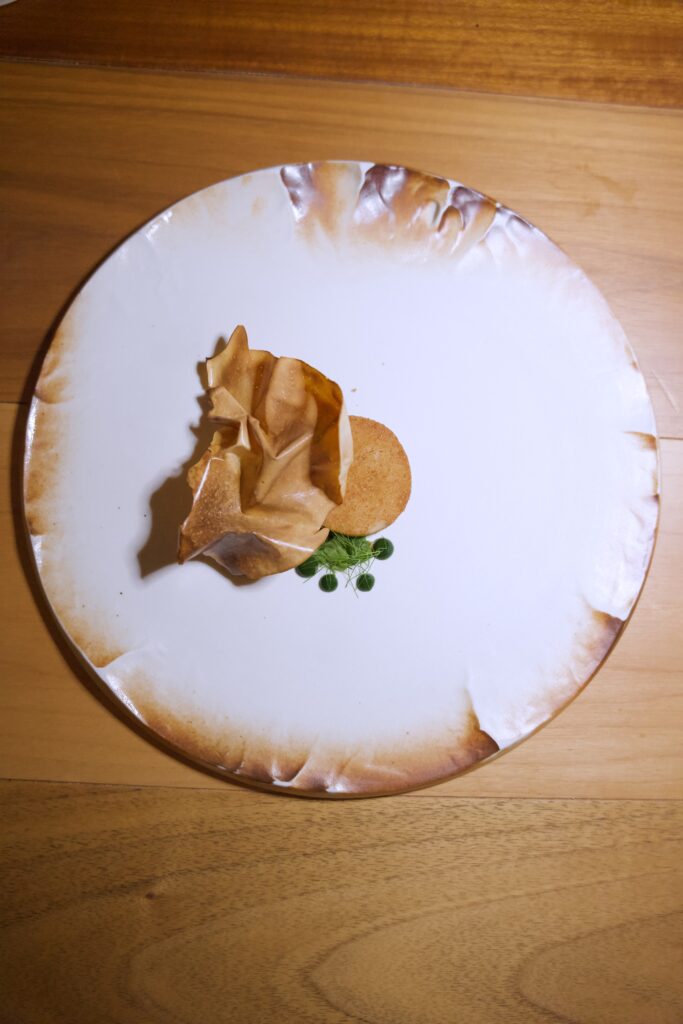 Milk and honey
A dish that we were happy to have Massimo present to us. His explanations of a dish is always interesting and telling of the dish. Together with milk and honey there was a "perfume of grass". The idea was to build upon the concept that part of what creates the unique flavor of the Parmegiano reggiano is the grass. So naturally Massimo went strait to the source and put that into a perfume that he would spray the dessert with. In addition to the interesting concept it was also just a beautiful and delicious dessert that was naturally served on custom made plates. These were made to match this dessert and naturally made in Japan.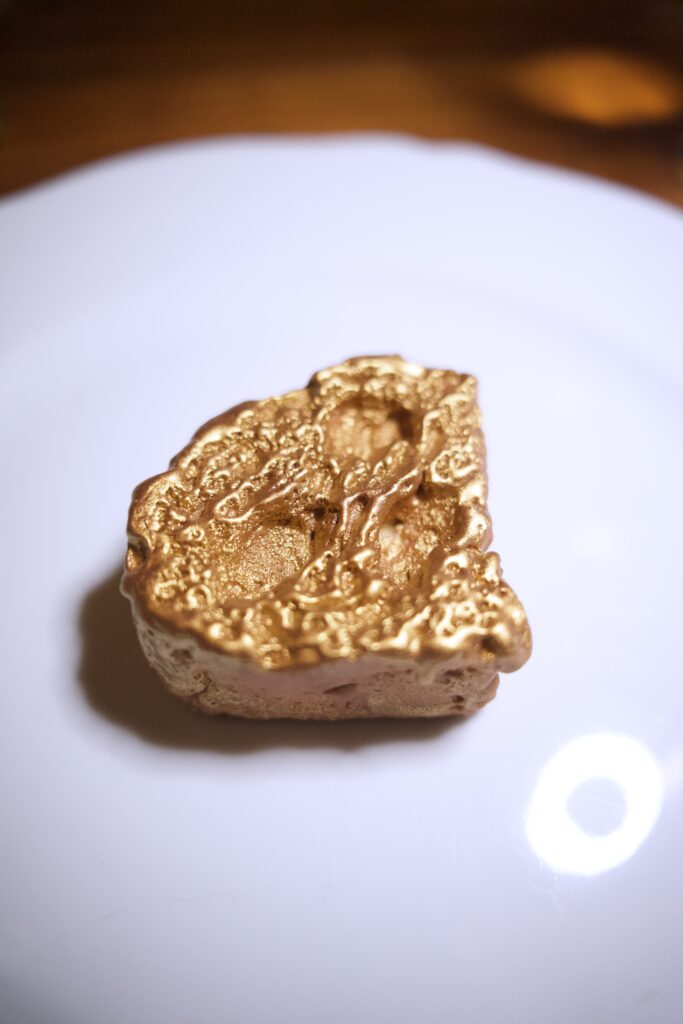 Pan is oro
Years ago Massimo made a book called Pan is oro (Bread is gold). The book was a book of recepies made by famous chefs where the ingredients where ingredients that for others is considered to old to eat or of bad quality. A product that for some can be considered ready to be throwing away can for others be considered gold and used to feed the homeless. In that sentiment and to fight food waste Massimo takes old bread from Casa Maria Luigia and mixes with with sabóyenme crème, white chocolate and just a bit of the breakfast sausage. To me the small bits of the sausage really set the dish a part as it provided both salt, fat and a bit of spicy. End to end delicious.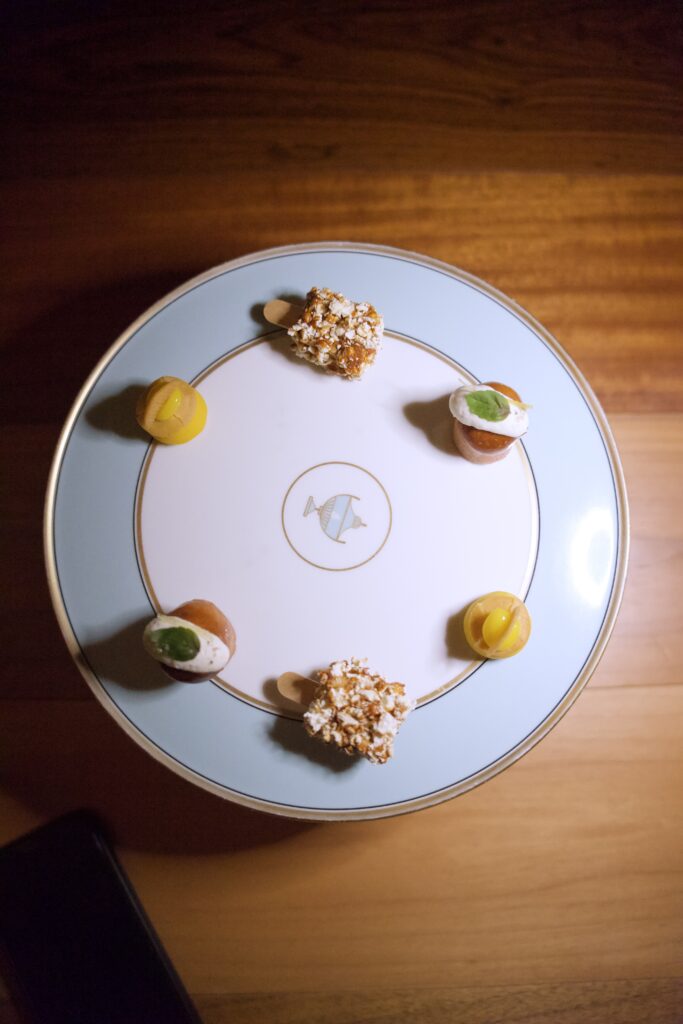 Capri Battery, Better than Pop Corn as Croccantino and One bite from the south.
To reintentrepret your self is to maintain your history. We would therefore end as we begun with 3 small snacks that were reinterpretations of old dishes. The references were to his old dish of frozen foie gras, Oops" I dropped the lemon tart and a baba rum whose name I don't know. For me the popsicle with hazelnut cream and crunchy popcorn was my favorite.
At Osteria Francescana itsn't never just about serving delicious food. It's about telling stories whether they are motivated by the restaurants history, Massimo own, politically motivated and a few are to have fun. It is that storytelling and creativity which makes Osteria Francescana special. Its even more special if you get to spend some time with Massimo in the restaurant. With his immense carmisma, positive energy and a mind that works like no other he is truely an inspiration to be around.