Osteria at Casa Maria Luigia is a different restaurant than any I know. The thing that makes it stand the most apart is that it serves dishes made for another restaurant. That I have never heard of before. With good reason you might as your self why should I go to Osteria Francescana at Casa Maria Luigia and not just the original one. If you continue to read I will explain.
Staying at the hotel the restaurant space is known for everybody as it is also where breakfast is served. The dinner starts at 19.30 and everybody arrives at the same time and are seated at 4 tables with room for 6.
There is only one menu which changes constantly. The common thing is that all the dishes have at some point been served at Osteria Francescana. It's therefore possible to serve dishes from more than 25 years of history and even more importantly the history of the restaurant.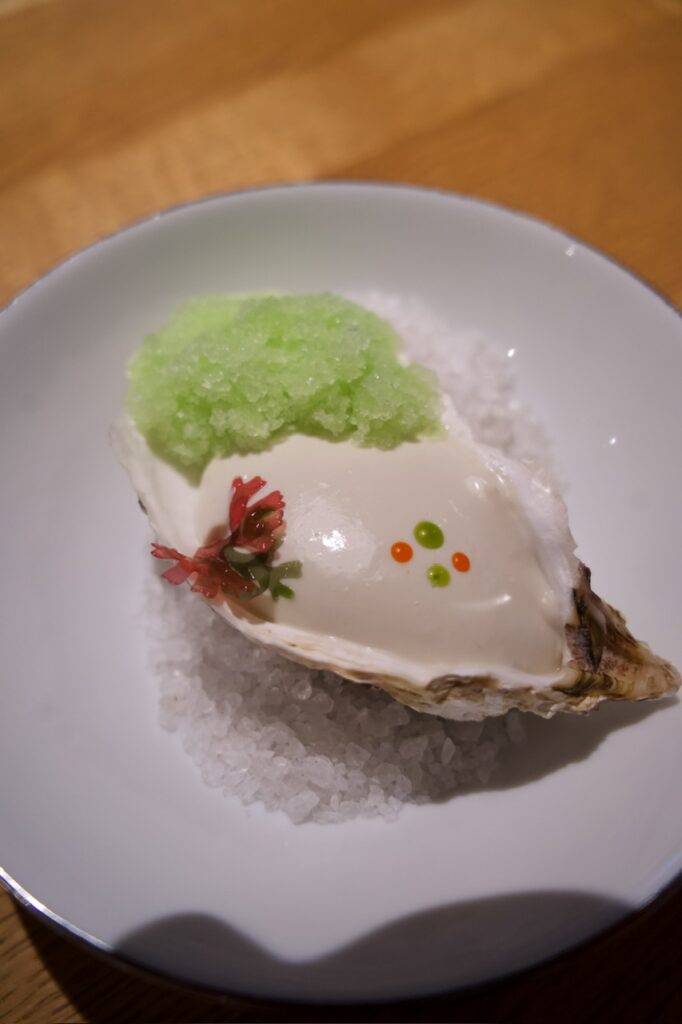 Mont Saint Michel
The starter was a a dish that Massimo created as an omage to his first gourmet experience. An experience that made such a profound experience that he then and there decided to become a chef at 16 year old. The dish is therefore a condensation of a few of the elements he had in his dinner like oyster from Normandy, lamb tartare and apple cider.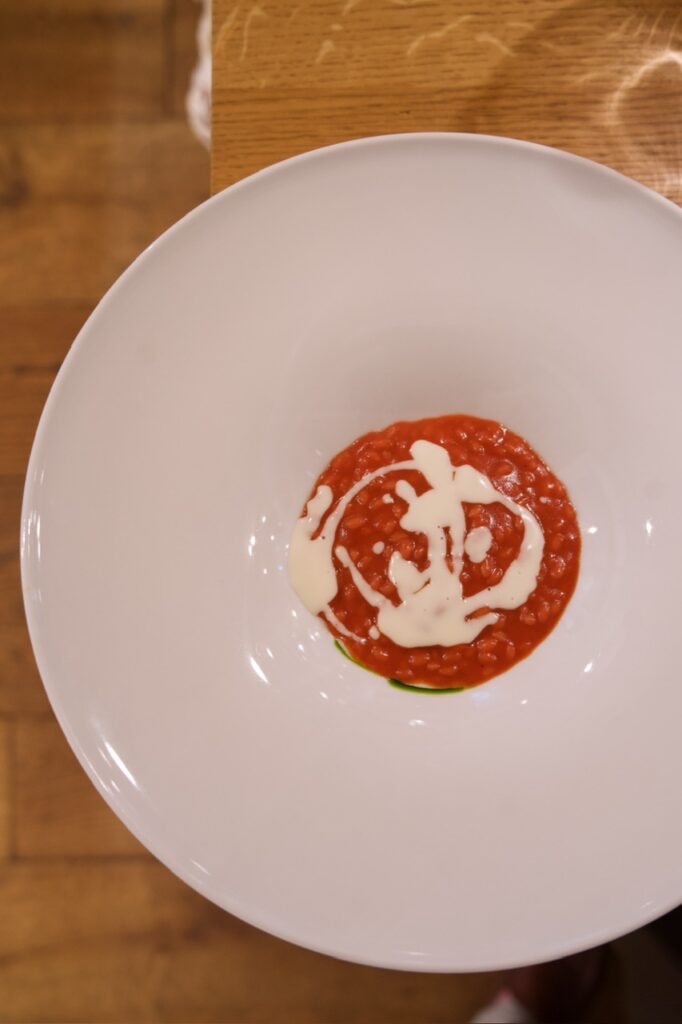 Strawberry Fiels not Forever 2020
The next dish would take us to the first menu after lockdown. The menu was called "With a little help from my friends" which I think we could all use at that point. The entire menu was made of dishes that the staff had made during lockdown with inspiration from the famous Beatles album. This one a sweet risotto made of lambrusco and strawberries as the base. Red shrimps and a light crème of mozzarella finishes of a wonderful dish. Yes I do have a preference for sweet elements in savory dishes and this was sweet but without in any way being too sweet.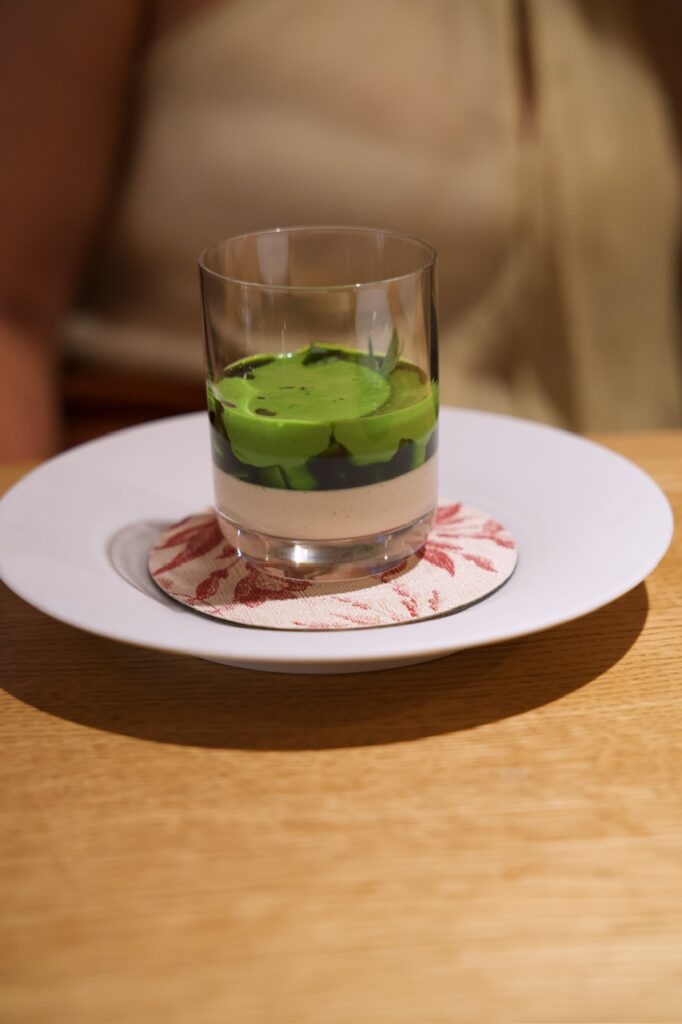 Pasta Al pesto in abstract
The story behind this dishes takes a winding road. The shorter version of it is that a new chef had just arrived from Korea. On his third day he wanted to cook Massimo favorite dish. Pasta al pesto. Naturally it was not a success, but those 7kg of overcooked pasta was over a 6 months periode turned into a sweet and bright miso. This would be the star of the next dish. To stay within the original receipe but with an Asian inspiration toasted pine nuts and parmigiana reggiano was turned into a chawamushi. This was topped with the miso as well as aromatic herbs and potato. All ingredients from the classic pasta al peso from the region.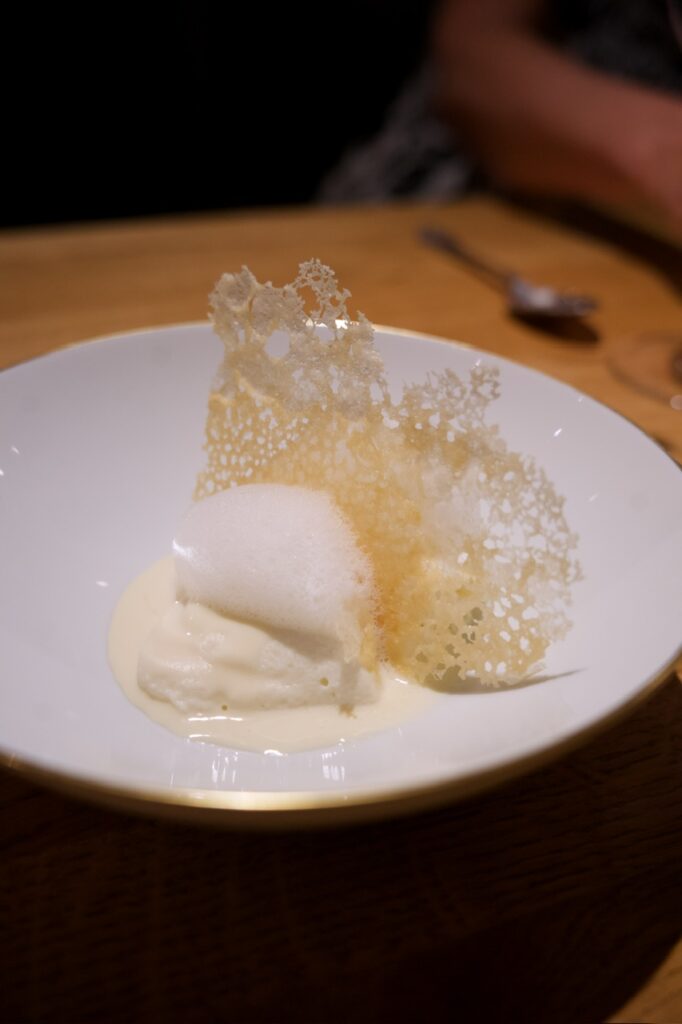 Five ages of Parmegiano Reggiano in different textures and temperatures
This is a dish that was priced in Italy as the dish of the century. I can see why. It's difficult to find a dish that better defines a restaurant and a region. A dish made of one ingredient, but at different maturities. A demi soufflé of 24 months, a mousse of 30,  a crème of 36 months and a crisp of 40 months. This dish is interesting on so many levels. Intellectually by diving into just one ingredient but taking it apart by exploring the impact of time is exiting, the technical abilities to create this dish 25 years ago is impressive and lastly it is still a very delicious dish. Despite being just one ingredients you truely taste the differences from sweet to salty in that one ingredient.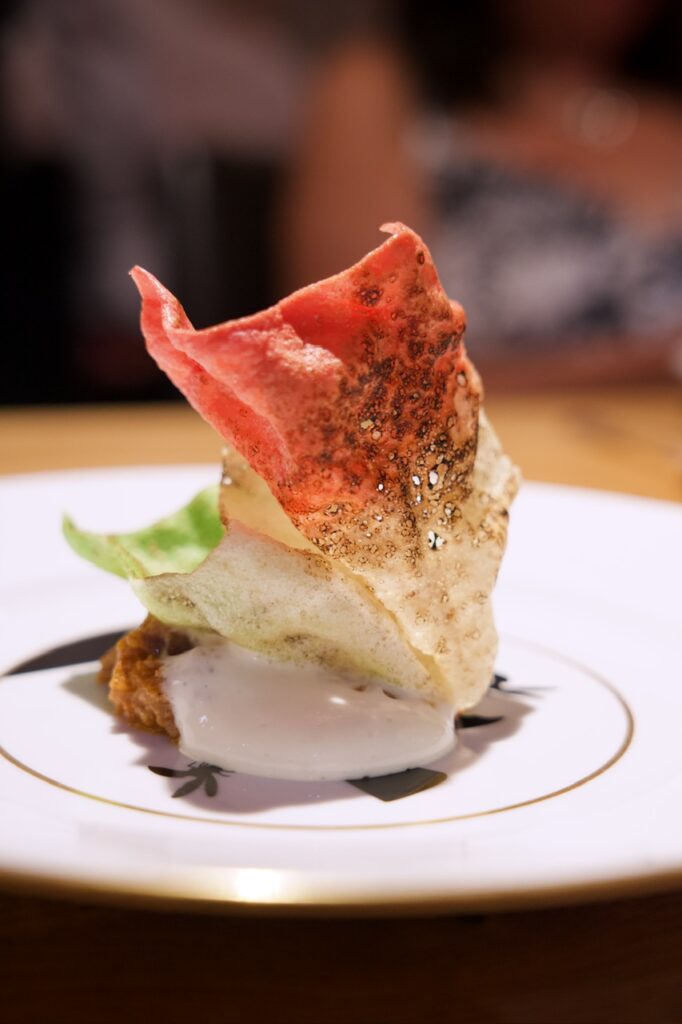 The crunchy part of the lasagna
When done right the best piece of the lasagna is the corners as the pasta plates are that much more crispy. Growing up with 4 siblings getting one of those 4 corners is not easy. This is why he wanted to make each piece of the lasagna be the best one. In reality the dish had all the normal elements of a lasagna from the bechamel to the ragú to the pasta plates. They proportions were however changed completely. Center stage took an end to end crunchy piece of pasta with just a bit o smoke from being burnt. Underneath an intense ragú and a sweet bechamel. It was absolutely delicious and the story behind it was so great.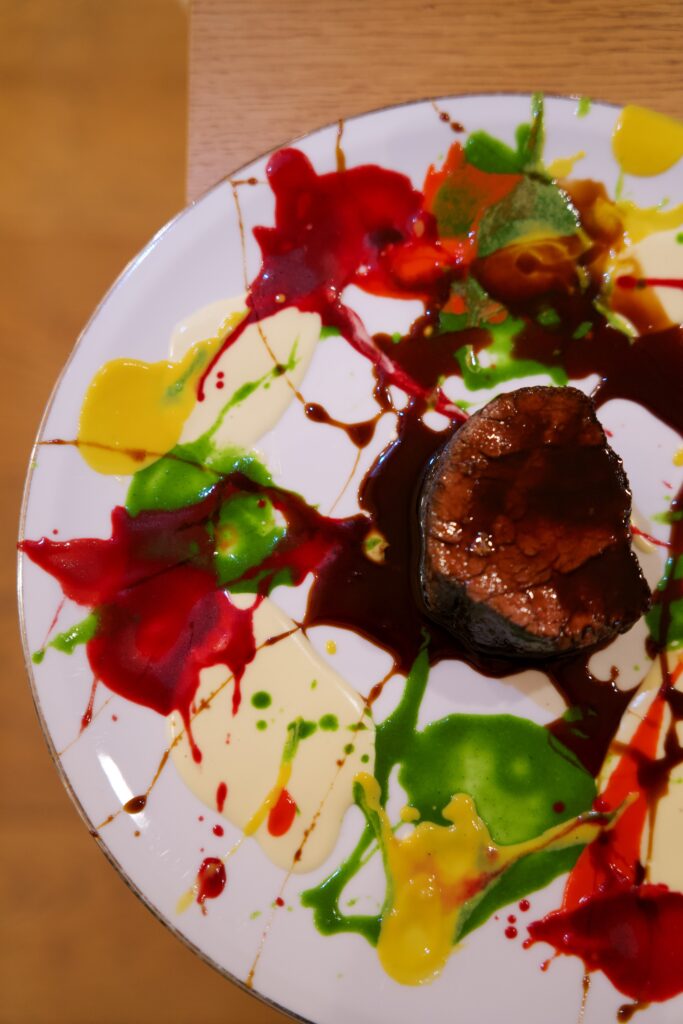 Beautifull psychedelic, spin painted veal, charcoal grilled with glorious colors as a painting
This dish took its inspiration from the art world. For me this reminded me of the creative, wild and confusion Jackson Pollock. The artist was however a different one Damien Hirst and an Italian artist from the 1970ties. The idea was that each plate should be unique and different. Watching it being plated was amazing. The chefs was throwing with the sauces as a painting like you would think Jackson Pollock you would do. Even despite of what looks like a random plating the components was still exactly like they were suppose to with each sauce having a different flavor. Truth be told it was also one of the best steak dishes I have ever had. The different sauces lifted the experience and the flavor.  Truely exceptional.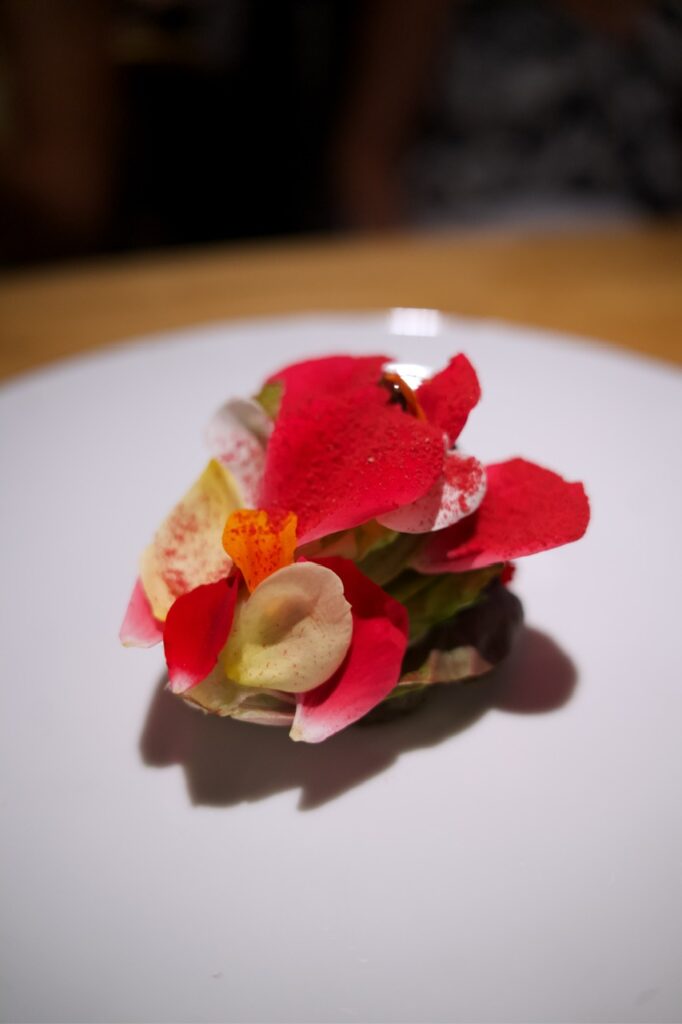 Caesar Salad in Bloom
Massimo wanted to make a classic Caesar salat for Lara, but he didn't want to make it classic. So what he did was to use flowers that he picked for her in the garden as important elements of the dish both in terms of flavor and presentation. To me this was a very nice salat but it didn't feel elevated at the same way that the previous dishes had, but then again the level had been amazingly high.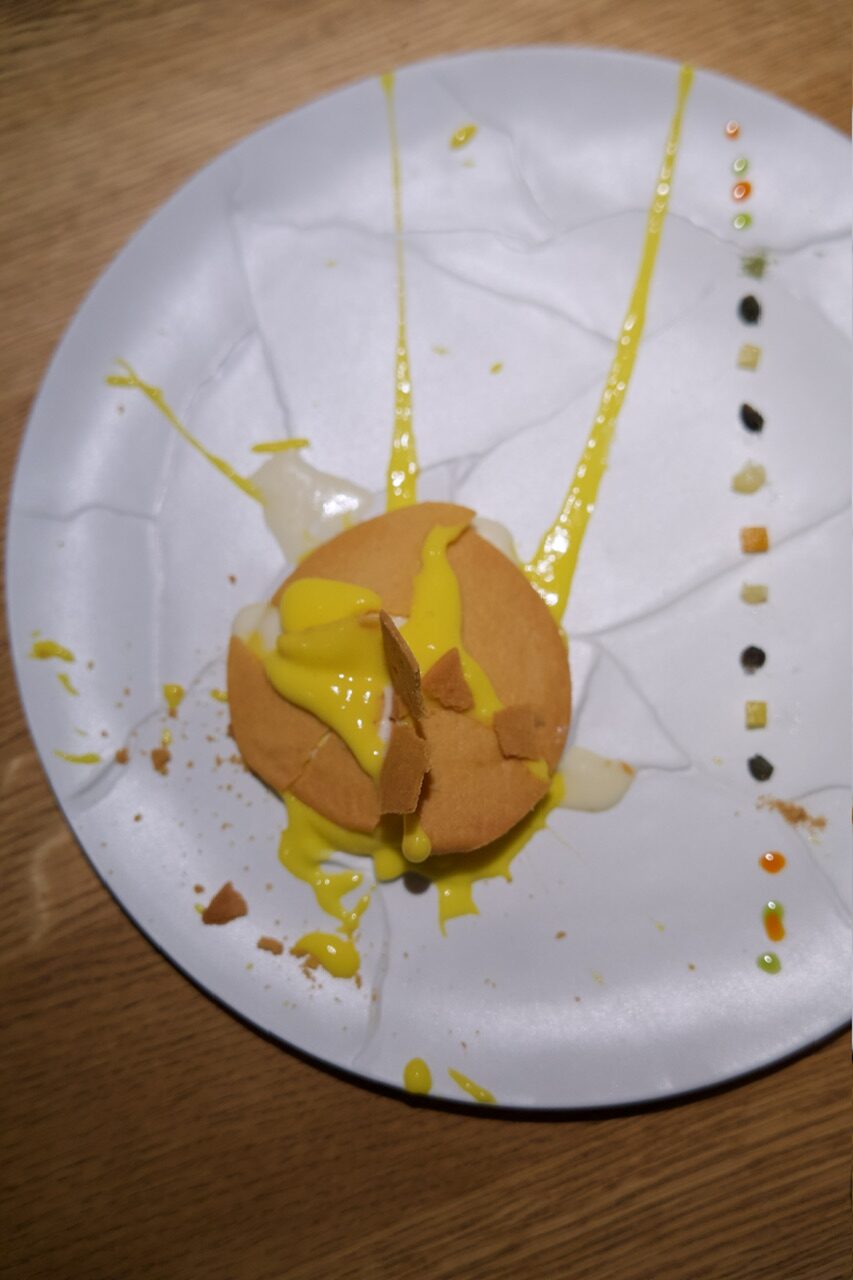 Oops! I dropped the Lemon Tart
Possibly the most famous dessert ever. A dish created as a chef dropped a lemon tart ready to be served to a guest. What Massimo saw was not a mistake but that we should look at the world in a different perspective. Through that new perspective we can also keep our traditions alive because we update them and give them new life. He did exactly that with the lemon tart.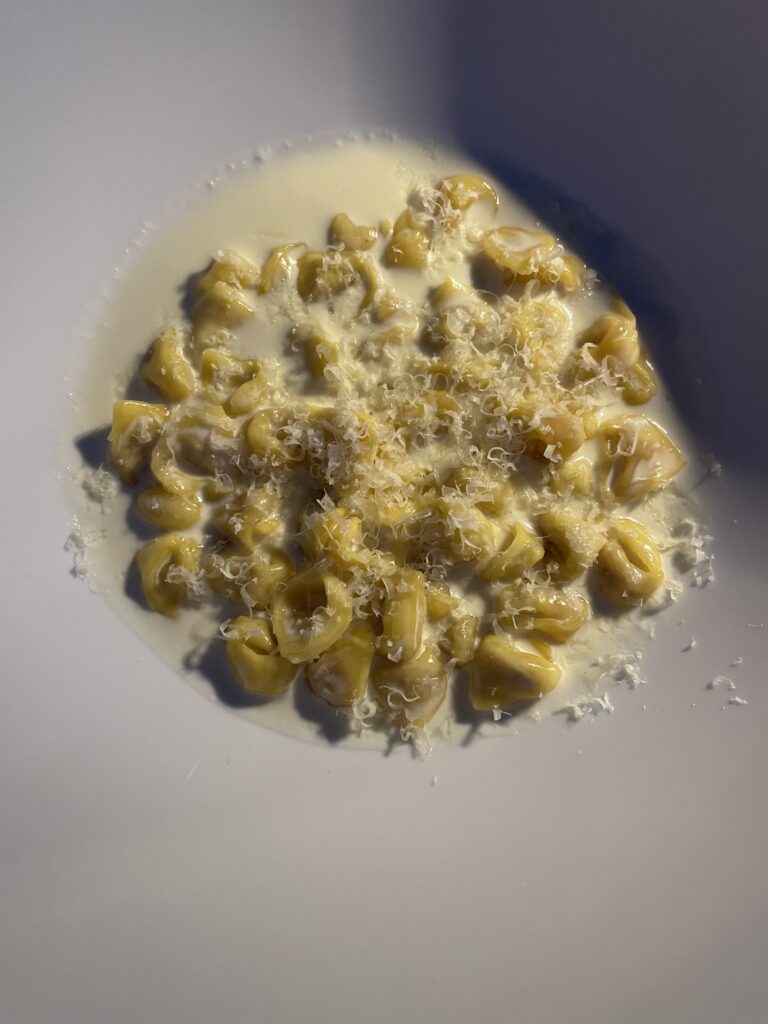 Surprise surprise
Despite what you might think Massimo is actually very traditional. An old saying in Modena is "you cannot leave the table unless your mouth tastes like cheese". As the pasta of Modena is tortellini we would therefore finish with the most classic dish of Modena. Tortellini with a sauce of 36 month Parmegiano Reggiano. A dish that I absolutely love. The very small tortellinis have the traditional stuffing of mortadella, prosciutto and Parmegiano reggiano. It is simply just a very delicious dish. The craftsmanship to make the very small tortellinis is naturally very impressive. The quality of ingredients makes sure that the flavor is exactly as it is suppose to be. A dish that I really wish I could make at home and eat once pr. Week but I know that I will not be able to find this quality of tortellini that it deserves.
Having visited Osteria Francescana two times I was actually wondering if I should try the dinner at Casa Maria Luigia. After all I usually say that you should try the real deal from where it is intended. That is still true, but now these dishes should be experienced at Casa Maria Luigia. Part of what makes a meal at Osteria Francescana special is the energy, passion and personality of Massimo talking about what inspired him to make these dishes, his love for Bob Dylan or anything else. With Jessicas huge talent for storytelling you get that same connection and passion as you do with Massimo. Being a big open restaurant where you can see all the dishes plated and you can engage with the chefs in the most personal way it's a very intimate and powerful experience.
For the best restaurants in the world they master ingredients, hospitality, plating, creativity, great wines, a charismatic chef and the very best have one or two other things. For Osteria Francescana at Casa Maria Luigia the extra things are storytelling, history and intimacy. Standing on the shoulders of giants is an expression that I love. Here it is in reality two giants standing on top of each other. Jessica is standing on the shoulders of Massimo Bottura where she serves his dishes and tells his story. She does however do it with such passion and energy that every single person in the room was mesmerized when she talks. A truely impactful experience. A condensation of the history of Osteria Francescana told through Jessica in the true spirit of Massimo.