Le Duc or the Duke/King of Kantstrass is probably better known for his 6 Asian inspired restaurants on Kantstrass ranging from pho, to dumplings and higher end Japanese food than his new artistic space Le Duc salon.
They consider it their personal playground and today they use it primarily for pop ups, private dining and even art events. With a space like this no wonder.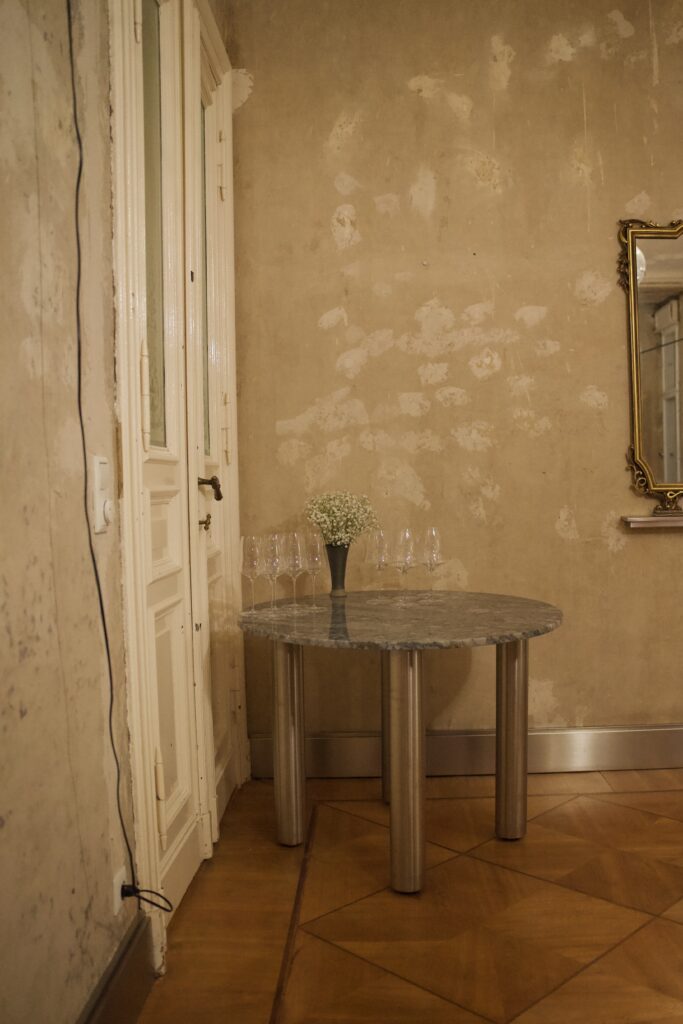 Our evening started with a glass of champagne in the first dining room being being shown into the dining room and the big open kitchen. It was absolutely by no coincidence that the a grand classical music piece started playing at that exact moment.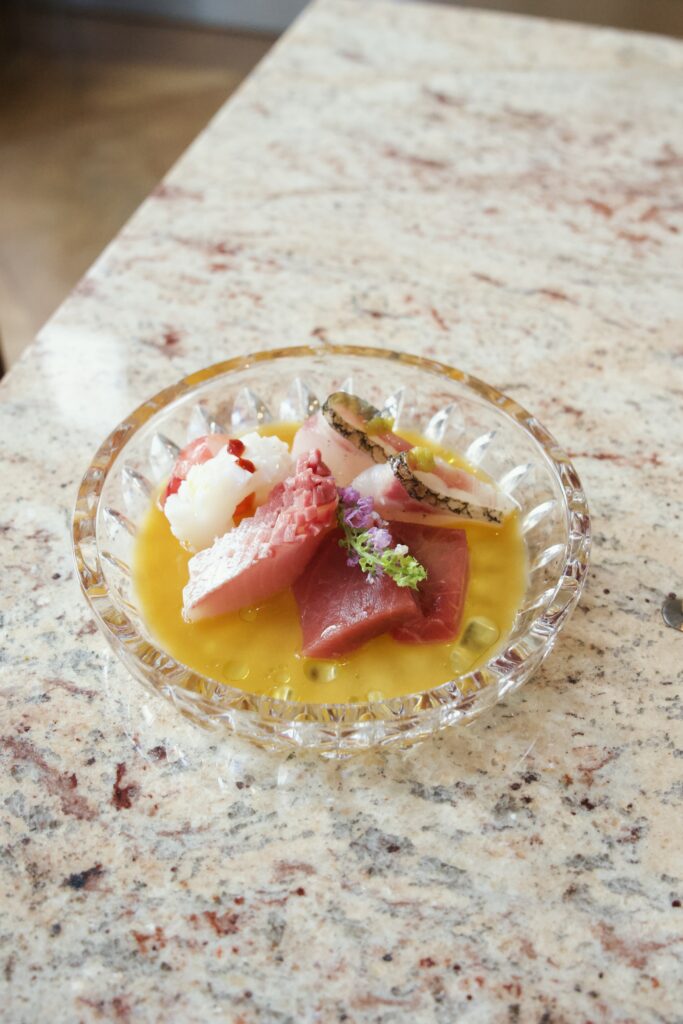 Our first dish would be different cuts of sashimi served in a Peruvian yellow chili sauce. Naturally a dish that I loved. Adding the yellow chili which is very fruity in its flavor gave a very nice touch of freshness to the fish. A very promising start that would show a playful kitchen that knows how to build flavor.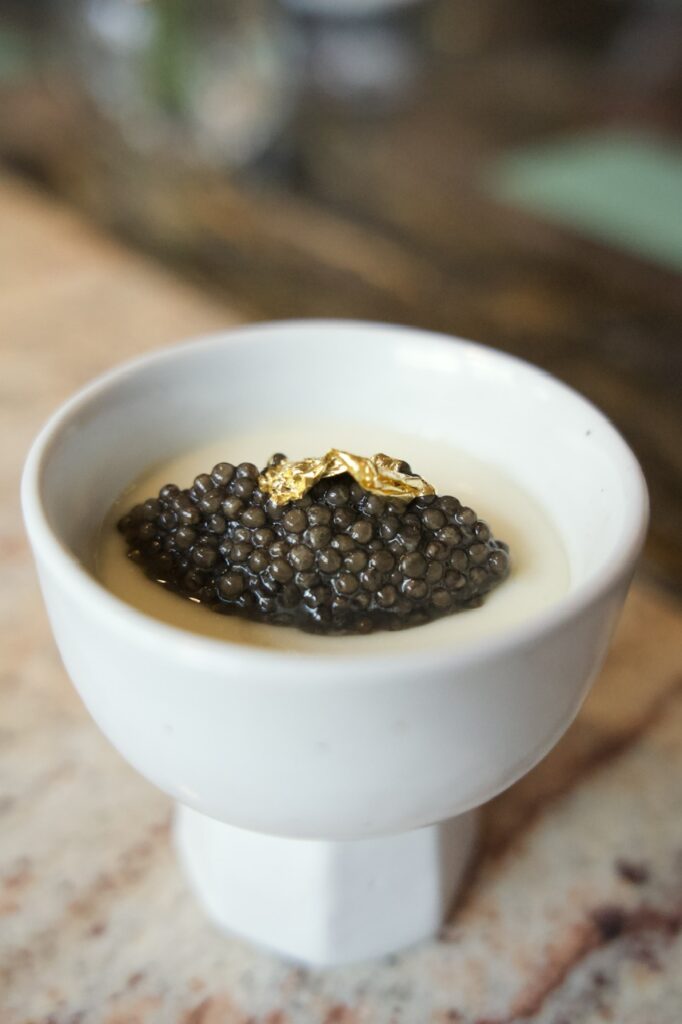 From fun and playful to a dish that is served in just about every Japanese inspired restaurant at the moment. The dish is naturally chawammushi. Here it was served with a very smooth caviar from Polen. What made the caviar stand out was its very soft texture as a result of it not having been salted. A nice dish that also displayed their technical skills as the chawanmushi was extremely clean and even through and through.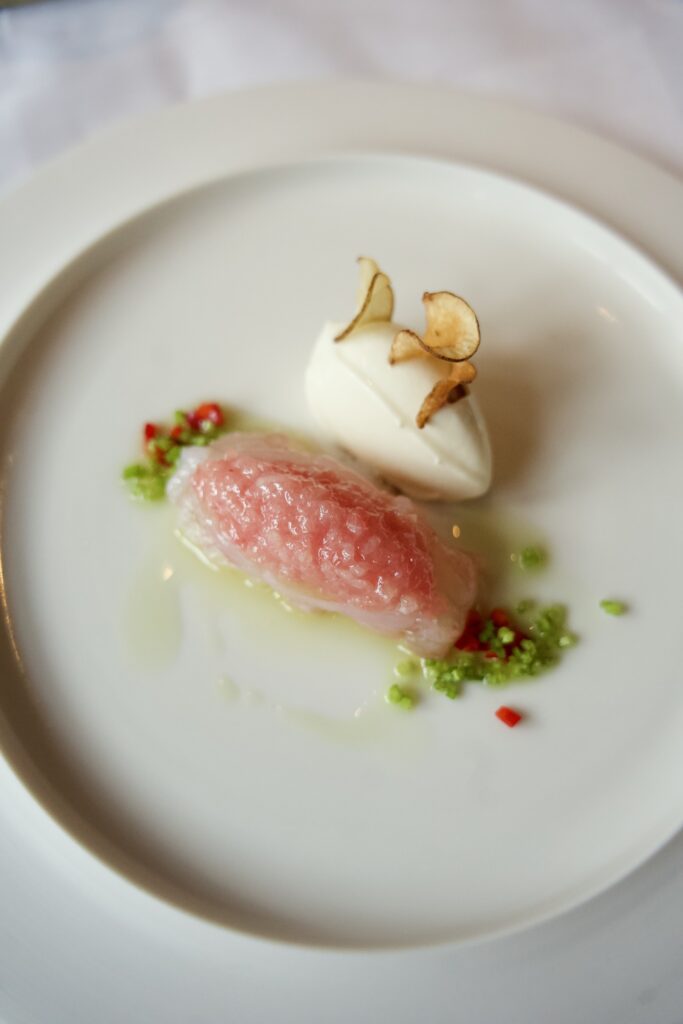 For the next dish we were in south east Asia for a dish of unusual and amazing ingredients. Norwegian langostines was served with otoro tartare, kafir lime and coriander sauce and as final surprise an icecreme made of Jerusalem artischoke. I truely loved this dish. The contrasting flavors, textures and not least temperature was just amazing. Plus the combination was a first for me, and it truely worked.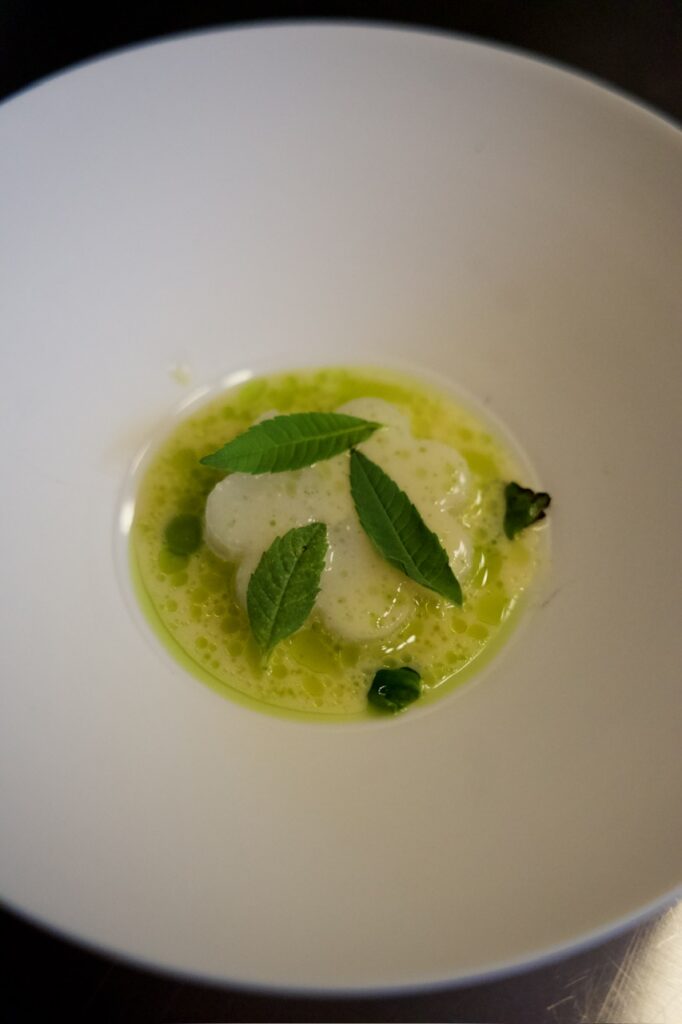 From wild combinations to a classic one. A kohlrabi was served with a rich beurre blanc that had been infused with just a bit of lemon verbena that gave it a small nice twist.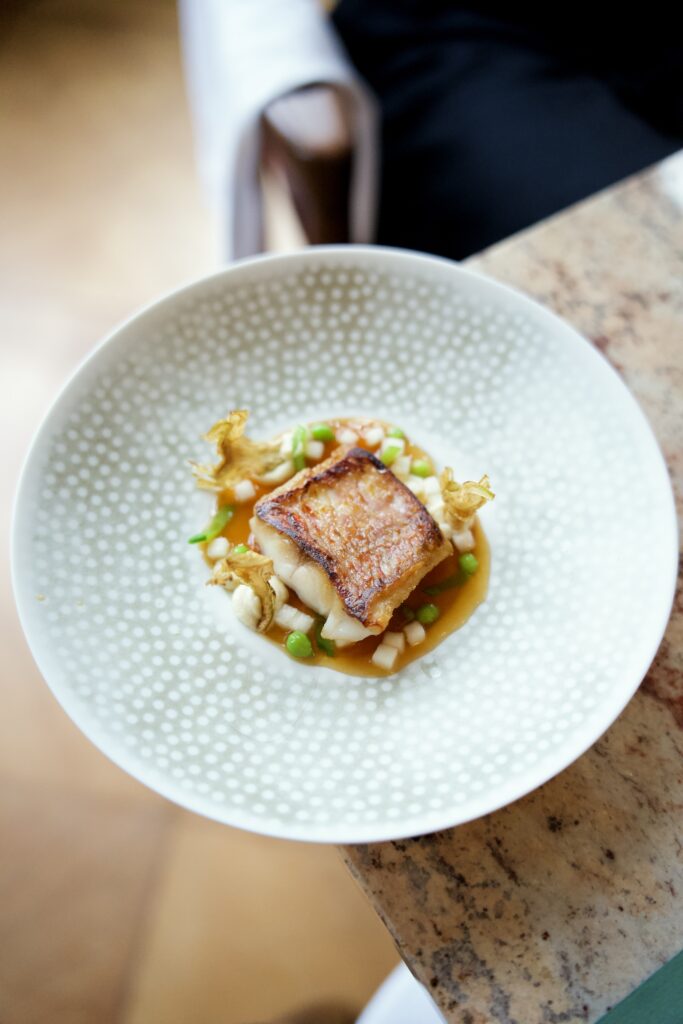 Back in the South East Asia flavors we would have a red mullet with very crispy skin and a wafu sauce, green peas and a few crispy vegetables. Again a dish with a very nice balance of flavor both umami and a touch of butter.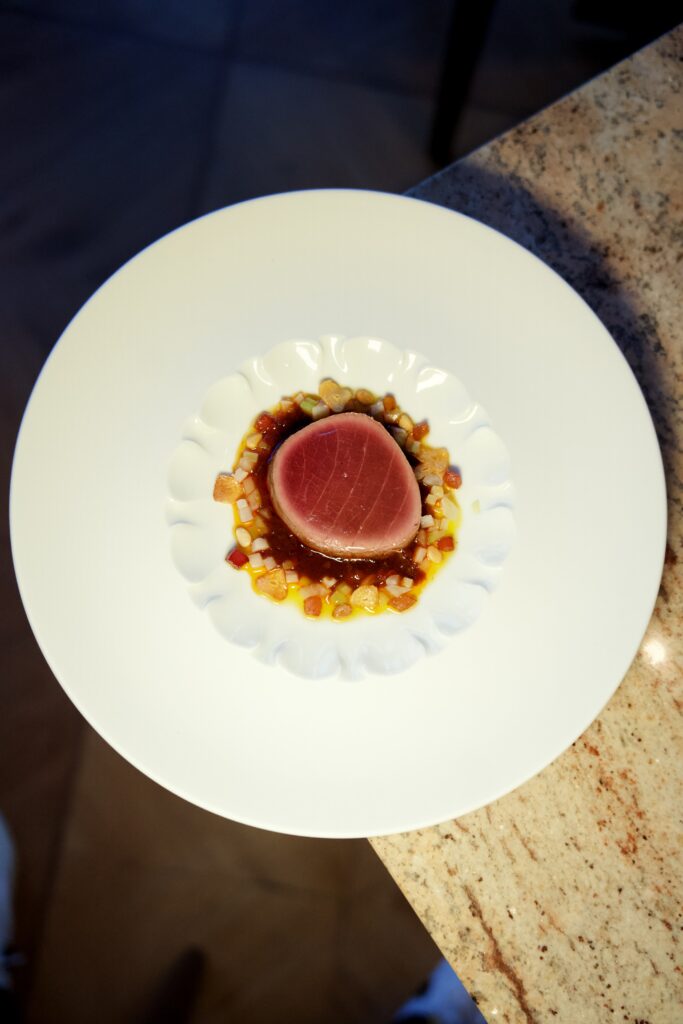 A charred piece of tuna would be next. Naturally a piece like that is just beautiful. Here it was paired with another rich sauce and crispy pieces of garlic. So much flavor from just a few elements.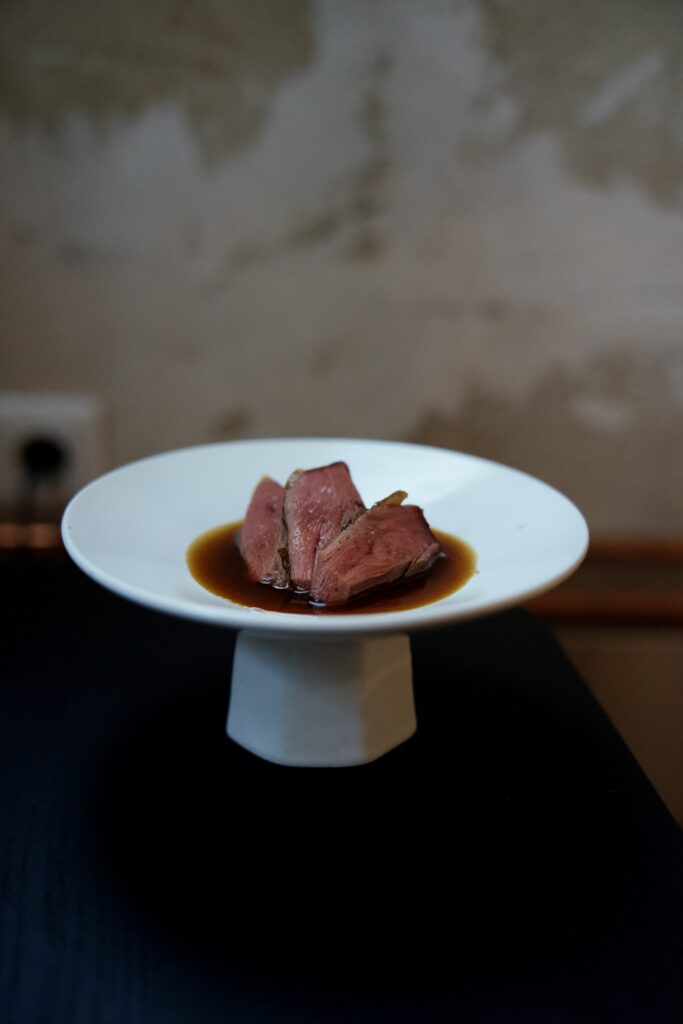 We would finish the salty section with a product driven dish. Pieces of grilled pigeon was served with an umami rich sauce. Simple and delicious.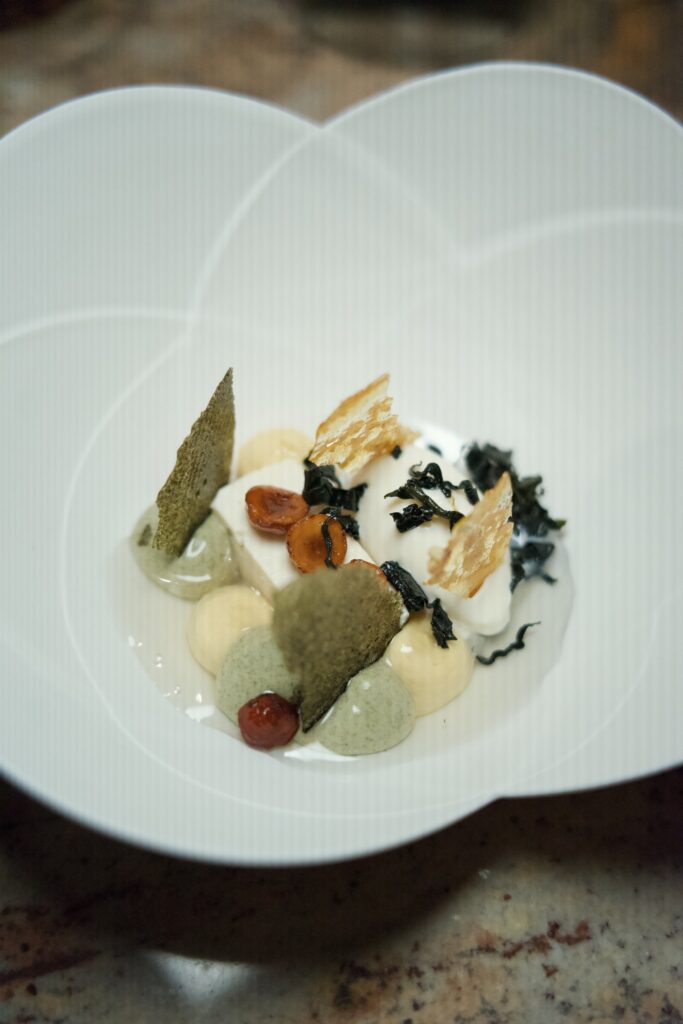 It was a bit sad that the only dish to miss the mark was the dessert. The surprise for me on this dish is that it felt uncharacteristic of the rest of the menu. Too many elements and too many elements that simply just didn't work together. At least not for me.
This was however not anything that would take anything away from a great evening.
Sometimes when you find that one thing everything else falls into place. For Le Duc Salon it was the space. A blank piece of paper they could use to put in what ever they wanted. What they wanted was their own personal playground to be used for private dining, pop up's and the likes. From the moment your enter the space with the minimalistic setting, rough walls and the big open kitchen you know that its going to be a fun night. Also a night that is going to be hard to replicate.
The food is end to end very tasty and interesting. The philosopy of the kitchen is based in Asian flavors but with a Japanese/Nordic simplistic approach to products. It does however still allow for international inspiration such as sashimi served with Peruvian yellow chili or the kohlrabi served with beurre blanc which is naturally French inspired. The creative level of the kitchen is quiete high and a lot of the flavor combinations were completely new to me which I absolutely loved. Frankly because it doesn't happen that often any more so when it does it is such a pleasure. The space in its self is unique and provides an extremely cool frame for a guaranteed fun night.