The first time I heard about dessert restaurants was about 10 years ago. The place was naturally New York. I remember thinking that it was a cool concept and as everything else American I imagined it would make its mark on Denmark soon. Nothing happened and then Will Goldfarb  was on Netflix with his Bali dessert restaurant r4 Dessert i thought maybe now it will come to Denmark. It still didn't. It came to Berlin instead with Rene Frank opening Coda..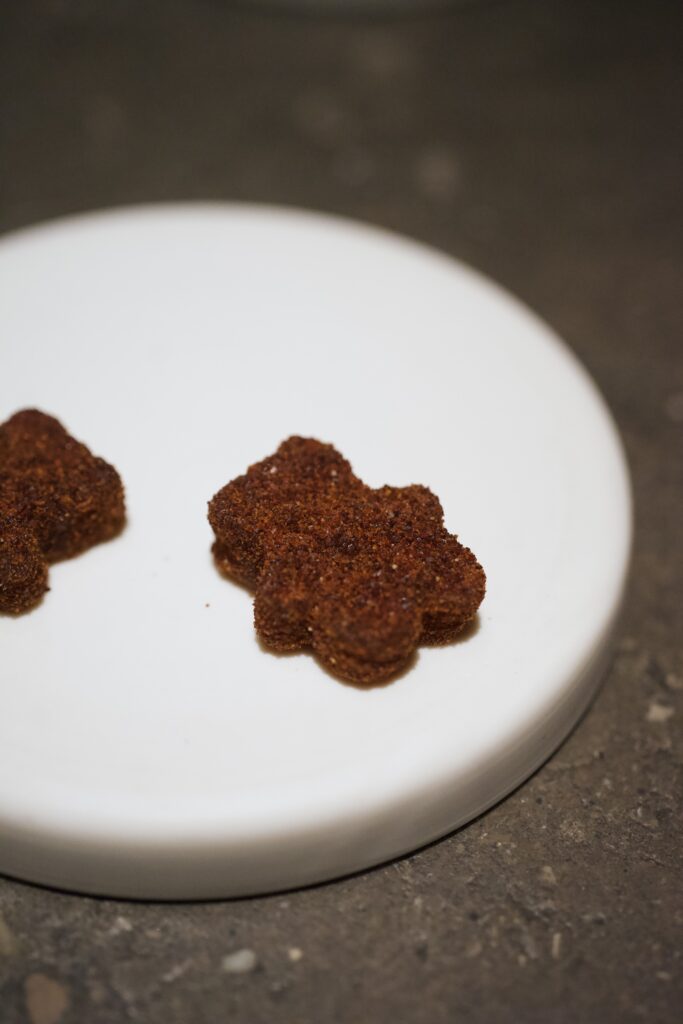 The menu is +10 dishes which is a first indication that it's not just 10 sweet desserts. The second indication comes with the first snack. A gummy bear made of red beans. That naturally gave it more depth and umami than you would expect from a gummy bear but still predominantly sweet and delicious with the classic gummy bear soft texture.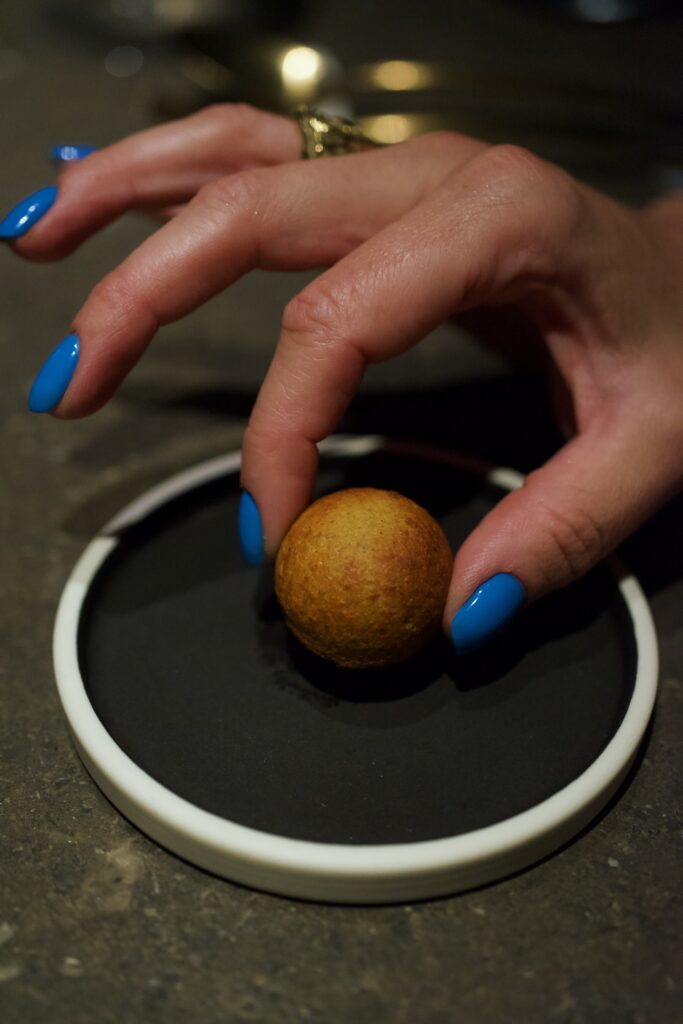 From gummy bears to cookies, but this time in the form of a beef bone marrow cookie. Bonemarrow is something that I actually really enjoy in desserts. It gives an amazing depth to the desserts. It did here as well.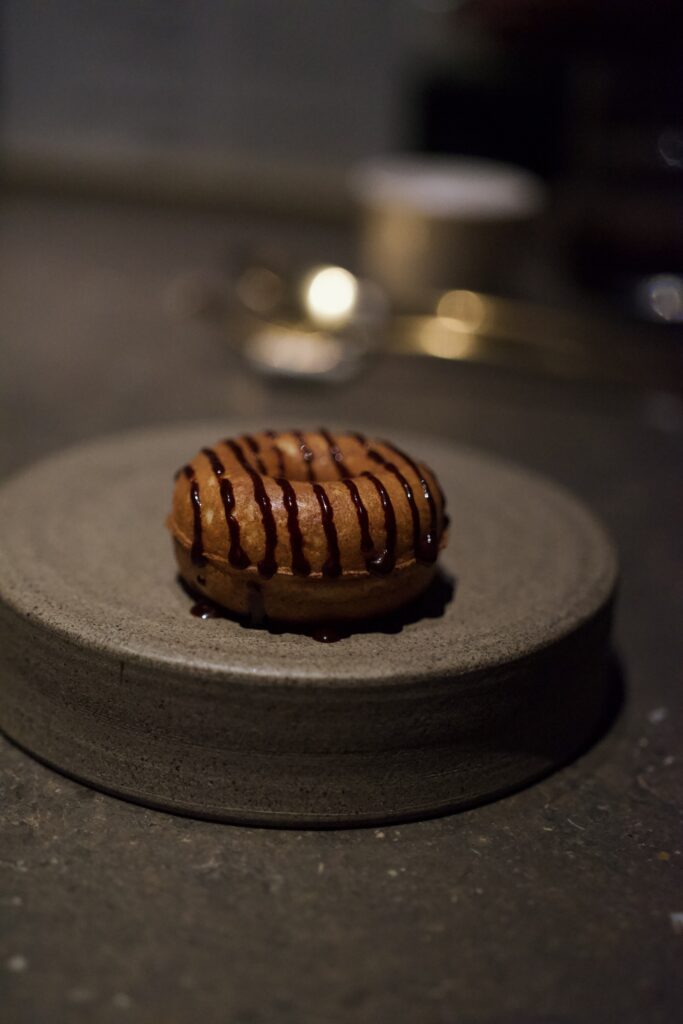 Donut is perhaps the most emblematic American dessert which was up next. As indicated by the previous dish not all of the dishes would be sweet and neither was this one. The donut was made with brioche but filled with gouda and topped with a turnip paste on top. Nice mix of sweet and just a bit of savory.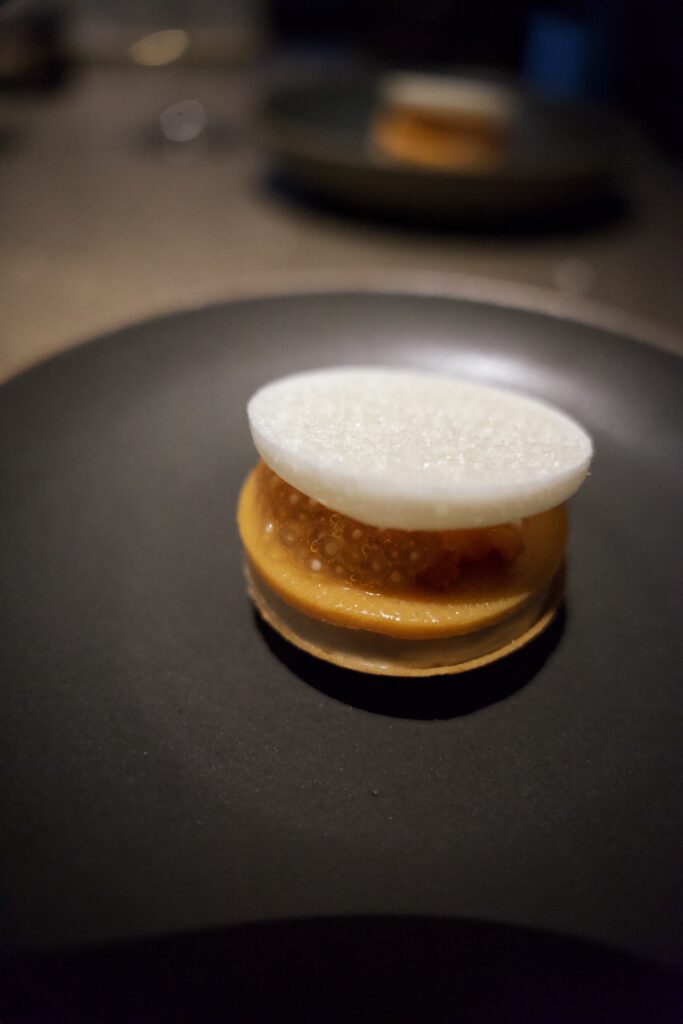 We would continue in the mix of sweet and savory. Again the presentation and techniques were classic dessert but the ingredients with yellow tomato and chickpeas were not.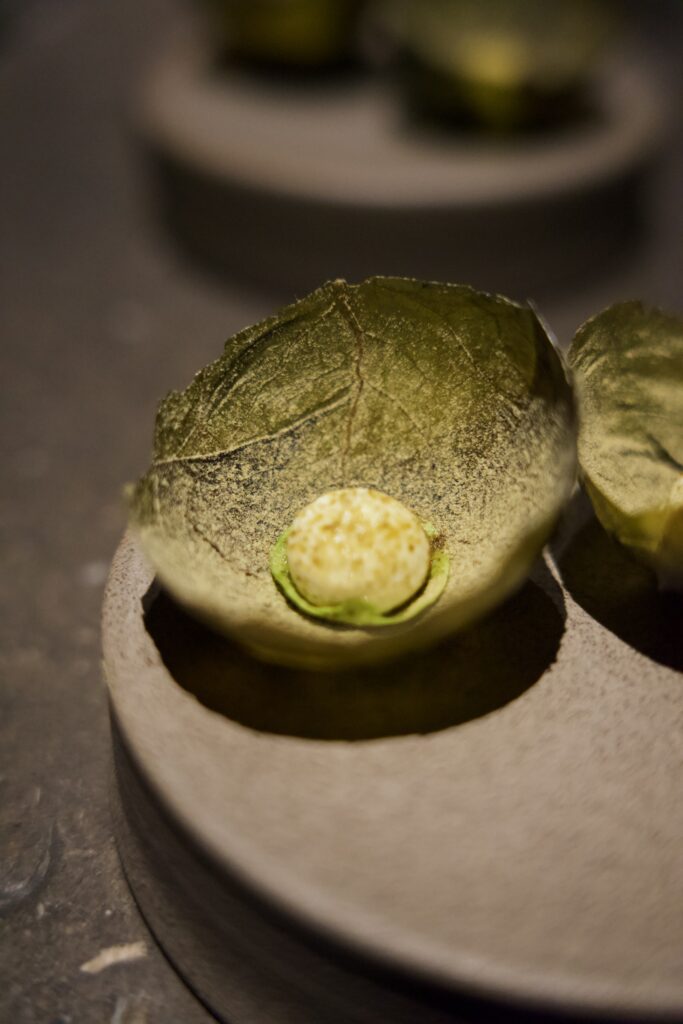 Lettuce and cream cheese doesn't sound like a normal combination which it isn't but it was truely delicious. I think the lettuce was touched with a bit of nori powder because there was a nice seweed flavor in there. Great techniques and cool flavors which proved why it holds 2 Michelin Stars.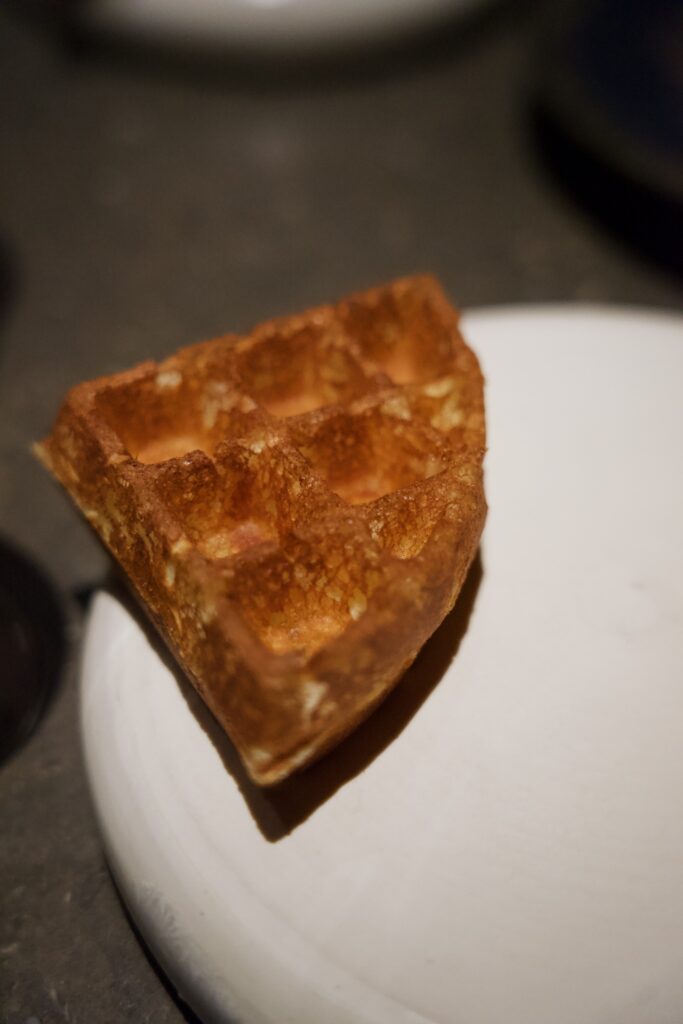 Until now the flavors and presentations had been anything but classic. The next one would be though. A salty and delicious raclette waffle with lots of salty cheese. For dipping yoghurt with kimchi dust. A true crowd pleaser which meant that everyone around the table were hungry for more.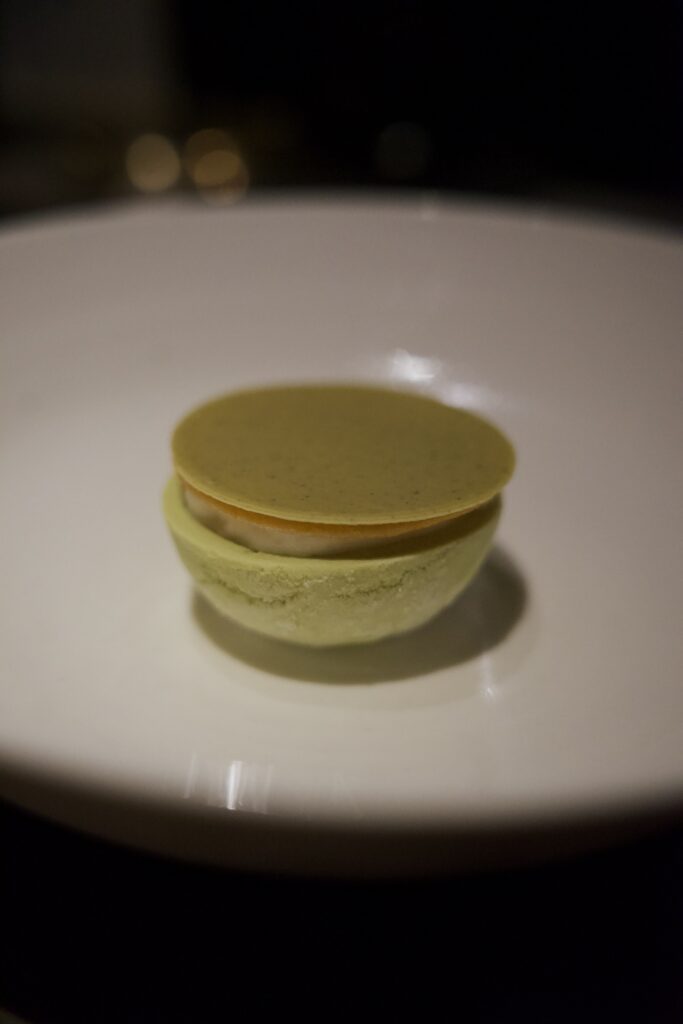 From salty and umami rich to a classic dessert combination. Tarragon and rhubarb. A classic combination for a reason. It's delicious. As was it here.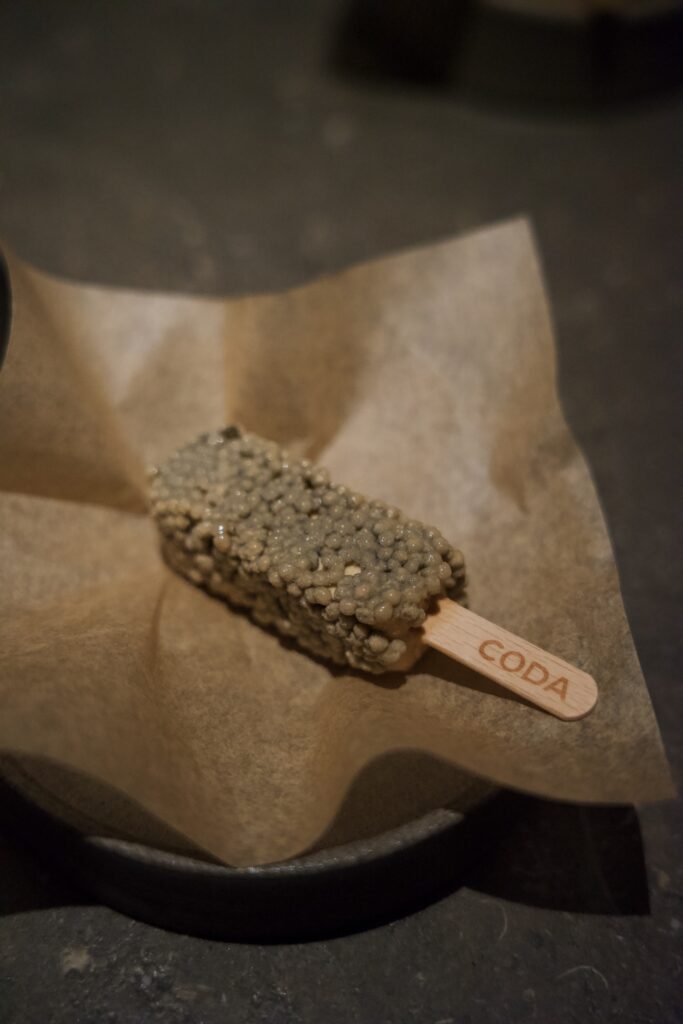 It was now time for their signature dish. The caviar popsicle. A contradiction if there ever were one. Caviar as the symbol for high end food whereas a popsicle is the ultimate symbol of a children's dessert to be eaten on the street or playground. Combining them is quiete the symbol.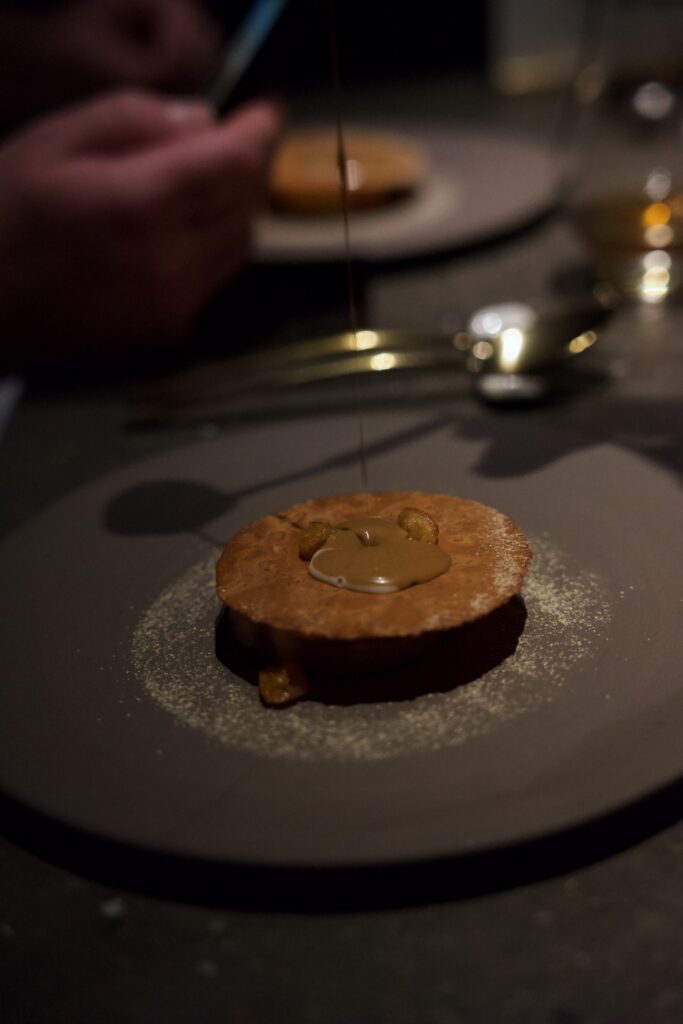 In a menu made entirely of desserts you need a few savory and heavy dishes to give you a filling sensation. One of there's was up with a  cirone cheesecake with a coffee based sauce. Super rich and really delicious where the rich cheese was a pleasant break from the sweet dishes.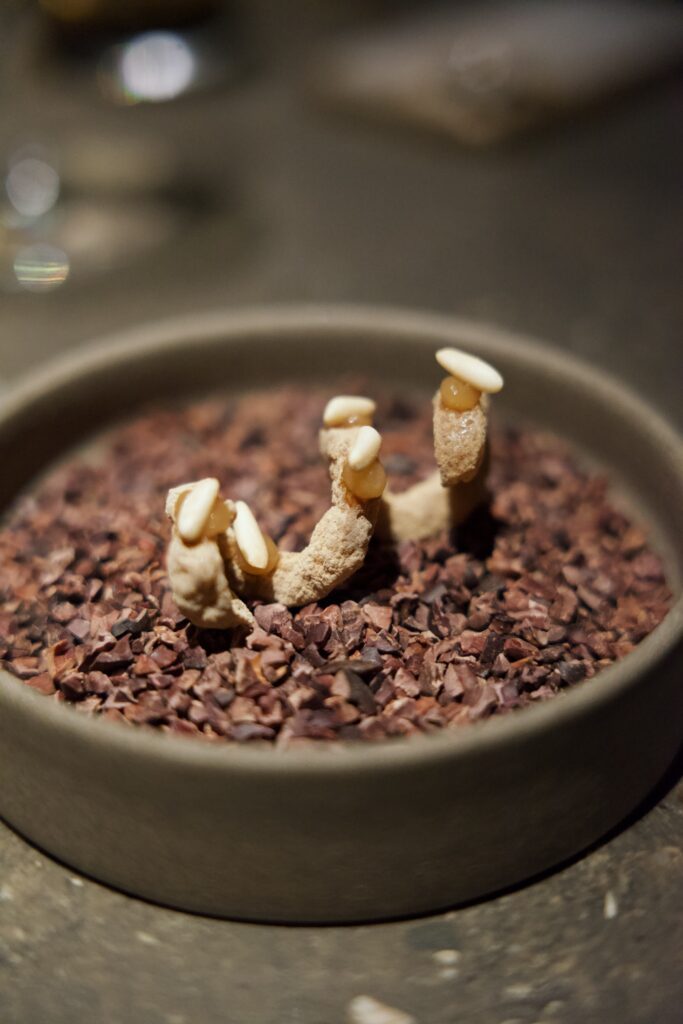 Everybody that has ever been to Italy has probably tried a grissini. The dry bread stick given to you in many Italian restaurants when you enter. This was replaced by a a curly pork rind with a bit of classic saurkraut. A nice bite with great acidity and smoke.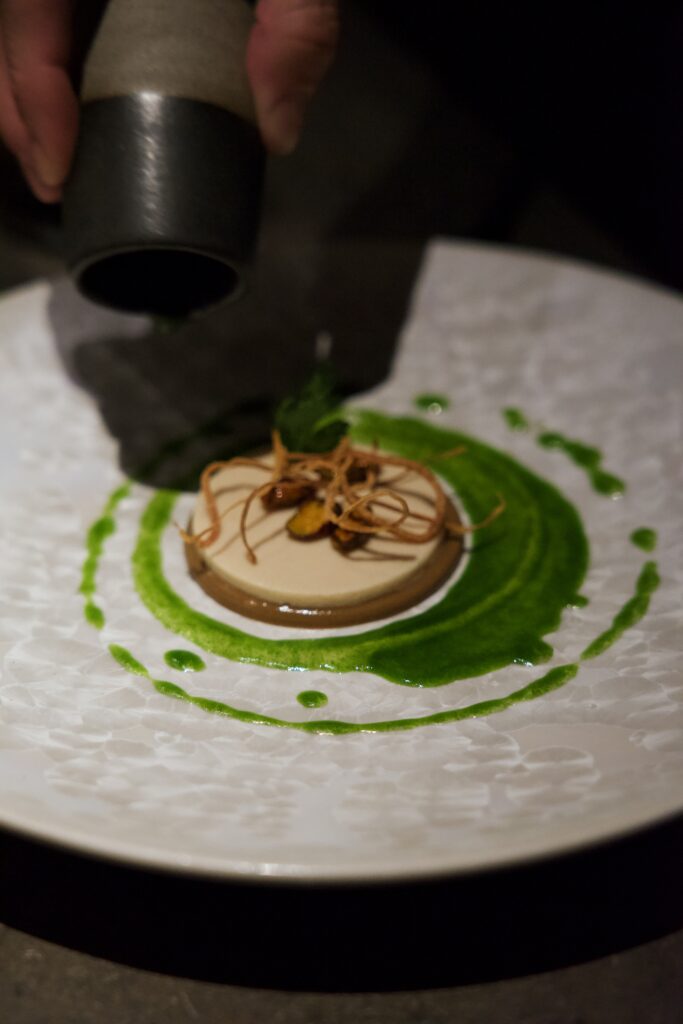 True to the style of the restaurant we would finish on slight savory note with parsley root and back garlic. A combination that I have never seen in a dessert before but they paired off very well. Ending with an unusual combination is very appropriate for an unusual restaurant.
The restaurant describes it self as a progressive dessert inspired restaurant. I think that's an appropriate description. All the dishes have sweet elements and the techniques are from the dessert world. However it is luckily not 15 sweet dishes. Through out the menu your switch back and forth between savory and sweet. I think that is a good idea although it can seem confusing when you are in it. The alternative of 5 savory dishes followed by 10 sweet wouldn't have made sense.
Mixing savory dishes in the menu is definently a good choice. One that brings a bit of balance to the menu. When. I say a bit it's because it is a dessert inspired restaurant so it will never and shouldn't be in balance. Despite no refined sugar being used in the menu it is a menu for the people with a sweet tooth, but for those it is an ideal restaurant.