Chef Roberto Solis has in the middle of this pandemia opened his new gastronomic temple in the heart of Merida so off course it was a given that we had to try it. Just looking through the windows from the outside it is evident that this place has high ambitious. The restaurant is very well designed, inviting and cozy at the same time that feels both traditional Mexican and and modern at the same time highlighted by very elaborated designed tabled and chairs. For this evening we did however choose to sit basically in the kitchen allowing for interaction with the chefs.
Our first dish was an unusual one for a Mexican restaurant, a bread and no not a tortilla but a bread. It did however have both wheat as well as corn. It showed the style of the restaurant quite clearly. Inspiration from the Mayans, Mexican ingredients but without being backwards looking and it goes without saying that it was delicious.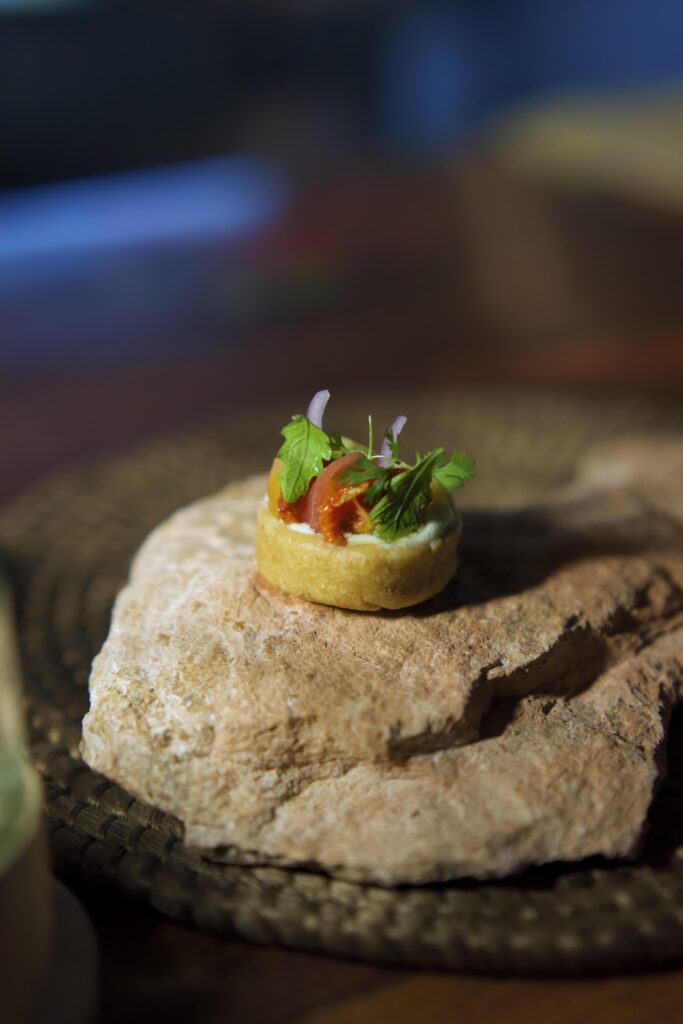 Our first regular dish continued a long the same lines. A topope filled with fresh cheese and topped with red and green tomatoes giving great acidity to balance the umami of the cheese. A dish that was as beautiful as it was delicious.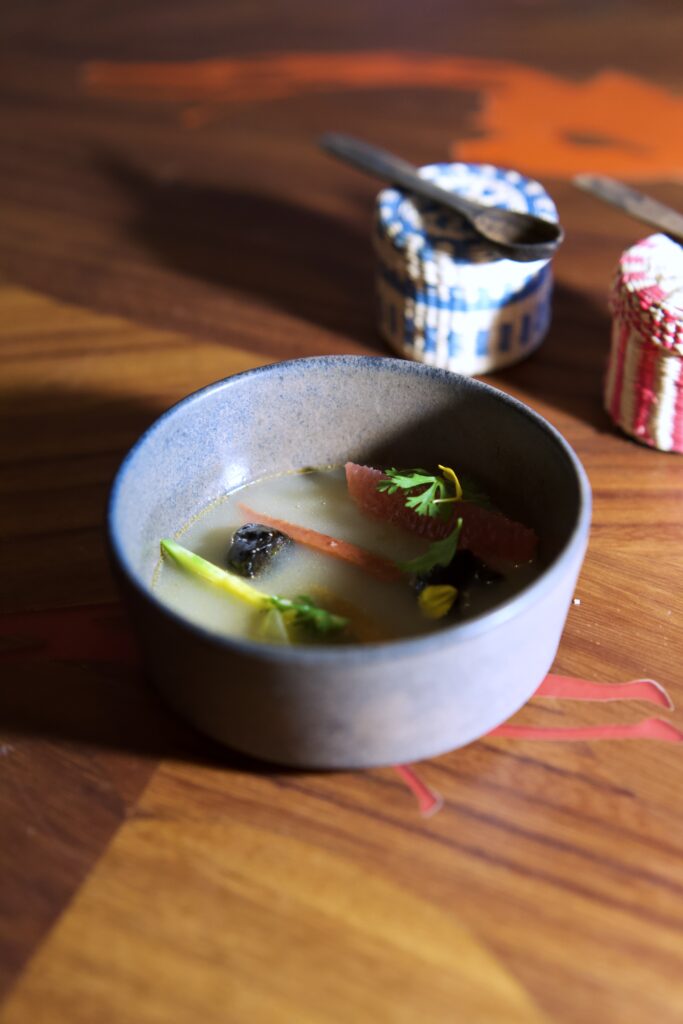 Following this was an extremely refreshing dish, almost dessert like refreshing. Super fresh avocado, citrus fruits, mamey as well as a aguacate that was equally refreshing balancing acidity and sweet fruity flavors. Maybe just a bit of umami would have been nice to balance the dish but it was delicious.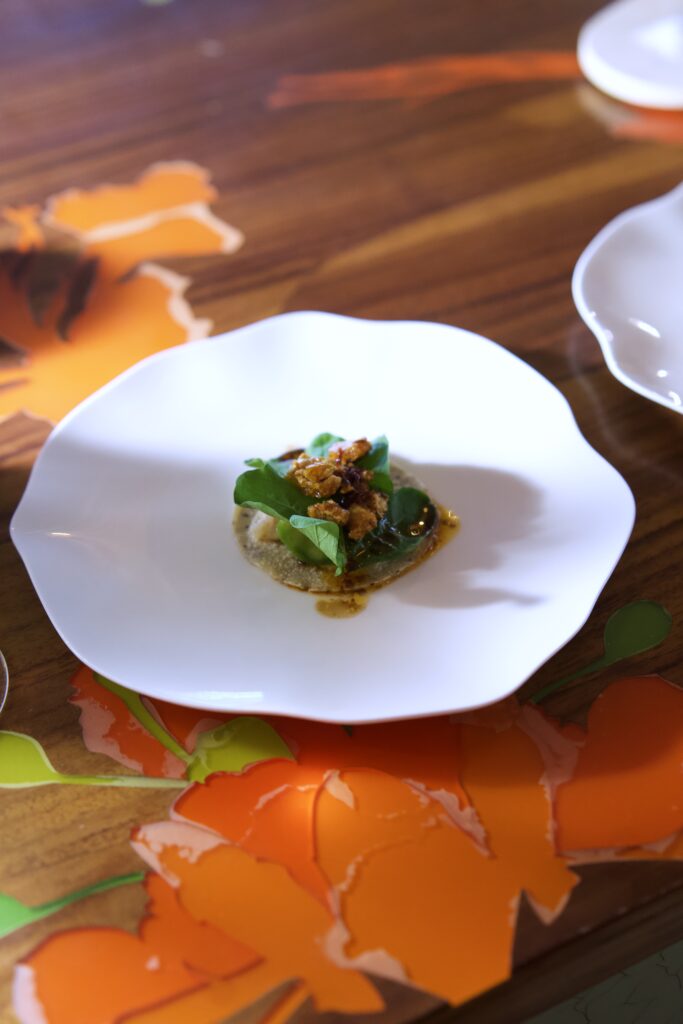 We followed with the first and only taco on the menu. Raw hamachi, avocado, crispy pork skin and a pork juice. Definently not your average taco, gone was all of the usual fat, gone was the chili, gone was the extremely powerful flavors and salsas and instead was a delicate taco with soft flavors. One more please.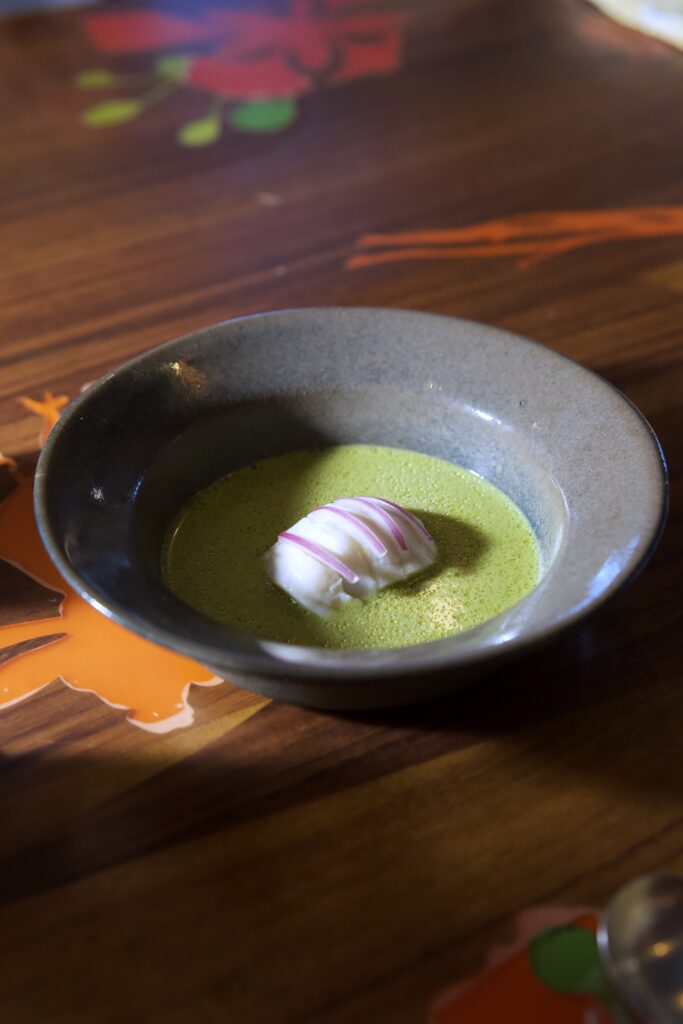 Next dish was also an usual one. A sea snail aguacate. The sea snail provided soft delicate flavors matched brilliantly by the refreshing and powerful aquacate that came with lots of flavor without in anyway overpowering the sea snail. Again the soft flavors were underscored by the almost minimalistic presentation which once again left focus 100% on the product.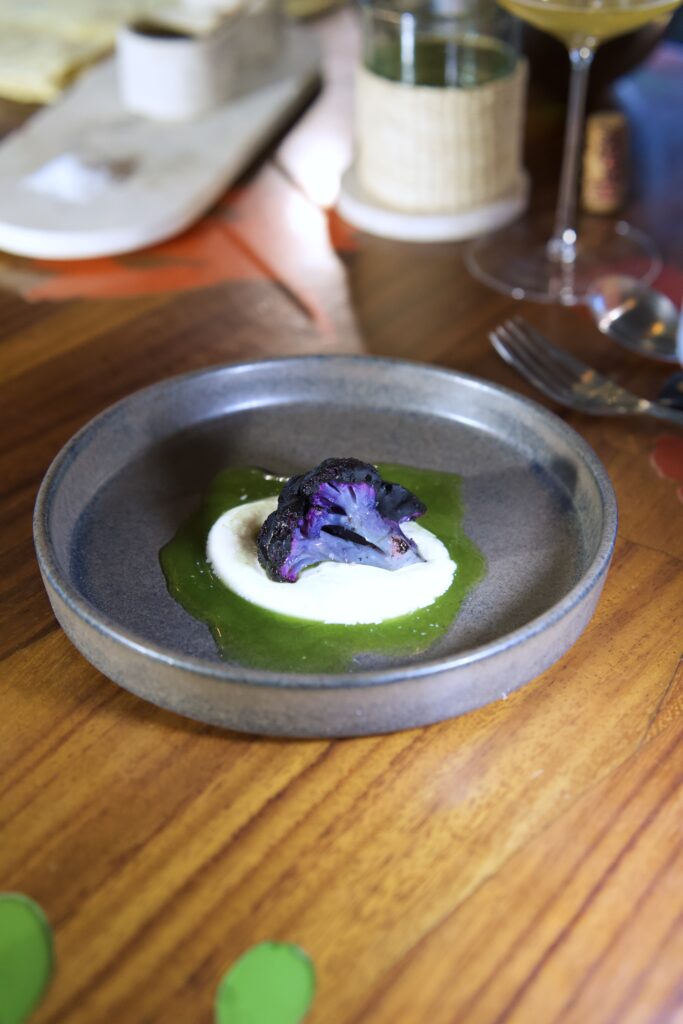 Admittedly I love vegetable driven dishes so its no surprise that a vegetable dish to me was the best on the menu. Yakatori grilled cauliflower which had been brushed with various spices, severed with an acidic yoghurt and a herbal juice. The acidity from the yoghurt was a perfect match to the umami and slight heat from the cauliflower. Just delicious. Yet again a dish with lots of flavor, great balance and only 3 components.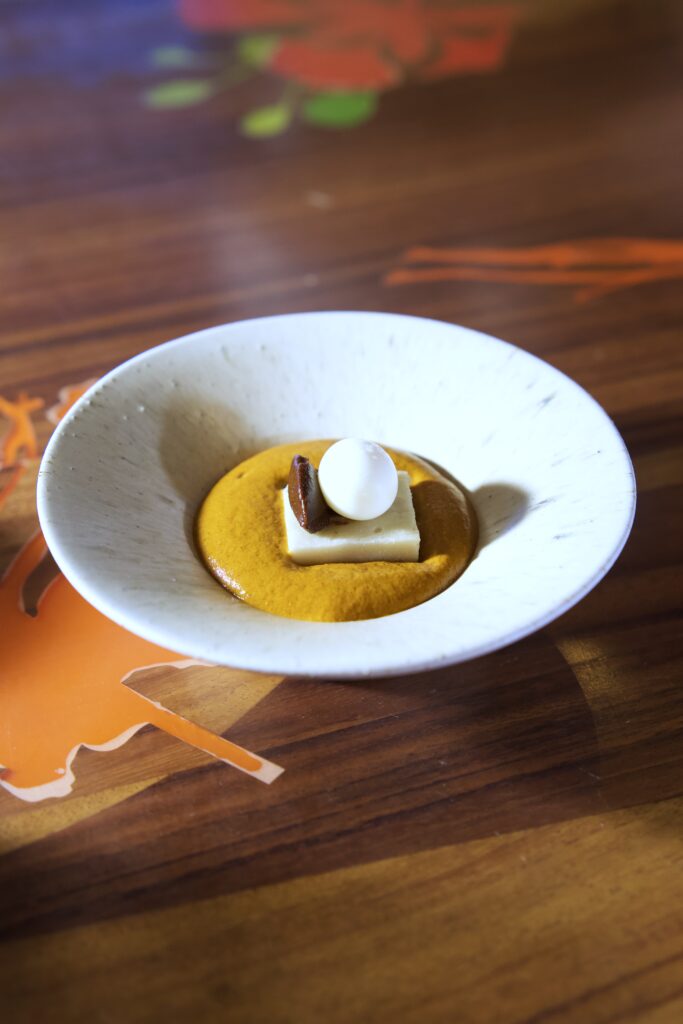 The next up was a both very classic dish but also the most technical. A perfect and I do mean perfect tamale was served. Never have I seen a tamale with that smooth a texture. It was served with a red chili, smoked dzilkilpak foam, a quail egg made sous vide off course and to finish a chilitomate paste. I truly admired the technical skillset to make the tamale but flavorwise too me it was very classic.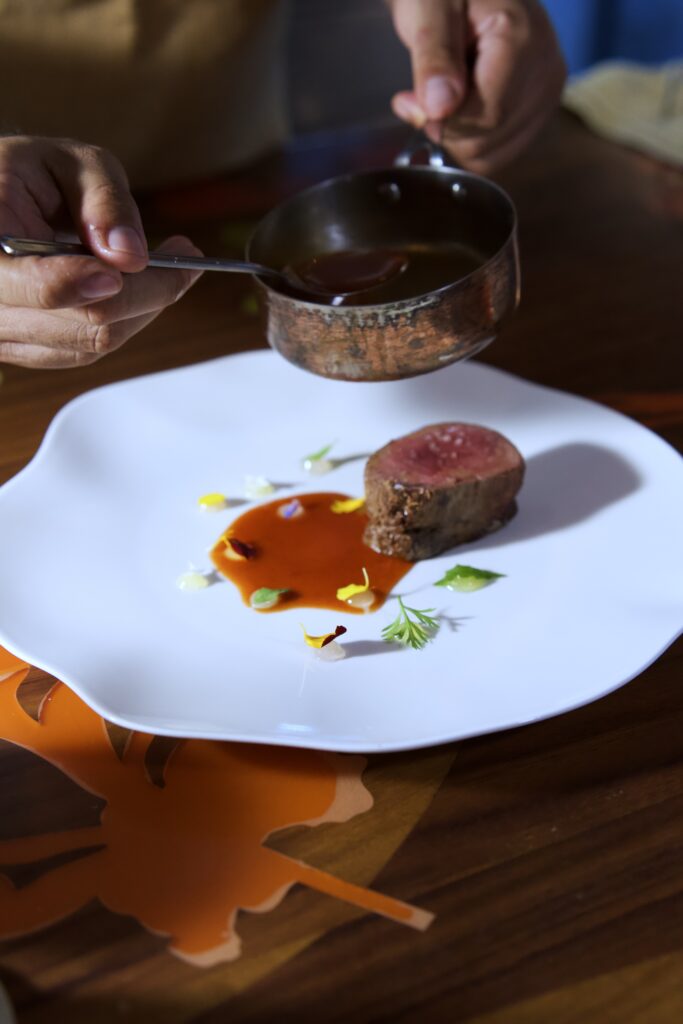 The next and final savory dish quite clearly showed the style of Roberto. A steak was served almost naked just accompanied by different citric gels, flowers and the meats juice. Serving a piece of steak with citric flavors instead of umami rich sides changed the dish completely and made it much more light which I really liked and off course also made the dish very different and beautiful to look at. Amazing how just the smallest impact can change a dish completely.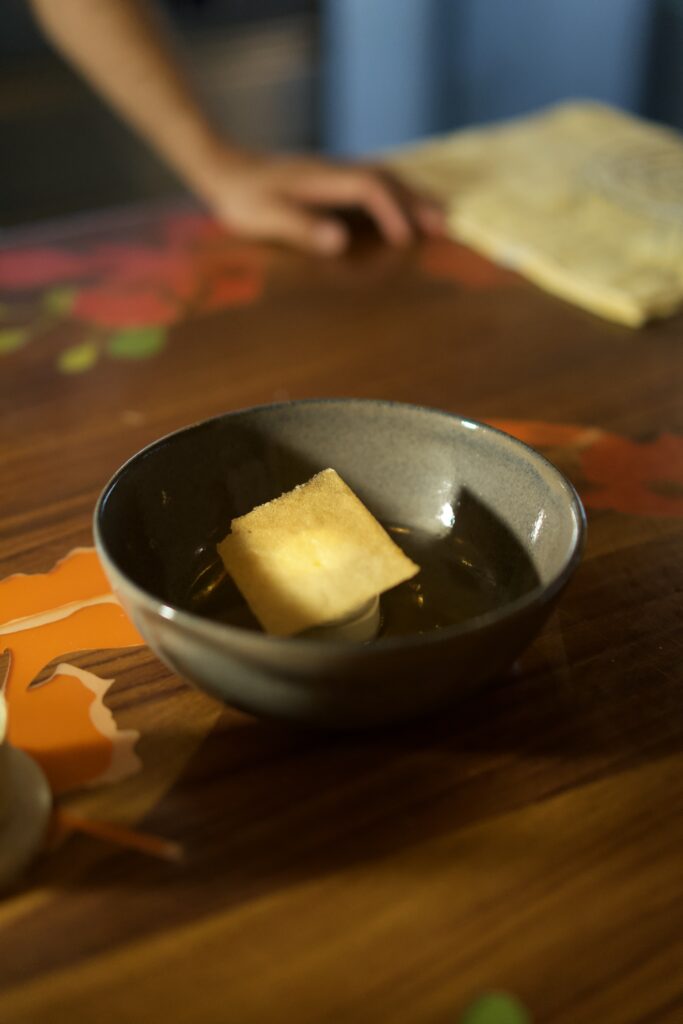 Milipona is something that we would have at just about every nice restaurant in Yucatán and well who can blame them. The flavor is quite different from any other honey I have ever tried and just delicious. Here in the form of a broth accompanied by a panacotta. Off course the honey was the star so the panacotta was there to provide texture and balance to the sweeet honey. On top a cracker with various spices which gave another layer to the dish.
I always have a hard time defining modern Mexican cuisine as most top Mexican chefs have worked extensively in Europe and the food of top restaurants even though they share ingredients with the classic dishes they look miles apart from street food and generally just traditional restaurants so what is a Modern Mexican restaurant? To me Huniik is a good bet. It is deeply rooted in ancient and I do mean ancient Mexican traditions, its forward looking as its actually a healthy menu with heavy use of vegetables and Roberto knows enough about his ingredients and techniques to allow the ingredients to speak for them selves so you wont find dishes with 10 ingredients giving each dish a more clean flavor profile and finally their wine list is leaning heavy towards natural wines. All of this is underscored by a very beautiful looking restaurant that feels distinctive Mexican.
So at the end of the day I would recommend making the trip to Merida to visit Roberto Solis newest gastronomic temple plus Merida by itself merits a visit for those visiting Yucatán.