When I moved to Peru a bit more than a year ago I wanted to experience Latin America and all it had to offer. My first trip since my move was a foodie trip to Santiago basically just to eat at Borago. Now of course I haven't travelled around the rest of Latin America yet but still I found my self drawn to come back and experience the magic that completely blew me away in the first visit. With that kind of first expressions a second visit can be hard because can it live up to the expectations from the first visit and can it keep surprising you? Spoiler alert it could.
Three months prior to my visit Borago moved to a new location providing both more space in the actual restaurant but more importantly it gave room for a research center to study and communicate Chilean ingredients and food culture. A subjective that is key to the succes of Borago and close to the heart of headchef Rudolfo Guzman.
The menu of course takes you through a journey of Chile from north to South displaying its huge diversity of culture and ingredients. We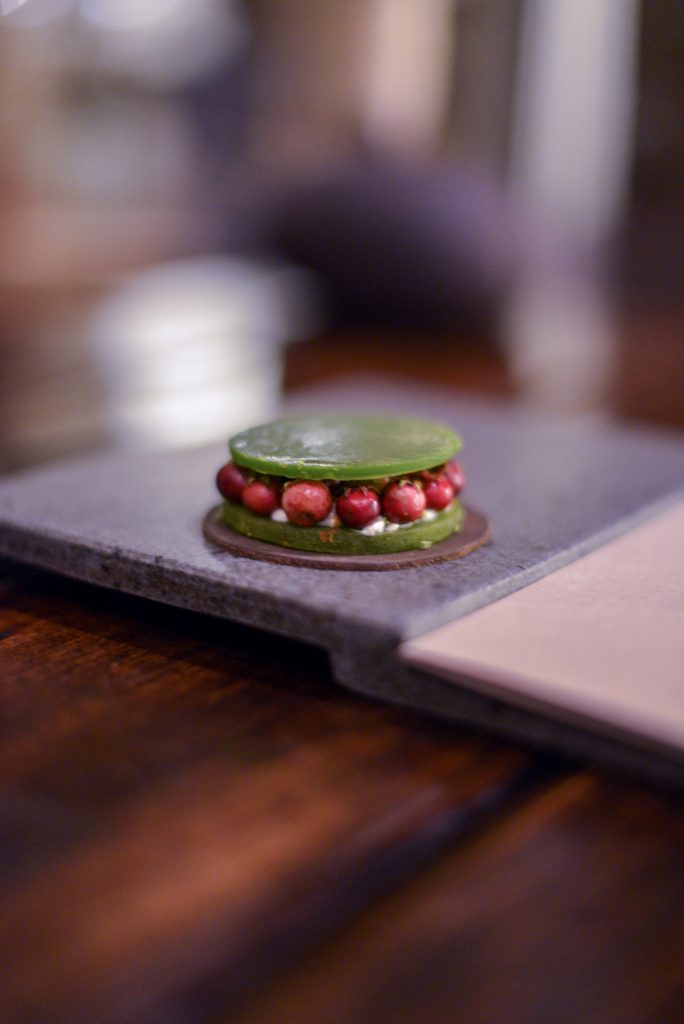 Chilenito of murtillas
A small "sandwich" with berries as the main ingredients as well as tart strawberries. The textures and flavors were amazing. The first foodie orgasm of the evening. Not the last of course.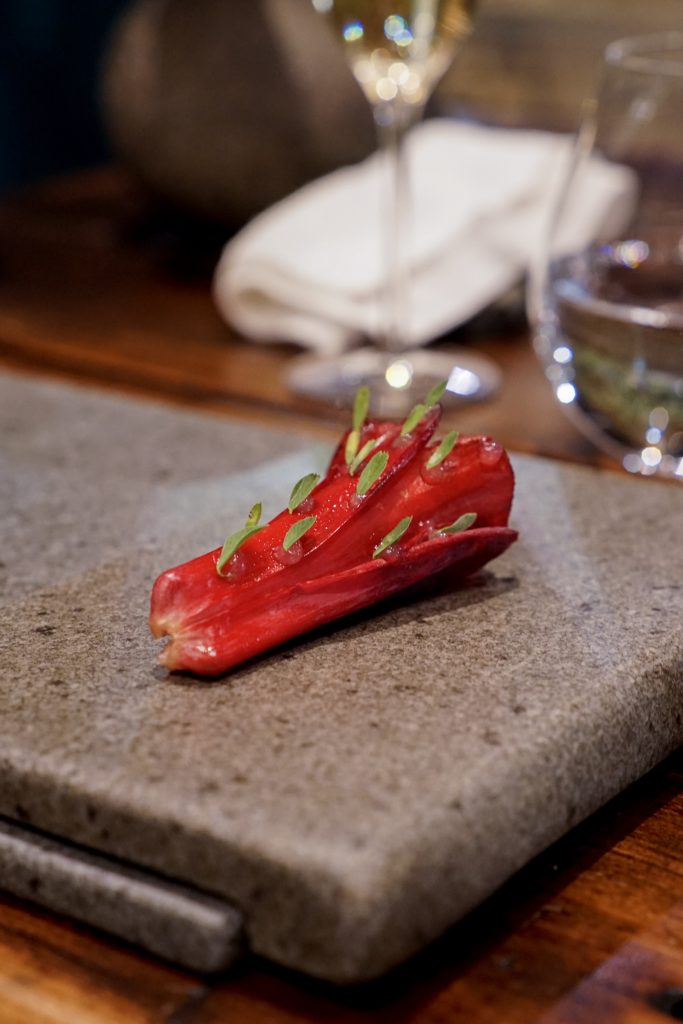 Next up was a filled "Chilean rose" (copihue) with raw shrimps. The rose was much crispier than I ever thought possible and the shrimps were sweet and delicious as they were supposed to be.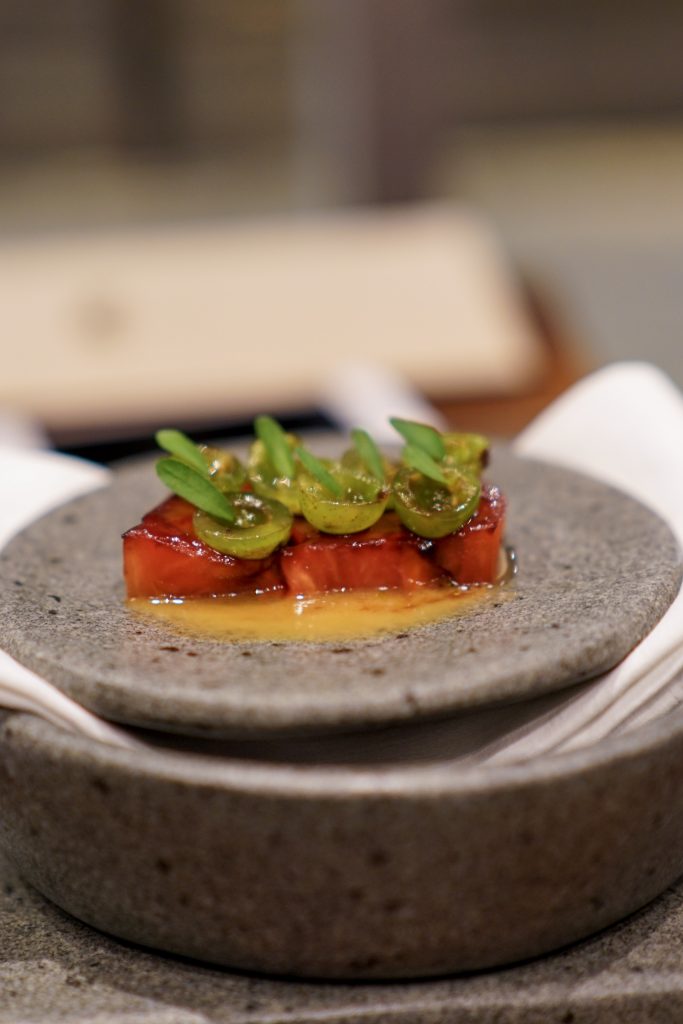 AMAZING AMAZING and AMAZING. It was a dish in PERFECT balance. It had both sweetness, acidity, umami, fruitiness and acidity. A fresh BIG tomato served with a sauce which was basically juice froma tomato that had been treated like a cheese. But then again when it is this good I don't really care how the magician performed his trick.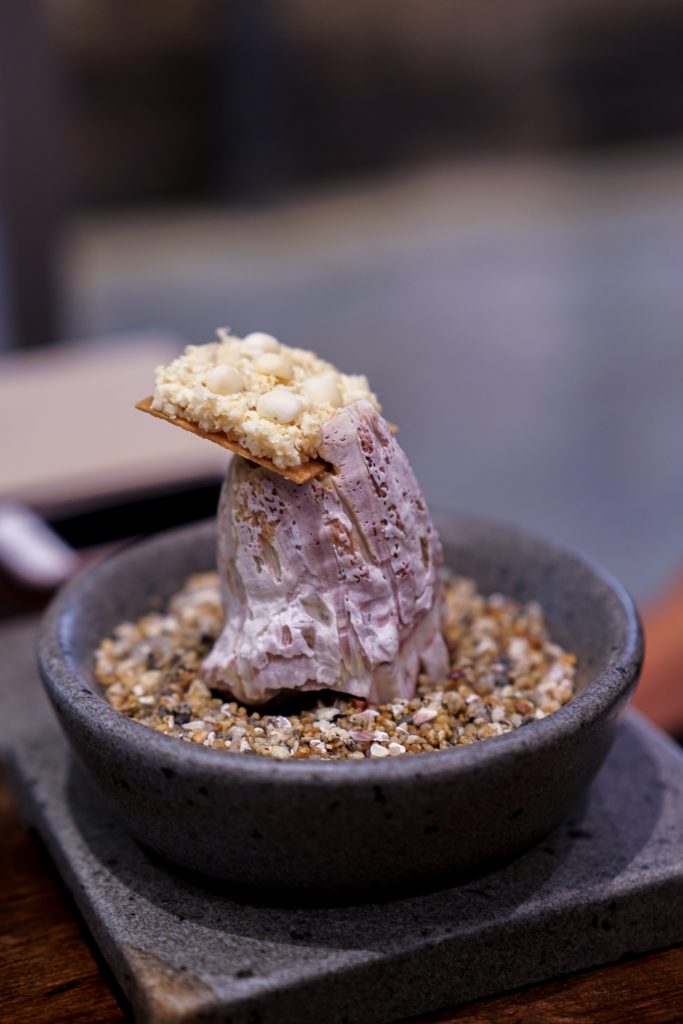 Next dish is just so beautiful in its presentation. A delicious cracker with Chilean hazelnuts with a cold refreshing "ceviche"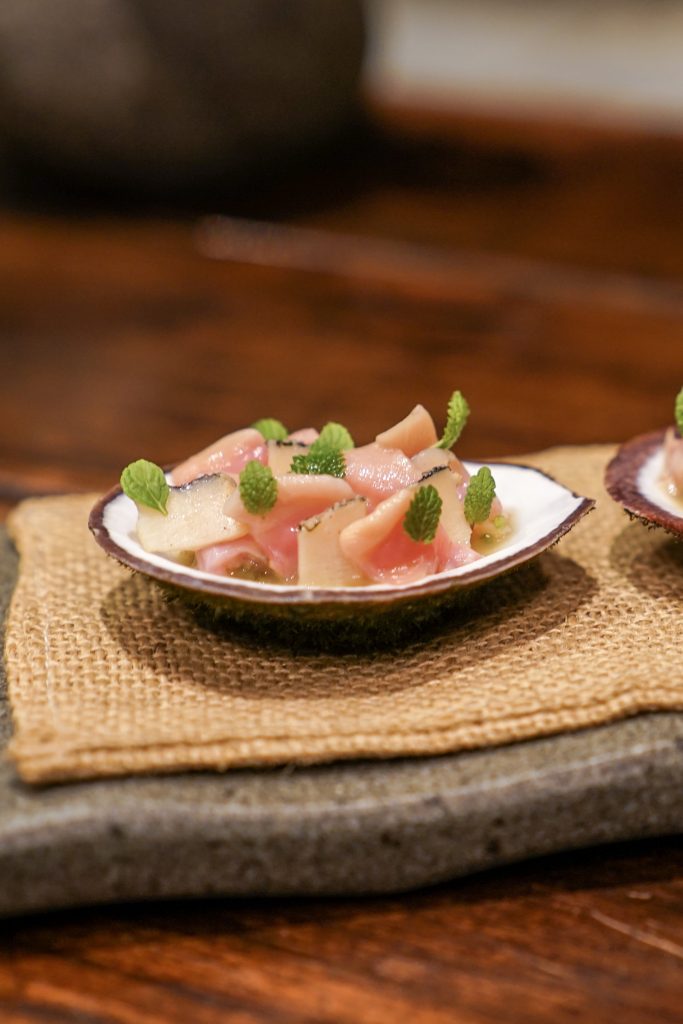 We continued with varieties of raw seafood with different pickled herbs. Just simple pure and delicious flavors where the fish almost stood naked with their natural flavors.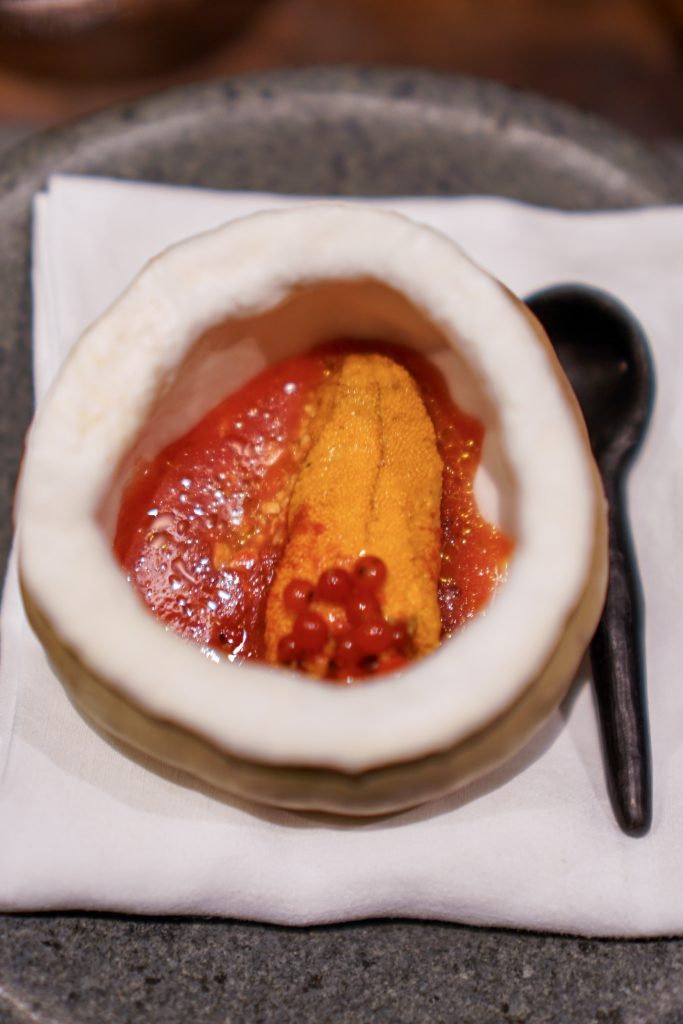 So, for the last snack Rodolfo felt it was time for breakfast with a uni served with "granola", tomatoes and berries. A nice dish with great textures. Usually uni is served with other soft elements and not crunchy as here.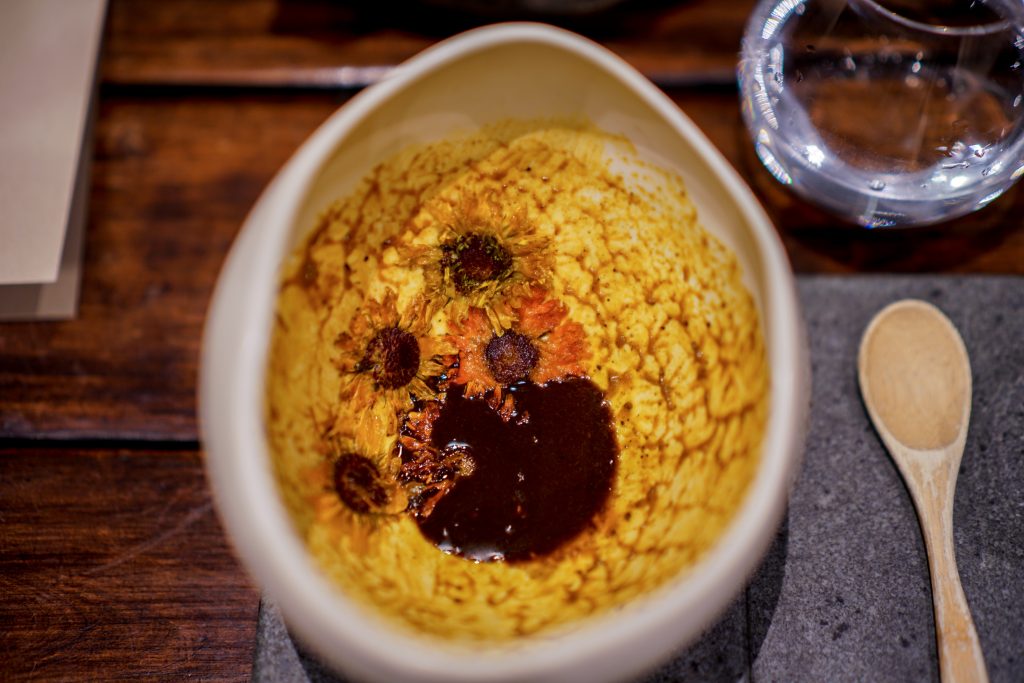 Unfortunately my picture doesn't at all do this dish justice. It was just pure delicious. Trust me. Van Gogh's flowers served with an extremely rich and delicious mushroom sauce and a BIG mushroom that had been cooked inside a seaweed bladder. The mushroom was the size of a small steak and of course also extremely rich. Such a good dish.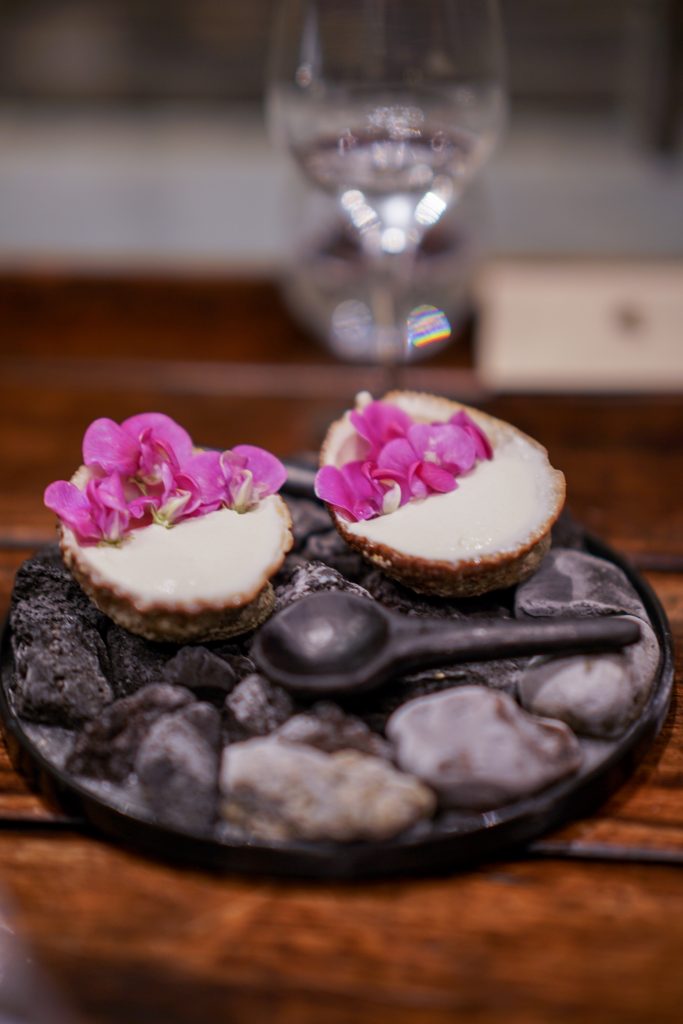 Now with 19 dishes and an experimental chef not every dish will hit the mark for everybody and this dish missed the mark for me. A tofu ice cream with raw abalone and flowers. Ice cream and fish can work but here I think the tofu element just wasn't to my liking.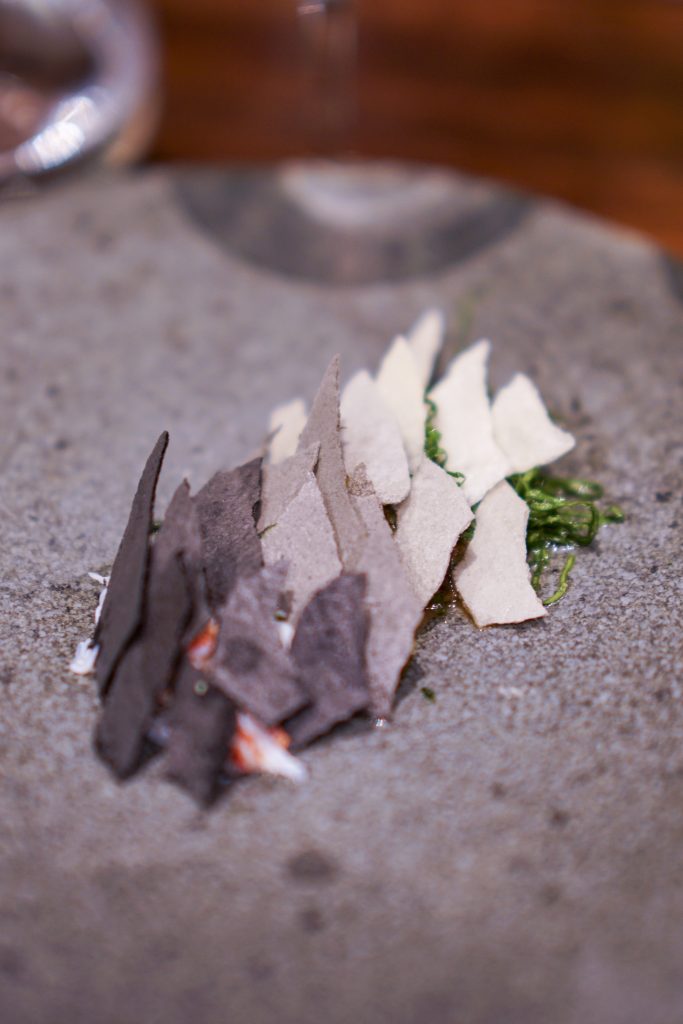 Next dish had a very direct inspiration from nature. A beach north of Santiago where the rocks changes color from black to white as you approaches the water. Of course underneath there is also 3 different ingredients starting from crab, sea asparagus and the last was grilled something. A delicious dish that was basically three dishes in one and I just love the story behind it.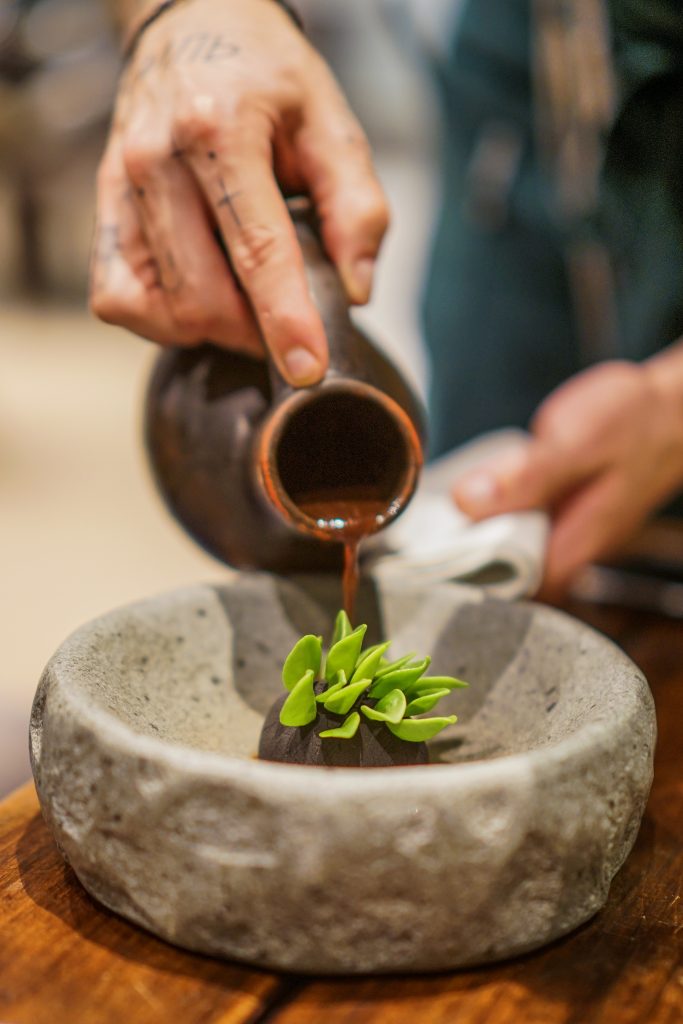 With this dish I was blown away again. A sea urchin cake served with an incredible rich broth of kolof which despite its flavor had no fermentation. I loved the combination from the sweet uni, the umami rich broth and the crispy leaves. Of course the presentation was amazing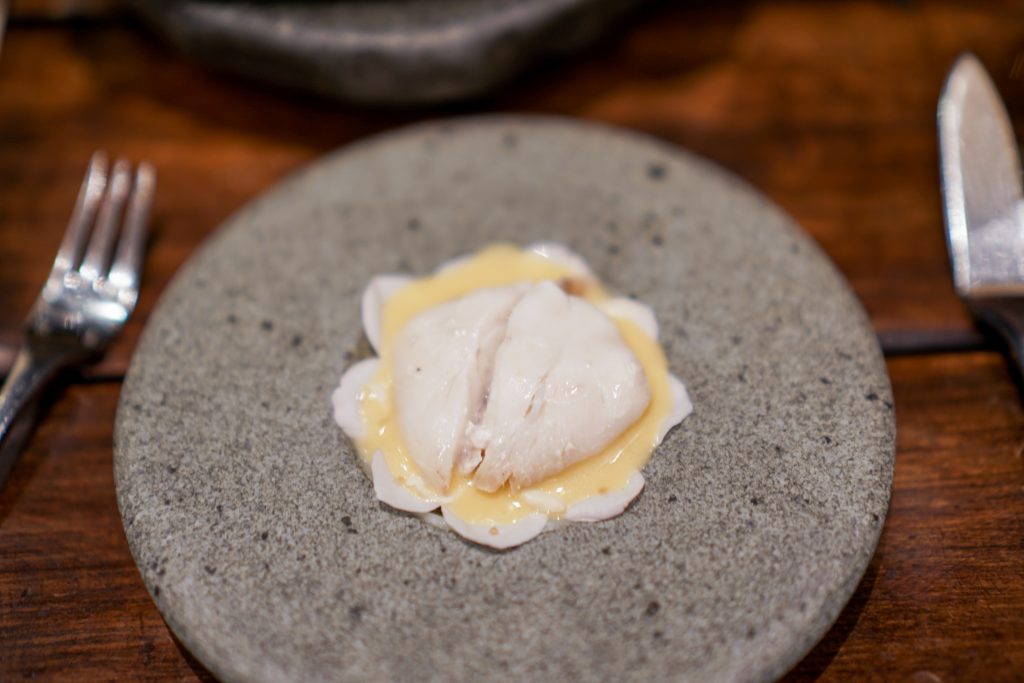 Now Rodolfo decided to use classic flavor combinations but with unusual ingredients. Basically a beurre blanch with fish. Super delicious acidic and rich sauce served with the cheeks of the conger eal and roses. I always LOVE fish cheeks and this dish was no exception. Of course the presentation is beautiful as well.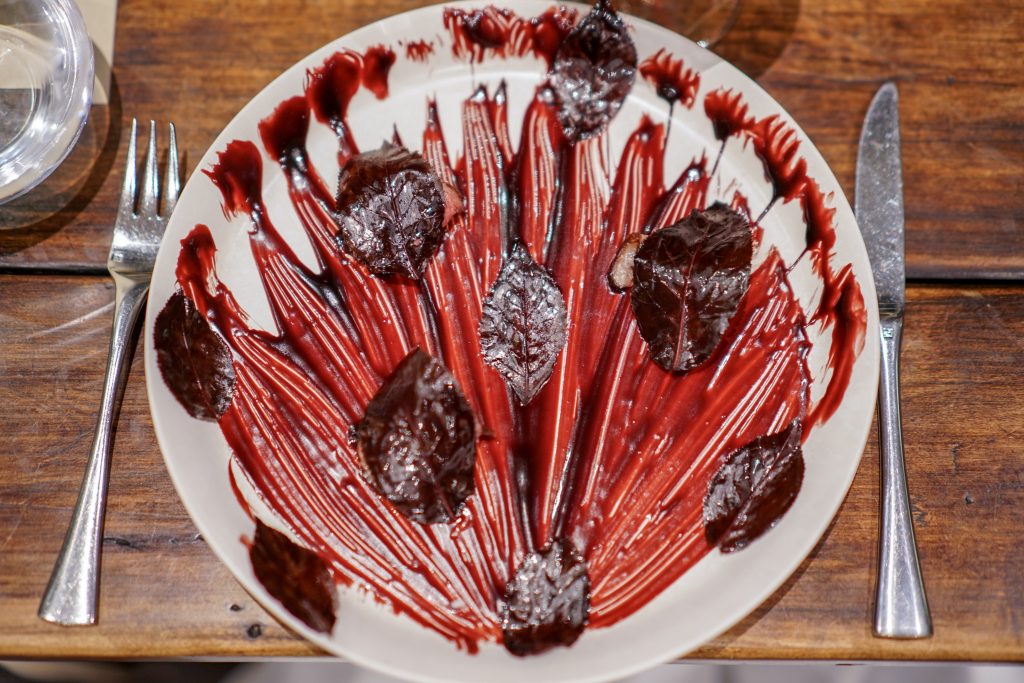 We were now hitting the signature dishes starting with the duck that had been aged in bee wax served with plum leaves and a sweet and acidic sauce. Just delicious.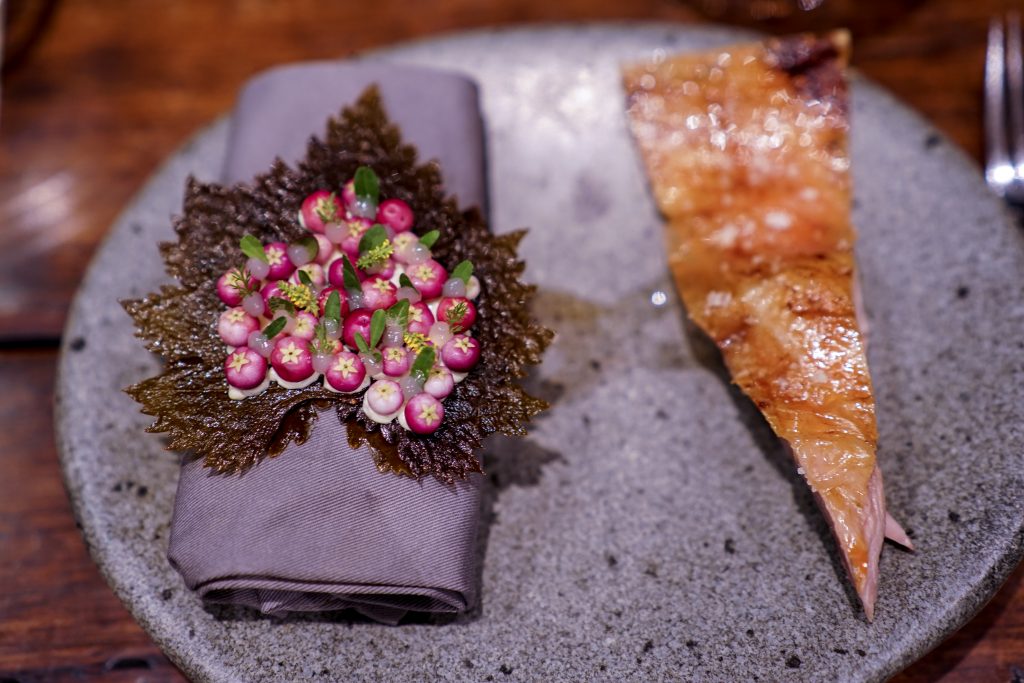 The last main is their most famous dish. Inverted grilled lamb served with a crispy leaf of with crispy Patagonian apples. A super delicious dish with the most juice piece of lamb I have ever had.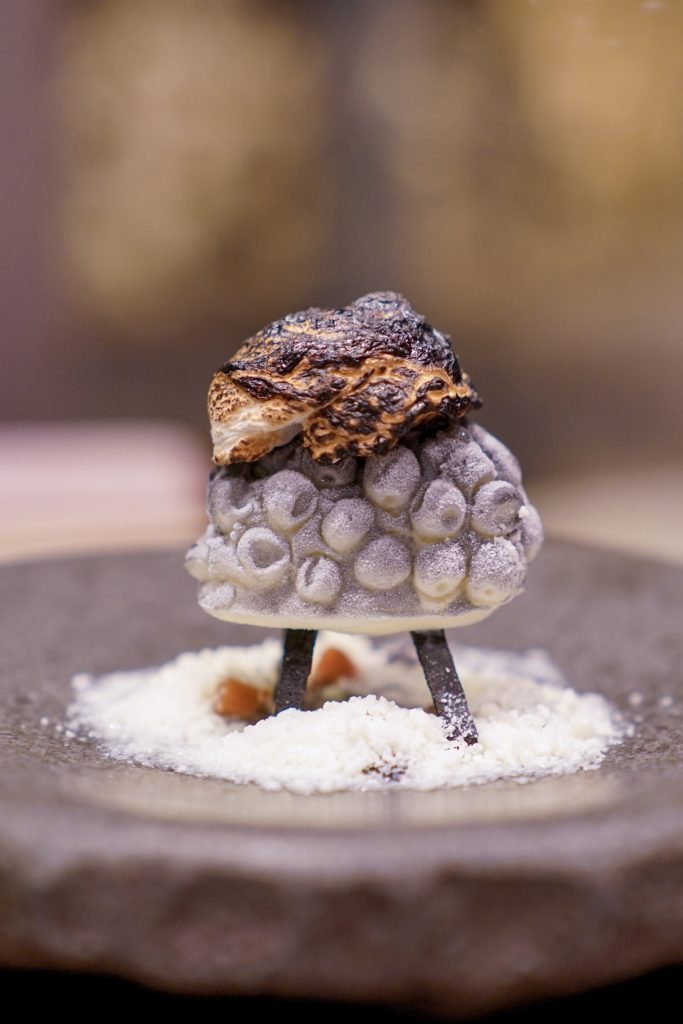 Moving on to the black sheep of the family. When I had it a year ago I remember it as being one of my best desserts of my life. This time I remember it as being less spicy which I liked from the first version but still a delicious dish.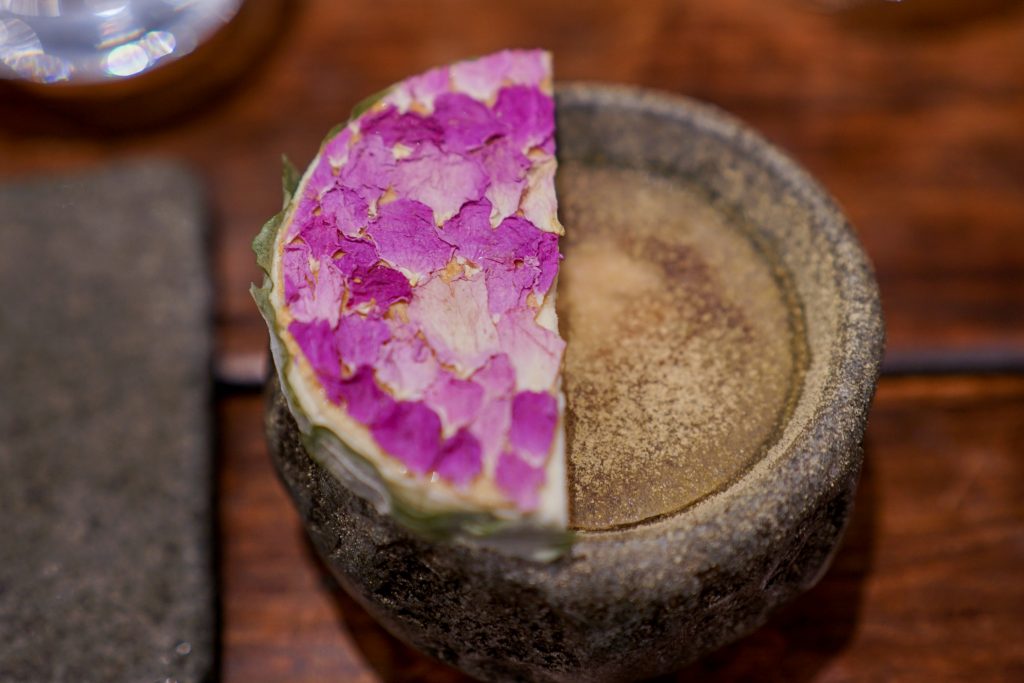 The next dish was yet again to prove that desserts can be equally delicious to the savory dishes. A "crème brulee" made with bitter plants from the Atacamba and a rose ice cream sandwich. I especially loved the ice cream sandwich with its flaky yet firm textures.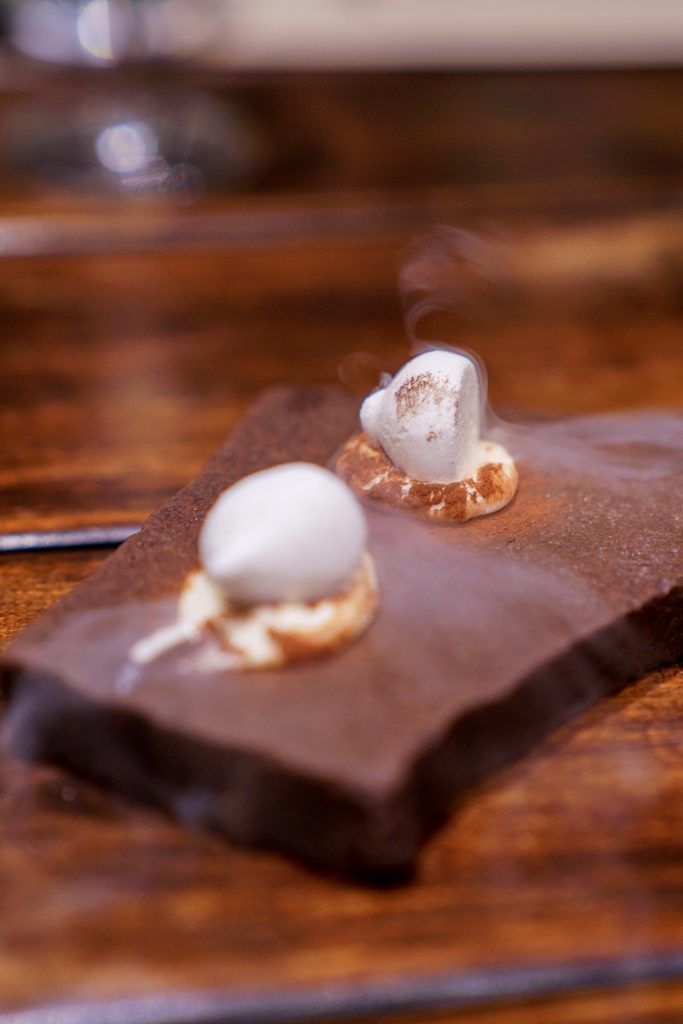 To finish the evening was a small petit four with muña and lots of liquid nitrogen which meant that when eating the egg, you blew a cold "smoke". Again a dish with great sense of humor and use of technics. A nice touch to end the meal.
A year ago I had one of the best meals of my life at Borago. That meal was filled with exotic rare regional ingredients, a great mix of textures and techniques and most importantly some serious delicious flavors. Luckily this meal firs the exact same description. The level of execution was still spot on and during the meal there were some truely amazing dishing and the wines matched the level of the dishes.
My only comment about this experience was that out of 18 courses, 5 were new compared to a year ago and one or two had changes to it. With the move to the new restaurant that might have stolen focus from the creative work. Of course it is a personal preference whether you prefer a restaurant with familier dishes or new experiences every time. For gourmet restaurants I am the latter.
Regardless of that it is still my opinion that Borago is one of the most underrated restaurants in Latin America. The combination of well just very friendly down to earth chef that has a noble ambition to display the history and ingredients that he is so proud of and he has the skills to execute this vision perfectly.