Noma and I go 6 year back where I finally was able to secure a table. Then entered a 4-year period where I unfortunately only followed Noma from the sideline. Within the last two years the relationship has changed and I have visited Noma 4 times in this period. I call it a love affair. Well Noma is like a beautiful and extremely kind woman that you simply cannot get enough of. She continues to surprise you with innovative and extremely well prepared dishes, but her real powers of seductions lies with her winning personality. Here embodied especially by the front house staff, which to the day keeps amazing me in their ability to put the customer, first, second and third in their priorities.
A pretty long introduction but service is extremely import if it is done well and at Noma it is done like no other place I have seen before. Now for the menu this evening.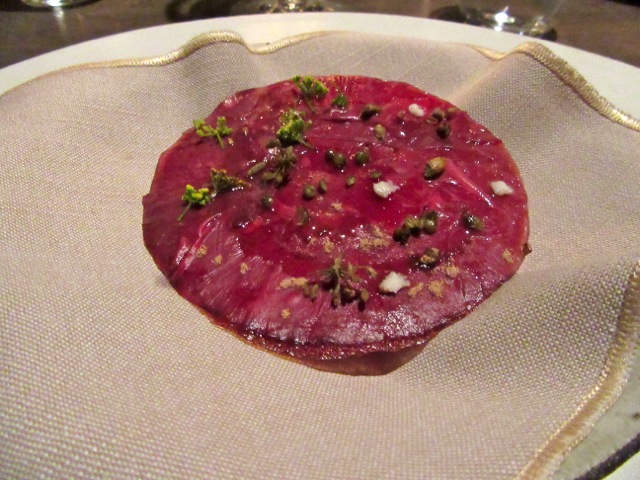 The first snack was a thin slice of dried plum with a series of different herbs and rosehip oil. The snack set the tone for the evening. Even though is was winter outside with about 5 degrees in temperature everything was extremely refreshing and with a high degree of acidity and a complex in it's flavors.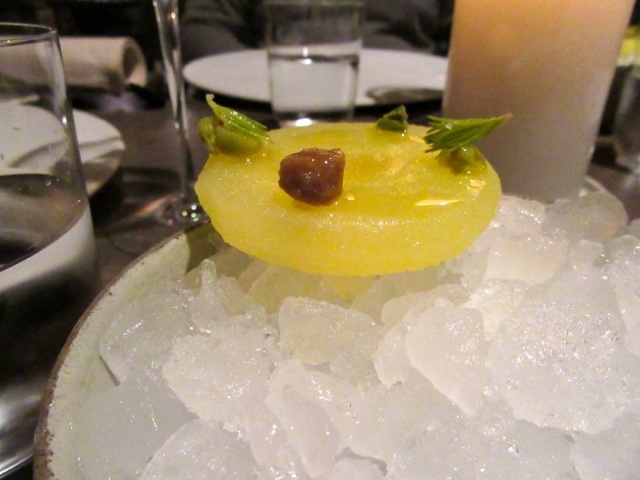 Second snack was a chilled belle de Boskoop apple marinated in apple aquavit. A pre dinner cocktail if you will. It was served with 4 different herbs making each bite a new and interesting experience. I have had a similar dish at Noma previous this year and it is still not a favorite of mine. I absolutely love the texture of the "frozen" apple but to me there is too much bitterness from the aquavit for it to be a truly amazing dish.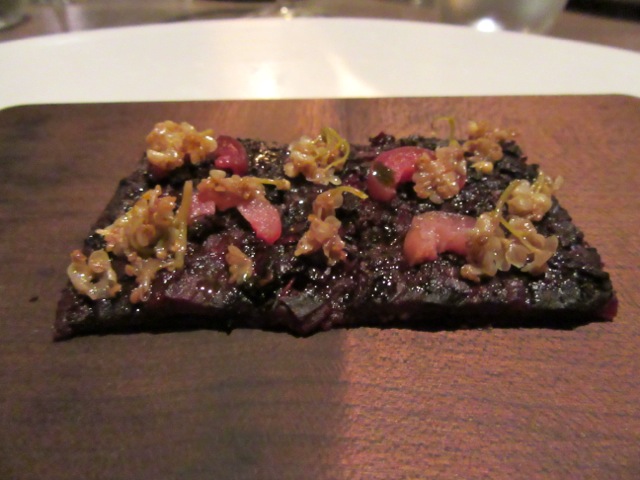 The next dish was amazing though. A beetroot "tartar". Usually tartar is made from raw fish or beef but in this case it was actually a grilled beetroot. Sweet and extremely good.
Cabbage and white currants. An aesthetic nice serving but I have to admin that among the 19 other serving it didn't create a huge impression.
It was very fun to see the change of the season in this dish. When I had it 6 months ago all the sprouts were young, crisp and delicate in flavors. Now they are still delicate but they are a bit rougher so a lot more of them are grilled. A kind of snack that you will just continue eating again and again with the extremely delicious scallop marinade.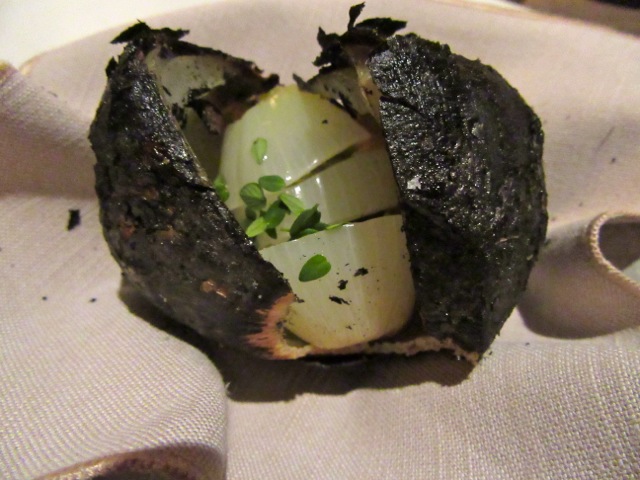 This was the first "simple" dish. An onion that had been grilled extremely hard. To put it simply, this was the best onion I have ever had. Deliciously sweet and the hazelnut oil and thyme leaf lifted the dish to a new level.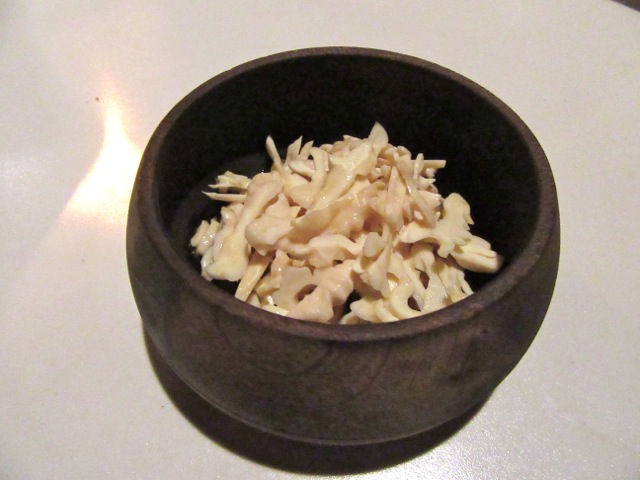 The next dish was also a study in simplicity. Sea urchin of the best quality served with fresh walnuts, which provided great textures and a fresh broth. Extremely simple and delicious.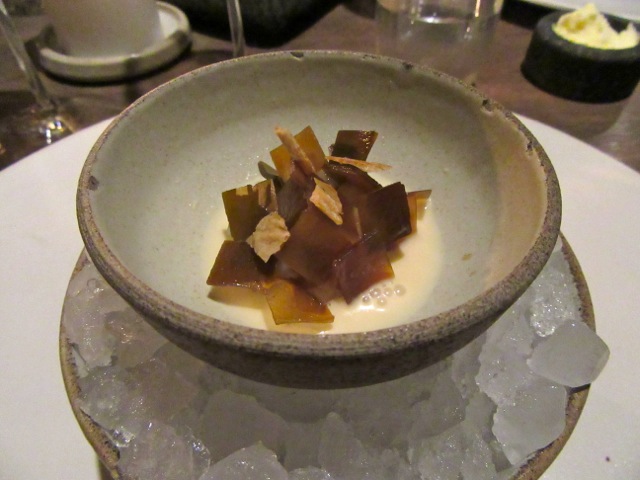 Yet another amazing dish. Raw squid, kelp, "salt flakes" and a rich fermented "butter sauce". Extremely pure in flavors. Strangely enough the best part of the dish was the salt, which was made from kelp broth and provided a great umami aspect to the dish.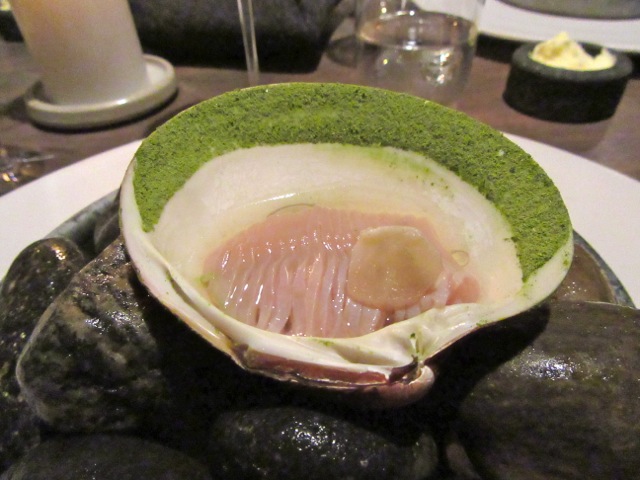 Age matters. I think this could be the highlight of the next dish. A 100-150-year-old mahogany clam served with grains and samphire salt. The age had given in a very deep and almost meaty taste and a firm texture.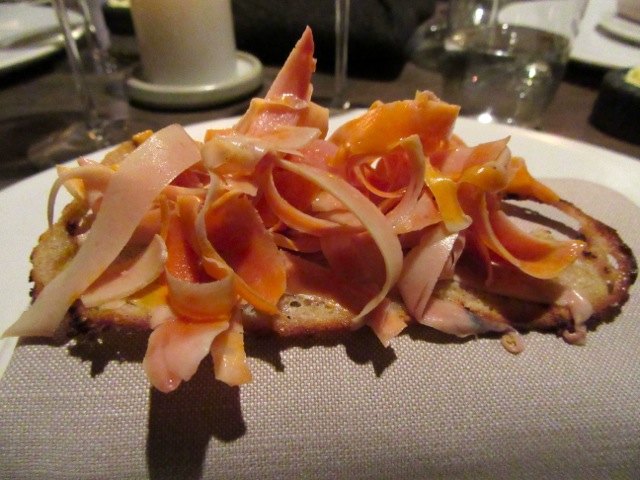 I love the shaved monkfish liver with a very thin toast. I love the play with temperature and how the monkfish liver melts in your mouth. Whether or not it was actually smoked or not I am not sure, but it is very delicious.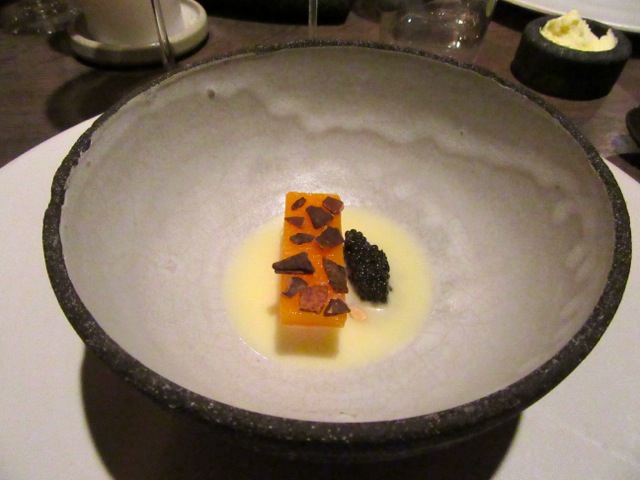 Amazingly simple dish. The pumpkin is extremely sweet and delicate and has a texture like no other pumpkin I have had before. The flakes of salt were extremely rich in flavor and rich of umami. The sauce was off course fermented and then combined with butter. How can that be anything but fantastic?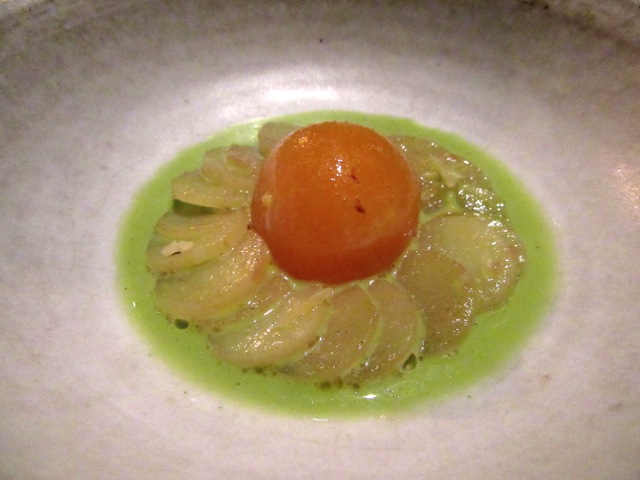 It can be difficult to highlight dishes at Noma because they are basically all fantastic. This one was one of the best I have ever had though. Preparing an egg sous vide for later preparing it in ox fat in the oven for 40 minutes gives it a tremendous dept of umami. Small potatoes and nasturtium broth is a perfect match. Off course I need to prepare an egg yoke like this at home at some point, but I have no expectation that it will match this.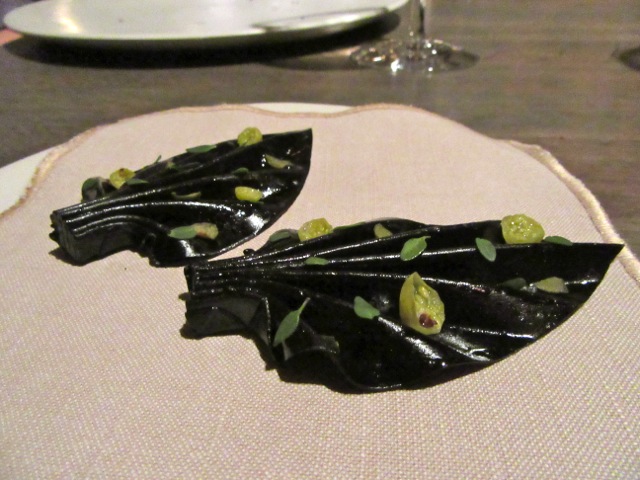 The black garlic leaf is hands down the best piece of candy I have ever had. Texture like liquorices, sweet and with a deep taste of garlic. Again the oregano and thyme was just not for decorations but balanced the dish.
The main course was yet another dish originally from their trip to Japan. Wild duck cooked to perfection on the grill and slowly smoked afterwards. The breast meat was served as a taco with a cabbage leaf . After this the duck was taken to the kitchen and the legs, head and remaining meat was served with a delicious plum dip. This was my first time eating brain, a small one though. I had hoped that they would have served the heart as it is one of my favorites.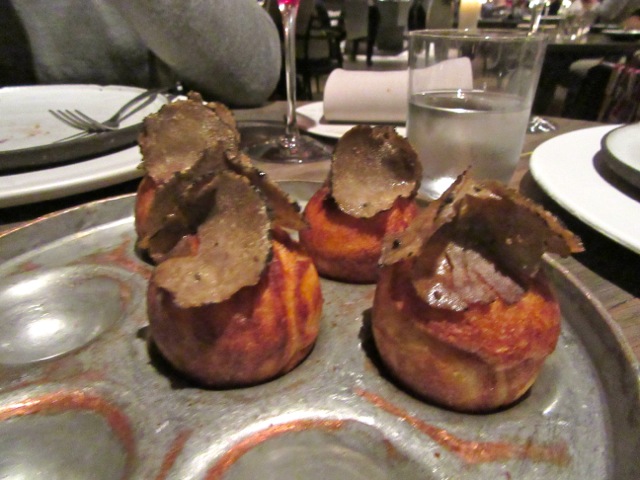 Between these rounds of duck a savory æbleskive filled with herbs and topped with black truffles was served. Extremely delicious and a fun take on a classic Danish dessert.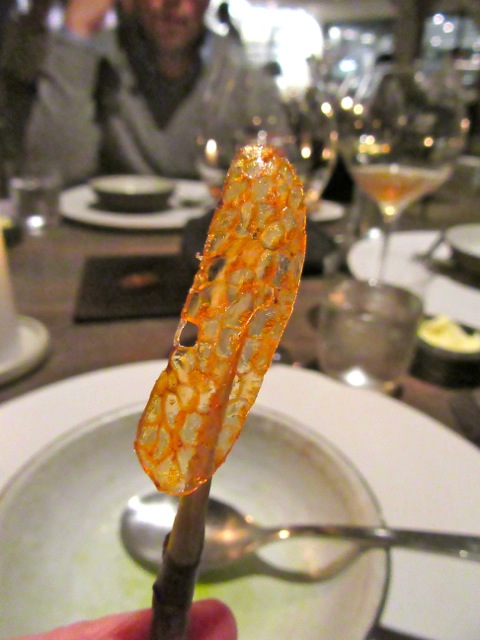 There are some privileges to being a returning guest. The next dish was one of them. We got to try their dried cured trout roe. Extremely potent in flavors with umami as the general theme. Just let them melt on your mouth and wait for the explosion of flavors to take place.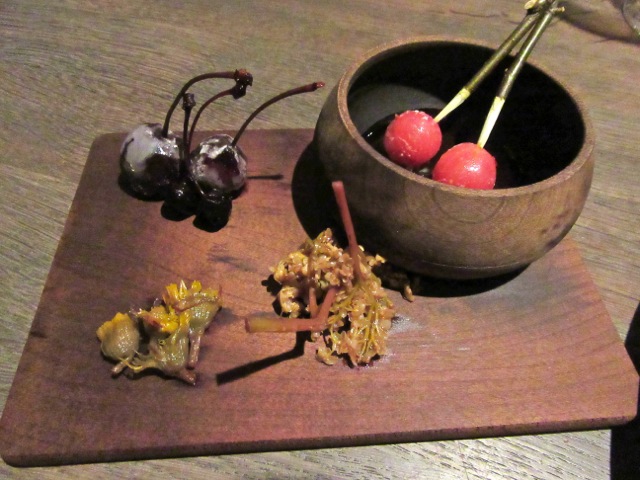 A nice palette cleanser before the main desserts. The frozen berries with verbena are extremely refreshing and clean in flavor. The Frozen cherries are just delicious wile the pickled elderflower and are zingy.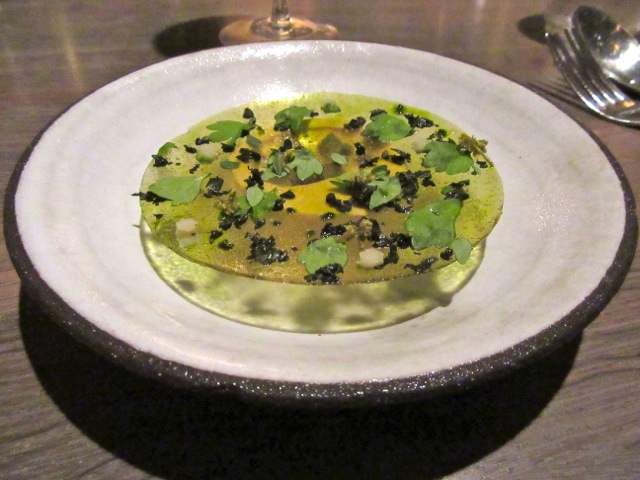 The first dessert was a beautiful serving of lemon thyme and kelp ice cream. A great textures and clean flavors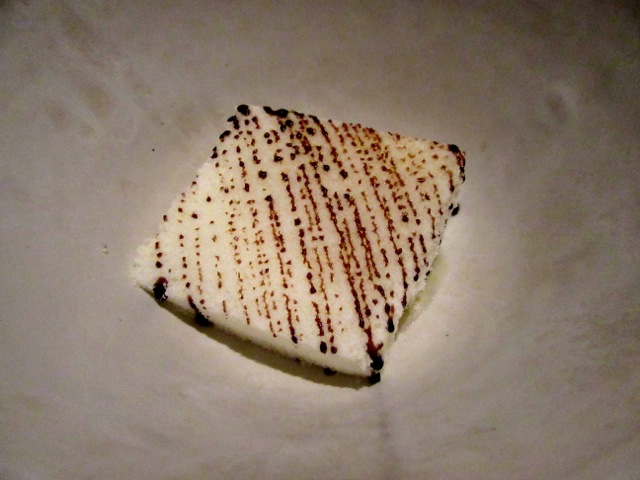 The next dessert is a Noma classic. This time in version 7 I was told. Gammel dansk here as an extremely fluffy base. Balsamic vinegar as topping and in this version with a haselnut oil making it much more fresh version then the prior.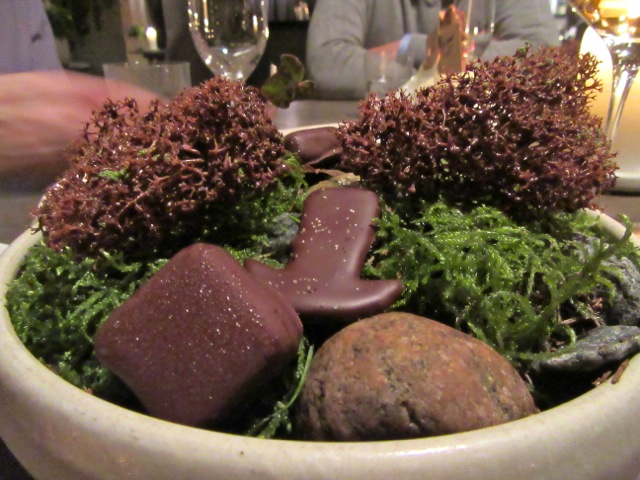 Fermented mushrooms covered in chocolate were the most intense taste of mushrooms I have ever had. Both delicious, and innovative. The chocolate covered moss for me is more about great texture than actual strong flavors, as moss doesn't really taste like anything.
Off course the wine menu at this point serves egg nogg.
Finishing the evening at Noma it was very pleasant to be able to enjoy a cup of coffee and a snaps or two and reflect about the evening and basically settling down in stead of just going home and sleep which at 1 in the morning, 20 dishes and 10 glasses of wine was needed.
Already early in the evening it was clear that Noma had been through a huge revolution the last couple of years. All the dishes have a very clean and simple look, but fools can be deceiving if you think the dishes are simple. Every element is a study in perfection and incorporates a vast array of techniques. The meal started of really good and it just kept getting better and better presenting new dishes that somehow managed to top the last one, making extremely complex dishes while also managing to do simple things to perfection. The wild duck is a brilliant example of this.
The last and basically the most aparnt reflection again comes back to the service. It is second to none to the extent that I would come back again and again just to meet the people and experience the atmosphere.