Many words can be used to describe an evening at Noma. My favorites are an experience as it is never just a meal but a complete experience from the moment you enter, where the entire staff, to the end tour of their many kitchens, greets you. My other favorite expression is out of this world. In my experience there is no other restaurant that can be compared with Noma.
What makes Noma truly unique is their service. Service in Scandinavian restaurants are generally much more relaxed and personal then what I have experienced in both the US and southern Europe. Noma does however take it to the next level. The waiters/hosts makes you feel more like a friend of the family than a paying gust. They are exceptional at reading the guest at each table and adapting their style to what makes them feel tick. Whether you are a wine enthusiast or as I take great pleasure into hearing every small technical detail as to how a particular dish was created they will adapt to just that.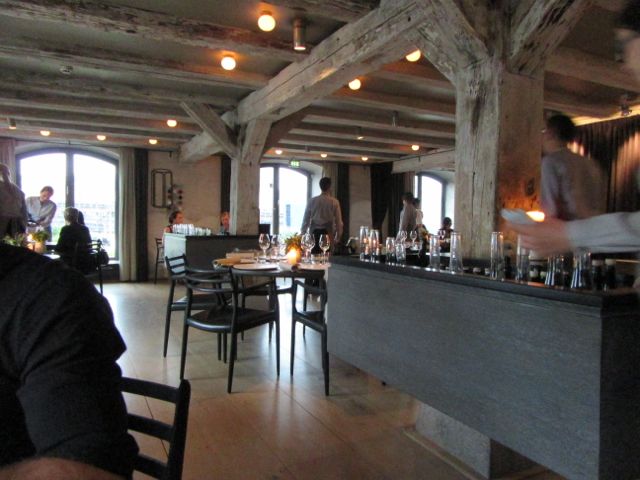 I was glad when I read that Noma was packing up and leaving Copenhagen for 5 weeks to go to Japan. I was able to visit the restaurant in Tokyo, but truly glad as I was looking forward to tasting their creations with renewed inspiration and motivation and eager to see how they would incorporate this into their menu once returned.
This was therefore my first visit to Noma after they returned from Japan and I am happy to say that there were a lot of new dishes on the menu compared to my visits in 2014 as well as a new structure in the menu.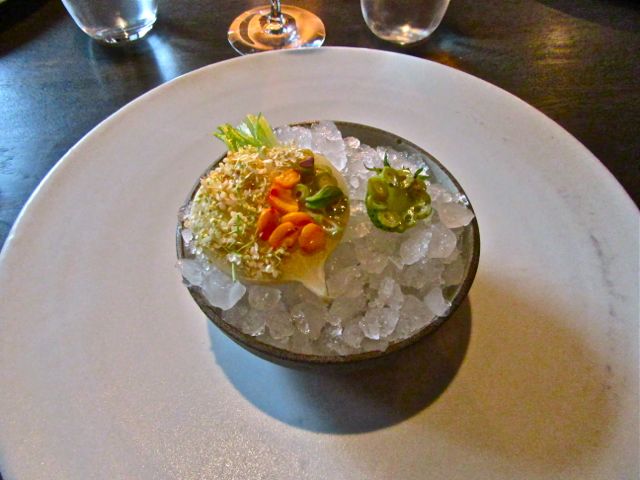 Turnip and unripe strawberry marinated in aquavit
Sad that the first serving of the evening was the worst. The aquavit gave the dish too much bitterness which was not to my taste.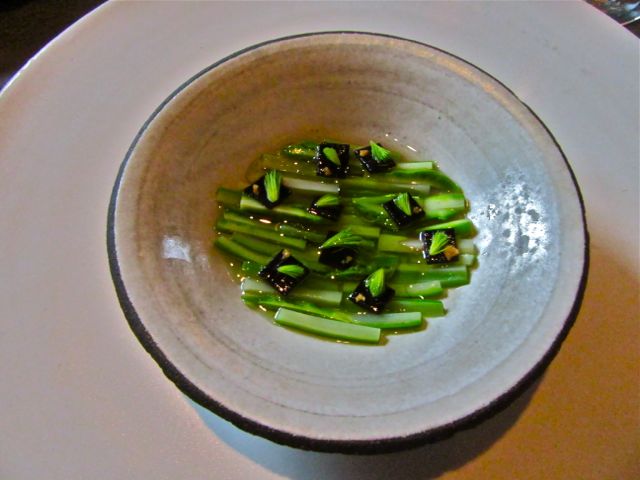 Asparagus, berries and seaweed
A fantastic dish. Noma has for a while had different types of seaweed on the menu, which undoubtedly will continue after their trip to Japan. This time it had been cooked for 3 days, which brought out a fantastic sweetness. It was therefore the perfect supplement to the fresh and crunchy asparagus.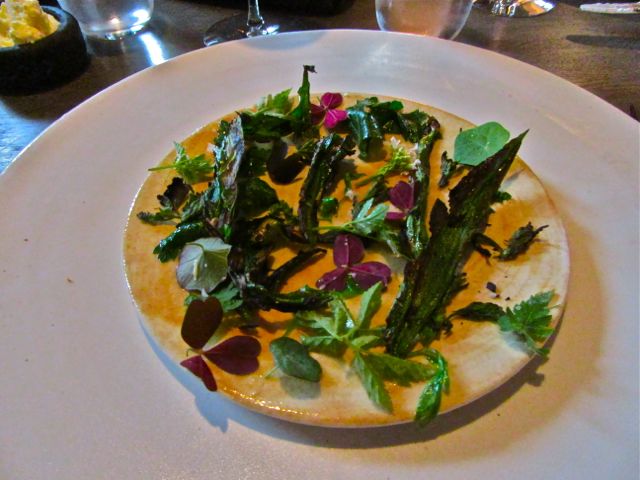 The first shots of the season with scallop marinade
This to me is Noma in a nutshell. A "simple" dish that is eaten with your fingers. Every mouthful gave different flavors depending on the shots. Especially the grilled shots were incredible as well as the scallop marinade with is rich umami flavors gave the dish a great balance,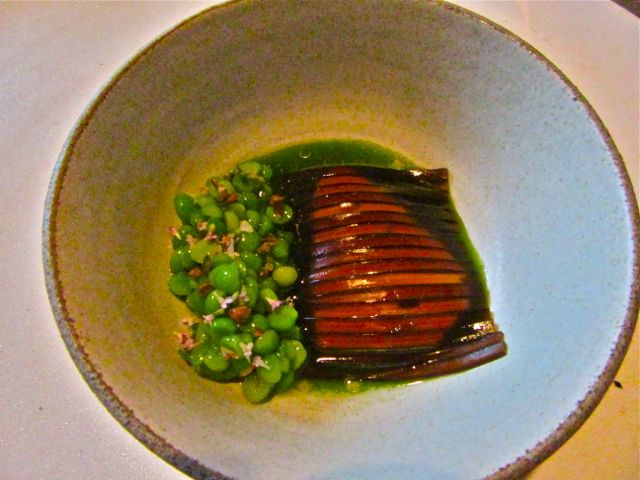 Sweet peas, milk curd and sliced kelp
One of the evenings best and most beautiful dishes. I have always admired how great chefs can turn simple, cheep and few ingredients to taste amazing. This was the case with this dish. Slicing the kelp displayed the dedication to perfection as it lifted the dish visually.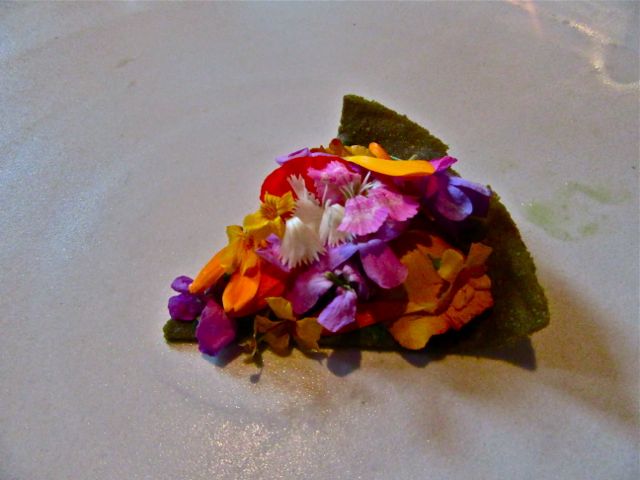 Flower tart
Beautiful and delicious. The picture says it all.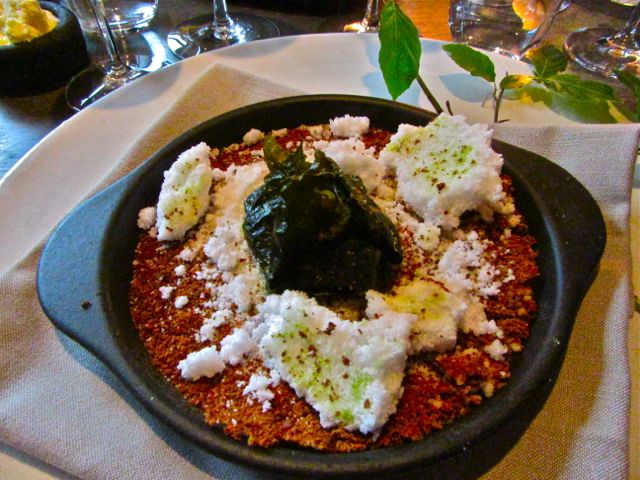 New Danish potato and lovage
This was my first dish to be eating with a branch. Very clean flavors. A very humoristic dish.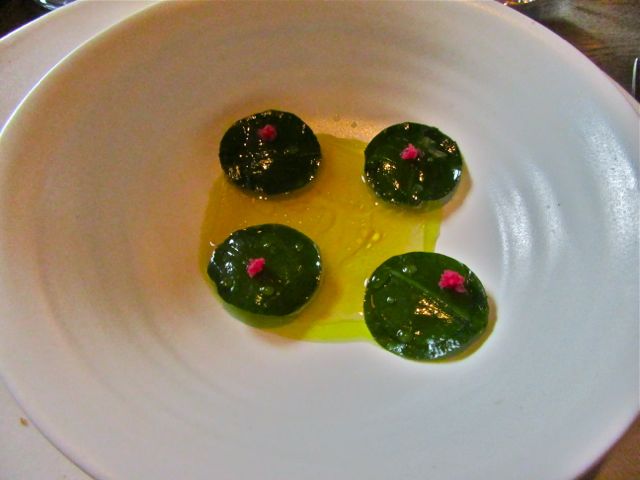 Sweet shrimps wrapped in ramson leaves
A dish, which I have now had 3 times. They can however always serve it to be both a 4, 5 and 6 times. Never before has a sweet shrimp been so delicious.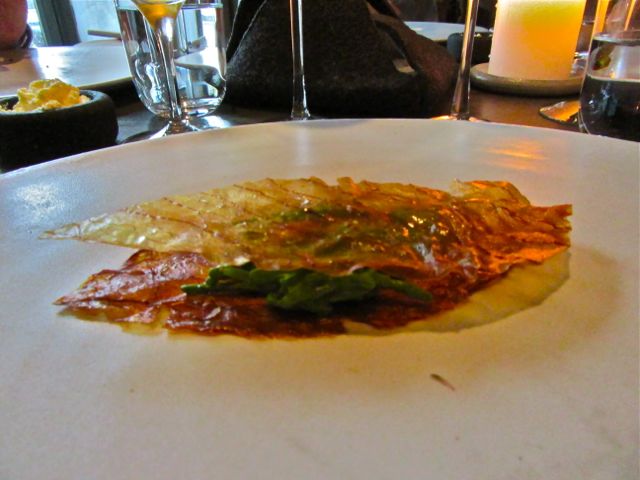 Cabbage and roses
Noma has since the opening has had different variations on a sandwich on the menu. The current version is made from dried cabbage, roses and different herbs. A great snack where the dried cabbage has kept it s classic cabbage taste, but much sweeter due to a caramelization, which takes place in the drying process.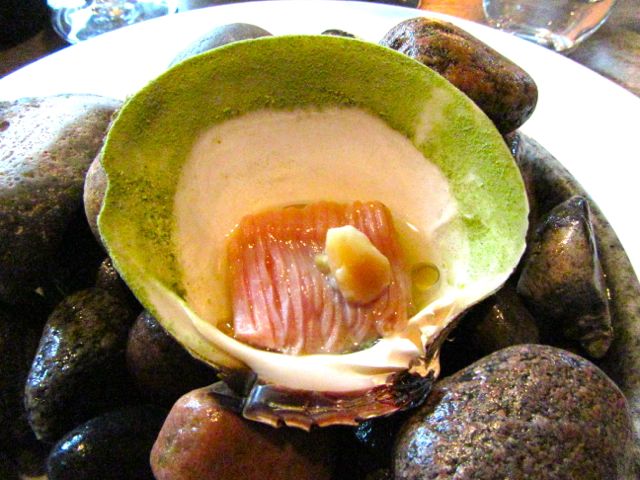 Mahogany clam and grains
Simple and excellent. A fexcellent clam why not much more needs to be done. With an age of 100-150 years the clam has a very meaty texture and deep umami taste compared to a regular clam. Very tasty
Monkfish liver
A dish that plays with temperatures. The frozen monkfish liver melts in your mouth or on the plate if you are not fast enough. Sweet, amazing and interesting.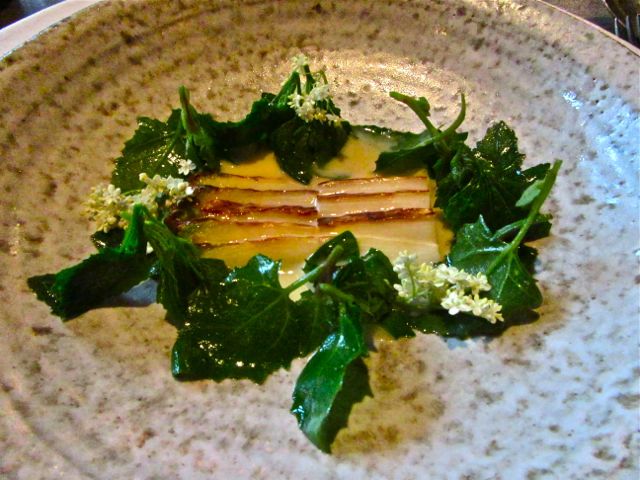 White asparagus, blackcurrant leaves and barley
A classic Danish combination of white asparagus and a butter sauce, but never has it tasted better. The "sauce" gave both body and freshness to the grilled asparagus.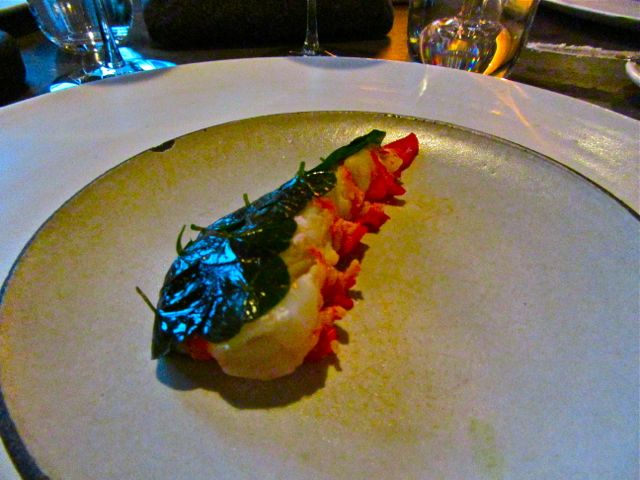 Lobster and nasturtium
A service over two parts. First a clear lobster juice with oxalis. Extremely fresh and clean juice compared to a classic lobster bisque.
The second part was a study in simplicity and complexity. A fantastic cooked lobster tale, lobster paste that was the complex part. It took two minutes to explain how it was made. In it self a pleasure to hear. Definitely not simple. Very good.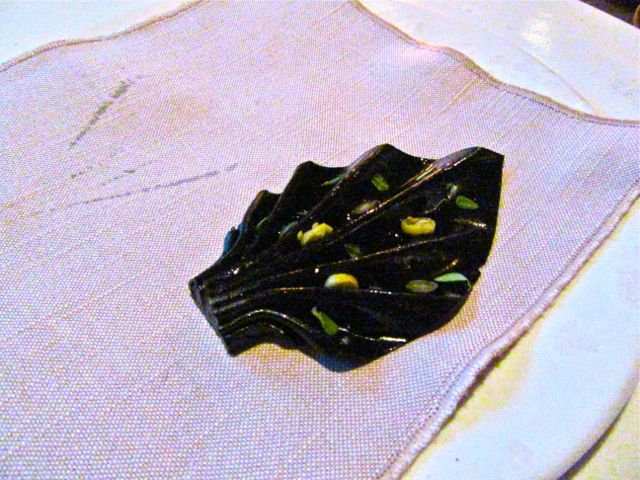 A leaf
The highlight of the evening. To call it incredible and indescribable is only fair. Excellent flavors, great textures and very innovative. A dish that was simply too good to stay in Japan.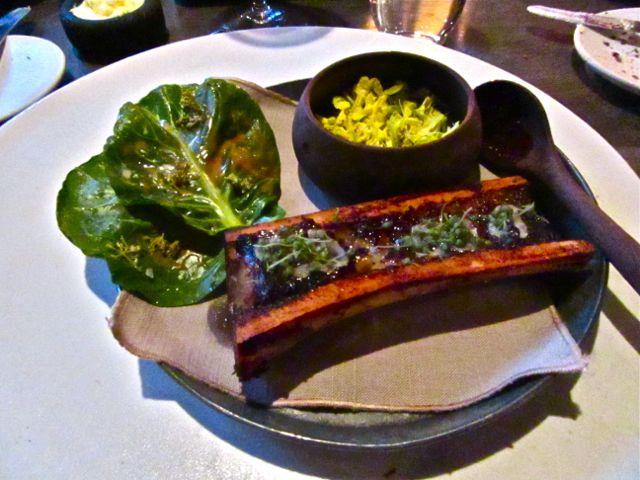 Roasted bone marrow
No French Michelin restaurant would ever serve an entire dish, which you have to eat with your hands. Especially not one where you need a cloth to clean your fingers subsequently. Great flavors and a great example of the laid back mood in the restaurant.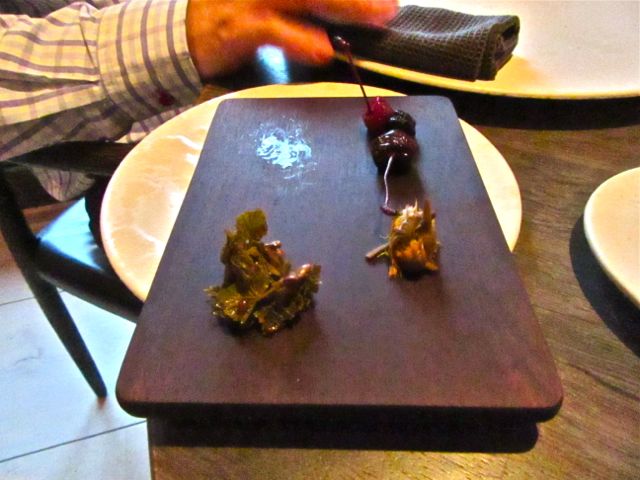 Berries and greens soaked in vinegar for one year
Nice cleansers before desserts.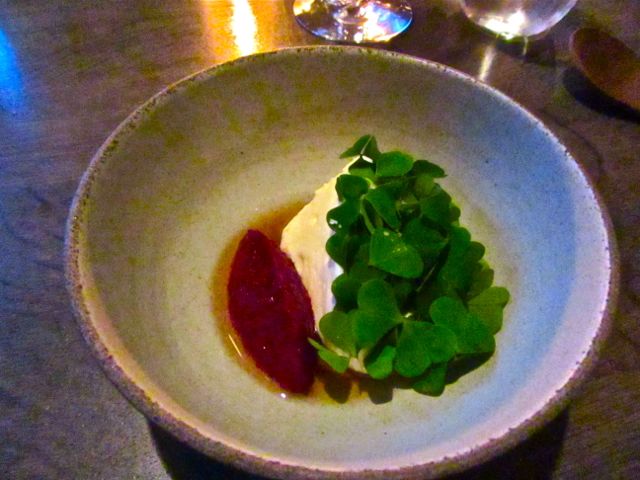 Rhubarb and sheep milk yoghurt
Nice taste, great textures, but almost too classic.
Forest flavors, chocolate and egg liqueur
Another dish from Japan. Especially the chocolate covered moss was interesting and tasty. A nice way to end meal with a home made egg liqueur.
A night at Noma always ends with a tour of the many creative spaces, which I believe is the most appropriate description of their kitchens. Several of the dishes were burnt in to my mind and their service is second to none which lifts the entire evening to a level, which is very rare.