If simplicity is difficult then they must be World class chefs at Relae as all of their dishes have 2-3 ingredients and tastes amazing
I have dined at Relae quite a few times. It is one of those restaurants that always seems to push boundaries which usually equals amazing dishes and sometimes they miss it completely but it is always interested. 
The restaurant is small and cozy in true Scandinavian style with tables situated quite close together as they originally started in the "bistro segment" but has long time ago evolved long past this. It also has counter seats looking straight into the kitchen which are amazing for the culinary interested bud very bad for a romantic dinner.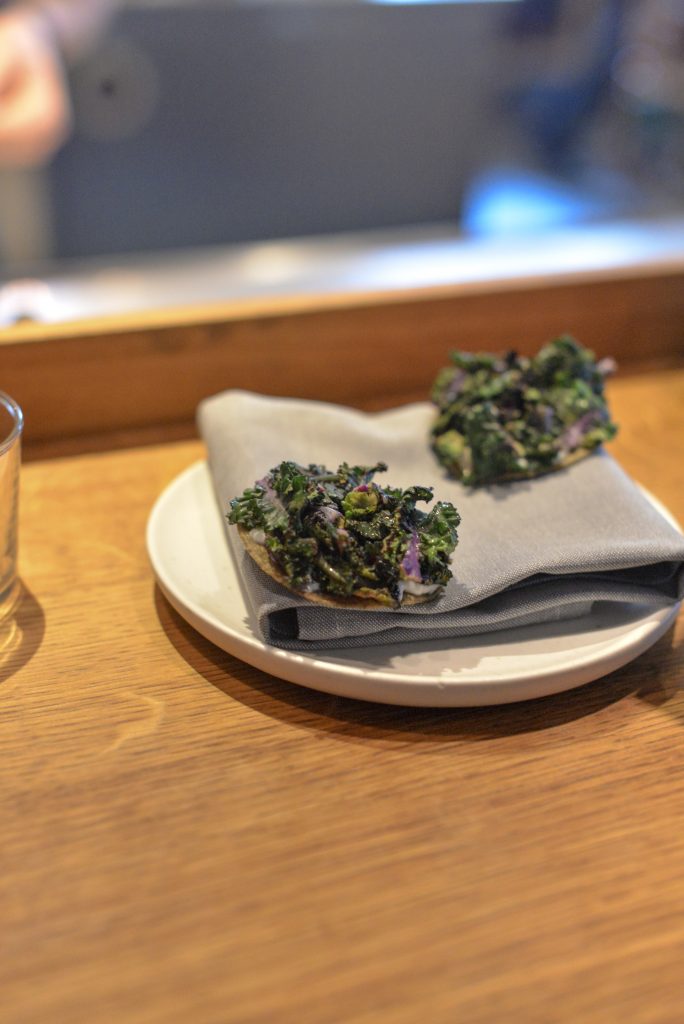 To begin the meal was a small pumpkin cracker with charred kale and goat cheese. Nice textures.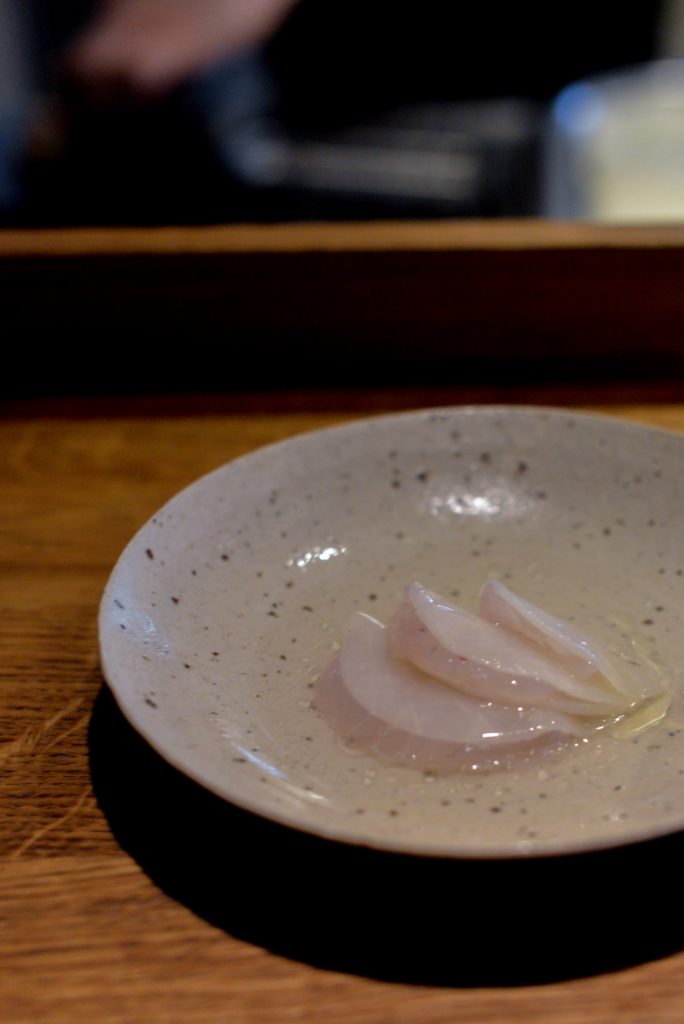 The next dish was very simple and very pure simple flavors. Pike and turnip that had been salted for a day. Served with a bit of pine oil. I could have used a bit more flavor.
The next dish was equally simple. Steamed carrots in an acidic meadowsweet sauce with pickled plums. A dish of two worlds colliding. Extremely sweet and extremely acidic depending on how much of each you got. A dish that therefore was different for each spoon you had. Not my favorite dish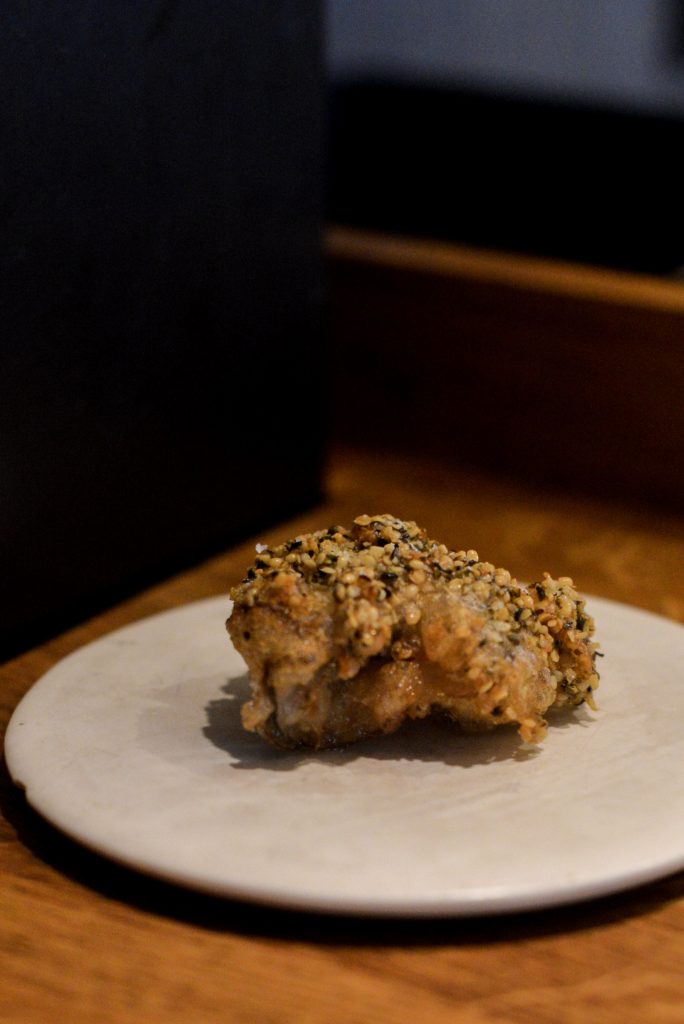 From here on the dishes were just World class. The first to blow my mind was an oyster tempura with hemp seeds. A dish of both soft and crunchy textures. Goes without saying that it was delicious as well.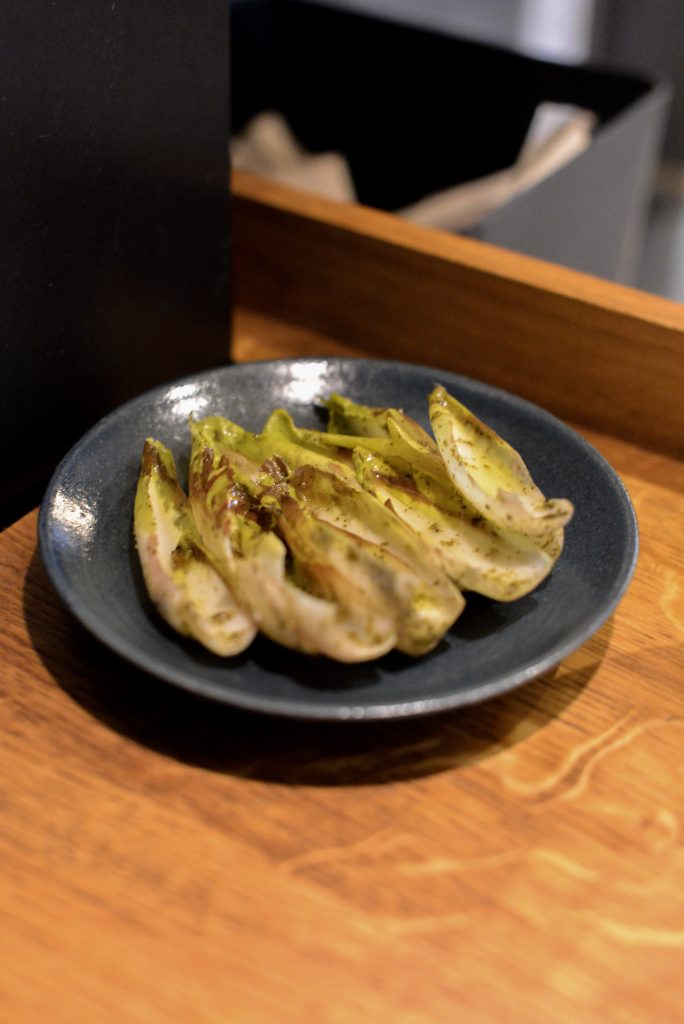 I have never been a fan of endives as they are usually too bitter for me. This dish changed that for me. They were just lightly steamed and served with a pine oil. The stems were both crunchy and soft all at the same time and the flavors were both sweet and with a great flavor from the oil. An amazing dish showing off the beauty of simplicity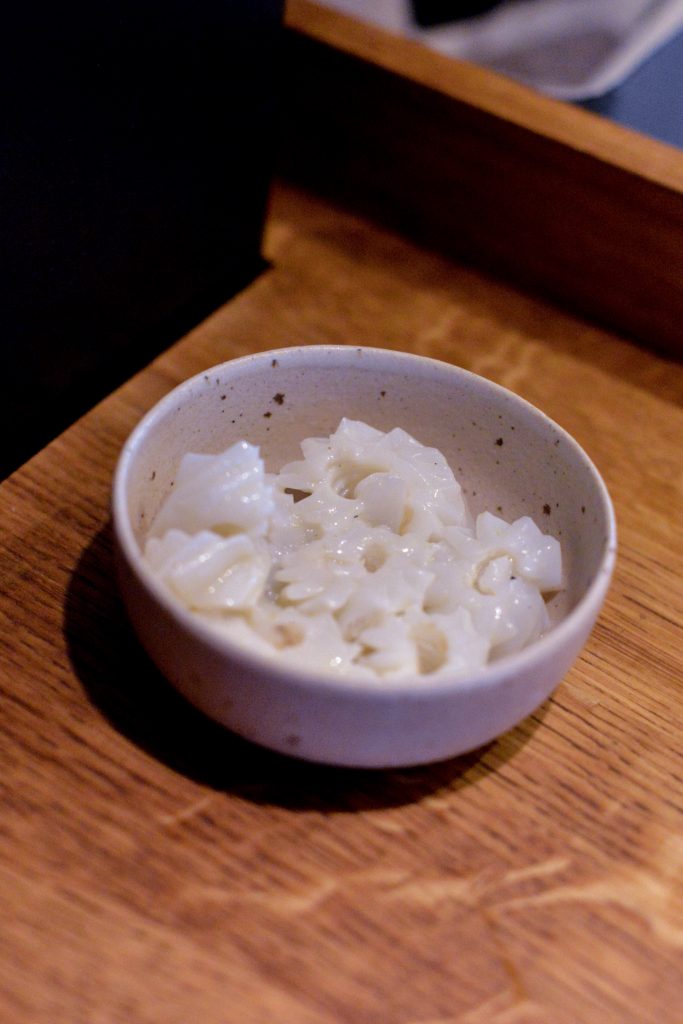 Beauty of simplicity is also a great description of the next dish. Extremely light grilled squid with a fermented chili oil. It had very soft flavors and the chili did not overshadow the squid, but just provided a bit of background to the sweet and very delicious squid.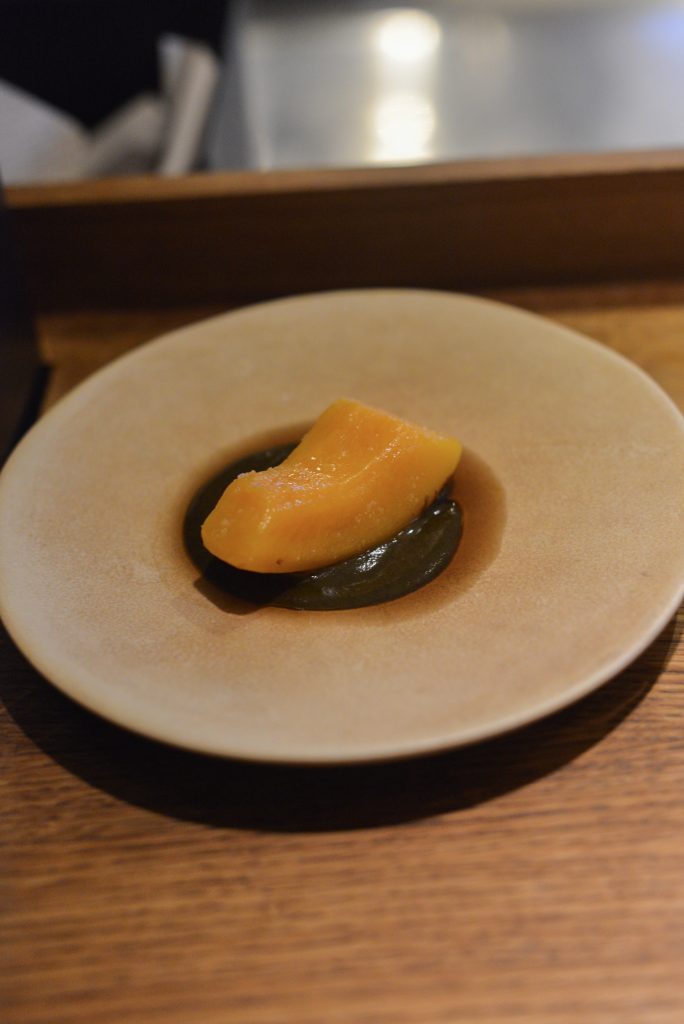 After two amazing dishes I was sure that the level would go down but it seemed it did the opposite. Confit pumpkin which was soft and sweet, served with a grilled pumpkin sauce (mole) which together with a black tea brought out chocolate notes of the grilled pumpkin. It was easily one of last year's best dishes that proved what a good chef can do with good quality ingredients and craftsmanship.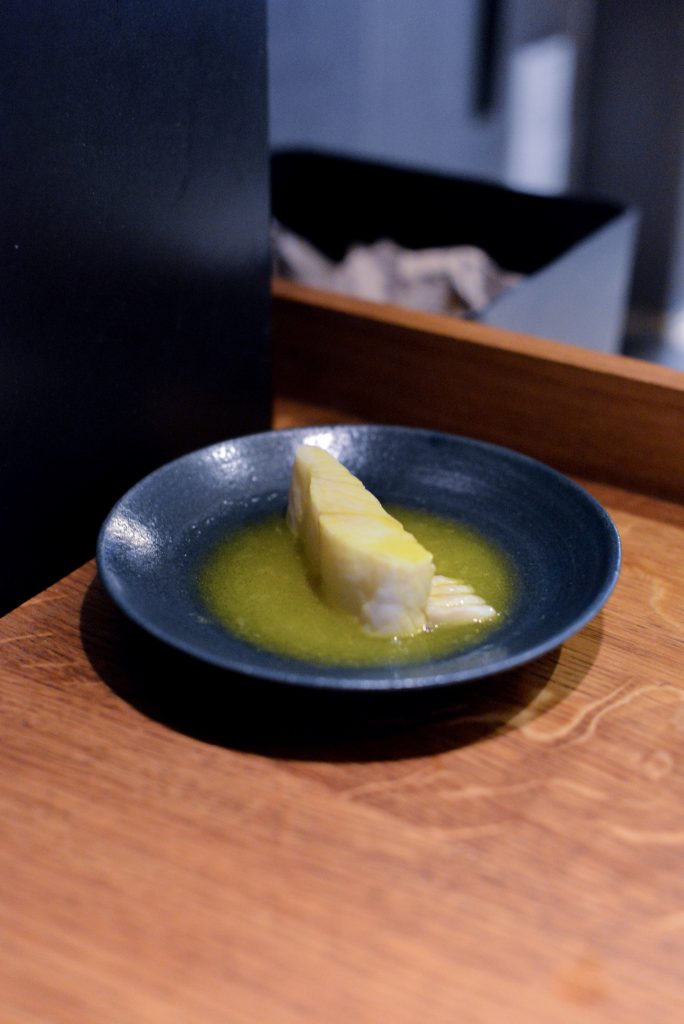 For the next dish the focus was yet again great products. Turbot and a saffron and butter sauce with just enough acidity to cut through the richness of the butter. An amazing dish. Some say Elkano like.
Someone wanted to show off their knife skills with the next dish and they were good. Enoki mushrooms served in a rich and acidic sauce. It was delicious and beautiful.
Relae has their own farm from where they get all of their vegetables and they also have dairy cows which produces the milk for the famous mozzarella at Baest. As an extra dish before the last salty dish we were to try the meat of their 7 year old dairy cow. To me it just needed a bit of flavor and maybe a pinch of salt. An off menu item
The same could be said for the duck with apples and a sauce from duck broth and seeded milk. Beautifully cooked but again I just needed a bit more flavor even though the duck liver in the bottom of the plate brought on stronger flavors then the duck breast.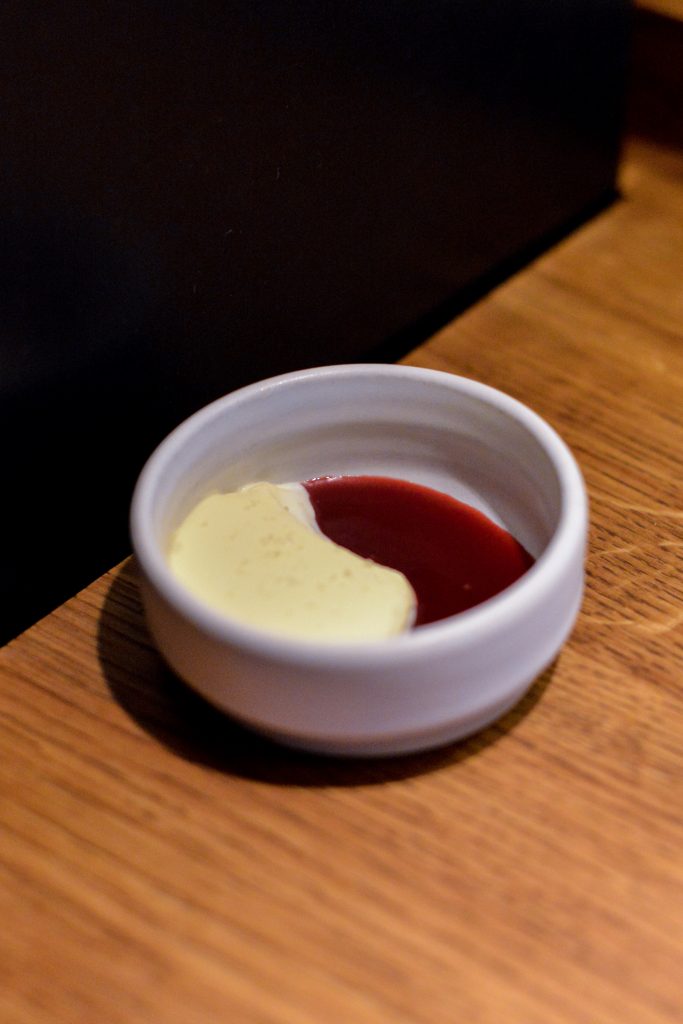 The first dessert was an experiment on a Finnish milk culture which turns into a fresh cheese/kefir thing with a lingonberry sauce. Sour meets sweet. A nice dessert but it didn't blow my mind.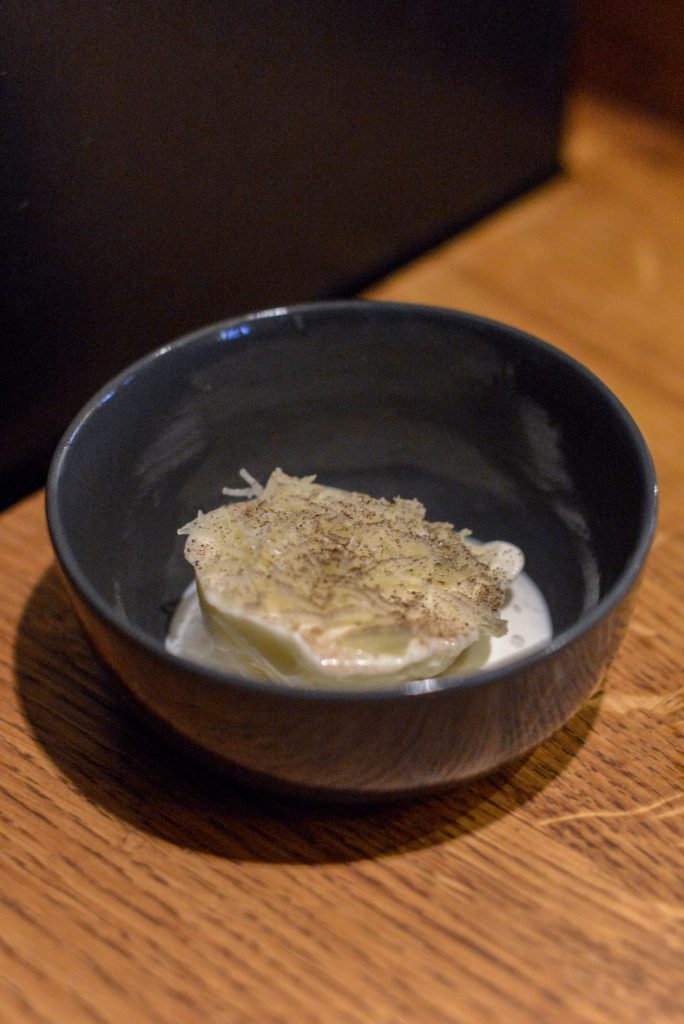 Besides the ingredients citrus and almond I don't remember much more about this dessert here two weeks later. So apparently it was not that memorable.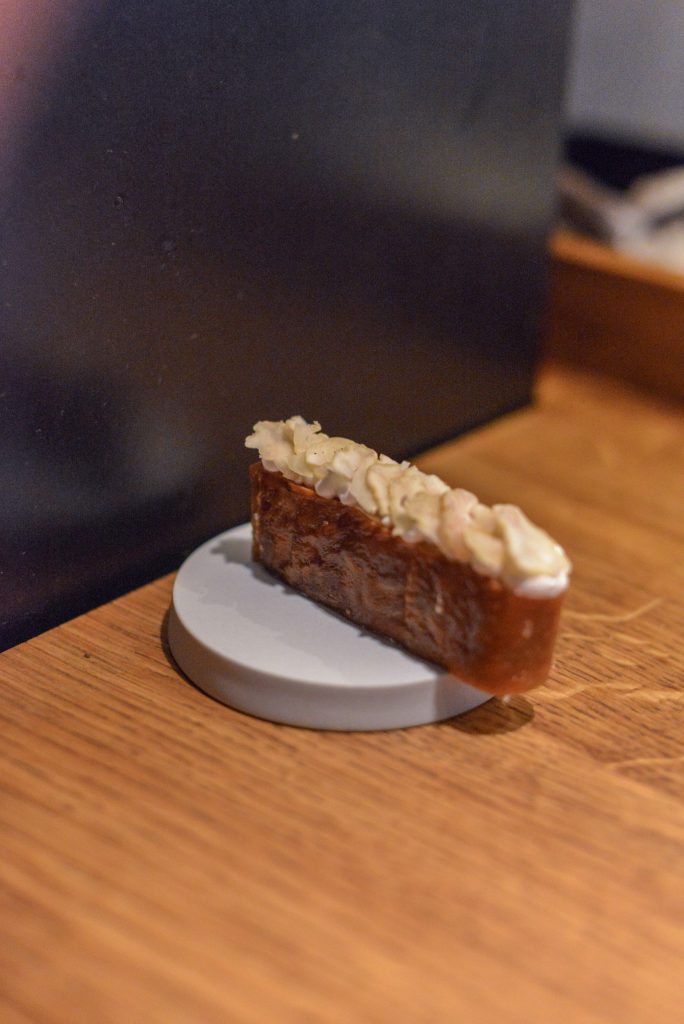 To finish off was a salty sweet dessert of celeriac and chestnut. I do love a good salty dessert and Relae always does this well.
To me this was by far the best meal I have had at Relae. A lot of dishes were true World class and the juice pairing that we got on the side matched the dishes to perfection. The focus on dishes with few ingredients paired with great technical skills is just amazing.
Compared with the fact that the tasting menu is half price of that of many other fine dining restaurants in Copenhagen I do miss my being able to bike over there on a Friday night not wanting to cook and just being blown away on a more regular basis.
Basic information
Website: www.restaurant-relae.dk/
Style: New Nordic with focus on vegetables
Menu: Tasting menu only 5 or 8 cources
Price: 500kr (90$) or 900kr (150$) for the menus + wine
Headchef: Jonathan Tam
Other: One michelin star and 71 in Worlds 50 Best