Rosio Sanchez has with Hija de Sanchez introduced Copenhagen to a whole new side of Mexican food than it has seen in the past. Where Hija de Sanchez primarily focuses on tacos restaurant Sanchez has a much broader specter.
Opening night at restaurants in Copenhagen are always an amazing place to be. There is a buzzing vibe and off course it is filled with lots of industry people, bloggers and instead of having it revealed on countless Instagram pictures you get a firsthand experience. I was so lucky with Sanchez.
As with almost all mid-price restaurants in Copenhagen there are two seating's and our evening therefore started at 17.30 being greeted by Rosia at the door. A hug later we were sitting at our table and quickly guided through the menu where we started with their own take on classic Mexican cocktails fx. a tepache and tequila cocktail.
With the cocktails, we started with a bowl of totopo with a variety of dipping. My personal favorite was one with gooseberries which had a great acidity. Off course there were also the classic yellow habanero, and the smoky chili oil.
After this our menu started with a small and simple vegetarian ceviche of both fresh and pickled vegetables served on a tostado. Clean and delicious flavors which set an overall theme for the rest of the meal together with amazing quality avocado which I just didn't know you could get in Denmark.
Another classic Mexican dish is an empanada served with fresh cheese, salat and coriander. Crunchy and refreshing salat gave great balance to the fresh cheese.
With the next dish, it was obvious that Rosio played a big part of the development of the dishes for Noma Mexico. A soup with "masa broth", avocado and chargrilled onions. Great combination of creamy avocado, rich masa and sweet onions where the charring gave both texture and balance to the dish.
Panuchos is a dish I had never heard of before, but a dish where Rosio showed that her technical skillset is still sharp. A tortilla was filled with a pumpkin seed mole and topped with various greens for balance including parsley and lots of coriander. The pumpkin seed mole gave a great dep't and richness to the dish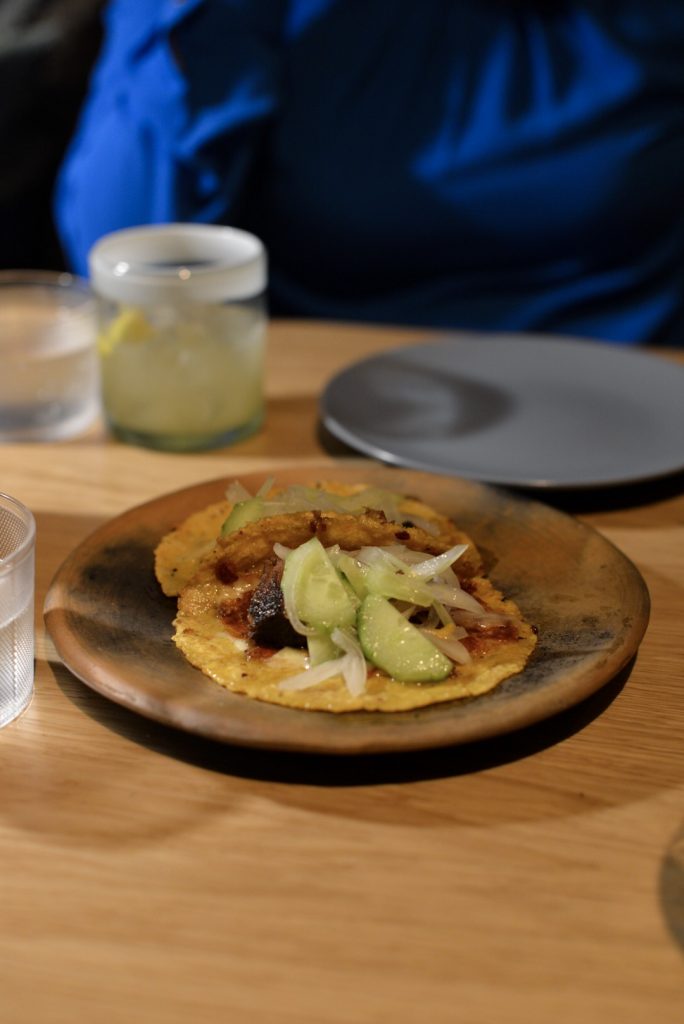 Rosio wouldn't be Rosio without still having a taco as part of the menu. This time a dirty carnitas with a bit of lightly pickled onions and fresh cucumber and off course a bit melted cheese. Simple as it is supposed to be with a taco.
The word has preceded Sanchez and I couldn't resist to order an extra dish to the menu in the form of the soft-shell crab taco that Rosio originally developed for Noma Mexico where I never got to try it. The crab was "cased in" a both light and crispy recado negro batter and hereby combining smoky, heat and delicious delicate crab. And come on it is a beautiful taco.
Of the two desserts, my absolute favorite was the churro sandwich with orange Mescal parfait. Mescal and orange is always a winning combination. Whenever I get the chance I will order a churro from a street vendor and I still remember my first churro from the streets of Puebla. Eating this churro took me back and I enjoyed every mouthful of it. With this and a cup of coffee our meal was drawing to its end as our time at the table was up (2,5 hours vs. the promised 2 hours at booking)
Everything about the restaurant is very personal to Rosia and you can learn a lot about her through restaurant from the classic Danish furniture in a tight Nordic concept, to the cucumber in the tacos, over the tortillas made from corn imported from Mexico, to both Cypress Hills "Insane in the Brain" and classic Mexican music which playing over the speakers which accompanied us this evening which all is based around Mexican food and her warm personality.
With a price point at 375kr for a 5-course menu Sanchez puts its self in the highly competitive middle range segment in Copenhagen. With its great atmosphere, delicious food and a great and different pairing it definingly stands out. The service is hard to judge as this was opening night which naturally came with a few glitches that I know will be fixed very fast, so the only negative thing I have to say is that the tables are sitting very close and from our table I had to think about my route to the bathroom without bumping in to other guests on my way there.
After eating at Hija de Sanchez I love how my hands smell of the delicious homemade tortillas. After eating at Sanchez, they still smell of tortillas and I still leave with a big smile on my face and I know that I will be back either for a taco or two at the bar of the full menu. When opening Sanchez Rosio has said that she wanted to open a place where she wanted to hang out in a cosy environment and I think she has succeded in doing just that.