A new wave of creativity at Noma
20 dishes without any use of meat or seafood. That was the challenge that Rene and the rest of the crew at Noma gave them self. The hardest one so far according to Rene, which I think everybody can understand. As the restaurant was all dressed up to seafood season so was the case  for vegetable season where the decorations were was changed completely for the vegetable season with a hops plant climbing the wall and a tomato plant taking center stage in the dining room. The dinner ...
Continue Reading
Restaurant Statera brings french sauces to Lima
A small Maruviel bowl appeared at our table containing the most delicious sauce. It was the first time in 5 months that I had a sauce, not a salsa, not a stew or a chili but a classic french sauce. Something that I had missed for a while. Andre Patsiam left Central 2 years ago to start his own restaurant and in classic Peruvian style with lots of difficulties it took him 2 years to build and open Statera. Part of this time was spent travelling in Peru in search for amazing ingredients. ...
Continue Reading
It's all about the details at Restaurant IK
I looked up as a direct spot over our table increased in strength and just 5 seconds later the first 2 snacks were placed on our table. Small bite size snacks where one of them were to be eaten with tweezers. At this point I thought to myself "they think of the little things at IK" and my expectations for the evening increased. The story of Restaurant IK is one of drama and tragedy. Just weeks before it officially opened the owner and chef Ivan Kisic died in a tragic accident ...
Continue Reading
1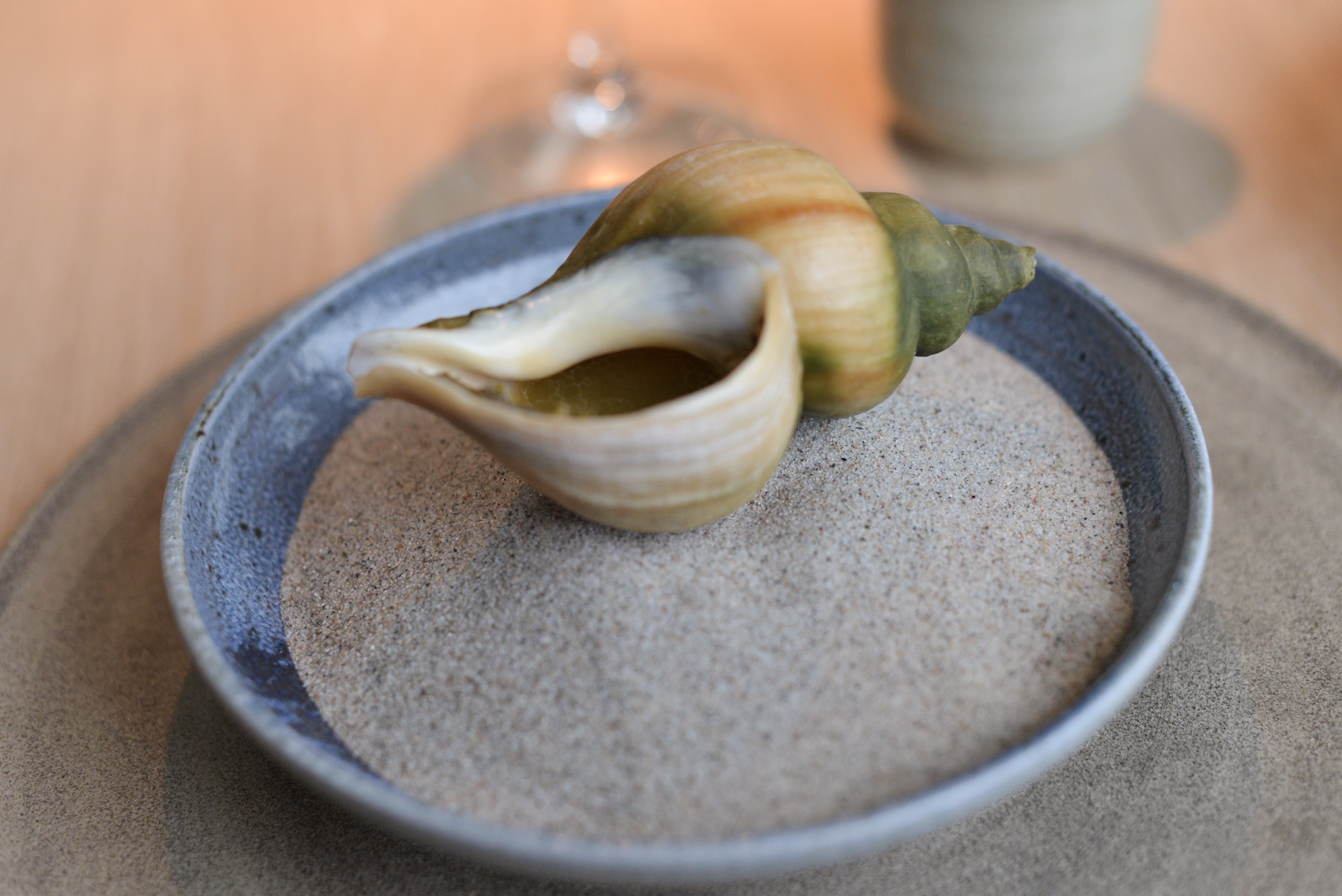 Noma is back in a very big way
About 1,5 years ago Noma chocked the restaurant world by announcing that it would close down the restaurant to open a brand new restaurant which they would have to build from scratch less than 2km from the old building. Having been open for 13 years in an historic building in Copenhagen and winning the title of best restaurant in the World 4 times the decision can be seen as risky but for Rene it was necessary to keep the innovation going. The new restaurant building is ...
Continue Reading
Cooking in Motion brings the Nikkei kitchen to Copenhagen
Nomad chef Sebeastion Mazzola and sakesommelier Sussie Villarico brought their Nikkei cusines to Copenhagen for 4 nights only at the luxurious Sølyst. With this it was possible to combine both a very modern cusine, a full sake pairing and an almost 300 year country house. The first couple of snacks was served standing in a lounge area where you felt the history with several enormous portrait paintings. A common denominator for the snacks was that several different variations of ...
Continue Reading
Contemporary New York cuisine at Contra
I am not sure how or why but a year ago when I started going to New York quite often Contra was one of the first restaurants I wanted to go to. In February, I had a reservation but had to cancel so it took another 8 months until I was finally able to go. The menu at Contra is pretty. Fixed 5 course menu making it very easy to be a guest. A smaller menu available at the Barr, but why choose a smaller meny when the 5 course looks good:-) We started with a very small snack. ...
Continue Reading
Starting crossing of the bucket list with Substans in Aarhus
Recently I took a decision to move from Copenhagen to New York and off course, I created a bucket list of restaurants I need to try before I leave. With a strong preference for Nordic food and having never visited Substans it seemed obvious that I had to try Substans. We started the evening with 3 small snacks. Radishes with a Arla Unika cheese sauce, puff pastry with caviar and what I think was trout served with daikon and edible flowers. The highlight was the puff pastry with ...
Continue Reading
In the hunt for the second Michelin star at Clou
Less than 2 weeks ago Clou moved to a new more intimate location with a bigger menu and fewer guest with the goal of achieved the coveted second Michelin star. A good friend of mine is a close friend with the owner so we had talked about going to Clou for a while so now the timing was right on the money. The first snack was a Clou classic in form of an oyster with passion fruit and ginger. Nice combinations of flavors with off course was a great match for our vintage Cava. ...
Continue Reading
Private Dining by Mads Cortsen – a kid in a candy store
Mads started his career very young in the cookingshow Masterchef where he in 2015 became the runner up. Already at this point he impressed everybody with his technical skills and attention to detail. Following the program he did training at a finedining restaurant in Århus, but with his confidence off course he wanted to start on his own with a private dining concept. With an invitation to experience his concept at his farm and and to meet him my expectations were naturally high. ...
Continue Reading
Virgilio continues to perform magic at Central
With only 4 weeks in Peru I had to make the best of the time. After my first visit I simply couldn't bear the idea of not returning for another 6 months, especially not with Virgilio offered to create a new menu. Rock tongues -5m A very sweet uni without a heavy taste iron served with a sea lettuce. Light and delicious. Smoked Lettuce juice was a great match. Desert plants 180m A Sweet potato served on thorn. Difficult to eat but off course very beautiful. Served ...
Continue Reading