A new wave of creativity at Noma
20 dishes without any use of meat or seafood. That was the challenge that Rene and the rest of the crew at Noma gave them self. The hardest one so far according to Rene, which I think everybody can understand. As the restaurant was all dressed up to seafood season so was the case  for vegetable season where the decorations were was changed completely for the vegetable season with a hops plant climbing the wall and a tomato plant taking center stage in the dining room. The dinner ...
Continue Reading
Japan, France and New Nordic combined at Restaurant Jordnær.
I love marriages between unlike elements and my dinner at Restaurant Jordnær would display some dishes that did just that. The restaurant is located a bit north of Copenhagen in what some might call the suburbs in an old hotel without being a classic hotel restaurant. They do however serve a small 3 course menu a long with the bigger tasting menu to accompany the hotel guests. Of course, we went the other way for the full experience. The appetizers quite clearly set the tone for the ...
Continue Reading
1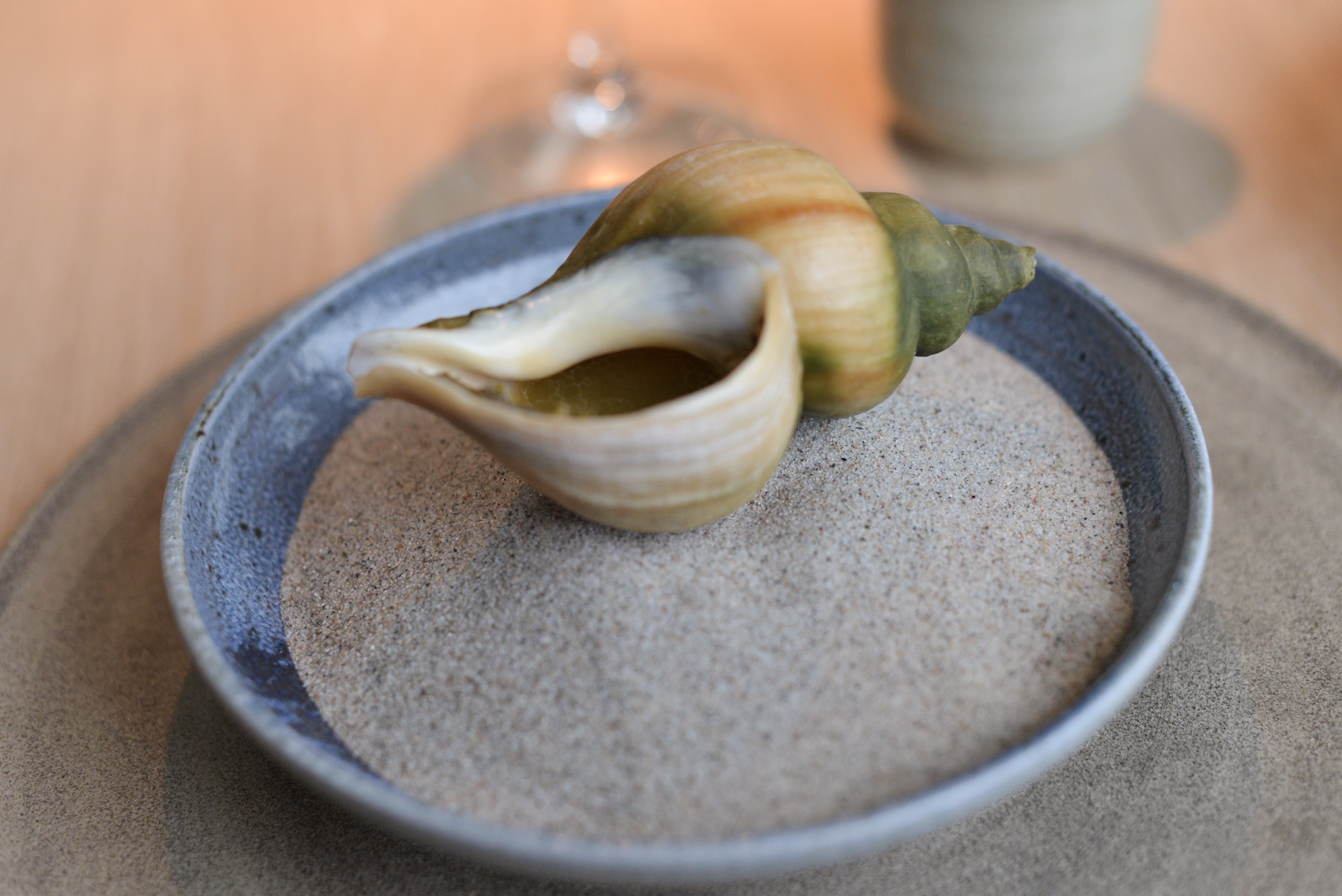 Noma is back in a very big way
About 1,5 years ago Noma chocked the restaurant world by announcing that it would close down the restaurant to open a brand new restaurant which they would have to build from scratch less than 2km from the old building. Having been open for 13 years in an historic building in Copenhagen and winning the title of best restaurant in the World 4 times the decision can be seen as risky but for Rene it was necessary to keep the innovation going. The new restaurant building is ...
Continue Reading
Eating at hipster central at Ancestrale
Vesterbro in Copenhagen was earlier this year voted as one of the coolest neighborhoods to live in in the World. Every cool and trendy neighborhood needs a small local wine bar that gathers the locals for a glass of wine before dinner or a late glass after dinner. Located in the heart of Vesterbro Ancestrale fits right in the lively and diverse neighborhood. Ancestrale is a small wine bar that seats max 20 people. I am not sure who did the decoration but it is filled with persona...
Continue Reading
Barr – my favorite restaurant in Copenhagen
About a yeat ago I wrote a blog post entitled "A love affair with Noma". I still have a love affair with Noma, but now I also have a mistress called Barr. While Noma is femine, elegant and very sophisticatede Barr is no fuss, to the point and bit more maskuline but also very accessable so in that sence it has some of the traits of a mistress. Barr opend 6 months ago and as this was my visit number 11 some calls me a regular, others calls me addicted and some people think I am just plane ...
Continue Reading
Rise of the Phoenix – PMY
About 10 months ago I had one of my best meals ever at Taller so when they they announced they were closing I was off course sad. I brighted my mood a lot when they announced that Taller was to reopen at a new location and PMY would take its open at the old Taller spot. With PMY Karlos Ponte is teaming up with Peruvian superstar Diego Munoz who together with head souschef Emilio Marias took Astrid & Gaston to nr 14 on The Worlds 50 Best list. The trio wants to cook comfort food from their ...
Continue Reading
Mexican comfort food at Restaurant Sanchez
Rosio Sanchez has with Hija de Sanchez introduced Copenhagen to a whole new side of Mexican food than it has seen in the past. Where Hija de Sanchez primarily focuses on tacos restaurant Sanchez has a much broader specter. Opening night at restaurants in Copenhagen are always an amazing place to be. There is a buzzing vibe and off course it is filled with lots of industry people, bloggers and instead of having it revealed on countless Instagram pictures you get a firsthand experi...
Continue Reading
Most ambitious chef in the World at Alchemist
Worlds best restaurant. Nothing less can do it for the young chef Rasumus Munk. That is the ambition for his restaurant which suting enough takes its name after the old profession that is pursuit of turning everyday itemns into gold much like him. Already at 22 Rasmus Munk was the headchef of an ambitious restaurant in Vejle earning great reviews. Due to differences with the owners Rasmus decided to open his own restaurant with his own money to achieve complete control without a ...
Continue Reading
Noma under The Bridge – Finedining under a bridge?
Having won best restaurant in the world 4 times no matter what they do the expectations are bound to be high. As a self-diagnosed Noma addict after I was very happy to see that the staff made good use of the time between Noma Mexico and the opening of Noma 2.0. The pop up consists of a long table fitting 60 people under Langebro in Copenhagen where all of the food is cooked over hot coal inspired by the pop up in Mexico. The wine is provided by Rosforth and Rosforth and as is ...
Continue Reading
In the hunt for the second Michelin star at Clou
Less than 2 weeks ago Clou moved to a new more intimate location with a bigger menu and fewer guest with the goal of achieved the coveted second Michelin star. A good friend of mine is a close friend with the owner so we had talked about going to Clou for a while so now the timing was right on the money. The first snack was a Clou classic in form of an oyster with passion fruit and ginger. Nice combinations of flavors with off course was a great match for our vintage Cava. ...
Continue Reading